As a source of viral trends and dance challenges, there's no doubt that TikTok is the place to be to attract and engage digital audiences today. In fact, the latest TikTok stats show that the platform boasts 1 billion monthly active users who spend over 1.5 hours per day using the app. Engagement rates on the app also beat other leading platforms including Instagram and YouTube. These numbers should be enough to convince you that the platform is ideal for brands and creators that want to build an engaged community.
But to make the most of TikTok's ability to engage, you have to step up your game. This includes leveraging features such as reposting, so you can actively engage with your community. Not sure how this feature works? Read on to learn more about how to repost on TikTok and why you should make the most of this feature.
---
How to Repost on TikTok: The Ultimate Guide:
---
What Does It Mean to Repost on TikTok?
As the name suggests, reposting on TikTok is the process of sharing someone else's content with your own TikTok audience. The video you repost will show up on your friends' For You pages just like all the videos that were created originally by you. The main difference is that the original content creator's username will appear in the video so that they're properly credited. Your viewers can also click on this username to visit the creator's profile and check out their other content.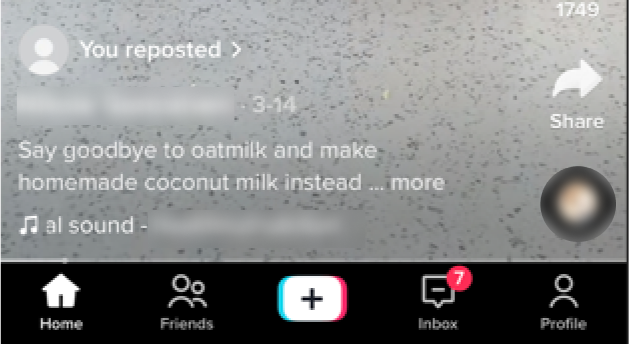 In other words, it's exactly like the sharing function on other social media platforms such as Facebook and LinkedIn. On TikTok, you re-post something someone else has originally posted, which is how you get the term. Another key difference is that the repost won't show up on your profile and will only appear in the For You pages of your friends. That means your reposts won't be visible to people you don't follow back even if they follow you.
---
The Step-by-Step Process to Repost on TikTok
So how do you repost on TikTok? The process is very simple and straightforward, especially if you've used the sharing function on other social media platforms before. To help you better understand the steps, let's break them down below.
Step 1: Open your TikTok app and log in. Remember that you can use the reposting feature both from your personal account and your business account. But make sure you're logged in to the account that you want to use to perform this action.
Step 2: Find a video you want to repost. This is the most challenging part because you have to carefully decide whether the video aligns with your values and brand identity. And it's not just challenging for brands. Individual content creators also have to carefully assess whether the video will add value and will appeal to their followers.
Step 3: Tap on the share button to open all the sharing options. This looks like an arrow and is located toward the bottom of the screen.
Step 4: Select the yellow "Repost" option. You can either repost it with additional commentary or repost it directly without any comment. The first option is ideal if you want to provide your followers with some context as to why you're sharing the video or if you want to include additional info that's important for your audience to know. And that's it–you've reposted your first TikTok video.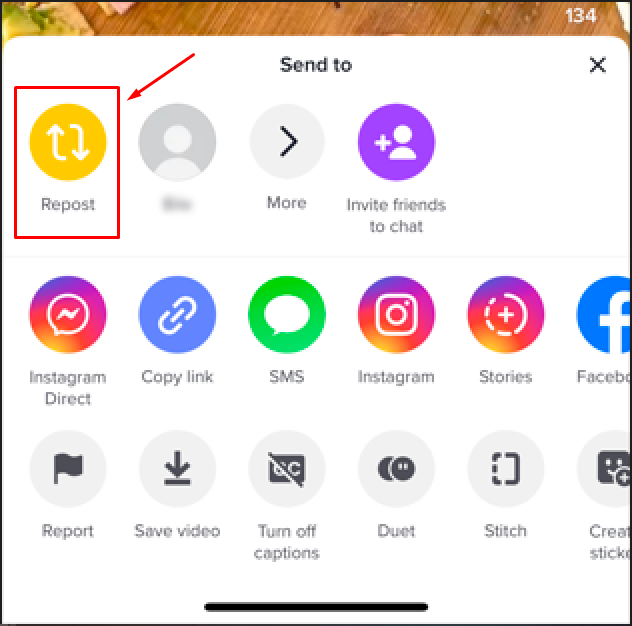 ---
How to Undo a Repost
Accidentally reposted something you don't want your friends to see? Or perhaps you realized that the content doesn't actually align with your values and brand identity. Either way, you may want to undo a repost so it no longer shows up in your friends' For You pages.
All you have to do is go back to the video you reposted and open it. Then open the share menu just like you did when reposting the video. Tap on the yellow "Remove repost" button and this will instantly remove the video from your friends' For You pages.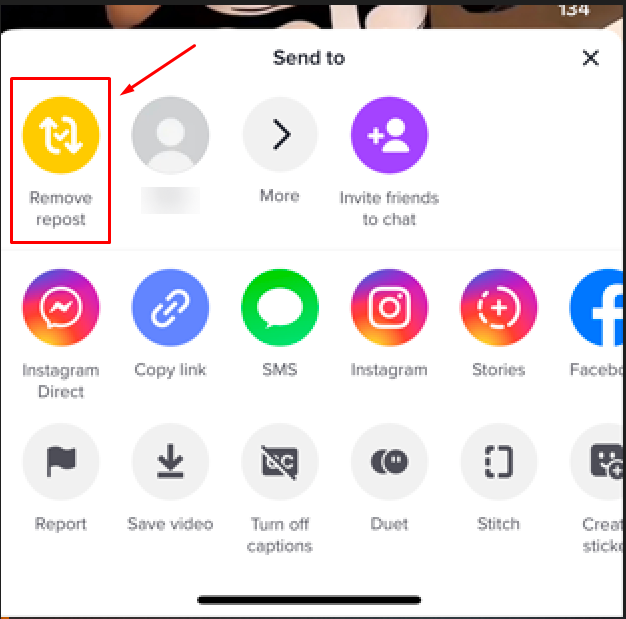 ---
Why Should You Repost on TikTok?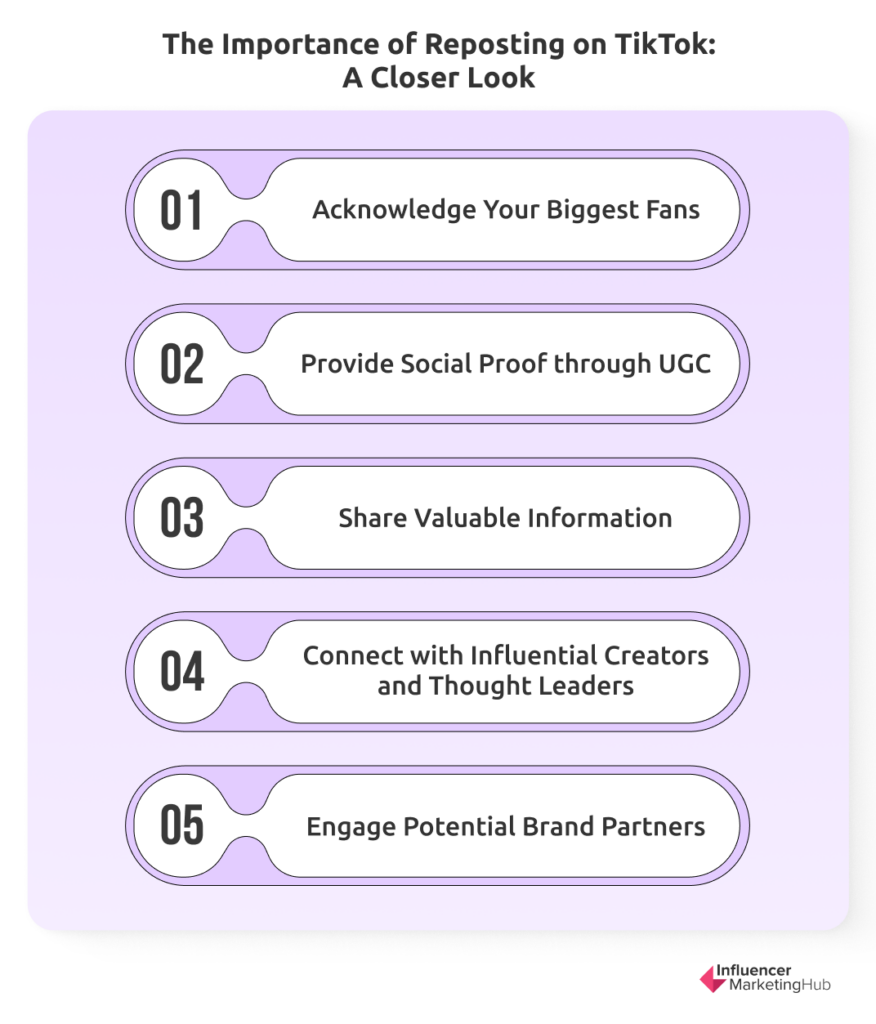 So what's the big deal about a TikTok repost? Why should it matter to you? There are a number of reasons why reposting can be beneficial for your TikTok marketing strategy. This is true for both brands and content creators alike.
From delivering fresh content to your friends' For You pages to leveraging user-generated content–TikTok reposts can offer a ton of benefits. Let's take a look at some of the main reasons why you should use the repost function on TikTok.
Acknowledge Your Biggest Fans
Got any TikTok creators who are die-hard fans of your brand? Perhaps these users are regularly creating content about your brand and products. Reposting those videos would be a great way to acknowledge them and show them how much you value their advocacy. It gives you an opportunity to reciprocate, which could strengthen their loyalty.
Similarly, TikTok creators may have fans who regularly create content inspired by their videos. Or those fans may use features such as Stitch and Duet to recreate fresh content using your videos. So when you repost their videos, it shows them that you appreciate them and this might make them want to remain loyal fans.
Imagine being acknowledged by a brand that you really like or by someone you look up to. Not only will you feel appreciated, but you might even feel a stronger inclination to remain a fan of the brand or influencer. That's the exact kind of impact you can make when you repost on TikTok.
Keep in mind that TikTok doesn't show you who's reposted your videos. So if those creators aren't following your brand already, they might not be able to see that you're reposting their content. But you can work around this by adding a quick comment letting them know that you're sharing it or even asking permission to repost.
---
Provide Social Proof through UGC
As the saying goes, people trust other people. That's why you need social proof to attract more customers and convince them to make a purchase. And user-generated content (UGC) on social media makes it much easier for brands to provide social proof to their audience. On TikTok, you can share customer-created videos of success stories, product features, reviews, and other experiences with a simple repost.
These TikTok UGC videos will give testimony to the quality of your products and the credibility of your claims. As such, you'll have a greater chance of convincing others to trust your brand and buy your products.
The same goes for content creators who want to sell something such as courses or merch. Reposting videos from your customers will help you provide social proof and create a sense of FOMO (fear of missing out). Moreover, it may convince more people to try your products or services since so many customers are raving about it.
---
Share Valuable Information
Not all the videos you repost on TikTok have to directly benefit you. In fact, reposting videos that your audience will find valuable is a great way to keep them engaged and continue providing value. You could repost any video that provides information that will be of some use to your audience. This may be anything from tips and tricks to industry insights to how-to instructions.
The point is to offer something of value through the content you repost. This is particularly crucial since it's not always easy to come up with new content ideas on a regular basis. Reposting lets you keep engaging your audience with fresh content while providing them with value without having to create the content yourself.
---
Connect with Influential Creators and Thought Leaders
When you want to maximize your reach on TikTok (or any other social media platform for that matter), building connections with influential users is an essential step. Whether it's influential content creators or industry thought leaders–these users tend to have massive reach, with a follower base mostly made up of relevant users. So if you can manage to engage these influential users, you stand a good chance of quickly boosting your reach on the platform.
Reposting their content on a regular basis is one of the best ways to get noticed by these influencers. Don't forget to leave a comment asking for permission to repost. This will then help you to gradually build your connection with them. Once you build a strong enough connection, you might even be able to get them to reciprocate by reposting your videos or featuring you in their content.
---
Engage Potential Brand Partners (for Creators)
For TikTok content creators, reposting content created by the brands you love is an excellent way to get their attention. When you regularly repost a brand's TikTok video, it shows them that you're a loyal fan, which might get them to take a closer look at your account. If your content and audience base align with their brand values, they might even consider you for a partnership opportunity.
Many brands are always on the lookout for TikTok influencers who are already fans of their products, so their partnership comes off as more authentic. Even if they're not actively looking for influencers to partner with, they might want to consider sponsoring influential fans that they come across. Reposting their content helps you get on their radar so you can get considered.
As mentioned above, if the brand isn't already following your account, they may not be able to see that you've reposted their videos. So don't hesitate to drop in a quick comment letting them know that you're sharing it.
---
Best Practices to Follow when Reposting on TikTok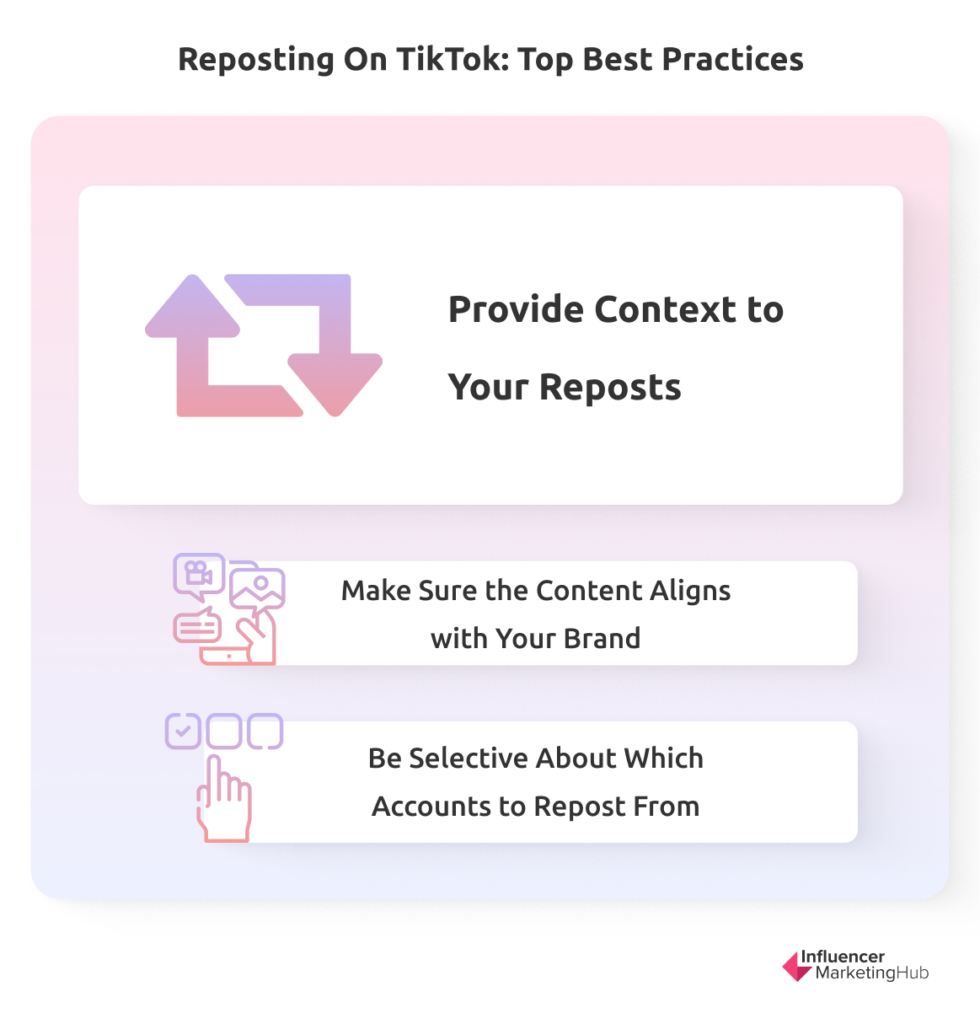 Reposting on TikTok may offer a ton of benefits for brands and creators alike. At the same time, there are a few best practices that can help you truly benefit from this feature. Let's take a look.
Provide Context to Your Reposts
While a simple repost may be enough for most videos, some videos may require further context. Is there a particular reason why you decided to share the video? What do you think your audience can gain from it? It's important to add some context as to why you're reposting certain videos.
When you finish reposting a video, TikTok gives you an option to "Add your thoughts." The message box will appear as a pop-up indicating that the video has been reposted. Use this space to add a short comment about why you reposted the video. Perhaps it's because you want your users to learn something new or you want to start a discussion around the topic, for example.
---
Make Sure the Content Aligns with Your Brand
First things first, don't just repost stuff for the sake of it. Since you can repost TikTok videos in just a few taps, it's easy to share something on impulse. Perhaps it's something that made you chuckle or something you'd rather share privately with close friends. Regardless, not all the videos you enjoy watching might align with your brand.
Before reposting anything, carefully assess the content to make sure it aligns with your brand values, identity, and message. This is true even for individual content creators because you would've worked really hard to build your personal brand on the platform. Reposting something that doesn't align with your image could easily undo all the work you've put in over the years.
---
Be Selective about which Accounts to Repost from
Beyond the content itself, there's also the fact that some accounts may not necessarily align with your brand values. Before hitting the repost button, go through the account that originally shared the video and check out the other videos they've created in the past. Does the account regularly share content or discuss topics related to your industry or interests? Do they use a tone that you'd normally want to use for your own content?
It's important to be highly selective about the accounts you repost from. This is particularly true for brands as you want to make sure you're reposting from creators whose values align with yours. Make sure you're using the feature to acknowledge influencers who have remained loyal fans of your brand over the years.
---
How Will You Use the TikTok Repost Feature?
The repost feature on TikTok has a ton of potential for both brands and creators alike to drive engagement on the platform. Whether it's for sharing customer-created videos as social proof or acknowledging content created by your loyal fans–there are a number of ways to take advantage of this feature. That's exactly what's so great about it–you can get as creative as you want. So how are you planning to use the TikTok repost feature?
Frequently Asked Questions
What does reposting do on TikTok?
Reposting on TikTok will share the video with your friends on their For You pages.
Can I see who reposted my video on TikTok?
Currently, TikTok doesn't let you see specific users who reposted your video.
Who can see the videos I repost on TikTok?
Your friends, or the people you follow who follow you back, will be able to see the videos you repost on TikTok.
Can I un-repost a TikTok video?
Yes, TikTok gives you the option to remove a video you've reposted on TikTok.
Can I repost someone's video without their permission?
It's always a good idea to ask for permission before reposting someone's video to avoid violating TikTok's community guidelines.