Advertising Disclosure
Advertising disclosure:
Our partners compensate us. This may influence which products or services we review (also where and how those products appear on the site), this in no way affects our recommendations or the advice we offer. Our reviews are based on years of experience and countless hours of research. Our partners cannot pay us to guarantee favorable reviews of their products or services.
Thanks to its intuitive layout and impressive customization options, Shopify has become an integral platform for entrepreneurs and enterprises of all sizes. Whether you want to set up an online shop or revamp your current eCommerce platform, Shopify is an excellent option. However, not everyone is adept at creating and building a custom Shopify shop that stands out. As such, many business owners hire a Shopify development company to handle the task instead.
A Shopify development company provides Shopify-related services and solutions like app development, theme modification, data migration, third-party integration, and general growth services. Shopify development agencies can also help in securing a domain name, designing eye-catching pages, and launching campaigns that boost traffic to your site and sales. Without these services, a shop may have an unprofessional look and generate little revenue.
There is a vast and global industry for Shopify agencies, and it can be challenging to choose the best developer for your business. To help, we've curated ten of the best companies that deliver exceptional Shopify development services.
---
10 Innovative Shopify Development Companies + A Guide to Choosing the Best Shopify Developer:
---
Top Shopify Development Companies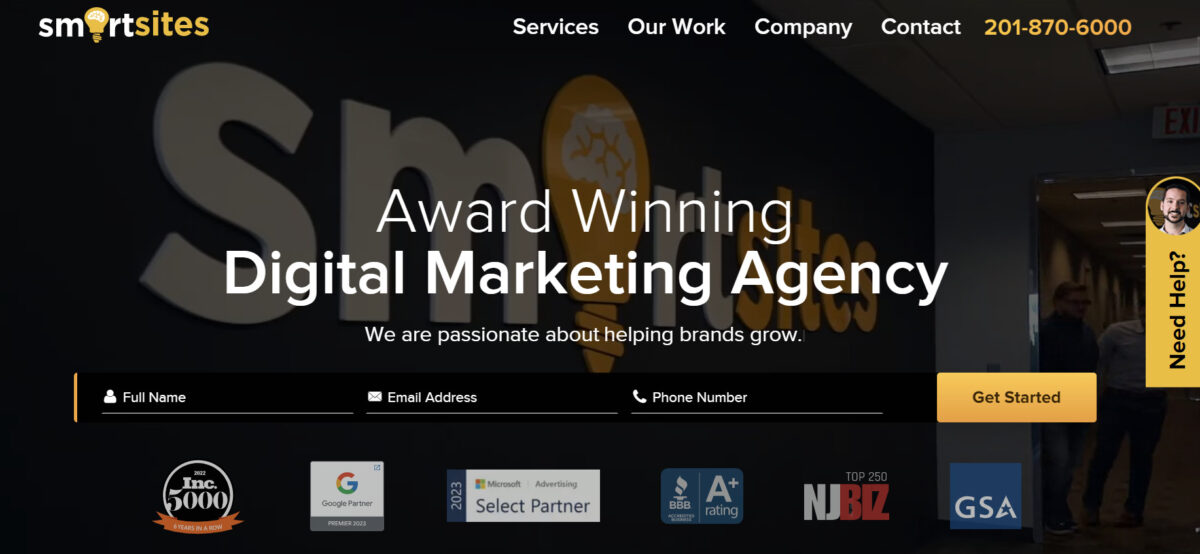 SmartSites is a multi-award-winning design and digital marketing agency based in New Jersey, USA. As a certified Shopify Partner Developer Agency, SmartSites provides solutions to increase revenue by improving the shopper experience and drawing in more customers. The company's trained Shopify professionals do an in-depth SEO audit on their client's Shopify website before making the appropriate site improvements. The team also enhances the performance of the eCommerce site by optimizing the user experience throughout the entire sales process.
SmartSite's Shopify services include:
Shopify Website Development
Shopify Website Design
Shopify Theme Customization
Shopify SEO
Shopify Conversion Optimization
Key clients: Disney's Beans, Everything Koi, Coin Exchange NY, EverTech
Case studies: smartsites.com
---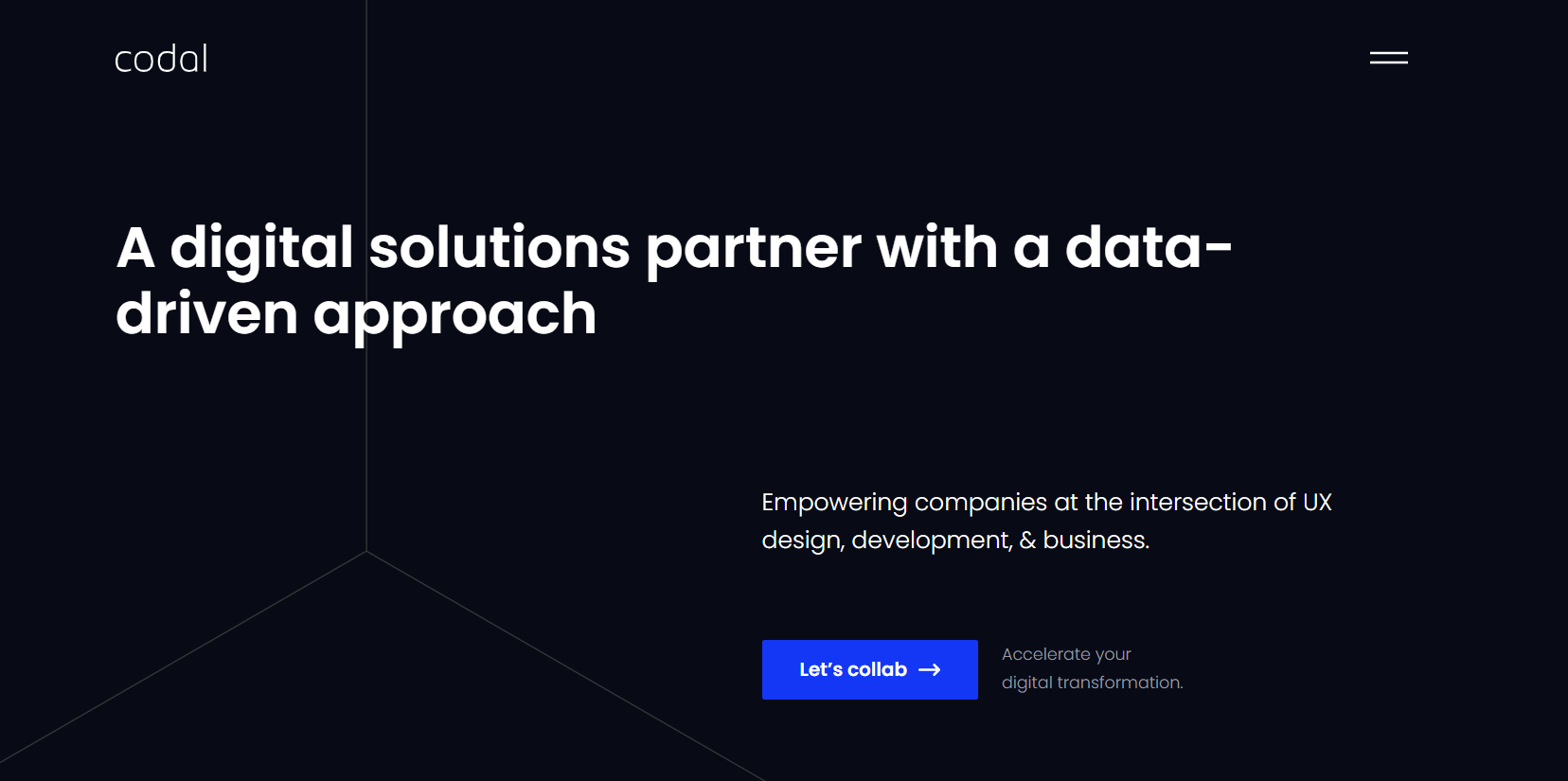 Codal is a digital agency specializing in creating effective solutions for brands across various platforms. With over a decade under its belt, the company's expertise lies in providing strategic solutions that help brands achieve their goals and targets. Codal uses a data-driven approach that helps businesses improve their user experience design, development, and overall business operations.
Codal, with offices in the US, India, and the UK, is a certified partner of Shopify and BigCommerce, two of the leading eCommerce platforms available today. The company boasts superior UX and UI design services that can help businesses enhance their digital presence, expand their customer base, and generate and oversee additional streams of revenue. The company also prides itself on implementing a highly advanced and versatile eCommerce technology infrastructure that enables businesses to easily adjust to changing market trends, customer preferences, and new technological advancements.
Codal executes a five-step process for its Shopify and other eCommerce projects: discovery, eCommerce strategy, design, engineering, and maintenance. They integrate their client's current tools, including CMS, CRM, IMS, and other third-party software, into a secure and speedy eCommerce platform. This allows clients to manage data and process payments securely while also automating certain workflows.
Key clients: M&M Merchandisers, Mark Bell Sling Shot, Mahlkönig, Garrett Popcorn
Case studies: codal.com
---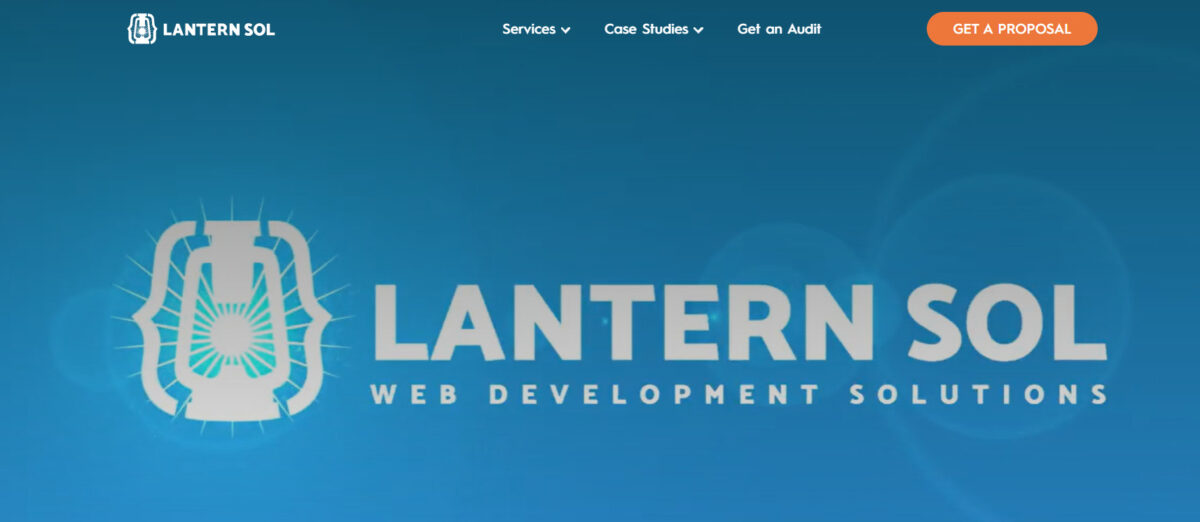 Based in Cincinnati, Ohio, Lantern Sol has expertise in designing, developing, and optimizing eCommerce websites. The company offers a wide range of services, including web development, SEO, video production, CRO, PPC, branding and design, and email marketing. A Shopify development partner, Lantern Sol is known for its strategic approach, adherence to best practices, decisive demeanor, and steadfast commitment to integrity.
Their team utilizes their expertise and experience to enhance their client's storefront. They employ an extensive approach to gain in-depth knowledge of their clients' positioning and the competitive environment. The company combines the best modern-day practices for online conversion to create a comprehensive design overview of the client's new store.
Lantern Sol offers up to two revisions, with the possibility of additional revisions depending on the client's chosen bundle. The service includes confirmation of design, implementation, and development. Their eCommerce web development and design services include:
Re-design and Develop
Develop Provided Designs
Store Customization
Key clients: Sana Packaging, Windy Valley, Equi Botanics, Compression Care
Case studies: lanternsol.com
---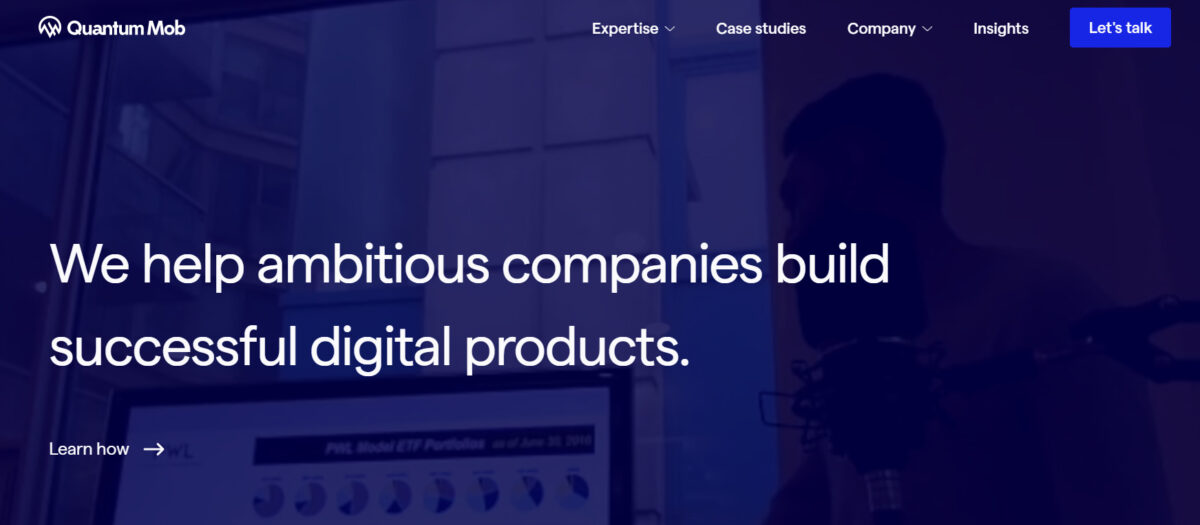 Based in Toronto, Canada, Quantum Mob (QMO) is adept at providing digital solutions to solve complex business problems. The QMO team executes solutions like initial engagements, product design, engineering, and DevOps. They offer scalable software programs and user-validated products that can be seamlessly integrated into any business model.
QMO, a certified Shopify partner, delivers Shopify app development and Shopify website services. Its team of specialists identifies effective customer acquisition channels by using plugins on popular commerce platforms. This approach has enabled them to capture users and increase their customer base. They develop Shopify websites with a well-structured system that enhances automation, performance, and traffic. Furthermore, their in-house experts offer top-tier support for building a Shopify store or creating a trusted headless platform.
QMO's digital commerce services include:
Mobile Commerce
Headless Commerce
PoS Integrations
Design and UX
Key clients: Air Miles, Aeroplan, Moda Match, Healthy Meal Plans, Puntos Colombia
Case studies: qmo.io
---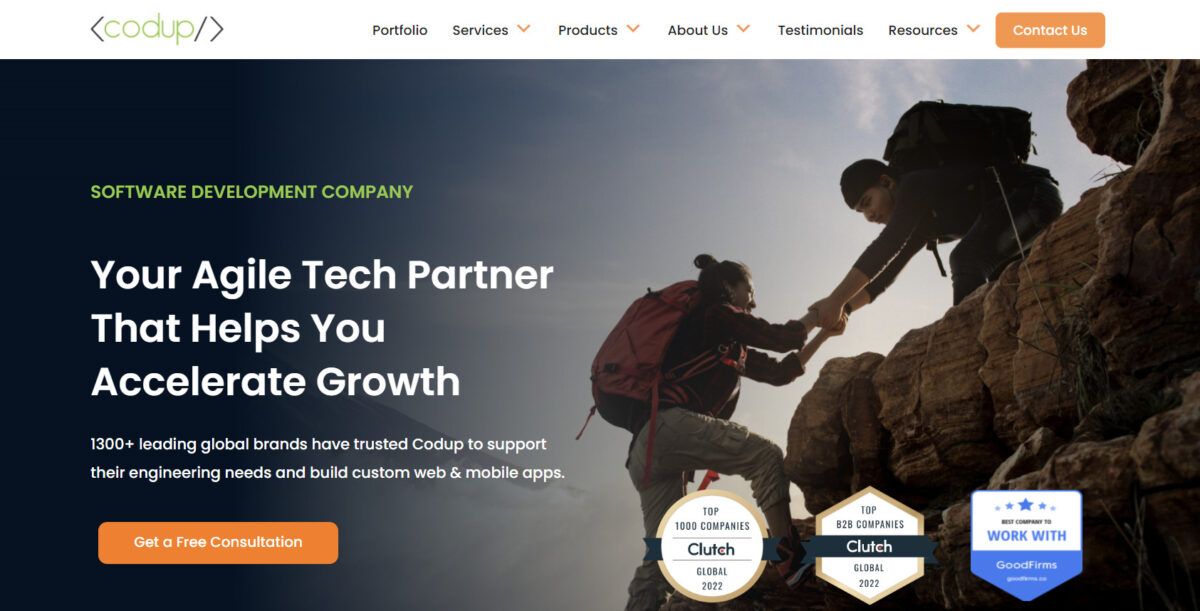 Codup is an acclaimed software development company that transforms the way software development projects are delivered. The company combines excellent service with adaptability, speed, and agility. With offices in the US and UAE, Codup has built unique web and mobile applications and supported the engineering needs of more than 1300 top global companies.
Codup has a specialized team that handles its Shopify development services, which include:
Shopify Store Setup
Shopify Website Design
Shopify Theme
Shopify App Development Services
Shopify Migrations
Shopify Plus Development
Shopify API Integrations
Codup provides both agile and fixed-price projects for website development. If the client's goals are set from the beginning of the engagement, they recommend a fixed price project. However, if the client's needs may change during the development process, the agile method is proposed.
Key clients: National Wildlife Federation, Quadro, Multiply Eyewear, One Tree Planted
Case studies: codup.co
---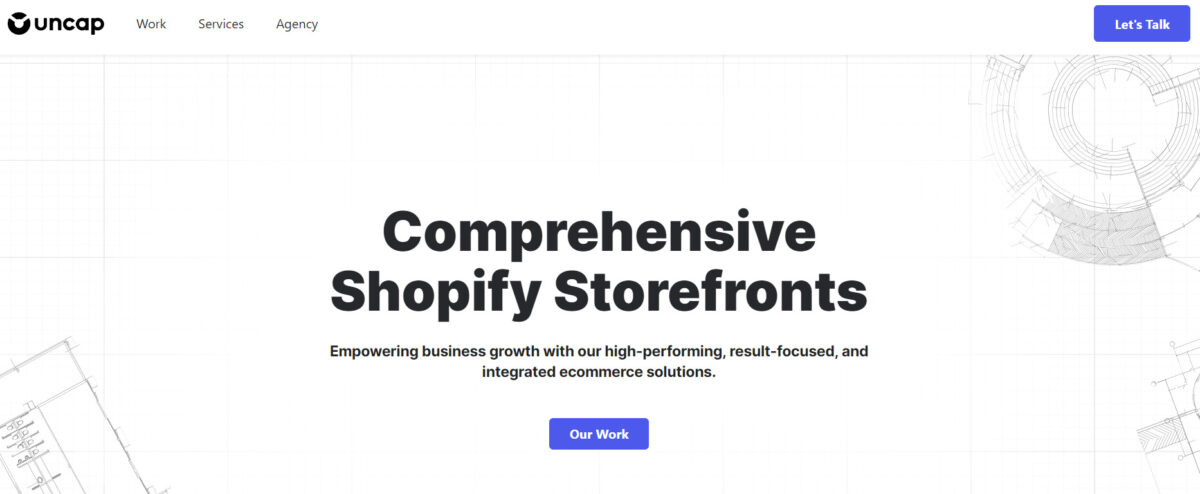 The Chicago-based web design and development company Uncap specializes in enhancing the user experience and increasing revenue for online stores. The company has a track record of creating cutting-edge eCommerce platforms that perform well and convert visitors into customers. With Uncap's eCommerce services, clients can leverage the power of Shopify to grow their online businesses. The company excels in helping brands turn their creative ideas into profitable ventures through B2C eCommerce.
Uncap offers a comprehensive Shopify migration solution that includes the following services:
Shopify and Tech Stack Setup
3rd Party Integrations and Apps
SEO Preservation and Enhancement
New Design and Development
B2B Capabilities
Complete Data Migrations
Uncap's Shopify Build, on the other hand, improves eCommerce websites by providing remarkable user experience. This solution includes the following services:
Data-driven eCommerce Strategy
Third-Party Integrations and Apps
Shopping Cart and Data Migration
Exceptional User Experience
Optimized for Mobile and SEO
Maintenance and Support
Key clients: Pawstruck, Cubii, Kalorik, Supcase, Codex Beauty Labs
Case studies: uncap.com
---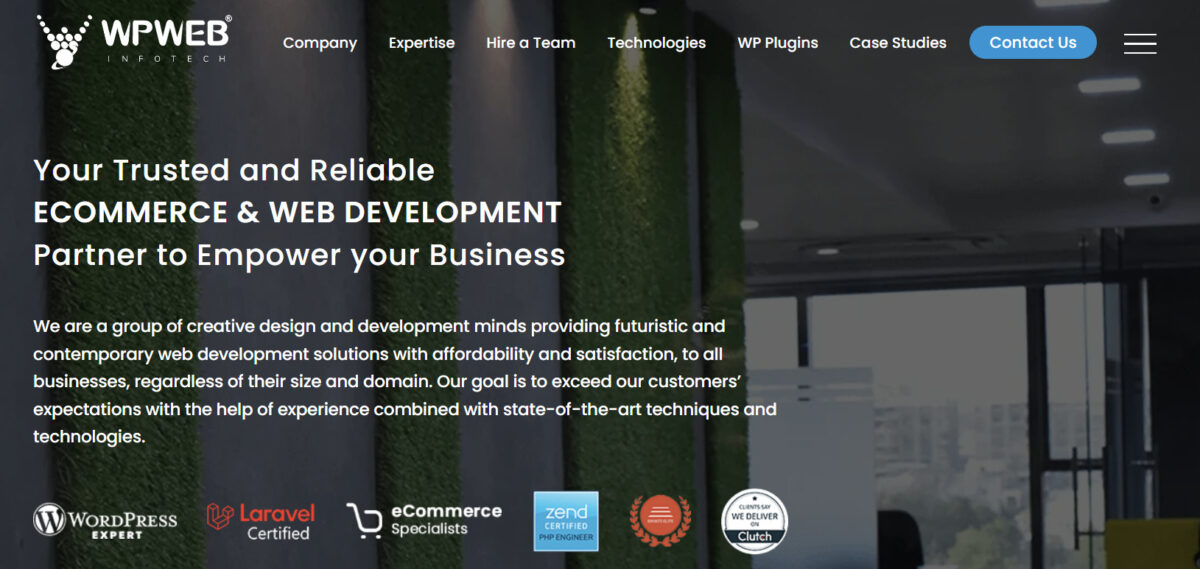 WPWeb Infotech is a prominent player in the eCommerce and web development industries, catering to the needs of global businesses of all sizes. Its IT solutions have been praised for their efficacy and reliability. Moreover, they have been recognized as a leading Shopify development company, providing second to none Shopify services to their clients. They offer various hiring models based on their clients' needs. These include dedicated, fixed price, hourly, and on-site hiring options.
WPWeb Infotech's team of trained Shopify web developers are highly skilled and experienced in developing eCommerce stores with user-friendly interfaces that attract and convert leads. The company's development team employs agile methodologies to fulfill client needs while reducing development expenses and time.
Their comprehensive range of development services includes:
Shopify Store Setup and Configuration
Shopify Migration Services
Shopify Integration and Upgrade
Shopify Theme Development
Shopify Third-Party Integration
Shopify Maintenance and Support Services
Key clients: Whoosh Music, Mingle, Job Portal, My Club Lotto
Case studies: wpwebinfotech.com
---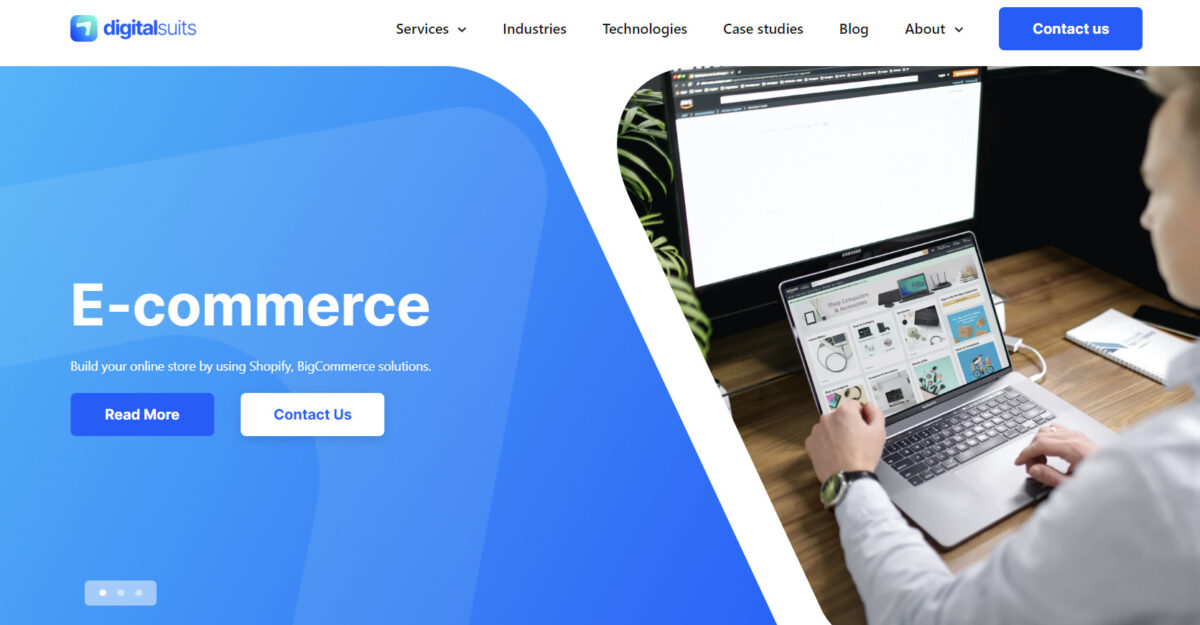 DigitalSuits is a Texas-based software development company specializing in eCommerce and software as a service (SaaS) development. The company has years of experience developing online shops for various industries and ranks as one of the best Shopify development service providers.
The company's skilled Shopify team not only completes projects but also strives to maintain long-term relationships with clients and receive referrals from them. Their Shopify development services include:
Headless Shopify Development
Shopify Website Development
Mobile-first Design Implementation
Multi-language and Currency Store Development
Data Migration
Creative UI/UX Design
Ongoing Support and Consulting
Site Speed Optimization
Subscription Implementation
Key clients: AskPorter, SecuLinks, Crossing Minds, Scentbird
Case studies: digitalsuits.co
---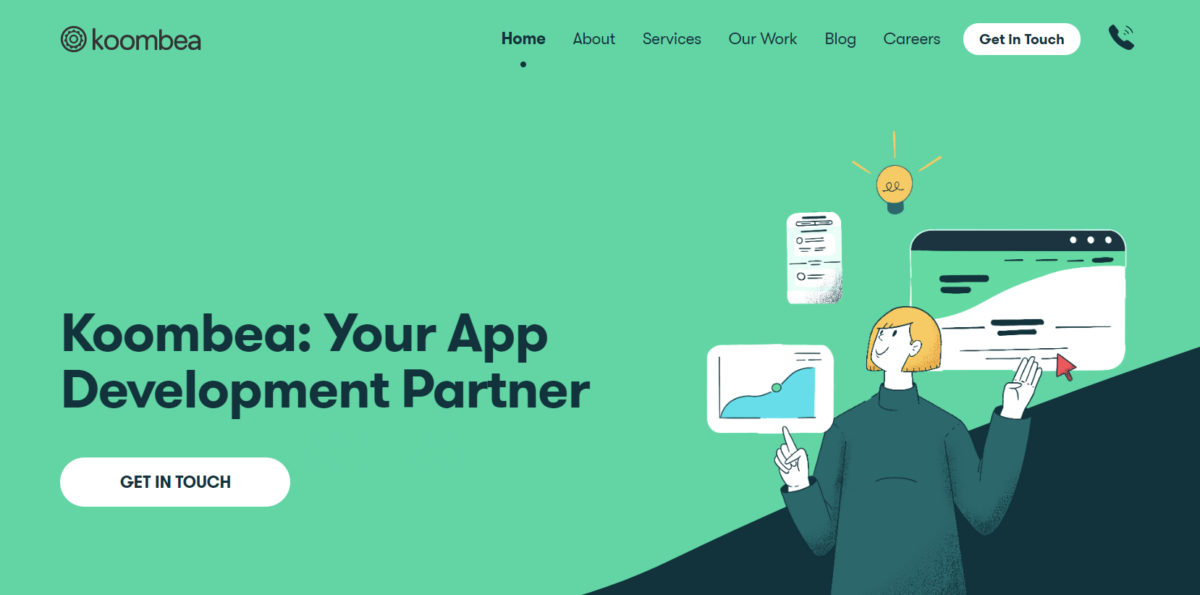 Koombea is a digital product development company that specializes in mobile and web app development projects. Based in Miami, Florida, the company takes a strategic development partner approach and employs a custom agile development technique to prioritize the needs and users of its clients. Koombea offers a comprehensive range of services for developing digital products encompassing everything, from strategy to product design.
Koombea's dedicated team has been developing Shopify stores and eCommerce solutions for over a decade. They assist clients in realizing their goals, like building a new shop, upgrading an existing one, and migrating from or to another platform. Their Shopify services include:
Shopify Website Development
Shopify Integrations
Shopify Theme Development
Shopify Theme Customization
Shopify Migration
Shopify App Development
Shopify Store Maintenance and Support
Key clients: Jamar, Do It Center, Luna Care, ACT Academy
Case studies: koombea.com
---

WeCanFly is a Shopify development company based in Poland. The company caters to the needs of rapidly growing brands. Their team consists of certified Shopify developers who have a deep understanding of the platform. They can create highly functional Shopify stores that are tailored to meet the specific brand identity and requirements of their clients.
Being a Shopify-exclusive agency has made WeCanFly experts in designing solutions and providing Shopify services which include:
Shopify Custom Development
Shopify Integrations
Migration to Shopify
Growth
WeCanFly's Shopify Custom Development team specializes in Shopify Plus, theme and app development, performance optimization, headless eCommerce, and B2B channels. Additionally, the company provides bespoke integration services that can sync with Shopify or Shopify Plus stores. They also migrate data from WooCommerce, Magento, BigCommerce, Shopware, and WordPress.
Key clients: L'Occitane, Oakywood, Shoepassion, Optisofa
Case studies: wecanflyagency.com
---
Finding the Perfect Shopify Development Partner for Your Business
With plenty of choices available, selecting the best Shopify eCommerce development company for your business can be tough. To avoid feeling overwhelmed, consider your budget, target, goals, and timeline. Keep in mind that although urgency and complexity can affect the price of the service, these factors should not be the only ones considered.
Before you work with a Shopify developer, you need to have a clear vision of what your business needs. Setting specific goals from the beginning can ensure a smooth relationship with your chosen developer. You can visit the stores of your competitors to gain insights into how they present their products. Use these insights to better communicate what you like and dislike for your own store.
Here are some tips on what to look for in a Shopify development company.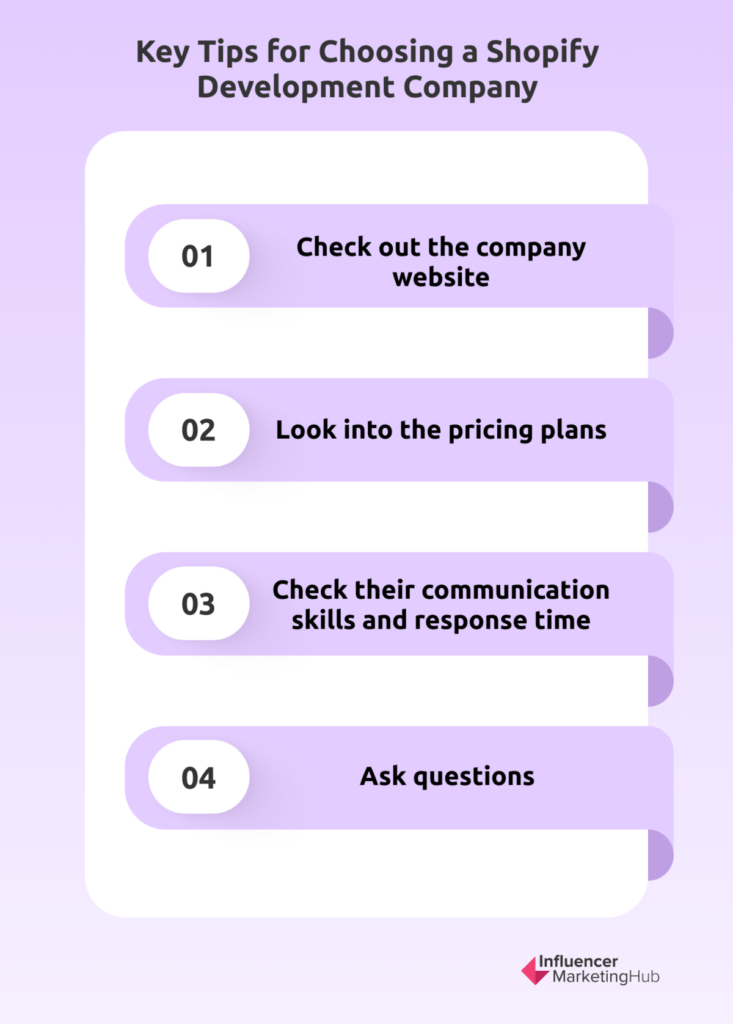 Check out the company website
A credible developer will have an updated portfolio with working links to the projects they've developed. Review the services and solutions offered and check if the developer has worked with similar businesses as yours. Check out the company's profile in reputable business listings to learn more about them. Read client reviews and comments from outside sources.
---
Look into the pricing plans
Most Shopify developers don't display their pricing plans on their websites. Instead, they ask potential clients to contact them via email or through their Contact page to obtain an estimated cost for the services needed. To avoid misunderstandings, provide detailed descriptions of the services you require when reaching out to them.
---
Check their communication skills and response time
Once you've contacted a potential developer, it's important to assess how they communicate with you. This not only includes the speed of their response but also their ability to understand your business needs and goals. Additionally, their recommendations should be backed up with data and evidence.
---
Ask questions
A trustworthy and experienced developer will give you ample opportunities to ask questions. Here are some examples of questions you should ask:
Have you ever worked on a project like mine? Can you provide any recent examples?
What kind of software, tools, or applications do you use?
What are the stages of the development process?
Do you provide post-development assistance?
---
Understanding the Financial Implications of Hiring a Shopify Developer
Hiring a Shopify developer to build you a new online store or update your old one has tons of benefits. Although hiring a developer may come at a cost, their services and expertise make it a worthwhile investment. It will save time and money, minimize human errors, and optimize your store's performance. All these lead to an increase in revenue.
The following is the usual price range for various project sizes: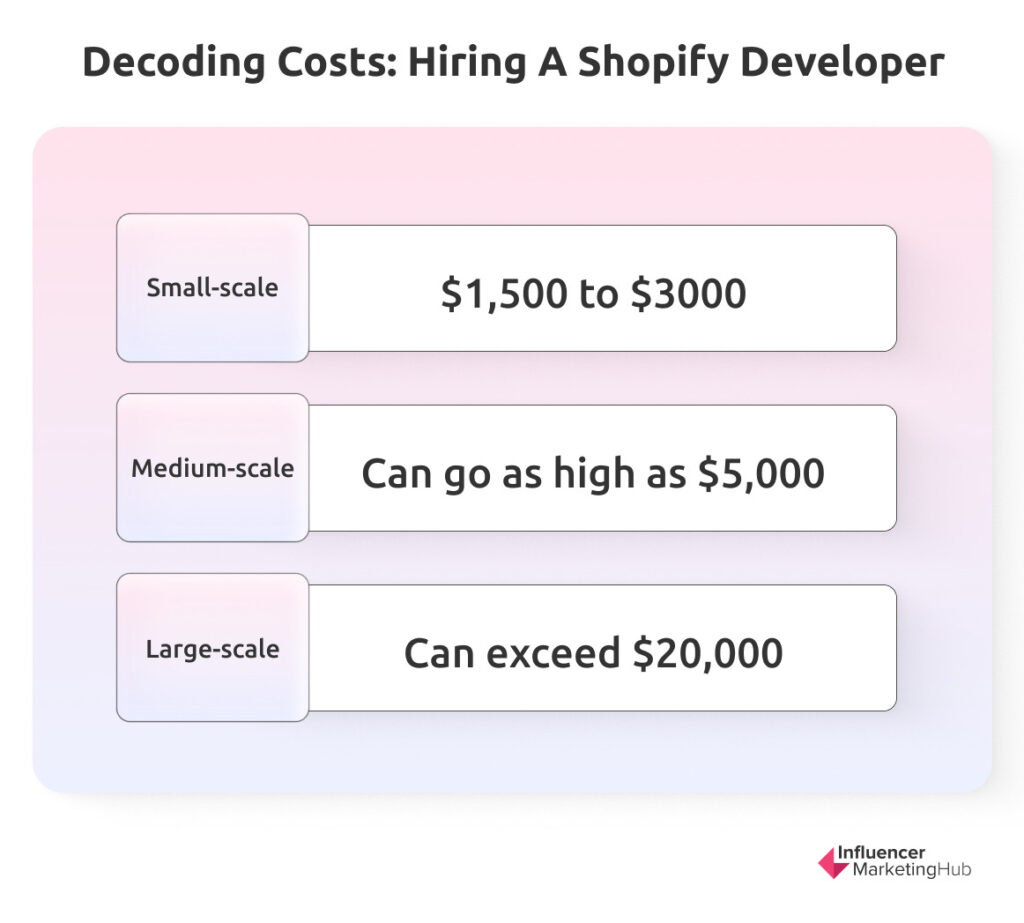 These standard quotations exclude extra fees like taxes.
There are many factors that influence the price of acquiring Shopify development services. These include the project type, complexity, location, timeline, hiring model, and the skills and experience of the developer. Keeping these factors in mind, it is important to make an informed budget decision and negotiate the price with your chosen developer.
---
Wrap Up
Working with a Shopify development company can give you a competitive advantage. Ensure that you work with a Shopify-certified partner that offers a full set of services at a reasonable price, and provides a dedicated team that can help you take your eCommerce business to even greater heights.
Frequently Asked Questions
What is Shopify?
Shopify is a global eCommerce platform that helps individuals and companies create an online shop to sell products and services online using a simplified approach.
What is a Shopify development company?
A Shopify development company offers services and solutions such as Shopify website and app development, theme customization, eCommerce migration, third-party integration, and optimization designed to help Shopify sellers create and scale their shops.
What are the top Shopify development companies today?
There are several reputable Shopify development companies, including the following:
SmartSites
Codal
Lantern Sol
Quantum Mob
Codup
Uncap
WPWeb Infotech
DigitalSuits
Koombea
WeCanFly
What factors should Shopify sellers consider when looking for a Shopify development company?
When choosing a company to work with, Shopify sellers must assess their budget, project goals, and timetable. They need to review the developer's past performance, credibility, and pricing plans.