Advertising Disclosure
Advertising disclosure:
Our partners compensate us. This may influence which products or services we review (also where and how those products appear on the site), this in no way affects our recommendations or the advice we offer. Our reviews are based on years of experience and countless hours of research. Our partners cannot pay us to guarantee favorable reviews of their products or services.
The evolution of social media over the years has made it a prime venue for marketing. Nowadays, it is mandatory for brands to maintain some form of social presence. Even more so, the vastness and reach of these platforms, paired with numerous integrative tools, give marketers a serious advantage. 
One of the numerous available tools that marketing leaders need in their arsenal to navigate this terrain successfully is Social Listening Software. With the sheer volume of conversations, engagements, and experiences being shared across various social media channels, it becomes critical to comprehend, decipher, and respond effectively to this digital dialogue.
Social Listening Software, at its core, enables businesses to capture and analyze public conversations and sentiments across different social platforms. It allows organizations to understand the narrative consumers create around their brand, their competitors, and the industry at large. With features that range from tracking mentions, sentiment analysis, and competitor analysis to crisis management, these software solutions facilitate real-time insight into your brand's online reputation.
Because of that, we present you with an article outlining the top 10 Social Listening Software solutions for 2024 to give marketers the edge and seize the social world.
---
Best Social Listening Software
Top
social listening software
2024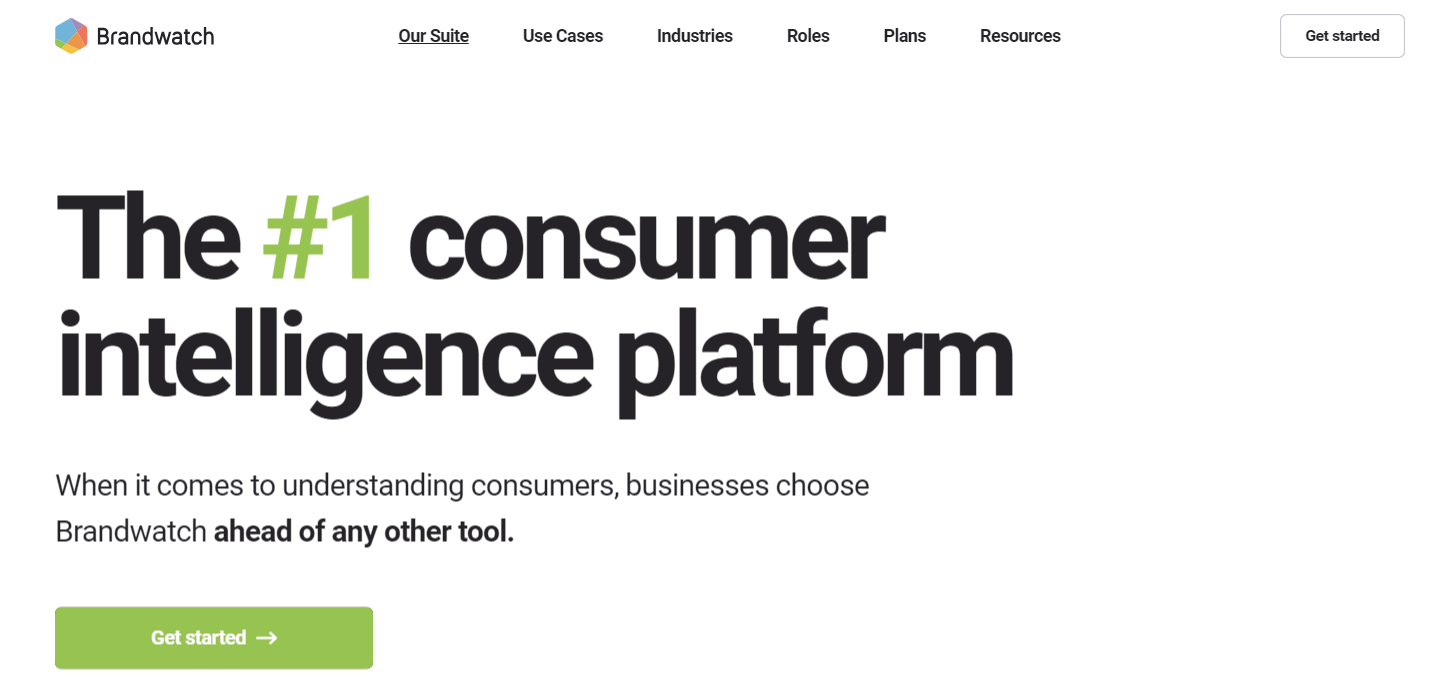 Networks: Twitter, Facebook, YouTube, Instagram, Reddit, blogs, forums, and other online sources
Features: Real-Time Monitoring, Sentiment Analysis, Boolean Operators, Historical Data, AI Smart Alerts, Social Inbox Integration, Multi-Language Analysis, Unlimited Search Queries, Brand Perception Analysis
Pricing: Detailed pricing upon booking a meeting
A force to be reckoned with in the social listening realm, Brandwatch is engineered to equip large-scale businesses with the critical insights necessary to understand and engage with their consumer base. This sophisticated tool harnesses the power of Artificial Intelligence to cut through the noise and find the most relevant conversations from billions happening online every day.
Brandwatch excels at parsing data, offering the ability to track brand mentions and analyze sentiment, thereby providing a comprehensive understanding of what truly resonates with your customers. Its AI-driven alerts ensure you remain one step ahead, ready to tackle potential crises before they escalate.
In addition to typical social media channels, Brandwatch's Listen feature expands its reach into forums and review sites. The tool offers unlimited search queries with 48 different Boolean operators, granting you the freedom to shape your search strategy without any restrictions. With a repository of historical data spanning a year, Brandwatch also helps identify fresh opportunities based on past trends.
The software is designed with user-friendly integration in mind, smoothly linking with the Engage platform for easy access to brand mentions. With support for multiple languages, Brandwatch can truly be considered a global tool capable of understanding conversations across different cultures and regions.
---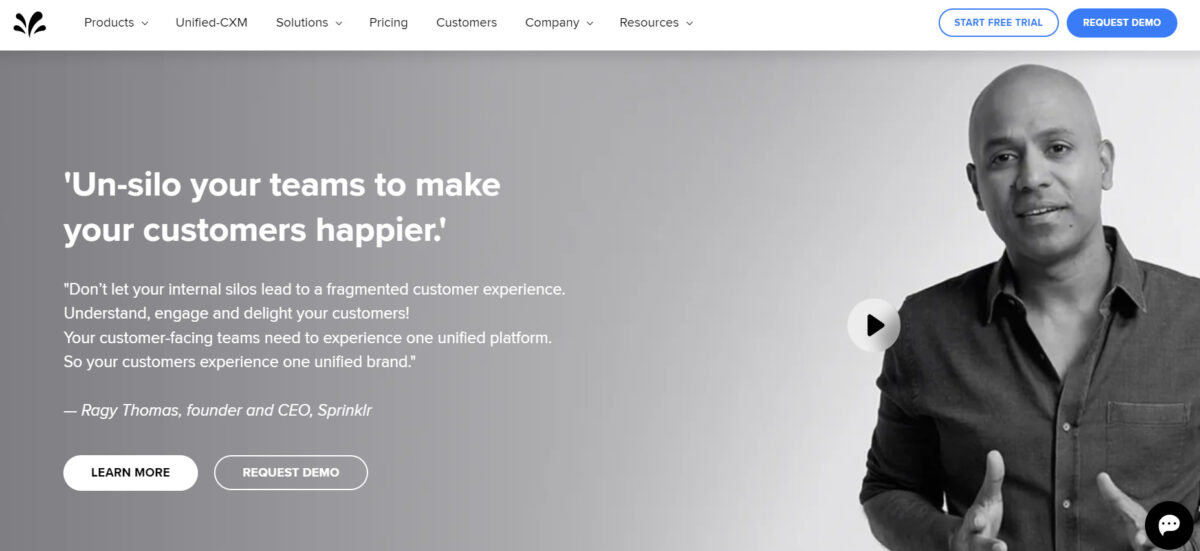 Networks: 30+ modern and social channels, including social media, messaging, chat, review sites
Features: AI-Powered Social Listening, Real-time Actionable Insights, Customer Feedback Analysis, Crisis Detection, Advanced Query Building, Enterprise-Scale Conversations, Access to Historical Data, AI-powered Alerts
Pricing: $299 per seat/month, billed annually. Enterprise plan also available
Sprinklr is a robust social listening tool that transforms raw data into actionable insights, enabling businesses to evolve and grow. Leveraging AI technology, Sprinklr taps into over 500 million conversations daily from your core brand channels and across 30+ modern channels, making it a truly comprehensive platform.
One standout aspect of Sprinklr is its ability to translate real-time voice-of-the-customer data into insights that can be used across an organization to drive innovation. Sprinklr empowers businesses to adapt their strategies based on customer behavior, capturing valuable feedback, identifying market trends, and giving them a competitive advantage over rivals.
But thanks to its proactive social media monitoring capabilities, Sprinklr truly excels at one particular area – crisis management. Its AI-powered tools swiftly detect changes or anomalies in online activities and alert relevant teams, reducing response time by up to 70%. Moreover, Sprinklr offers advanced query-building and Entity filters for digging into historical messages across channels dating back to 2014.
Its AI-powered social listening capabilities don't stop there. Sprinklr enables businesses to identify trends, topics, and influencers that are most significant to their customers, thereby driving better business decisions. The software offers out-of-the-box templates built on over a decade of client expertise, further simplifying the process of refining listening strategies.
---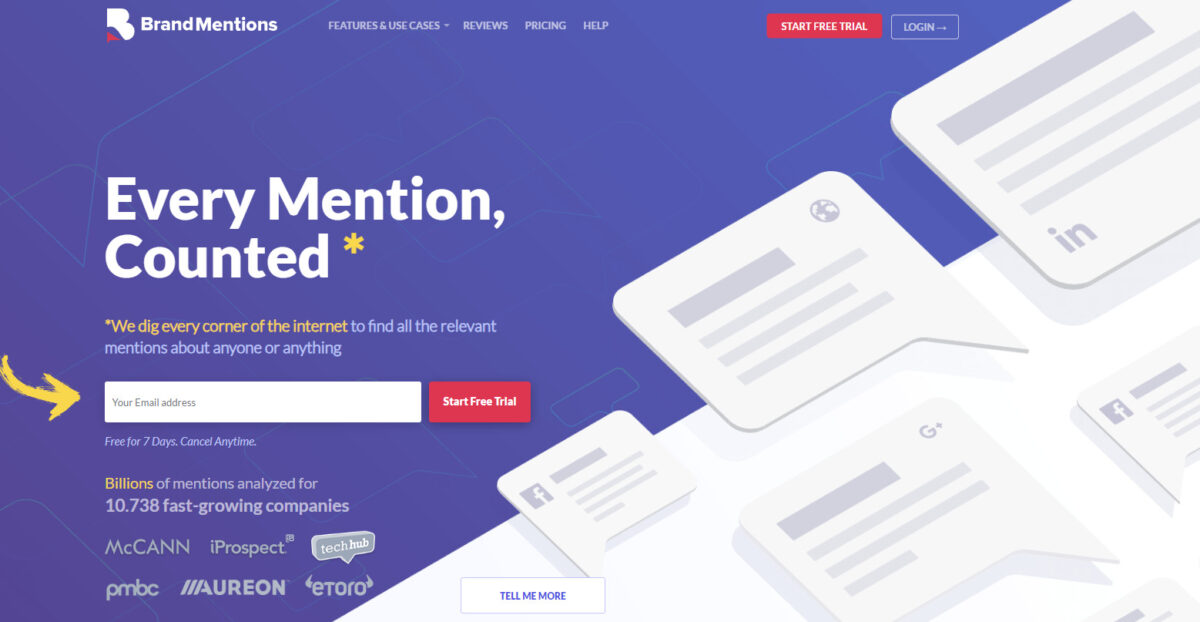 Networks: Twitter, Instagram, Facebook, YouTube, Pinterest, Blogs, News
Features: Real-time Social Listening, Historical Social Data, Influencer Identification, Competitor Tracking, Instant Alerts, Single Dashboard for all Social Networks, Reputation Management, Cross-platform tracking
Pricing: Starts at $79 per month for Growing Business
BrandMentions is a versatile social listening tool, enabling businesses never to miss any conversation about their brand. It's designed to help companies track every social channel from a single application, offering real-time and spike notifications to inform them about their online presence.
One of the significant strengths of BrandMentions is its historical social data feature, allowing the extraction of years of past data from all social networks, blogs, and news. This immense database is instrumental for analyzing trends and strategizing future plans.
The software also shines in managing online reputation, enabling businesses to actively participate in conversations about their brand, products, and services. With an efficient one-click reply feature, it streamlines the response process across all platforms, greatly improving customer engagement.
BrandMentions' influencer identification functionality helps discover influential brand advocates, while the competitor tracking feature keeps a close eye on competitors' activities, making it easier for companies to make smart, data-driven decisions.
In case of any increase in brand mentions, users get real-time alerts, thus allowing immediate action when things go viral, either positively or negatively. All these features make BrandMentions a reliable tool for companies looking for comprehensive social listening solutions to drive growth.
---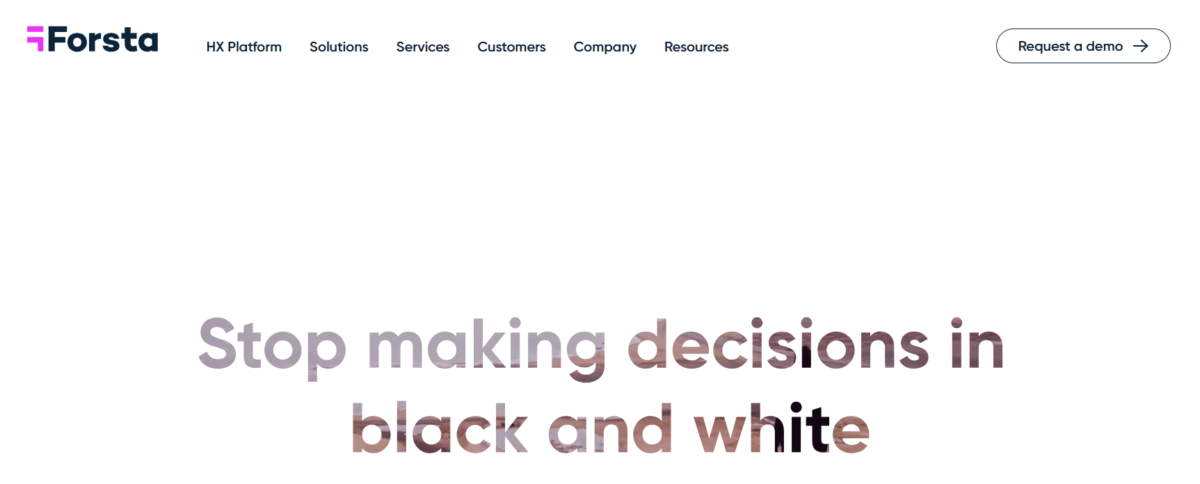 Networks: Google Reviews, Yelp, Trust Radius, TripAdvisor, Glassdoor, Open Table, Indeed, Twitter, Facebook, Instagram, LinkedIn, News Sites, Blogs, Forums, and Online Communities
Features: Instant Alerts, Social Media Listening, Online Listening, Data Analysis, Review Monitoring, Competitor Review Monitoring, Negative Review Management, AI, Machine Learning and Deep Learning-based Insights
Pricing: Detailed pricing after booking a demo
Forsta is a robust social listening tool that enables businesses to hear every review and opinion across various platforms. It pulls data from review scores, social platforms, news sites, and written opinions, allowing businesses to deeply understand customer sentiments. It even allows a peek into competitors' reviews, enabling a comparative analysis.
Its comprehensive review and opinion monitoring capabilities make Forstatruly stand out as a social listening software. In addition, the platform offers instant alerts for negative reviews, enabling businesses to act swiftly and turn a negative situation into a positive customer service experience. As a result, Forsta excels as an online brand reputation management tool. 
Forsta is also equipped with state-of-the-art data analysis tools, employing AI, machine learning, and deep learning to provide valuable insights from the flood of social media data. With this, you can spot trends, filter, and sort for broad insights or individual reviews, making planning and strategizing your business decisions easier.
---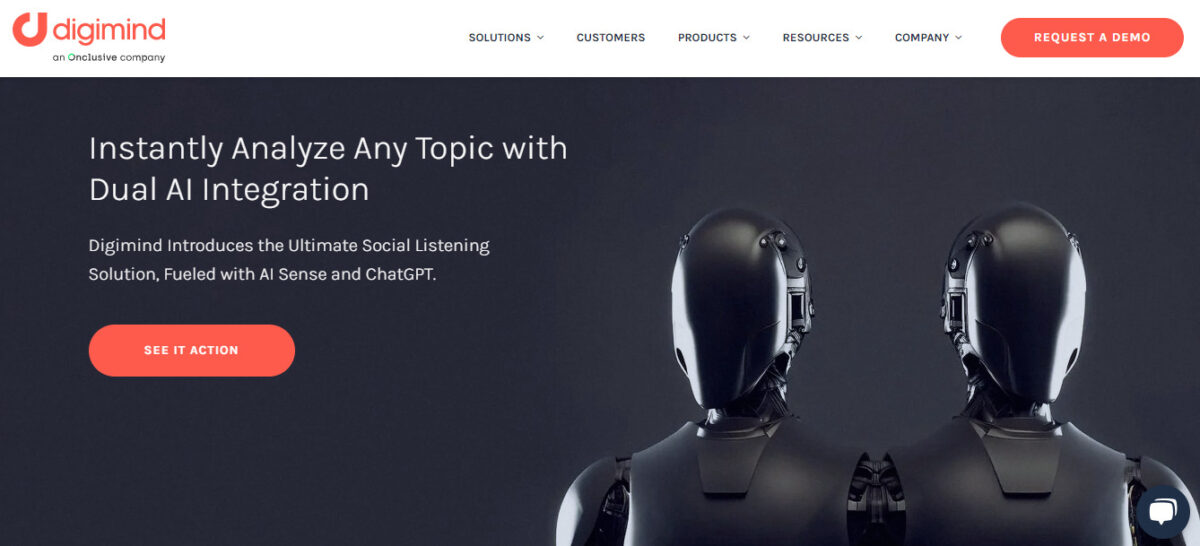 Networks: All major social media & web sources
Features: Unlimited Social Media & Web Coverage, Real-Time Updates, Geolocalization, Sentiment Analysis, Personalized Tags, Automatic Translation, Multi-Filter Analysis, Benchmarking, Influencer Tracking, Trending Topics, Seamless Engagement, Direct Sharing via Social Media and Email, Instant Publication, Report Generation, ROI Measurement, Search Data Analysis, Online Reputation Management
Pricing: Request a demo for detailed pricing
Digimind is a powerhouse for those who desire advanced social listening capabilities with the added benefits of a real-time, personalized dashboard. It captures unlimited social media and web coverage in real time, which helps companies maintain a steady pulse on their online presence. With geolocation and automatic translation features, Digimind is designed to operate globally, making it a particularly effective tool for multinational companies.
Digimind's robust analytics suite includes multi-filter analysis, automatic sentiment analysis, and benchmarking. These features provide comprehensive insights into brand mentions, sentiment, trending topics, and key influencers. Digimind has developed seamless engagement features to facilitate prompt and efficient responses that allow direct sharing on social media and email, along with instant publication.
Another standout feature is Digimind's comprehensive reporting, complete with presentation-ready reports, custom templates, and various export formats. The platform also focuses on ROI measurement, giving a detailed view of social statistics, search data, and online reputation management.
---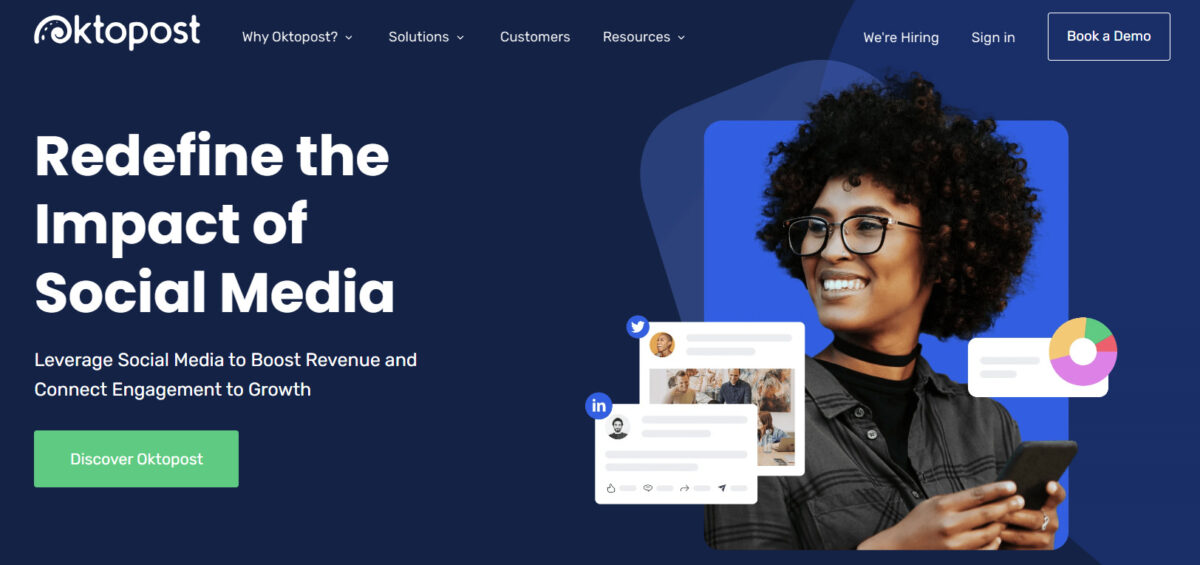 Networks: Social Media Channels, News Websites, Reddit, Blogs, Forums
Features: AI-Powered Social Listening, Brand Equity Measurement, Customer Feedback Monitoring, Sentiment Analysis, Competitor Analysis, Influencer Marketing Impact Analysis, Customizable Social Listening Reports, Real-Time Business Insights, Brand Mentions Tracking, Intelligent Notifications, Influencer Discovery
Pricing: A demo can be scheduled to receive a detailed pricing structure
Oktopost offers an AI-powered social listening platform that delivers actionable insights by analyzing millions of posts daily. By measuring brand equity, monitoring customer feedback, and tracking discussions, Oktopost helps businesses stay atop the conversations impacting their brand the most.
Unique features such as targeted audience insights enable companies to understand their buyers better, learn their preferences, and make informed decisions. Similarly, the platform facilitates competitor analysis, letting businesses gauge their online presence against industry leaders and track mentions, campaigns, and brands to understand their market share.
However, influencer marketing is one area where Oktopost truly shines. The platform allows businesses to discover industry thought leaders, assess their potential impact, and measure the success of influencer campaigns through reach and sentiment analysis.
But there's more. Oktopost offers real-time business insights and trend discovery, crucial for adapting to challenges and fulfilling market needs. The platform's reporting features are customizable and perfect for teams needing regular updates on relevant social conversations. Intelligent notifications ensure no spike in trackers' activity goes unnoticed, empowering businesses to take immediate action when needed.
---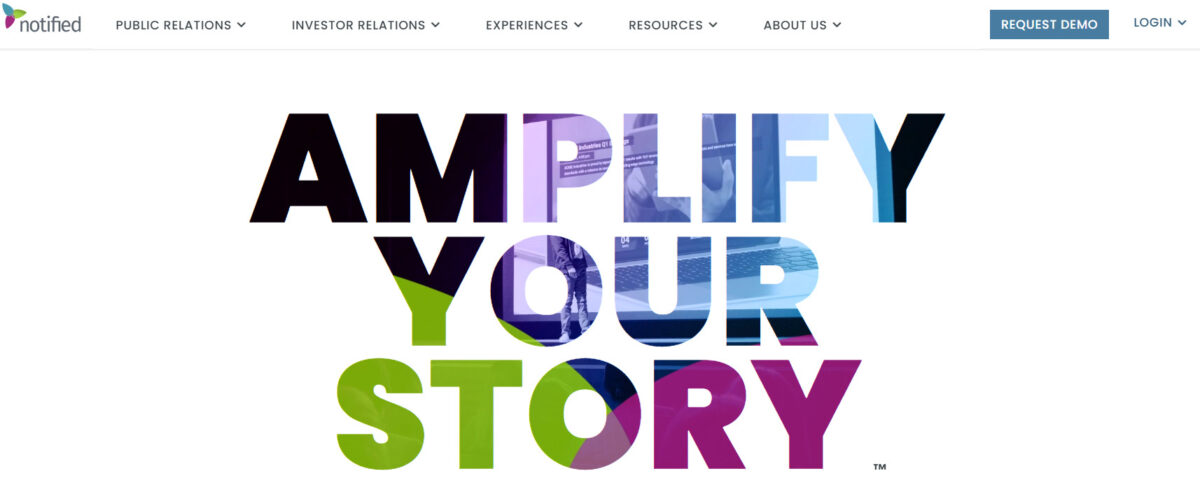 Network: Twitter, Facebook, Instagram, YouTube, other streaming sites, online news, print media, blogs, discussion boards, podcasts, TV and radio content worldwide, LexisNexis and NLA premium content
Features: Brand Reputation Tracking, Competitor Analysis, Industry News Monitoring, Boolean Queries, Media Ecosystem Monitoring, Media Contacts Database, Custom Search Filters, Coverage Books Creation, AI-Powered Insights, Share of Voice Measurement, Social Media and Earned Media ROI Analysis
Pricing: Detailed pricing upon demo request
Notified PR provides a comprehensive solution for businesses wanting real-time access to online and print media, social media conversations, podcasts, broadcast outlets, and premium content platforms. The platform's extensive reach enables brands to monitor their social media exposure across 150+ countries.
One key aspect of Notified PR is its robust search capabilities. It allows users to create powerful Boolean queries without needing expertise in Boolean logic, ensuring you never miss out on critical conversations and trends. It also provides sophisticated filtering options that help in surfacing actionable insights from vast amounts of data.
Integrated within the platform is a proprietary AI-powered tool that identifies active journalists writing about relevant search terms and keywords within your niche, thereby providing useful media contacts. Notified PR also allows businesses to create Coverage Books to compile and share earned media coverage easily.
However, the platform extends beyond monitoring to offer a complete PR workflow solution with press release distribution, newsroom publishing, and PR measurement features. All data and analytics flow seamlessly, providing a single source of truth to measure performance and ROI across social and earned media.
---

Networks: Twitter, Facebook, Instagram, blogs, forums, review websites, videos, call center conversations, chat messages, emails
Features: High Accuracy Multilingual Annotations, Unstructured Data Integration, Stakeholder Opinion Analysis, Marketing Campaign Evaluation, Hot Topics Analysis, Company Performance Correlation, Noise Reduction, Sentiment Annotations, Machine Learning Model Training, API or FTP Data Delivery, Customer Insights, Competitive Benchmarking
Pricing: Detailed pricing upon booking a demo
DigitalMR's Listening247® is a specialized social media listening platform known for its high semantic and sentiment accuracy. It allows businesses to manage unstructured and structured data from social media and their own internal sources like call center conversations and emails.
What sets this tool apart is its ability to understand stakeholders' opinions, identify trends, evaluate marketing campaigns, analyze hot conversation topics, and discover market gaps. In addition, the platform offers a unique function that allows users to find correlations of social intelligence metrics with stock prices and other company performance indicators.
DigitalMR uses an advanced approach to clean data and reduce irrelevant noise from harvested sources, providing cleaner, more accurate data. It also supports manual user data annotation or a network of native language annotators to ensure top-notch accuracy.
In addition to data management, the platform aids businesses in developing a deeper understanding of their customers and managing their online reputation more effectively. With the ability to combine data with accurately annotated training data, DigitalMR's tool achieves sentiment and semantic accuracies of over 80% at the post level, ensuring businesses receive the most relevant and accurate data.
Lastly, DigitalMR offers comprehensive reporting options, including syndicated to fully bespoke, tailored to the business's input in report setup, content, and reporting frequency.
---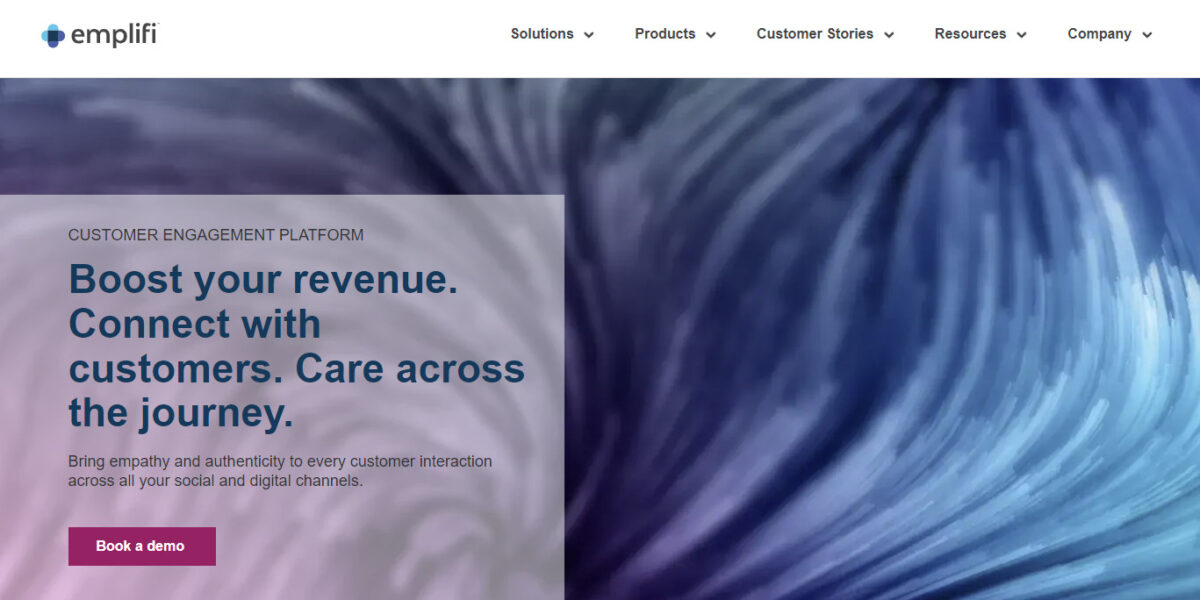 Networks: Social media platforms, news, blogs, forums
Features: Comprehensive Insights, Industry Gaps Identification, Spike Alerts, Real-time Multilingual Support, Powerful AI Tools, Custom Displays, Engagement Understanding at the Point of Purchase, Historical Context, Competitive Intel, Dynamic Displays, Amplified Customer Feedback with Social VoC, Survey Programming and Customization, Reporting and Decision AI
Pricing: Yearly subscription starts from $4,800.00 for 20 profiles
Emplifi is a social listening software designed to empower brands by providing comprehensive insights across social media, news, blogs, and forums. Key features include automated labeling, sentiment analysis, advanced routing powered by AI, spike alerts notifying sudden changes in online activity, and real-time translation for over 100 languages, helping you engage with a global audience.
Emplifi focuses on understanding customer needs, expectations, and experiences at different touchpoints. Its Ratings & Reviews tool collects diverse customer feedback and automatically syndicates seller ratings, thus strengthening its online reputation. 
Moreover, using its historical data feature, Emplifi allows brands to analyze past trends and user behaviors. With this, brands can compare their performance with their competition and confidently adjust their strategy. The software's dynamic display keeps teams updated with key listening insights, while its industry-leading customer support helps you get the most out of the platform.
With all that said, one standout feature is its Social VoC tool, which allows customers to share their experiences directly on social channels. You can collect, organize, and analyze this feedback for more actionable insights. This software offers an all-encompassing social listening package that effectively combines customer feedback, competitive insights, and AI-driven analysis for optimal results.
---
Networks: Instagram, Facebook, Twitter, blogs, forums
Features: Compare Function, Top Insights, Social Media Archive, Boolean Queries, Discover Feature, Analysis, Data Export, and Sharing
Pricing: Book a demo to get detailed pricing
Retriever Listen is a dynamic social media listening and analytics tool. However, unlike its competitors, the tool was developed in collaboration with its clients, putting their needs at the forefront. With Retriever, you can understand and compare online conversations about your company, brand, products, and services, leading to valuable insights.
One of the main attractions of Retriever is the 'Compare' feature. The feature allows users to easily compare their data with competitors or previous campaigns without navigating complex filtering options. Simply put, it simplifies the analysis and decision-making process, providing insights quickly and efficiently.
The 'Market Dashboard' is yet another intuitive feature that provides an overview of the current market landscape, allowing users to discover insights without setting up a single Boolean search. The 'Top Insights' feature, on the other hand, provides an overview of the most critical recent events, enabling businesses to plan their next steps accurately.
A unique component of Retriever is its Social Media Archive, containing over 1 billion posts. This archive is a valuable source of historical data and trends, particularly relevant for Nordic organizations. It also allows users to see statistics such as the total number of posts and the number of posts per channel.
---
The importance of Social Listening Software for marketers
The essence of these tools lies in their ability to go beyond mere data collection. They filter and categorize data into actionable insights that can fuel marketing strategies, lead to a better understanding of customer behavior, and eventually foster brand loyalty.
Armed with the insights obtained, companies can streamline their content strategy, identify influential brand advocates, detect potential crises before they escalate, and benchmark their performance against competitors.
Ultimately, businesses can craft an experience tailored to their audience's unique preferences and pain points by harnessing the potential of Social Listening Software. This can lead to a significantly more engaging brand-consumer relationship, thereby enhancing the overall customer experience and positively impacting the bottom line.
---
How to choose the right social listening solution?
To choose the right social listening software for your business, start by identifying your needs. Consider what you want the software to do for you - this could be anything from social media monitoring brand mentions and tracking competitor activity to measuring campaign performance and identifying industry trends.
Next, pay attention to the networks the software covers. It's important to ensure the tool includes all the networks where your audience is active. The software should also be user-friendly; you wouldn't want a complicated tool that requires too much time to understand.
Another crucial aspect is the features. Key features you may want to look for include real-time monitoring, sentiment analysis, influencer identification, and trend tracking. However, your specific needs might require more specialized features such as image recognition or Boolean queries.
Beyond the features, how the software presents its data is also important. Therefore, look for software that provides easily understandable and customizable reports and visualizations. In addition to your own analysis, consider what other users have to say. Read reviews from others in your industry to get a sense of the software's reliability, performance, and customer service.
---
Conclusion
Social Listening Software is an influential tool that can aid brands in monitoring, analyzing, and responding to customer sentiments on social media. By effectively using this tool, organizations can improve their brand perception, create meaningful customer relationships, and adapt swiftly to market trends. As each tool has unique features and capacities, marketing executives must consider the various factors to ensure they select the most appropriate solution.
Frequently Asked Questions
Can I monitor my competitors with social listening software?
Absolutely. Most social listening tools allow you to monitor not just your own brand but also your competitors. You can gain insights into their marketing strategies, audience engagement, and customer sentiments, which can help you position your brand more effectively in the market.
Does social listening invade customer privacy?
Social listening tools only analyze publicly available data. They do not access private communications or personal data that isn't shared publicly. As such, social listening respects user privacy and complies with all relevant data protection regulations.
How quickly can social listening tools provide insights?
Social listening tools monitor online conversations in real-time, allowing you to get immediate insights. However, the time it takes to analyze these conversations and generate actionable insights can vary depending on the tool's capabilities and the volume of data.
Can I track historical data with social listening tools?
Yes, most social listening tools allow you to track historical data. This feature can be invaluable for understanding trends over time, assessing the impact of past campaigns, and making informed predictions about future trends.