Advertising Disclosure
Advertising disclosure:
Our partners compensate us. This may influence which products or services we review (also where and how those products appear on the site), this in no way affects our recommendations or the advice we offer. Our reviews are based on years of experience and countless hours of research. Our partners cannot pay us to guarantee favorable reviews of their products or services.
Nowadays, customers expect immediate responses and personalized interactions, making social media an invaluable platform for businesses. To thrive in this competitive landscape, Business Owners and Marketers need more than just a presence on social platforms; they require the right tools to manage customer inquiries, build relationships, and provide exceptional service. This is precisely where Social Media Customer Service Software steps in as a game-changer.
Social Media Customer Service Software is a complete combination of applications designed to empower businesses to effectively manage customer interactions across various social media channels. It equips your teams with the context they need to be proactive and engage with customers more effectively, turning every conversation into an opportunity to enhance brand loyalty.
In this article, we will embark on a journey through the world of Social Media Customer Service Software, offering expert insights and objective reviews of the leading solutions. We will help you navigate the critical considerations when selecting the ideal software that aligns with your business goals, ensuring that your teams have the tools they need to excel in customer engagement on social media. Let's dive in and discover the future of customer service excellence.
---
Social media customer service software:
---
Top
social media customer service software
2024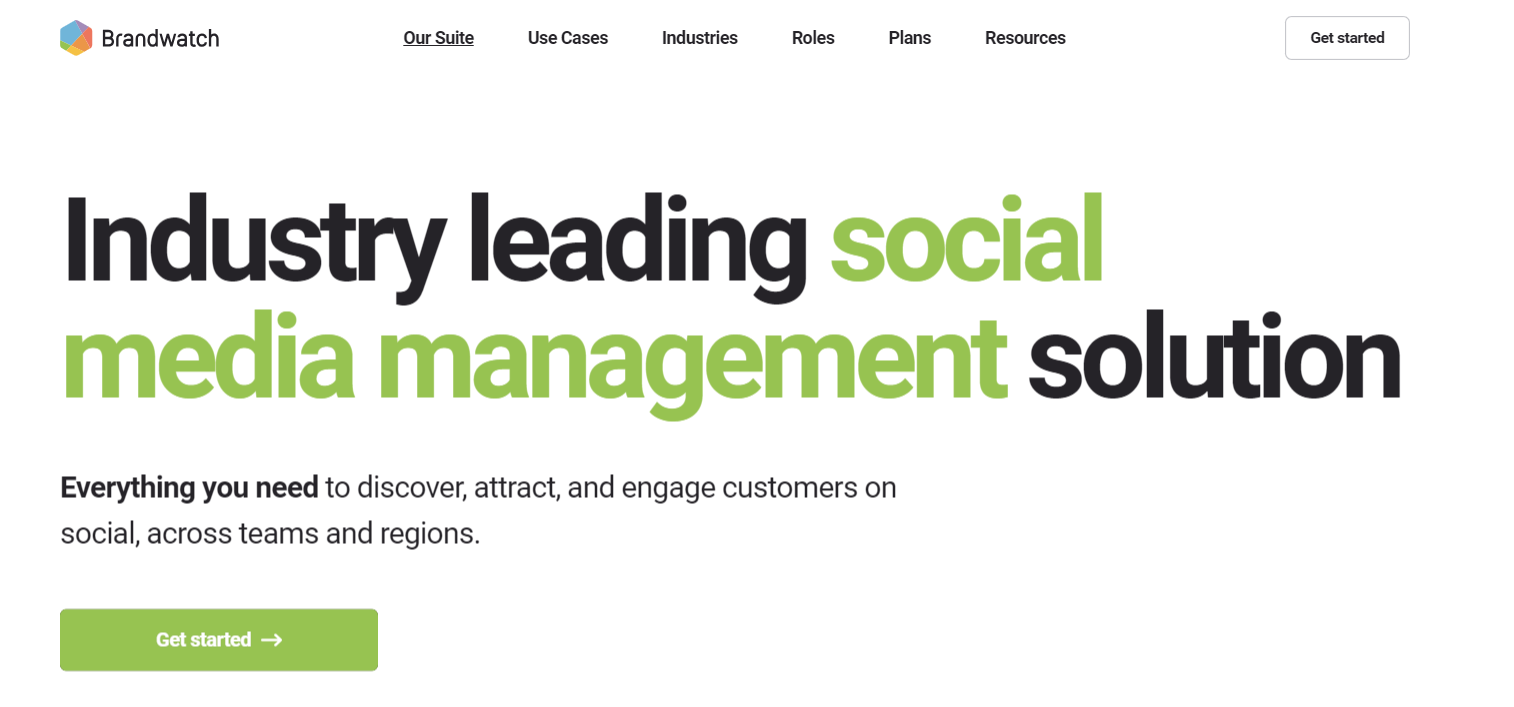 Brandwatch is a premier social media software that consolidates essential features such as understanding customer behaviour, promoting on social media, and collaborating with influencers. It achieves all of this with an easy-to-use interface, assisting businesses in strengthening their online presence and effectively engaging with customers.
Brandwatch enhances brand intelligence with social listening, dissecting online conversations to decipher customer preferences. It empowers businesses with customizable dashboards for audience tracking. Notably, it offers robust TikTok support to stay ahead of emerging trends.
Pricing for Brandwatch is customized based on individual requirements and needs, offering tailored solutions for researchers, social media managers, and influencer marketers. The Social Media Management plan targets social media managers, offering a centralized platform for content management and brand monitoring.
Brandwatch's integrations have created an impressive suite of tools, making it a top contender for businesses seeking all-encompassing social media customer service software.
---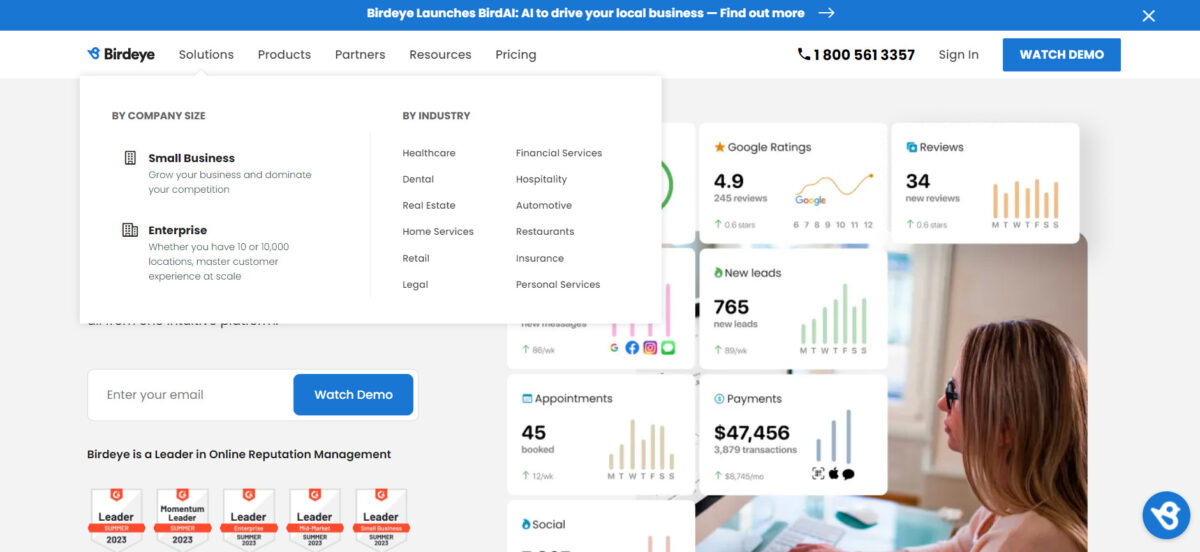 Birdeye has rapidly emerged as a versatile and highly-rated social media customer service software that caters to businesses of all sizes. It stands out for its modular approach, allowing users to pick and choose add-ons according to their specific needs and budgets.
With a modular approach, Birdeye offers an array of features seamlessly integrated to enhance your operations. You can automate and expand your reviews and referrals, which in turn strengthens your online reputation management efforts. Moreover, this software allows you to collaborate effortlessly with your team, streamlining internal communications and to arrange financial transactions with customers using minimal transaction fees for digital payments. Birdeye's versatility is further enriched with popular app integrations and the accessibility is assured on the go with mobile apps for both iOS and Android. You'll enjoy the flexibility of unlimited users and full customer database management. Plus, Birdeye offers 24/7 support, ensuring your customers are never left without assistance.
Birdeye Social is an integral part of the platform, which empowers businesses to manage multiple social accounts effectively, offering features like social publishing, scheduling, engagement, and reporting. It's the go-to solution for multi-location businesses eager to elevate and simplify their social media management.
---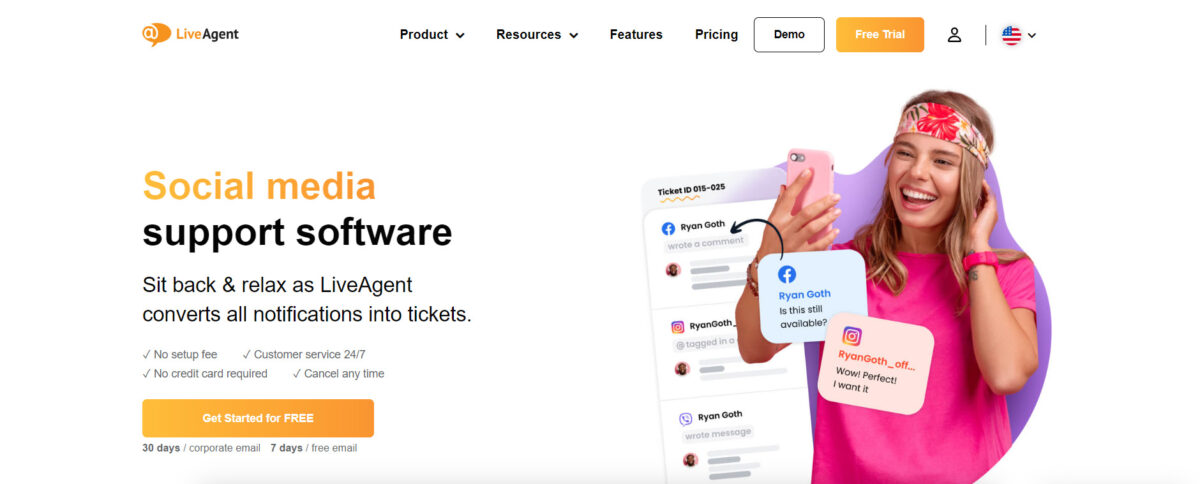 LiveAgent is a social media support software, catering to businesses of all sizes from small startups to established corporations. With LiveAgent, you can easily transform all your social media notifications into tickets, making sure you don't miss out on any customer queries.
Dive into a comprehensive setup with the Universal Inbox. It brings together Facebook, Instagram, Twitter, Viber, WhatsApp, and Slack, so you can effortlessly manage social interactions, be it likes, comments, or posts.
The platform's cool tools like automation rules simplify workflows and speed up your response times. And when you need to direct a customer's question to the right team? Their departments and tags got you covered. Plus, with macros, attachments, and notes, you can stay organized and reply even faster.
LiveAgent isn't just another tool; it's about making your social media customer support top-tier, keeping those customers happy, and building lasting loyalty. It's packed with features that are a boon for anyone looking to up their customer service game.
---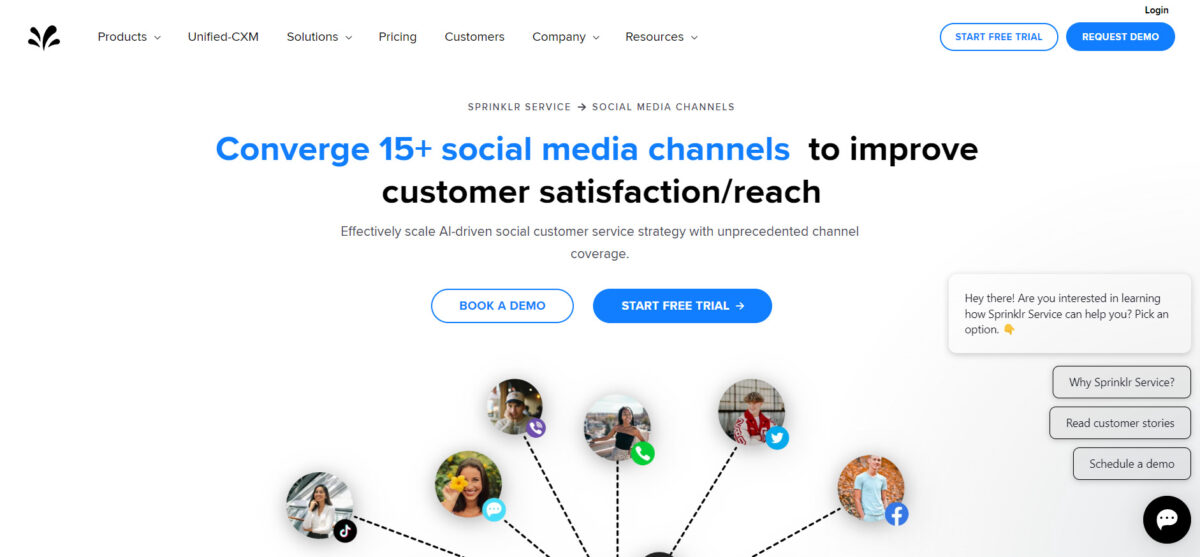 Sprinklr, a standout among social media customer service platforms, boosts your social client support strategy and helps you to scale AI-driven support effortlessly.
It excels in two crucial features such as Conversational AI and Agent Assist. Conversational AI ensures personalized and efficient customer interactions with a multi-lingual chatbot that spans multiple social channels. Meanwhile, Agent Assist employs AI to enhance response quality and speed, equipping your team with insights and tools for improved customer loyalty and satisfaction.
Sprinklr supports over 15 social media platforms like Facebook, Instagram, TikTok, Whatsapp, Viber and more, ensuring comprehensive assistance wherever your customers prefer to engage.
---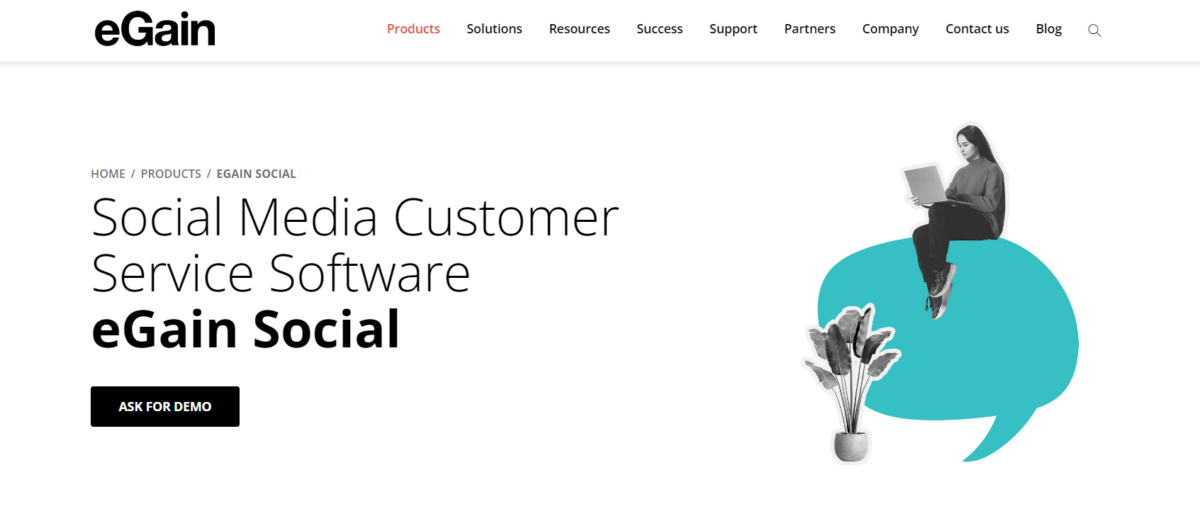 eGain, a leading player in Social Media Customer Service Software, empowers businesses to harness the potential of social media platforms effectively. With the proliferation of smartphones, consumers freely express their opinions and experiences through Twitter, Facebook, blogs, and forums. eGain recognizes this dynamic landscape as both a challenge and an opportunity for businesses.
eGain Social offers a suite of core features designed to elevate your customer service and reputation management. You'll easily monitor social networks, forums, and blogs effortlessly with its Social Customer Service. The 360Plus™ unified agent desktop ensures a holistic view of interactions across channels. Additionally. Knowledge Harvesting feature helps gather the most useful information from social media and other sources and makes it easy to share content effectively from a single source to optimize Return on Content (ROC). Reputation Management keeps a vigilant eye on discussions, analyzing sentiment and social value, and facilitating smooth transitions from public discussions to private conversations.
eGain Social is a unique product that combines social media management and social media customer service into a single powerful solution. It's your answer to managing social interactions effectively, ensuring timely responses, and maintaining your brand's reputation in the digital age.
---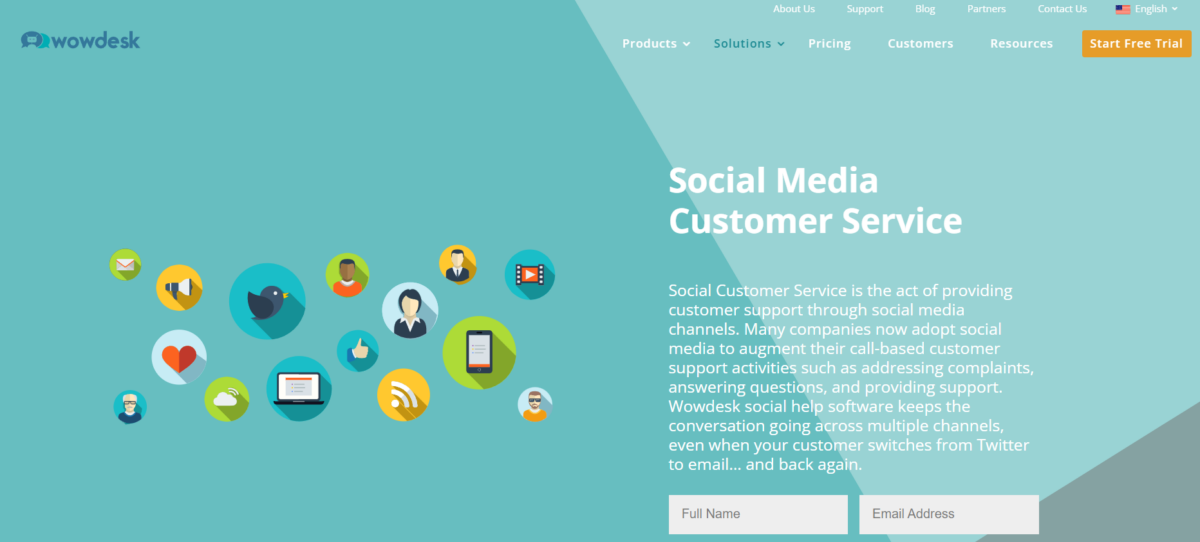 Wowdesk emerges as the all-in-one solution, streamlining social customer service across various channels and providing an affordable and accessible alternative for organizations with an active online customer base.
Wowdesk's core features redefine customer support and engagement. It excels in providing automated multichannel support, ensuring a consistent customer experience across social media and other platforms. But it doesn't stop there; Wowdesk actively engages with your audience on social networks, enhancing brand reputation and customer loyalty. Its integration with Facebook transforms messages and wall posts into tickets, guaranteeing that no customer query goes unnoticed. Plus, Wowdesk simplifies social media monitoring, making it a breeze to track, understand, and resolve issues on these platforms.
Wowdesk's Social Customer Service software is designed to simplify monitoring and tracking and provide personalized support. It helps build stronger relationships with customers who expect prompt responses on social media platforms.
---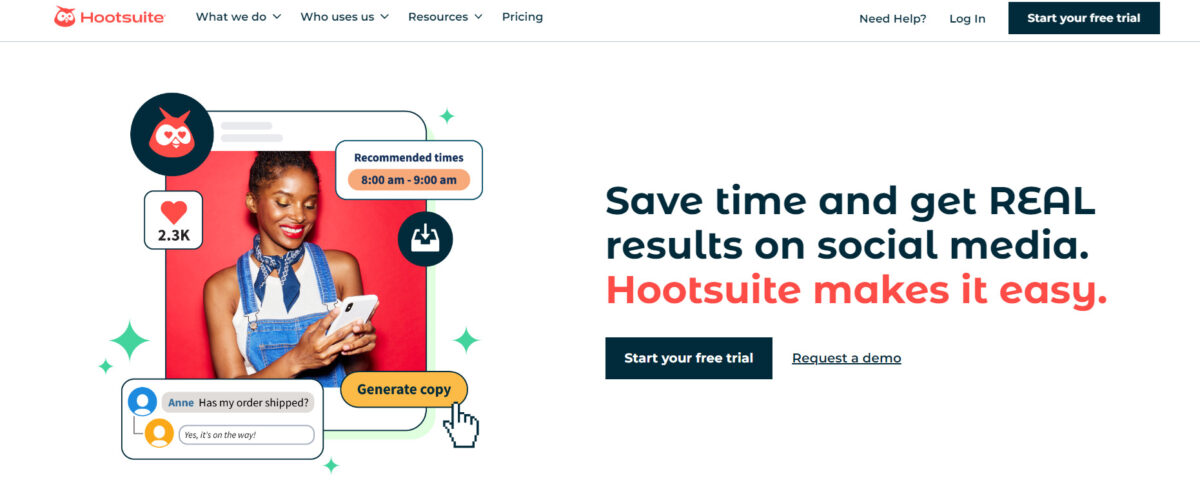 Managing social media can be a daunting task, but Hootsuite makes it easy. With a host of powerful features, it enables you to enhance your social media presence, engage with your audience, and measure your success effectively.
Hootsuite, your all-in-one social media management solution, boosts your online presence. It offers centralized control, letting you schedule and publish content across various platforms while tracking real-time performance. Plan content with its user-friendly interface, ensuring engaging posts. What's more, Hootsuite's Advanced Analytics delivers thorough insights, combining paid, organic, and web metrics for a complete view of your social media ROI.
Hootsuite is trusted by renowned brands like Allianz, Domino's, Ikea, Roche, the University of Chicago, and even the World Health Organization.
---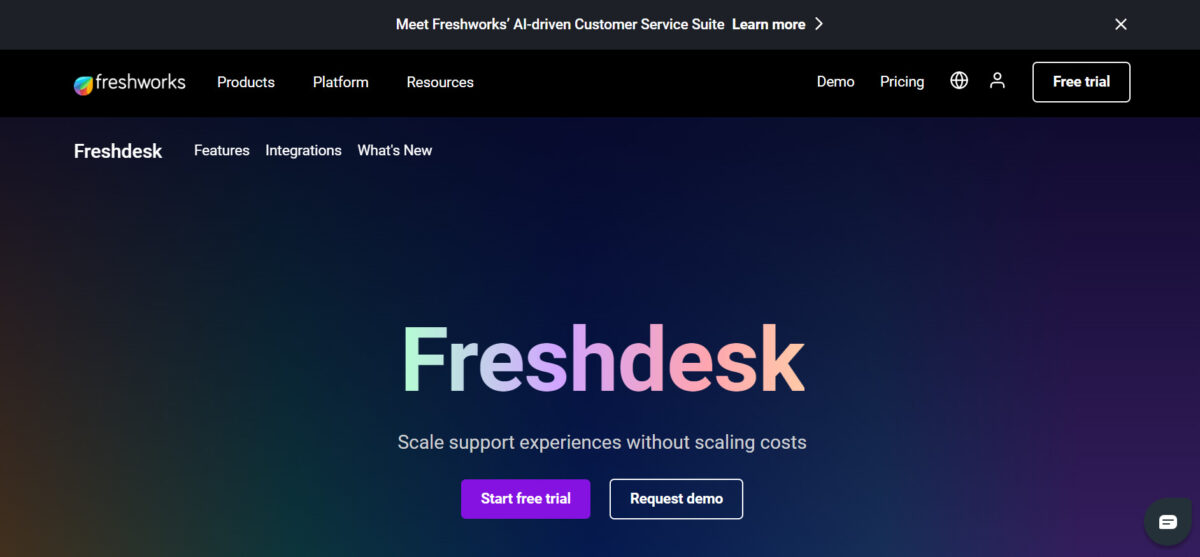 Freshworks presents an AI-driven Customer Service Suite that empowers businesses to excel in delivering timely and contextual support. Freshworks offers the tools and flexibility to meet modern customer service demands effectively.
Freshdesk is your comprehensive solution for managing customer issues, ranging from minor inquiries to intricate resolutions. It equips your support teams with ticket management, workflow automation, and real-time customer engagement tools. Collaboration tools enable agents to access cross-functional expertise for complex inquiries. Harness AI-driven insights for proactive analysis, quality monitoring, and reduced total cost of ownership (TCO) in support operations.
Freshworks Customer Service Suite brings together bots, ticketing, and conversations into one unified solution. It offers AI-powered conversations, no-code bots, and effective ticket management, enhancing productivity and exceeding customer expectations. Freshworks is trusted by more than 60,000 businesses, including industry giants like Pearson, Bridgestone, and Decathlon. It's your ticket to elevating your customer service game with AI-driven excellence.
---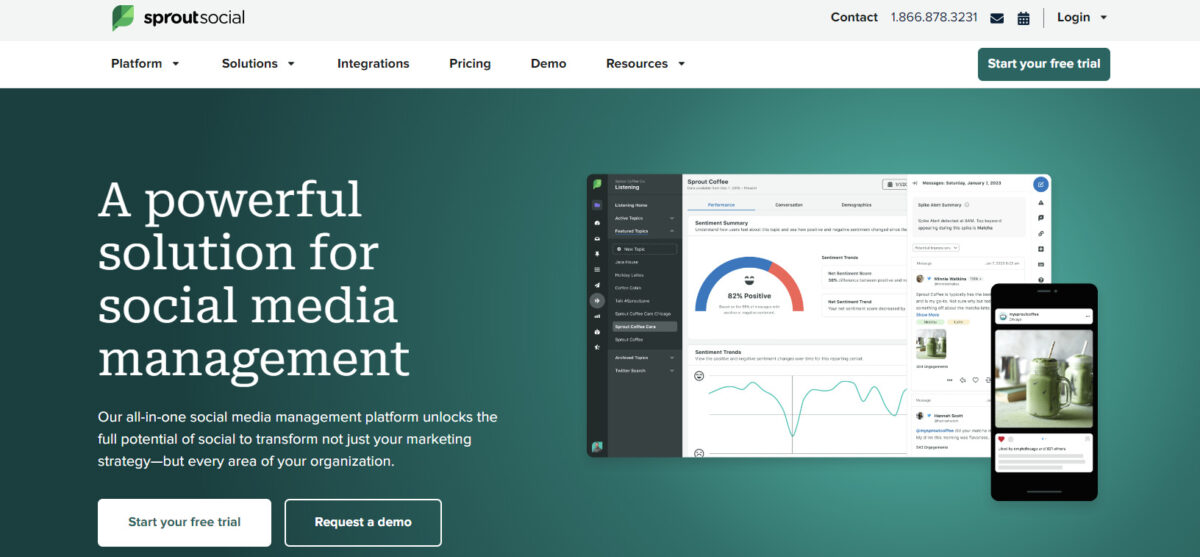 Designed to elevate your organization's performance across various domains, Sprout Social is your one-stop solution for social media management. With the trust of over 30,000 esteemed brands and organizations, Sprout Social empowers businesses to swiftly unlock genuine business value, fortify their market standing, and accelerate revenue growth.
Sprout Social offers an intuitive experience, ensuring you see value quickly without lengthy onboarding. It leverages advanced AI and Machine Learning for precise insights, keeping you ahead of competitors. Seamless integration, thanks to global Salesforce partnerships and social network integrations, elevates your business effortlessly. With customizable reports for various social platforms, you can easily prove the ROI of your social efforts, driving business impact across teams.
Sprout Social's strategic alliances and integrations with top-tier platforms such as Grammarly, Trek Bikes, and Ivanti exemplify its ability to deliver tangible outcomes. It goes beyond mere social media management – it's a transformative tool for businesses seeking to unlock the full power of social media.
---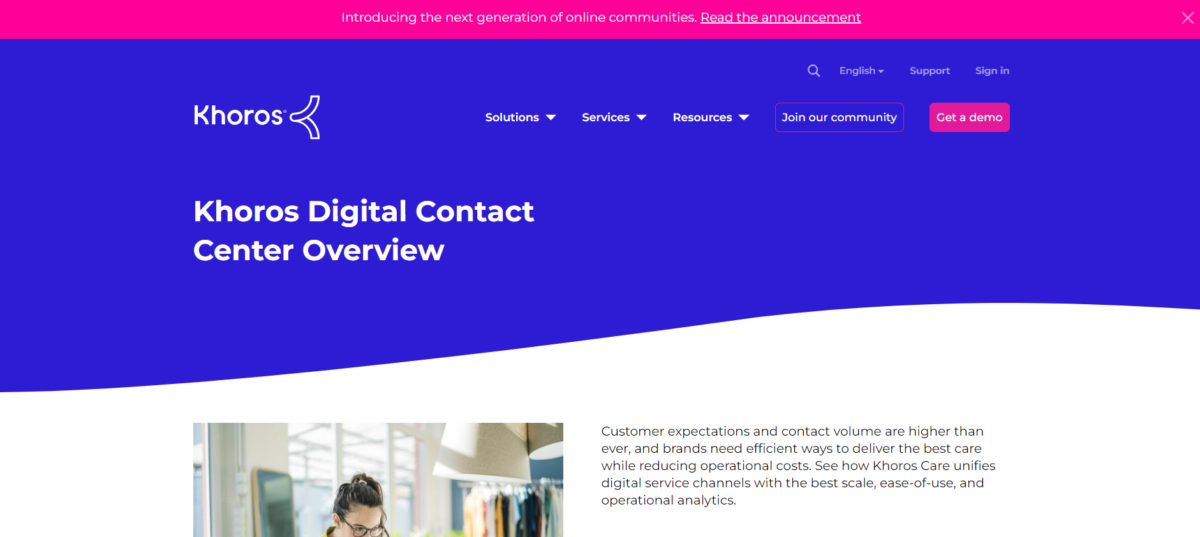 Khoros offers a next-generation platform for businesses to thrive across various digital interactions. It partners with Amazon Connect to provide innovative tech solutions that disrupt the contact center market, delivering industry-first, market-ready, multichanek engagement.
At the heart of Khoros lies a trio of core features designed to empower businesses in today's rapidly evolving customer service landscape. The Digital Contact Center streamlines operations and cost-effectively manages high contact volumes, ensuring top-tier customer care. With Khoros' Social Media Management tools, maintaining a strong online presence becomes effortless, with content management, publishing, and governance at your fingertips. Plus, Khoros Community fosters self-service support, education, and collaboration, bringing customer engagement to a whole new level.
Khoros also offers strategic services, professional services, and product coaching to ensure your business maximizes the platform's potential. Trusted by major brands and organizations, it is an award-winning platform that understands the power of human connection in the digital age.
---
---
Conclusion
The importance of selecting the right Social Media Customer Service Software is immense. It can streamline your workflow, shorten response times, and provide valuable insights into customer behaviour and sentiment. However, choosing the perfect software for your business can be a daunting task, given the superabundance of options available in the market.
Frequently Asked Questions
What is social media customer service software, and why do I need it for my business?
Social media customer service software is a tool that helps you manage your interactions with customers on social media platforms effectively. It enables you to monitor, respond to, and engage with customers' inquiries, comments, and complaints in real time. You need it to sweeten your social media customer support, boost response times, and enhance customer satisfaction.
How can social media customer service software benefit my business?
Social media customer service software can benefit your business by helping you provide prompt and personalized customer support on social media platforms. It also enables you to track performance metrics, analyze customer feedback, and identify opportunities for improvement. Ultimately, it can boost customer loyalty, brand reputation, and sales.
Which social media platforms are compatible with these software solutions?
Most social media customer service software solutions are compatible with popular platforms like Facebook, Twitter, Instagram, LinkedIn, and more. The specific platforms supported may vary between software providers, so it's essential to check compatibility when choosing a solution.
Can I schedule posts and responses in advance using these tools?
Yes, many social media customer service software options allow you to schedule posts and responses in advance. This feature is valuable for planning your social media content and ensuring timely responses to customer inquiries, even outside regular business hours.
Do I need technical expertise to use social media customer service software?
No, most social media customer service software is designed to be user-friendly and intuitive. You don't need advanced technical skills to use them. Many providers offer training and customer support to help you get started and make the most of their software.