Social selling is a marketing strategy that's been around for a few years now. If you're in sales or marketing, you've probably at least heard of this strategy in which brands use their social media accounts to engage directly with their followers and guide them towards making a purchase. In this article, we're going to specifically focus on an often-overlooked platform for social selling: LinkedIn.
We're going to start with a brief definition of social selling so we're all on the same page. From there, we'll cover some of the benefits of social selling and why you should invest in social selling on LinkedIn. Then, we'll share 14 LinkedIn social selling strategies you can use to get the best return from your efforts.
---
14 Social Selling LinkedIn Strategies to Skyrocket Sales:
---
What Is Social Selling?
Social selling is all about engaging your social network to build and nurture relationships so you can guide your followers to purchase your products and services. Given the nature of social media, social selling is a great way to generate higher-quality leads and gives you access to a pool of engaged and interested prospects.
---
Why Social Selling on LinkedIn?
LinkedIn is a great social media platform for social selling that is often overlooked because it was built for professional networking. However, LinkedIn has all of the features you need to educate your followers and establish authority in your niche or industry as well as share information and engage your followers in meaningful conversation to move them further through your sales funnel.
Social selling on LinkedIn works well for B2B businesses, but shouldn't be ignored if you're a B2C brand. With more than 610 million members, there's a very good chance that your target audience is well-represented on the platform.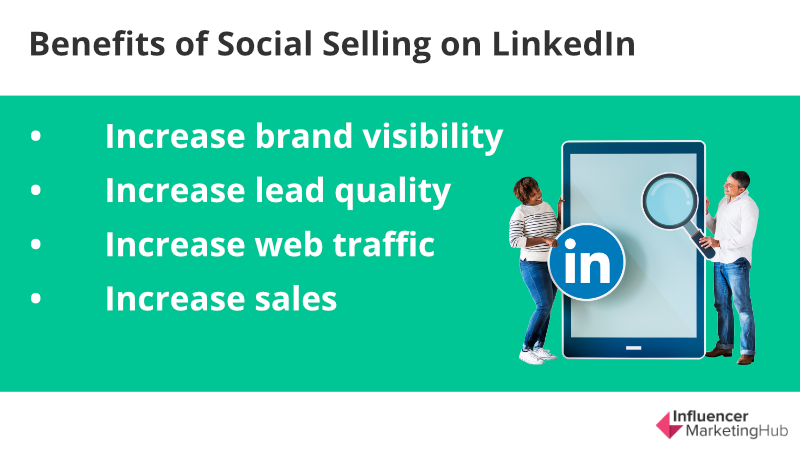 Need more? Here are just a few benefits of social selling:
Increase Brand Visibility
As your followers share your content on LinkedIn, their networks are also clicking and engaging. This means an increase in brand visibility as people who might not have been familiar with your brand are becoming exposed to what you have to offer.
Increase Lead Quality
As your brand visibility increases, you'll gain access to a higher quality of leads. People on LinkedIn are incredibly interested in information and will be eager to get more content about you. There's also the added influence of social proof since people are more likely to trust friends and family's recommendations over what they hear directly from your brand.
Increase Web Traffic
With more people sharing your content, you'll get more traffic to your links and website.
Increase Sales
An increase in leads and lead quality will naturally boost sales and increase your average order value.
If you already have brand-specific accounts on social media, you're engaged in social selling at its most basic. Simply being a brand with a social media presence is going to increase leads and sales. But, to get the most from social selling on LinkedIn, there are several social selling LinkedIn strategies you can use.
---
LinkedIn Social Selling Strategy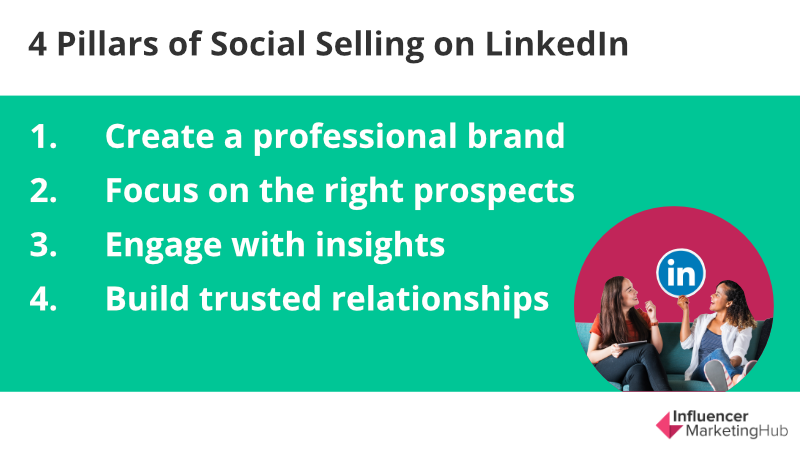 There are five basic ways to make LinkedIn social selling work for you. We'll briefly cover these five categories before getting into specific social selling LinkedIn strategies.
Create a Professional Brand
A strong professional brand is vital if you want to be seen as a trusted authority in your niche or industry. Remember that buyers have the power. There are so many options for just about any product or service you can think of so it's important to position yourself as the best offering.
Engage With the Right Audience
Social selling helps you find and engage with potential customers easily. In fact, more than 76% of buyers are ready to engage with brands on social media. And, with LinkedIn's audience targeting tools, finding the right audience is easy. You can target LinkedIn users based on your preferred criteria like industry and location, or even target specific roles and job functions.
Share Insights
To develop stronger relationships with other LinkedIn users you need to act as a subject matter expert. This means sharing content that's relevant to your industry and commenting on content from others in your industry. Be sure to stay up-to-date with industry news and stay on top of who the decision-makers are.
Build Relationships
As you can tell, when it comes to social selling on LinkedIn, trust and relationships are key. Share your thoughts and experiences to show your target audience that you understand their pain. When you start having conversations about what your target audience needs, you'll be in a better position to show prospects that your brand can meet those needs.
Measure Your Performance
LinkedIn provides a measurement that helps brands quantify the value of social selling with its Social Selling Index (SSI). This index is on a scale of 0–100 and measures your performance based on LinkedIn's pillars of social selling:
A professional brand

Targeting the right audience

Establishing authority

Building relationships
LinkedIn's internal study found a strong correlation between achieving sales goals and high SSI:
45% more sales opportunities

51% more likely to hit quota

78% of social sellers outsell peers who don't use social media

3X more likely to go to club
Now that you know more about LinkedIn's social selling pillars and how the platform measures your performance, let's get into specific social selling LinkedIn strategies you can use to boost sales and generate more leads.
---
1. LinkedIn Headline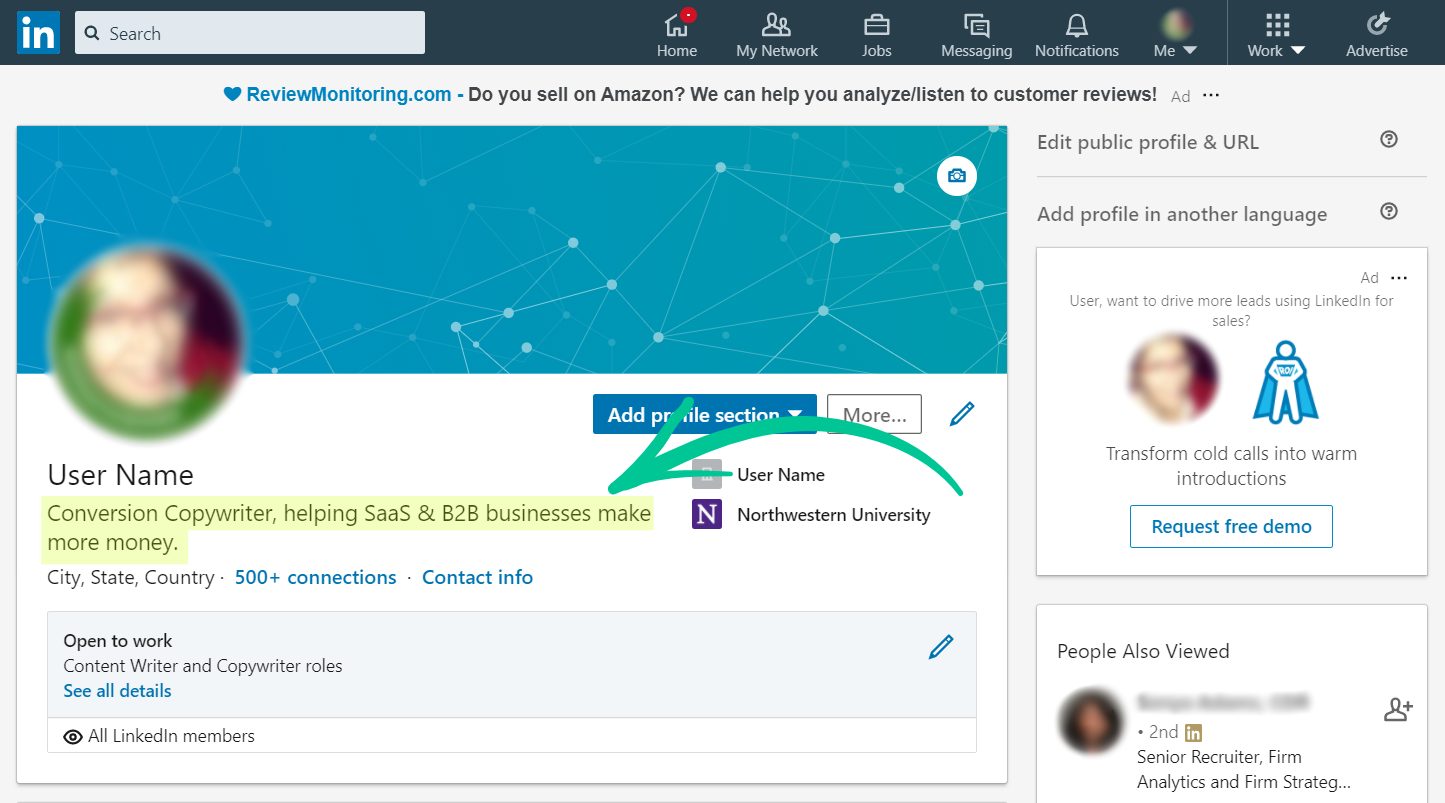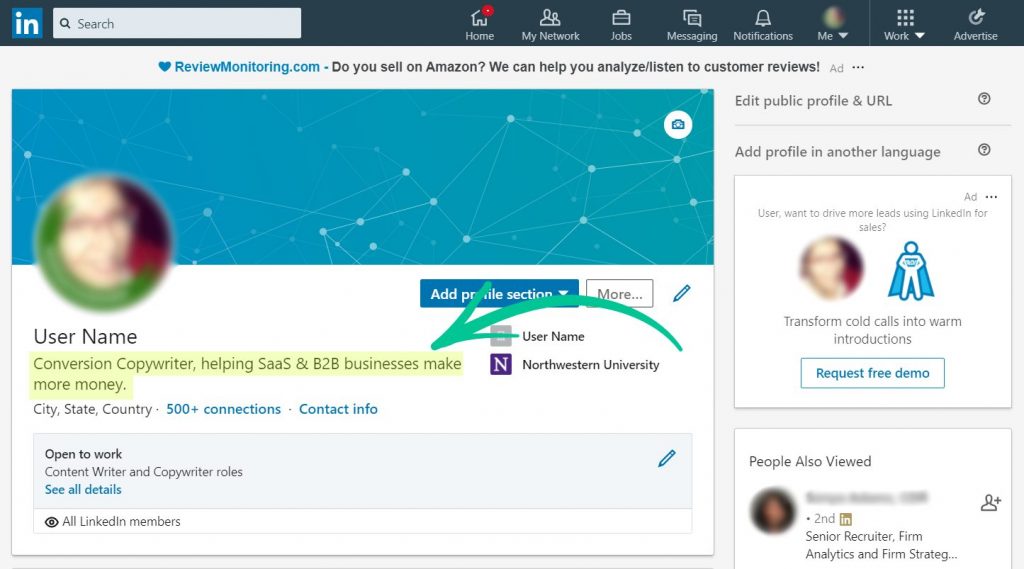 Creating a professional brand starts with the right LinkedIn Headline. Several LinkedIn experts recommend a simple formula for an eye-catching LinkedIn headline: [Job Title], helping [Target Audience] do [Something]. Here's what it looks like filled in:
"Conversion Copywriter, helping SaaS & B2B businesses make more money."
---
2. LinkedIn Summary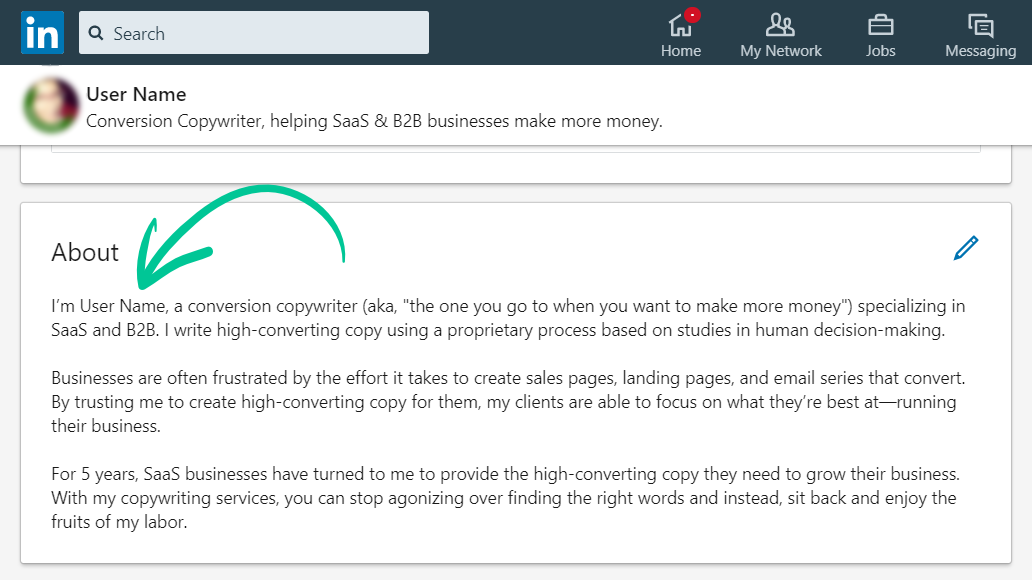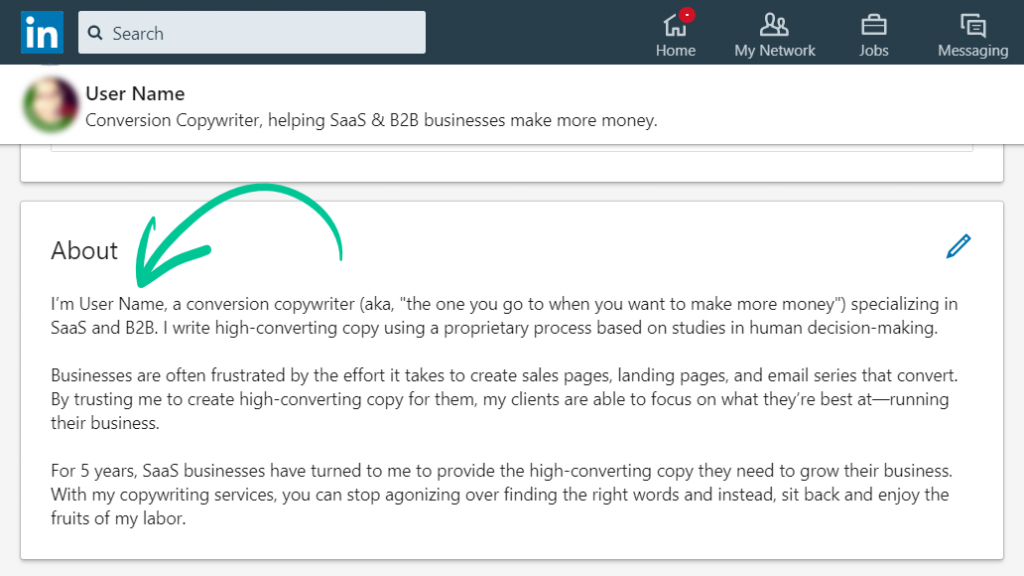 Your LinkedIn summary should be brief—one or two paragraphs. Remember, potential customers aren't going to be doing an in-depth read of your profile, they're going to be skimming. In your profile, share what you do, your unique value proposition, and why you're passionate about the job and target audience. This can go a long way to increase your social selling impact on LinkedIn.
---
3. LinkedIn Job Descriptions
You should absolutely include previous roles on your LinkedIn profile, but be sure to include more than just the role, company, and date. Briefly state what you do (or did) at the company and then follow that with outcomes, not just a list of duties. Here's an example:
Work with SaaS and B2B industries to produce

email marketing

and website copy that increases conversions

Increase home page conversions by 80%

Increase email marketing sales by 120%
You've worked hard to get results. By putting those results out there for potential customers to see, it's more likely that they'll respond when you reach out to them.
---
4. LinkedIn Profile Picture
According to LinkedIn, a profile picture makes your profile 14X more likely to be viewed. It's a simple thing to do that can boost engagement and make your social selling LinkedIn efforts more effective, so why not just include a profile picture? Besides, if you don't have a profile picture, you look shady. The best LinkedIn profile picture is a professional headshot. You can create a decent headshot on your own using just your smartphone camera and a blank background.
After you have some options to choose from, ask friends, family, and colleagues to weigh in on which one shows you in the best light.
---
5. Search


LinkedIn has a wide reach. You can see how you're connected to other LinkedIn users through mutual connections, but LinkedIn's filters and search functionality are the best way to find potential customers. If you're going to be looking for leads on the platform, it might be worth investing in a premium LinkedIn account. With a LinkedIn Sales Navigator account, you'll be able to run specific searches and integrate with your CRM.
---
6. "People Also Viewed" Sidebar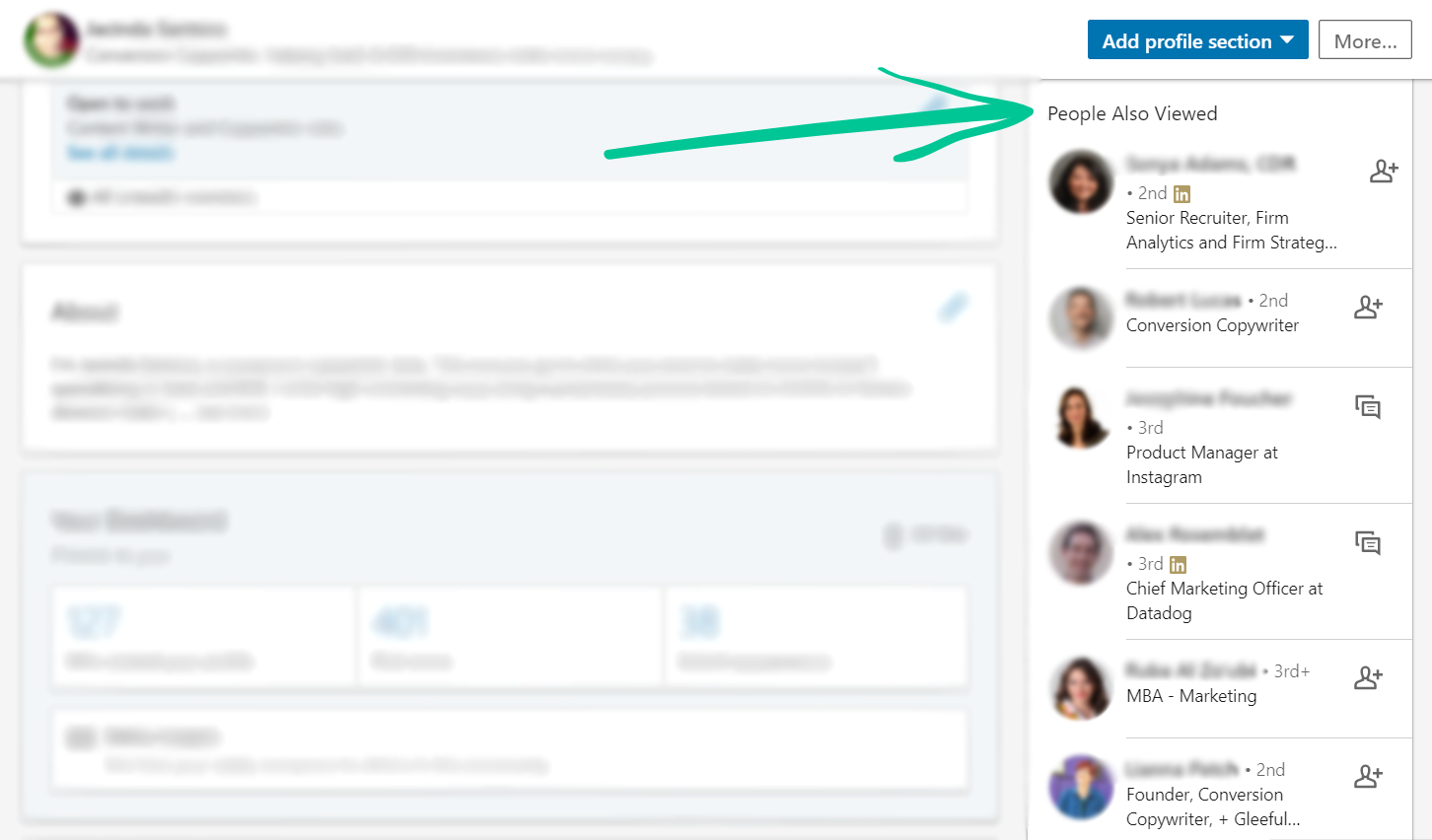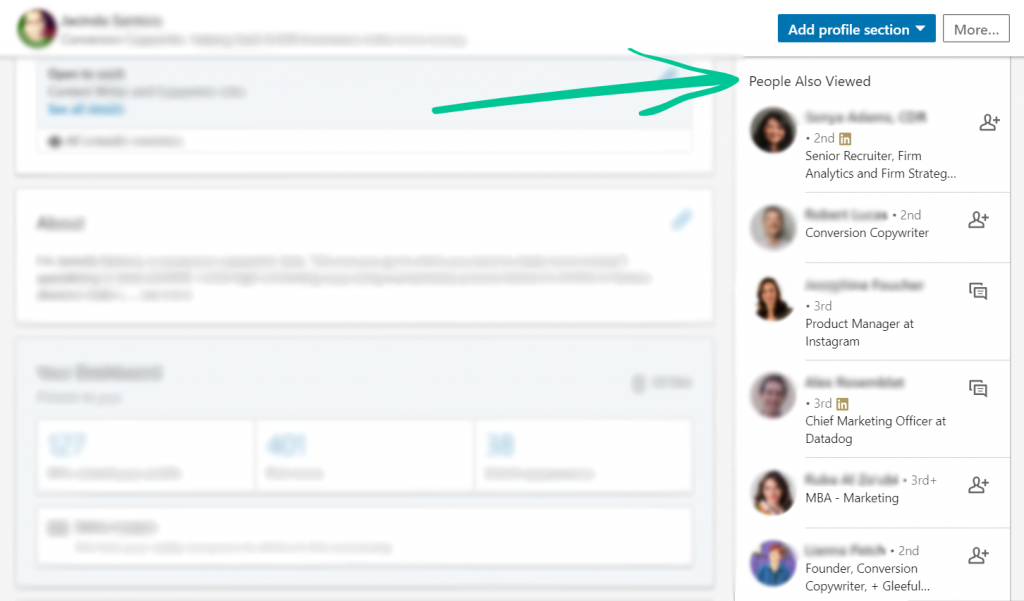 Once you've found someone you're interested in, you can easily find people like them that others have viewed by going to their profile and checking out the People Also Viewed section in the column on the right side. Each of these people is another potential customer you can engage with social selling.
---
7. Your Customers' Connections
If you're looking for referrals, keep an eye out for updates and posts from your existing customers. Then, check out the profiles of LinkedIn users that engage with their content to see if they fit your target audience. Once you've found contacts that fit the bill, you can reach out to your customer for an introduction or contact them directly.
---
8. Lead Builder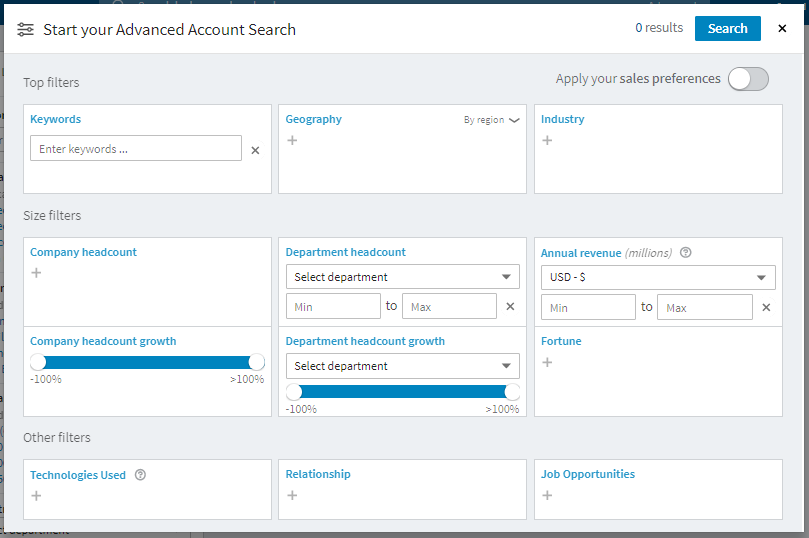 If you've opted for access to LinkedIn Sales Navigator, you can use its Lead Builder. This is a powerful feature that lets you save prospects as leads. Whenever your saved prospects make updates or post content, they'll show up on your homepage, making it really easy to comment and like. This type of engagement helps warm up leads and keep them warm until you find a reason to reach out about your products or services (which is the overall goal of social selling).
---
9. Saved Search
LinkedIn Sales Navigator also lets you set up a saved search so you don't have to regularly run searches for your target audience. Just set up a saved search, tell LinkedIn how often you want to get email alerts with new search results, and LinkedIn will send them directly to your inbox.
---
10. Personnel Changes
Staying on top of personnel changes is not only a great way to build trust and nurture relationships but to also help you get an "in" with a new company. For example, if your contact at a current customer goes to a new company, that is an excellent opportunity to reach out to the contact and offer your services. If they're familiar with your product or service, they're more likely to want to continue working with a tool they already know and love at their new company. A simple scroll through your notifications will show you contacts who have changed positions or companies.
---
11. LinkedIn Pulse


LinkedIn Pulse posts can help you reach hundreds or thousands of potential customers. Simply publish a LinkedIn Pulse post including insights on a pain point your target audience is familiar with. Tag your relevant contacts in the comments of the post to encourage engagement. Make sure that your content offers timely and relevant advice for the audience you're trying to reach.
---
12. LinkedIn Research
LinkedIn profiles offer a wealth of information you can use for successful social selling on the platform. Sure, you have the basics like job title, company, job functions, location, and industry, but LinkedIn profiles can also give you information about the interests and personality of your potential customers.
Key Terms: Look for descriptors that your potential customers use to describe themselves. When dealing with those prospects, you'll want to mirror those behaviors and traits.
Highlights: This section shows you any shared connections you have with your potential customer or if you have any overlapping employment. If you share connections or previous employers, use this information as an icebreaker in your communications with these prospects.
Articles & Activity: Here you'll be able to see your prospect's content chronologically. It shows everything from the content they've published to what they've shared, liked, or commented on. The information included here can also be used in your communications with prospects since you can use their activity here to find topics of conversation.
Interests: In this section, you'll find the influencers, businesses, schools, and groups your prospect follows. This tells you who they look up to in their industry as well as what communities they're involved in.
---
13. LinkedIn Groups
There are more than 2 million active groups on LinkedIn and they offer an easy way to expand your LinkedIn network and reach. Even if you don't have mutual connections with other group members, being part of the same group provides a foundation on which you can build relationships that are so important to social selling. Plus, LinkedIn Groups provide search functionality so you can filter group members by their location, industry, job title, and more.
---
14. Connection Requests
Eventually, you'll need to get into the "selling" part of social selling. This will probably involve sending connection requests to potential customers or other users that you don't already have a relationship with. The way you craft these connection requests is important. Don't simply click Connect. Take the time to write a personal message to the person you want to connect with.
To do that, click Add a note when prompted: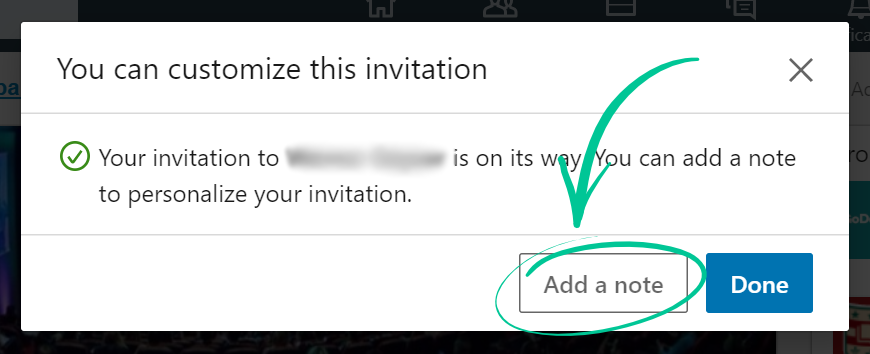 Your personal message doesn't need to be complicated but to make the best impression, here are some items to include:
A personalized greeting

Reference any shared connections or groups

Mention a piece of content they engaged with or something on their profile that resonated with you
---
Social Selling on LinkedIn
Social selling on LinkedIn is not hard but it does take some planning and effort. Each of the tips we've included in this article will help you craft a professional brand image that appeals to your potential customers. From there, you'll be better positioned to establish authority and build trust through the content that you're sharing on the platform, and expanding your LinkedIn network will be a lot easier.
While social selling on LinkedIn can get overwhelming, remember that you don't have to do everything at once. Start with the first tip on our list—optimizing your LinkedIn headline—and focus on each tip step by step. Over time, you'll build an authoritative and trustworthy image that will make social selling on LinkedIn delightfully easy.