Advertising Disclosure
Advertising disclosure:
Our partners compensate us. This may influence which products or services we review (also where and how those products appear on the site), this in no way affects our recommendations or the advice we offer. Our reviews are based on years of experience and countless hours of research. Our partners cannot pay us to guarantee favorable reviews of their products or services.
Travel Marketing Agencies are specialized subjects that integrate strategic planning, creative thinking, and the latest marketing technology to drive customer engagement and improve the overall performance of travel businesses. From conceptualizing and executing powerful advertising campaigns to offering social media management, search engine optimization, and content marketing, these agencies provide a broad spectrum of services tailored to the needs of businesses operating within the travel sector. The aim is to carve out a niche in the crowded travel market, resonate with the target audience, and foster customer loyalty.
In this article, we provide an in-depth overview of top-rated Travel Marketing Agencies, giving business owners an objective lens to identify the one best suited to their needs. We evaluate their strengths, service offerings, industry reputation, and track record of delivering substantial results for clients.
---
Top 12 Travel Marketing Agencies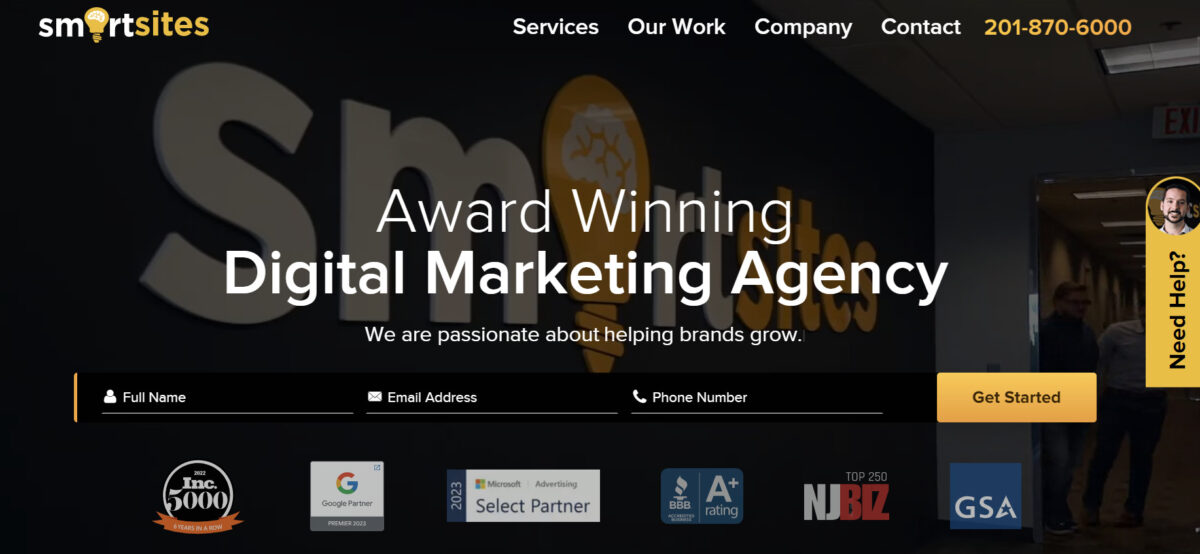 Average Hourly Rate: $100-$149
Average Project Cost: Starting at $1,000+
Located in Paramus, NJ, SmartSites is a dedicated travel marketing agency known for their customized and result-driven services. The agency caters to a myriad of travel businesses, creating unique digital experiences designed to attract customers and drive sales.
Their specialization in paid advertising and Search Engine Marketing allows them to provide robust strategies to enhance online visibility for travel companies. The agency's focus on website design guarantees an impressive and responsive interface that highlights travel and tourism services to potential clients.
Moreover, their case studies, like the one with Flight Courtier, a luxury air travel agency, illustrate their capabilities in creating dynamic PPC campaigns that significantly boost customer engagement and reduce cost per click. They develop custom campaigns specific to the client's requirements and business objectives.
Services:
Pay-Per-Click (PPC) Marketing
Search Engine Optimization (SEO)
Advertising
Social Media Marketing
Web Design
---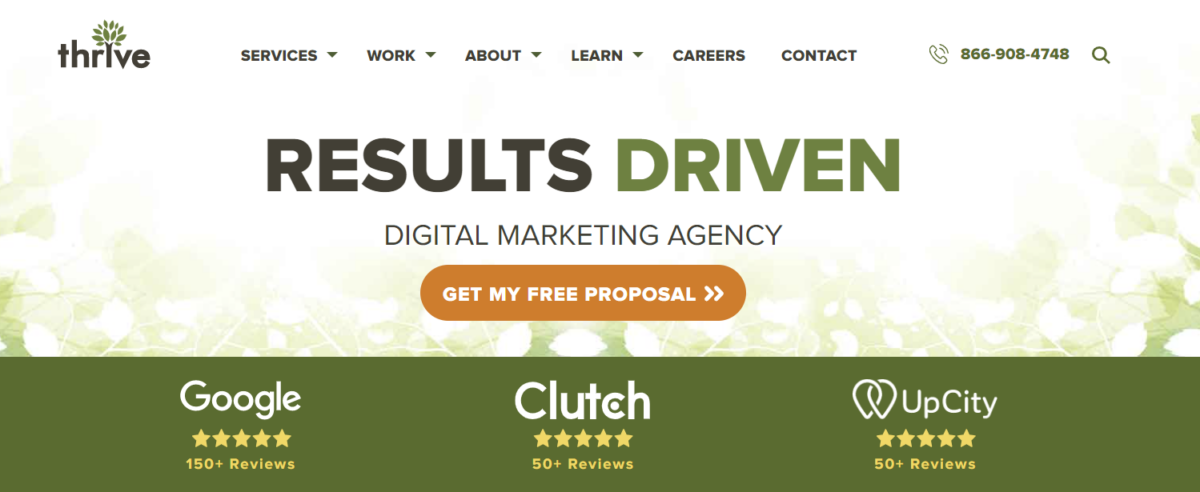 Average Hourly Rate: $100-$149 
Average Project Cost: Starting at $1,000+ 
Operating from Dallas, TX, Thrive is an award-winning travel digital marketing agency that aids tourism firms in navigating challenging times with mindful and effective marketing strategies. Their services are known to bolster the online presence of travel businesses, generating a steady stream of clients. 
Thrive's services cover all bases from website design to content creation, ensuring that travel companies remain at the forefront of the digital landscape. Their specialists work diligently to optimize clients' digital content, ensuring that it ranks high on search engine results. Their focus on social media marketing and pay-per-click (PPC) marketing are crucial in expanding reach and boosting traffic and sales. 
Thrive's emphasis on reputation management and local SEO strategies help businesses improve their online reputation and gain more local foot traffic, enhancing overall business growth. 
Services: 
Search Engine Optimization (SEO)

 

Paid Advertising

 

Social Media Marketing

 

Web Design

 

Content Writing

 

Online Reputation Management

 

Local SEO

 

Video Production
---
Average Hourly Rate: $100-$149 
Average Project Cost: Starting at $25,000+ 
HireInfluence, located in The Woodlands, TX, United States, has been serving globally renowned brands since 2011 as an award-winning influencer marketing agency. They craft unforgettable human-to-human marketing campaigns rather than mere advertisements, partnering with clients to deliver innovative, fully-managed influencer marketing services. 
HireInfluence utilizes a hands-on talent curation process to source creators based on benchmark metrics. This is accomplished following an extensive manual selection and validation process that surpasses typical database parameters. Their commitment extends throughout the campaign, offering white glove campaign execution to serve as a direct extension of your brand, ensuring a seamless experience between creators and clients. 
They are renowned for their innovative, award-winning strategies which are designed to help audiences discover brands while forging emotional connections that drive consumer behavior. This experiential attitude coupled with best-in-class performance reporting, built around client objectives, makes HireInfluence a top choice for travel marketing. 
Services: 
Marketing Strategy

 

Content Marketing

 

Digital Strategy

 

Social Media Marketing

 

Advertising

 

Affiliate Marketing
For Influencers: If you are looking for agencies to represent you click here.
---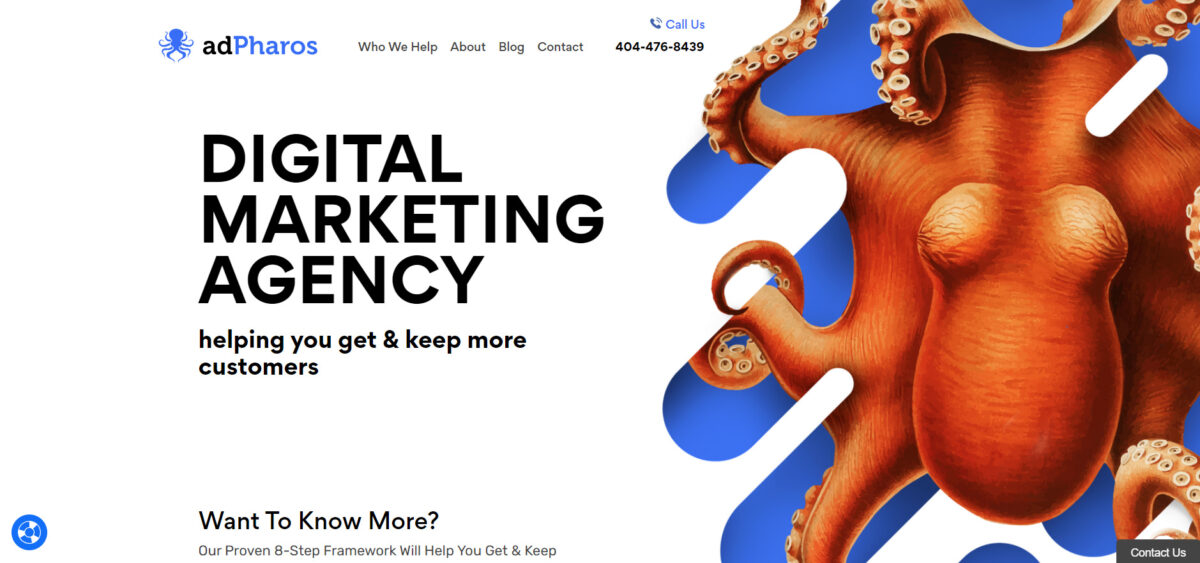 Average Hourly Rate: $25-$49 
Average Project Cost: Starting at $5,000+ 
Based in Santa Clara, California, adPharos is a comprehensive digital marketing agency specializing in offering holistic, tailor-made, and result-oriented solutions. They have a strong foothold in various industries including e-commerce, travel, and hospitality, using their expertise to help companies reach their target audience effectively. 
The team at adPharos is composed of seasoned professionals with a proven track record in driving client success. Their unique approach to programmatic solutions and the ability to provide services in areas such as SEO, PPC, and Web Design, has positioned them as a key player in the field. 
Services: 
Digital Strategy

 

Mobile & App Marketing

 

Pay Per Click

 

Search Engine Optimization

 

Social Media Marketing

 
---

Average Hourly Rate: $50-$99 
Average Project Cost: Starting at $5,000+ 
MMGY Global, based in Boston, Massachusetts, is an integrated marketing company with a specific focus on the travel, tourism, and hospitality industry. They are recognized as the world's leading firm in their niche and represent multiple agency brands with the objective to inspire people to travel. 
They offer a wide range of services, including advertising campaigns, branding, content creation, studio production, research and data, measurement and analytics, strategic planning, email marketing, experiential marketing and activations, media, marketing technology, public relations, and social media. 
MMGY Global stands out for its extensive expertise, representing over 400 travel and tourism marketing experts across the globe, and a dedication to driving audience engagement and customer satisfaction in the travel industry. 
Services: 
Content Marketing

 

Advertising

 

Branding

 

Print Design

 

Web Design

 
---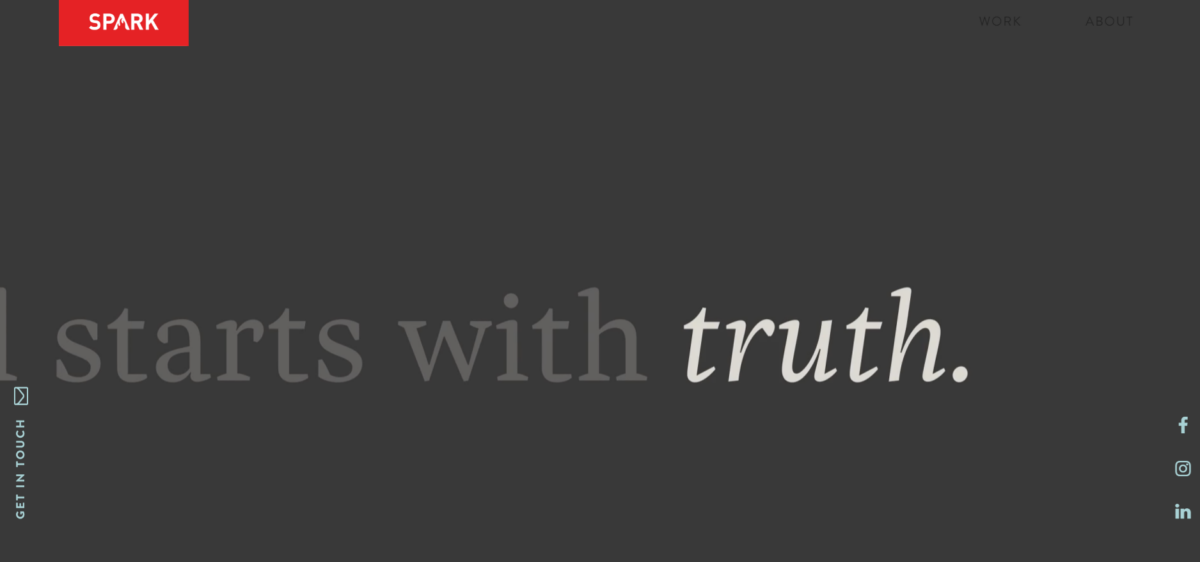 Average Hourly Rate: $100-$149 
Average Project Cost: Starting at $10,000+ 
Spark offers a unique blend of digital marketing and destination branding services, specifically curated for the travel industry. As a proficient travel marketing agency, Spark's comprehensive approach extends from website optimization to campaign creation and management. Their marketing solutions encompass branding, content marketing, social media marketing, and print design. 
Using powerful tools and employing a team of seasoned professionals, Spark utilizes an array of strategies, including brand story development, competitive analysis, location immersion, and visitor profiling. Their team believes in crafting your brand's unique story and utilizing it to position your getaway destination, resonating with potential travelers. 
Spark is also adept at experiential marketing, bringing tangible experiences to prospective customers, fostering their desire to book a trip. Their social media services ensure amplified conversations around your destination, leading to higher visitation rates. The in-house team's knack for producing high-quality video and photography ensures that your destination's essence is authentically captured and delivered to potential visitors. 
Services: 
Branding

 

Content Marketing

 

Social Media Marketing

 

Print Design

 
---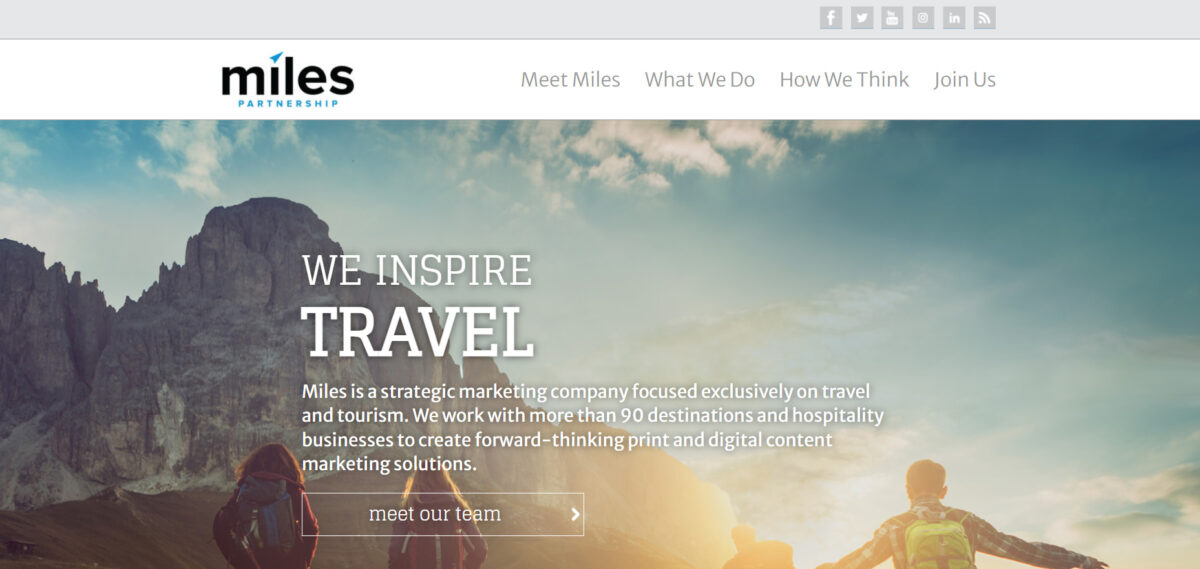 Average Hourly Rate: $100-$149 
Average Project Cost: Starting at $1,000+ 
Located in Colorado Springs, Colorado, Miles Partnership stands out in the realm of travel marketing, focusing exclusively on travel and tourism. By embracing independent research and applying actionable insights to inform decisions, they have carved a niche in creating custom marketing solutions for over 90 destinations and hospitality businesses. Their service offerings span content marketing, conversion optimization, digital strategy, email marketing, and logo design. 
Driven by a traveler-first approach, Miles Partnership ensures that their marketing solutions align with the needs of your visitors, effectively meeting your business goals. They use advanced tools and technologies to craft stories that inspire visitors and drive measurable results. 
A notable aspect of Miles Partnership's ethos is its commitment to diversity, equity, and inclusion. This commitment aids them in advising their clients effectively and ensuring their marketing practices are equitable and inclusive. Their focus on exceptional customer service, reinforced by professionalism, collaboration, and camaraderie, forms the basis of their successful long-term relationships with clients. 
Services: 
Marketing Strategy

 

Content Marketing

 

Conversion Optimization
---

Average Hourly Rate: $100-$149 
Average Project Cost: Starting at $10,000+ 
Headquartered in San Francisco, California, Finn Partners offers a unique blend of digital strategy, social media marketing, branding, and public relations expertise. This renowned travel marketing and PR agency aids in creating meaningful connections between hospitality brands and the media, enhancing their global visibility. 
Finn Partners doesn't simply promote brands but amplifies their reputation and boosts their business by leveraging a worldwide network of media relationships. They offer services to a diverse clientele, from boutique hotels and tour operators to luxury hotel brands and airlines. Their programs are tailored to each client's unique needs and align with sustainable goals. 
In addition, Finn Partners has gained recognition for their work in luxury travel, ranging from boutique hotels to private islands and from safari operators to world-class wellness spas. They also work with various travel-adjacent brands like tech products, luggage, real estate, and entertainment. 
Services: 
Digital Strategy

 

Social Media Marketing

 

Branding

 

Public Relations

 
---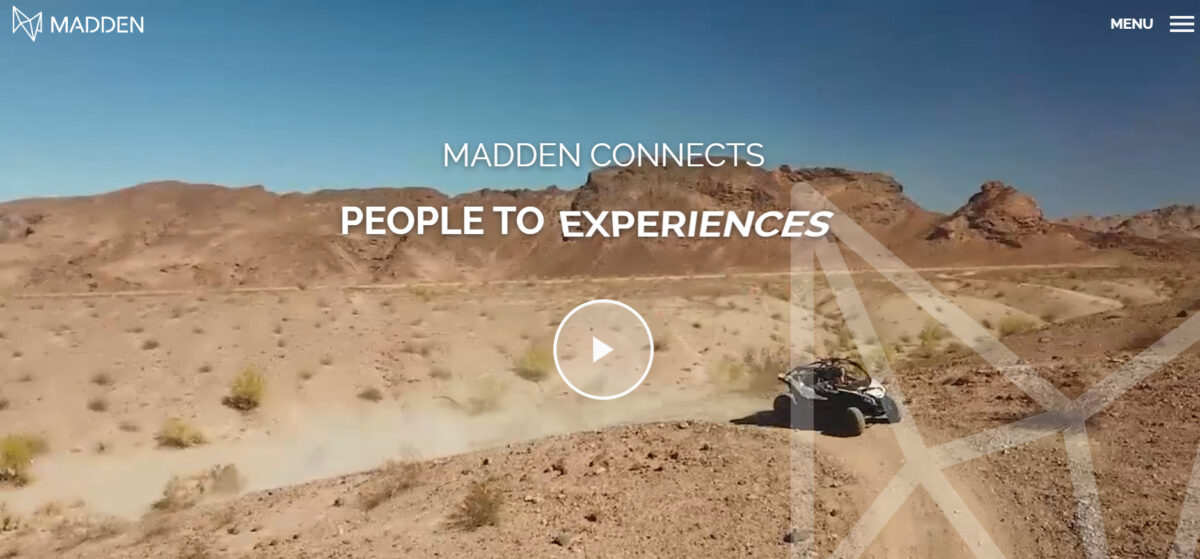 Average Hourly Rate: $100-$149 
Average Project Cost: Starting at $5,000+ 
Located in Tucson, Arizona, Madden Media pioneers the blend of technology and creativity in destination marketing. Their agile approach provides flexibility for DMOs (Destination Marketing Organizations) to reach travelers, groups, and event planners. Madden Media offers omni-channel solutions to destinations, developing custom campaign architectures and executing nimble media plans. 
Their cross-functional teams focus on creating strong storytelling themes based on research insights. Media experts at Madden Media develop, optimize, and track custom campaigns for DMOs using extensive research and reporting, while their Marketing Technology experts ensure the digital aspects of campaigns function smoothly. 
Their creative team connects emotionally with audiences through various storytelling forms, developing a new destination brand to telling your story across all channels. 
Services: 
Advertising

 

Branding

 

Digital Strategy

 

Search Engine Optimization

 

Web Design

 
---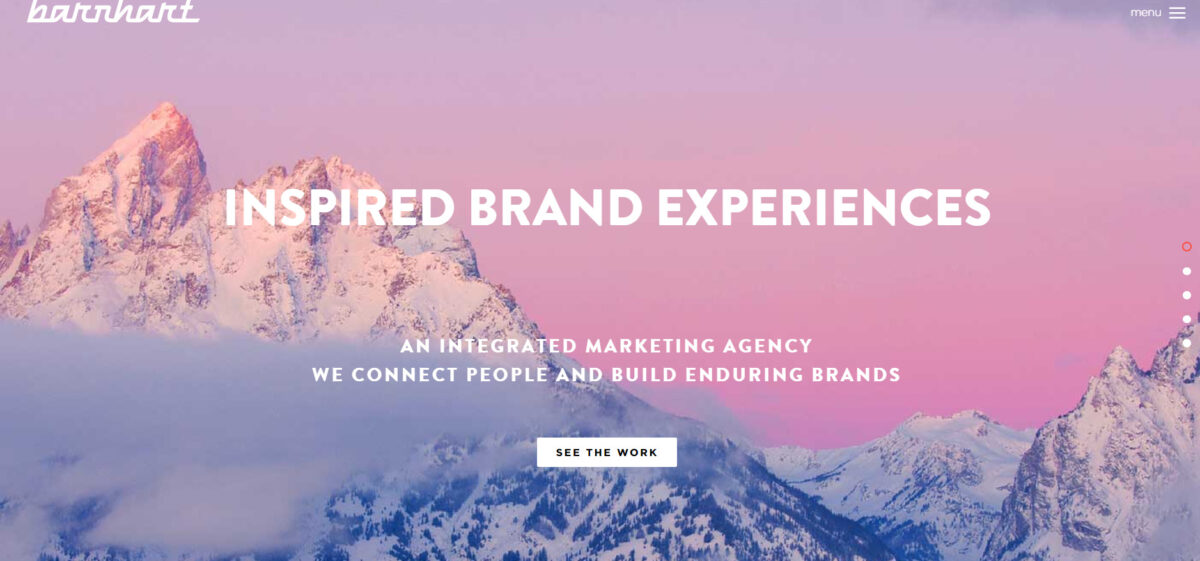 Average Hourly Rate: $150-$199 
Average Project Cost: Starting at $5,000+ 
With a base in Denver, Colorado, Barnhart Communications provides comprehensive marketing solutions, including branding, market research, media planning & buying, public relations, and search engine optimization. Their full-service offerings help clients from diverse industries narrate compelling brand stories. 
Barnhart's proven expertise in developing fresh and innovative marketing strategies for exciting destinations make them stand out. Their track record includes successful campaigns that have effectively reached target audiences and delivered a high return on investment. Whether it is SEO, PPC, Social Media, or content marketing, Barnhart Communications ensures that the digital strategy development is designed to maximize ROI for companies of all sizes. 
Services: 
Branding

 

Market Research

 

Media Planning & Buying

 

Public Relations

 

Search Engine Optimization
---
---
What is the role of a travel marketing agency?
According to a Google Travel Study, 74% of travelers plan their trips on the internet, while only 13% still use travel agencies. In such a landscape, businesses without strategic online marketing could be missing out on a significant share of the market.
---
How to select the right travel marketing agency?
Selecting the right Travel Marketing Agency is a crucial step towards business success. It is essential to consider factors such as the agency's experience in the travel sector, its track record of success, its understanding of your brand and vision, and its ability to offer personalized solutions. Additionally, it is advisable to evaluate the agency's proficiency in harnessing the latest digital tools and technologies, their approach towards data analytics, and their capacity for innovation.
Frequently Asked Questions
What kind of businesses can benefit from these travel marketing agencies?
Businesses of all sizes in the travel and tourism sector can benefit from these agencies. This includes destination organizations, convention centers, hotels, travel agencies, state tourism offices, and other travel-related organizations. The services offered by these agencies can help these businesses increase visibility, attract potential travelers, and boost their brand awareness.
How can travel marketing agencies help me stand out from my competitors?
Travel marketing agencies like Digital Edge and NJ Advance Media can provide creative and strategic solutions to make your brand distinctive. They can create unique branding, compelling content, engaging digital strategies, and targeted marketing campaigns to differentiate your business from competitors and attract your target audience.
What results can I expect from hiring a travel marketing agency?
While results can vary based on various factors like your business size, target audience, and marketing budget, you can generally expect increased brand visibility, customer engagement, and improved online presence. These agencies use data-driven strategies to target potential travelers at the right time and place, which can lead to increased traffic, leads, and conversions.
How do these agencies ensure they target the right audience for my business?
Both Digital Edge and NJ Advance Media employ sophisticated data analysis and market research methods to understand your target audience. They use this information to design campaigns that appeal to your specific audience's preferences, behaviors, and decision-making processes. This ensures that your marketing efforts are directed at those most likely to be interested in your services, increasing the effectiveness of your campaigns.
What types of content can these agencies produce to help promote my travel business?
Travel marketing agencies can produce a wide range of content tailored to your specific business and target audience. This can include blog posts, destination guides, social media content, email newsletters, videos, and more. The goal is to create engaging content that inspires and informs potential travelers, ultimately leading them to choose your business for their travel needs.