Triller is a short-form video content app like TikTok that's positioning itself to fill the gap TikTok might leave if a United States ban of the app goes through. Triller has been around since 2015, a year or so longer than TikTok, but the music video app hasn't enjoyed the same astronomical growth as its younger counterpart. Triller's leadership dismisses this by pointing to Triller's initial launch solely as a video editing tool—the app didn't include a social aspect until 2018. Since then, and since TikTok's troubles in countries like India and the United States, Triller has grown quite a bit, making it a valid option for influencers seeking to share their creations with the world.
But getting noticed on Triller is easier said than done. The average Triller influencer will be competing with the high-profile celebrities who've made the app their home, like Chance the Rapper, Cardi B, The Weeknd, Marshmello, and even the Trump family. Competition on the app is fierce and it's easy for non-celebrity creators to get lost in the content uploaded to the platform each day. This is where hashtags are incredibly useful.
Hashtags help Triller users find your content on the platform and let them know what your content is about. When you use the right Triller hashtags, your posts will show up in the right hashtag search results, making your posts more visible. And more viewers typically means more likes and more followers.
If you want a list of the best Triller hashtags and how to find them, keep reading. But, before we get into a breakdown of the top Triller hashtags, let's talk about how to find and create the best hashtags to get your Triller content found without falling back to just the most popular hashtags that are often overused and saturated with content.
---
How to Find the Best Triller Hashtags to Get Your Content Seen:
---
What Is a Hashtag?
A hashtag is a keyword or phrase with a hash or pound sign in front of it. Hashtags appear on just about every social media platform as a label for content that helps other users find topics they're interested in quickly. A hashtag might look like #InfluencerMarketingHub or #influencermarketing.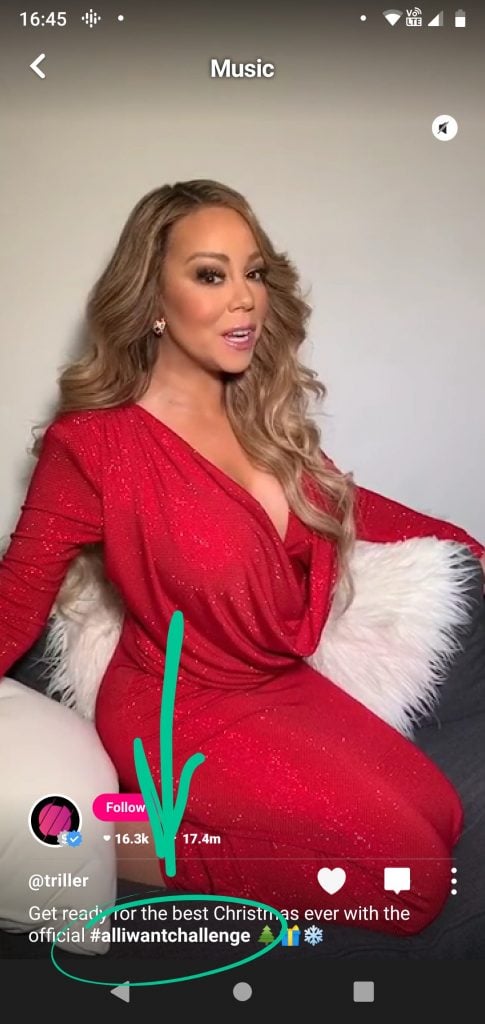 Hashtags were first used in 2007 by Chris Messina who had seen the symbol used in other ways around the internet. During the San Diego wildfires in 2007, Chris found the tag sandiegofire on image hosting and sharing service Flickr. He then encouraged Twitter users to use this tag with the hash symbol to group their tweets about the San Diego fires.
Thus, social media hashtags and hashtag marketing were born.
Twitter was the first platform to officially adopt hashtag usage in 2009, making it even easier for users to find tweets using a specific hashtag through the use of links. Other social media platforms followed suit, with Instagram users probably being the most avid hashtag users. Where Twitter encouraged users to limit the number of hashtags included in a single tweet to 2–3, Instagram users are allowed to add up to 30 hashtags with the average usage hitting around 20 hashtags.
---
Why Use Triller Hashtags?
So why should you include hashtags in your Triller posts?
As we've mentioned, hashtags are great for helping you group your content. You can use general hashtags to group your content with similar Triller content but there's a lot to be said for creating your own hashtags, too. Creating niche hashtags specific to your brand or industry can help you generate buzz and consolidate content related to specific products and campaigns.
If you're a social media influencer, followers are your bread and butter. But having tons of followers doesn't mean anything if those followers aren't interested and engaged in what you have to say. When you use the best Triller hashtags for your content, your posts will be available and easy to find by the people who are interested in your specific content. And, if you offer up high-quality content, the people who find you through your hashtags are more likely to follow you so they don't miss out on that content.
With so many users already on Triller, it's really easy for your content to get lost in the shuffle. That's compounded when you consider that Triller is filled with celebrities. But, when you use hashtags, you're helping Triller sort and organize your posts and helping your content reach the people who will enjoy it.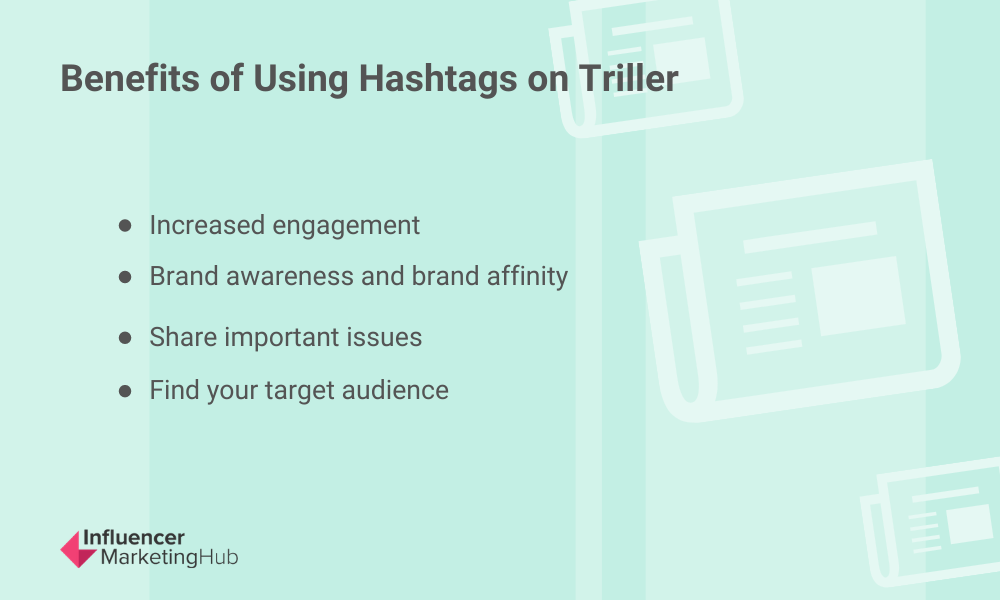 Hashtags are one of the best ways to grow your reach on social media platforms like Instagram, Twitter, TikTok, and Triller. And, they're the perfect way to boost your social media marketing strategy. Here are a few more benefits to using hashtags:
Increased Engagement
Hashtags help you increase engagement with your followers by letting you insert yourself into the conversations happening on Triller. By using hashtags, your content will be visible in those conversations, and the users following or searching the hashtag you used will be able to see your content. This can lead to increased engagement as well as increasing your followers, likes, and comments.
Brand Awareness and Brand Affinity
Through branded hashtags, you can build brand awareness and brand affinity by promoting your business outside of conventional methods and driving conversation. We recommend creating a branded Triller hashtag challenge to try it out!
Share Important Issues
Hashtags are a great way to show your support for social issues and show your followers what's important to you. Check out most social media platforms and you'll find influencers using hashtags like #BlackLivesMatter and #vote to share their thoughts and where they stand on these issues. This shows your followers that you're more than a brand—you're a real person who cares.
Find Your Target Audience
Hashtags will help your target audience find you on Triller and help you find them, too. When you use popular or trending Triller hashtags in your posts, you're inviting users interested in that topic to come find your content.
---
How to Find the Best Hashtags to Use
There are a few easy ways to find popular hashtags on Triller.
Search
To find the best Triller hashtags to use, you can start by tapping the magnifying glass icon at the bottom of the screen. This brings up the search function and will show you popular videos, trends, and hashtags you can use to improve your content's reach. Under the Trending section, you'll see several popular challenges and the hashtags that go with them.
The videos in these groups will all follow the same theme by using the same song, the same dance, etc. A large number of Triller users use these trends as a chance to create funny, engaging, or interesting content that will draw other users to them.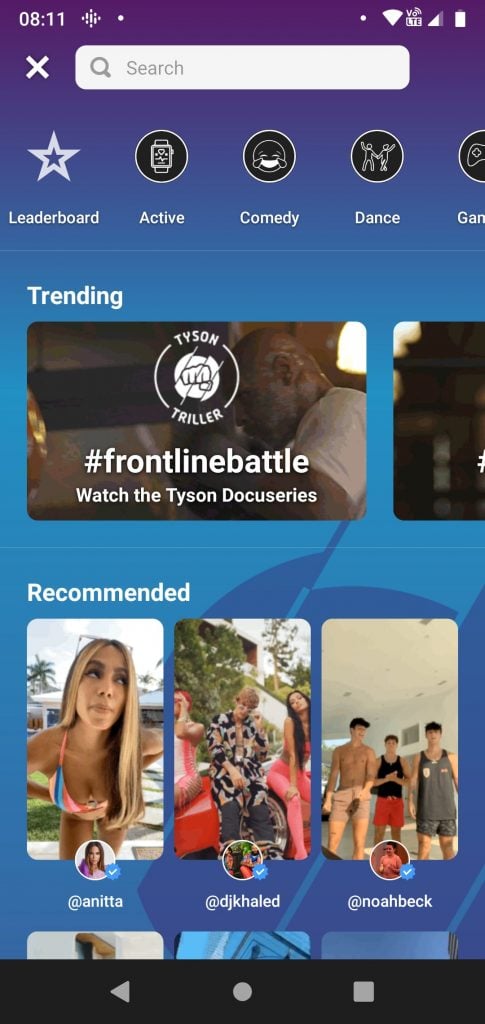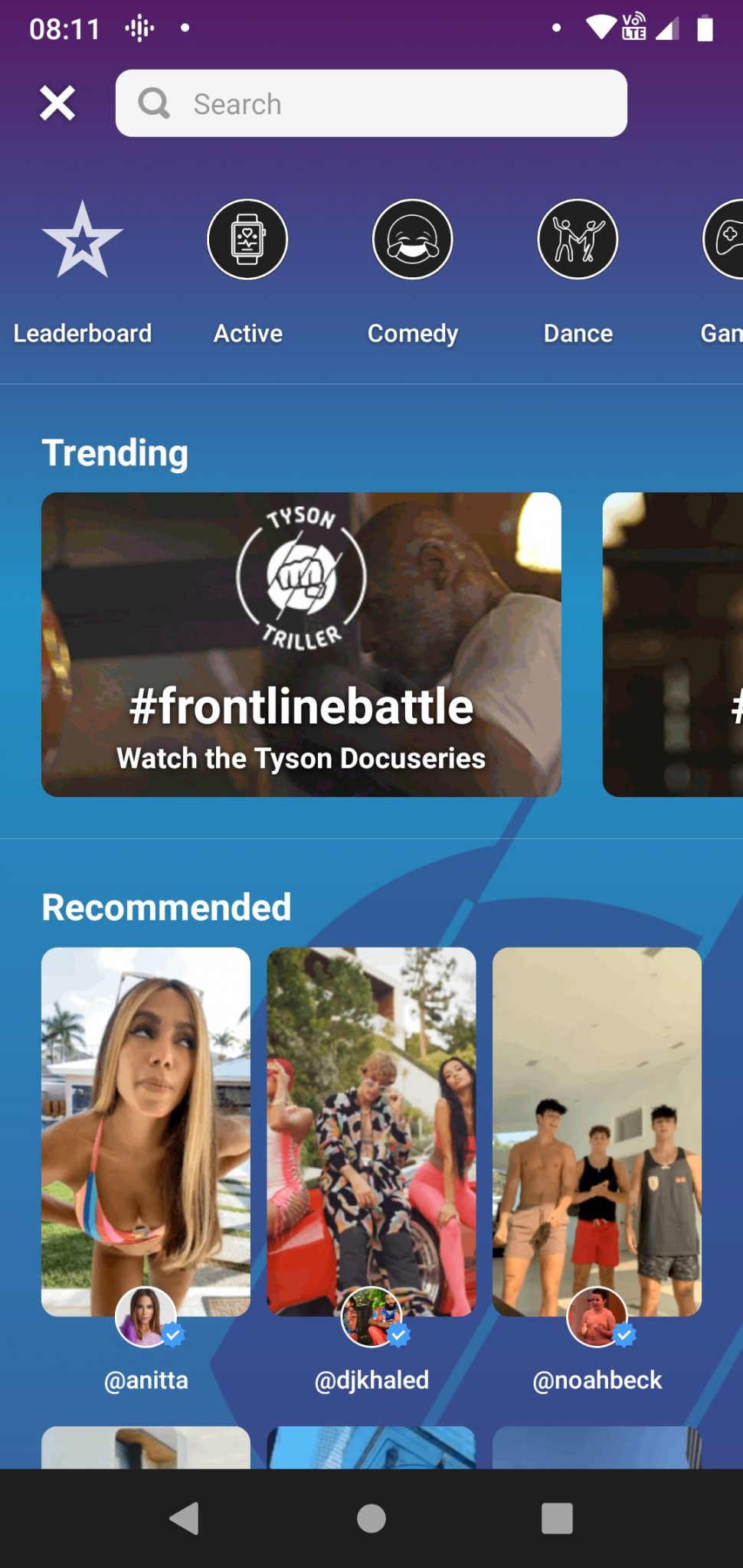 You can enter any term you'd like in the search bar to find related hashtags. Here's an example search for "comedy:"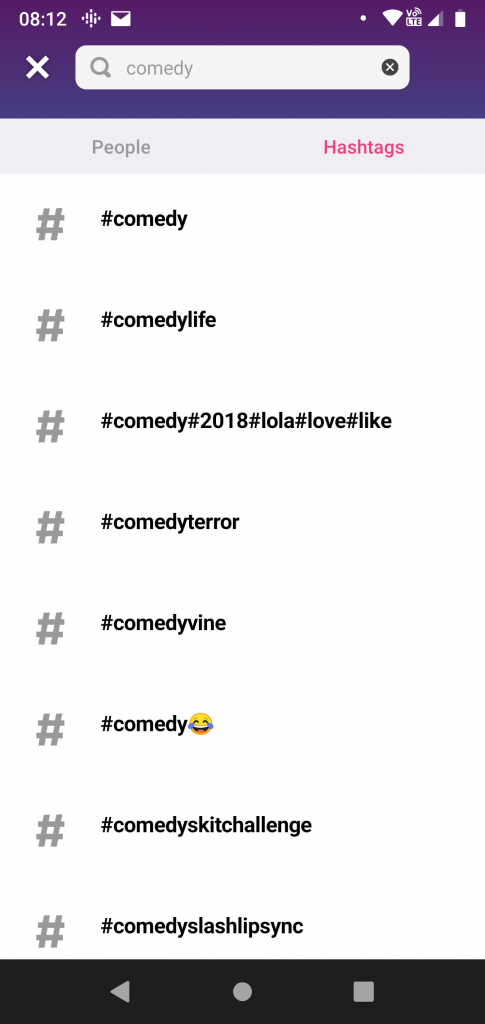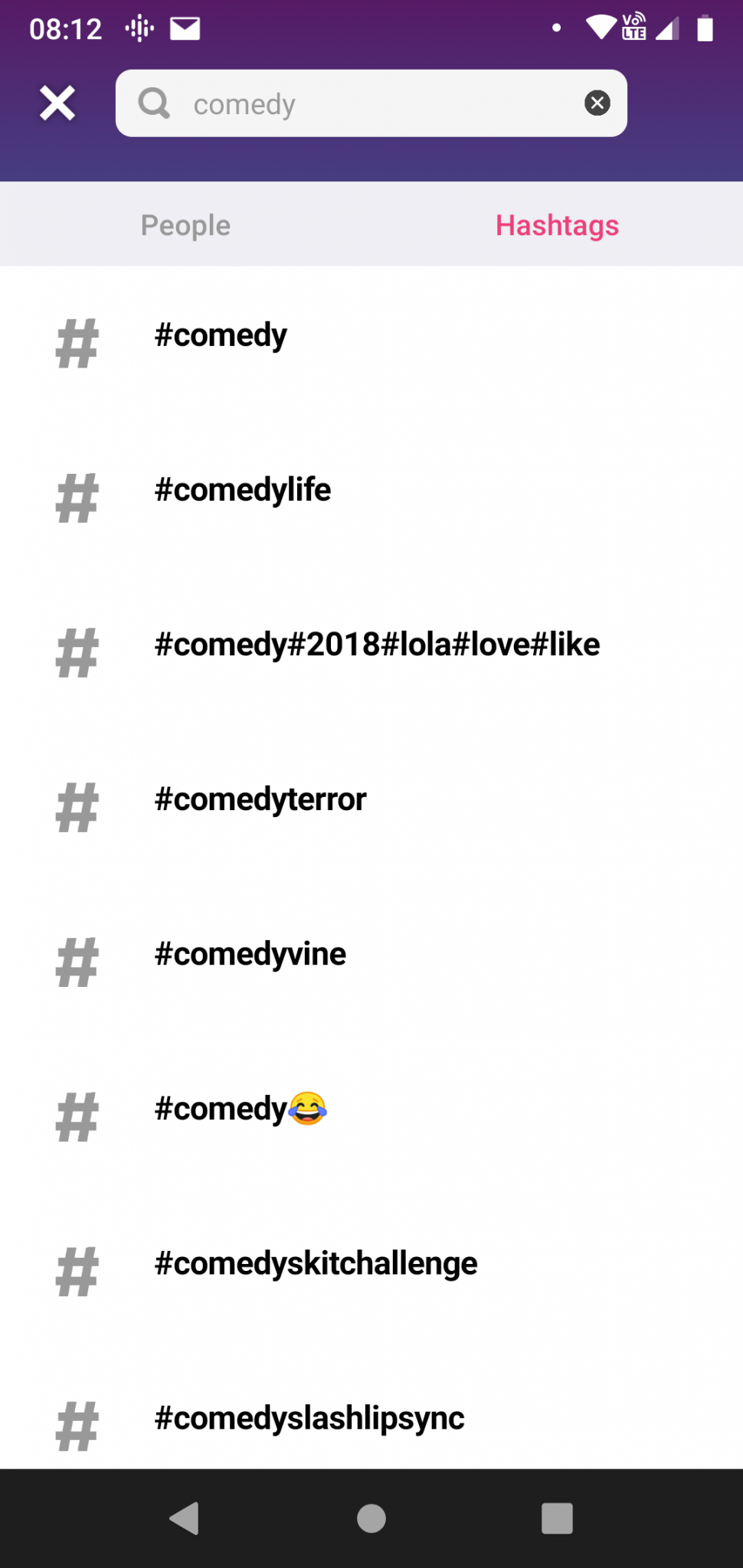 Competitor Research
Another way to find the top Triller hashtags is by identifying the top social media influencers and brands on the platform. Bonus points for finding the influencers or brands you want to be competitive against. Once you find them, take a look at their videos. What hashtags are they using? How are they using them? Anything you can find out about your competitors in your industry or niche will help you.
You can find out which users are trending on Triller by going into the search function: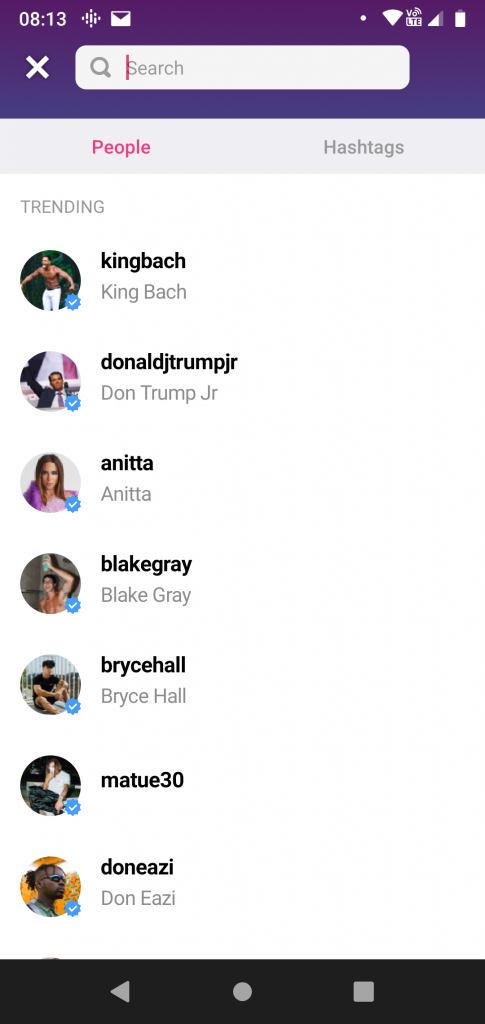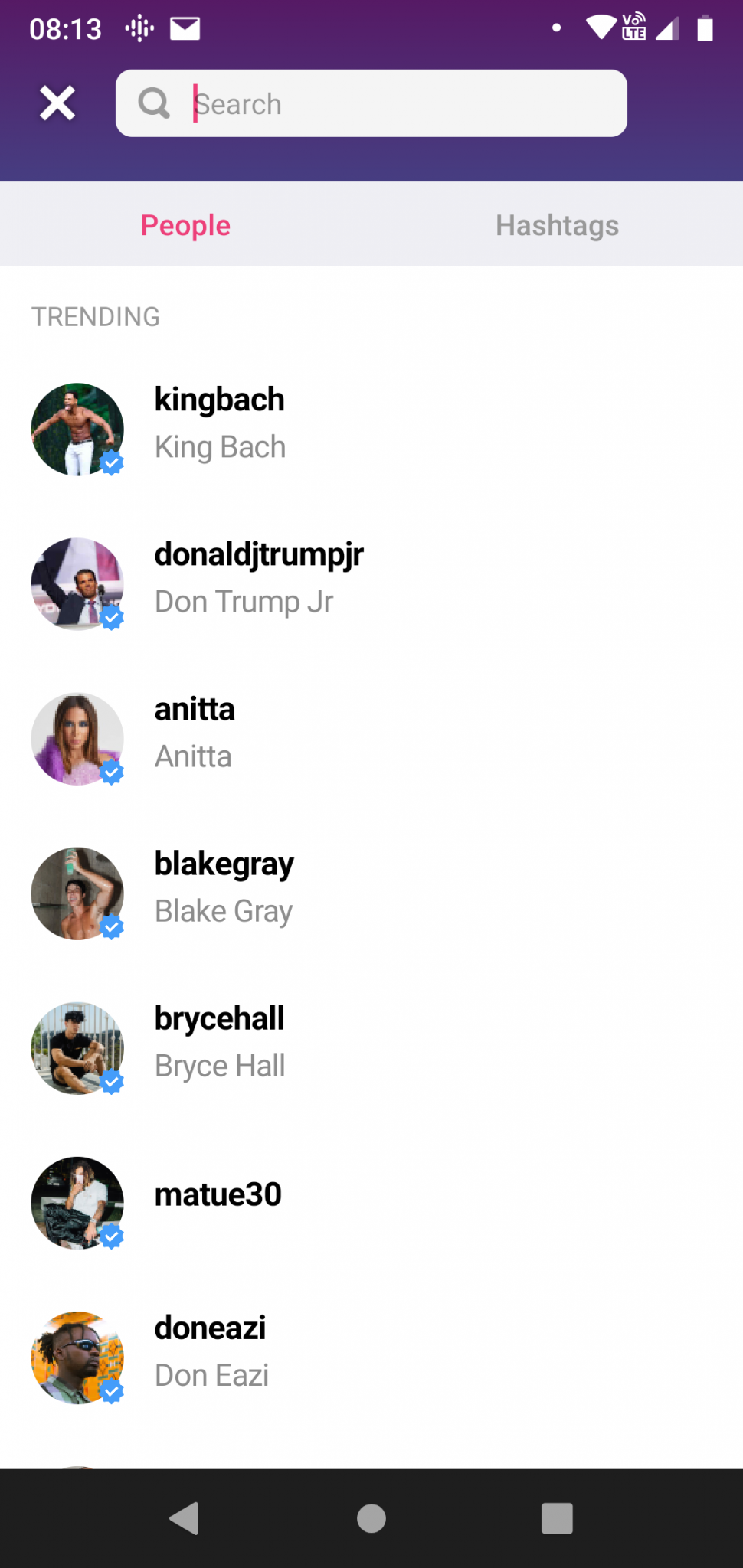 Other Social Networks
A hashtag that's trending on TikTok or Instagram but hasn't made its way to Triller could be a neat way to skyrocket to the top of the trending list. You can use our Instagram hashtag generator or TikTok hashtag generator to get some ideas, or just search for popular hashtags right from those platforms.
Social Listening
Social listening and social media monitoring can help you unearth valuable information about what your target audience thinks and feels about your brand. And, you can apply this to hashtags, too. The right social listening tool will help you stay ahead of the curve—and your competition—to jump on the best trends before anyone else.
Once you have a good list of hashtags, you'll want to monitor the performance of those hashtags and keep them handy.
---
58 of the Best Triller Hashtags
While the exact list of the most popular Triller hashtags will continually change, there are clear popularity trends. On Triller, there are a few types of content that always perform well. Since the app is driven largely by the music industry, hashtags like #music or hashtagified song titles are going to bring up a lot of videos. You'll also find a lot of popular posts in the dance category, too.
Hashtags can also be seasonal. For instance, Triller has already started promoting a Mariah Carey "All I Want for Christmas" hashtag challenge on Triller. You'll also find things like #summer, #christmas, #newyear, depending on the time of year.
As of this writing, the hashtags trending on Triller are:
#frontlinebattle

#tyson2020

#popstar

#wap

#moneyman

#becauseofyou

#balance

#equinoxchallenge

#adondevanchallenge

#tattletales

#expensive

#rangerover

#vibezn

#cheerstoyouchallenge

#safetyshakechallenge

#alonewithyou

#solochallenge

#24challenge

#iphone

#stepup

#tiptoechallenge

#tapinchallenge

#tequierobaby

#volveraschallenge

#dynamocardthrowchallenge

#moneymaker

#trappedoncleveland3

#hatchbackchallenge
Some of the most popular Triller hashtags are:
#triller

#trillervids

#tiktok

#explorepage

#music

#explore

#rap

#hiphop

#dance

#viral

#trillergeneration

#trillerfrance

#trillerfamous

#youtube

#love

#trillervideo

#newmusic

#trillers

#spotify

#trending

#rapper

#soundcloud

#musically

#post

#trillerapp

#artist

#instagram

#like

#flipagram

#bhfyp
---
Don't Always Use the Most Popular Instagram Hashtags
As you can see by checking out the above list, most of the trending hashtags are branded hashtags from celebrities like DJ Khaled, Mike Tyson, Cardi B, Megan Thee Stallion, and the like. Unless you're planning to jump on one of the challenges with dance or lipsync, those hashtags might not work for you. And, if you're interested in drawing attention to your content, using one of those hashtags probably isn't going to make your content stand out.
So, what's a Triller influencer to do?
Use an appropriate popular or trending hashtag when it works, but don't stop there. Instead of using just one hashtag, add a couple into your caption. Include a mix of popular hashtags along with hashtags with less competition. If you're sharing content from some time ago, for example, you'll probably want to use the hashtag #tbt or #throwback. But, there are tons of other users adding that hashtag, too. To stand out, you'll want to include other, more descriptive hashtags, too.
---
Wrapping Up
Investing time and effort to create, curate, and market the right hashtags can really boost your ROI for whatever platform you're using. On a platform like Triller, with high-profile competition, hashtags can make your content stand out and earn you more likes, shares, comments, and followers.
Frequently Asked Questions
What is the hashtag sign?
The hashtag symbol (#) is also known as the number symbol or, in some countries, the pound sign (not to be confused with "£," the symbol for pounds sterling). Chris Messina first promoted using hashtags on social media in a 2007 tweet: "How do you feel about using # (pound) for groups. As in #barcamp [msg]?" While Twitter initially downplayed this idea saying, "these things are for nerds," the idea ended up taking off, and the usage of hashtags is now widespread.
What are the most popular hashtags on Triller?
In this article, we looked at 58 trending and popular Triller hashtags. We've also included tools and tactics you can use to find the right hashtags for your content and audience. As of this writing, the hashtags trending on Triller are:
#frontlinebattle
#tyson2020
#popstar
#wap
#moneyman
#becauseofyou
#balance
#equinoxchallenge
#adondevanchallenge
#tattletales
#expensive
#rangerover
#vibezn
#cheerstoyouchallenge
#safetyshakechallenge
#alonewithyou
#solochallenge
#24challenge
#iphone
#stepup
#tiptoechallenge
#tapinchallenge
#tequierobaby
#volveraschallenge
#dynamocardthrowchallenge
#moneymaker
#trappedoncleveland3
#hatchbackchallenge
And the most popular hashtags on Triller are:
#triller
#trillervids
#tiktok
#explorepage
#music
#explore
#rap
#hiphop
#dance
#viral
#trillergeneration
#trillerfrance
#trillerfamous
#youtube
#love
#trillervideo
#newmusic
#trillers
#spotify
#trending
#rapper
#soundcloud
#musically
#post
#trillerapp
#artist
#instagram
#like
#flipagram
#bhfyp
There's no guarantee that these hashtags will be relevant for your videos or your audience, so be sure to do some research to find the best Triller hashtags for you.
Do hashtags work on Triller?
People use hashtags on Triller because they work. Triller hashtags help group similar content so users can search for and find the type of video content they want to see. Brands can also use them to create branded challenges and keep participants grouped so they can be found easily.
How do I find a great hashtag on Triller?
There are 58 trending and popular hashtags listed in this article that you can use as a starting point when looking for a great hashtag on Triller. However, if you want to find content that's relevant to your own brand, industry, or niche, it's going to require some research. Triller's search function is a great place to start. We also offer hashtag generators for Instagram and TikTok that can help you find hashtags that are popular on those platforms but haven't made their way to Triller yet. Be a trendsetter!
How do I choose hashtags on Triller?
To find the best Triller hashtags for your specific brand and target audience:
- Analyze hashtags used in content in your niche
- Check out the hashtags your competitors are using
- Create your own hashtag
What hashtags should I use to get on the Discover page?
On most social media platforms, the most popular hashtags are specific to the platform. Triller is no exception. Search for #triller using Triller's search function to find a list of Triller-specific hashtags you can use.
What Triller hashtags will get me more followers?
Popular hashtags will get you into the conversation and give you more opportunities for other users to see your content. Be sure to balance the popular or trending hashtags with more relevant, niche hashtags about your content.