If you're a fitness instructor or yoga teacher who has had your in-person classes disrupted by a global pandemic, you're not alone. The pandemic has left its mark, and you know that in order to stay relevant and successful, you need to adapt. If you haven't already made the jump into online classes, now's the time. And, even if you have, this article will help you fine-tune your offering and keep your business and brand safe. We'll cover the types of virtual fitness classes you can offer, different ways to offer those classes, and the logistics of running an online fitness empire. We'll wrap up with a look at some virtual fitness class platforms you can use to make things a whole lot easier to manage.
---
Virtual Fitness Classes: Formats, Platforms, and Tips to Get Started:
---
How to Run Virtual Fitness Classes
It's likely that the COVID-19 pandemic has changed the face of in-person fitness classes forever. Many people had to ditch their gym memberships in favor of working out at home and chances are good that many of them will opt to continue their at-home routines even when it's deemed safe to head back to the gym.
But that doesn't mean that they won't be looking for online fitness class options. And when they do, shouldn't your brand be ready to accept them with open arms?
If you're thinking that there's a lot to handle if you want to offer virtual fitness classes, you're not wrong. You need the right equipment to live stream or record and share your classes, a space to record, ways for people to find out about your class, register, and pay... the list goes on and on.
Fortunately, we've come up with this guide to running your own virtual fitness classes that you can use to decide what you want to offer, how you're going to get students, and how they're going to pay. Let's get started with a look at the different virtual fitness class formats you can use.
---
Virtual Fitness Classes: Formats to Try
There's really no limit to the types of workouts you can offer for virtual fitness classes. Even if some of the classes you offer require students to have specific equipment, you can just share that information upfront to eliminate confusion and call it your niche. The virtual fitness class formats we're about to share aren't the only options, but they are a few of the more popular options we've seen in successful online fitness businesses.
Personal Training
You can offer personal training in a one-on-one or group setting to provide personalized support to your students as they try to meet their fitness goals from home. You can typically charge more for one-on-one personal training but there are only so many hours in a day, so you're limited with the number of clients you can take on. Group personal training classes are usually less expensive for students (sometimes not by much, though) and are a great way to bring in good money without spending 16 hours every day working with clients.
Group Classes
Group classes include many different types of classes from Zumba to yoga. Many people join group fitness classes because they like the energy of working out with a group, so be creative with how you offer these workouts. Perhaps having everybody's cameras on (if they're comfortable with it) and videos shown on screen would be fun for your group class students.
Nutrition Consulting
While nutrition consulting isn't really fitness per se, it's still a popular and lucrative virtual class format. You can treat this like personal training and provide services one-on-one or in a group setting. You might consider sharing recipes and meal plans. Or, you can even partner with a meal prep service that offers healthy meals and earn affiliate marketing commissions, too.
---
Types of Workouts to Offer
When planning the classes you're going to offer, there are really only two types they can fall into: pre-recorded or live stream. You might try offering a mix of classes between the two to find out which you enjoy more (and which your audience likes).
Pre-Recorded Workouts
Pre-recording workouts provide you and your students tons of flexibility. They'll be able to do the workouts on their own schedule and you won't be held to a set schedule. The downside is that there's not going to be much of a connection between you and your students. You won't be able to engage with them, offer feedback on their form, or encourage them when they look like they're dragging.
Livestream
With live streamed workouts, your classes are in real-time. This helps to build a sense of community between you and your students. You'll be able to set a schedule, show up, and lead your class and offer feedback to students throughout the class. Plus, no editing! On the downside, no editing! That means you have to have a plan and execute that plan flawlessly. Of course, if you're used to leading classes in person, this probably won't be a problem for you.
---
Tips to Help You Run Successful Virtual Fitness Classes
There are a lot of things to think about when you're trying to take your in-person fitness business online. Here are some tips to help you get started and stay moving.
Offer Licensed Classes
Check into licensed classes like Beach Body Live, Spin, Zumba, Pound, and others to see if they allow virtual training. You might find that the ban on virtual training has been relaxed thanks to COVID-19.
---
Get Music Licensing
If you're planning on using music in your classes, you'll need to look into music licensing. If you're working with a licensed class, you'll probably be given music that you're allowed to play. If you're going it alone, or want to use different music, you'll need to get your own licensing. There are three major music licensing agencies in the United States (ASCAP, SESAC, and BMI). Costs for music licensing vary, but you'll probably find yourself paying between $250–$1,000 per year to license music for your online fitness classes.
---
Keep Your Business Safe With Insurance
Check your liability insurance policy to make sure that you're covered for online training and to understand the terms of your policy.
---
Get Liability Waivers
Liability waivers, informed consent, media releases, and clearances are a must for fitness instructors. You may need to update your language to include online classes and make sure that you know where your students are tuning in from as some states don't honor liability waivers. If you don't have access to fitness management software, you can always use something like DocuSign, HelloSign, and others.
---
Work Out Booking & Payment
You want to get paid, right? That means you'll need to figure out how you're going to accept payments and let people register for classes. Fitness booking software makes this easy, but there are several online fitness instructors who use a simple tracking system (like a Google Sheet) and accept payments via CashApp, PayPal, or Venmo.
---
Pricing Models
How will you package your online fitness classes? Think about the pricing plans you want to offer and don't forget to consider how much time it's going to take you to administer your payment plans if you don't have a fitness management tool to help you. If you're planning on offering a recurring membership (monthly, quarterly, annually, etc), you might consider getting set up on a membership site like Patreon. You can also accept payments on a drop-in basis or offer a set number of classes for a fixed fee. Again, you'll want to make sure that the time it takes to track all of this doesn't result in a loss of revenue.
---
Find Your People
In order to be a successful virtual fitness instructor, you need students for your classes. If you've been an in-person instructor already, you probably have a core group of people you can reach out to about your virtual fitness classes. If you're trying to build a following, though, you'll want to start building an audience on your social media platforms and generating interest in yourself as a fitness influencer. You might try offering a free class to entice new students!
Once you have people participating in your classes, take the time to get to know them, just as you would in an in-person setting. Learn the names of your regulars and shout out to them during group classes.
---
Get Reviews
Reviews are an excellent form of social proof that will help you grow your audience and get more students in your classes. In a pinch, you can direct students to Google or Facebook to leave reviews, but you might find it beneficial to have a review management software to help you get reviews and testimonials that you can share on your website and in your online marketing.
---
6 Best Platforms for Virtual Fitness Classes
There are several platforms that make it easy for you to offer virtual fitness classes. Here, we're sharing 6 options. Some are geared toward the fitness industry like Mindbody and others are simply online conference tools like Zoom.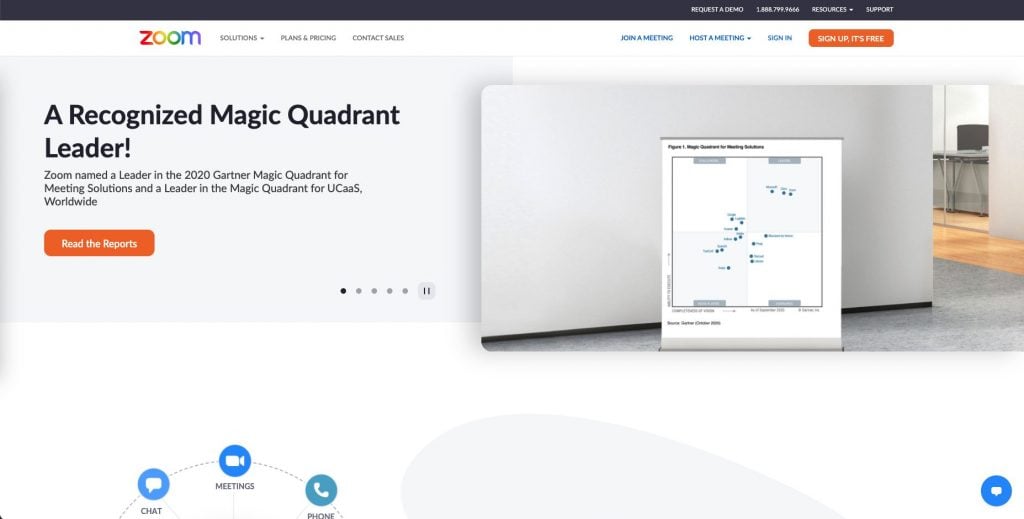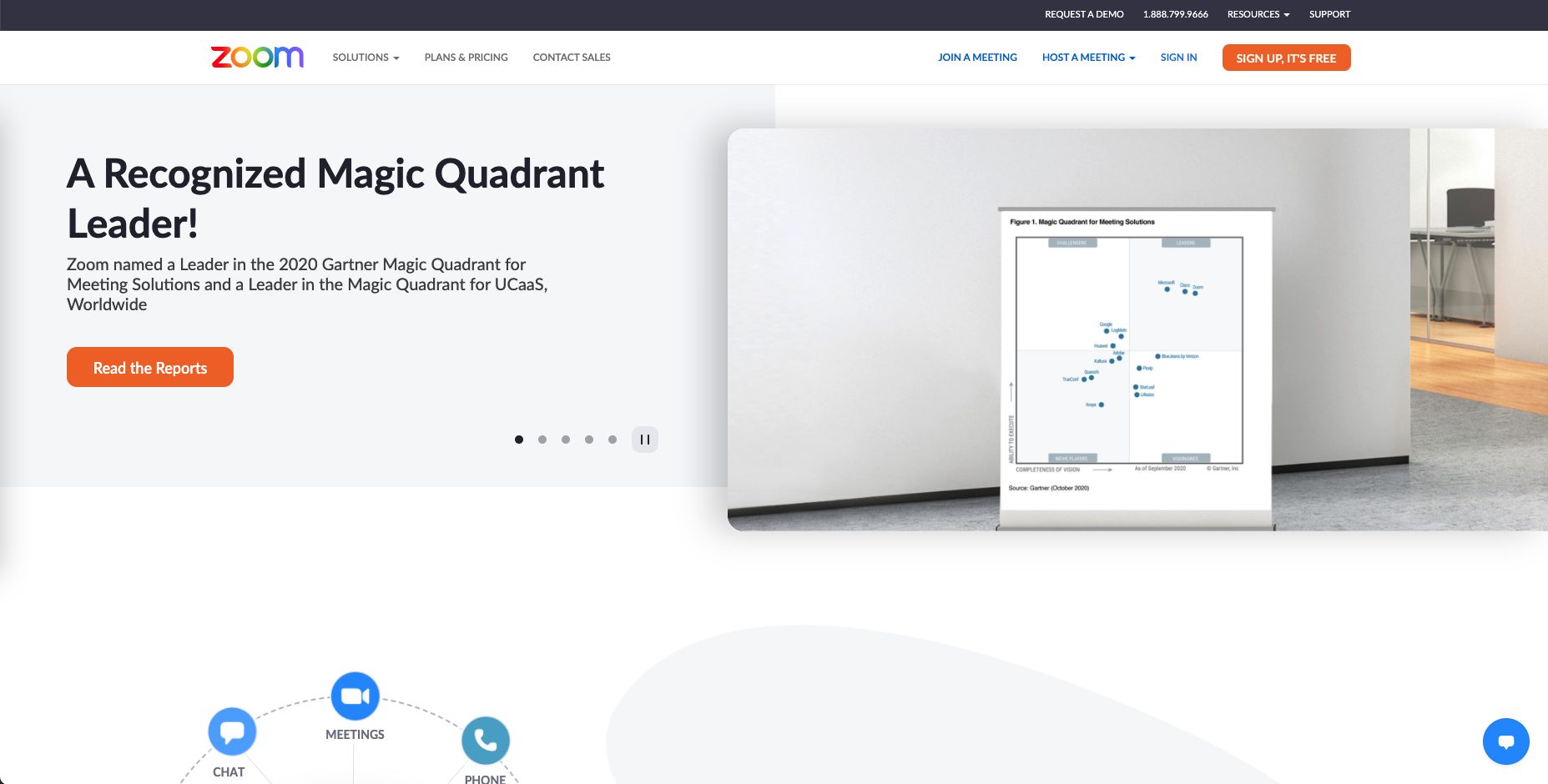 Zoom is a great option if you just want to get started, offer some live classes, and won't have a large enough client base to need to worry about maintaining a fitness management system. With Zoom, you can meet with clients one-on-one or host a group workout session.
Pricing
Zoom has a free plan for up to 100 participants and meetings under 40 minutes. Paid plans start at $149.90/year.
---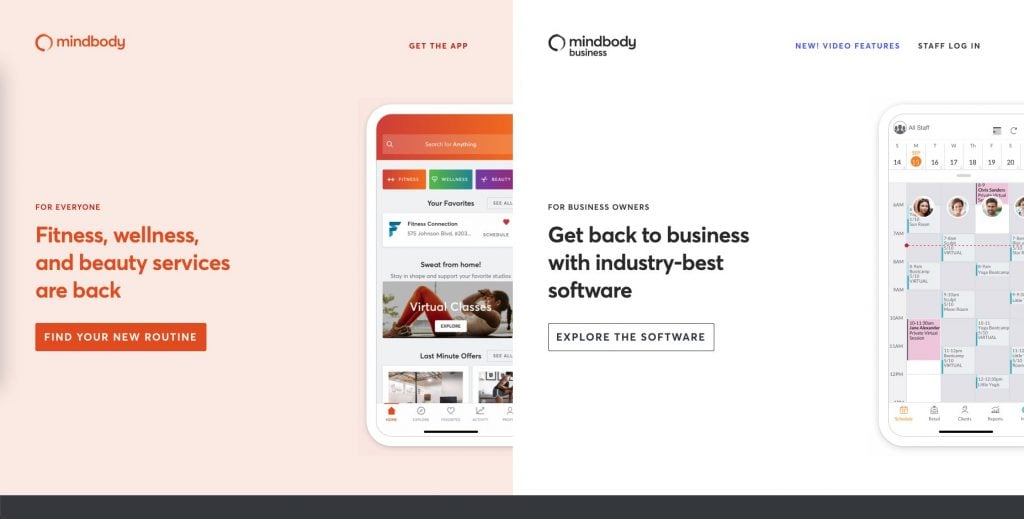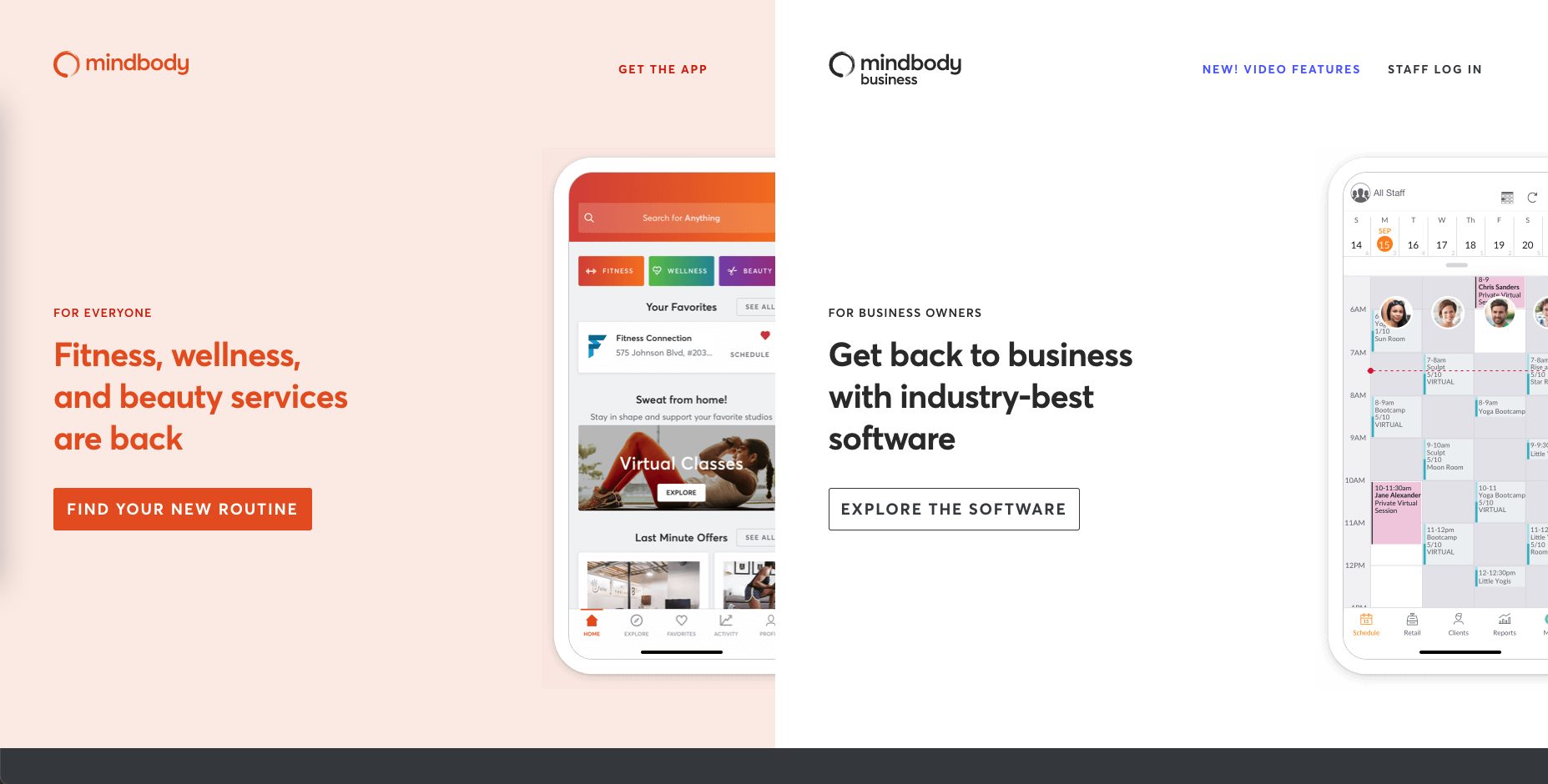 Mindbody is a popular option among fitness studios. Virtual classes are built right into the software so clients just log in and book just like they would for in-person classes. You'll also be able to add pre-record content that's available to clients only.
Pricing
Pricing for Mindbody starts at $139/month.
---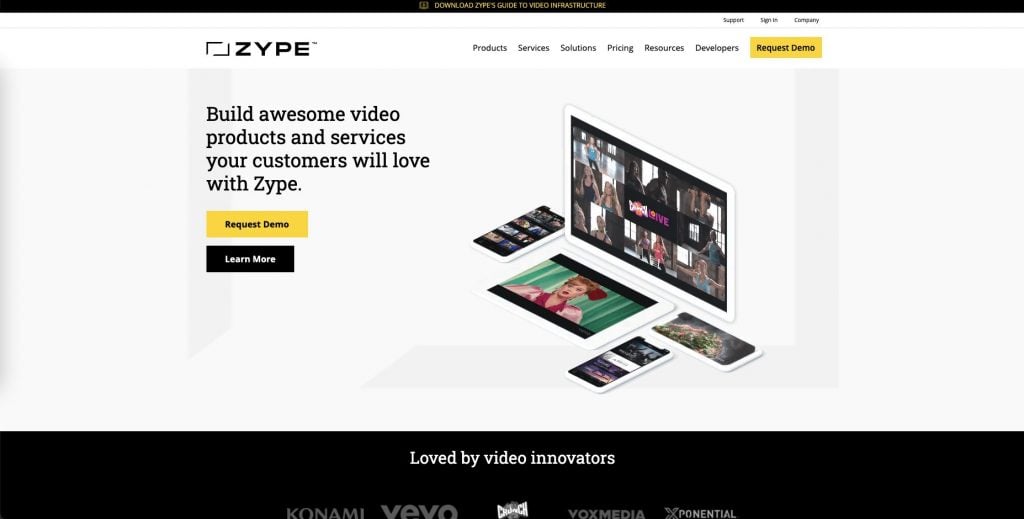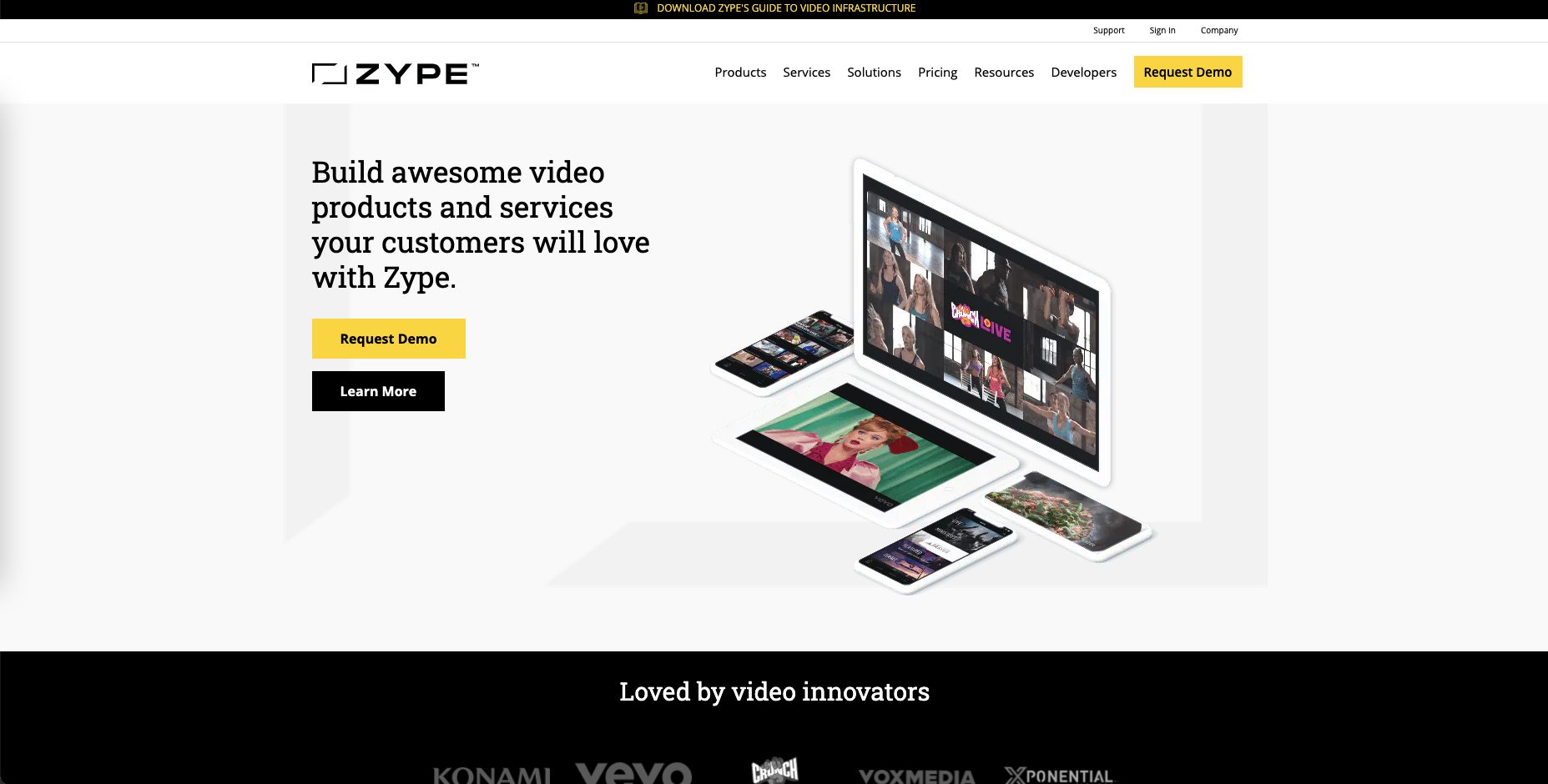 Zype is a video distribution and management hub. You can use this platform to share and monetize your workouts. You also have the option to sell live and on-demand workouts through class passes, pay-per-view, subscriptions, and one-off purchases.
Pricing
Zype pricing starts at $500/month so it's best for fitness studios looking to break into the virtual fitness space.
---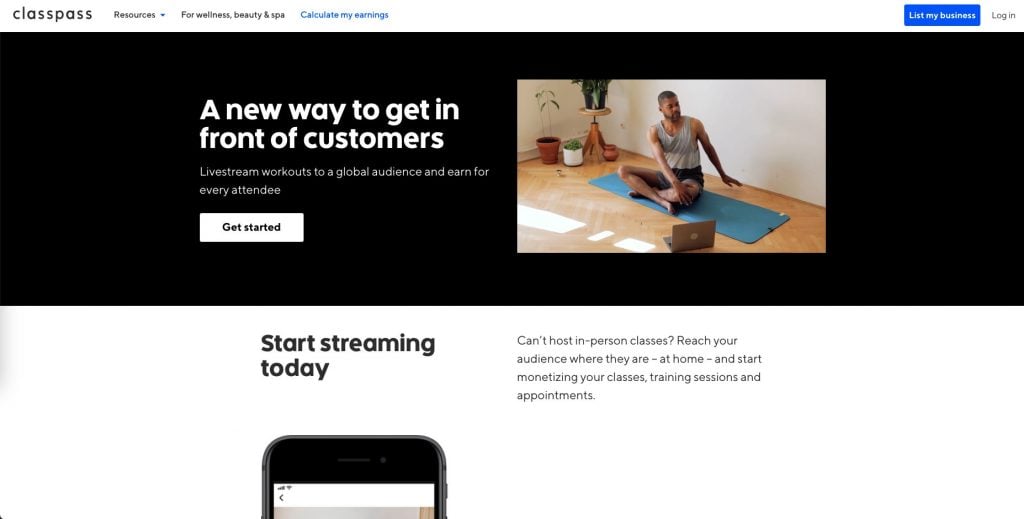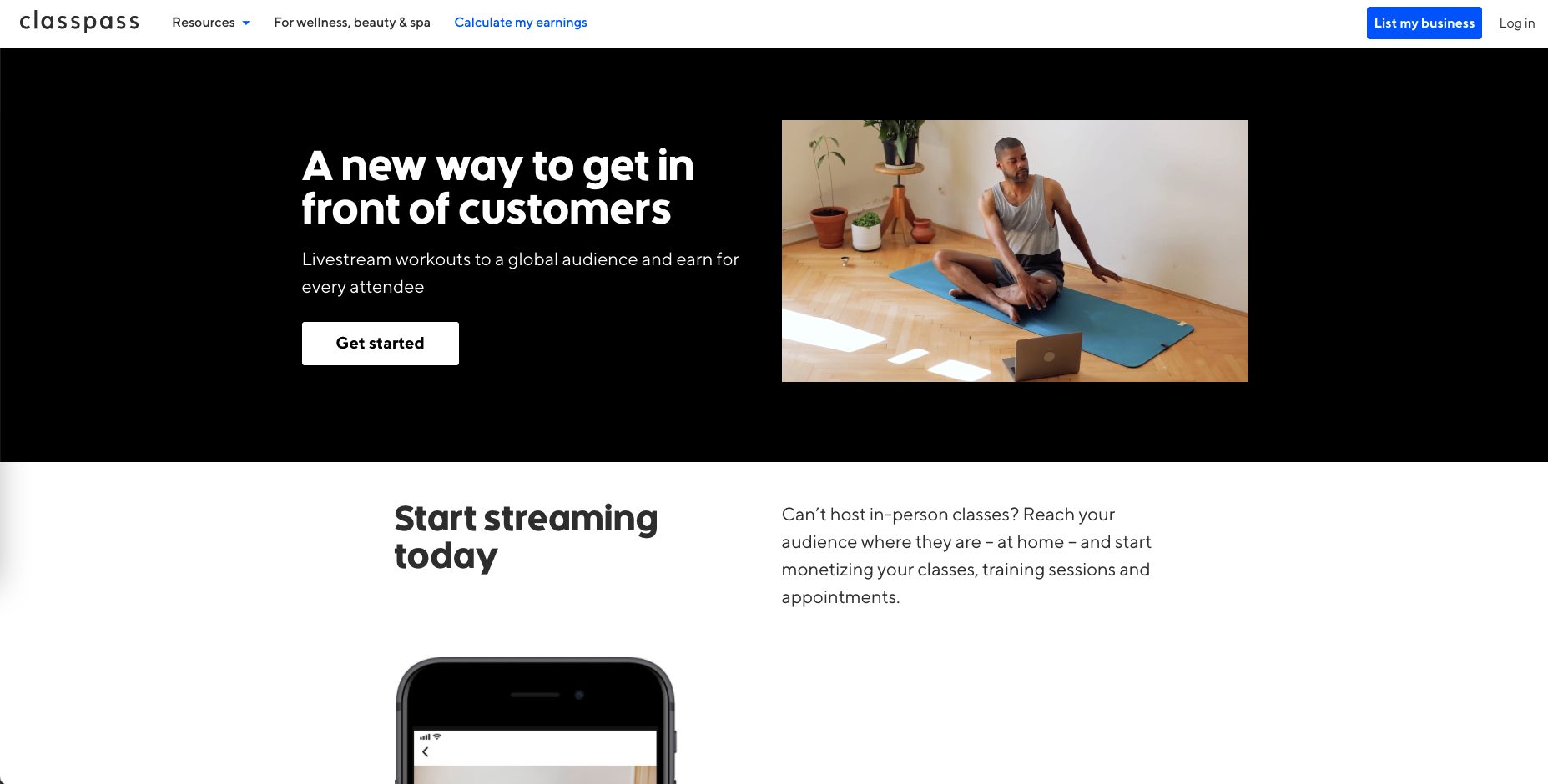 With ClassPass, you can get connected to ClassPass's network of users. It integrates with Zoom, Vimeo, and YouTube Live — just add the streaming URL to your class description before the class and members can join in. It costs nothing to list your class on ClassPass, but you will pay a fee based on your sales.
Pricing
Free to list your classes (you still need to use Zoom, Vimeo, or YouTube Live). ClassPass will charge a portion of sales.
---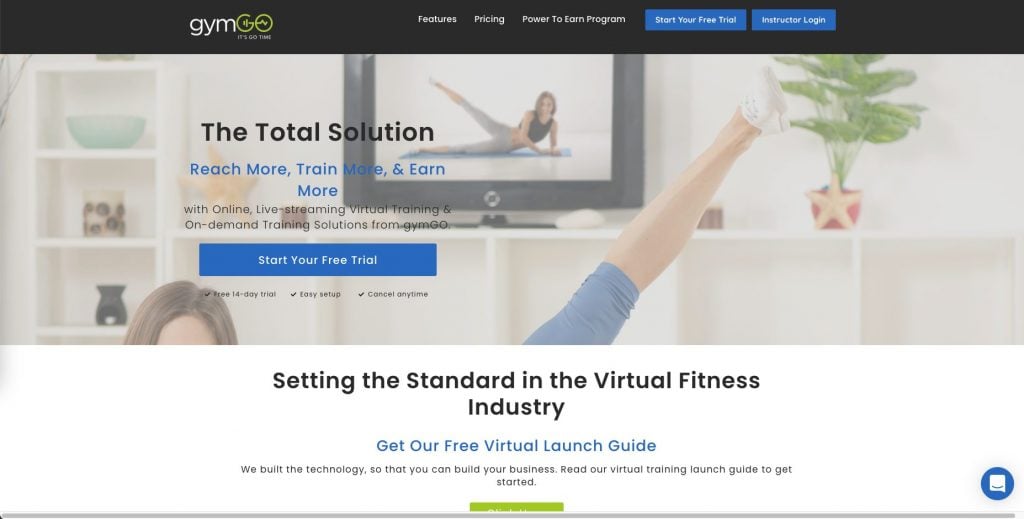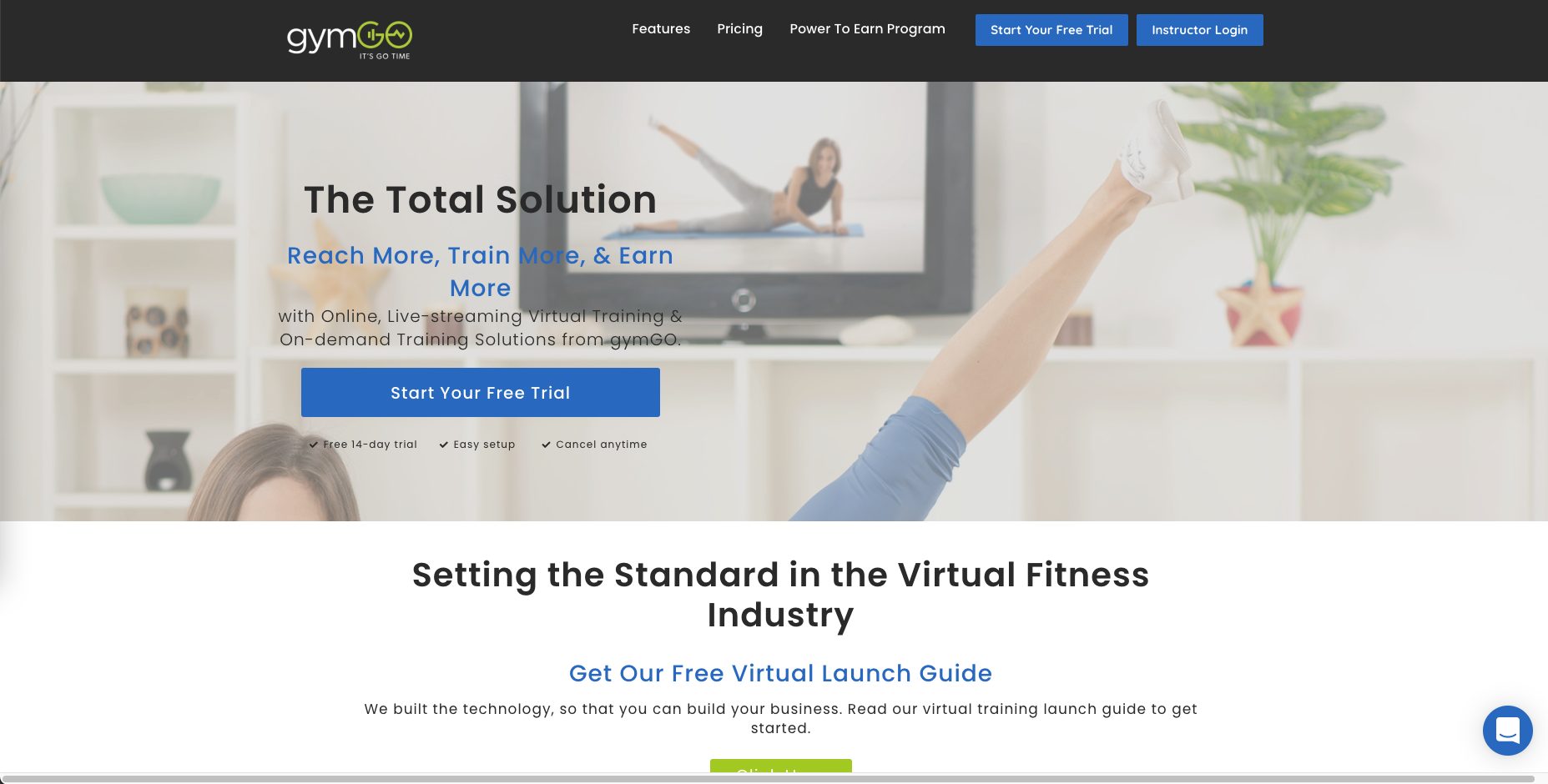 With gymGO, you can sell on-demand training sessions for individuals or small groups (up to 12 students at a time) or live stream to groups of up to 100. You won't be able to see your clients, nor can they see or hear each other, but you can communicate through instant messaging. The platform also handles things like billing, memberships, and scheduling.
Pricing
gymGO pricing starts at $35/month for 2,000 streaming minutes and 25 active clients.
---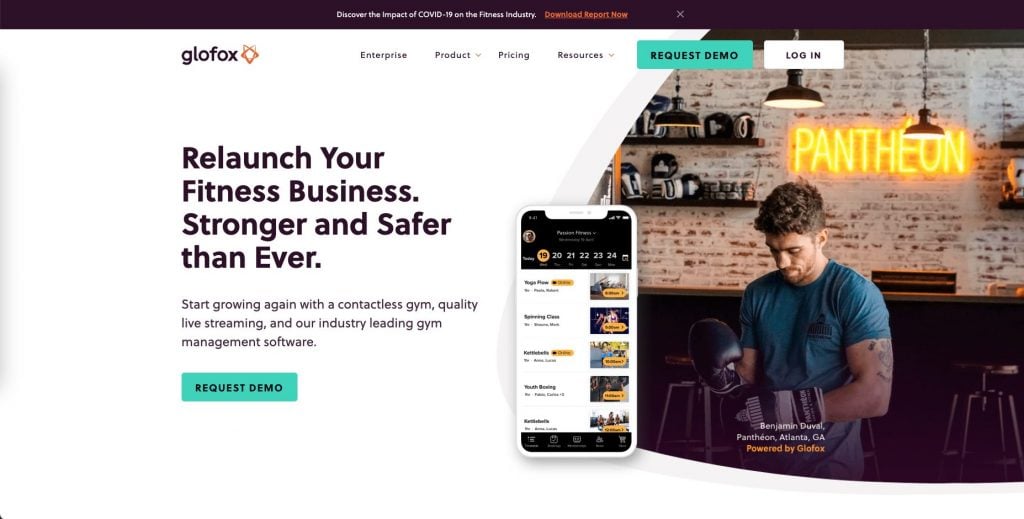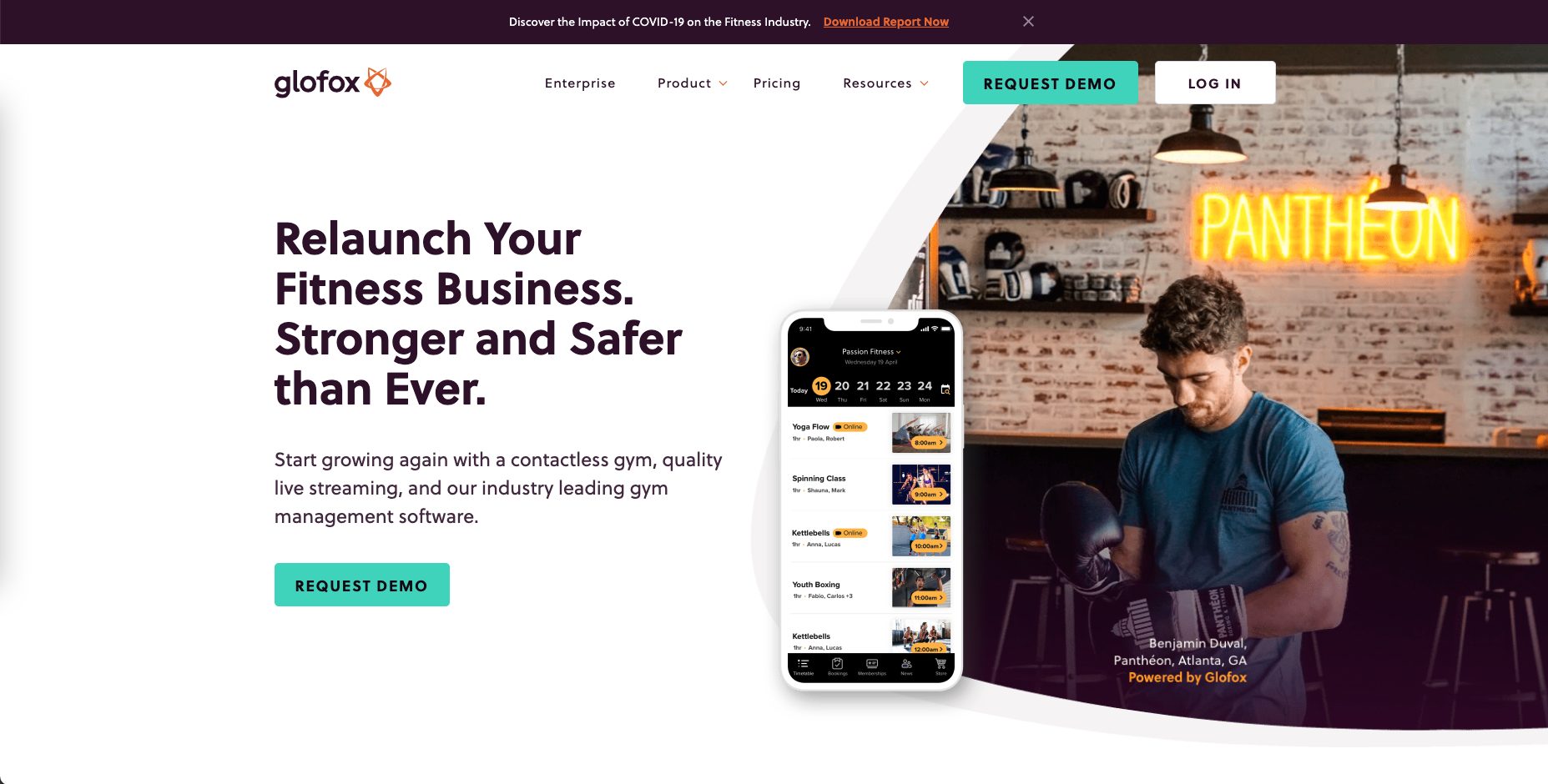 Glofox is a gym management software that offers fitness instructors to option to provide on-demand and live stream content. It works best with YouTube Live and Zoom.
Pricing
Request a quote from Glofox.
Frequently Asked Questions
What can I offer as a virtual fitness trainer?
Group exercise classes are a great option, but you can also offer personal or small group training sessions.
How can I make sure my video looks and sounds good?
Choose a space that's well-lit and gives you enough space to show your entire body on the screen. Use a high-quality mic for the best sound quality.
What are the benefits of streaming fitness classes online?
You can reach audiences anywhere, expanding your engagement and reach.
How do I set up a virtual fitness class on Facebook?
While you have the option to go live on Facebook, we don't recommend using it for a virtual fitness class if you're going to be using licensed music. Facebook's algorithms can detect licensed music and your audio might end up being spotty or your video shut down entirely if licensed music is detected (even if you've paid for it). Instead, choose one of the options on our list above.