Advertising Disclosure
Advertising disclosure:
Our partners compensate us. This may influence which products or services we review (also where and how those products appear on the site), this in no way affects our recommendations or the advice we offer. Our reviews are based on years of experience and countless hours of research. Our partners cannot pay us to guarantee favorable reviews of their products or services.
A company's online presence acts as a pivotal conduit between the business and its audience. While there are numerous ways to launch your online presence, a website serves as one of the primary tools for digital transformation. Whether it's a bustling e-commerce platform, a curated blog, a digital portfolio, or an informational site, ensuring its seamless operation is indispensable. But what happens when we can't do that?
Well, that's where Website Maintenance Service companies come in. These companies are the unseen sentinels of the online world. They play an imperative role in safeguarding a company's digital face by addressing the most mundane tasks, including routine upkeep, debugging, and more.
Not only that, but these companies foresee potential challenges, ensuring that the website continues to deliver optimal user experiences, ranks favorably in search engines, remains secure from threats, and aligns with the company's changing business objectives.
Because of that, finding a reliable website maintenance service is imperative. So, let's check out the top 10 website maintenance companies for 2024.
---
Top Website Maintenance Service Companies
Top
website maintenance services
2024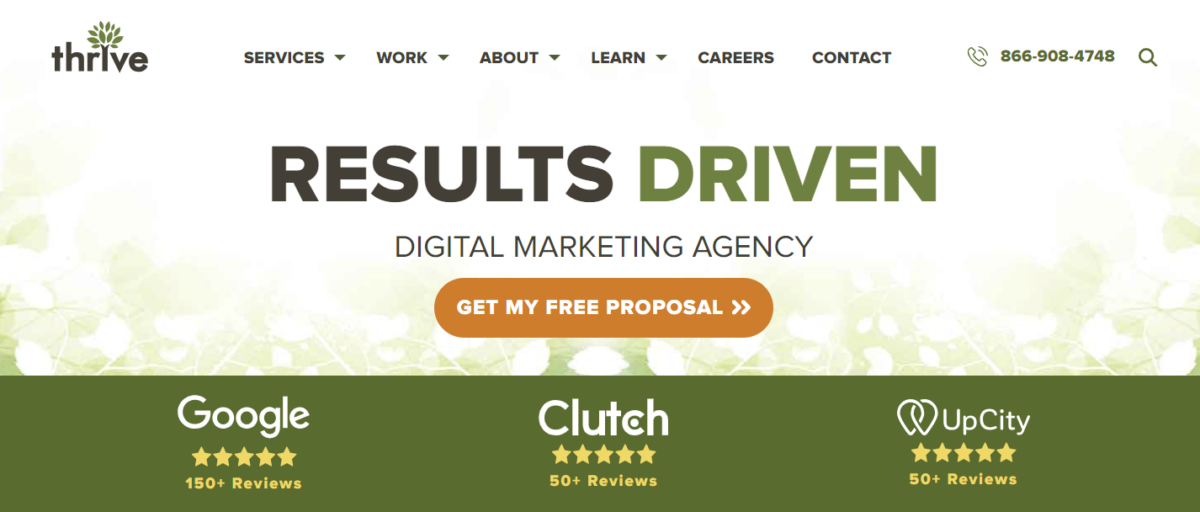 Headquarters: Dallas, TX, United States
Pricing: Thrive's services start from $1,000 with an average hourly rate of $100 – $149.
In an online realm that's constantly evolving, Thrive brings a robust suite of website maintenance services to ensure business owners stay focused on their core competencies. Recognizing that websites are a brand's digital extension, Thrive emphasizes creating and maintaining websites that truly represent the business ethos. Their comprehensive services encompass user testing, security updates, link fixes, site backups, and a vigilant technical support system to ward off potential cyber threats.
These services, coupled with their dedication to fostering client growth, are evidence of their meticulous approach to client satisfaction, understanding each brand's uniqueness and ensuring its digital footprint mirrors that identity. But Thrive utilizes a data-driven approach through analytics and tracking tools, keeping businesses informed on their website health. Moreover, their commitment to staying updated with innovative strategies primes them to utilize the best practices for optimal website maintenance.
Thrive's transparent work ethic, realistic timelines, and dedicated specialists make them a worthy partner for any business aiming to achieve impressive digital results.
Other services:
Search Engine Optimization
Pay Per Click
Social Media Marketing
Web Design
---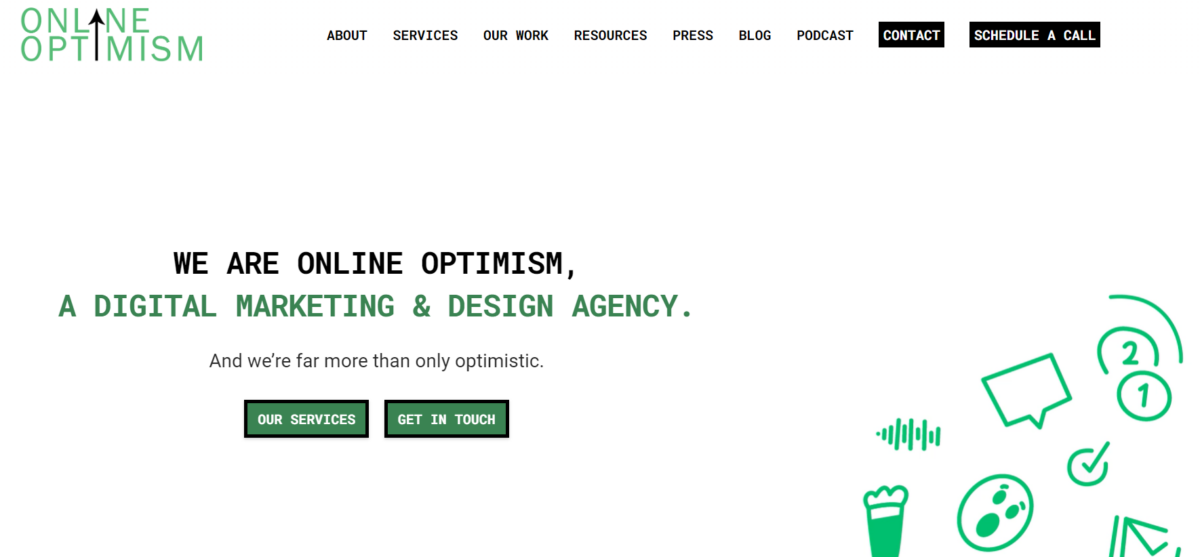 Headquarters: New Orleans, LA, United States
Pricing: OnlineOptimism's services start from $1,000 with an average hourly rate of $50 – $99.
Online Optimism champions the belief that a holistic web design approach is fundamental for optimal online experiences. By providing services ranging from ground-up website builds to user experience optimization, they ensure clients have aesthetically appealing websites and functional ones that drive engagement and conversions.
Their focus on goal-setting stands out. By understanding their clients' short-term and long-term objectives, they tailor their strategies, be it for a full-fledged site design or periodic website maintenance. The result is a website aligning perfectly with a brand's vision and audience's expectations.
Online Optimism's comprehensive website maintenance and monitoring services guarantee businesses an uninterrupted, high-performing online presence. By seamlessly integrating web design with a slew of other optimization tools, they ensure that every touchpoint with a potential customer is impactful, leading to sustained, long-term results.
Other services:
Search Engine Optimization
Social Media Marketing
Web Development
Advertising
Content Marketing
Pay Per Click
---

Headquarters: San Francisco, CA, United States
Pricing: Clay's services pricing starts from $50,000.
Dive deep into a seamless digital experience with Clay, the web design agency maestro stationed in San Francisco. Clay specializes in UI/UX design and ensures users resonate with brands at every touchpoint. With a full-service digital design portfolio, including brand strategy & visual identity, they don't just design websites; they craft transformative user experiences.
Clay's website maintenance services help them stand out in this highly competitive industry. From fixing broken links to monitoring site health and performance, Clay utilizes a detailed approach incorporating industry best practices. This level of attention allows them to become undisputed industry leaders, be it in designing and developing or post-launch support.
Thanks to this, they've managed to attract the attention of tech giants such as Snapchat, Google, Amazon, and Facebook, all looking to benefit from their unparalleled approach. While UI/UX remains their stronghold, Clay has seamlessly branched out into branding, pushing brands to the zenith of their digital potential.
Other services:
Web Design
Branding
Digital Products
Content
---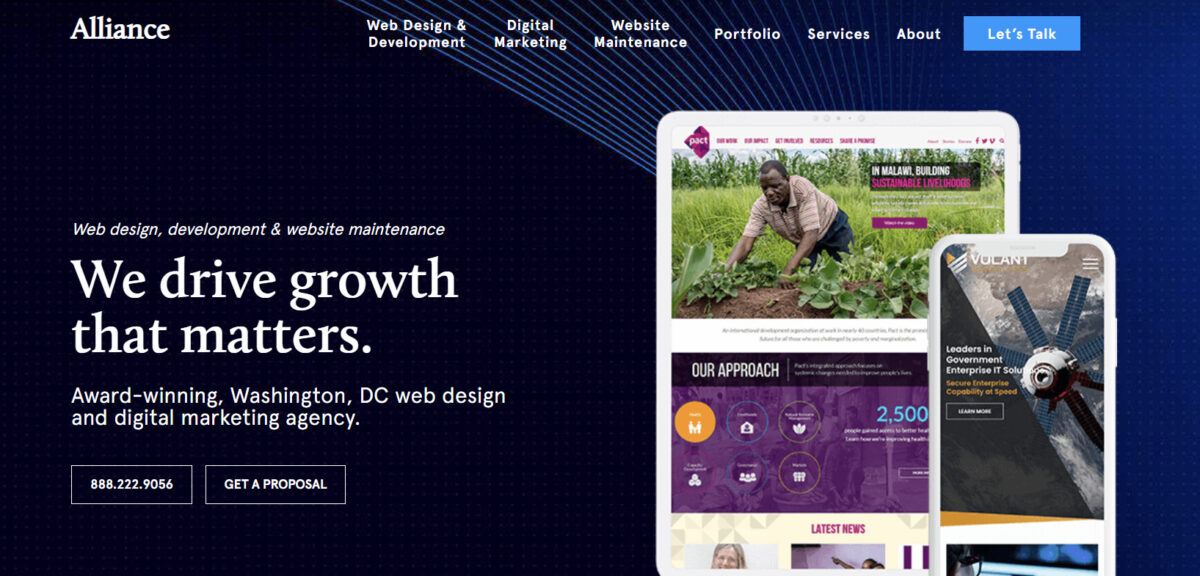 Headquarters: Washington, DC, United States
Pricing: Alliance Interactive's services pricing starts from $25,000.
Companies evolve, and Alliance Interactive is there to help brands evolve for the better. Their holistic approach to website maintenance sets them apart, making them a front-runner in the realm of website upkeep. Proactive and robust, Alliance's maintenance package ensures a brand's digital presence never wavers, offering support ranging from technical glitches to full-scale digital marketing assistance.
But Alliance isn't just a maintenance provider; they're your digital partner. Their diverse set of offerings, from search engine error correction to website speed optimization, ensures every aspect of a client's website is in top-tier condition. With their expert team backing each project, brands can expect minimized downtimes and maximized productivity.
For businesses keen on a streamlined digital experience with consistent updates, Alliance Interactive offers tech support, routine site updates, security measures, and overall site improvements.
Other services:
Advertising
Web Development
Content Marketing
Search Engine Optimization
Digital Strategy
Pay Per Click
Web Design
---

Headquarters: Copley, OH, United States
Pricing: OuterBox services pricing starts from $1,000.
For businesses relying on their online presence, OuterBox has positioned itself as a top-tier responsive web design agency and expert in website maintenance. Recognizing that a website is an ever-evolving entity, they stress the importance of maintaining security, keeping content fresh, and providing operational functionalities.
Their expertise extends beyond simple updates; they're dedicated to improving site speed, a factor crucial for user experience and SEO ranking. With an in-house team adept in the latest programming languages, they also offer improvements tailored to custom functionalities — whether hard-coded or dependent on plugins.
But what truly sets OuterBox apart is its holistic understanding of the digital ecosystem. With design, development, and marketing teams all collaborating, they ensure even minute changes to a website are always in line with the larger business objectives. And with their established reputation as website health masters, they guarantee comprehensive website maintenance that makes practical and strategic sense.
Other services:
Search Engine Optimization
Pay Per Click
Web Design
---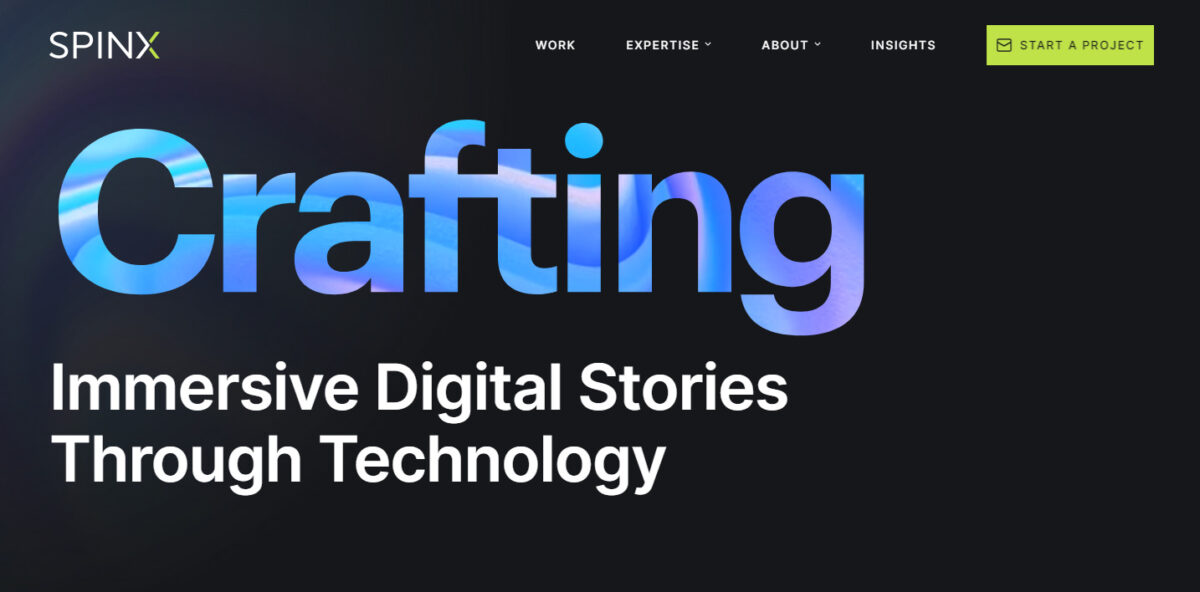 Headquarters: Los Angeles, CA, United States
Pricing: SPINX Digital services pricing starts from $1,000.
In the ever-changing digital landscape, SPINX Digital emphasizes that site performance is a "living, breathing activity." With a firm belief that a static website is a dying website, their maintenance services are laser-focused on constant evolution. As a result, they're more than just website health monitoring experts; they're a full-stack development agency covering every aspect of a brand's online presence. 
Rejecting the one-size-fits-all approach, SPINX designs custom maintenance plans that align with the unique demands of each business. But beyond mere updates, their real strength lies in understanding online user behavior. Their strategies, always backed by meticulous analysis, aim to enhance user engagement and, subsequently, conversions.
A recurring theme in their methodology is proactiveness. They don't just react to current trends but actively shape and control site performance based on how users interact with it. With a promise to bolster online presence and profitability, SPINX Digital offers a maintenance service that is as strategic as it is technical.
Other services:
Web Design
Web Development
Digital Strategy
---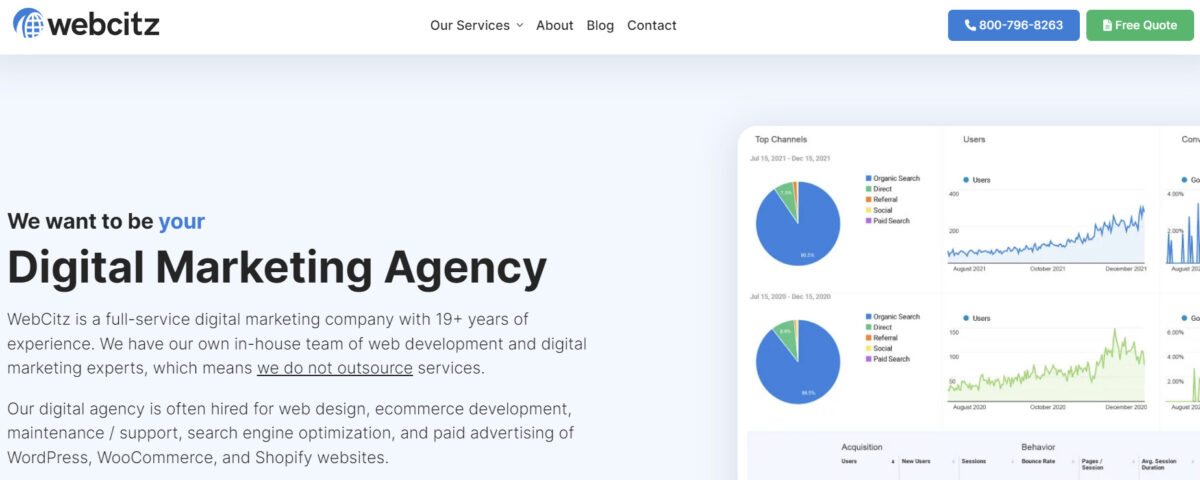 Headquarters: Menasha, WI, United States
Pricing: WebCitz website maintenance services start from $119.50/hour, with discounts for pre-purchased blocks of time.
At the heart of WebCitz is a commitment to not just creating stunning websites but also providing exemplary website maintenance and support. Their well-coordinated team operates from a single location, enabling access to top-notch services without outsourcing.
Website maintenance, as perceived by WebCitz, is a comprehensive support service. Whether you need same-day fixes or more in-depth consultations, the emphasis on clear communication ensures a seamless experience.
The myriad services WebCitz offers under website maintenance include but are not limited to, site speed improvements, backup creation, technical SEO enhancements, and design modifications. Their proactive approach ensures websites remain up-to-date, efficient, and responsive to emerging needs.
Other services:
Pay Per Click
Search Engine Optimization 
Conversion Optimization
Digital Strategy
E-Commerce Development 
Ecommerce Marketing 
Web Design
---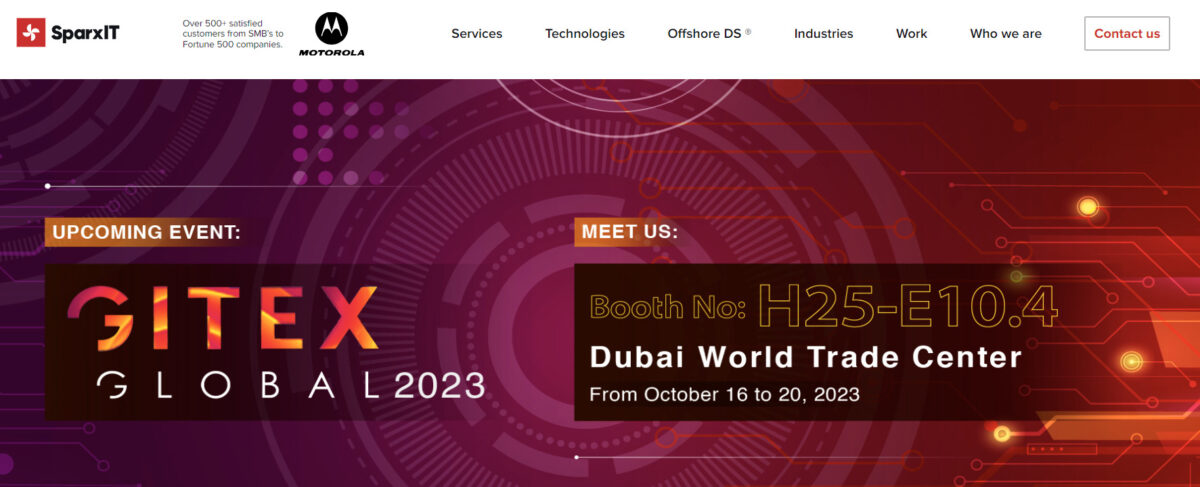 Headquarters: New York, NY, United States
Pricing: SparxIT website maintenance services start from $10,000.
SparxIT is a name synonymous with excellence in the website maintenance sector, revered for its all-encompassing solutions catering to businesses across diverse sectors. Their expertise is a testament to their adaptability and dedication to website functionality.
Whether it's about updating security patches, offering full web maintenance, or that WordPress websites are optimized and updated, SparxIT is adept at handling every intricacy. Their commitment to providing tailored services ensures every website, regardless of its platform, is given the attention it deserves.
SparxIT optimizes website content with analytics-driven strategies, allowing it to remain relevant and updated. Their professional approach, combined with a team of certified specialists, certifies clients receive services of the highest standards.
Other services:
Mobile App Development
Blockchain 
E-Commerce Development
---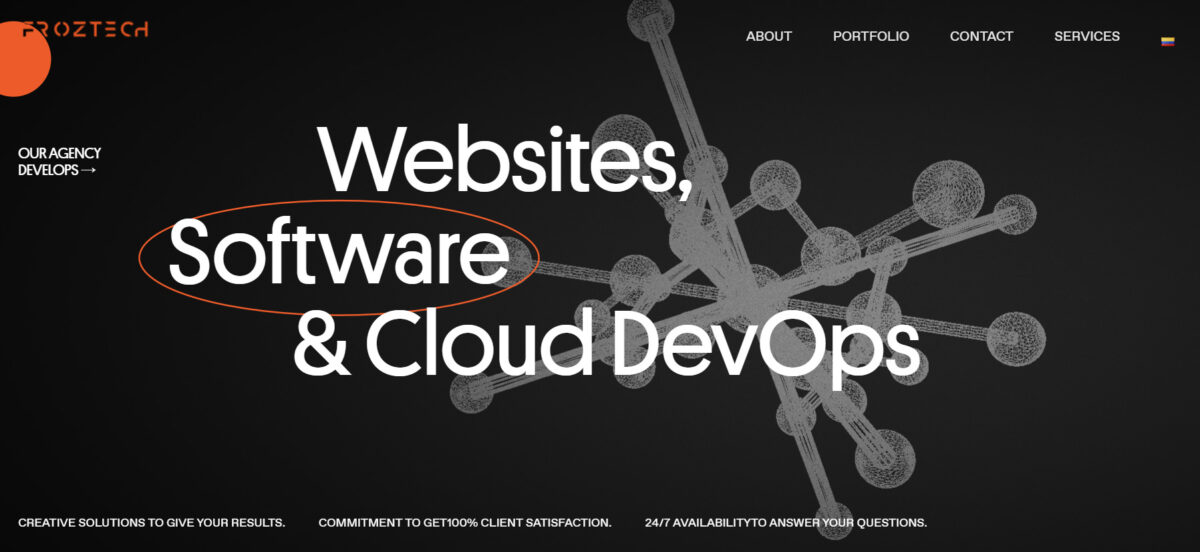 Headquarters: Miami, FL, United States
Pricing: Froztech service pricing starts from $1,000.
In the evolving digital world, Froztech stands out as a beacon of reliability, particularly when it comes to maintaining and updating websites. Recognizing that a website is the digital face of any brand, they emphasize the need for businesses to have their online platforms updated, optimized, and accessible across various devices.
Froztech's systematic approach ensures every page of a brand's site remains functional, with no broken links, while new pages and links are seamlessly integrated. Their team understands the intricate connection between website maintenance and business credibility. Therefore, they've formulated plans like the Maintenance Base, Maintenance Gold, and Custom Maintenance, each tailored to different business needs and budgets.
To add further value, they offer a detailed monthly web maintenance report that keeps clients informed about the state and performance of their website. Moreover, with packages offering features like regular informational content updates, SEO management, and real-time stats analysis, Froztech truly ensures that client sites stay relevant, secure, and efficient.
Other services:
Web Development
Content Marketing
Graphic Design
Web Design
Custom Software Development
Logo Design
---

Headquarters: Chicago, IL, United States
Pricing: Marcel Digital service pricing starts from $1,000.
Ensuring client's websites remain operational and effective is paramount in today's business environment. Marcel Digital, stationed in the bustling hub of Chicago, specializes in proactive website hosting and maintenance solutions catering to small and large businesses.
From setting up or migrating hosting and maintaining CMS to optimal website uptime, they have it all covered. Their partnership with global web development teams ensures 24/7 support, including on holidays. Furthermore, with expertise in hosting through platforms like Microsoft Azure, Umbraco Cloud, Amazon, and Google, clients are assured of top-tier performance.
But Marcel Digital doesn't stop at hosting. Their comprehensive support and maintenance solutions include custom back-end and front-end development, speed optimizations, .NET programming, and hack repairs. By integrating SEO and usability teams, they promise client websites remain functional and achieve efficient operations.
Other services:
Web Development
Search Engine Optimization
Pay Per Click
Social Media Marketing
---
Key Considerations When Evaluating Website Maintenance Service Companies
In evaluating a potential Website Maintenance Service company, one must first probe into the breadth and depth of the services they provide. It is crucial to discern whether their offerings align with the multifaceted needs of your website. Beyond the basic services, gauging their prior engagements is essential. Familiarity with your industry or specific website platform can be an indicator of their competence and relevancy.
Another pivotal element is the company's responsiveness, especially during critical moments. When faced with unforeseen complications, such as website malfunctions or security breaches, the speed at which a company addresses these issues speaks volumes about their reliability. Furthermore, tapping into the experiences of previous clients through reviews and testimonials can shed light on the company's reputation and efficacy.
Lastly, while the financial aspect is undoubtedly important, it should be weighed against the value delivered. It isn't solely about the expense but the assurance that the investment yields the desired returns in quality and efficiency.
---
Conclusion
A website isn't just a one-time design and deployment project; it's an evolving entity that requires consistent nurturing. As with any machinery or tool, wear and tear is inevitable. The same principle applies to a website. Over time, software updates, changing user behaviors, security threats, and the dynamic nature of businesses make regular website maintenance non-negotiable.
Such maintenance doesn't merely mean updating content; it encapsulates a range of services, from security monitoring and regular backups to functionality checks, plugin updates, and ensuring compatibility with evolving web standards.
Given the intricacies involved, it's easy to understand why choosing the right Website Maintenance Service company is paramount. Thus, making an informed decision becomes crucial.
Frequently Asked Questions
What exactly is website maintenance?
Website maintenance refers to the tasks performed to ensure a website runs smoothly and efficiently. This includes updating content, fixing broken links, providing security, and making regular backups, among other activities.
Why is website maintenance crucial for my business?
A well-maintained website ensures visitors have the best user experience, which can translate to increased sales and brand loyalty. Additionally, regular updates and security checks help protect your site from potential cyber threats.
What can happen if I neglect regular website maintenance?
Neglecting maintenance can lead to a host of issues, from broken links and outdated content to security breaches and reduced search engine rankings. This can deter visitors and negatively impact your business reputation.
How do maintenance services handle security?
Reputable website maintenance services prioritize security by regularly updating software, monitoring for threats, implementing security plugins, and conducting periodic security audits.