According to affiliate marketing statistics, it's anticipated that the affiliate marketing industry will be worth about $15 billion by 2023. What's even more impressive is that this number has exceeded its worth in 2015 about three times. To give you a better idea of what that means for your own earning potential, low-tier publishers generate an average of more or less $35,000 per year via affiliate commissions.
If you've been at it for some time and you're not nearly earning that yet, perhaps it's time to sign up for some online affiliate marketing training. If you're completely new to affiliate marketing and also want to start generating a steady stream of passive income, completing some affiliate training program first is also a good idea.
Whichever the case, you've landed on the right page. We've scoured the internet to find you 14 of the best affiliate marketing courses. It doesn't matter what your budget is or your current level of skill, we've selected these courses so that there's something for everyone.
---
Top Affiliate Marketing Courses:
---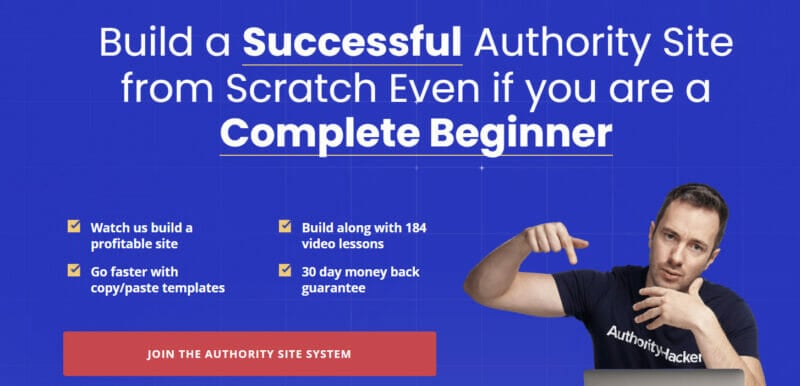 The Authority Site System was featured on the likes of HubSpot, Ahrefs, and Search Engine Journal and was voted by eBiz Facts as the best affiliate marketing course that you should check out. What's more, according to the course's landing page, it can help you to create a website that can potentially help you to generate as much as six figures per month.
In short, they've created and refined a tried-and-tested, systematic approach that you can use to grow successful websites consistently. Presented by Mark Webster and Gael Breton, the course will teach you all that there is to know about building your very own, very profitable authority site. Whether you're an online marketing beginner or a site builder looking to scale, this course is aimed at you. The complete step-by-step training course includes:
15 in-depth modules

More than 180 video lessons

Copy-and-paste templates

A real-life case study website

A to-do list for site building

An active members community

Regular updates
In 2022, they've also released a big update. This update includes trending topics like how to use expired domains and write reviews for the new Google algorithm update.
Cost: Six payments of $249 (but you can save about $500 if you pay in full upfront)
---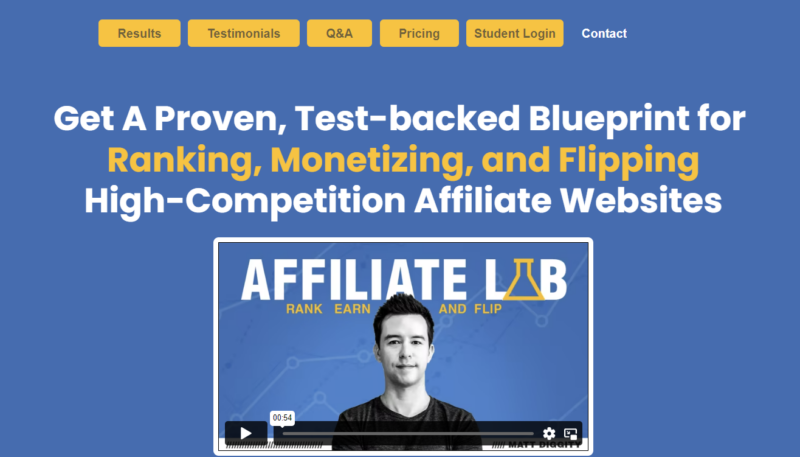 The Affiliate Lab course, by Matt Diggity, has been named the best overall affiliate marketing course by DreamGrow, a leading content marketing and social media agency. As a previous engineer, Matt approaches SEO like an engineer and relies heavily on testing. In the end, only the SEO strategies that achieved the best results on real websites get added to The Affiliate Lab course. So, you can rest assured knowing that you're investing in proven strategies. The results – some of the students have reported that they've managed to improve their income by over 50% after completing Matt's course.
The goal of The Affiliate Lab is to teach users how to rank and flip affiliate websites with the help of proven strategies. From how to create content that ranks better to uncovering all the keyword opportunities, it offers step-by-step instructions on how to create a site from scratch.
Here's what you'll get when you sign up for the course:
160 videos that add up to more than 24 hours of training

Six plug-and-play templates and tools

Checklists and standard operating procedures

Access to the active members-only Facebook group
One of the main benefits of signing up for this course is that you'll also get access to any updates for the lifetime of the course. For example, recent updates include a new module about affiliate email marketing and dealing with increased authority and trust requirements.
Cost: $997
---

While The Authority Site System is aimed at beginners, the Authority Hacker Pro affiliate marketing course is more aimed at established websites. As the course's name suggests, it's their flagship training program and covers their most sophisticated affiliate marketing strategies that include advanced SEO, email marketing, and scalable link building.
When signing up, you'll get access to:
More than 400 videos

Custom tools and plugins

Copy-and-paste templates
---

If you're looking to start exploring online entrepreneurship, the Savage Affiliate marketing course created by Franklin Hatchett is a good place to start. Franklin, the course creator and your online coach, has over five years of experience in online businesses and Entrepreneur Magazine has named him as one of the leading affiliate experts.
Each lesson has loads of practical advice that will help you to avoid common pitfalls. You'll also join a community of other online entrepreneurs on Facebook where Franklin also "pops in" on a daily basis, whether it's to reply to a question or share a custom video.
Topics that will be explored include:
Identifying

winning niches

Website building

Creating high-converting funnels

Email marketing

Using ClickBank and Amazon

SEO

Paid traffic
Cost: Pricing starts at $197

---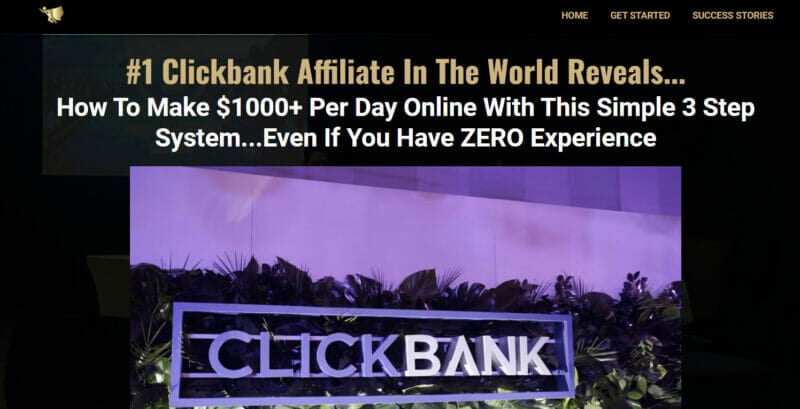 Commission Hero is created by a number one ClickBank affiliate and teaches a three-step system that's easy to understand and implement. While it took four years to perfect the system, you don't have to spend nearly the same amount of time before you can start making money online. No prior experience or background in marketing is needed!
It's basically a copy-and-paste system. All the hard work has been done for you. What's more, according to their website, you can typically earn $1,000 per day.
Included in the course are:
Done-for-you landing pages

Facebook Ads training

A swipe file of ads

Loads of videos

20 ad images

Access to a weekly private coaching group

Snapchat training

A bonus module on email marketing
Cost: $997
---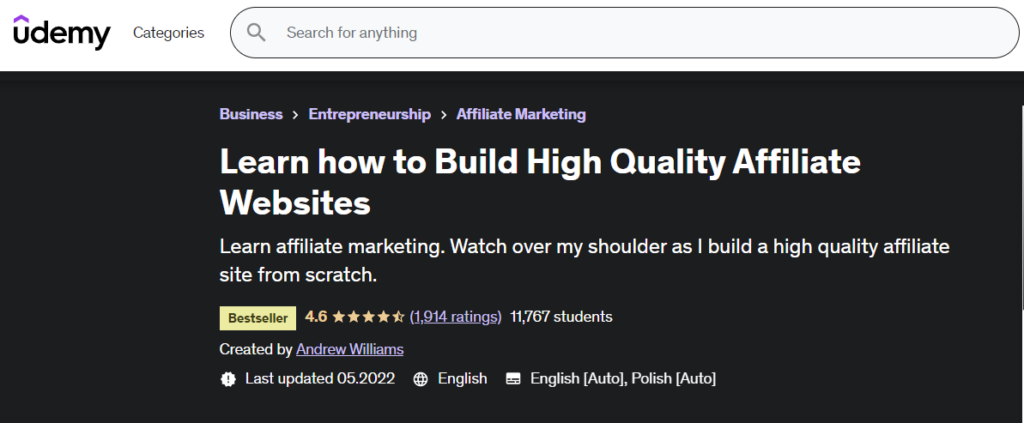 This Udemy course is created by Andrew Williams, a former schoolteacher turned WordPress and SEO expert. It's been completed by over 11,000 students and has received more than 1,800 reviews, making it one of the most popular affiliate marketing courses on Udemy. While you don't need any prior knowledge, it will be an advantage if you're already familiar with WordPress.
It covers a long list of topics that include:
Deciding on a niche

Finding affiliate products

Domain names

Installing and setting up WordPress

Creating Facebook and Twitter accounts

Content writing

Internal site linking
Cost: Normal price is about $84.99
---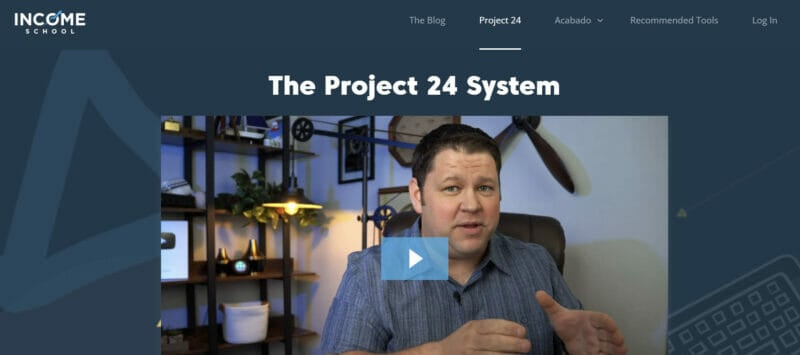 In short, Income School is an internet marketing business that teaches their subscribers how to use blogging and YouTube channels to start an online business. They designed Project 24 to help people refine their skills as online entrepreneurs and content creators. Their blogging system will teach you how to find the right niche, content topics, and strategy. They also include The Project 24 YouTube System which will take you through the various phases of YouTube growth. Whether you're a beginner or an advanced internet marketer, joining Project 24 can be a valuable investment.
Included in Project 24 are:
Site monetization strategies

Live virtual masterminds (typically several per week)

Access to a members-only podcast

Their Battleship Method for using data to optimize website content
Cost: $449 for a year's access
---

As the course's name suggests, this online affiliate marketing course will teach you all the important ins and outs of starting and launching your own blog business. It's created by Create and Go, a team of bloggers who have their own successful sites across a wide variety of markets.
By helping you identify and focus on the most important tasks at the very start, the course will help you to start your new online business in just a month. It will help you to build an audience but also take it one step further and show you how to get your audience to interact with your content and how to engage with them.
Their step-by-step plan is explained over 12 modules and will cover topics like:
Getting in the right mindset

Setting up and launching your first website using WordPress

Using customizable themes

Creating content

Building an email list

Affiliate marketing and sponsored posts
The course will also include email templates, a summary of good affiliate programs and marketplaces, and access to a community support group.
Cost: $297
---

The instructor of the Making Sense of Affiliate Marketing course has successfully turned her personal finance blog into an award-winning blog that earns her six figures per month. Now, via her self-paced, text-based online course she tries to teach others her tried-and-tested strategy.
Plus, you don't need to worry about finance to apply her tips. From DIY to travel, the lessons are applicable to any niche and everything taught in this course can help with affiliate marketing. Also, unlike some of the other affiliate marketing courses on our list, it's not limited to WordPress. You can also use other website platforms like Weebly and Squarespace.
Included in the course are:
Six modules

More than 30 lessons

A course workbook with several worksheets

Access to an exclusive Facebook group

Free group coaching sessions
Topics that will be covered are:
The benefits of affiliate marketing

How to monetize blog posts

Identifying affiliate products worth promoting

Strategies for promoting affiliate products and increasing conversions
Cost: $197
---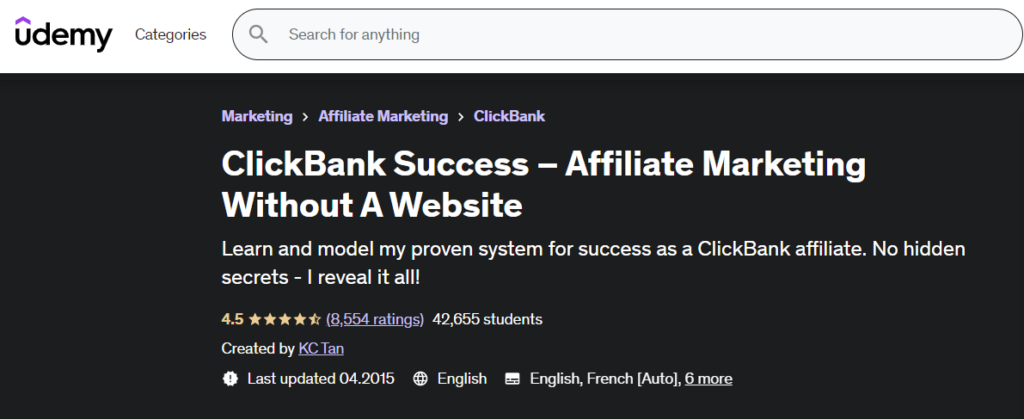 If you specifically want to focus on becoming a ClickBank affiliate and join their affiliate program, be sure to check out this course on Udemy. To date, more than 41,000 students have signed up for this affiliate marketing course, making it one of the bestsellers. In fact, companies like Nasdaq, Volkswagen, and Eventbrite have offered this very course to their employees.
Over the span of 65 lectures, you'll learn all the ClickBank basics and direct linking strategies. Though, the main focus of the course is to teach you traffic generation secrets and will cover key areas like identifying the best traffic sources and creating ads.
The course includes:
Three hours of on-demand video

24 articles

22 downloadable resources

A certificate upon completion
Cost: Normal price is about $149.99, but you'll also need to be able to invest from $1 to $5 per day as part of the investment outlay.
---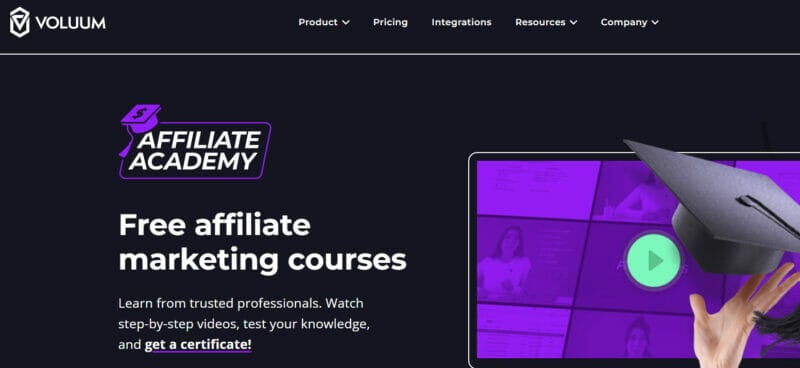 If you want to learn more about affiliate marketing, you don't necessarily need to pay for a course. Voluum, one of the best affiliate management software solutions, offers a number of affiliate marketing courses that you can sign up for free. These courses include step-by-step videos that are presented by experienced pros. Plus, you'll also receive a certificate backed by Voluum after you've completed your affiliate marketing training. So, it's a freebie that you and others can trust.
The three courses that you can complete are:
How to start affiliate marketing

Set up your first affiliate campaign

Optimize your campaigns with Voluum
Cost: Free
---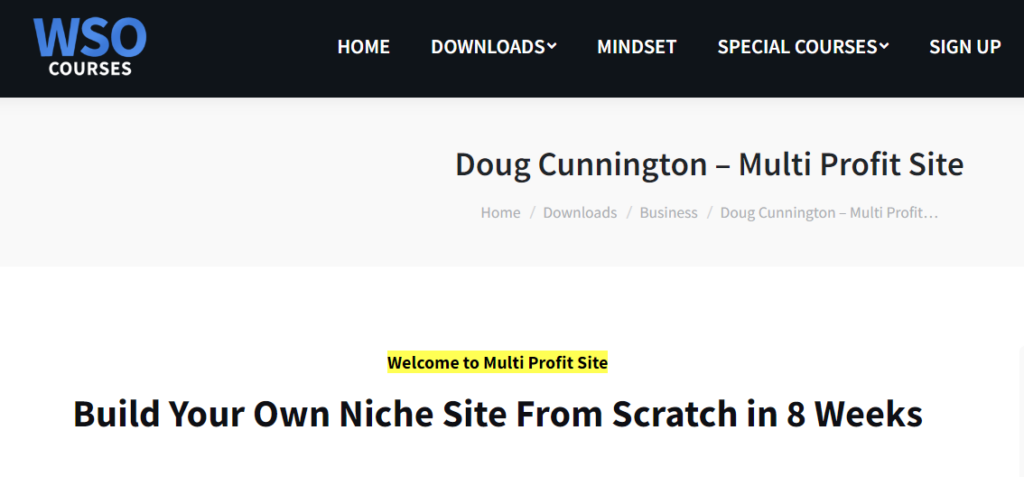 The creator of this course, Doug Cunnington, has had great success with creating Amazon Associate niche sites. He's also the owner of Niche Site Project, one of the leading blogs on affiliate marketing, and has been featured on CNBC and Ahrefs.
In eight weeks, he'll teach you how to build your own niche site from scratch. Using easy-to-follow, step-by-step lessons, he will teach you all the phases involved in creating a niche site and how to use affiliate sources and display ads to generate a side income. Though, you'll need to have some basic web skills.
Topics that will be covered include:
Deciding on a niche

Competition analysis

Setting up a website

Content creation (and how to outsource content)

Link building

Email list building
Cost:Pricing starts at $49
---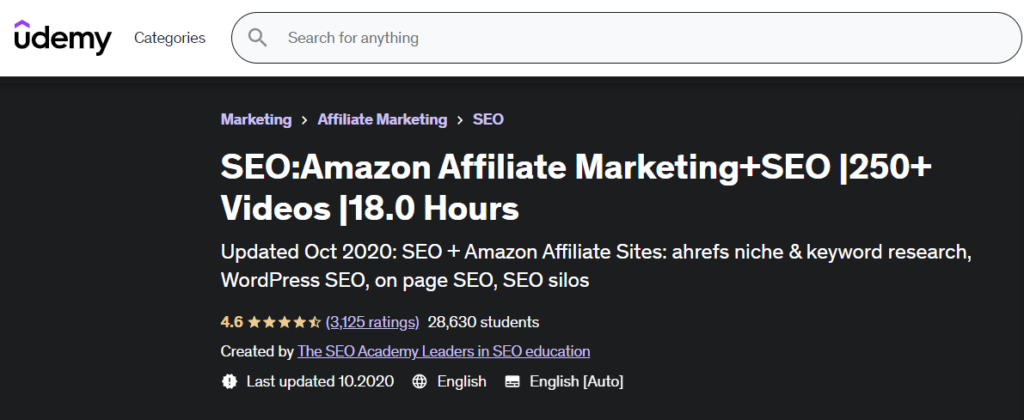 If you specifically want to focus on using Amazon, you can check out this affiliate marketing training course available on Udemy. It has been completed by more than 27,000 students and has received over 3,000 ratings, boasting an average rating of 4.3. Just like the ClickBank Success course, this one is also offered by a number of leading companies to their employees.
The course will teach you basically everything you need to know about creating successful, commission-generating Amazon affiliate marketing sites. From niche and keyword research to link building, it covers loads of material. It's especially useful if you want to learn more about SEO as it covers SEO basics as well as more advanced on-page SEO concepts.
The course includes:
Over 17 hours of on-demand video

8 articles

65 downloadable resources

A certificate upon completion
Cost: Normal price is about $109.99
---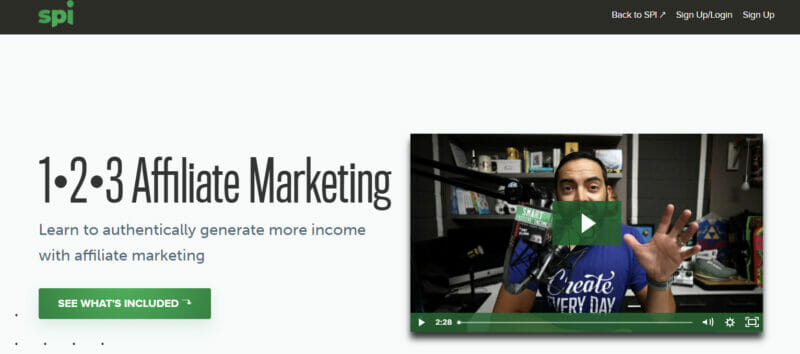 Unlike several of the other courses that are geared towards both complete beginners and more experienced online business owners, 1-2-3 Marketing is aimed at those who already have an online presence. In other words, you already need to know who your target audience is and you must have some type of online following in order to find this course valuable.
The course instructor, Pat Flynn, is a successful affiliate marketer and has earned millions via affiliate marketing in the span of 11 years. With the help of 23 video lessons that cover five distinct modules, he'll teach you the tools and strategies that you'll need to follow in his footsteps.
Topics that will be explored include:
Choosing the right products

Identifying the most suitable platform

Building trust and using social proof
Cost: $699
---
Wrapping Things Up
Whether you're more interested in blogging courses or set on learning the tricks and tactics of affiliate marketing, these 14 courses will set you on the right path. Though, you'll notice that when it comes to pricing, it differs quite a lot.
You can expect to pay anything from $100 (or even less) to as much as seven times that amount. So, do your research. Some offer some type of 30-day full refund, which is something that you might want to keep in mind.
Then, after completing your course(s), continue to stay up to speed with the latest trends. If you want to become (and stay) a top-level affiliate marketer, you need to be a lifelong learner. Unlike what some of the courses would like you to believe, success doesn't happen overnight. Not even for affiliate marketers.
Frequently Asked Questions
Which is best course for affiliate marketing?
These are five popular and best courses for affiliate marketing:
The Authority Site System by Authority Hacker

The Affiliate Lab by Matt Diggity

Authority Hacker Pro by Authority Hacker Pro

Savage Affiliate by Franklin Hatchett

Commission Hero
Can I learn affiliate marketing free?
You can learn affiliate marketing for free. Enroll in Great Learning Academony's free affiliate marketing course to start making money through your internet platforms.
How can I begin affiliate marketing?
To begin affiliate marketing, follow these steps:
Find your niche

Choose an affiliate program

Decide on your traffic source, like a blog or social media

Grow your audience on your primary platforms

Respond and engage with your audience
What are the 8 best affiliate marketing?
These are the top 8 affiliate programs for beginners to make money in 2023:
Rakuten Affiliate

Awin

GiddyUp

Amazon Associates

ClickBank

eBay Partner Program

Commission Junction

Impact