Advertising Disclosure
Advertising disclosure:
Our partners compensate us. This may influence which products or services we review (also where and how those products appear on the site), this in no way affects our recommendations or the advice we offer. Our reviews are based on years of experience and countless hours of research. Our partners cannot pay us to guarantee favorable reviews of their products or services.
The brand that learns to listen stands to gain the most. Understanding your customers in a fiercely competitive digital world can spell the difference between success and failure. Brands that are acutely attuned to their customer's needs can adapt quickly to changing preferences and provide the most value for their customers.
In the past, brands needed to analyze thousands of comments, posts, and survey results to understand customer sentiment. Today, AI sentiment monitoring software is available to do the job at a fraction of the time and cost.
Let's look at the best AI sentiment monitoring software for 2023.
---
Top AI Sentiment Monitoring Software to Gain Better Customer Insights:
---
What is sentiment monitoring software?
Sentiment analysis tools also called sentiment monitoring software, are programs that use machine learning and natural language processing (NLP) techniques to automatically analyze and classify the sentiment of a piece of text.
It is common to use sentiment analysis tools to extract subjective information from large sets of unstructured data, such as social media posts, reviews, and customer feedback. These tools help brands determine how customers feel about their products and services in real-time. And the more online mentions a brand gets, the more accurate the results become.
---
Benefits of Using Sentiment Monitoring Software
There are several benefits of using sentiment monitoring software for businesses and organizations.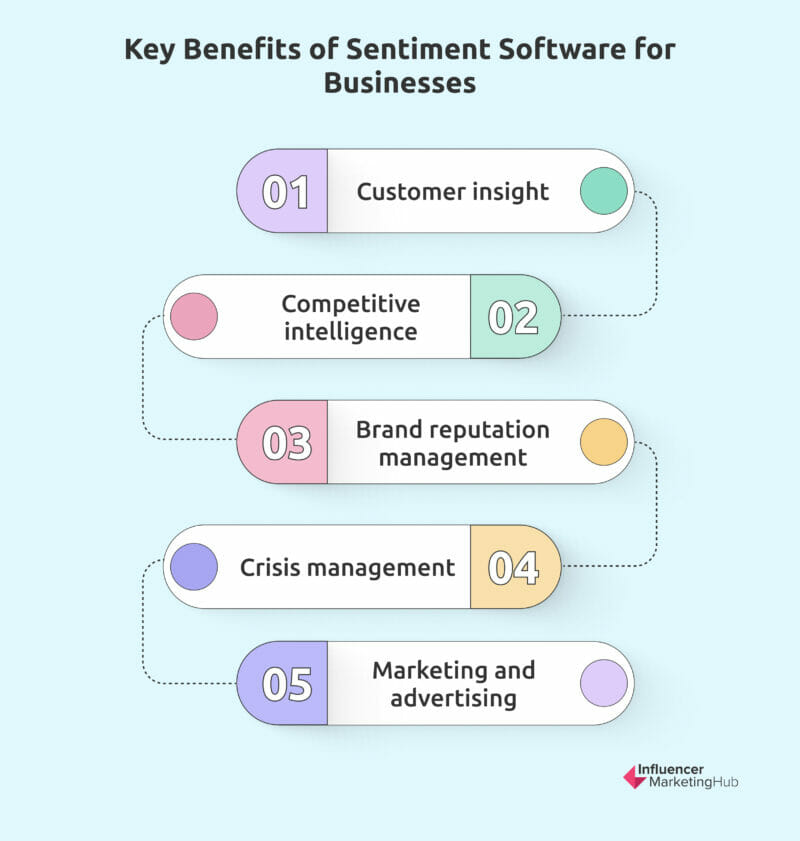 Customer insight:

Sentiment monitoring software provides businesses with valuable insight into how their customers feel about their products or services. This can help them identify areas for improvement and make better-informed business decisions.

Competitive intelligence:

By monitoring sentiment about their competitors, businesses can gain insight into competitors' strengths and weaknesses and use this information to improve their products or services.

Brand reputation management:

Sentiment monitoring software can help businesses

identify negative sentiment

towards their brand and quickly respond before it becomes a bigger problem.

Crisis management:

In the event of a crisis, sentiment monitoring software can help businesses identify the sentiment of their customers and stakeholders, allowing them to respond appropriately and effectively.

Marketing and advertising:

Businesses can adjust their marketing and advertising campaigns based on customer sentiment using sentiment monitoring software.

Risk management:

Sentiment monitoring software can help businesses identify potential risks and issues before they become major problems, allowing them to take proactive steps to mitigate them.
By leveraging information gathered from sentiment analysis tools, businesses can make better-informed decisions and take proactive steps to improve their operations and stay ahead of their competition.
---
Best AI Sentiment Monitoring Software for 2023
There are various types of sentiment monitoring software available, ranging from simple rule-based systems to more complex machine-learning models. Here are the best AI sentiments monitoring software for 2023:
---
---
---
---
---
---
---
---
---
---
---
---
Final Thoughts
Knowing what customers think is a critical piece of the puzzle towards creating sustainable and successful marketing campaigns that achieve business goals. In today's modern world, customers have multiple avenues where they can express their true opinions about the products and services they use.
Using AI sentiment monitoring software helps uncover those sentiments that are otherwise hidden or tedious to discover. The tools mentioned above are the most robust AI analytics tool in the market that provides not just sentiment analysis but many other features in their capabilities.
With the help of these tools, you can rise above the competition and deliver a better customer experience.
Frequently Asked Questions
What technology is used for sentiment analysis?
Sentiment analysis is the process of using technology to analyze text and determine the sentiment behind it. The most common technologies used for sentiment analysis include Natural Language Processing (NLP), Machine Learning (ML), and Deep Learning (DL). Lexicon-based and rule-based analyses are other approaches. NLP helps computers understand the meaning behind words and the sentiment they convey, while ML and DL algorithms analyze patterns in large text datasets. The lexicon-based analysis relies on pre-built dictionaries, while rule-based analysis uses predefined rules to determine sentiment.
What is the best sentiment analysis tool?
Sentiment analysis tools all have the basic features of analyzing millions of data points from social media mentions and distilling them into positive, negative, or neutral sentiments. However, some offer extra features than others, such as video monitoring, multi-language support, and image recognition.
The best sentiment analysis tools include:
Brandwatch

Brand24

Lexalytics

MonkeyLearn

OpenText

Rosette – used by Hootsuite Insights and Analytics

Repustate – acquired by Sprout Social

Talkwater

BrandMentions

Clarabridge – acquired by Qualtrics XM

MeaningCloud

ParallelDots
What are the main goals of sentiment analysis?
Sentiment analysis aims to determine the overall sentiment of a piece of text, such as whether it is positive, negative, or neutral. Analyzing social media and online forums allows brands to understand customer opinions and monitor their reputation. Another goal of sentiment analysis is to track public opinion on a particular topic or issue. By analyzing text data, sentiment analysis can help businesses improve their products and services, identify areas where they need to address negative comments, and stay on top of the latest trends and public sentiment.