Advertising Disclosure
Advertising disclosure:
Our partners compensate us. This may influence which products or services we review (also where and how those products appear on the site), this in no way affects our recommendations or the advice we offer. Our reviews are based on years of experience and countless hours of research. Our partners cannot pay us to guarantee favorable reviews of their products or services.
Ecommerce is enjoying a big boost in popularity, thanks to technology. Approximately 80% of adults in the United States are turning to eCommerce to buy goods and services. Similarly, more people are opening online stores, whether as an additional sales channel for their physical store or as an entirely new venture. Because of websites like Amazon, it has become easier for merchants to sell products and services in the online marketplace. It is estimated that sales from global eCommerce will hit $6.3 trillion this year, with $1.1 trillion coming from the US.
Unlike physical stores, online stores have an added layer of logistics that can be burdensome — packing and shipping. For merchants who are looking to expand their operations or for those who lack manpower, Amazon offers a fulfillment strategy to assist them.
---
Top 8 Amazon FBA Calculators Every Amazon Seller Should Try:
---
What Is Amazon FBA?
Fulfillment by Amazon or FBA is a service provided by the eCommerce company to sellers who wish to outsource their storage, packing, and shipping to Amazon itself. Using FBA means that sellers don't need to worry about logistical concerns and can focus on marketing, production, and other aspects of the business.
If you opt in to this service, you send your products to an Amazon warehouse near you for storage, and when an order comes in, Amazon employees will pack and ship it off for you. Amazon also handles customer care and processes returns and refunds, so it is quite a big help for many sellers.
The downside to using this convenient service, however, is the cost. Not all sellers might benefit from FBA, so if you're still deciding on the fulfillment strategy to use, an FBA calculator can help you.
---
What Is an Amazon FBA Calculator and Why Should You Use It?
Because FBA is a paid service, you'll need to figure out if the benefits of using it outweigh its cost. This is where FBA calculators come in. Many websites offer an FBA calculator to estimate the cost-effectiveness of using FBA versus Amazon's other fulfillment option: Fulfillment by Merchant or FBM.
Calculating the cost and profit of products is one of the basic steps a merchant takes before determining the prices and launching the business. FBA calculators provide sellers with accurate data on Amazon commissions and fees to compute the maximum profit they can earn for specific products at different price points. This can help you determine if FBA is the right choice for you or if you will still be better off fulfilling your orders yourself.
About a fifth of eCommerce businesses end up failing within the first year because they lack a business plan. Business planning should be a significant part of starting an eCommerce store. Using an FBA calculator will not only help you make an informed decision regarding your fulfillment strategy, but it will also help in your pricing. Knowing and estimating your costs are crucial and basic parts of the business. The right calculations may spell the difference between profit and loss, especially for first-time sellers who might not yet realize how much the logistics for fulfillment will cost them. FBA calculators can also provide you with information on the best pricing strategy to optimize your profits.
In addition to using an FBA calculator, it can also be a good idea to invest in a more comprehensive tool to help with Amazon. One such tool is Pacvue Commerce, an enterprise platform to help with virtually all things relating to Amazon sales, inventory management, and advertising.
For example, to help with inventory management, you can use it to monitor your ASIN-level Weeks of Cover (WOC). This way, if there's excess inventory, you can boost sales by adjusting your pricing and/or marketing strategy. Pacvue can also help with marketing and coupon tracking, among other things.
While it's key to know and estimate costs, it's just as important to have a solid inventory management system in place and this is just one of the areas where Pacvue shines.
Other ways that Pacvue can help Amazon sellers include: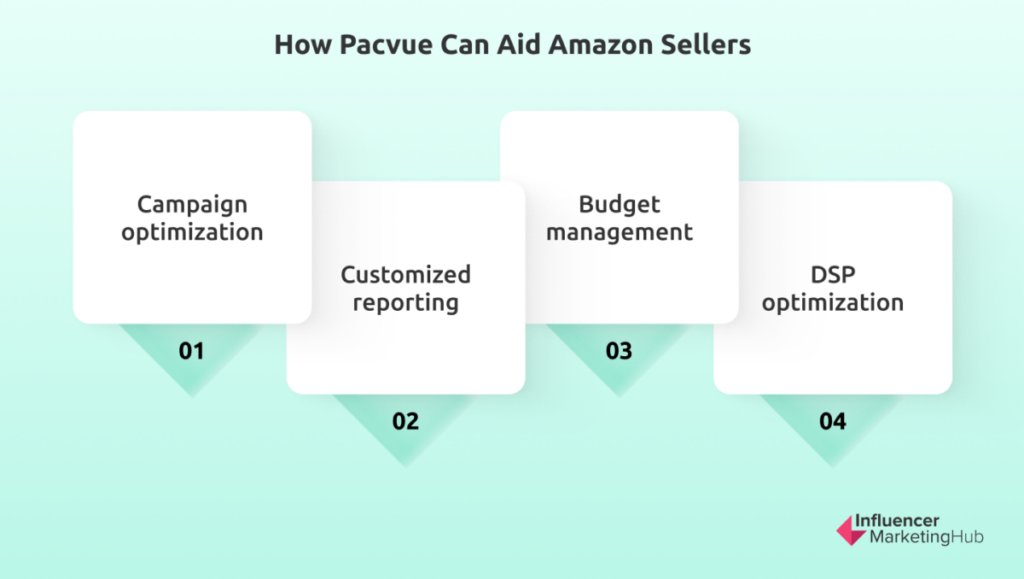 ---
Fees Included in FBA Calculations
FBA calculators consider many fees to calculate costs and profits across different price points. Amazon charges fees for storage and handling, and the exact amount depends on several factors. This is why you should always keep in mind that the numbers you'll get from FBA calculators are simply estimates. Of course, the best FBA calculators may be able to give you results that will be as close to your actual numbers as possible.
These are the fees that Amazon charges you for its FBA service:
Inventory storage – measured in cubic feet

Long-term storage – storage of items for more than 365 days

Fulfillment fees – picking and packing of orders, including

shipping

, handling, customer service, and product returns

Unplanned services – inventory that arrives at the fulfillment center without adequate preparation or notice

Removal order fees – for returning or disposing of inventory

Returns processing fees – for free return shipping
FBA calculators use the data available on these fees in their calculations. In addition, they can include the following costs and expenses:
Cost of goods

Marketing

and promotions

Shipping and handling to the fulfillment center
---
The Top 8 Amazon FBA Calculators
There are many Amazon FBA calculators online. Because all calculations are estimates, it might be helpful for sellers to use more than one calculator. No matter what calculator you use, your actual costs and profits will be different. Trying several FBA calculators will help you get a better sense of the average cost and profit estimates and may lead you to make a better choice about which fulfillment strategy you will use, as well as your pricing strategy.
Here are the top 8 Amazon FBA calculators that you should try as a seller.
---
---
---
---
---
---
---
---
---
What to Look For in an FBA Calculator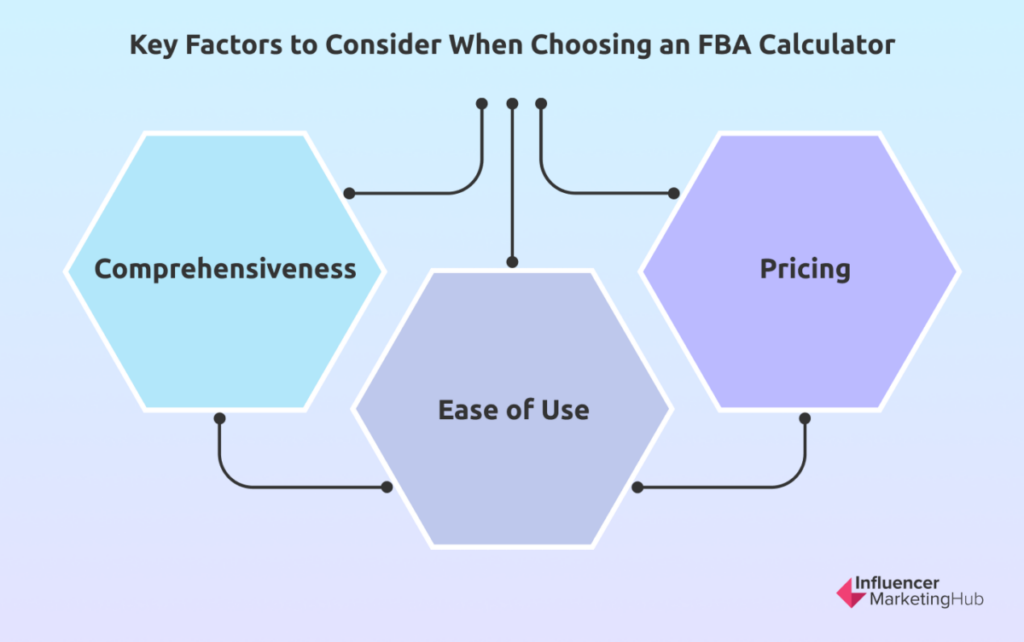 Comprehensiveness
Experienced online sellers might not need a thorough estimation of their finances from an FBA calculator, but that doesn't mean that having the information on hand is not useful. While an FBA calculator's main purpose is to compute the profitability of a product with Amazon's FBA service, it's still a good idea to get a more comprehensive picture of what your income can look like. This includes other costs aside from fulfillment, such as marketing and advertising costs, production costs, administrative costs, and other miscellaneous expenses.
---
Ease of Use
For first-time Amazon sellers, calculating costs and profits and everything else may seem complicated. But skipping this step is a no-no, so entrepreneurs and businesspeople really need to crunch those numbers. An FBA calculator that is user-friendly will be a big help to people starting out. Choose calculators that are easy to learn and understand, which also provide outputs that are simple and straightforward.
---
Pricing
Free tools are great, but they are usually limited to basic features. You may want to think about paying for premium or paid versions of these free FBA calculators. It'll be an additional cost—that you will also include in your general business finances—but the added functionalities and information that you'll get from these tools can help you make sound, data-driven decisions regarding your business. Of course, you'll need to consider the price of the tools vis-à-vis their functionalities, and see which one gets you the most bang for your buck. Some tools may offer way more functions than you need, so be sure to determine what type of data you really need in order to run a successful Amazon store.
---
Maximize Your Profits on Amazon
FBA calculators take the guesswork out of your eCommerce business finances. Even if they are only estimates, they will still provide valuable information in terms of what product to sell, how much to sell the product for, and whether or not to use FBA or FBM. You'll also learn about what your competitors are selling. Lastly, you can research ideal products to sell, such as those that people look for on Amazon but few merchants sell.
Most of the tools on our list offer more services aside from an FBA calculator. Check them out for additional products to make the most out of your Amazon store.