Whether you're a seasoned Amazon seller with a stable customer base or just starting out and seeing what you can do on the platform, it's important to keep tabs of how much profit you're actually making. While the Amazon marketplace can connect you with millions of customers across the globe, it also comes with quite a few fees, some of which are hidden.
As a seller, you need to take these fees into account to see if the money you're making selling on Amazon is worth the money that you're shelling out. Selecting a reliable profit calculator can help you do this. In this article, you will learn about how Amazon's pricing scheme works, what you should consider when choosing a profit calculator for your business, and the seven top picks for Amazon profit calculators.
---
The Top 7 Amazon Profitability Calculators:
---
How Amazon's Pricing Works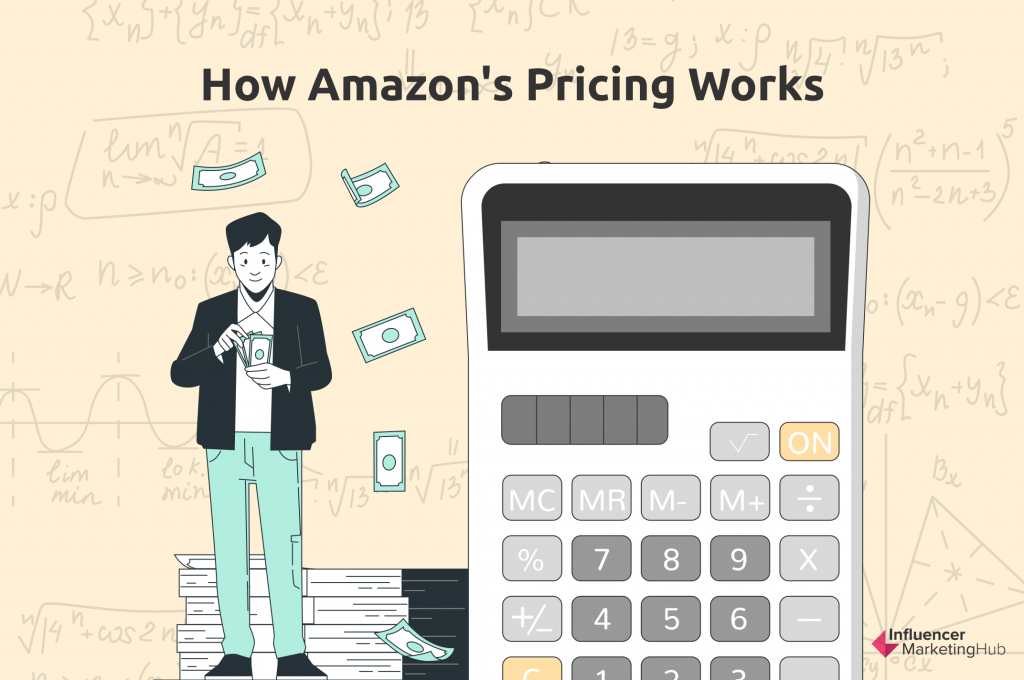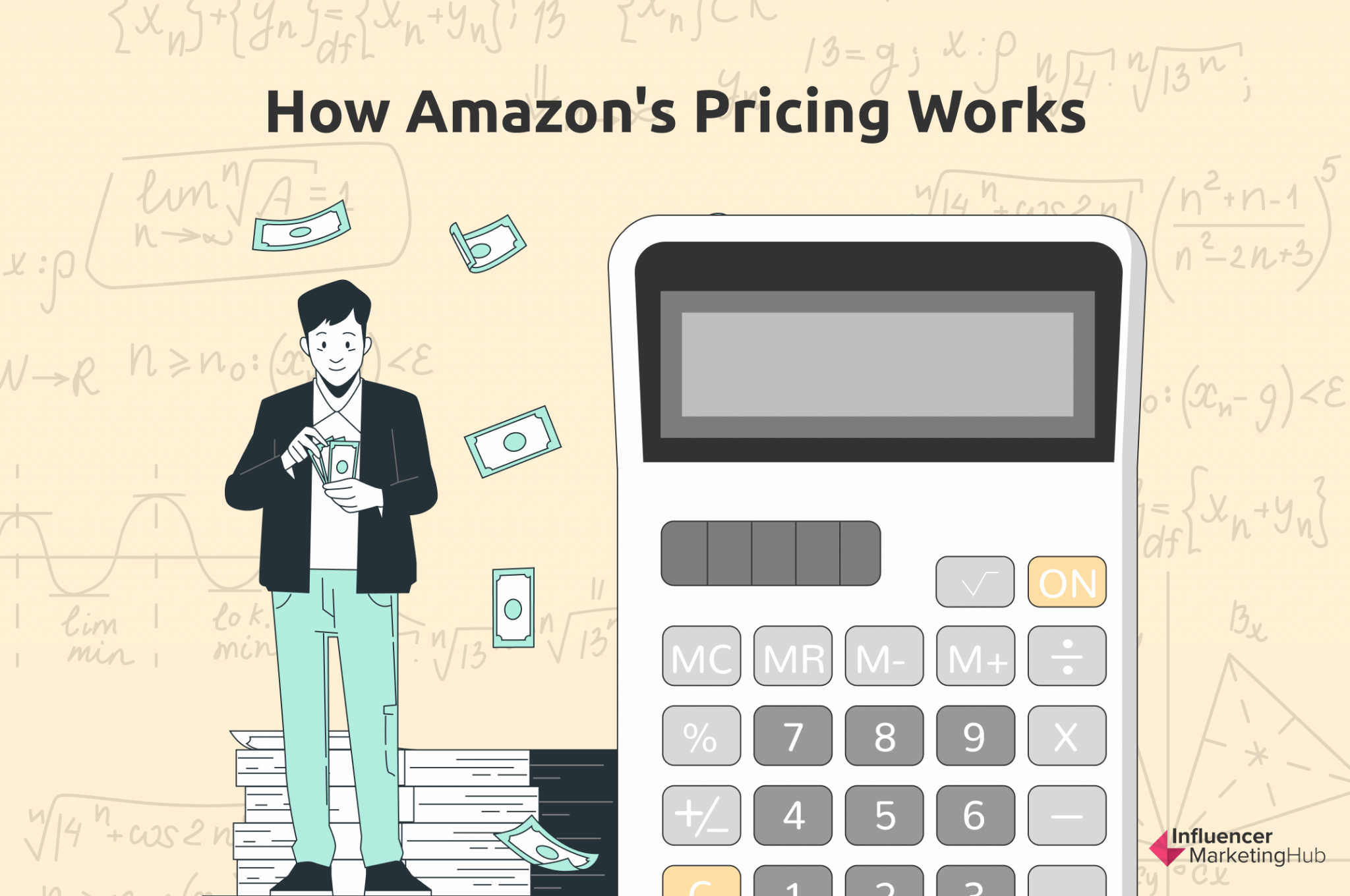 Amazon's pricing plan varies depending on what you plan to sell, how you plan to sell, and what your fulfillment strategy will be. There are a few other variables that come into play, but these three variables are the main ones that the platform considers. However, Amazon is considerably flexible when it comes to developing a selling plan, and you can customize your platform according to your goals and needs.
---
Choosing the Fulfillment by Amazon (FBA) Option for Your Products
Fulfillment refers to how sellers store, package, and ship out their customers' orders. This step of the selling process also deals with returns and exchanges. Since all customers want to experience an efficient and reliable fulfillment process, this is arguably one of (if not the most) important steps.
Fulfillment requires a lot of resources and manpower on the seller's end, so Amazon offers the Fulfillment by Amazon option to assist them with their fulfillment needs. Through Amazon's FBA feature, sellers can ship their products to Amazon's fulfillment centers. Once there, Amazon's workers pack, ship, and assist customers with their respective orders.
The FBA option is incredibly convenient for all sellers because it cuts down on the amount of work they need to do, but choosing this option often comes with extra charges. Here are some of the fees that Amazon will charge you:
When you store your products in one of Amazon's fulfillment centers, you get charged for the amount of space you take up. This depends entirely on how many items you will be storing and how large each individual item is.
Amazon often charges sellers per month. However, once a seller's products have stayed in Amazon's warehouse for over a year, Amazon begins to charge a long-term storage fee. The amount depends on the monthly average amount of space that your items take up.
Amazon also charges sellers for each individual item that its team packs and ships out. This is because the company will also be taking care of the item's handling and all customer service-related concerns.
This covers other fees such as unplanned services fees. This fee type is charged to you when your products suddenly arrive at Amazon's fulfillment centers without being properly prepared or listed down. Because of this, Amazon's team will have to facilitate other services like organizing and labeling your products that may not be part of your original package.
Sellers can have their products disposed of or returned from Amazon's fulfillment centers if they no longer wish to sell them. In these cases, Amazon charges the seller per item disposed, depending on the weight and dimensions.
If Amazon processes your product's return, they may offer free return shipping to your customer. When this happens, you will be charged the return processing fee.
These are the different fees you must take into consideration as an Amazon seller, especially if you choose Amazon's FBA service. While you may save some money by doing order fulfillment on your own (otherwise known as Fulfillment by Merchant, or FBM), it does entail more work on your end. Amazon has a massive, advanced fulfillment network that most sellers lack, making most sellers prefer to use the FBA service.
Because the FBA fees are based on each seller's individual inventory and selling plan, there's no fixed amount to follow. Some sellers may be shelling out more money while others may be spending less. This can mean the FBA service may be eating up a lot of your finances without you realizing it, so it's important to always keep tabs on your finances with a trusty profit calculator.
---
What to Look for in an Amazon Profit Calculator
It's established that there are many different fees you have to look out for as an Amazon seller. Monitoring your costs is a crucial part of running your business to ensure you make the most of your resources, including your time. Some Amazon sellers prefer to use a spreadsheet to keep track of their expenses, but using an Amazon profit calculator can be much more convenient in helping you optimize the way that you compute your expenses.
Here are the factors to consider when choosing an Amazon profit calculator for your business.
🤝
User-friendliness
Dealing with numbers can be confusing, especially orders pile up. Choose a profit calculator that is precise, straightforward, and easy to navigate to minimize the time needed to use it. After all, the profit calculator's purpose is to streamline and optimize the way that you compute your profit.
⚙️
Functionality
Your chosen profit calculator should, at the very least, be able to accurately calculate your profit margin. However, it will also help if your calculator can take into account the amount of capital you spent to purchase and sell your goods, the amount of sales tax and VAT you have to pay. If you're running ads across Google or social media platforms, the profit calculator should also be able to take that into account.
💳
Pricing
There are many profit calculators on the market, but only a few reign supreme. All their free versions allow for basic profit margin calculation, but their paid versions unlock extra features that can also be useful for your business. Keep in mind that the amount you pay for your profit calculator would also fall under your business costs, so make sure that the plan you pay for is aligned with your budget.
---
The Top Amazon Profitability Calculators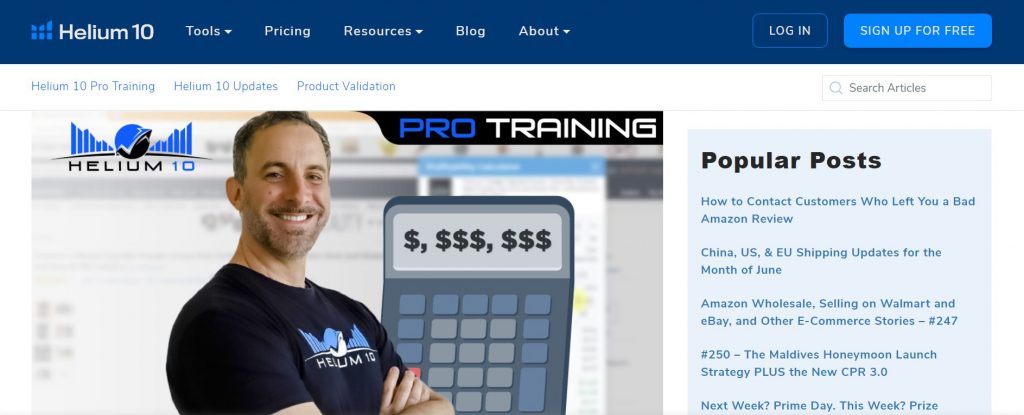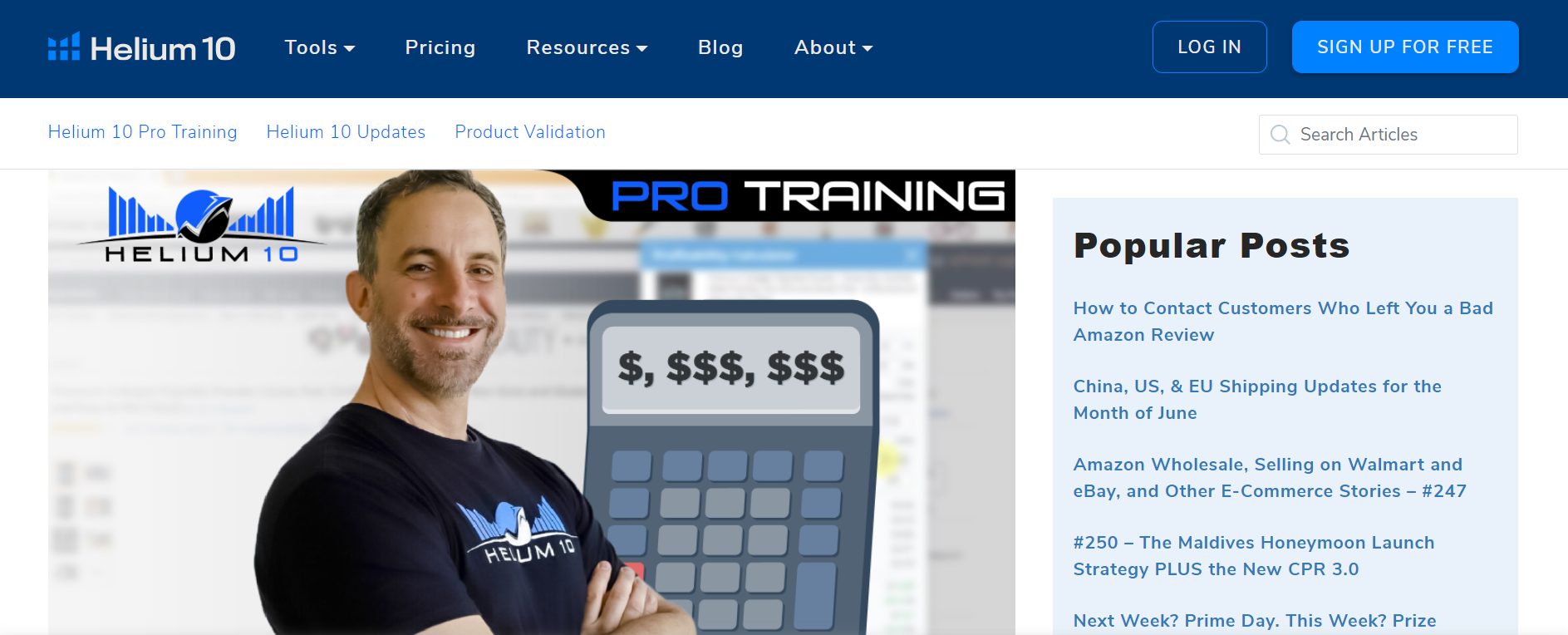 Straightforward and efficient can best describe the Helium 10 Chrome Extension. This tool is a must-have for Amazon sellers who want to know how much total revenue or net profit they earn. Using the Helium 10 Chrome Extension, you can input your product's weight and dimensions, the storage fees Amazon gave you for using its FBA service, shipping fees, and profit margin percentage.
That's not all the Helium 10 can do, however. The program can also estimate your product's selling capabilities, calculate your net fees per month, and keep tabs on you and your competition's inventory level.
Key features
Easily downloadable from Google Chrome

Can be accessed through your products' search results page and the Chrome extension icon

Includes review downloader to analyze your store's reviews

Takes into account all fees needed for Amazon sellers
Pricing
Starter: $37/month

Full access to Helium 10's XRay feature

Freedom Ticket Amazon Training

Limited access to the rest of Helium 10's products

Platinum: $97/month

Access to Keyword Tracker, Index Checker, Follow-Ups, and ASINs

Freedom Ticket Amazon Training

Diamond: $197/month

Access to Keyword Tracker, Index Checker, Follow-Ups, and ASINs

Access to Adtomic ad platform

Can connect to four seller accounts

Multi-user log-in capability
---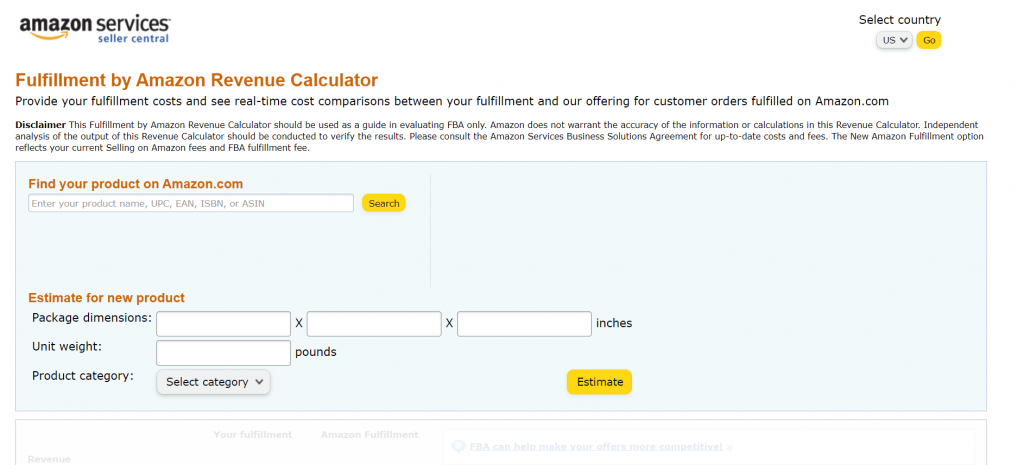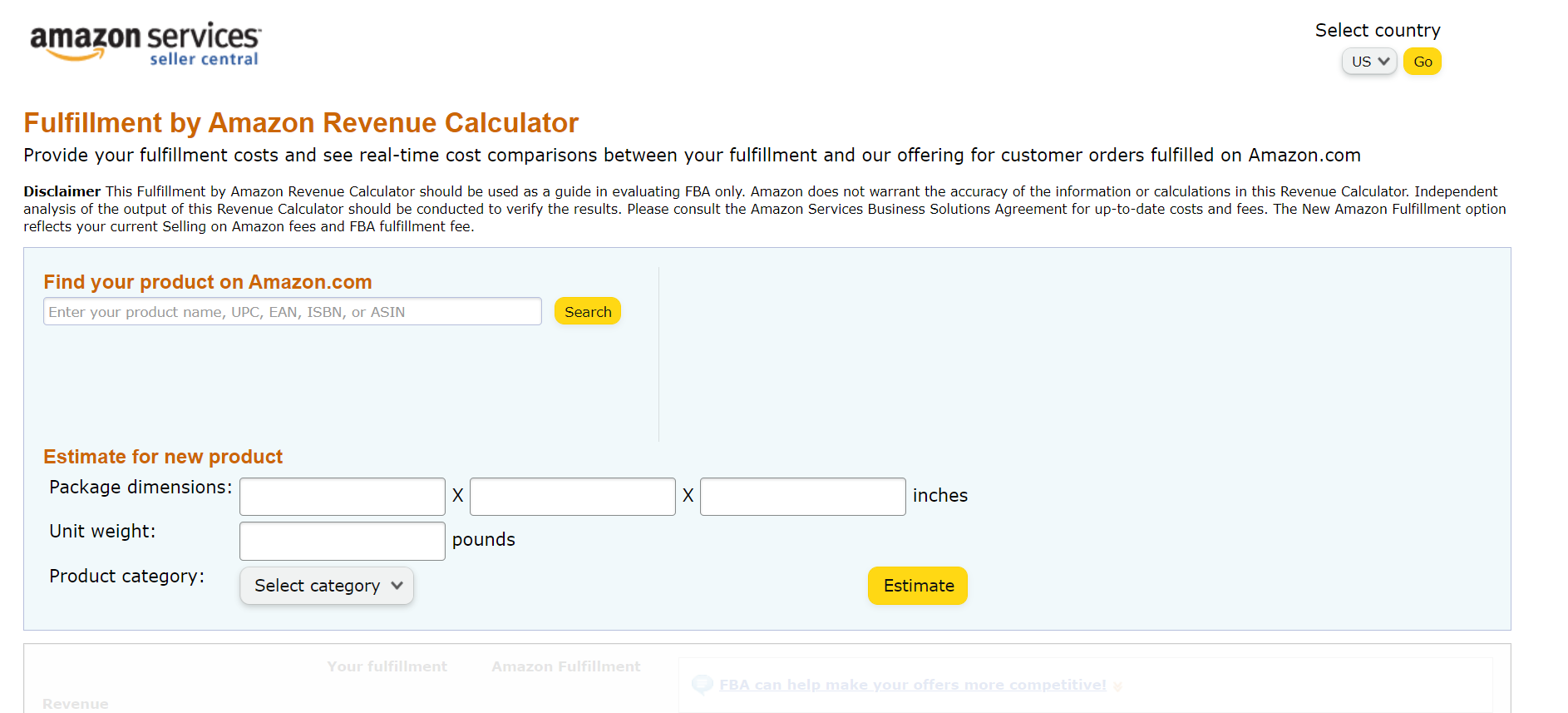 Amazon also provides sellers with a free, in-site revenue calculator. This feature can be accessed through the Amazon website, and it has a simple user interface. All you need to do is input the corresponding values to get an idea of how much your FBA fees amount to.
The calculator will also give you a fee comparison between FBA and FBM, which helps you price your product accordingly and ensure that you're still making a profit. Note that the Fulfillment by Amazon Revenue Calculator is only available to sellers located in the United States, Canada, and Mexico.
Key features
Simple user interface

You can search for fulfillment costs and profit based on product keywords

Provides charts showing your costs, revenue, and net profit
---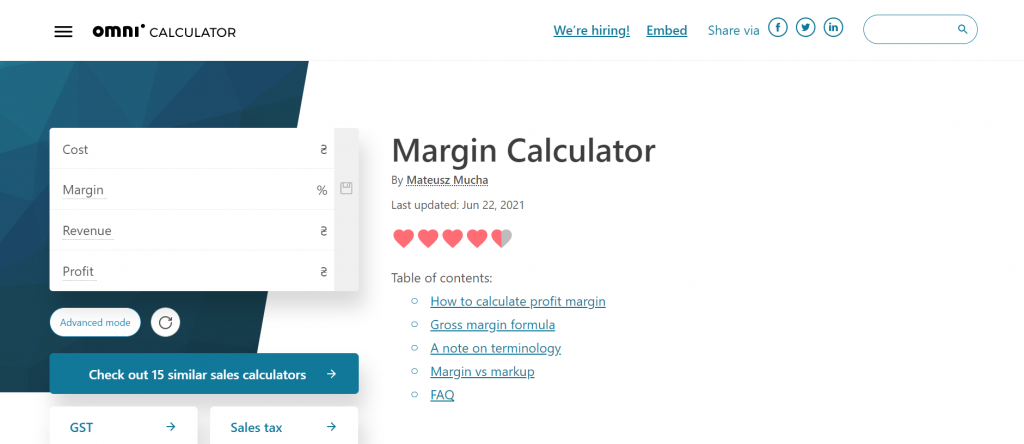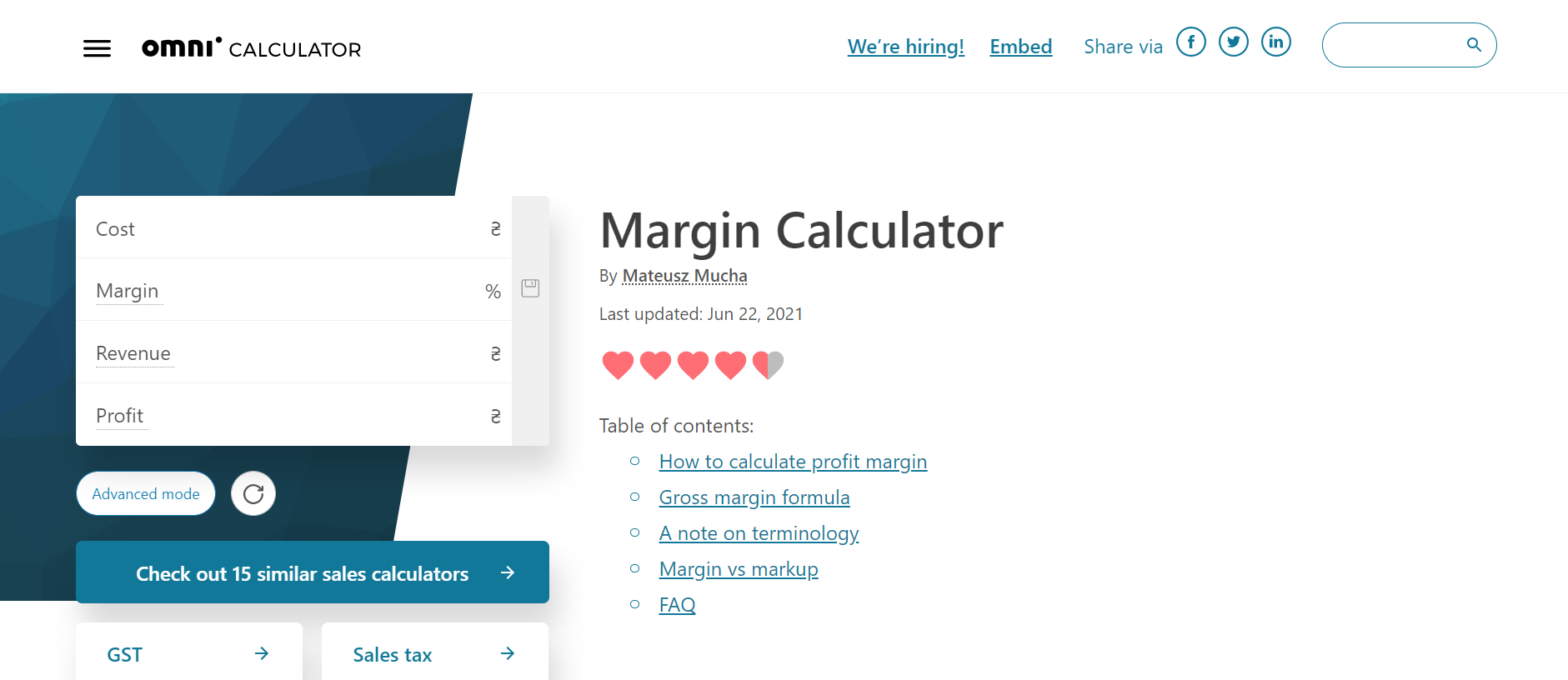 This free online calculator helps you calculate your total profit margin based on your product's revenue. The Omni calculator also comes with a VAT calculator and a sales tax calculator. It's very basic and straightforward, and it's best for sellers who are just starting out.
Key features
Free, intuitive online tool

With how-to guides on using the product

With Basic and Advanced modes to cater to all users
---


Sellers from all over may be able to benefit from the Amazon FBA Calculator by Sellerapp. The tool is available to sellers located in the United States, the United Kingdom, Mexico, Canada, India, Germany, Spain, France, Italy, and Japan.
You can check out FBA fees while browsing through products on Amazon. Through this calculator's Chrome extension, you can see your product's corresponding FBA fees.
Key features
Accessible through both its website and Chrome extension

Provides an overview of both FBA and FBM fees

Provides estimates of your potential revenues
---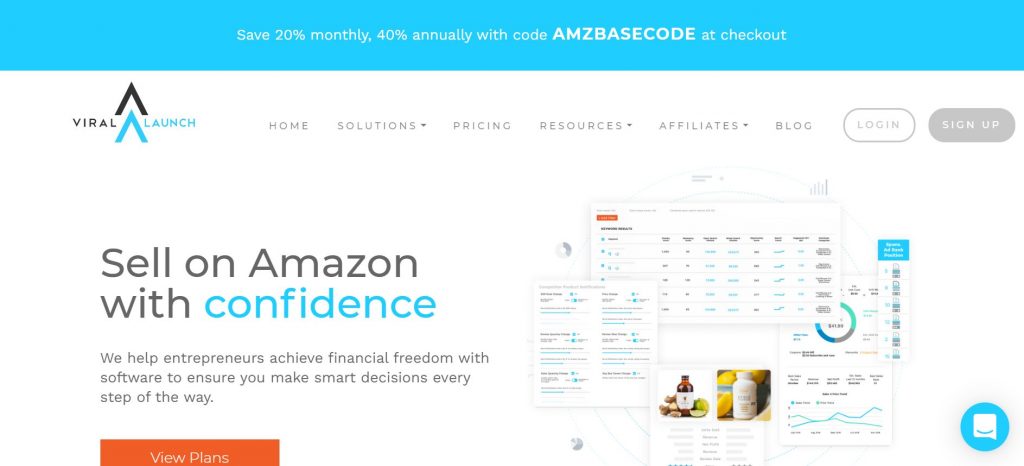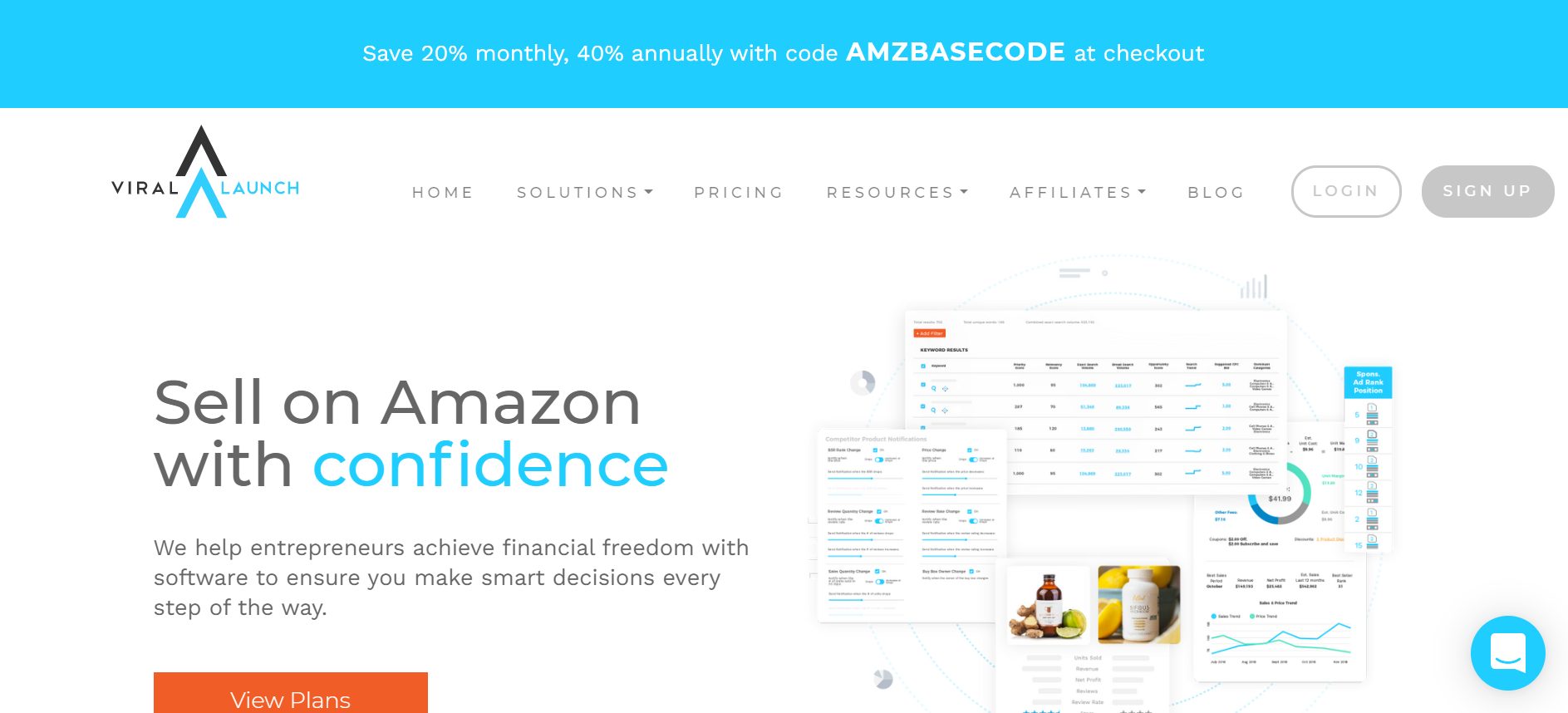 This tool is one of the more popular options on this list. Most of Viral Launch's products can be accessed through a paid subscription, but its Amazon FBA Calculator is free and incredibly easy to use.
To get an estimate of your profit, simply insert a product link or ASIN into its search bar. The site will automatically compute the fees for you and provide you with an accurate estimate of your sales.
Key features
Realistic projection of all the fees on Amazon

Best for getting an overview of how Amazon FBA fees work

Can be used with other Viral Launch products to create a more comprehensive sales strategy
---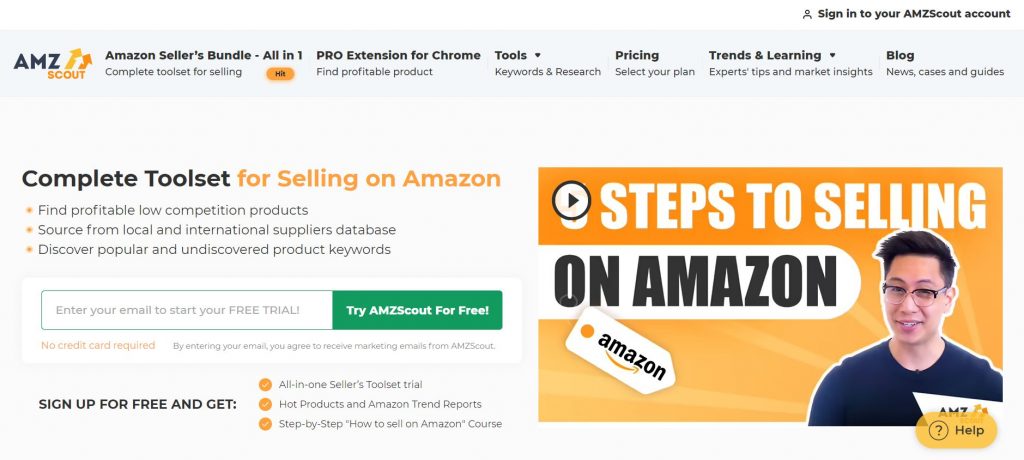 This is another free FBA fee calculator designed for Amazon sellers. It's a downloadable Chrome extension that provides users with an intuitive and straightforward interface for calculating their overall profit. It's similar to the SellerApp profit calculator, but it has a few added features. Additionally, it uses real-time information taken from the Amazon seller central.
Key features
Estimate your sales and income with just one click

Full view of Amazon's fees and commissions

Calculate accurate Amazon FBA fees based on your product's weight and dimensions

Calculate directly on the extension window for maximum convenience
---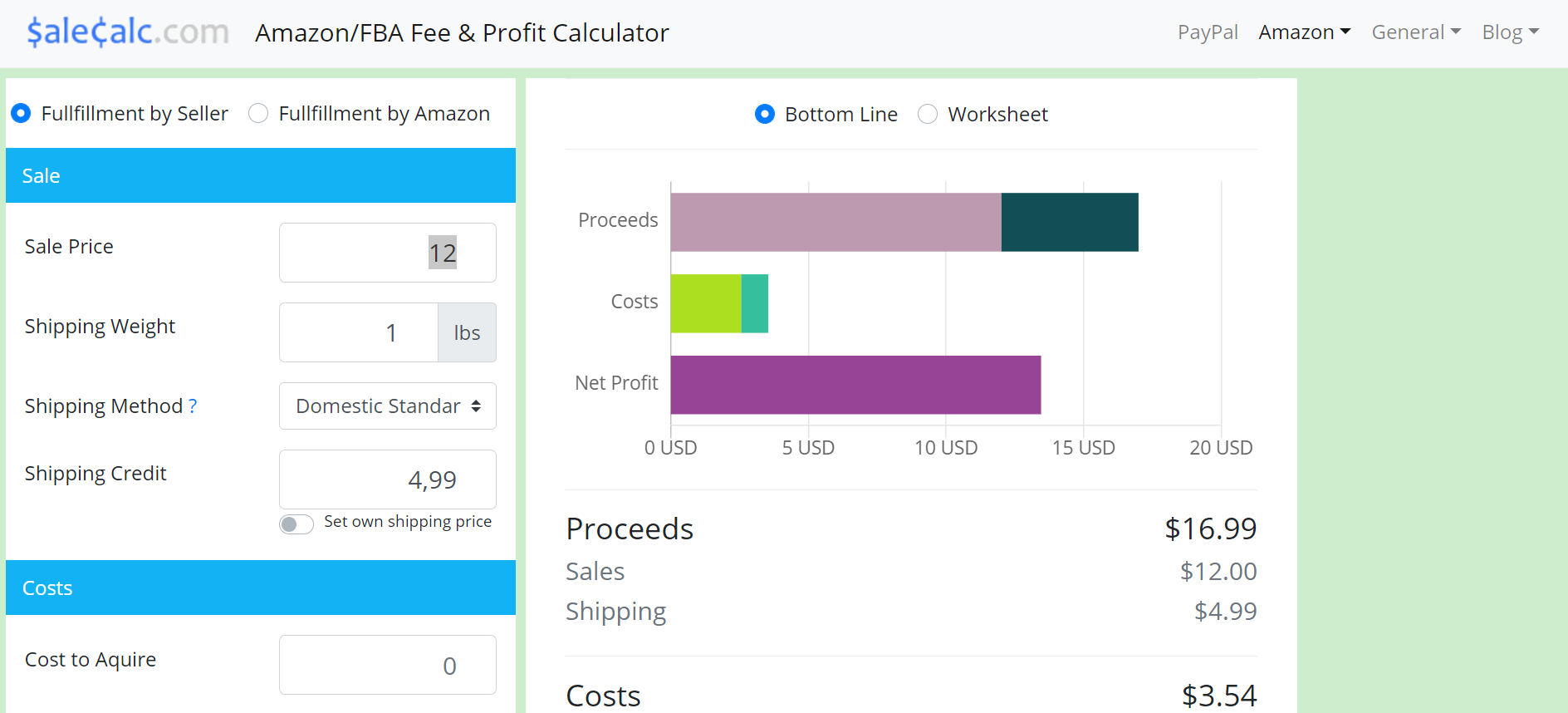 Unlike the other profit calculators on this list, Salecalc doesn't calculate the profit you stand to gain from a particular product. Instead, you can check the profit of any product in a certain category. Because of this, it isn't as accurate as the other calculators. However, Salecalc is incredibly easy to use and can provide you a quick overview of what you stand to earn from your ecommerce store. Like the Omni Calculator, it's an excellent tool for beginners who are still getting a feel for selling on Amazon.
Key features
Displays results through either a graph or a list

General overview of costs, profits, and proceeds from a selected product category

Profit margins can be estimated based on Amazon FBA fees or shipping credits
With these seven profit calculators, you can keep track of your profit on Amazon and make any adjustments to your sales plan as necessary. Choose an Amazon profit calculator that is easy to use and is aligned with your goals as an Amazon seller.
Frequently Asked Questions
What is an Amazon profit calculator?
An Amazon profit calculator helps Amazon sellers get a clearer idea of how much profit they could expect to gain from their Amazon store. Amazon profit calculators are already programmed to take into account Amazon's fees and any other expenses a seller may encounter, which makes them more accurate than standard calculators.
How can a profit calculator benefit your business?
With a profit calculator, you can eliminate the guesswork in estimating your Amazon store's profit. You can also manage your finances better thanks to more accurate profit numbers.
How is Amazon profit calculated?
Profit is typically calculated by subtracting the cost of the product, Amazon's fees, and any other miscellaneous costs from the overall price that the product was sold for.
What is a good profit margin for an Amazon seller?
For those who are starting out as an Amazon seller, a good general rule is to have a 100% profit margin. However, more seasoned sellers may need to work out and strategize their profit margin to optimize their sales on Amazon.
How does Amazon's pricing work?
Amazon's pricing depends on the type of selling plan a seller has. An individual selling plan requires a seller to pay $0.99 per item sold and is best for those who are just starting out. A professional selling plan requires a seller to pay $39.99 per month and is best for those who have a bigger inventory with more turnover.