Advertising Disclosure
Advertising disclosure:
Our partners compensate us. This may influence which products or services we review (also where and how those products appear on the site), this in no way affects our recommendations or the advice we offer. Our reviews are based on years of experience and countless hours of research. Our partners cannot pay us to guarantee favorable reviews of their products or services.
Navigating the crowded landscape of lead generation companies can be overwhelming, but worry not - you're in safe hands.
In the B2B sector, lead generation is the driving force behind acquiring potential business clients, facilitating consistent growth, and ensuring long-term sustainability. It's the strategic process of capturing and stimulating the interest of potential customers in a product or service to develop a sales pipeline. With the digital age propelling the number of options and platforms to generate leads, it has become crucial for businesses to choose wisely and invest in effective lead generation strategies.
And what better way to do that than to hire a dedicated B2B lead generation service that offers immense value for your money? But the market is overly saturated with tons of quality services, making choosing the right one a difficult ask. Luckily, we have carefully sifted through the overload of options, dedicating extensive hours to research and analysis, and have distilled the list down to seven standout agencies that I can endorse with confidence.
Dive into the comprehensive reviews below, each crafted to offer insights and clarity, ensuring you pinpoint the optimal lead generation service tailored to the unique needs and aspirations of your business.
---
Top B2B Lead Generation Services
Top
b2b lead generation services
2024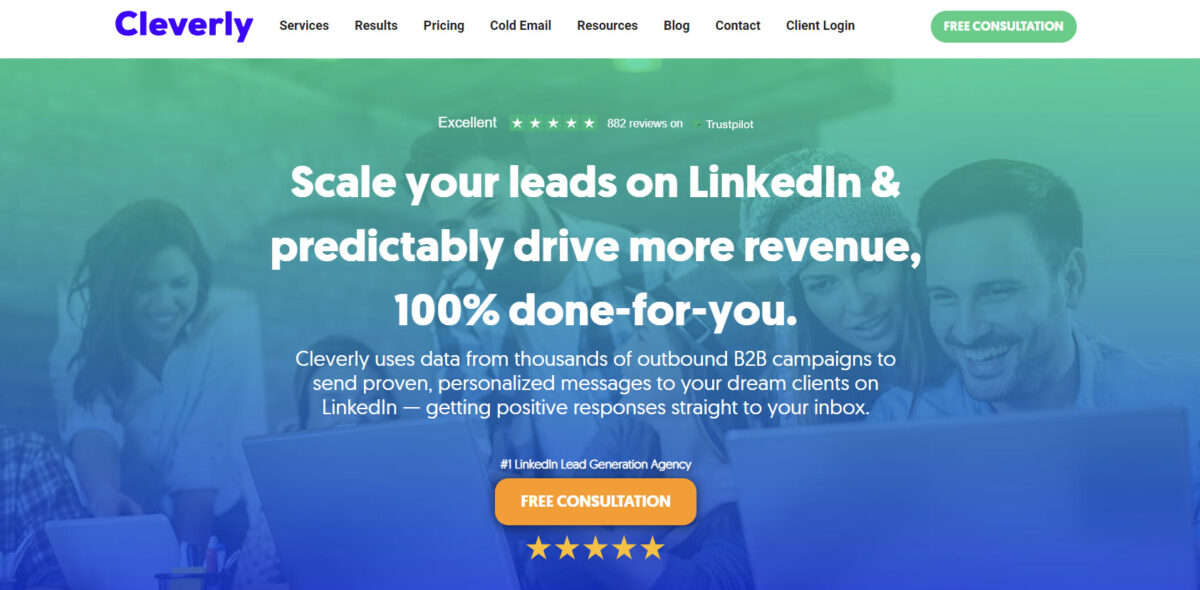 Year Founded: 2018
Location: Los Angeles, California
Cleverly stands as one of the most prominent agencies in the realm of B2B lead generation. With a knack for identifying and engaging prospective business allies adeptly, the agency has solidified its reputation as a trusted bridge to meaningful business liaisons.
Central to Cleverly's arsenal is its robust LinkedIn Lead Generation service. A nuanced approach defines their strategy, characterized by the creation of meticulously curated lists of prospects and the delivery of personalized outreach messages. Each communication is crafted to ignite positive engagement, a feat made possible by the insights gleaned from thousands of triumphant campaigns.
The agency's prowess doesn't end there; Cleverly extends its expertise into the realm of content and ghostwriting, offering narratives that resonate and engage. The realm of Sales Strategy, too, is not untouched. Seasoned account managers, armed with insights and trends, engineer strategies that are as alluring as they are effective, striking a harmonious chord between allure and practicality.
In the world of Cleverly, technology and human creativity converge in a symphony of efficacy. Prospects are not mere data points but are engaged through tailored messages that echo the uniqueness of each potential connection. This devotion to personalized engagement is a hallmark of Cleverly's ethos.
---

Year Founded: 2011
Location: Atlanta, Georgia
Lyfe Marketing distinguishes itself in the crowded B2B lead generation landscape with a specialized focus on IT companies. Their holistic approach is meticulously designed to attract, nurture, and convert potential leads into profitable business relationships, ensuring a steady flow of new customers and an increase in ROI.
One of Lyfe Marketing's standout features is its multifaceted lead generation strategy. In an industry where personalization is paramount, the agency does not just focus on one channel but employs a combination of social media advertising, short video management, and PPC advertising to reach potential leads. They adeptly optimize social media profiles to increase visibility, create engaging call-to-actions, and produce educational short videos to establish client's authority in the IT field.
Furthermore, Lyfe Marketing prioritizes website and landing page optimization. They adhere to the best practices so each page is customer-centric, feature-rich, and dedicated to a single conversion goal, thus elevating the user experience and increasing the probability of lead conversion. Their commitment to ensuring the rapid load time of landing pages and providing clear, actionable content sets them apart as a customer-focused agency.
In terms of metrics, the agency prides itself on its commitment to low cost-per-click (CPC) and cost-per-lead (CPL) and relentlessly strives for a positive return on investment (ROI). These metrics are integral to their client's success, serving as a testament to the agency's efficiency and effectiveness.
---
Year Founded: 2017
Location: London, UK
NinjaPromo is synonymous with innovation and efficacy in the domain of B2B lead generation, delivering tailored solutions that transcend conventional boundaries. Operating with a nuanced understanding of the distinct challenges that brands face in today's saturated market, NinjaPromo is a beacon for companies striving to elevate visibility, engage quality leads, and enhance ROI.
NinjaPromo's insight is particularly evident in its approach to customizing lead generation strategies. The agency dives deep into the intrinsic attributes of each business, ensuring every campaign is not only reflective of the brand's ethos but is also intricately tailored to resonate with the target audience.
The agency's suite of services is as comprehensive as it is diverse, encompassing Social Media, Paid Social, Search Engine Optimization, Influencer Marketing, and beyond. Yet, in the realm of B2B lead generation, NinjaPromo offers immense value by amalgamating cutting-edge technology with strategic ingenuity.
A tangible testament to NinjaPromo's efficacy is the metrics – with clients witnessing a substantial boost in engagement rates and lead generation. The agency's capability to transform abstract concepts into quantifiable results is indicative of its expertise and operational efficacy. Every strategy is meticulously crafted and rigorously analyzed, ensuring ongoing optimization and adaptation to dynamic market trends.
---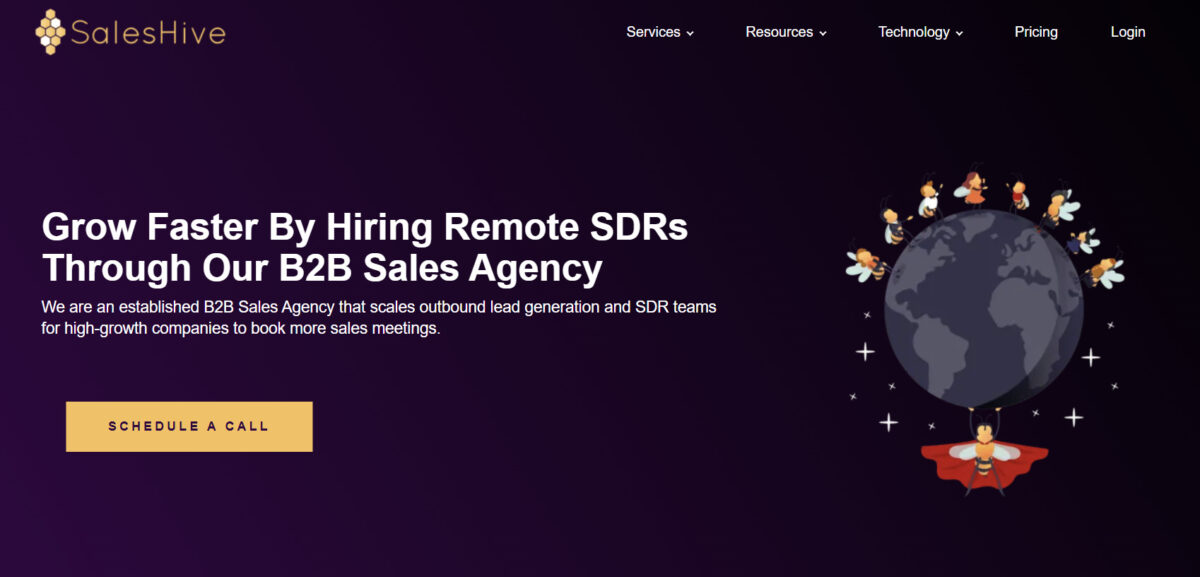 Year Founded: 2016
Location: Littleton, Colorado
SalesHive is a unique force in B2B lead generation, seamlessly blending creativity and practicality to offer tailored solutions for businesses aiming for growth. SalesHive positions itself as a strategic partner, committed to delivering measurable results that extend beyond short-term interactions and contribute to enduring business success.
SalesHive's distinctiveness lies in its seamless amalgamation of human expertise and proprietary technology. Founded in 2016, the agency has exponentially expanded, becoming a nexus where experience and innovation converge to deliver tens of thousands of meetings for over 200 B2B clients, spanning a diverse array of industries.
The agency's offerings, encapsulating cold calling, email marketing, LinkedIn outreach, and direct mail services, are orchestrated on a custom lead generation platform. SalesHive's approach to cold calling is underscored by the deployment of US-based, professionally trained sales development reps, ensuring that quality and authenticity underscore every engagement. Moreover, cold email outreach campaigns are engineered to not just reach the inbox but to captivate attention, stimulating engagement from decision-makers.
SalesHive's flexibility and adaptability are epitomized by its client-centric operational model, offering zero-risk, free onboarding, and month-to-month contracts. The agency's ethos is rooted in earning client trust through transparency, adaptability, and consistent performance. SalesHive's mission to make B2B lead generation easy and affordable is not a claim but a lived reality substantiated by its pragmatic approach, scalable solutions, and unyielding commitment to client success.
---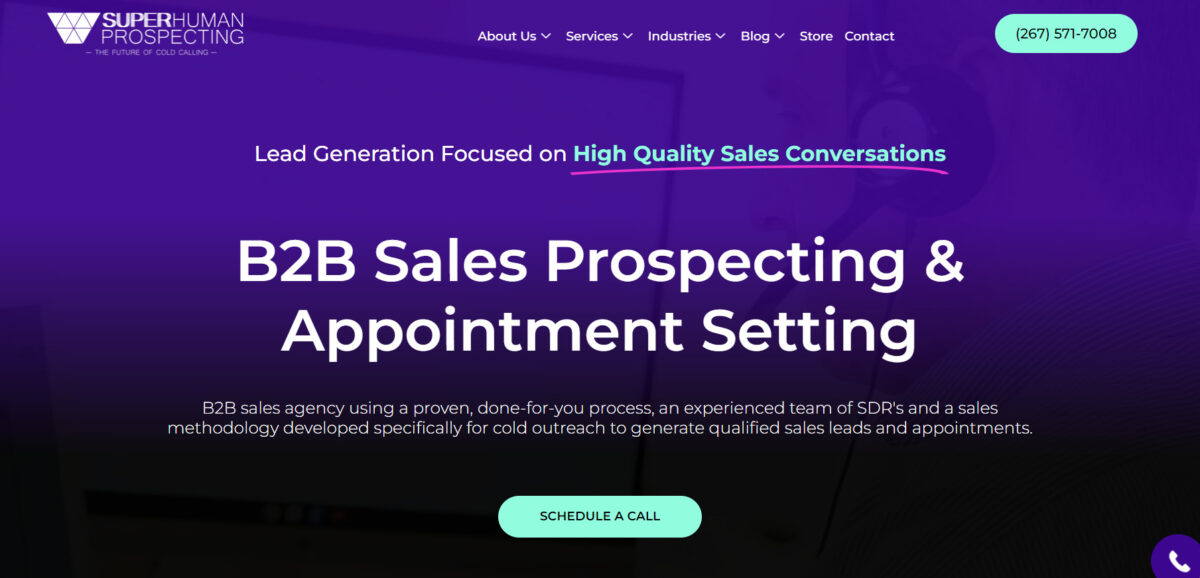 Year Founded: 2017
Location: Norristown, Pennsylvania
Superhuman Prospecting is a B2B lead generation agency with experience, customization, and effective multi-channel strategies. This agency is renowned for providing comprehensive solutions that are meticulously tailored to fit the distinct needs and objectives of each client. A focus on cold calling and outbound prospecting underpins their service offerings, yet their adaptability enables the incorporation of additional channels to enhance the effectiveness of lead generation campaigns.
Superhuman Prospecting's team of skilled sales development representatives is committed to driving results. Their approach is anchored in not only engaging prospects but also building trust and delivering value, facets that are integral in converting prospects into qualified leads. Their proprietary H2H Sales Methodology underscores this bespoke approach, aiming to build trust while generating quality leads and appointments.
The efficacy of outsourcing B2B lead generation to Superhuman Prospecting is further exemplified by the agency's cost-effectiveness and scalability. They provide an avenue for businesses to augment their lead generation efforts swiftly without the financial and temporal constraints associated with hiring in-house teams. Their agility is matched by their experience across diverse industries, including technology, real estate, and digital marketing, among others, attesting to their capacity to deliver targeted and industry-specific lead-generation solutions.
---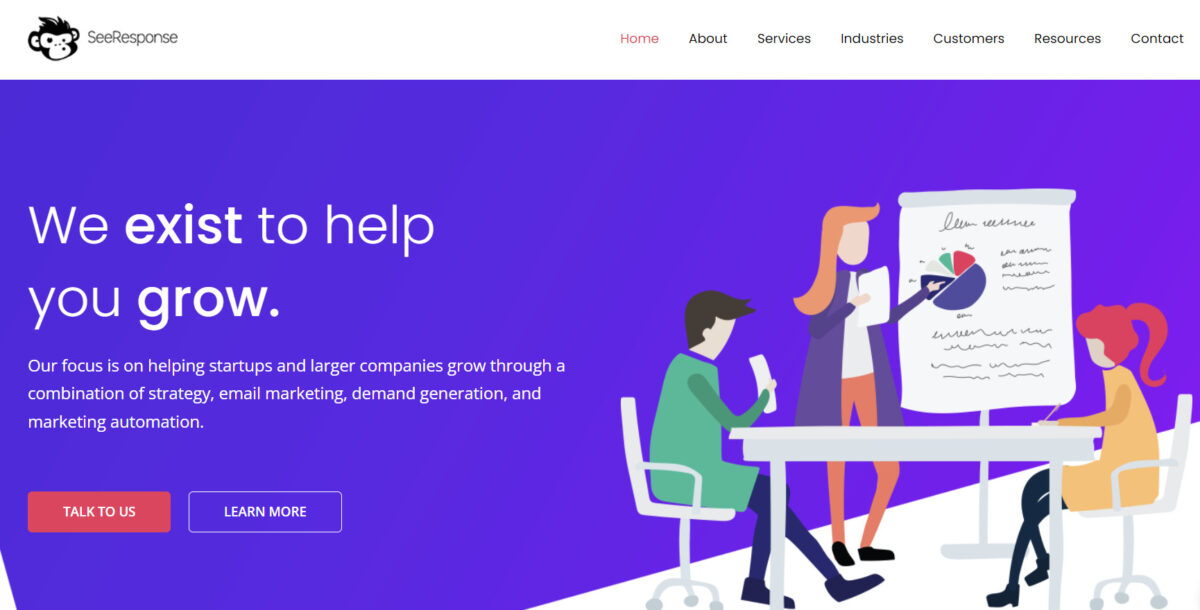 Year Founded: 2016
Location: McLean, Virginia
SeeResponse, a potent force in the B2B lead generation landscape, is characterized by its adeptness at harmonizing outbound and inbound methodologies to yield high-quality leads. The agency prides itself on its ability to execute lead generation initiatives that are not just systematic but are also nuanced to align with the distinct objectives and ideal customer profiles of diverse B2B companies.
A prominent attribute of SeeResponse is its unwavering commitment to customization. The agency deploys a team of lead generation specialists entrusted with meticulously understanding their clients' company goals and ICPs. This profound understanding lays the foundation for the creation of tailored lead-generation strategies designed to enhance the quality of lead opportunities and facilitate customer acquisition.
The agency is anchored in innovation, ensuring its lead generation practices are not static but are responsive to the intricate and changing needs of contemporary, highly informed customers. Multi-channel lead generation practices, imbued with consistent and relevant messaging, underscore the agency's holistic approach.
Furthermore, the integration of marketing automation into SeeResponse's lead generation strategy epitomizes efficiency. It not only amplifies the scalability of lead generation efforts but also enhances the precision of targeting, ensuring leads generated are not just abundant but are characterized by quality and relevance.
---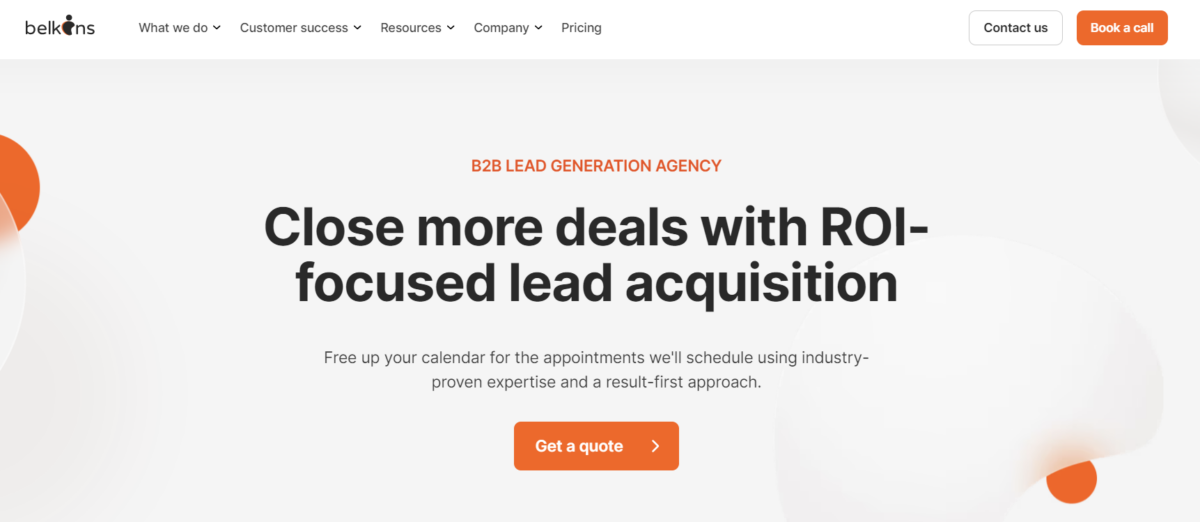 Year Founded: 2017
Location: Denver, Colorado
Belkins illuminates the B2B lead generation ecosystem with a spectrum of services characterized by innovation, precision, and adaptability. The agency has engineered a methodology that places ROI at its nucleus so each lead acquisition translates into tangible business progression.
One of the cornerstones of Belkins' offering is Appointment Setting, where the complexity of scheduling is alleviated. With an A-Z process engrained in this service, businesses witness a flood of opportunities characterized by high lead-to-deal potential. Their robust mechanism ensures that within the initial weeks of engagement, new opportunities are not just identified but are also ripe for conversion.
In the realm of Demand Generation, Belkins crafts narratives that extend beyond mere awareness. They build robust relations that augment visibility and catalyze contract acquisition. Every interaction is strategically designed to foster loyalty, positioning businesses not just as providers but as partners integral to client success.
However, the Cold Email Outreach service is a testament to Belkins' mastery in crafting communication that resonates. Every campaign is a blend of precision and clarity, ensuring engagement and conversions are maximized, marking a distinct departure from generic outreach initiatives.
---
Navigating the Selection of Top Lead Generation Services for Optimal Business Growth
As the market becomes increasingly saturated, identifying and partnering with the most effective lead-generation company becomes paramount. However, given the multitude of options available, this can often be a daunting task.
Lead generation companies excel at drawing in and transforming individuals and potential customers into those expressing interest in your company's offerings. These specialized agencies employ a mix of strategies—such as content marketing, email marketing, SEO, and social media marketing—to attract leads.
So, how does one sift through the array of choices to identify the ideal partner? The answer lies in a systematic, criteria-based evaluation. The first step is to identify your specific business needs and objectives. Every business, although unique, must understand its target audience, sales goals, and budget to succeed in lead generation.
Secondly, consider the agency's expertise and track record. A proven history of success, backed by positive client testimonials and case studies, can be a reliable indicator of the agency's capabilities. Additionally, evaluating their methods and strategies, particularly their adaptability to the ever-evolving digital landscape, is essential.
Tools and technology employed by the lead generation company are also significant factors. Assess if they leverage the latest technology and data analytics to streamline and optimize the lead generation process. Real-time data and insights can be instrumental in making informed decisions and tailoring strategies.
Lastly, evaluate their customer service and communication. A company that prioritizes client relationships, maintains transparency, and provides regular updates is likely to be a reliable partner.
---
Is Investing in Lead Generation Services Beneficial?
One of the pressing questions that many business owners grapple with is the tangible value of investing in lead generation services. In an era where budget allocation is under the microscope, understanding the return on investment (ROI) from such services is crucial.
According to a study by HubSpot, 63% of businesses report struggling with social media lead generation, emphasizing the widespread challenge and the need for specialized help in this domain. Yet, the compelling evidence that outsourcing B2B lead generation yields 43% more results than in-house efforts speaks volumes about its effectiveness.
Paid lead generation, when executed effectively, can be a game-changer for businesses. It's not just about increasing the volume of leads but enhancing the quality of those leads, ensuring a higher conversion rate. These tailored services are designed to attract potential clients who are genuinely interested in your products or services, ensuring an alignment of needs and offerings.
Several benefits emerge from this alignment. Firstly, it leads to increased efficiency in the sales process. When leads are pre-qualified, sales teams spend less time filtering and more time engaging with potential clients who are ready to convert. This not only optimizes the sales process but elevates the customer experience, leading to enhanced satisfaction and loyalty. According to Salesforce, companies focusing on lead nurturing generate 50% more sales-ready leads. What's even more staggering is that these come at a 33% lower cost.
Moreover, the measurable aspect of paid lead generation is one of its strongest suits. Every campaign, strategy, and tactic can be tracked and analyzed. A study revealed that companies that track their inbound marketing results are 17 times more likely to see a positive ROI than those that do not. This data-driven approach enables businesses to glean insights, refine strategies, and ensure that every dollar spent is accounted for and optimized for maximum ROI.
Additionally, lead generation companies bring a level of expertise and specialization that is hard to match in-house. Their knowledge, experience, and resources are geared toward staying ahead of market trends, technological advancements, and evolving consumer behaviors.
---
Conclusion
While the upfront investment in lead generation services can sometimes be substantial, the long-term benefits - increased sales, enhanced efficiency, and actionable insights - often substantiate the expenditure. Every business must weigh the potential gains against the costs, evaluating the tangible and intangible values these services bring to the table.
In a competitive business environment, investing in professional lead generation services can be the differentiator that propels a business to new heights of success and growth.
Frequently Asked Questions
What are the core benefits of hiring a B2B lead generation service?
Hiring a B2B lead generation service can greatly optimize your sales and marketing strategy. These agencies are skilled in attracting quality leads, boosting your sales conversions, and ultimately increasing your ROI. They employ strategic methods tailored to your business needs, freeing you up to focus on other core aspects of your operations.
How can I measure the success of a B2B lead generation service?
Success can be measured through various metrics, such as the volume of generated leads, conversion rates, and the ROI. A reputable lead generation service will provide regular reports and insights to keep you informed on the performance and outcomes, enabling you to evaluate the effectiveness of their strategies.
Will a lead generation agency understand my specific industry needs?
Absolutely. Many lead generation agencies specialize in various sectors and have experience working with a diverse range of industries. Discussing your industry-specific needs during the initial consultation is essential to ensure the agency is equipped with the right skills and knowledge to address your unique challenges and objectives.
Can I expect immediate results from a B2B lead generation service?
The timeline to see tangible results can vary depending on the complexity of your industry and the specific strategies employed. While some businesses might observe an uptick in leads relatively quickly, it's generally advisable to have a mid to long-term perspective to fully gauge the effectiveness of the services.