Imagine a social media platform where there are no filters, tweaks, and perfect lighting. A platform that creates a very strong sense of community but also challenges social media addiction. One that invites you to be authentic online and live a real life.
There are many social media apps, but all of them are quite similar in features and the type of content that gets shared. These platforms have created a sort of parallel life, which seems to be quite different from reality. Subconsciously, this leads to unnecessary pressure on its users to try to live up to the expected unrealistic standards—particularly the youths.
Even though there are many advantages that come with social media, such as connecting loved ones from across the world, it still has its negative impacts on users. The fear of missing out, losing followers and popularity—the list goes on. Is there a social network that doesn't come with such effects—or at the very least, puts an emphasis on authenticity instead?
Could the answer possibly be BeReal?
---
21 BeReal Stats That Will Blow your Mind:
---
What Is BeReal?
BeReal, touted as an anti-influencer social media app, was born in Paris. Just as the name suggests, the platform was developed to create a balance between social media life and reality, and serve as a solution to all the negative effects brought about by social media.
BeReal, released in 2020, was created to break social media rules, allowing people to only post pictures that can't be edited or filtered to help people share their everyday, authentic lives.
Aside from these features, which distinguish it from better-known social networks, BeReal offers other features that are common in social media, such as uploading photos, seeing what your contacts upload and mutually commenting on everything. Similar to Facebook or Instagram Stories, the photos are deleted every day. In addition, you can tag the photos with your location, and you can also configure them as public or private (in which case, they will only be visible to your friends).
The app is now available on both Android and iPhone. It can be downloaded from the Play Store and App Store and is completely free.
---
The Creation of BeReal
BeReal is the app of the moment. Launched in January 2020, it achieved great popularity between January and February 2022, when it became a real trend.
BeReal was born in Paris from the idea of Alexis Barreyat, former video producer for GoPro, and Kévin Perreau. Due to his previous work at GoPro, Barreyat worked and filmed with influencers who have millions of followers on Instagram. Consequently, he managed to get a sneak peek at what it's like behind an influencer's post or reel. He noted the stark difference between what the influencers showed on and off camera. This contributed to what prompted Barreyat to launch BeReal. In addition to that, he wanted a platform where he can still communicate with his friends but without the "excess of Instagram".
And so BeReal was born. The idea is to encourage users to share their unexpected and critical moments, with no judgment necessary. In fact, you won't see most of the features on BeReal on other social networks. Users can only reply with a smiley or a picture of themselves. For each new photo, the previous photo is automatically overwritten every 24 hours.
Also, in order to view your friends' photos, you must share a photo first.
While the market seems dominated by giants like TikTok, Snapchat, Facebook, and Instagram, BeReal has managed to stand out. This French app has become a phenomenon of study and topic of debate due to its peculiarity and interesting deployment in the social media landscape.
BeReal does not do any form of advertising or marketing. Word of mouth is everything, and every new user spreads the word by getting new friends to download the app. That said, it used a campaign to recruit college ambassadors that sources like TechCrunch have questioned. According to a post shared by The Brown Daily Herald, students at Brown received $30 for every person referred, and $50 for every person who downloaded the app and sent a review. As TechCrunch puts it, knowing that they paid college students to install and review the app means that a degree of the app's growth has been "manufactured to make the app look as if it were a viral hit".
Users consider the platform fun, compared to other social media. It also helps that the app doesn't encourage filters. Interestingly, users also enjoy the fact that the platform doesn't go to great lengths just to keep their audience scrolling through the app for hours at a time. For some, this is more conducive to their productivity, and it's enough for them to spend five minutes a day getting updates from friends. It goes against the concept of specially curated content and moments. Rather, the fact that the app chooses a random time where you can post your image helps users to be more engaged and keeps things more authentic and interesting.
---
How Does BeReal Work?
BeReal is a straightforward app. Users receive a daily reminder to "BeReal" through the app. The user then snaps a picture with both the front and back cameras on the BeReal app to show their followers what they are up to at that precise moment. In short, both you and what you want to photograph are portrayed since the app simultaneously uses both the front and rear cameras.
What's being pushed by BeReal is that there should be no editing or filters—just reality. Notifications are sent to users of the platform at different times every day, which signals the only time slot during which it is possible to take a photo, in a maximum of two minutes. No matter where you are or what you are doing, it has to be a spontaneous and true moment.
The notification concept is exciting for the younger generation who are ready to take pictures in the most unusual places like during breakfast, while binge-watching a show, or even while taking a shower.
The peculiarity lies in the fact that, at the moment of taking the selfie, the user cannot see their own face, but only the framing of the external camera. However, it is possible to retake the "double photo" several times within the 2 minutes of the countdown. So goodbye to poses, quick tweaks, and filters.
Thanks to this mode, it becomes fun and interesting to see what your friends are doing in real time. There's also the RealMoji. In BeReal, the user can customize their reaction to a friend's photo. They can do so by taking a selfie that's similar to an emoji. For instance, if you want to react with a "thumbs-up emoji", you simply copy that and send a selfie of yourself making the thumbs-up sign. There is a condition, though: to view your friends' daily photos, you must publish one too! As developers Barreyat and Perreau explain, this is a unique way to discover your friends' real life.
If you would like to see photos from other users of the app, it is compulsory to first upload your own. If you don't, you won't be able to view other people's images.
There are two categories for photos: one is "My Friends" and the other is "Discovery". With the former, you can view the photos of your contacts. In Discovery, you can see posts of other users not in your contacts.
At this point, you might ask, what happens if a user can't publish an image when the daily notification appears? No problem. Just open the app when you want to post, and you can take your photo. Once shared, the duration of the publication delay will also appear next to it.
It's essential to note that BeReal was created to counter the obsession for aesthetic perfection and the race for followers and online popularity, a phenomenon capable of resulting in social media addiction, which is quite typical on platforms like Instagram or TikTok. The ability to post only once a day and, consequently, to view a decidedly reduced volume of new content can lead to the elimination of that addiction loop that makes us waste hours scrolling through our social media feeds. Moreover, BeReal does not show either the number of followers a person has or the number of reactions to individual posts, reducing the sense of performativity that often accompanies our online presence.
---
21 BeReal Stats That Will Blow Your Mind
Key Stats
1. BeReal has 2.7 million downloads in the US
According to analytics provider Data.ai, as of May 10, 2022, the United States leads the list of downloads with a total of 2.7 million, followed by France with 1.68 million and the United Kingdom with 1.51 million. Italy is in 13th place, with 127,000 total downloads.
---
2. BeReal's monthly active users increased by more than 300% in 2022
As mentioned, BeReal is not a completely new app, but it boomed in 2022, two years after its release. In particular, according to the analytics service Apptopia, 74.5% of its total downloads occurred in the current year and its monthly active users grew by 315% from January to April 2022. Then, if you add Statista's data about the number of BeReal app downloads from May to September 2022, the picture becomes even more impressive. Compared to April's data, the number of downloads that it received in September 2022 is four times higher.
---
3. Since it launched, it was downloaded over 43 million times
According to an article shared by Apptopia, as of the end of August 2022, BeReal has been downloaded more than 43.3 million times since it was launched at the beginning of 2020. Arguably the most impressive thing about this stat is that the vast majority of these installs happened in 2022. According to their data, 2022 accounted for more than 40 million installs.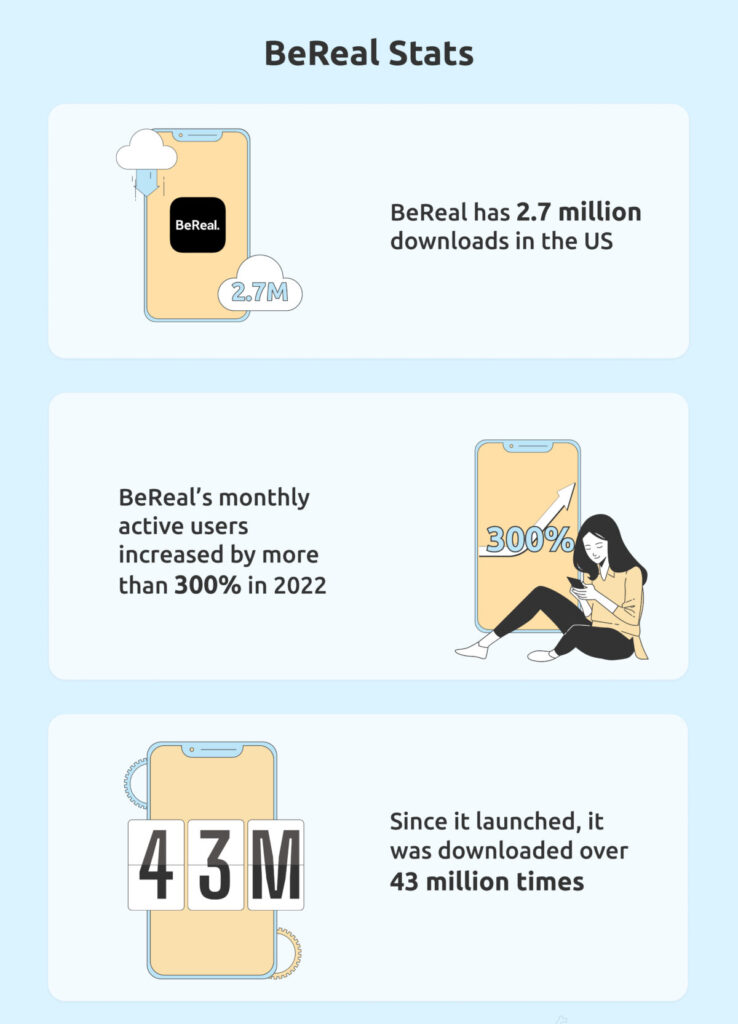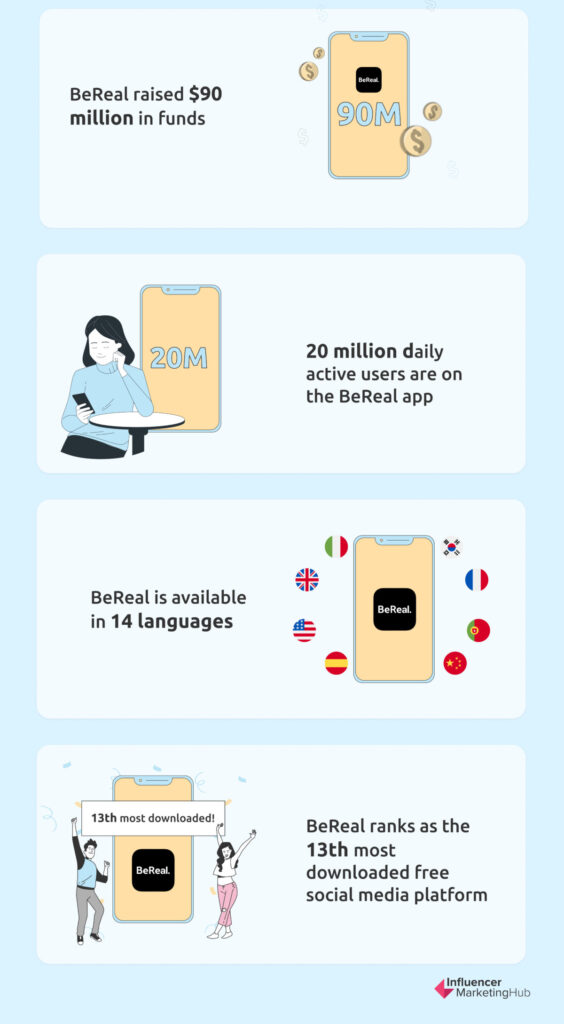 4. BeReal raised $90 million in funds
BeReal has only made money through investments. BeReal does not require any in-app purchases or subscriptions as of April 2022. Additionally, there is no in-app advertising. According to CB Insights, the project has raised fundings over three rounds in total. The latest funding round was a Series B for a massive $60 million that concluded on August 10, 2022.
---
5. 20 million daily active users are on the BeReal app
The BeReal app moved from having 921,000 users in July 2021 to a total of 21.6 million users in July 2022. BeReal's active monthly users have also surged. The platform is used every day by over 20 million daily active users.
---
6. BeReal is available in 14 languages
BeReal is available in several languages. Aside from English, it's also available in Dutch, French, German, Hindi, Indonesian, Italian, Japanese, Korean, Portuguese, Simplified Chinese, Spanish, and Turkish.
---
7. BeReal ranks as the 13th most downloaded free social media networking app on the App Store for iPhone
Most of the European Union's member states as well as the US already have access to BeReal. In the United States, as of July 2023, BeReal is the 13th most downloaded Social Networking app for iPhone.
---
8. 2.15 million unique visitors from the US
In August 2022, BeReal recorded 2.15 million unique visitors from the United States. This represented an 80 percent increase from the previous month's figures.
The year 2022 was a pivotal one for BeReal as it began to gain international acclaim. The app's usage saw a particular surge among the younger demographic in the United States, indicating a growing appeal among this user base.
---
9. It's more popular among users aged between 18 and 24
According to online data shared by Statista, BeReal's biggest demographic group in the US is women aged between 18 and 24 years. They accounted for two thirds of the app's unique visitors.
---
10. US men aren't really interested in using the app
A survey that was completed among US social media users in July 2022 found that the interest among male users was quite low. More than 70% of male users haven't used the app yet and aren't interested in seeing what the hype is about.
Surprisingly though, more men than women aged 55 and older used the app. Compared to women, it had double the number of male users in this age group.
---
11. It's much more popular among white users
In the UK, a survey of social media users aged between 16 and 24 years found that engagement was much higher among white users compared to other ethnic groups. More than a quarter (26%) of white respondents interacted with the app on a daily basis. On the other hand, only 20% of Asian participants and 14% of Black respondents used the app daily.
---
12. Gen Z users use BeReal to maintain connections
The main reason why UK Gen Z users use the app is to maintain connections. Just over 40% listed this as their primary reason. About half of that number (20%) engaged with the app to kill boredom.
---
13. In the UK, it's still far behind TikTok in popularity
A survey completed among Gen Z social media users in the United Kingdom has found that BeReal still lags way behind in popularity. More than half of the respondents (56%) reported that they haven't used BeReal at all yet. And, this was in October 2022 already — nearly two years after it was released.
On the other hand, basically the same percentage (55%) use TikTok (and Instagram) multiple times per day. And, of those that have heard about BeReal before and use it, only 16% use it on a daily basis — and then it's only once.
Then, again, part of BeReal's mission is to show its users that it's not a popularity contest. So, perhaps that's a win in their books?
---
14. Most users spend less than 15 minutes per day on BeReal
The fact that Gen Z users in the UK generally don't interact with the app multiple times throughout the day has a negative impact on the time spent on BeReal. The majority of users (60%) in this age group spend only 15 minutes (or less) on the app on a daily basis.
To put this number into perspective, 31% spend 1-2 hours on TikTok, while a quarter spend even longer (between 3 and 4 hours) on TikTok. It's also not uncommon for users to spend hours each day on YouTube.
Once again, the fact that users spend so little time interacting with the app is part of the app's mission. So, this number doesn't actually point to something bad.
---
15. The #BeReal TikTok hashtag is getting billions of views
BeReal might not be as popular as TikTok (yet), but on TikTok its hashtag is generating billions of views. As of October 2022, it has generated a whopping 2.7 billion views. On Twitter, BeReal memes have also taken the platform by storm, with memes, for example, suggesting that Margaret Thatcher's BeReal will be from the fiery pits of hell.
---
16. The jury is still out on whether it's "authentic social media"
As explained previously, BeReal tries to make social media more authentic by giving you an unfiltered look into your friends' lives. Though, the jury is still out on whether it has succeeded.
When US users were asked about the app's authenticity in 2022, a third (34%) agreed that it's an example of "authentic social media". On the other hand, nearly a third (30%) disagreed. So, it can basically go either way.
---
17. Bad reviews increased by 254% in just two weeks
According to data intelligence shared by Apptopia, the number of negative reviews that BeReal received during the first two weeks of July increased by more than 250%. And, in May, the number of reviews that mentioned "negative" or "mixed" performance and bugs accounted for more than half (56.4% of the total reviews), according to an article shared by The Los Angeles Times.
A number of online sources have mentioned that technical issues are one of the main obstacles that the dev team will need to address.
---
18. More than half of its traffic comes from referrals
According to data shared by Similarweb, referrals is its biggest traffic source (52%). It's followed by search (38%) and direct (7.8%).
---
19. 12% of US users don't plan to try it
While the US might have taken the lead in terms of BeReal app downloads, 12% of participants in a survey about social media usage among US users, indicated that they never used the app and also have no intention of giving it a try.
---
20. Its growth looks more sustainable than Clubhouse
Clubhouse is another social media app to have caused a stir recently. According to an article published by Apptopia, Clubhouse's growth was driven by two huge spikes. On the other hand, BeReal's growth can be described as increasing "semi-continuously". This makes the future of BeReal more sustainable.
---
21. Most of BeReal social media referrals come from Instagram
The majority Almost 80% of social media traffic for bereal.com originates from Instagram, with Twitter and Facebook (Desktop) trailing behind. Exploring audience engagement via Facebook Messenger could potentially uncover fresh opportunities.
---
Wrapping Things Up
BeReal seems to be the social network that the world needs because of the way it responds to people's concerns about the impact that social networks have on their users. Above all, the youngest are psychologically affected when it comes to social media addiction.
For now, the future of BeReal is still relatively unknown. It may be another fad like what has happened with other apps that have offered a basic feature. Or as its popularity continues to increase, this may cause other companies to choose to include similar features on their platforms or create apps based on the same principles.
Frequently Asked Questions
Is BeReal Private?
Very much, yes. You can decide to add your location when you share your photo. There's an option to make it private, only for your friends or public. When there's another notification to post what you're doing the following day, the photo would be deleted.
Can anyone see your BeReal?
This is up to you and the configuration you prefer. You can have your post be viewed by anyone on the app or those only on your list of friends.
How long do BeReal posts last?
BeReal posts last for a day. You have the option to delete your photo once and have it taken again.