Advertising Disclosure
Advertising disclosure:
Our partners compensate us. This may influence which products or services we review (also where and how those products appear on the site), this in no way affects our recommendations or the advice we offer. Our reviews are based on years of experience and countless hours of research. Our partners cannot pay us to guarantee favorable reviews of their products or services.
If the social media networks had their way, we would never use social media posting apps. Instead, they would have us signing into each social channel individually, doing all our posting, content management, and social interactions there. Indeed kudos must be given to all these social media apps for doing their best to get around some of the limitations placed on them by Instagram, Facebook, Twitter, and the rest.
Become a Partner:
if you are looking to partner with us
click here
.
However, as much as the social networks may prefer us to use their native apps for all our social activities, this can be incredibly difficult and time-consuming if you engage in social media marketing. None include built-in scheduling facilities, and it is not practical for marketers to go online every time that they feel they should make a post. Imagine Jeff Bullas, who averages 96 tweets per day every day, having to go onto Twitter every 15 minutes, 24 hours per day, seven days per week. It would either drive him mad from lack of sleep (and time to do anything else) or require him to pay staff around the clock simply to monitor his Twitter account. Social media marketing apps play a critical role in making bulk social media posting viable. Without them, the industry would never have evolved to the level it is today.
---
Best Social Media Posting Apps for 2023:

---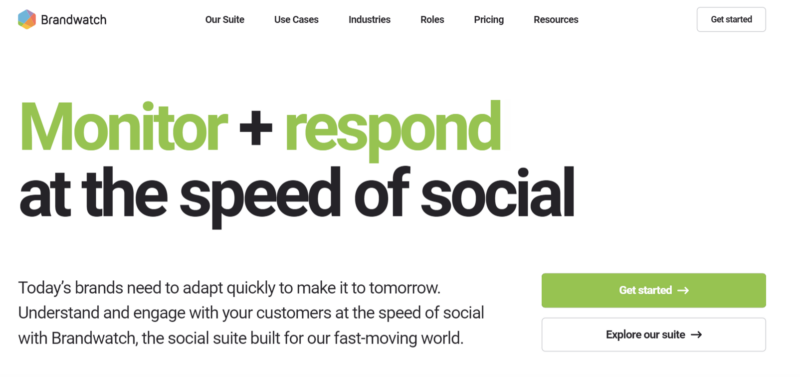 Brandwatch claims that over 30,000 marketers use their social media posting app for their social media management and list some high-profile clients, including Diesel, Coca-Cola, Toyota, Tui, Greenpeace, and Columbia University.
It clearly targets serious social media users, with the cheapest plan (Essentials) costing $108/month after a 14-day trial. The Essentials plan offers you a content calendar and campaign planner, advanced analytics dashboards, community management, and in-app support. As the plan's name suggests, small to medium-sized businesses will find all they need to run social media campaigns across most social platforms, although restricted to one user and five channels.
Larger businesses may prefer the Full Suite, which has customized pricing. You can ask for a demo of this before deciding whether the additional features will benefit your organization. The Full Suite gives you all the features of the Essentials plan, but it allows unlimited channels, reporting, and teams. Also, it adds in social media advertising (which you can set up, organize, and monitor your social advertising within Brandwatch), competitor benchmarking, collaboration & approval flows, custom onboarding, and 24/7 support.
Brandwatch's content calendar provides a view of all scheduled content. It shows your posts scheduled by date, clearly identifiable by social platform. You can plan, schedule, edit, and post across multiple networks.
You may prefer to use Campaign Planner, in collaboration with your team members if you have the Full Suite. You can use this to map, create a brief, roll-out, and collaborate on campaigns across all your social platforms.
Brandwatch supports image, video, Instagram Stories, and Facebook carousels. You store all your content in Brandwatch's version of a shared media library called the "Content Pool." Your Content Pool integrates with your preferred digital asset management tool or favorite cloud storage platform.
---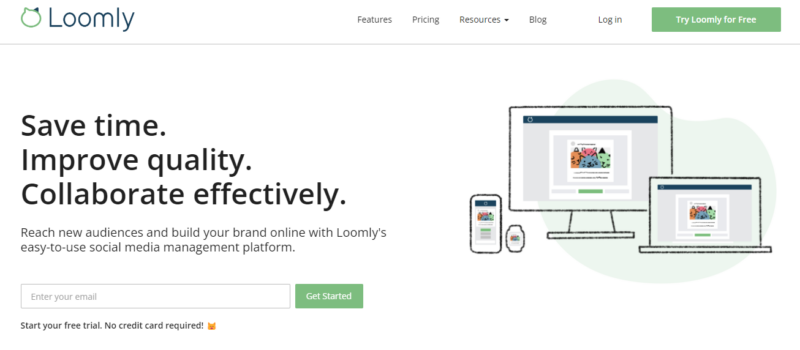 The first thing you notice when using Loomly is its clean, uncluttered interface. The first time you use the social management app, Loomly launches a well-structured, helpful wizard, that is effectively a guided tutorial.
As you go through the wizard, you will begin by setting up a calendar, giving it a time zone, and selecting the most appropriate industry. You can choose whether you wish to use Loomly for your posting, or whether you would prefer to integrate a Buffer account. You set various preferences, so Loomly clearly understands the type of posts you like to share.
Calendars are central to the successful operation of Loomly. One of the essential stages of setting a calendar up is to decide on your preferred workflow. These are the steps you go through when making a post. If a single person autonomously creates your posts, you might have a simple workflow. If you use a team for your social posting and require approval at various steps, your workflow will be involved.
When it comes time to create and schedule posts, you will go through various steps (the exact sequence depends on your preferred workflow):
Set Post Details

Select Social Channels (from Facebook, Instagram, LinkedIn, Twitter, Pinterest, and Google My Business)

Define "base" content – content that you'll be able to tweak for each platform in step 4.

Fine-Tune Each Channel

Target Audience & Promote – Facebook (Optional)
Loomly provides a detailed dashboard, giving all the analytics you need about your posts.
Loomly also offers an Interactions feature where you can manage comments, messages, and track social handle mentions (through tagging).
---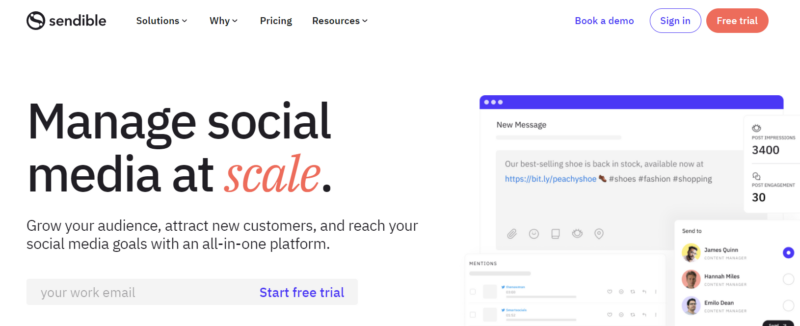 An essential part of Sendibles's social media management is its use of Services. These are like channels or profiles that you create within your Sendible account. Services allow you to select which features you need from a social platform.
As with most of these social media posting apps, Sendible allows you to schedule posts. You can plan and schedule content either individually or in bulk. Sendible's scheduling feature allows you to deliver posts to all social networks, incorporating images and videos where required.
Queuing a message in Sendible can be complicated but powerful. It gives you a considerable amount of flexibility. Sendible also uses Smart Queues to help you share evergreen content.
Sendible includes a Priority Inbox, which brings together all the messages your brand receives that require responses.
---

PromoRepublic's principal point of difference is its powerful design feature. Not only can you create and schedule posts in PromoRepublic, but you can also do much of the design work in the app, without having to open a specialist graphics program.
You can use PromoRepublic to schedule and share posts with all the major social networks, including importantly for such a visual app, Instagram, and Pinterest.
It also offers quite strong scheduling tools. You can set a posting schedule for different types of posts. Indeed, it suggests a suitable posting schedule for each of your social networks, although you can easily modify this if you prefer more control over your posting.
You organize your posting schedules across a centralized calendar, which you can display in many different ways.
It comes with 100,000 post ideas that cover a wide range of topics. Most are pre-designed, with eye-catching graphics. You can easily modify and customize their post ideas in PromoRepublic's graphics editor to suit your business. You can also select the appropriate dimension of what you want to create with a single click for each type of social post.
---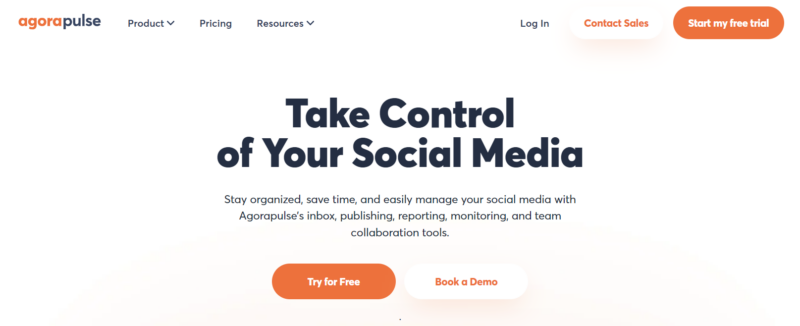 AgoraPulse is a fully-featured social media management program. This means that you can use it for considerably more than just a social media posting app. However, its price reflects this, so you are unlikely to use AngoraPulse if you simply want to schedule your social posts.
The heart of AgoraPulse is its Inbox. It shows your comments, mentions, conversations, and reviews relating to each of your social accounts. It also includes a social listening function, where firms can keep track of mentions of their brand name.
AgoraPulse offers multiple ways to publish content. You can schedule a post by clicking the appropriate time slot in a calendar. It also provides a bulk publish feature, where you import posts from a CSV file, a website using RSS feeds, or as a group of pictures to transform into posts. You can use these to create a queue (dropping new content into your queue as needed).
It gives you the ability to take a close look at your fans and followers. You can click on your more active followers, label them however you like, view your past activity with them, and add relevant notes.
---

Rather than bundling all of its services into a single app, Hootsuite has chosen to create separate apps for different purposes. This means that if you want a social media posting app, without all the additional bells and whistles like social listening and in-depth insight, you can simply sign up to the main Hootsuite app for a reasonable price.
The core of Hootsuite is Streams. You set up a tab for each of your social networks on the Streams page. Then, for each social account, you add a series of Streams. Each Stream is a column of information. For instance, if you run a Twitter account, you could create streams for each of your Twitter lists, your Scheduled Posts, Mentions, Twitter Home page, and the list of tweets you make.
Hootsuite also includes a unified inbox, showing all your incoming messages across your accounts.
Hootsuite includes a variety of ways for you to publish posts, depending on your requirements. One is to click on the big green New Post button at the top of the Streams page that takes you to the Composer page. You can compose your post directly on this page. The composer changes the options it makes available, depending on the social networks to which you're trying to post.
You can also create content on the Publisher screen. Publisher is Hootsuite's scheduler. If you have already posted or scheduled content, it will show in your Planner. You can create a new post on this screen by clicking the green New Post button, or you can save some time by directly clicking the time for which you want to schedule your post.
---

CoSchedule caters to businesses of all sizes. However, it particularly focuses on organizations that run a blog or at least a frequently-changing website. It offers an Editorial Calendar for solopreneurs, bloggers, startups, and small businesses. This blog and social media editorial calendar is a cut-down version of its full product
CoSchedule's Marketing Suite comprises four parts:
Content Organizer

Work Organizer

Social Organizer

Asset Organizer
There are further add-ons, in the form of an Agency Toolkit and a Marketing Academy.
You begin the process of setting up CoSchedule by creating a calendar. You see all of your upcoming blog posts, social posts, email blasts, and other types of content in your calendar.
Each distinct marketing activity is a project. You can build, plan, and even execute all of your marketing projects in CoSchedule. With the simple Editorial Calendar, you have two main types of project – blog posts and social posts. If you subscribe to the more advanced Marketing Suite, you can add many more varieties.
You can write your blog posts in CoSchedule (or whatever preferred method you use) and then use CoSchedule to create social posts to accompany it.
You can also start a social campaign from scratch by selecting the Social Campaign attachment when you set up your project, adding as many social posts as you like across your chosen social networks.
CoSchedule also offers Requeue that allows you to select past blog posts to repromote in the future.
---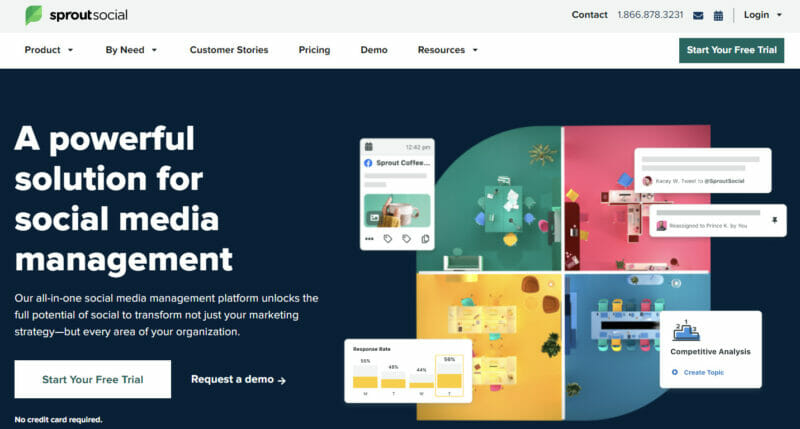 Sprout Social is a professional social media management platform. It targets larger organizations with heavy-duty needs.
It has a clear and intuitive interface and is logically laid out. It includes a Smart Inbox that collects all your social messages.
The Feeds tab shows all your Twitter feeds, Instagram hashtags you, monitor, LinkedIn feeds, and any RSS feeds to which you have subscribed. This brings a vast quantity of content that you can share.
You can easily create content for all your social accounts, adding graphics, links, and other material as needed. The calendar shows all your social posts.
Being heavy-duty, Sprout Social includes many other features like social listening and advanced analytics.
---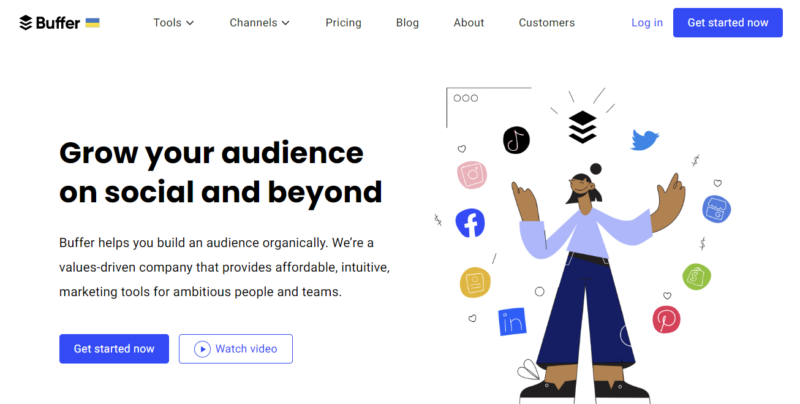 Like Hootsuite, Buffer splits its product into components. Its core app is Buffer Publish, where you create and schedule your posts. If you have higher needs, you could consider subscribing to Buffer Reply (their engagement tool), or Buffer Analyze (their detailed reporting tool).
Once you hook up your social accounts, you can easily create new posts within the app. The higher plans also make it extremely easy to add content from other sources, such as your favorite blog.
Your options on the free plan are limited, but you can create (and schedule) up to ten posts. Buffer's capabilities improve once you opt for a paid plan, however. They give you a great deal of flexibility when it comes to creating posting schedules (which are essential for the buffer to work). You set a publishing schedule for each of your social accounts.
You can click on any posting time to edit or delete it. You can add any relevant text, images, videos, and links. Once you've written your post, you can schedule it for a set time or add it to your queue.
---

The management of accounts on SocialPilot is done cleanly and efficiently, as you can organize each account into relevant groups. Social Pilot makes short work of scheduling, queuing, editing, and sharing all your content. There's even a content curation feature where you can search for relevant content by keywords. When you find something appropriate, you can post, queue, or schedule it right there.
It includes a robust analytics module that gives insights into post-performance that dive deeper than the standard follower, reach, and engagement metrics.
---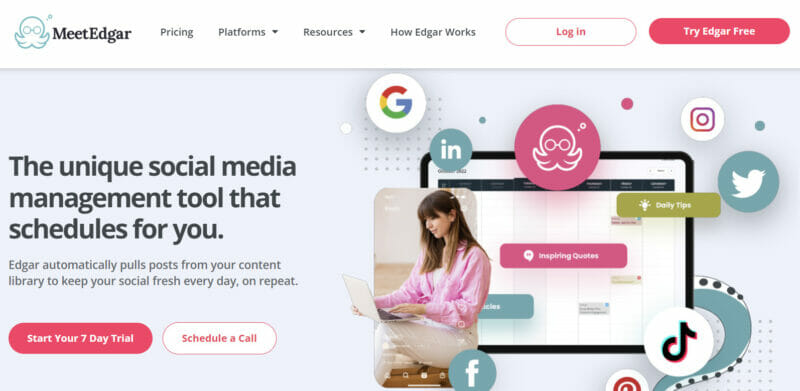 Technically, this social media posting app is called Edgar. When we come to use it, we "Meet Edgar."
Meet Edgar has a single plan that allows you to connect to 25 social profiles
You can use Meet Edgar to schedule different categories of posts across your social networks.
Once you connect your social accounts to Edgar, you create a weekly recurring schedule. You can decide on the category of post you wish to share in any slot, or you can tell Edgar to select posts randomly.
You can either create a post at a time or import content by an RSS feed.
Once you approve enough content, Edgar creates a queue for the next two weeks. It matches your queue to your schedule and categories.
---
Frequently Asked Questions
What app can you use to post on all social media?
The best social media posting apps for 2023:
Brandwatch

Loomly

Sendible

AgooraPulse

Hootsuite

CoSchedule

Sprout Social
What is the best app to use for social media?
These are the complete list of top social media apps and sites to use in 2023:
TikTok

Pinterest

Instagram

Twitter

LinkedIn

Snapchat

YouTube

Reddit
Which app is best for making post?
The best app for free graphic design for social media:
Canva

Adobe Express

Pablo by Buffer

Desygner

Snappa
What are the top 8 social media apps 2023?
These are the 8 most popular social media apps of 2023:
TikTok

Pinterest

Instagram

Twitter

LinkedIn

Snapchat

YouTube

Reddit