If you want to learn more about the ins and outs of TikTok, you're in luck. There's no shortage of TikTok courses and classes designed to teach you all about how to use the social media platform. While you'll find TikTok courses intended to teach you the basics of its operation, we wanted to share with you the best TikTok courses and classes we've found that focus on becoming a TikTok influencer or using it to market your brand.
The courses presented here are a mix of level, from beginner to advanced TikTok tactics. In this list, you're sure to find the right course you need to take your TikTok marketing to the next level. If you already use the platform, you may be wondering if you even need a TikTok course. The answer is yes! But let's take a minute to talk about why...
---
9 Best TikTok Courses and Classes to Send Your Marketing Into Overdrive:
---
Why Enroll in a TikTok Course?
TikTok is one of the fastest-growing social media platforms, ever. More than 500 million people use TikTok each month with the overwhelming majority of users between the ages of 13–24 years old. If your target audience includes Millennials or Gen Z, you really should be using TikTok for your brand. And, as COVID-19 has kept people at home, you'll find a good share of Gen X on the platform, too.
A huge part of your success on the platform depends on how well you use it. Sure, you could just create TikTok ads and get a decent response. But, brands that are active on the platform—either directly or through the assistance of TikTok influencers—are going to do a lot better with a TikTok audience that values authenticity.
If you want to know how to stand out on the platform, TikTok courses and classes can help. Why struggle to learn how to use and leverage TikTok for your brand on your own when you can enroll in a course that covers all of the things you should be doing on the platform in a way that makes it easy to succeed? The bottom line is that a TikTok course will help you save time learning how to use the app and will also give you insights into the trending techniques and best practices you should be using.
TikTok isn't like any other social media platform—even the TikTok alternatives aren't quite to TikTok's level. And they definitely don't have the member base TikTok enjoys. But that uniqueness means that what works on other social media platforms like YouTube, Facebook, and Instagram isn't going to work on TikTok. Why spend the time on trial-and-error when you can learn from TikTok experts who've already done that?
Plus, Facebook, YouTube, Instagram, and even LinkedIn have been around for a while. With their age and authority, they're more expensive to market on. Despite millions of users, TikTok is still wide open for brands to come in and demand attention with targeted TikTok ads or TikTok influencer partnerships.
9 Best TikTok Courses and Classes
Our list of the best TikTok courses and classes is by no means intended to be an exhaustive list. We chose these courses based on ratings and student feedback, but there are an astonishing number of TikTok courses and classes available. Here are our favorites so far.
---

Price:
$0 (regularly priced at $495)
We're starting off our list of the best TikTok courses and classes with our very own TikTok Masterclass. There's no other course that walks you through everything you need to become a TikTok influencer and earn money on the platform. We've broken it down in step-by-step detail so you can find your niche and earn a profit.
The TikTok Masterclass from Influencer Marketing Hub is taught by Shelby Leimgruber and Ed Lawrence. Shelby is a social media influencer with a strong track record of success. She enjoys more than 500,000 followers on social media and a 10% engagement rate. Ed offers a combination of video production, marketing, and business acumen. He's helped countless influencers turn their online brands into profitable businesses. Between Shelby and Ed, you're in capable, expert hands.
This course includes 11 modules and additional bonuses covering everything from the basics to the complexities of working with major brands. Through this course, you'll learn:
TikTok basics

How to

craft a profitable brand persona

without sacrificing authenticity

How to build your audience

How to increase engagement on TikTok

How to start working with brands

…and so much more!
The course is Free and includes:
Resources:

Brand collaboration outreach templates, influencer case studies, exclusive interviews with experts ($145 value)

Production Worksheets:

Video planning and storyboard templates, camera shot list, budget templates, cue sheets ($105 value)

TikTok Stash Bundle:

Engagement and Earning Potential Tools, scheduling tools, editing apps, optimisation tools, FTC requirements ($245 value)
Enroll in our TikTok Masterclass today!
---

Price:
$94.99
This TikTok course is a complete guide that helps you how to use TikTok to drive TikTok users to your other social media platforms and get more leads and customers for your business. You'll learn tactics to promote your personal and business brands and get a better understanding of how to use TikTok to market your business at scale.
In this course created by Kareen Williams, you'll learn:
The basics of using TikTok for personal or business applications

How to set up your TikTok account and market your business

How to use TikTok's navigation, find trending challenges, create a TikTok account in under 5 minutes, and more

How to create trending videos to bring in new followers and promote your business
---

Price:
Requires Skillshare membership of $99/year or $19/month.
This TikTok course on Skillshare teaches you how to market your business, product, brand, or events using TikTok. It was designed for small businesses or entrepreneurs without huge marketing budgets. The course offers creative tactics you can use on TikTok to promote your business effectively. It includes knowledge surrounding how to set up your TikTok account for business, posting engaging videos related to your brand, and how to enlist TikTok influencers to market on the platform.
The course includes:
Tactics to help you improve sales and conversion rates using TikTok

TikTok basics and

how to find influencers

Example videos showing various marketing tactics
---

Price:
$94.99
This TikTok marketing course on Udemy is brought to you by BraveArt Media, a German social media marketing agency. It will help you learn what you need to know about growing your following, creating a community, and making money on TikTok. Throughout the course, you'll have direct access to the instructors to get any questions about the platform answered.
With this course, you'll:
Learn how TikTok can be used to grow your company and brand

Understand TikTok's algorithm so you can

create viral content

Learn to leverage influencers and promotions for fast growth

Stay up to date with the latest features and functionalities
---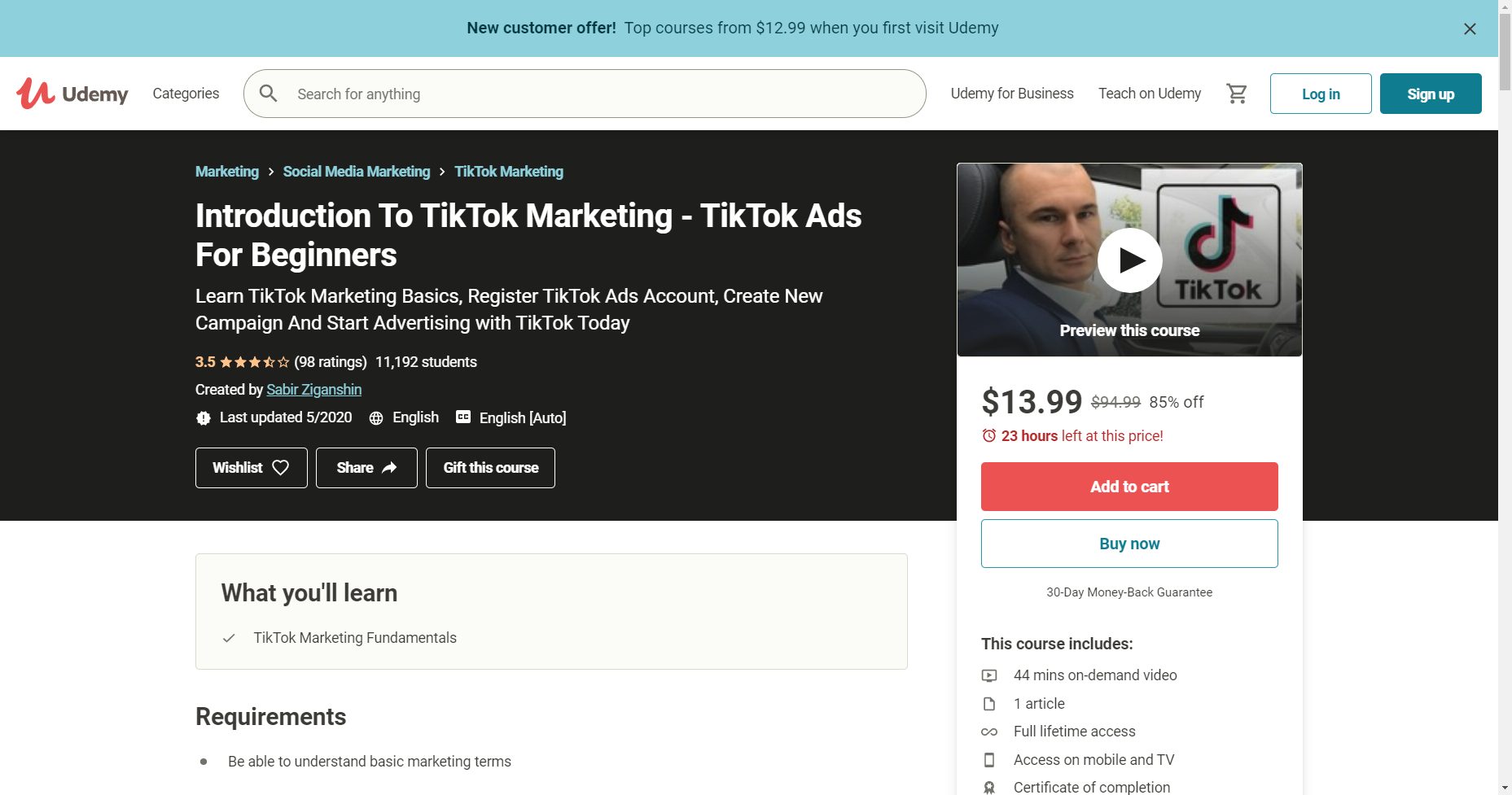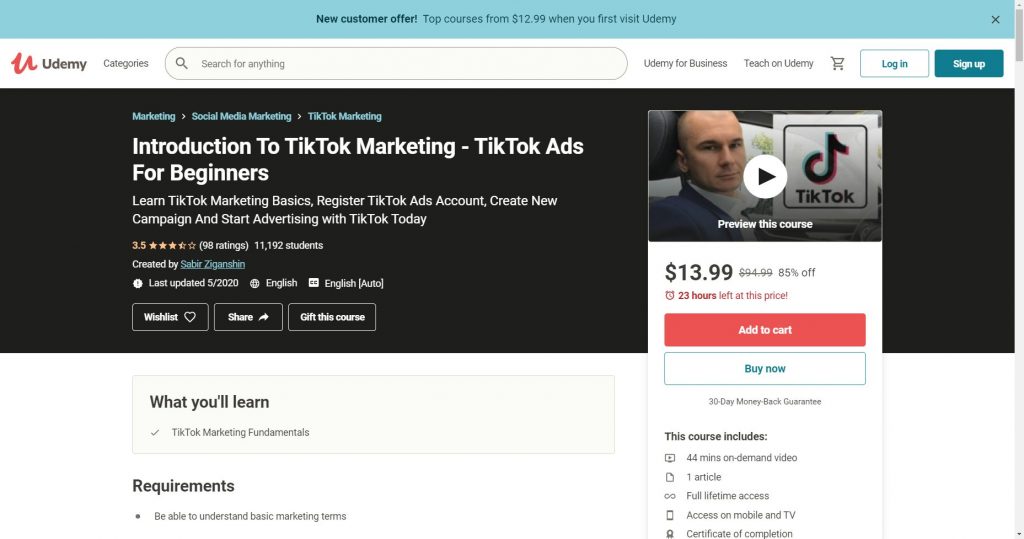 Price:
$94.99
If you're a complete beginner to TikTok marketing, this is a great course to start with. The course was created by Sabir Ziganshin. He has more than 10 years of experience in hospitality and business development and built this course for small businesses so they can engage with a large audience and increase sales. This course will teach you:
TikTok marketing basics, how to create a

TikTok ads

account and start advertising

What TikTok marketing is and how you can use it to promote your business

What marketing tools are at your disposal with TikTok and how to use them
---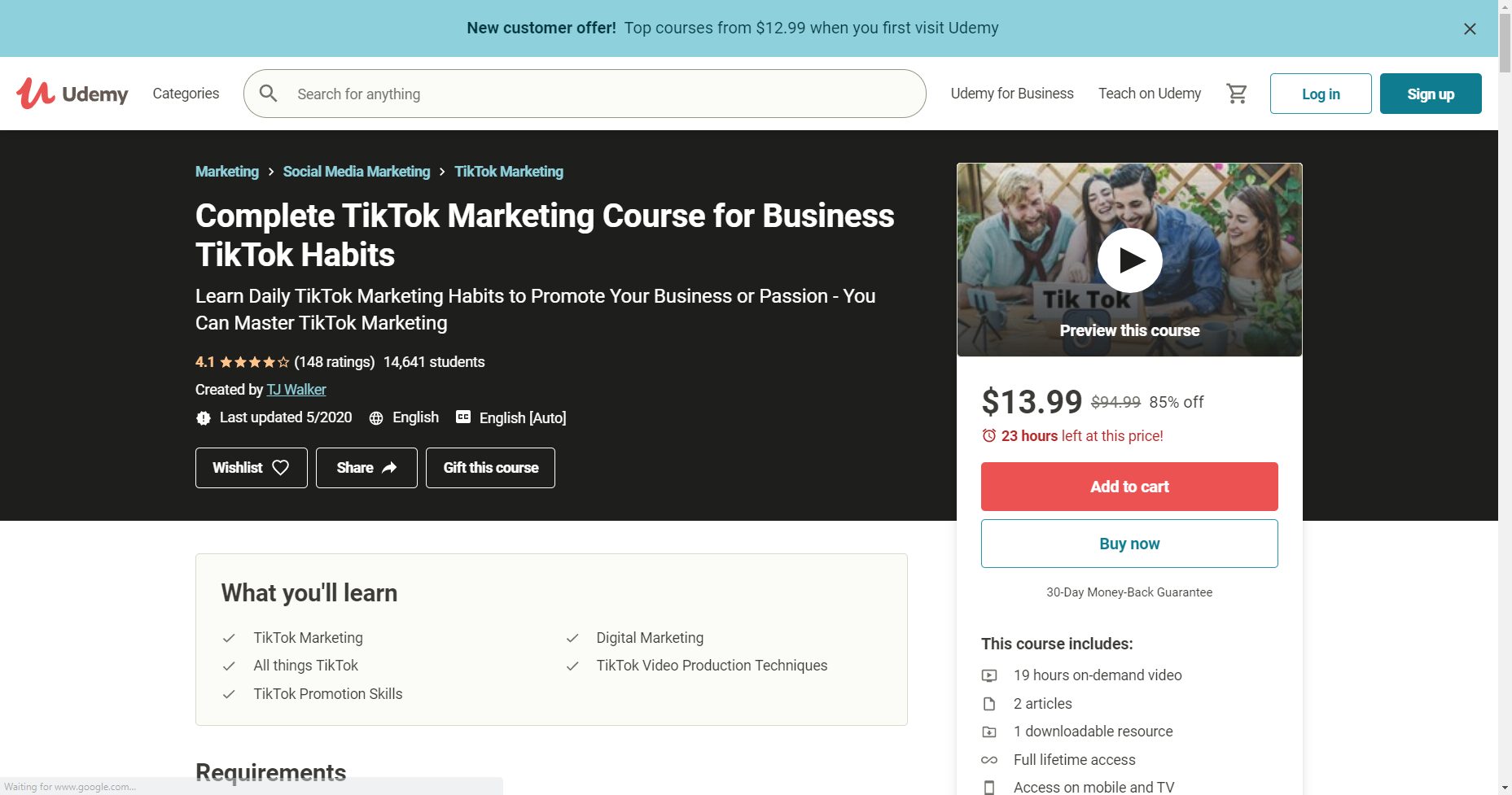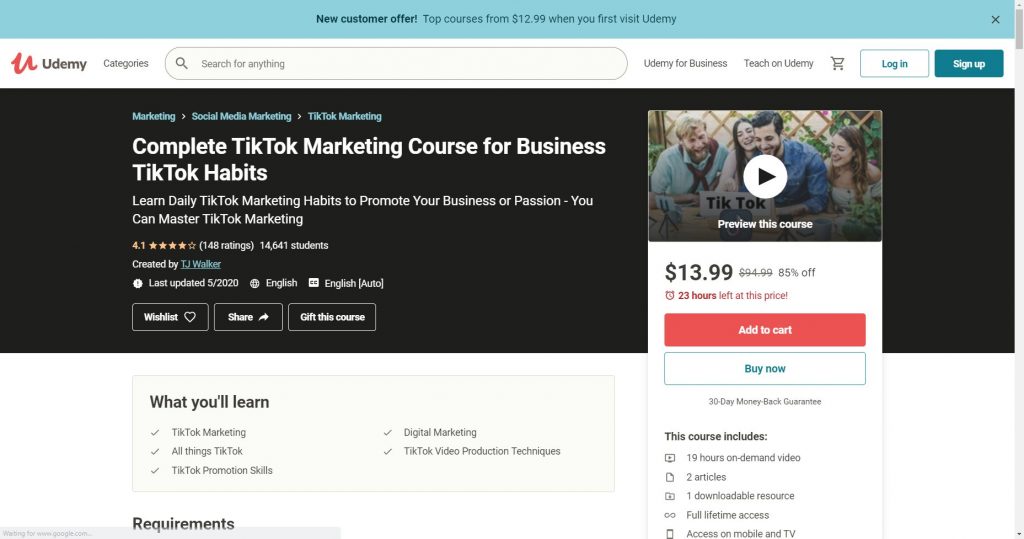 Price:
$94.99
Here is another TikTok course from Udemy. This course provides a guide to how to use TikTok to reach potential customers for your business and drive TikTok users to your other social media platforms. The course covers setting up your account, engaging with your target audience on the platform, TikTok advertising, and how to put together high-quality videos using video production tactics. The course is taught by TJ Walker, a best-selling personal development and habits expert. This course will help you:
Learn TikTok marketing basics

Discover TikTok strategies to capture the attention of your

target audience

Create your own TikTok videos for better growth

Learn to use TikTok, find trending challenges, set up your account, and more
You'll also get lifetime access to two articles, a downloadable resource, and a Certificate of Completion.
---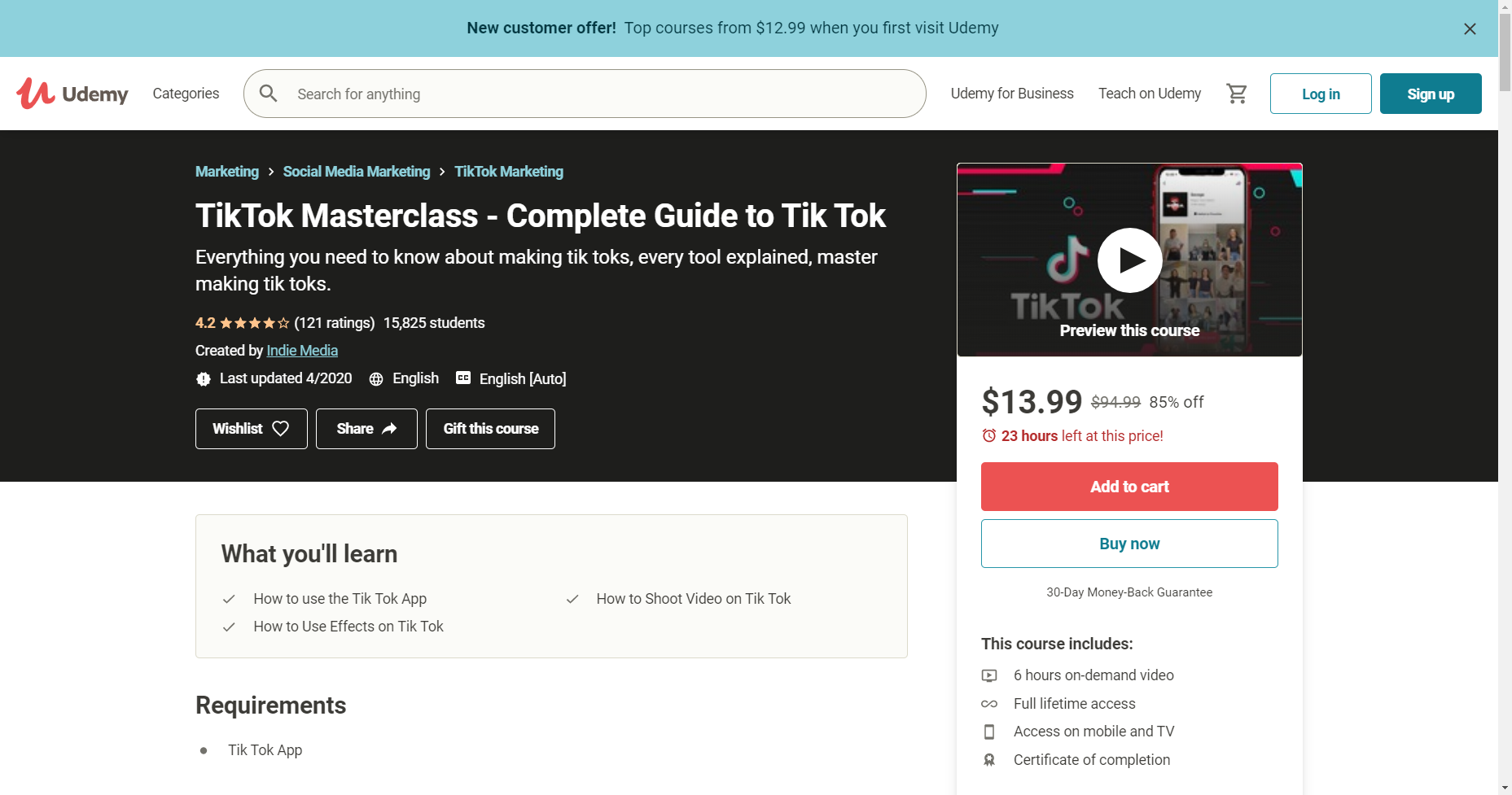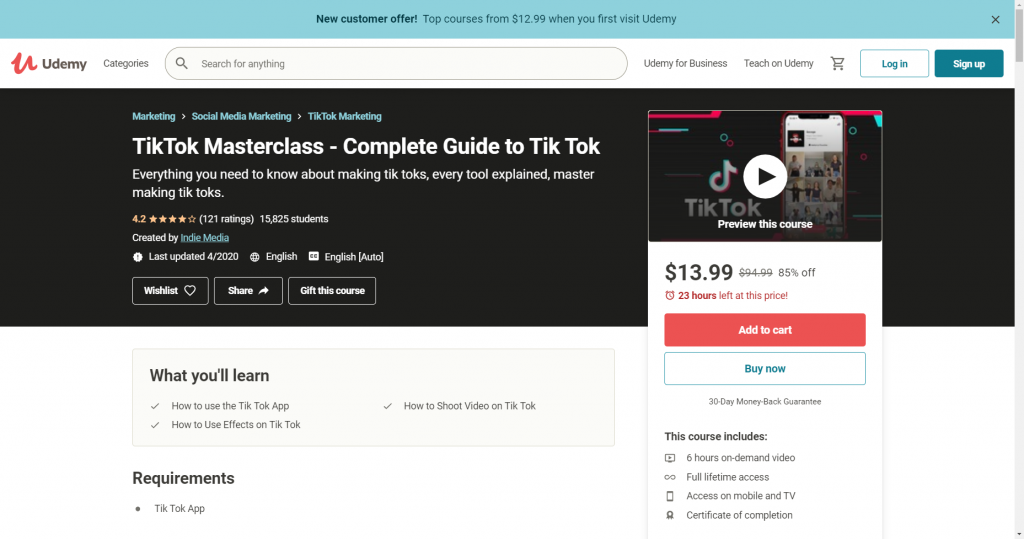 Price:
$94.99
Udemy has quite a few TikTok courses. This one is a complete guide to TIkTok in 2020. It's designed to take you through every step of the app, no matter what your use has been. The course covers creating TikToks, sounds, effects, trends, hashtags, and more. It's taught by Indie Media and offers something for everyone.
This TikTok course from Udemy will teach you:
How to use the app

How to record video

How to add effects

How to join challenges and trends

Tips and tricks to make it easier to use and navigate the app
In addition, you'll get lifetime access to the articles and resources, as well as earning a Certificate of Completion.
---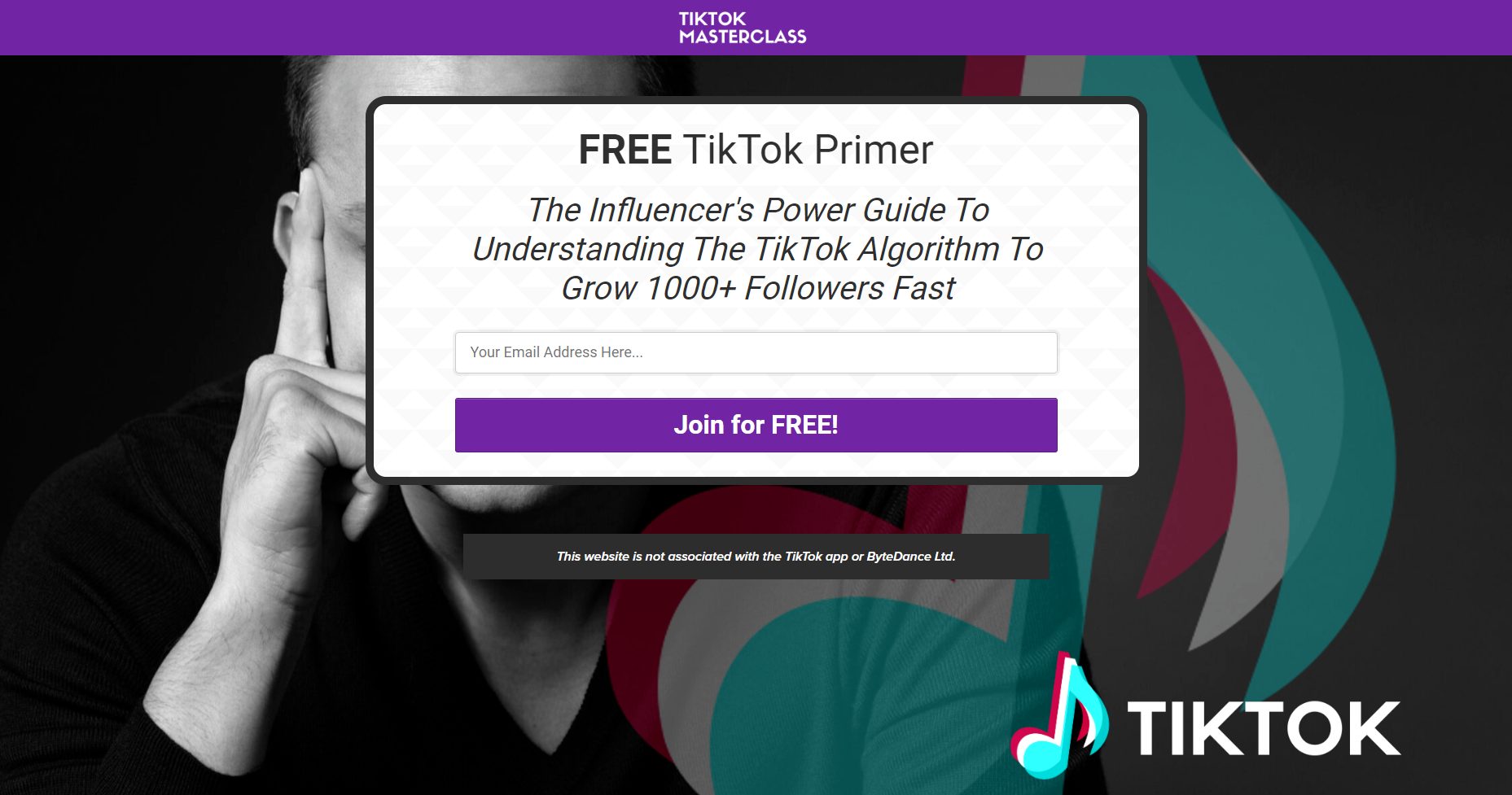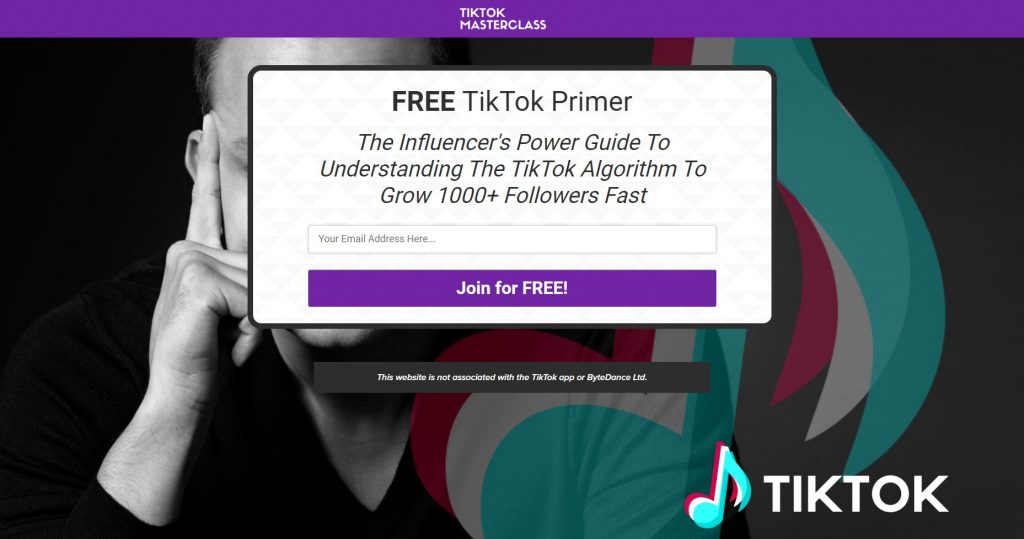 Price:
Free
TikTok Primer is a step by step tutorial on TikTok that helps you to learn how to use TikTok for marketing. This course was created by TikTok content creators with first-hand experience building their brand and following on the platform. Using their knowledge, they teach you to use TikTok to reach a large audience, drive traffic, and increase sales, as well as specialized marketing tips and tricks. With this course, you'll:
Learn TikTok tactics to promote your offers, increase engagement, and get the best results

Learn how to increase your impact on the platform by sharing your TikTok content on different social media platforms

Get access to three bonus videos and guides with easy marketing strategies you can use on TikTok

Learn how to target the right users and drive traffic to your offer pages
---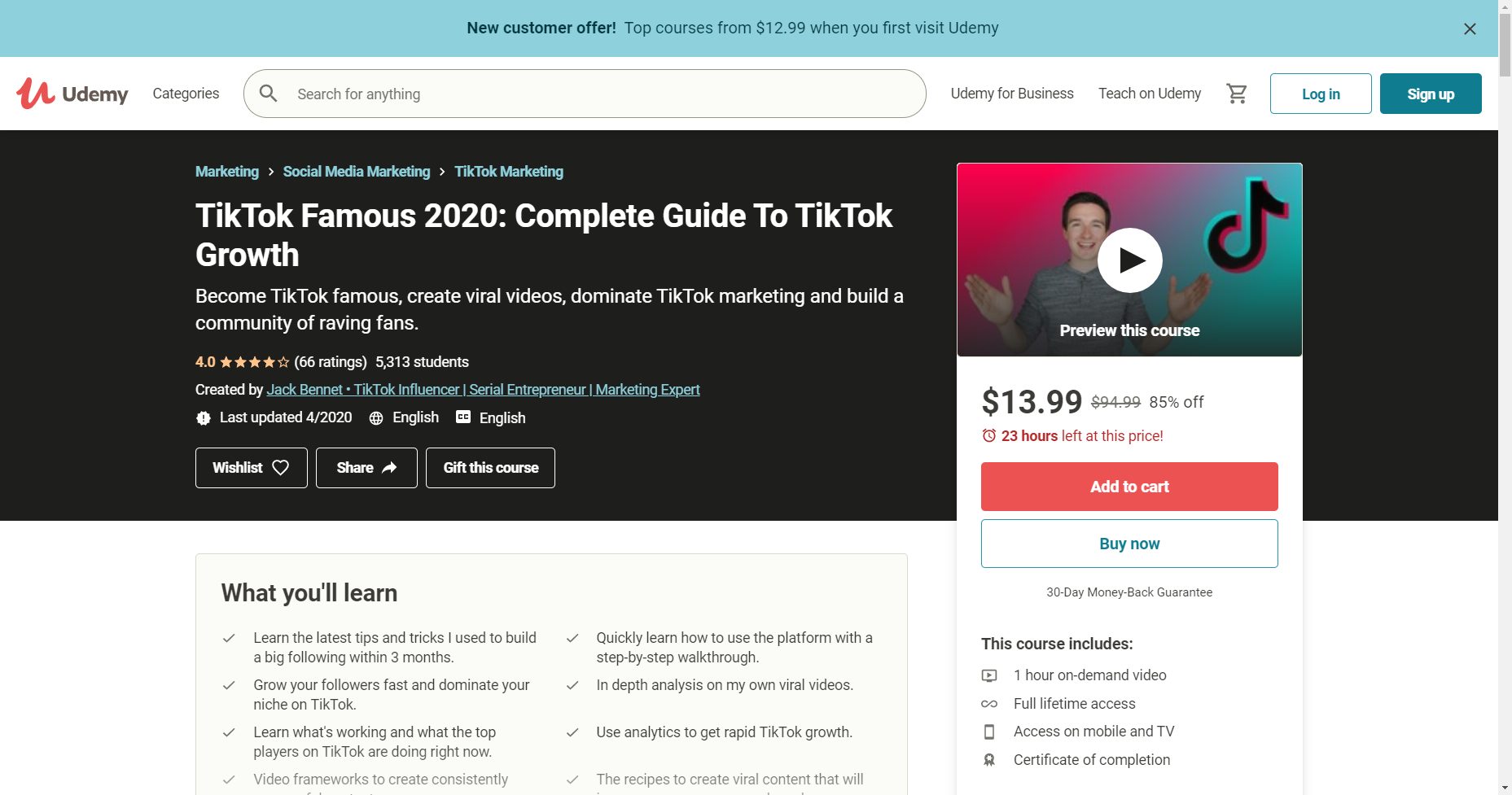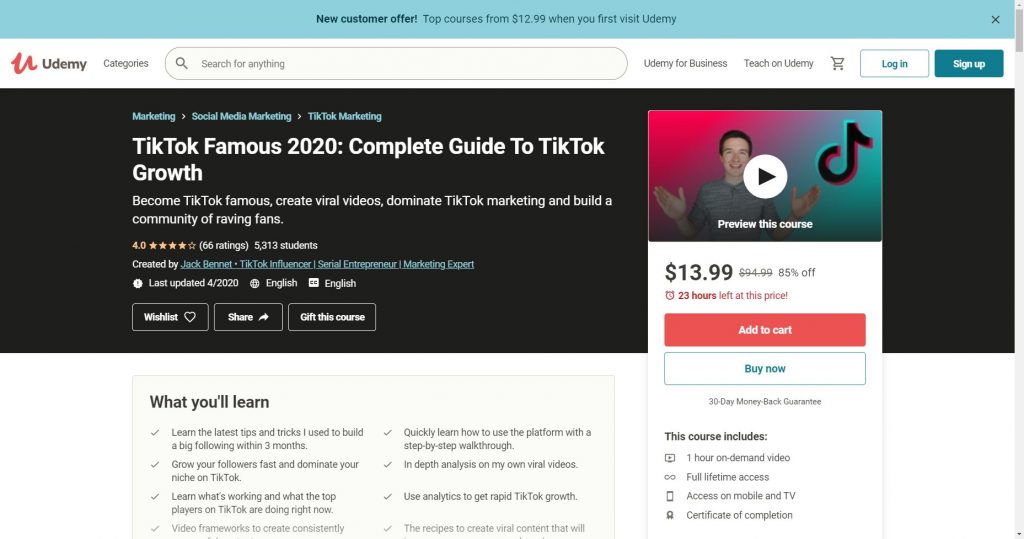 Price:
$94.99
The TikTok Famous course is taught by Jack Bennet, TikTok influencer, marketing expert, and serial entrepreneur. If you've ever wanted to be "TikTok famous" or you just love TikTok and social media, this course is worth checking out. In it, you'll learn how to create viral videos and use TikTok as a marketing machine. After completing the course, you'll receive a Certificate of Completion.
If you want to get into social media marketing with a focus on TikTok, or are a small business owner or entrepreneur who wants to use social media for product marketing, TikTok Famous can help. The course will teach you:
How to create engaging, high-quality, effective TikTok videos

Tips and tricks to help you tap into the social media market

How to easily and quickly navigate the TikTok platform

How to create vital TikTok videos to increase your audience and market value
---
The Best TikTok Course Available
This list of the nine best Tiktok courses and classes of 2020 will help you find the right course to send your TikTok engagement skyrocketing. But what's the absolute best TikTok course around?
Influencer Marketing Hub's TikTok Masterclass, of course!
Yes, we're a bit biased, but there really is no other course out there that gives you every single thing you need to become a TikTok influencer and start to earn money on the platform. And, with 11 modules (plus bonuses!), you're not going to find another course on this list with anywhere near the value.