Decentralized finance (DeFi) is still a relatively new financial technology, but this isn't stopping the steep rise in its popularity over the years. In fact, the blockchain market size is expected to be valued at $67.4 billion by 2026.
New players are constantly entering the game, and social media is proving to be a powerful tool for this industry. As the market becomes more saturated, a solid social media marketing strategy is needed to stand out among the many DeFi projects that are emerging.
In this guide, we'll take you step-by-step through the essentials to creating a DeFi social media marketing strategy.
---
Build a Winning DeFi Social Media Marketing Strategy:
---
What is a DeFi Social Media Marketing?
Similar to social media marketing for any other product or service, DeFi social media marketing involves generating awareness of a DeFi project with the goal of making a profit. Where DeFi social media marketing differs from marketing an eCommerce brand is the target audience.
Many DeFi users are tech-savvy and conduct research before investing money into a project. So tailor your marketing to this segment of users and provide details of your project and how they can leverage it.
---
How to Create a DeFi Social Media Marketing Strategy
While other factors come into play, like branding, PR, SEO, and ratings, a good way to get your project's name out there is through social media. But before you begin creating posts, doing giveaways, or working with influencers, develop a strategy with a clear direction.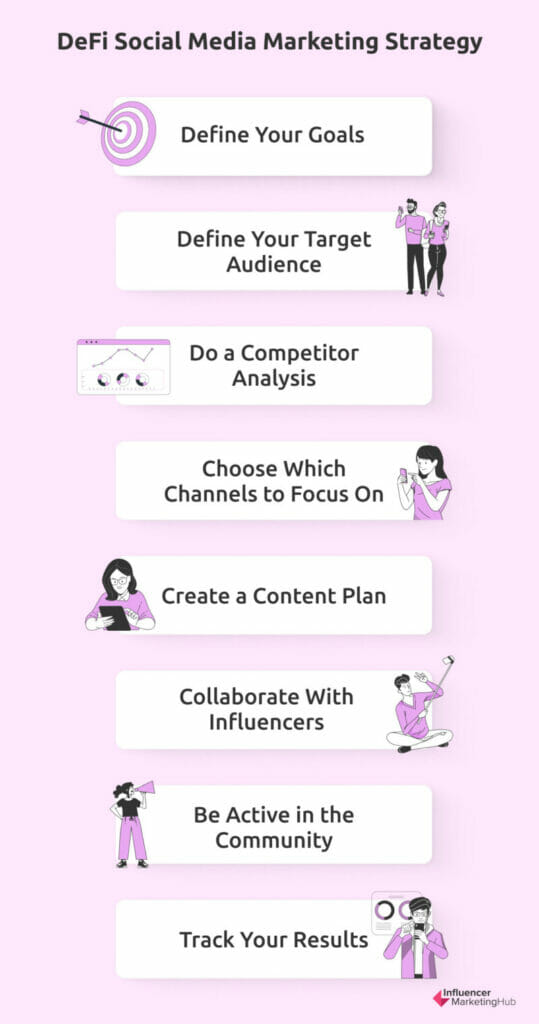 Define Your Goals
Before jumping into the deliverables, define what outcomes you want from your marketing. This will guide you when implementing any promotion or investing resources into a campaign.
Some examples of goals for your DeFi project include:
Increasing brand awareness

Boosting utilization of your project

Driving traffic to a landing page

Generating community engagement
Along with your goals, establish your key performance indicators (KPIs) to quantify those goals. These can include:
A certain amount of landing page visits in a month
A specific number of mentions on social media
A percentage increase in usage or revenue
Social profile page views, retweets, or comments
A number of coins sent from an airdrop
---
Decide Who Your Target Audience Is
In a broad sense, you're targeting those interested in blockchain technology, decentralized finance, cryptocurrencies, and trading. If your main social media goal is brand awareness, going for this general audience makes sense.
However, if you're funding a campaign, sponsored post, or influencer partnership to generate revenue, narrow your audience down a little.
Once you know your target audience, put yourself in their shoes to better understand them. If there's a popular Youtuber or Influencer in your target audience, watch some of their videos. If there's a subreddit where your audience frequently posts, get in on the discussion.
Think about hashtags your audience follows on Twitter and Instagram. What Tiktok accounts get a lot of engagement? While it may seem tedious to go through different social media channels, looking through threads will help you learn your audience. In turn, you can produce content that caters to their interests.
---
Do a Competitor Analysis
Think of your top five competitors—established projects or even startup projects like yours. What social media channels are they using to promote their project? And what content formats do they post (videos, static images, news, etc.)?
Other things to consider include:
How often do they post on social media?

Do they sponsor content?

Do they partner with influencers?

Are they doing giveaways or airdrops?

How actively are they engaging with their followers?

What hashtags do they use?

How do they brand themselves?
Not only will this inspire your own social media plan, but you'll also see where these competitors are lacking, or what channels they're overlooking. Analyze their strengths and weaknesses and identify areas of opportunity.
Today at 7pm CEST, don't miss Polkadot's #Web3Talks to hear from @Kiltprotocol, @oak_network, and @InvArchNetwork in the discussion on how Polkadot is bringing true cross-chain interoperability, and all things Polkadot's XCM.

Save your spot now 👇https://t.co/peusgSFf8k

— Polkadot (@Polkadot) August 25, 2022
---
Choose Which Channels to Focus On
Now that you've gotten a feel for what your audience wants and nabbed a few ideas from your competitors, it's time to narrow down which channels you'll publish to.
Here's an overview of the most popular channels for DeFi:
Reddit: An excellent channel for discussions, news, and content about DeFi projects. Popular subreddits among the DeFi community include:
Twitter: This is another top channel for those with an interest in DeFi and blockchain technology. Users come to Twitter to get the latest news on projects, hear from influential users and enthusiasts, and get into passionate discussions (and sometimes debates) about the technology. Popular Twitter accounts like Aave and vitalik.eth generate a high volume engagement and offer expert insights and the latest news in the industry.
YouTube: If it's within your budget to create video content—go for it! Popular DeFi-related YouTube channels like 99Bitcoins, Coinsider, and Whiteboard Crypto have hundreds of thousands of subscribers and bring in many views per video. Educational content created by experts in the industry is highly valued.
Instagram: While Instagram isn't as popular for DeFi as the other channels mentioned, it still has a large user base. The visual format of the channel allows users to get fast, bite-sized information along with condensed news.
However, some accounts aren't as credible and promote projects more than deliver educational, unbiased content, which can be frustrating for users. But that doesn't mean exclude it from the channels you post on.
Idea: stealth addresses for ERC721s.

A low-tech approach to add a significant amount of privacy to the NFT ecosystem.

So you would be able to eg. send an NFT to vitalik.eth without anyone except me (the new owner) being able to see who the new owner is.https://t.co/UdqK6NAYjn

— vitalik.eth (@VitalikButerin) August 8, 2022
---
Create a Content Plan
Create a content plan that organizes which posts you'll publish on which days. Test what topics, formats, and times receive the most engagement.
Use the information you've gathered from your competitor research to determine how often you should post and what captions and hashtags to use. With social media, the more active you are, the better—but don't spam your followers. A few posts a week is a good start.
But don't just post on a whim—have a plan.
Design a calendar on Google Sheets using free, pre-made templates online (or create your own). Another option is to make your editorial calendar through social media management platforms like Later, Sprout Social, or Buffer. These platforms allow you to plan your posts and draft, schedule, and publish social posts directly on social media channels like Twitter, Instagram, LinkedIn, and more.
---
Consider Collaborating With Influencers
Influencer marketing is prominent in the DeFi and crypto communities. Word of mouth can make a startup DeFi project viral with proper promotion.
But there's a catch—be wary of the influencers you partner with. A large following doesn't mean credibility. It's easy for someone to pay for followers, clicks, engagements, and more.
Do some research to find trusted influencers your audience respects.
DeFi Dad, for example, is a well-known YouTuber and influencer in the DeFi space. His format includes speaking with a variety of experts on topics related to blockchain technology.
You can take various approaches when collaborating with influencers, like hosting airdrops, giveaways, being a panelist on a webinar or podcast, and more.
📢 MEGA Airdrop Final Result: https://t.co/kTkjRasNXA

🎉 Congratulation to all winners 🎉 https://t.co/pDWSUMH7yp

— BSCDaily (@bsc_daily) September 13, 2022
---
Don't Just Post - Be Active in the Community
The blockchain space is a community, especially on Twitter and Reddit. So don't just post—be a part of the conversation. Follow influencers, competitors, news outlets, DeFi project enthusiasts, to stay abreast of trending discussions.
If you see a trending Twitter thread, add your input and participate in the discussion. You'll get your project's name out there and create networking opportunities with others in the industry.
If people are engaging with your content, try not to wait days to respond—the key is being active and consistent.
---
Track Your Results
Now, for those KPIs we mentioned earlier. Once you've done your research and put together your content plan, you'll need to track your results to see if your strategy is successful or what the ROI is on your campaign.
Let's say your primary goal was to generate brand awareness for your new DeFi project and get your name out there. Your KPIs may be the number of followers you gained, how much engagement your social channels received, or how many views your content garnered.
You could do this manually, but it's easiest with a social media management tool that generates reports for the channels you connect it to. You'll be able to see visuals of how much these metrics have increased or decreased over time, and you can even export these reports if needed. Remember that these social tools typically aren't free, but they save you time from having to do manual reporting.
What about influencer collaborations? Depends on your campaign goals. If you did a giveaway or airdrop with an influencer, you can see how many tokens were sent. If you want to see how many new visitors went to your website after the collaboration, use a referral link or UTM code to see the source of visitors.
---
Wrapping Up
Yes, it may seem like a lot of work to get a social media strategy up and running, but the time you spend doing the research pays off once you see the results.
In a rapidly growing market, you must adapt to trends to stay relevant and show your DeFi project's value. Remember it's an ongoing strategy you must stick to see results. It takes time to build credibility among your audience, especially with the crypto scams out there making users wary of new players.
But, with these tips, you can begin the journey of building trust and interest in your DeFi project.