Advertising Disclosure
Advertising disclosure:
Our partners compensate us. This may influence which products or services we review (also where and how those products appear on the site), this in no way affects our recommendations or the advice we offer. Our reviews are based on years of experience and countless hours of research. Our partners cannot pay us to guarantee favorable reviews of their products or services.
The significance of digital advertising services is more palpable than ever. It's a catalyst, a game changer that propels businesses into spheres of increased visibility and consumer engagement almost instantaneously. So, the question isn't about whether your inventory sells out but how quickly.
As we step into the illustrious world of the top 12 Digital Advertising Services, we are not just talking about ordinary players in the field but pioneers who have transformed the digital space. They've merged innovation, strategy, and a dash of magic to turn virtual presence into tangible profit. Each has a unique touch, a distinct approach that makes online visibility not just a possibility but an assured outcome.
When you entrust your brand to these agencies, you're not just getting a service - you're gaining partners who amplify your voice in the digital wilderness. So, delve in and explore a world where your business isn't just seen but remembered, not just visited but engaged.
---
Top 12 Digital Advertising Services:
---
Top
digital advertising services
2024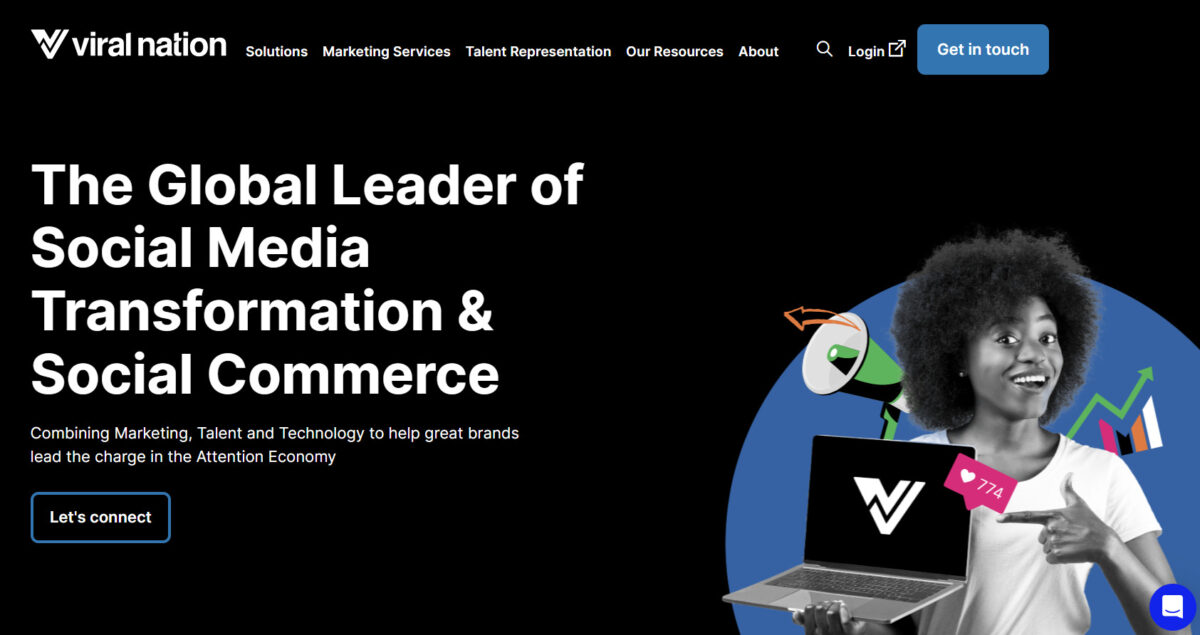 Viral Nation specializes in influencer marketing and paid and owned social. This agency prides itself on transforming brands into social-first entities that command attention and drive measurable campaign success. Viral Nation's alchemy of integrating diverse digital advertising strategies is fortified by AI-powered technologies, which are tailored to equip brands for the dynamic social landscape of today and tomorrow.
Why does this Service Stand Out?
The agency leads the social transformation, equipping businesses with the right tactics to target audiences based on desired demographics, interests, and behaviors. Their ability to combine these various digital methods has resulted in successful engagement with over a billion customers and achieved an impressive 700% ROAS. They even have awards to show for it. All this makes Viral Nation an undeniable powerhouse of the digital advertising world, trusted by notable brands and entities such as Logitec, Activision Blizzard, Chelsea Football Club, and Ubisoft.
The results of Viral Nation's campaigns speak volumes of its efficacy. Walmart Land's foray into the Roblox metaverse, for instance, was marked by 66M impressions at launch and a significant increase in brand lift. On the talent front, Viral Nation stands unrivaled, connecting brands with top influencers to elevate their presence through authentic content pieces. It's not just about representation but about forging partnerships that amplify value. With over 600 creators spanning 11 industry sectors, Viral Nation is a nexus where talent and opportunity converge, fueled by bespoke services in content strategy, channel management, and production.
Other Services Offered:
Performance Marketing

B2B Marketing

Social Studio

Social Experiential
---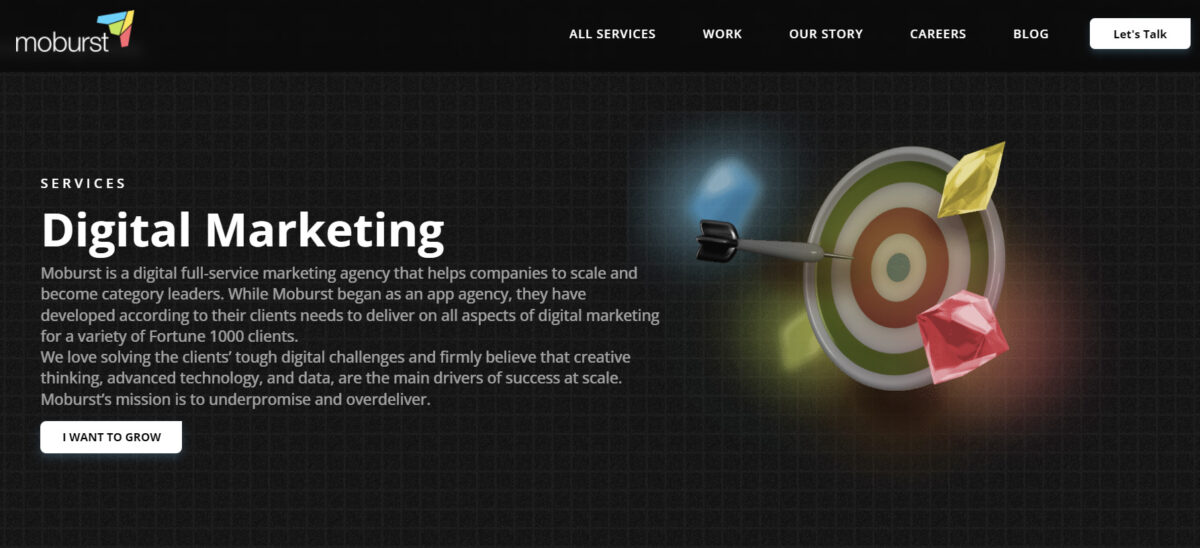 Moburst is an agency that strives to propel businesses to the zenith of the competitive mobile ecosystem. It encapsulates a multidimensional approach, offering comprehensive mobile-first digital advertising solutions that pivot companies into category leaders.
Why does this Service Stand Out?
At the core of Moburst's operations is a profound emphasis on growth, results, and experience. Their portfolio showcases a rich history of collaborating with over 600 products, each tailored with solutions sculpted from real-time, measurable, and transparent data. In one collaboration, Moburst orchestrated a campaign that not only elevated downloads by 79% and revenue by 36% but also catapulted the number of Samsung's Facebook page followers by an astounding 1400% through precise social targeting.
The agency is renowned for its unwavering commitment to surpassing key performance indicators, ensuring clients' advertising objectives are met with exactness and proficiency. Their services span across the paid advertising domain, converging creativity and technology to amplify brand presence and user engagement.
Other Services Offered:
Digital, Mobile, and Product Strategy

SEO, ASO, CRO

Social Search

Email & Influencer Marketing
---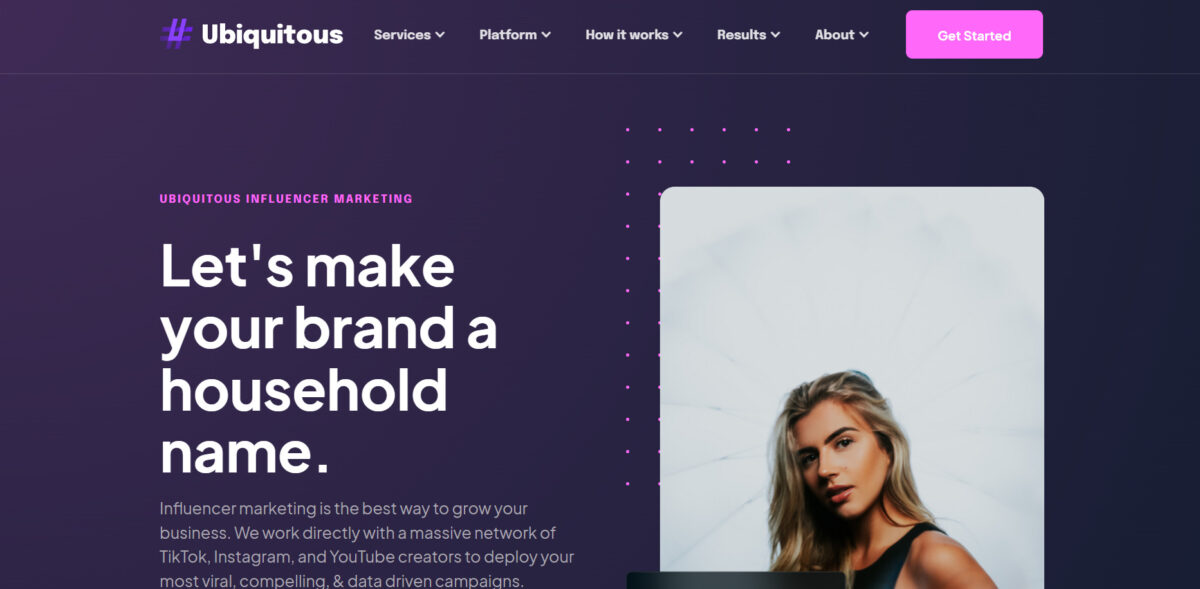 Ubiquitous offers a specialized and comprehensive approach to digital advertising, particularly through the realm of influencer marketing. Adept in aligning brands with the appropriate social media influencers across platforms such as TikTok, Instagram, and YouTube, the agency has a proven track record of enhancing brand visibility and engagement through tailored social campaigns. By harnessing the power of their vast network of content creators, Ubiquitous crafts bespoke strategies that are both compelling and data-driven, ensuring brands not only shine in the spotlight but also achieve measurable results.
Why does this Service Stand Out?
The agency prides itself on its capability to transcend the conventional metrics of success. It does this by focusing on creating visually appealing content that bolsters a brand's online presence and conversion rates. One of the key differentiators is their self-service influencer marketing platform. This intuitive interface enables brands to seamlessly identify apt creators, carry out competitive analyses, and monitor campaign performance, offering in-house control over their influencer marketing strategies.
One illustrative case study is their partnership with Wienerschnitzel, the world's largest hot dog chain. The agency curated and executed a two-phase TikTok campaign, commencing with a creative content generation phase, yielding 19.5 million views, and a subsequent phase focused on promoting Wienerschnitzel's limited edition Mac N' Cheese, resulting in a nationwide sell-out. In total, the campaign generated 42 million impressions and 74,000 website clicks at an impressive $0.72 CPC.
Other Services Offered:
Strategy Planning and Development

Talent Pairing

Campaign Execution

Data and Analysis

Social Optimization
---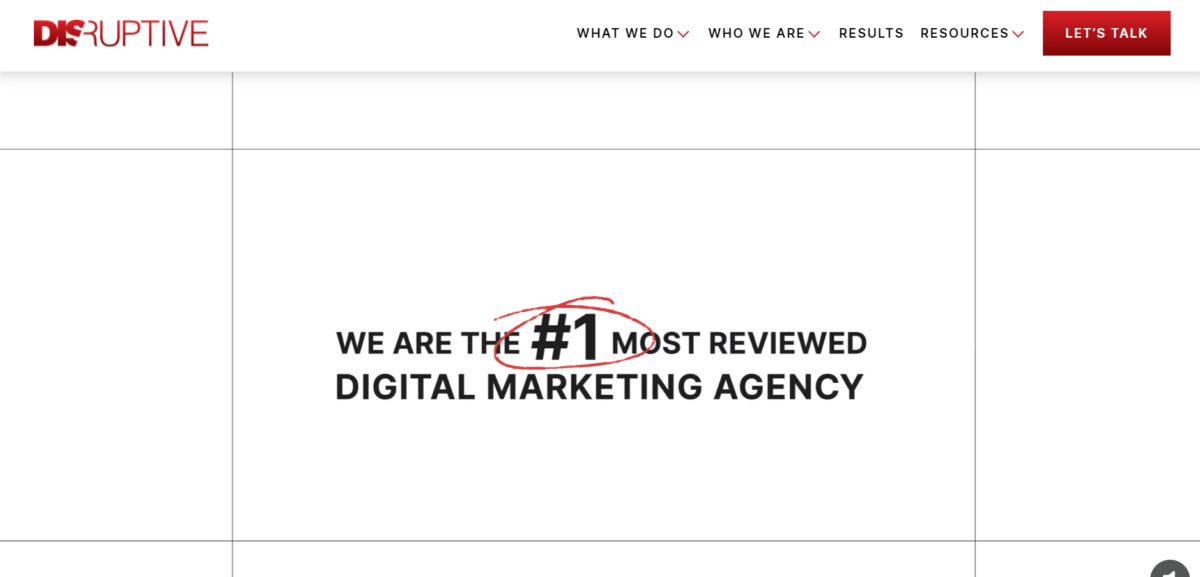 Disruptive Advertising boasts a decade of unparalleled expertise in crafting strategies that transcend the ordinary. The agency accentuates an intricate fusion of innovation and efficacy, offering an eclectic suite of services that includes paid search, paid social, creative services, and website optimization. Such an expansive array of offerings ensures that client's needs are not just met but exceeded, instigating a marked elevation in their brand's digital footprint.
Why does this Agency Stand Out?
An embodiment of proficiency, Disruptive Advertising is entrusted with over $450 million in annual ad spend, a testament to their consummate skill and reliability. Their team, comprising over 160 seasoned professionals, is anchored in a mission to raise brand awareness. The agency's unique approach is not restricted to mere management of ad accounts but extends to full-funnel advertising strategies, ensuring clients leverage the most efficacious advertising platforms and services. Excellence in performance is manifested through their presence on prominent platforms like Google, Amazon, Meta, and more, elucidating their adaptability and comprehensive reach.
A case study underscoring the agency's aptitude involves a significant challenge – enhancing user engagement and conversion by optimizing the arrangement of information on a client's product pages. The outcome was a staggering 86.04% increase in revenue, translating to a projected augmentation of $37,787.80 in monthly revenue.
Other Services Offered:
Lead Generation

eCommerce Marketing

Email Marketing

Social Media Ads

Creative Strategy
---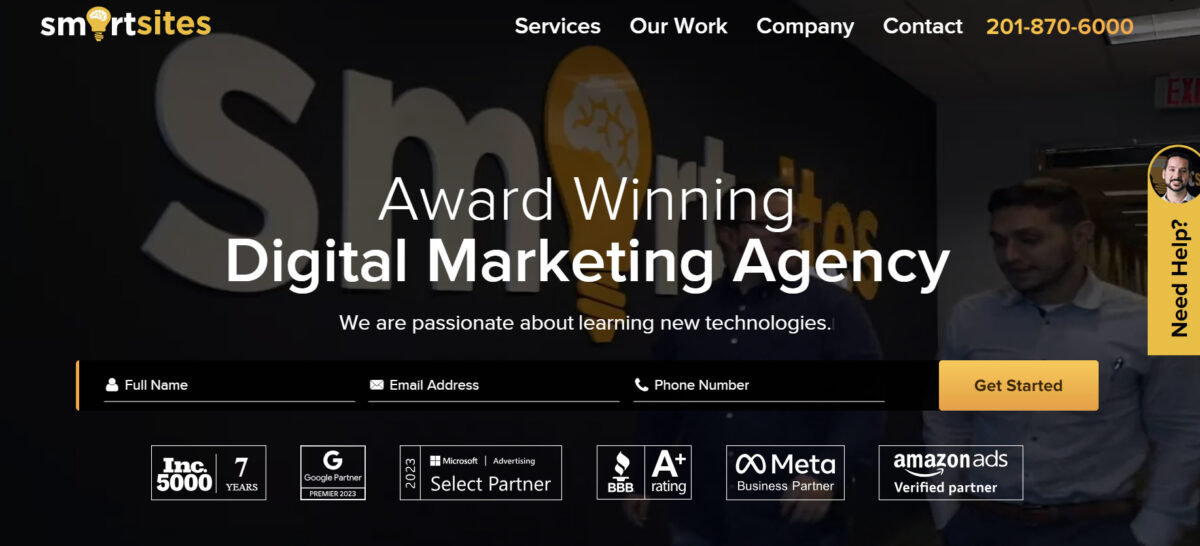 SmartSites Digital Marketing Agency has etched its prominence in the digital sphere, marked by a repertoire of customized solutions that accentuate business growth. With the accolades of being a Google Premier Partner and a member of Inc. 5000, the agency's caliber is substantiated by achievements and the trust of its expansive clientele. With a multifarious suite of services, including PPC, email and SMS marketing, and social media advertising, SmartSites exemplifies versatility and expertise, rendering it a distinguished entity in the digital advertising landscape.
Why does this Agency Stand Out?
Located in Paramus, New Jersey, SmartSites operates with an international outlook, amplifying its reach and enhancing its capability to cater to diverse business needs. The tailored strategies focus on fostering brand awareness and enhancing visibility, supported by a team of over 100 adept professionals who breathe life into the visions of each client and campaign.
A case study illuminating SmartSites' prowess involves Advanced Chiropractic, a healthcare entity that witnessed an 11% decrease in CPC and a 38% surge in CTR under SmartSites' astute PPC marketing strategy. Additionally, Agape Health and Wellness experienced a remarkable 540% increase in phone calls and an 11% reduction in CPC.
Other Services Offered:
Local, National, Franchise SEO

Social Media Strategy

Blogging
---

Thrive Internet Marketing Agency positions itself as a results-driven digital advertising agency grounded in the principle of offering paid tailored solutions to its diverse clientele. With a comprehensive suite of services, including Amazon ads, PPC management, and content writing, Thrive converges creativity and strategy, aligning it with client objectives. With an admirable ethos of honesty, integrity, and client-centricity, Thrive illuminates the advertising landscape, embodying a distinguished blend of expertise, innovation, and ethics.
Why does this Agency Stand Out?
The agency boasts an ensemble of digital advertising maestros committed to driving traffic, awareness, and conversions. In a digital era where customization and strategy are pivotal, Thrive emerges as a beacon of comprehensive, client-focused, and results-driven digital advertising solutions. Every engagement with Thrive is not just a service rendered but a partnership forged, where client aspirations are the compass that guides the meticulous crafting of transformative digital strategies.
A hallmark of Thrive's mettle is illustrated in a case study involving The Farah Law Firm. Through an adept amalgamation of SEO and PPC strategies, the law firm witnessed a colossal +664% uplift in organic traffic and a +360% escalation in online leads.
Other Services Offered:
Local and Technical SEO

Link Building

eCommerce Optimization

SMM

Video Ads
---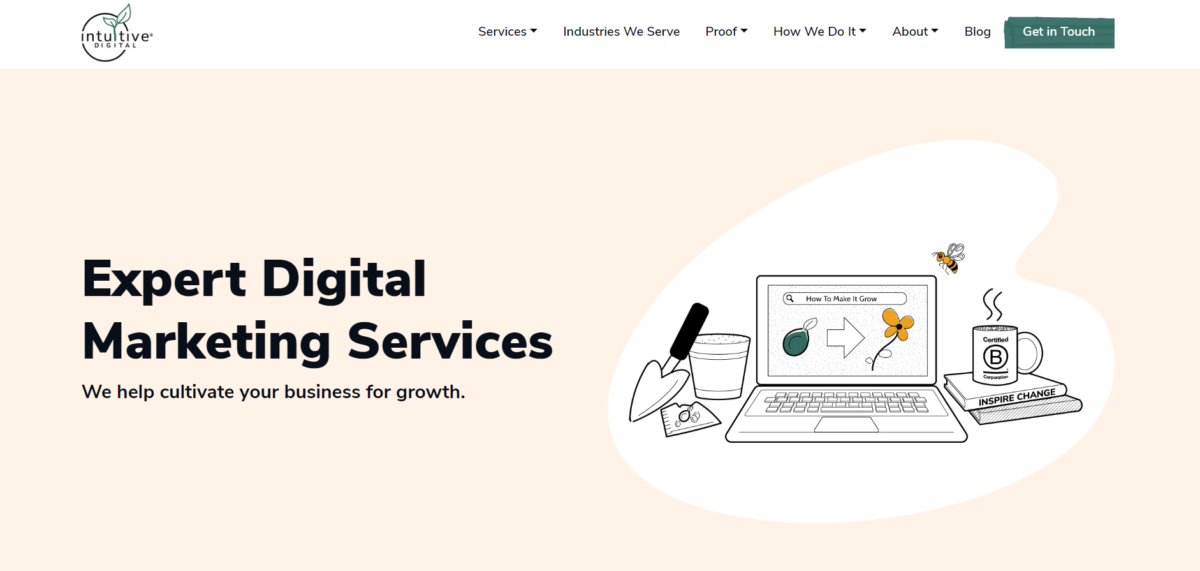 Intuitive Digital is a B-Corp-certified hybrid agency characterized by its ethical and sustainable advertising solutions. The agency, rooted in the credence that marketing can serve a greater good, is committed to bolstering values-driven organizations. With a strategy that encapsulates a fusion of aesthetics and functionality, Intuitive Digital ensures that every website not only embodies the brand essence but also offers an intuitive user experience. Their service suite, marked by diversity, includes web design and development, Pay-Per-Click marketing, paid social, and content creation.
Why does this Agency Stand Out?
The agency's approach to digital advertising is exemplified by a balanced ecosystem, akin to nurturing a garden, underscoring the strategy that targets users precisely. Each client, referred to as a partner, benefits from a tailored strategy initiated by an in-depth discovery and strategy phase. This initial phase encompasses a thorough understanding of the client's organization and audience, laying the groundwork for an efficacious digital strategy. The Execution phase witnesses the manifestation of SEO best practices, content strategies, and the crafting and refining of ads, epitomizing the agency's commitment to sustainable growth.
A testament to Intuitive Digital's prowess is encapsulated in their clarity, transparency, and responsiveness pledge. They guarantee exemplary service in communication and results reporting, underlining their confidence in delivering unmatched advertisement value.
Other Services Offered:
B2B

eCommerce

Email Marketing

Audience Research

CRO
---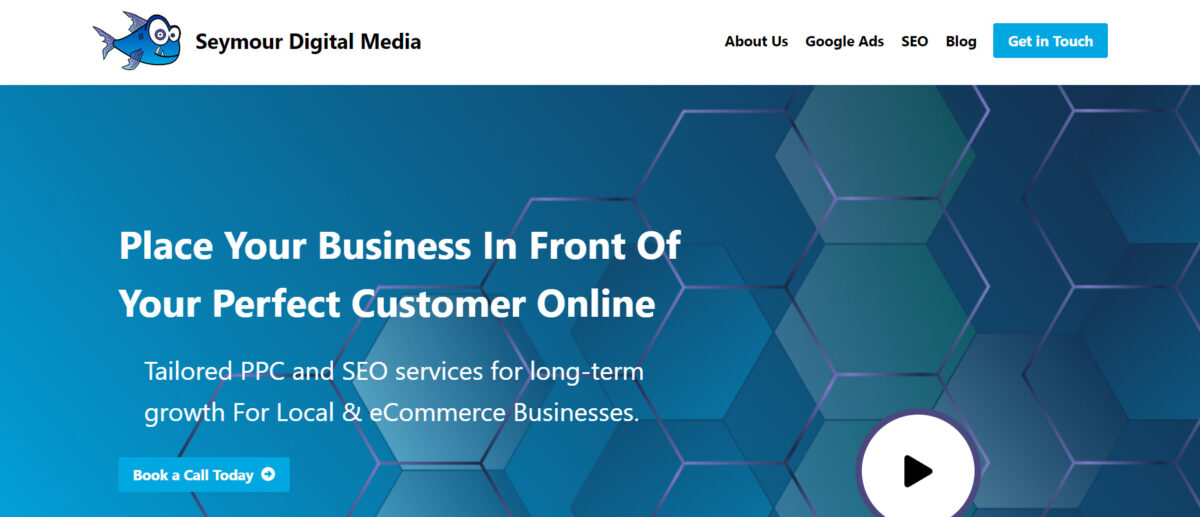 Seymour Digital Media crafts bespoke digital advertising tactics centered on placing businesses directly in the sightline of their ideal online customers. Specializing in tailored PPC and campaign management services, this agency is designed to cultivate long-term growth for a diverse range of businesses, including local service providers and B2B companies.
Why does this Agency Stand Out?
A client-centric approach defines Seymour Digital Media, where each client is provided with a customized service plan meticulously crafted to align with the distinct needs and preferences of their business's target audience. The agency is noted for its commitment to transparency and results, offering real-time reports facilitated by a dedicated project manager. Clients are not just recipients of services but are integral partners in a collaborative journey marked by strategic tracking, analysis, and optimization.
A case study underscoring Seymour Digital Media's proficiency is encapsulated in the testimony of Jason McCormick from COASTAL POWER VACUUM. Since engaging with the agency, they witnessed meticulous adherence to budget, attainment of set goals, and growth in multiple service areas. The monthly reports, infused with actionable insights and recommendations, not only fostered an atmosphere of transparency but were instrumental in navigating the pathway to the next set of objectives.
Other Services Offered:
Local and Technical SEO

Google Ads

eCommerce

Copywriting

Ad Optimization
---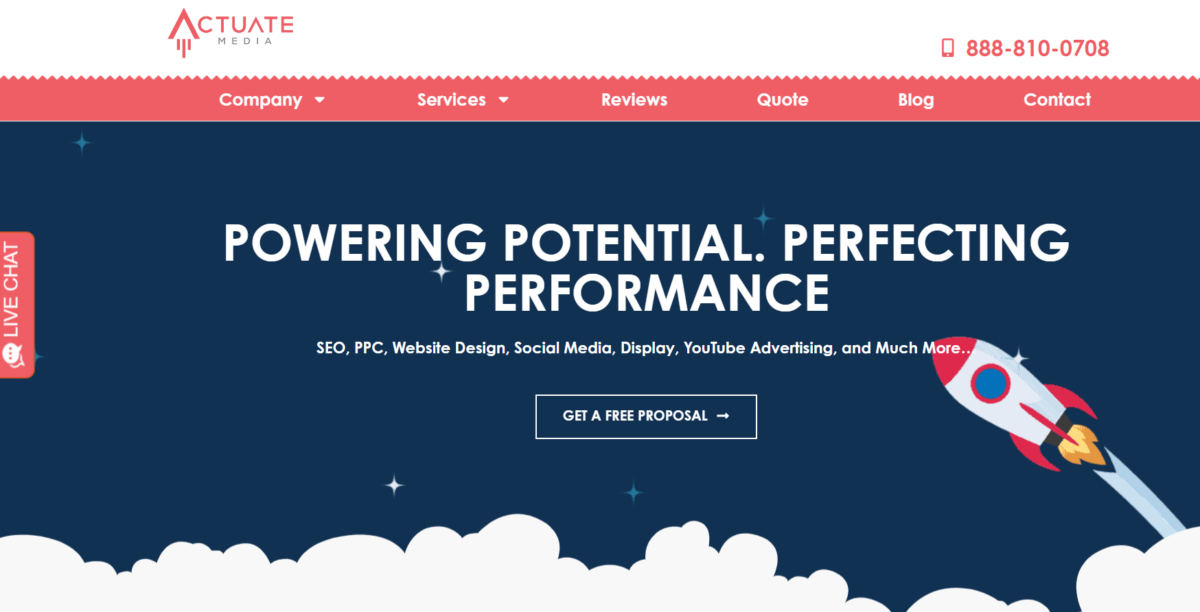 Actuate Media offers digital advertising services with a meticulous data-driven approach, powering potential and perfecting performance for businesses across a variety of industries. Specializing in display advertising, video advertising, and PPC, the agency synthesizes data intelligence with strategic marketing interventions, leading to amplified brand awareness and lead generation.
Why does this Agency Stand Out?
As a Google Premier Partner boasting over 25 years of profound expertise, Actuate Media's proficiency in Google Ads & Bing PPC Management is notably in the country's top 3%. The agency's in-house certified experts are adept at initiating and managing effective campaigns, firmly positioning clients at the forefront of their respective markets. Transparency and affordability underscore the agency's ethos, ensuring that clients are equipped with insightful data without an inflated price tag.
Integral to Actuate Media's distinctive stance is its foundational belief that a great digital advertising strategy is built upon an impeccable website. The agency's expertise extends to crafting websites that not only serve as the visual and interactive representation of a brand but are engineered to optimize ranking success.
Other Services Offered:
Website Design

Email Marketing

Social Media Advertising

SEO
---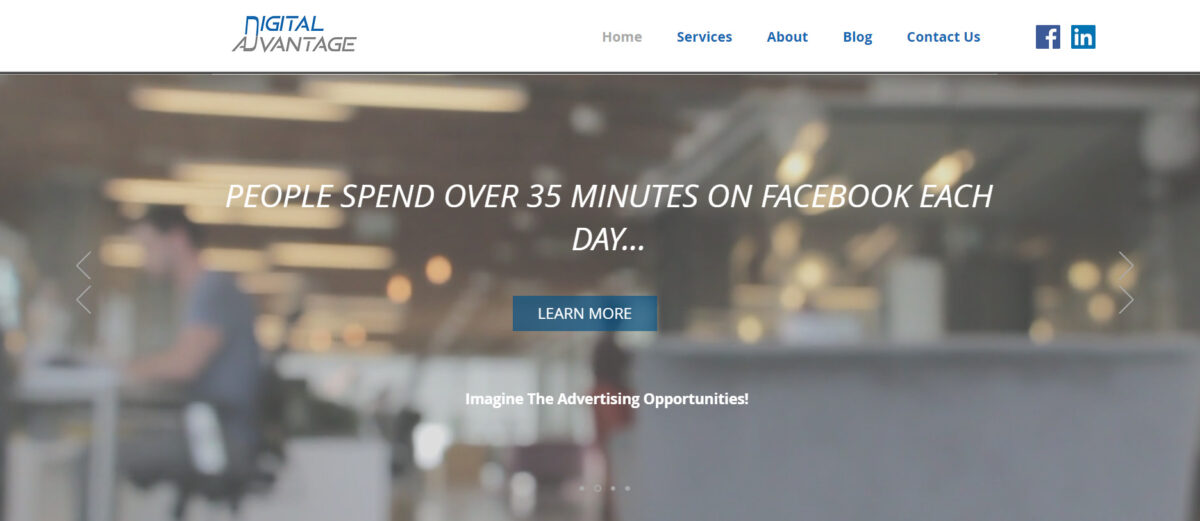 Digital Advantage Co seamlessly merges new technology and traditional values to forge a unique approach to online advertising. Established in Olympia, Washington, this agency is profoundly versed in crafting online solutions that resonate with the aesthetics, functionality, and performance essential for driving conversion and awareness. With over eight years in the business, they have designed hundreds of advertising campaigns, serving as a testament to their consistency in delivering excellence and customer satisfaction.
Why does this Agency Stand Out?
A strategic approach to Facebook advertising characterizes the agency's portfolio of services. Each advertising campaign is not just a visual masterpiece but is engineered for optimal ROAS and conversions. The team's prowess extends to elevating search engine rankings, grounded in sophisticated techniques that not only boost visibility but are also tailored to attract qualified leads. Furthermore, their comprehensive social media ad services are designed to harness the dynamic platforms for driving businesses forward and amplifying brand presence.
The agency's approach is distinctively personalized; every client is treated with an individualized focus, recognizing the uniqueness of their goals, challenges, and aspirations. This commitment to bespoke service delivery is underscored by face-to-face interactions and open communication channels, pillars that enhance collaboration and outcome optimization.
Other Services Offered:
Copywriting

Instagram Ads

Social Media Strategy
---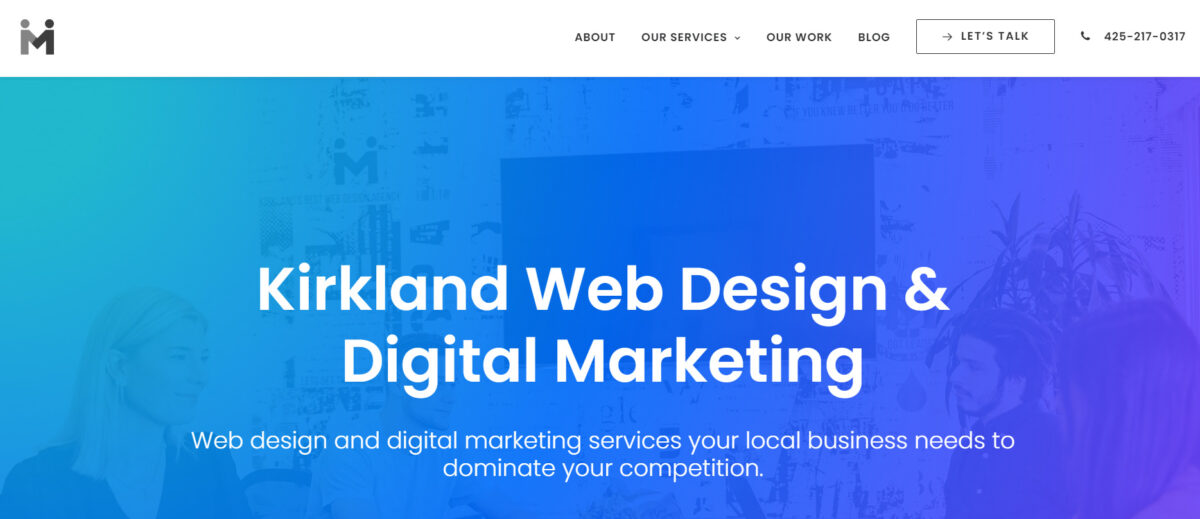 Integrity Marketing epitomizes a fusion of artistic web design and pragmatic digital advertising solutions meticulously tailored for local advertising. With an adeptness in creating visually compelling and user-friendly websites, the agency underscores the essence of first impressions, prioritizing aesthetic elegance coupled with functional excellence. Every creation is not only a visual spectacle but a carefully engineered tool aimed at enhancing conversion rates and providing a competitive edge in the saturated digital space.
Why does this Agency Stand Out?
This agency's proficiency extends to the intricate world of Google Ads and PPC management. These services are orchestrated with a precision that balances keyword targeting and platform choosing, ensuring optimal traffic and awareness. The team's prowess in social media marketing harmonizes the digital echo, utilizing platforms like Facebook, Instagram, and LinkedIn to target audiences with precise advertisements.
Another standout offering of Integrity Marketing is the innovative Matterport 3D Photography, a pioneering advertising tool that promises an immersive, interactive, and engaging visual experience. It's an exemplification of the agency's commitment to leveraging cutting-edge technology to offer unique, competitive advantages to its clients.
Other Services Offered:
SEO

Re-marketing

Ad Copywriting

Campaign Structure
---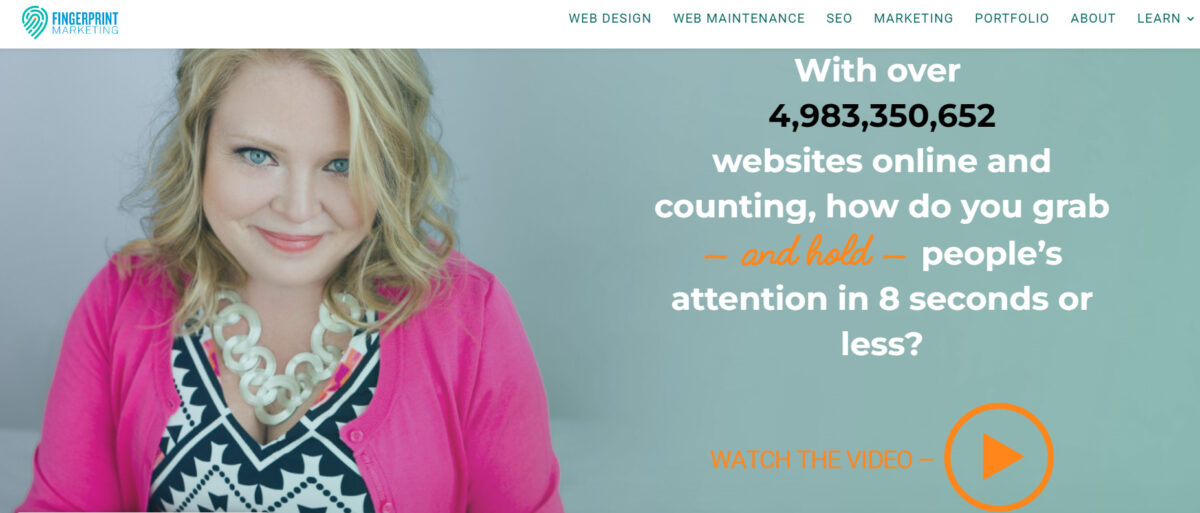 Fingerprint Marketing stands as a paragon of digital innovation and creative excellence in web design and digital advertising. The agency transcends the conventional, offering bespoke digital solutions intricately woven to not only capture but captivate audiences in a digital space brimming with transient attention. The philosophy of Fingerprint Marketing lies in the metamorphosis of simplistic ad copywriting with PPC management, ensuring ads are primed for conversions and target the right customers.
Why does this Agency Stand Out?
The expertise of Fingerprint Marketing unfurls in a multifaceted bouquet of services. With a mantra echoing the necessity of responsive and mobile-friendly designs, the agency has crafted a niche, ensuring businesses don't just mark a presence but resonate an experience. In the realm of eCommerce advertisements, the agency marries design psychology with optimal paid placements, ensuring users engage and convert.
In the holistic array of offerings, the agency underscores the quintessence of robust website maintenance and security, echoing the sentience that a website is not just a digital space but a dynamic entity that evolves, adapts, and matures.
Other Services Offered:
SEO

VIP Marketing

Social Media Building

Data and Analytics
---
---
A Guide to Choosing Your Digital Advertising Agency
Every business, regardless of its size or industry, aims to amplify its online presence, reach a broader audience, and convert clicks into profits. However, to actualize these goals, partnering with a proficient advertising agency is not just beneficial but essential.
The first step to choosing the right agency lies in understanding your business's unique needs. The advertising world is diverse, hosting an array of strategies ranging from content marketing and PPC to social media management and beyond. Therefore, an in-depth analysis of your business goals, target audience, and industry trends is pivotal.
After laying the groundwork, the hunt for the agency that fits like a glove begins. Credentials, experience, and expertise are the holy trinity in this quest. Seek an agency that doesn't just speak the language of results but has a trail of successful campaigns to showcase. Peruse through their portfolio, study their strategies, and if the results echo the aspirations of your brand, you might just have found your match.
Yet, it's not all about the past but the present and future. The digital advertising realm is notorious for its dynamism, forever in a state of flux. Choose an agency that is not just acquainted with the current trends but is also visionary, one step ahead of the curve, innovating, and adapting.
Transparency, communication, and collaboration should be the cornerstones of your partnership. An agency that listens, understands, and collaborates, turning your business goals into shared objectives and translating aspirations into tangible, measurable results.
---
Innovative Technologies and Trends
As we meander through 2024, a plethora of innovative technologies and trends are making their mark, redefining the way businesses and agencies approach digital advertising.
Artificial Intelligence (AI) is no longer a futuristic concept but a present-day reality. According to a study, more than half of digital businesses leverage AI for content marketing. But in the hands of skilled agencies, AI is transforming data analytics and customer insights. Nowadays, it's about offering a tailored experience, and digital advertising services are more than capable of using AI tools to deliver tailored solutions.
Virtual Reality (VR) and Augmented Reality (AR) are also transcending the boundaries of imagination, offering immersive advertising experiences that are engaging and memorable. Although these technologies are experimental, especially in the realm of marketing, a survey found that 72% of shoppers buy products because of Augmented Reality ads. The ads of today are not just viewed; they are experienced, lived, and relished, marking an indelible imprint on the consumer's psyche.
Another marketing buzzword is 'personalization,' and in 2024, it's reaching its pinnacle. Data analytics and machine learning are converging, offering insights that are not just rich but actionable. Advertising strategies are tailored and bespoke, echoing the target audience's individual needs, preferences, and behaviors.
---
Conclusion
Digital advertising in 2024 is characterized by a confluence of innovation, personalization, and strategic acumen. And it's today's digital advertising services that can bridge the gap and propel businesses to new heights. Each agency highlighted manifests a unique blend of creativity, technology, and strategic mastery, offering businesses tailored pathways to elevated online presence and awareness.
These agencies are not just keeping pace with the digital evolution but are at the forefront, driving transformation. For businesses, the choice is not about seeking digital advertising but about partnering with an entity that understands, adapts, and innovates in tandem with their unique needs and aspirations.
Frequently Asked Questions
What Makes a Digital Advertising Agency Stand Out?
The effectiveness of an agency is determined by its ability to craft customized strategies, its expertise in the latest technologies and trends, its proven track record of successful campaigns, and excellent client communication and service.
How Do Digital Advertising Agencies Measure Campaign Success?
Agencies use various metrics and analytics tools to measure the success of campaigns, including website traffic, customer engagement, ROI, and other KPIs tailored to the client's specific goals and objectives.
How Can a Digital Advertising Agency Adapt Strategies to My Specific Industry?
Agencies conduct thorough industry analysis, competitor research, and target audience insights to create bespoke advertising strategies that address industry-specific challenges, opportunities, and trends to drive optimal results.
What Technologies Are Currently Driving Digital Advertising Success?
Innovations like AI, machine learning, data analytics, VR, and AR are pivotal in creating personalized, engaging campaigns. Agencies harness these technologies to analyze consumer behavior, tailor content, and measure campaign effectiveness, ensuring maximum ROI.