The future of work is flexible, and increasingly, the world of work is moving online. In the face of the pandemic, more modern workplaces are forcing companies to reconsider their traditional work models. Instead, a growing number of organizations are shifting online and adopting a digital workplace.
The changing attitudes on remote work are increasingly evident: studies show that 83% of employers say that remote work has been successful for their companies. The popularity of adopting a digital workplace is growing.
A digital workplace allows workers to collaborate online, no matter an employees' location or the time of day. The digital workplace of today represents the shifting future of work and the new opportunities that come from a more remote and collaborative way of working.
---
The Benefits of a Digital Workplace and How to Build One:
---
What Is a Digital Workplace?
A digital workplace is a technology framework which centralizes an organization's applications, data, and endpoints in one primary online space, allowing employees to work together online in a collaborative way.
This digital framework is a powerful unification of the work process for any company and allows employees to access their data and applications in real time, no matter the device or the location. The most successful digital workplaces provide more than a way to access data, though: they provide the end user a unified and secure working experience.
A digital workplace, also called a virtual workspace, or digital workspace, brings together operating systems, files, apps, data, and more into a cloud-based back-end for the IT professionals managing the system. Because everything is digital, IT professionals can implement capabilities like secure file sharing between users and single sign-on (SSO) for identity authentication.
How can you identify a digital workplace? Features of the digital workplace include:
💻 Virtualization
No matter the platform, whether it be desktop or mobile, digital workplaces give users end-to-end access to all the resources they need to work remotely. For the end user, the digital workplace should feel seamless.
💻 Collaborative Tools
Collaboration is key for remote and flexible workers. That's why all digital workplaces have file sharing, data sharing and content collaboration tools integrated into their digital workplace. These apps can help teams better work together with editing and reviewing tools, no matter the device.
💻 Endpoint Management
IT professionals build digital workplaces to give them greater control of how employees interact when working in different locations across different devices. With unified endpoint management systems, end users (workers) can use their laptops, smartphones, tablets, and other devices - and get the same central experience across all these devices.
---
What are the Benefits of a Digital Workplace?
Building a digital workplace is a time consuming process that may take weeks, if not months, for the IT professionals within your company. But it's a critical part of any flexible working arrangement. Here are some of the key benefits.
1. Unified Employee Experience
As organizations consider their post-pandemic futures, the topic of "flexible working arrangements" may come into play. If your organization adopts a flexible working arrangement for employees, you should expect some employees to work remotely - while others may work from the office. How will they all collaborate? This can be achieved through a cohesive digital workplace.
A strong, collaborative digital workplace can help transform your employees' experience in the new world of work. During the pandemic, many businesses found that their processes and work can, in fact, be completed from anywhere in the world. With new, more flexible working arrangements in play, you have the opportunity to attract new, top talent - no matter their geographic location. In turn, your employees can choose the location, device, and times that work best for them - all enhanced by your digital workplace.
---
2. Enhanced Security Protection
With a new digital workplace, many organizations will find they have greater control over their security. IT teams can tap into network traffic, files, users, and more to better protect the company.
How? Data breaches, malware, and end-user errors can be detrimental to your company and your business, especially if you manage user data. Machine learning and artificial intelligence (AI) tools can be built into your digital workplace to better protect your company.
In addition, if IT users implement an SSO access system, your digital workplace will be even more secure, as users have fewer passwords to manage. Fewer passwords to juggle translates to less risk to your company.
---
3. Flexibility
Flexibility is increasingly becoming more important to workers in the new world of work. An Insider and SurveyMonkey survey of 1,100 U.S. employees found that nearly 33% of people wanted remote work options for any new position. Of those respondents, 41% of women wanted remote flexibility, compared to just 21% of men.
If your company is transitioning to a more flexible environment, permanently, a digital workplace is critical to your organization's success. Digital workplaces can offer employees greater flexibility than in-office set-ups. With virtual desktops and other new technology, employees can feel empowered to work whenever best fits their schedule (after dropping off their child at school, for example), and wherever they want (at a cafe, for example).
Employees have the power in their hands, and it gives them a greater sense of autonomy over their work-life balance. This newfound flexibility can also prove to be a powerful tool for HR teams. Offering current employees and prospective employees flexibility can help improve talent retention and talent recruitment.
---
4. Increased Employee Retention
Many employees seeking new positions during "The Great Resignation" are looking for more flexible jobs. The employee experience is one of the most important elements to finding a new job, studies show. With a digital workplace in place at your organization, your HR team can feel comfortable and confident recruiting top talent with the flexible work offer in their back pocket.
In addition, with more flexibility, employees feel as if they can respect and trust their leaders, leading to much more loyalty to the company. Employee satisfaction can increase the overall likelihood that workers will remain with the company long term - and reduce employee turnover costs.
---
5. Reduced Employer Costs
IT infrastructure can cost a pretty penny to keep running, especially when scaling out your digital workplace to include hundreds, or thousands, of employees. Of course, keeping a digital workplace up and running will be pricey.
But paying for office space can cost significantly more. A digital workplace means that employers can reduce their overall office space; some companies may opt to eliminate the office overall. Utilities and commercial square footage can lead to big savings for employers.
---
6. Better Customer Service for Clients
Digital workplaces will oftentimes incorporate new and emerging technology for companies. Take the pandemic, for example: some companies adopted Zoom meetings for the first time. During the pandemic alone, Zoom surpassed more than 300 million daily users. In fact, Zoom was Apple's most downloaded app in 2020. The app added just 1.99 million users in all of 2019, and then added over 2.2 million total Zoom users by the end of February 2020.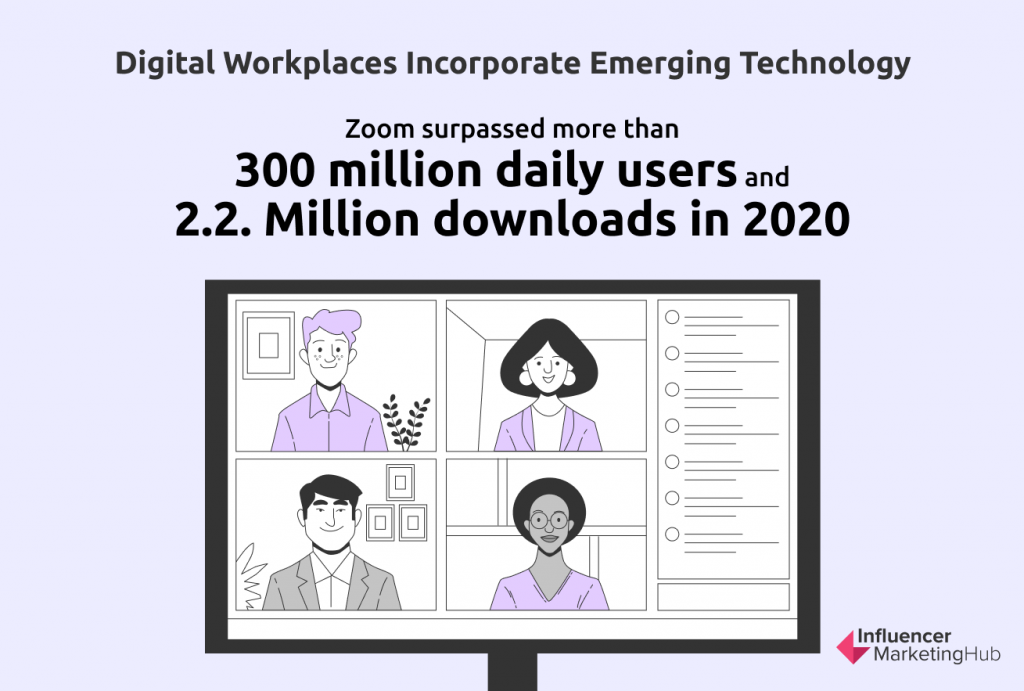 With new technologies and analytics, workers in the customer service industry can embrace that new tech to build better customer service experiences for clients. It's a win-win!
---
7. Better Collaboration Across Teams
A digital workplace, as mentioned above, often incorporates new technologies. These new technologies can encourage easier, more streamlined communication between coworkers, leaders, and managers.
How? Easier meetings, for example. Plus, data, documents, and images can all be shared interchangeably, seamlessly, so employees can work on big picture projects together - no matter where they are located.
---
What are the Challenges of a Digital Workplace?
Despite the many benefits of instituting a digital workplace, there can be some downsides, if not managed correctly.
1. Training
Many companies and organizations switching to a digital-first workplace can often forget that not all of their workers may feel comfortable with a digital transformation. In fact, many older workers may feel left behind with a more digital shift. One study by WorkingWise.com found that 85% of mid-career and older workers are open to learning new skills; 75% of those same respondents said they did not feel employers valued their soft skills, often sought after by employers.
Without proper training when transitioning to a digital workplace, companies may find that some of their employees, no matter their age, struggle to keep up. This may, in turn, lead to employees feeling undervalued - and leaving the company for one reason or another.
When instituting any major change, especially a digital workplace, be sure to take time to train each employee on how to use the systems. Without proper training, employees cannot effectively leverage new tools to make their lives easier and more efficient. Research from Future Learn shows that many workers need more skills to manage their digital workplace, from understanding how to use Microsoft Office to understanding the Google Suite. But without proper training, these tools become a headache. This also ensures that everyone uses the same methodology when, for example, uploading a file to the file sharing system.
---
2. Security and Protection
Security has emerged as one of the most serious issues for organizations using digital workplaces. Digital workplaces will often mean adding new programs and applications to a company's database - and that means adding more risk to manage for IT teams. In addition, digital workplaces encourage more sharing. That means that IT teams need time to build a stronger, more resilient digital workplace that features scalable security features. Unfortunately, locking down security in this way and managing digital workplaces' security is often challenging and time consuming - and not all companies will account for this need.
Any issues with security may lead to data breaches. Data breaches can be costly for companies, and may lead to public relations nightmares. In fact, IBM found that the cost of data breaches reached a 17-year high during the pandemic. Likewise, 71% of IT professionals reported an increase in security threats or attacks since the start of Covid-19. The primary culprit? Phishing. These incidents became much harder to contain during the pandemic as companies had dramatic, unprecedented shifts to online environments - often without warning and without proper preparation.
---
3. Centralization
With many applications comes many notifications. Many digital workplaces can seem extremely overwhelming to employees, especially when these workers only had to manage one or two different types of notifications before (email notifications and Slack notifications, for example). Research shows that a majority of people have been asked to learn at least one new program since the pandemic.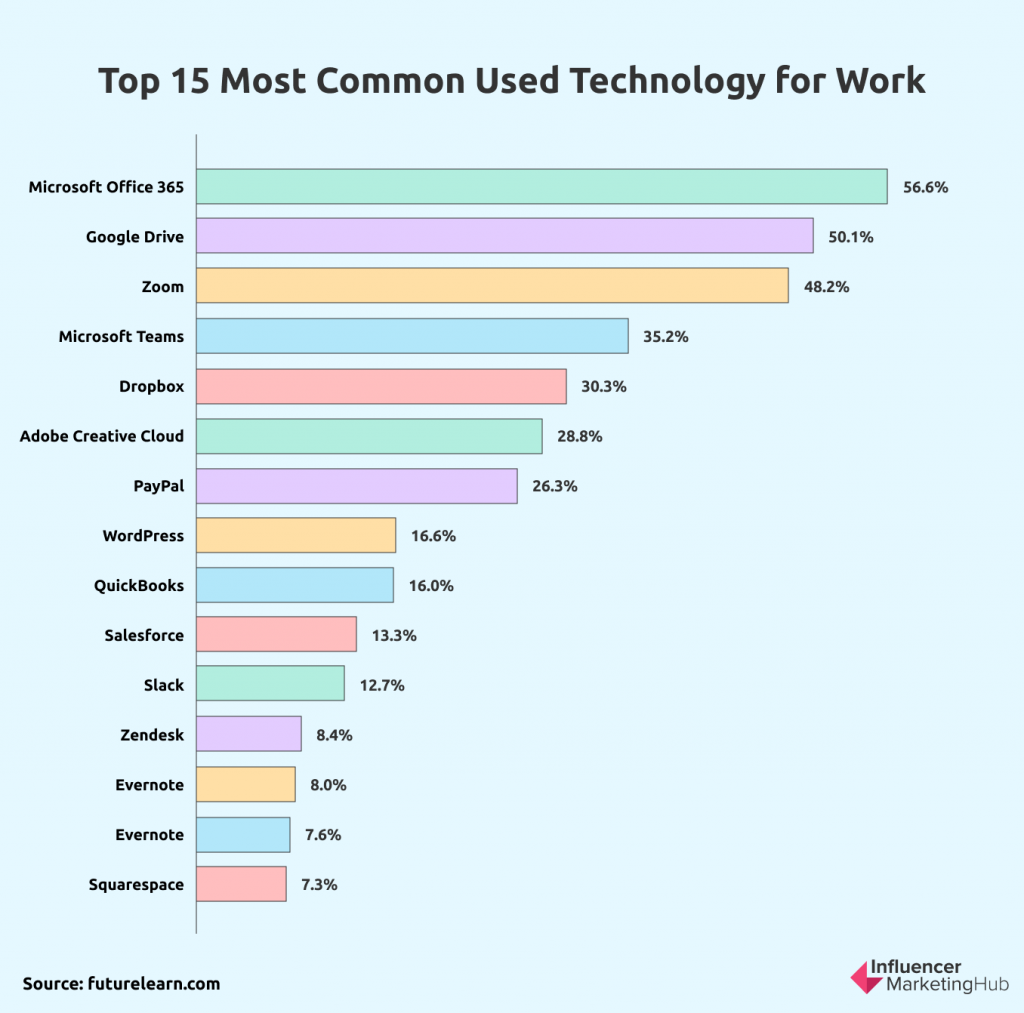 With digital workplaces, workers will need to manage each application on their own. Unlike a cell phone, notifications from Slack, Teams, and SharePoint do not automatically congregate in one neat display. Instead, workers have to individually check every application. This shift can decrease efficiency at work and lead to burnout over time, especially when workers need newfound energy to check each application on top of their job responsibilities.
---
4. Search Functionality
If you've worked in a digital workplace before, you understand how difficult it can be to find the proper documents. Workers may spend at least 15 minutes hunting down that one document they need just to file their report. Many digital workplaces do not include comprehensive search interface tools to facilitate work.
Why? Well, because digital workplaces often include a variety of tools, information can often be split among a variety of platforms. One report might be uploaded to the Microsoft Teams Sharepoint, while another document might have just been uploaded to Slack or sent through email. Unfortunately, the reality of many digital workplaces is the same, no matter the company or employee: it's just too hard to find documents and information.
For example, customer service associates might not be able to find all their customer conversations in one centralized place. Training and onboarding materials may be difficult to find because they were sent out in an email and never uploaded to the central file system.
When search functionality is limited, results are limited, and the end user cannot find all the relevant data and files to do their job to the best of their abilities. As a result, that manager may be making an important business decision affecting the bottom line when relying on incomplete or old data.
---
Understanding How to Implement a Digital Workplace
Implementing a digital workplace can be difficult, especially for companies who have not yet started their digital transformation. Consider the following factors when embarking on your company's digital workplace journey:
💻 Vision
How will your digital workspace work in the big picture? Before building a comprehensive digital workplace, leaders need to figure out how that digital workplace will work with existing business goals and your existing digital transformation.
The pandemic forced many business leaders to adopt remote work and build digital workplaces quickly. In fact, 67% of decision makers said they adopted digital tech at an accelerated pace due to the pandemic. Now, as the world moves into a post-pandemic future, leaders are considering overhauling and improving their systems - or expanding them.
But before making any major changes, it's crucial to understand why this might need to be done. Does your company need better cyber security infrastructure? Do your employees want a better, more integrated system? Any changes to the existing digital workplace should be paused until leaders, stakeholders, human resources professionals, and IT professionals, come to a clear agreement on the new purpose of the platform.
Don't forget to take into account the overall cost. After all, IT infrastructure can be expensive, especially when you need to scale the infrastructure for your team. Research shows that IT leaders spent an additional $15 billion a week during the first three months of the pandemic to better support their employees' remote work - and cybersecurity.
---
💻 Strategy
How, exactly, will your team build the digital workplace? Before you start building, or make any changes, ensure you have your strategy and goals in place. Will your digital workplace enhance your workers' hard work, or make their lives more difficult? Your strategy should help align initiatives, research, marketing, sales, customer support, and all elements of your business, to work more efficiently and collaboratively. This means that companies should take an interest in how their employees spend their days, what their processes look like, and what they might need out of a digital workplace. More on this later.
---
💻 Employee Experience
Research shows that just over half of employees around the globe report feeling happy and engaged with their work. That's a pretty small number, especially considering that highly engaged employees are almost 90% less likely to leave their jobs.
Does your digital workplace help enhance the employee experience? Employees should feel confident finding relevant onboarding documents, submitting their time off without issues, and working day-to-day with little snags. Remember, a digital workplace is about more than just work: it's about enhancing the overall employee experience.
---
💻 Collaborative Tools
The pandemic moved many social and collaboration tools into the "must-have" column at work, research shows; as a result, the collaboration and social tools market is projected to see a 17% increase in revenue by 2022.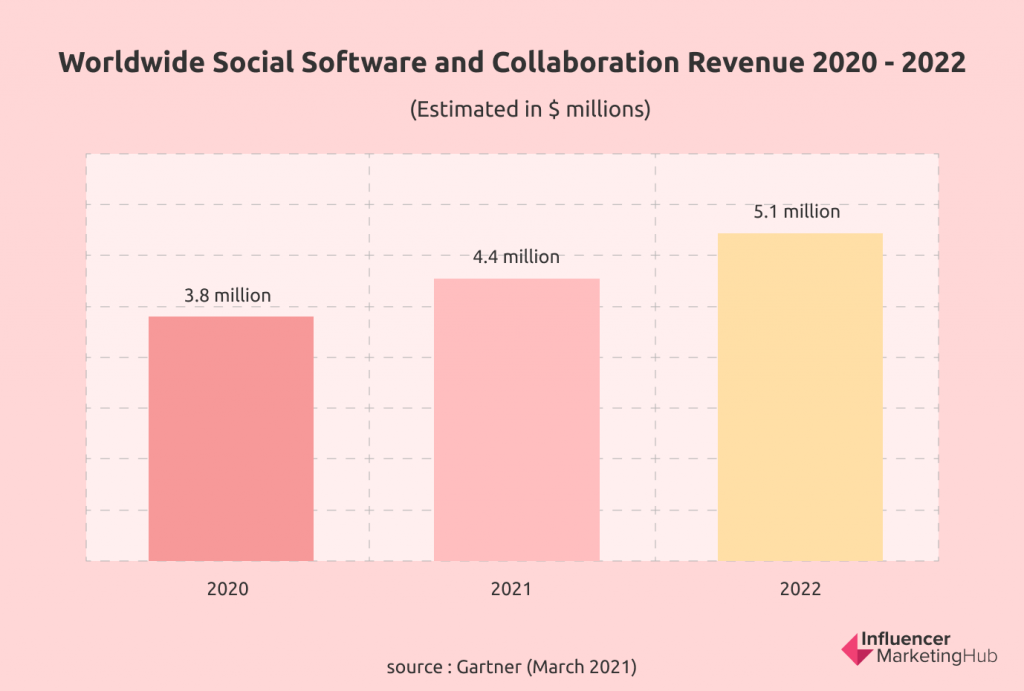 Collaboration is key to any digital workplace. When building your digital workplace strategy, ensure your tools help facilitate collaboration. This is especially important if your employees are around the world.
---
💻 Understanding of Employee Roles
Every company has many different employees doing different jobs - and using different tools to get their jobs done. As a leader instituting this digital shift, it's your responsibility to fully understand what each worker does day-to-day and how they operate successfully. The systems used by human resources professionals may be vastly different from your marketing professionals and vastly different from your customer service team.
In addition to day-to-day functionalities, leaders need to better understand how their employees spend their days. Does your marketing team do part of their jobs on mobile devices? How does your sales team consume technology? Do your workers have a strong knowledge of how your organization works? These factors will all play into building a successful digital workplace.
---
What Do You Need to Implement a Thriving and Successful Digital Workplace?
Understanding the elements that make up a digital workplace and implementing that workplace are two entirely different goals. Once you have your strategy in hand, here are some practical techniques to use to build your successful digital workplace.
➡️ DIGITAL SECURITY
How secure is your current IT infrastructure? Building a digital workplace involves so many more factors than a standard in-office IT set-up. If your team is looking to build a secure digital workplace, you need to take into account all the factors in place: social media, cloud technologies, mobile computing, and more.
It's critical to get your IT teams involved as early as possible so they can let you know what is possible, what is impossible, and what needs a second glance. The reality of building a secure digital workplace means implementing procedures to prevent data leaks and other mishaps. On the flip side, employees must be properly trained on how to handle data and internal documents in a secure and safe manner to avoid leaks or data breaches.
---
➡️ Relevant Applications and Tools
Your office likely already operates with an email service, a chat service, and some web-based applications. But a successful digital workplace should include a wide range of scalable business-based applications. These tools should help advance business initiatives and goals with room for growth.
In addition, businesses should always include knowledge management applications and collaboration platforms to ensure a secure workplace. File storage and communication are two key business needs for many workers to successfully do their jobs. End users should be able to easily store project documents in one central location where they can work on the documents together, if need be.
---
➡️ Mobile Usage Vs Desktop Usage
Can end users access your digital workplace on any device? Not all users will want to use their desktop computers for all their day-to-day activities. Users need to access business applications from any internet-connected device.
---
➡️ Telecommunication Tools
Telecommunications tools are non-negotiable in a post-pandemic world of work. Successful digital workplaces must include video and voice communication tools - both inside and outside the company's network or VPN. Video conferencing tools and calling services help users communicate in real time and help facilitate collaboration.
---
➡️ Mobility
Can your end users access your business applications at any time of day? With more workers moving to flexible work schedules, there's no guarantee that your employees will all work a steady 9-to-5 schedule. Therefore, any successful digital workplace will allow users to pick the location of their work and the time of their work.
---
Conclusion
As more and more companies move to a digital future, leaders need to consider the importance of building a fully functioning digital workplace. In order to build a successful environment, consider having stakeholders from across the company chime in to ensure everyone can operate efficiently in your new workflow. After all, you want your digital workplace to enhance and uplift your employees - not bog them down.
Frequently Asked Questions
What is a digital workplace?
A digital workplace is a technology framework which centralizes an organization's applications, data, and endpoints in one primary online space, allowing employees to work together online in a collaborative way.
What is a modern digital workplace?
A modern digital workplace fully integrates business applications across the businesses, no matter the department, and allows employees access to all collaborative tools needed to do their job. A single platform provides access to all necessary data.
How do you create a digital workplace?
To create a seamless and successful digital workplace, follow these steps:
Facilitate more collaboration
Ask employees what they need
Think mobile
Empower staff
Start your digital transformation across the company
What are digital ways of working?
Digital ways of working are remote and online work. Digital working is inherently global and requires a more cross-functional, collaborative and matrixed way of working. People need to rewire their skills to better fit skills for the digital age.
Why do we need a digital workplace?
A digital workplace can go beyond the limits of a physical office and unit employees, no matter their location. Digital workplaces help boost knowledge sharing and collaboration in new ways. Working in these connected environments can help digital technology thrive within the organization.