According to research by eMarketer, the DTC industry is supposed to hit upwards of $160 billion by the year 2024. If you want to get a piece of that pie, it's time to understand what DTC ecommerce is and how to sell DTC the right way.
DTC, or direct-to-consumer, is a retail model where a brand or manufacturer sells its products directly to the end user, rather than through a retailer like Target, Kroger, Sephora, etc.
Throughout this article, you'll find DTC brand examples, discover the pros and cons of this business model, and get step-by-step insights into how to create your own DTC ecommerce business and start making sales.
---
What Is DTC Ecommerce and How to Sell DTC the Right Way:
---
What is Direct-to-Consumer (DTC) Ecommerce?
Direct-to-consumer, acronymized DTC, is a business model where brands sell their products directly to their customer, either online or in their own brick-and-mortar shop, rather than going through a retailer.
DTC ecommerce, of course, is the process of selling DTC online. This means you'll need a DTC ecommerce CRM—the largest of which is Shopify—to host your ecommerce store and website, as well as an ecommerce-specific marketing strategy for creating your own audience.
---
Benefits of DTC Ecommerce
There are a number of benefits to using this business model for your online store.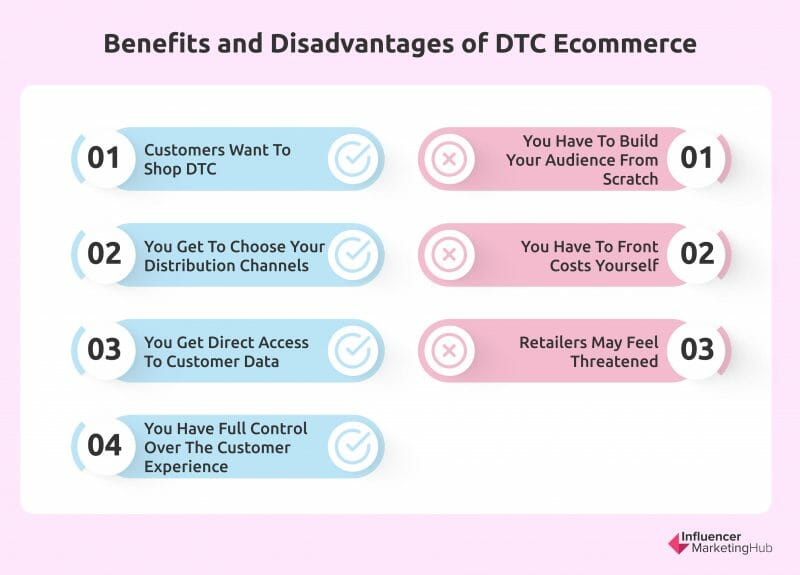 Customers want to shop DTC.
A survey commissioned by Google in 2021 discovered that nearly 60% of consumers will go out of their way to purchase a product directly from a brand rather than a third-party retailer. Customers want to shop DTC, and the growth of DTC brands is only going to accelerate this preference.
You get to choose your distribution channels.
Rather than being at the mercy of your retailer and their distribution channels, DTC brands are able to choose where they want to promote and sell their products.
This is especially important when looking at your business's supply chain. It becomes more complex when you're shipping out to retailers. But by owning the process yourself, you're able to deliver to customers more quickly, avoid out-of-stocks more easily, and minimize delays caused by material shortages.
You get direct access to customer data.
Because customers are purchasing right from your store, you're able to gather customer data immediately. This is important because it gives you more insight into your target audience so you can adjust your marketing strategy and make sure you're providing customers with the exact products they'll be most interested in.
You have full control over the customer experience.
From discovery all the way down to purchase made, you have full control over your customer's experience and how they're introduced to your brand. Reputation is everything for a DTC brand, so creating a personalized experience that helps customers find what they need is a great way to increase both customer loyalty and satisfaction.
---
Disadvantages of DTC Ecommerce
While the benefits far outweigh these disadvantages, there are four main things you need to know and prepare yourself for when considering jumping into the world of DTC.
You have to build your audience from scratch.
One appeal of working with retailers is that they have already built massive audiences, and by putting your products in their stores, you're able to reach their existing audience. When you go DTC, you have to build your audience from the ground up.
You have to front costs yourself.
From website and marketing costs to your staff to fulfillment center costs, there's a lot of capitol needed to start your own DTC business. Working with retailers often helps with some of these associated costs, especially fulfillment. But when you're owning the entire process, you'll need to keep these costs in mind.
Retailers may feel threatened.
This is a bigger disadvantage for companies that are transitioning their business from an exclusively wholesale model and starting to offer DTC options. Retailers may start to worry that your DTC business model will take away from their sales, causing them to pull your product or force you to provide them with some sort of ensured threshold they'll be able to meet by selling your product.
---
5 DTC Brand Examples to Learn From
Before we dive into how to get started with your own DTC ecommerce company, let's take a look at five DTC brands that are doing something right.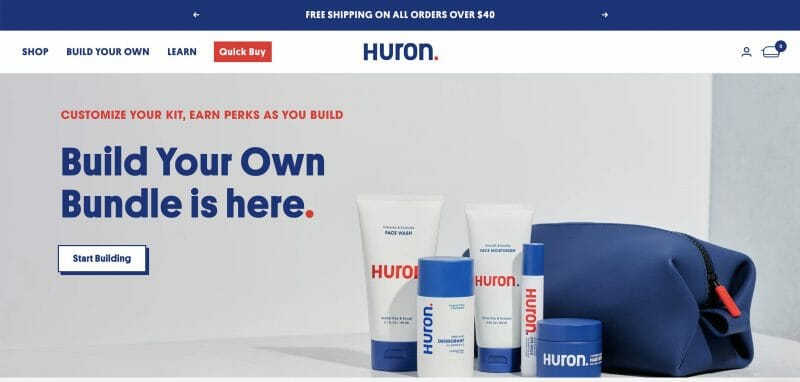 Huron is a men's skincare company with products like face wash, moisturizer, deodorant, shampoo, conditioner, and even hair styling products.
However, one unique option they provide is the ability to buy or build your own skin and haircare kit. Customers can of course also buy individual products, but purchasing a kit is a great way to keep everything stocked up.
Plus, Huron curates their own recommended kits while also offering the option to let customers build their own.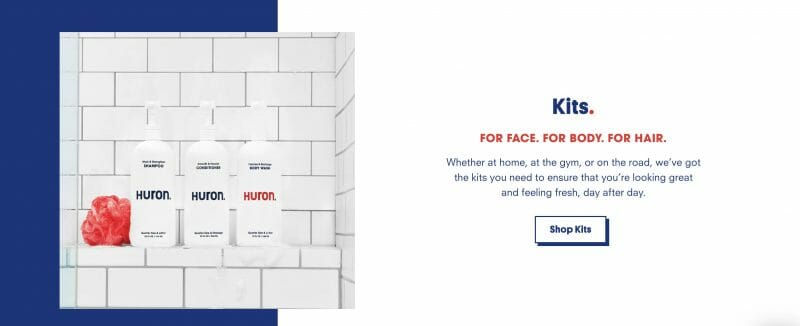 This makes shopping quick and easy while also offering a personalized option for people who are more well-versed with what their skin and hair need.
---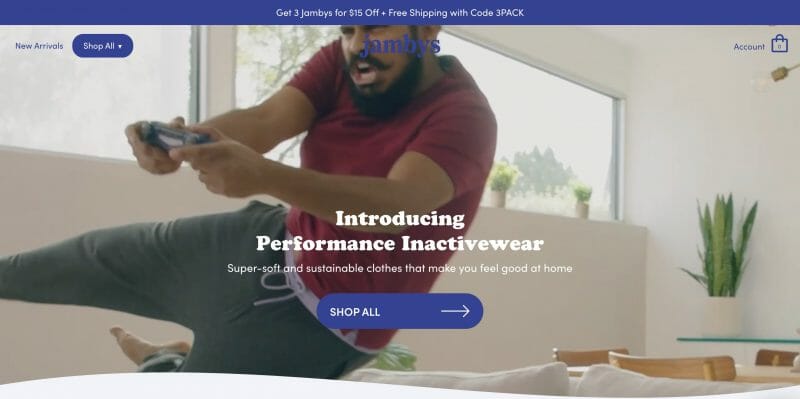 We've all heard of "performance activewear." But what about "performance inactivewear?" What we love about Jambys is their tagline, which immediately sets them apart. They sell (as we can deduce from said tagline) pajamas and other soft clothes for lounging around the house.
Having a bold and attention-grabbing tagline is a great way to stand out in the DTC industry. However, another thing we love is that they're offering a 20% off discount code in their Twitter bio.
They have a small following, so this is a great reward for people who actually do find their brand on Twitter—it also increases purchases because they're getting 20% off their first haul.
---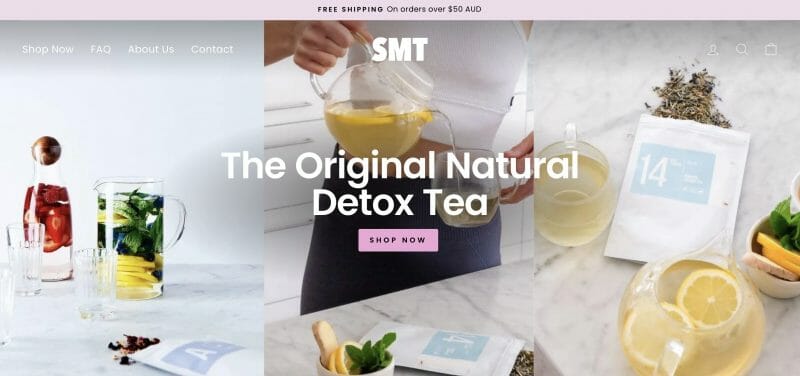 SkinnyMe Tea is a detox tea company that sells a number of healthy tea mixes perfect for cleanses and detoxes alongside accessories, like water bottles, tea strainers, bath salts, and more.
However, what we love about their approach is that they're also selling an infoproduct on their website: an e-book with their detox program for $59.
This is one thing we wish we saw more of. DTC brands have knowledge in their industry. Even if it's makeup, fashion, fitness, furniture, etc., there is knowledge to share in infoproducts.
Infoproducts typically appear in the form of e-books, but can also be online courses, checklists, workbooks, and other downloadable and informational packets.
---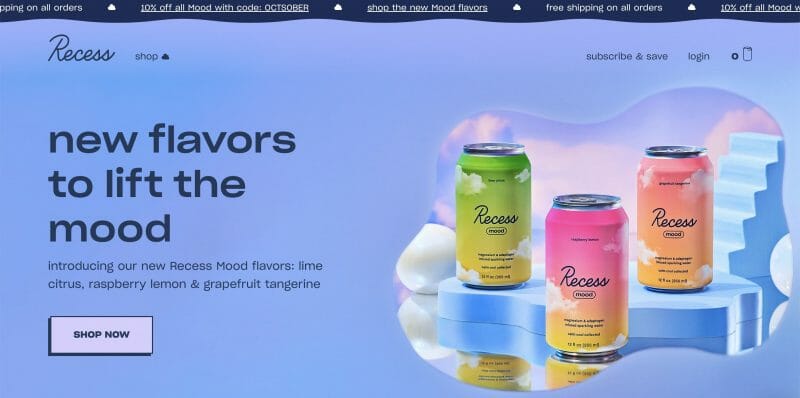 Sparkling water company Recess is a DTC brand with bright and beautiful branding. And with popular sparkling water companies like La Croix and Waterloo, Recess has to do a lot to stand out amongst the competition.
This is why they've taken advantage of influencer marketing. In the past, their entire influencer marketing budget would go toward Instagram content. However, their team recently spoke with Marketing Brew about how TikTok is starting to take a big chunk of that. Now, they allocate a full 25% towards TikTok content creators, with the remaining 75% still going toward Instagram influencers.
---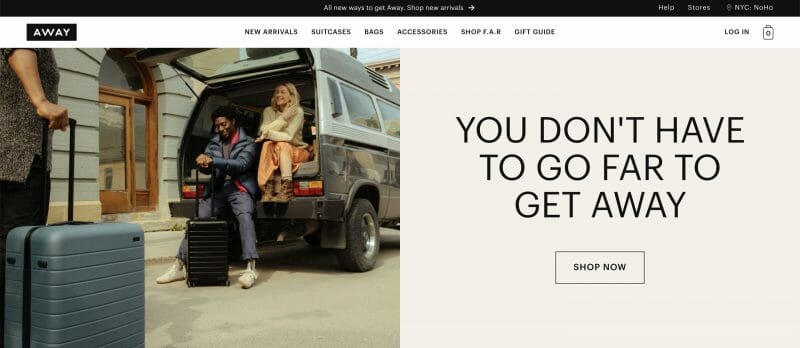 Luggage isn't cheap—it's the nature of the beast. But Away's founders believed that travelers should still have access to quality suitcases that don't cost upwards of $1,000. So they started DTC brand Away, offering carry-on, full-size, and other types of suitcases and travel bags at a much more accessible price point.
Their hard suitcases can be found on their website for prices between $200-400, a much more reasonable price point than their competitors. Customers can even order sets to save even more overall.
---
How to Create Your Own DTC Ecommerce Business
Ready to create your own DTC ecommerce business? Or at least increase your sales if you already have one? Let's walk through the process of how to sell DTC the right way.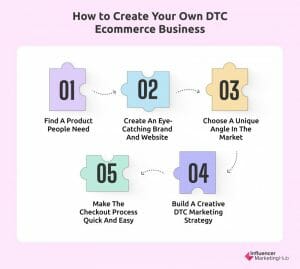 ---
Find a product people need
The first step is finding your niche and the product(s) you plan to sell. You might choose to create homemade products and sell them on Etsy. You might look into finding a manufacturer for another product you're passionate about. Or you might have noticed a gap in an industry that you're just dying to fill with a new DTC business.
Whatever it is, your first step is to find your product or product line, as well as how you're going to get that product. Are you going to make it yourself or work with a manufacturer? What company will you use for your packaging?
Answering these questions and getting some initial prototypes created and tested will be the first step in launching your new DTC ecommerce business.
---
Create an eye-catching brand and website
The next step is to build your brand. One thing you may notice if you analyze popular DTC brands is that they all have unique branding. Bright, bold, minimalistic, colorful, neutral, etc. Branding is big for DTC; you want to stand out against the competition and grab the attention of your customer.
Design or hire a designer to create your logo and select your brand fonts/colors so you can make a splash in the market.
Next, you'll need to create a website that matches your brand. Ecommerce tools like Shopify or BigCommerce can help you create an online store that's both beautiful and simple to maintain.
---
Choose a unique angle in the market
How can you make your business stand out? What is going to be your unique selling point (USP)? Here are a few examples that existing businesses have done:
Warby Parker: They send five free frames for you to try on at home.
Stitch Fix: They have stylists curate mystery clothing boxes each month and when customers buy all the items, they get 20% off.
Lovevery: They curate kids' toy subscription boxes that grow with your kids.
Peloton: They offer exercise classes to use their equipment in.
Hero Cosmetics: They let customers accrue points with each purchase that can be redeemed for free products.
There are many directions to take this, but the moral of the story is that you want to have some sort of perk that sets you apart from others in your industry.
---
Build a creative DTC marketing strategy
With DTC ecommerce, you really want to get creative with your marketing strategy. First, make sure to take advantage of all social commerce options. With the ability to sell your products right on popular social media apps, you're not going to want to miss out on these potential extra sales.
Social media platforms with social commerce options include:
Facebook
Instagram
Pinterest
TikTok
Snapchat
And it looks like Twitter might be rolling out its own storefront option soon.
Your ability to build an audience and generate sales relies on your marketing strategy. Social commerce is one facet of that, but you need to have an omnichannel marketing plan that meets customers where they are—whether it's social media, email, text, etc.
To help you with your marketing plan, you can check out a platform like Pacvue Commerce, an enterprise software solution to help boost the performance of your different campaigns, among other things. In fact, according to their website it can increase your return on advertising spend (ROAS) by as much as 40% in just a month. Not only can it optimize marketing spend, but also save marketing teams time. With the help of its retail automation, you can introduce changes at scale using rule-based optimizations, for example. Some of the other ways Pacvue can help you with marketing include running bulk edits for keyword bids and enhanced keyword research.
---
Make the checkout process quick and easy
If you want to maximize sales, you need to ensure your ecommerce website's checkout process is as seamless as possible. Optimize the checkout process or offer one-click/express checkout options so that your customers can finalize their purchases with little to no hassle.
---
Get Started With DTC Ecommerce Today
Start your own DTC ecommerce brand today—pick your ideal product, build out your website, start marketing, and make some sales. But to get the most out of your new business, make sure to stay up-to-date on the latest DTC trends.
Frequently Asked Questions
What is DTC ecommerce?
DTC ecommerce is when brands sell directly to their customers from an online store.
Are DTC and ecommerce the same?
DTC and ecommerce are not the same, but they can go hand-in-hand together well. DTC is when brands sell their products directly to customers, rather than through a third-party retailer. Ecommerce is when brands or retailers sell their products online.
Is Shopify DTC?
Shopify is one of the largest DTC platforms available for brands to use to host their online DTC store.
What are DTC brands?
Some popular DTC brands include Away, Allbirds, Olipop, Warby Parker, Dollar Shave Club, Harry's, Lovevery, and Bombas.
What is DTC vs. B2C?
DTC, or direct-to-consumer, is a retail model that cuts out the middleman by offering products directly to its customers. B2C, or business-to-consumer, is a business model that sells products or services to consumers rather than businesses. All DTC brands are B2C, but B2C isn't necessarily always DTC.