Advertising Disclosure
Advertising disclosure:
Our partners compensate us. This may influence which products or services we review (also where and how those products appear on the site), this in no way affects our recommendations or the advice we offer. Our reviews are based on years of experience and countless hours of research. Our partners cannot pay us to guarantee favorable reviews of their products or services.
Pre-internet, traditional marketing was regarded as an art form. Digital marketing, however, has evolved into a hybrid of art and science. In the scientific field of marketing, especially email marketing, data is a vital component of the research. Marketers need to be methodical and logical to get reliable information and accurate data from their testing.
Email marketing experimentation is a great way to see which changes are most beneficial. Even the slightest tweak to an email campaign can significantly influence its outcome. And one effective way to test the effectiveness of an email is through A/B testing.
---
A/B Testing Guide for Email Marketers:
---
What Is A/B Testing?
A/B testing, also known as split testing, is a systematic and logical method of comparing two marketing variables to evaluate which performs better. In an email context, A/B testing is mailing two versions of the same email campaign to a small group of subscribers. Half of the recipients will receive version A and the other half will get version B. The outcome of the test determines the best version of the email. Marketers can then roll out the "winning version" to the rest of their subscribers.
Let's say you have a mailing list of 1,000 subscribers, and your testing goal is to improve open rate conversions. Version A contains the original email campaign. Version B has the same content but with a slight change (e.g. subject line, greeting, content, or CTA). Then, select a subset of your subscribers (e.g. 200 recipients). Send version A to 100 people and version B to the remaining 100. Compare the results and measure the open rates to determine the winning variant.
A/B testing seeks the optimum language, deal, and other variables. The test can be as simple as sending diverse subject lines to see which one gets the most opens or as advanced as trying different email templates to see which one gets the most click-throughs. It helps in fine-tuning your content and promotions. That's why A/B testing is highly valued by 60% of businesses for optimizing conversion rates.
---
Why Should Companies Perform Email A/B Testing?
Despite the rising focus on social media and other new digital marketing channels, email marketing remains one of the most effective and widely used marketing tools. 73% of global marketers consider email marketing an excellent advertising channel.
A/B testing is critical to getting the most out of your email ad spend. When you're not doing A/B testing, you're sending emails to your subscribers and finger-crossing that they'll read them. You're essentially flying blind, which undermines your marketing efforts. However, A/B testing enables you to determine which variables work the best scientifically.
Split testing has a lot of ad campaign-altering benefits, including the following: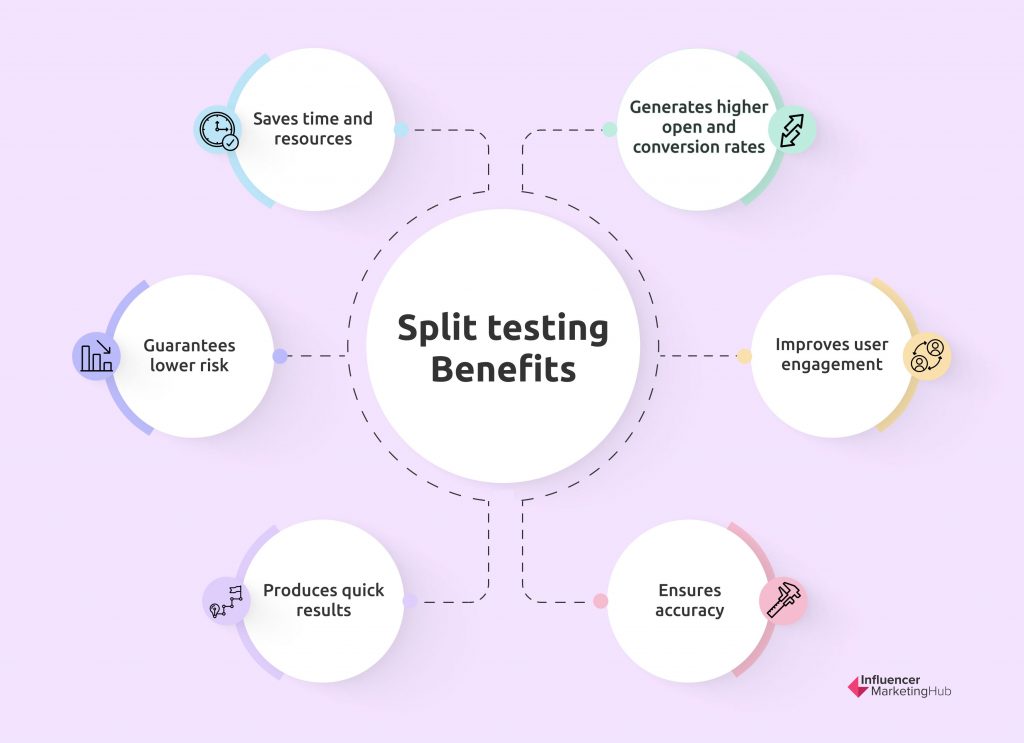 Generates higher open and conversion rates
A/B testing allows you to fine-tune variables in your email that influence whether subscribers open and read it. The more compelling the first impression is to your readers, the higher the probability of open rates.
Also, when you use A/B testing to polish up your content, you persuade subscribers to respond to your CTA and click your emails. As a result, conversion rates increase, and more quality leads or paying clients are generated. This all leads to higher sales and profits.
Improves user engagement
By honing all the variables in a campaign email, A/B testing enhances the entire user experience. This results in a positive user engagement with that specific email and your brand, in general, increases. This leads to better customer satisfaction and more repeat clients.
Ensures accuracy
The results of A/B testing are hard facts and figures. Rather than banking on your gut feel or assumptions, you can base your future assessments on solid facts and make business decisions based on real-world data.
Produces quick results
One of the best attributes of A/B email testing is the immediacy with which the data can be obtained. You don't need to run month-long research to figure out which version is the most effective. You can find out what works best instantaneously and respond just as quickly.
Guarantees lower risk
A/B testing minimizes the risk inherent in your marketing campaign by taking the guesswork out of the process. Your decisions are more informed, and the A/B results give you a head start on how well your marketing endeavors will work.
Saves time and resources
Since you have direct access to your target market's response to your email marketing initiatives, you can promptly terminate those that aren't working. As a result, you avoid wasting time and resources on a campaign that doesn't generate the intended ROI.
---
What Variables Should Be Used in A/B Testing?
Variables in email marketing can be tested and evaluated in three categories. These elements can be visual, qualitative, and interactive.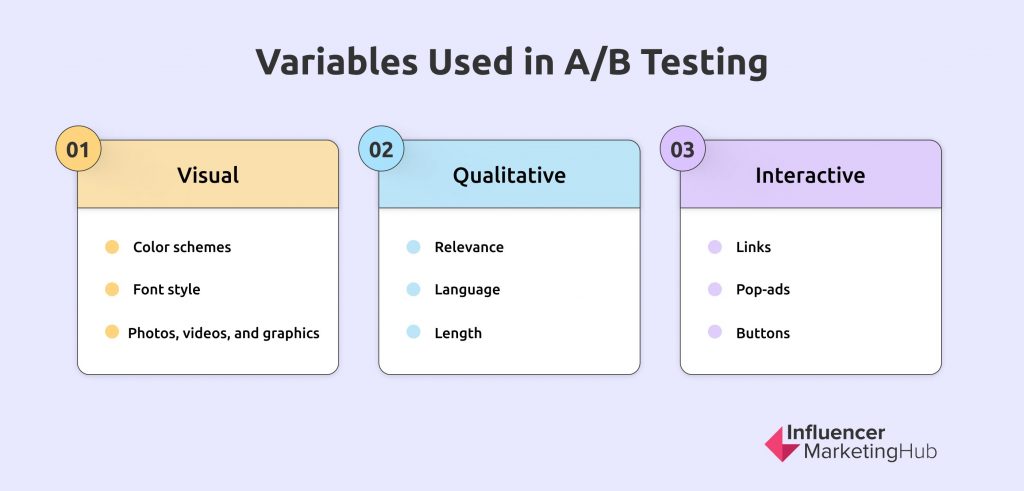 Humans are visual beings. As such, you must make an effort to make your emails visually appealing. A/B testing allows you to experiment with visuals to find which combination appeals to your readers the most.
Color schemes: Do the colors reflect your brand? Are they too bright or too dull?
Font style: Does the font reflect your business? Is the text easy to read? Is the spacing uniform throughout?
Photos, videos, and graphics: Are the visuals suitable for your campaign? Is the imagery over the top?
---
Qualitative
Consider your audience while determining how to improve the comprehension and readability of your content. The goal is for them to understand and remember the information you deliver.
Relevance: Does your content have the main subject? Are the visuals related to the content?
Language: Are your words simple to understand? Do you overuse jargon? Is your content keyword-rich?
Length: Are your sentences too short or too long?
---
Interactive
Having an interactive email is an excellent approach to promoting customer engagement. With A/B testing, you can customize your interaction choices to fit your market.
Links: Are the links pertinent to the subject?
Pop-ads: Are the ads relevant to the material? Does the content on the ad tie up to the campaign?
Buttons: Are they easy to find? Are they functional?
Look at the examples below. The first image is an email with visuals. The second one is an email without visuals. There's nothing wrong with both emails. They are clear and concise. But one will be more appealing to a particular demographic than the other. And you'll find the better version through A/B testing.
Any email you send to your mailing list is a chance to do A/B testing, including transactional emails such as delivery confirmations and sale receipts. Because each email has a variable you may change or polish, you can optimize all sorts of emails to convert. Here are some ideas on what variables to tweak on your A/B email testing.
---
✔️ Subject lines
Word length: many words versus few words
Tone: serious versus humorous; straightforward versus obscure
Structure: statement versus question
Capitalization: all lowercase versus capitalized first letter
Action: with explicit CTA (e.g. promo code in the subject line) versus non-explicit CTA (e.g. promo code inside the content)
Pictogram: with emoji versus without emoji
Personalization: with the recipient's name versus without
---
✔️Copy
Tone: formal versus personal
Greeting: formal versus informal; personalized versus generic
First line: with intro versus with no intro
Content: original versus curated
Style: plain text email versus HTML
Form: image-heavy versus text-heavy
Length: long text versus short text
Visuals: with images, videos, and GIFs versus without visuals
Link: adding resources right away versus asking recipients' permission first
Points: numbered lists versus bullet points
CTA: generic (e.g. click, download) versus creative (e.g. learn, share)
---
✔️ Design
Color: vivid versus dark; rich versus dull
Button location: top versus bottom
Logo placement: right versus left
CTA placement: start of the email versus at the end of the email
Signature: with visuals versus plain text
Social: spelled-out social media links versus social media buttons
---
✔️ Schedule
Time: day versus night; mid-morning versus late in the afternoon
Day: weekday versus weekend
You must be aware of the following metrics when changing a variable:
Open rate

Response rate

Click-through rate

Conversion rate
Your chosen email marketing platform can help you assess these metrics to see if you've reached your testing goal.
---
What Are the Best A/B Testing Practices?
Conducting A/B testing for your email marketing is relatively straightforward, but there are several fundamentals you can practice to get the most reliable and accurate results.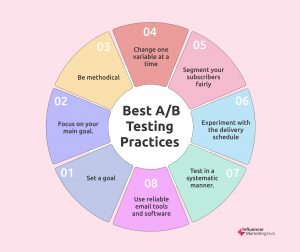 Set a goal. You must have a clear plan in mind to determine which variables need to be modified. Your goal can vary per campaign.

Focus on your main goal. A/B testing might provide surprising results, so staying focused on your end goal is vital. For example, if you make changes to improve your open rate but your click rate increases, it's likely irrelevant, so remember to stick to your original objective.

Be methodical. In a scientific experiment, version A is the Control, and version B is the Treatment. The original form of the element is the Control, whereas the modified version you want to test is the Treatment. Following this method minimizes confusion.

Change one variable at a time. Version A and version B of the same email campaign should be nearly identical. The only difference is a single variable. While this is the simplest explanation of A/B testing, many marketers still get it wrong. It's tempting to make multiple tweaks at once, but if you change more than one variable, it can be hard to determine which particular element swayed your subscribers to open and read your email.
Segment your subscribers fairly. Divide your subsets into two groups as evenly as possible. Ideally, each group should have a diverse demography.
Experiment with the delivery schedule. It's critical to know when your subscribers open and read your email the moment they receive it. This variable requires more comprehensive testing because the best time to send emails depends on different factors such as your niche as well as your target market's regions and time zones.
Test in a systematic manner. Only when the conditions are the same can you compare the outcomes of your tests. Subset subscribers should receive versions A and B on the same day. You cannot compare the open or conversion rates of emails sent at different times and days.
Use reliable email tools and software. A/B testing is a highly quantitative approach to optimizing your email marketing productivity. It entails accuracy and precision. Accommodate this demand using high-quality A/B testing tools and software for your email marketing.
---
What Are the Best A/B Testing Tools?
A/B testing your email campaign manually can be a daunting task. The good news is that many email marketing tools and software now include A/B testing in their plans, such as:

Mailchimp, one of the world's most popular and trusted email marketing platforms, offers A/B testing for all types of emails. This online marketing platform focuses on critical variables such as the subject line, name, subscriber list segments, and delivery time. The best part is that once the results are in, the winning version will be automatically sent to the rest of your subscribers, while the inferior version will be canceled.
---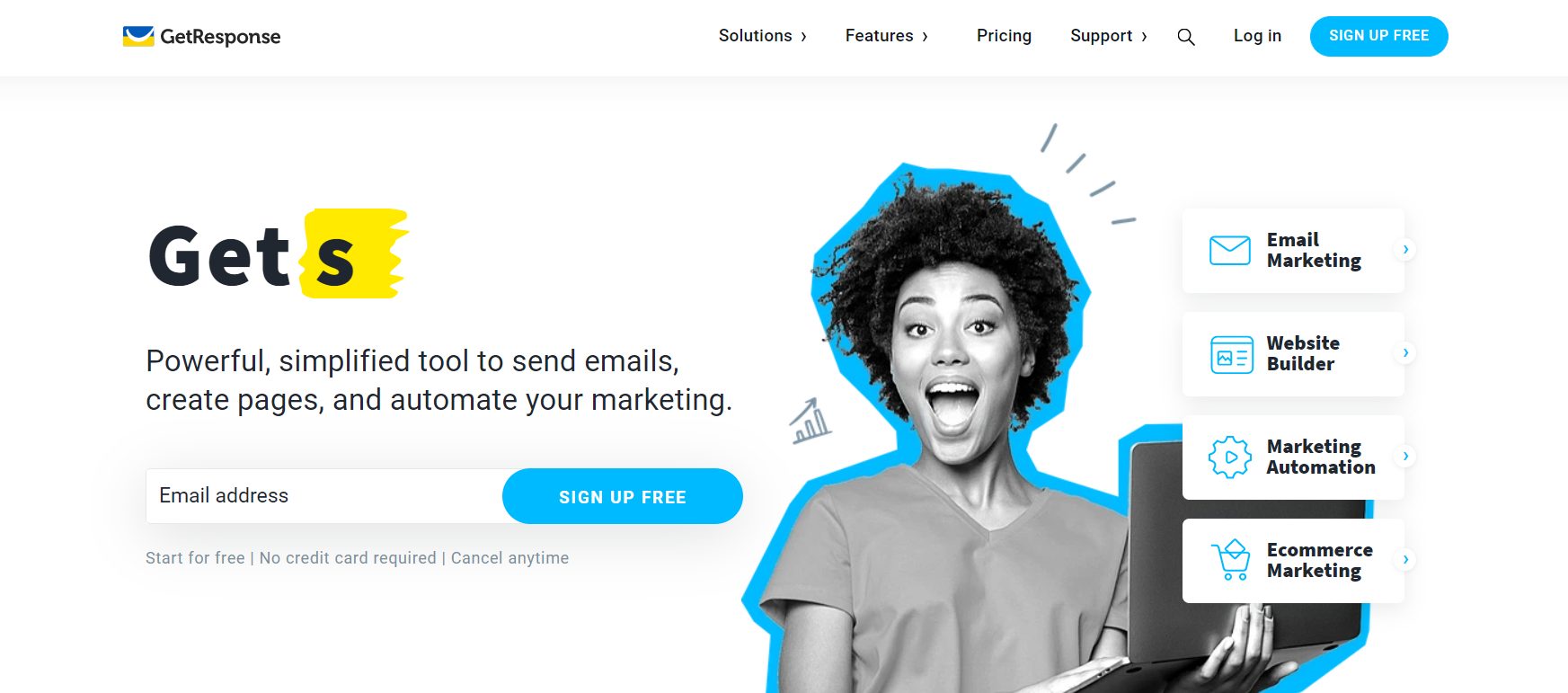 GetResponse's A/B testing features are comprehensive and geared for small to medium-sized businesses. It allows you to generate versions that express different styles and themes for a plain or visually-heavy copy. Additionally, GetResponse provides professional account managers, marketing automation, and campaign consultation.
---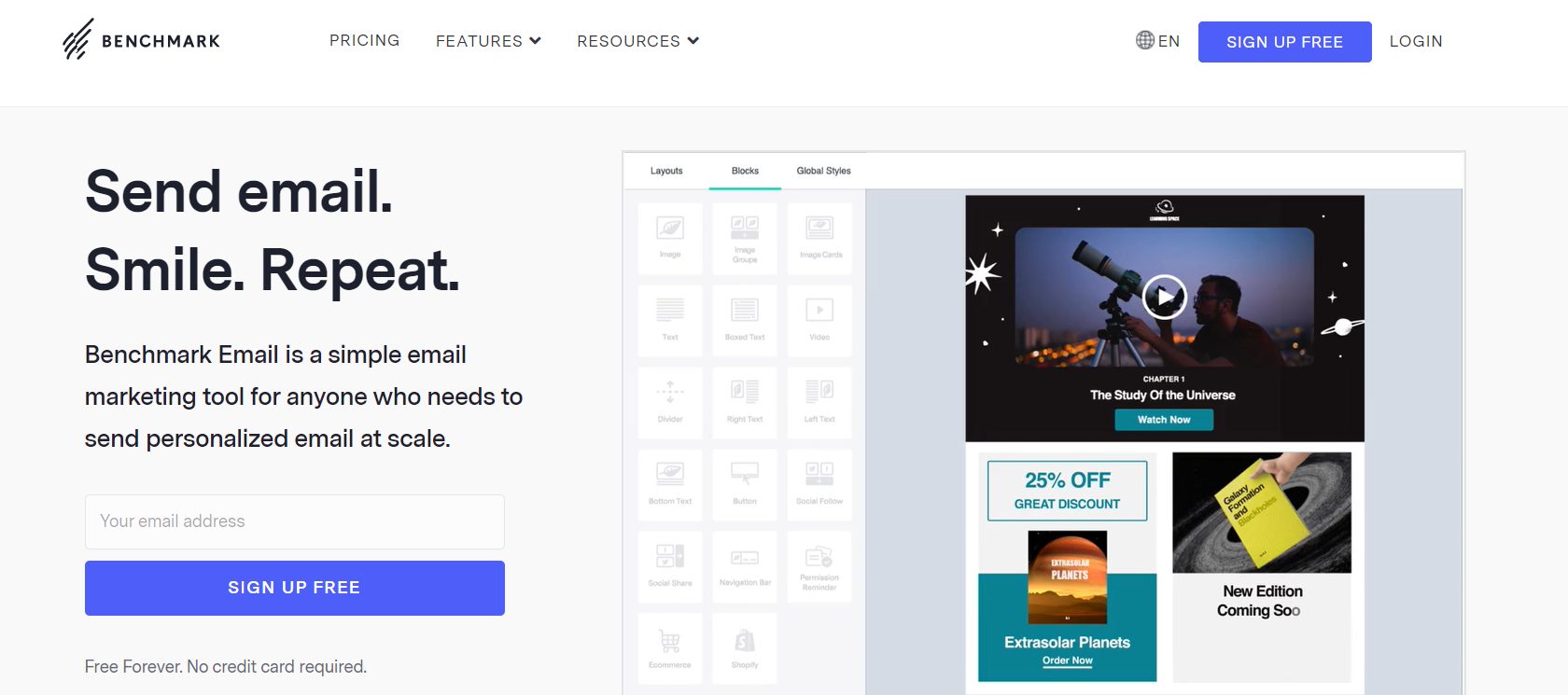 Benchmark offers a variety of variable A/B testing features that are suitable for both small and large businesses. However, marketers must pay a monthly subscription fee to use all its testing tools.
---
Wrap Up
Every business that uses email marketing, regardless of industry or size, should conduct A/B testing. The behavior and demands of online users are continuously evolving, and to keep up, you must keep track of what works and what doesn't. And the only way to stay current with these changes is to make adjustments to meet the needs of your market. For the best email marketing campaign results, test your ad regularly.
Frequently Asked Questions
What is A/B testing in email marketing?
Email A/B testing refers to the process of sending two versions (version A and B) of the same marketing campaign to a subset of your mailing list.
What is the purpose of email A/B testing?
A/B testing on email marketing aims to determine which version works best for a targeted market. The success of the testing depends on your initial goal.
Why should marketers conduct A/B testing?
Doing A/B testing for your email campaign provides various benefits such as higher open, conversion, and engagement rates. A/B testing also results in reliable data that helps make sound business decisions.
What are the best variables to fine-tune for A/B testing?
A/B testing can tweak all email variables, but the most important ones are the subject line, greetings, CTA, and delivery time.