Advertising Disclosure
Advertising disclosure:
Our partners compensate us. This may influence which products or services we review (also where and how those products appear on the site), this in no way affects our recommendations or the advice we offer. Our reviews are based on years of experience and countless hours of research. Our partners cannot pay us to guarantee favorable reviews of their products or services.
No business is too big or important for email marketing. To this day, it remains one of the most important strategies for building relationships with your customers. With enterprise email marketing, you can nurture and convert new customers while keeping your current customers happy.
That being said, it takes more work and thought than simply hitting the send button. To unlock all the advantages that email has to offer, you'll need an email marketing software solution and know how to implement your campaigns.
---
Tools and Tips to Help You Unlock the Benefits of Enterprise Email Marketing:
---
Which Benefits Can Email Marketing Offer Enterprises?
Email is one of the most cost-effective marketing channels. While enterprise clients might not be driven as much by cost savings as smaller businesses, the return on investment will for sure get their attention. Email marketing stats estimate the average ROI could be more than $40 for every dollar spent.
Sure, enterprises are driven by profit, but relationships still matter to them too. After all, it's thanks to their relationships with their clients that they managed to grow their business successfully.
In this department, email marketing can help too. With the help of segmentation, enterprises can share personalized content. This is especially useful and can show to your customers that just because you're a large organization doesn't mean that you can't interact with your subscribers on a deeper level.
Plus, as you have more control of which subscriber gets to see which message, it's a great channel for nurturing your leads. If they're not quite ready to become customers just yet, there are many other types of emails that you can send them instead of your hottest deals this month.
---
Choosing an Enterprise Email Marketing Service
To be able to reap all the rewards that email marketing can offer, you'll need a solid software solution in your MarTech stack. You can use the following as a checklist when creating your shortlist (alternatively, you can use our shortlist of the leading enterprise email marketing platforms in the next section).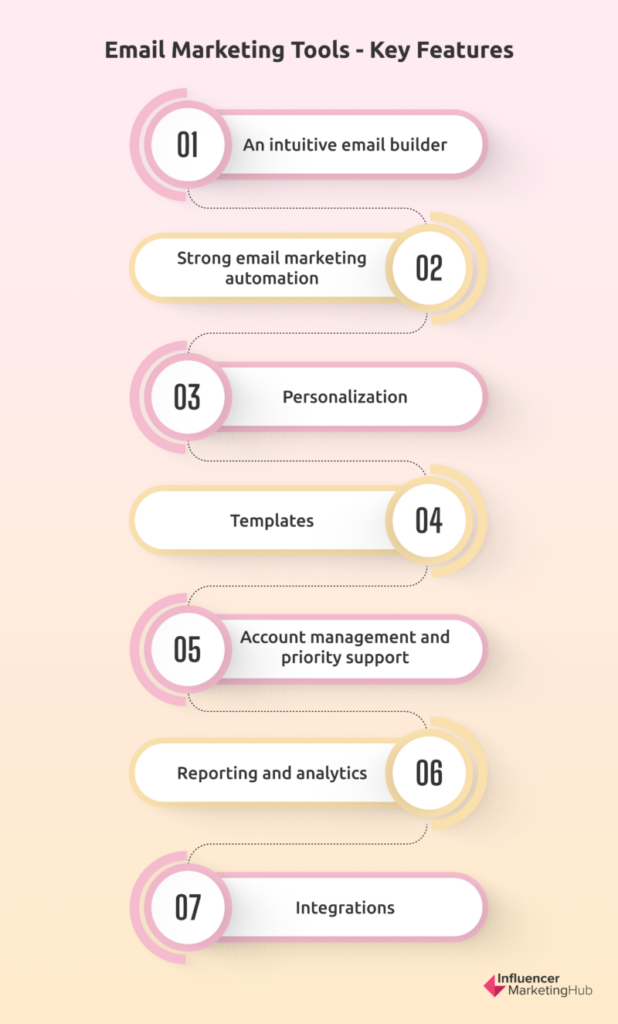 These are the critical features that your email marketing tool should offer:
An intuitive email builder
The interface should be user-friendly and drag-and-drop features are preferred.
Strong email marketing automation
This will be necessary to set up automated workflows, helping you to send emails based on specific criteria so that you can deliver the right message to the right subscribers at the best time.
Personalization
To maximize email marketing's potential, you'll need to incorporate personalization. Not only does it help to improve the overall messaging, but it also makes it easier to portray your brand consistently across all channels.
Templates
Just because you're a big business doesn't mean that you can't use a template. Templates aren't beneath you. Look for a platform that offers a wide range of customizable templates. Not only will it save time, but it can also make it easier to send personalized content and help with brand consistency.
Account management and priority support
You're an enterprise client and will be spending a significant sum. Not only will account management and priority customer support help you to solve potential issues quickly, but this will also help you to use your new tool optimally. You're paying a premium for these features. If you're not going to use it, it will be better to downgrade your plan.
Reporting and analytics
Not only will this be necessary to help prove to the powers that be that email marketing works, but it will also give you access to key metrics that you'll need to build upon your marketing strategy. It will also make it easier for managers to assess the performance of individual team members.
Integrations
As you're an enterprise client, you most likely already have a large team and a sizable MarTech stack. To help you streamline processes and make it easier for different teams to connect, you'll want to double-check which integrations it offers. It should be easy for data to be transferred from one platform to the next. Basically, you'll want to make sure that your new tool will play nicely with the other ones.
---
5 Top Email Marketing Platforms for Enterprises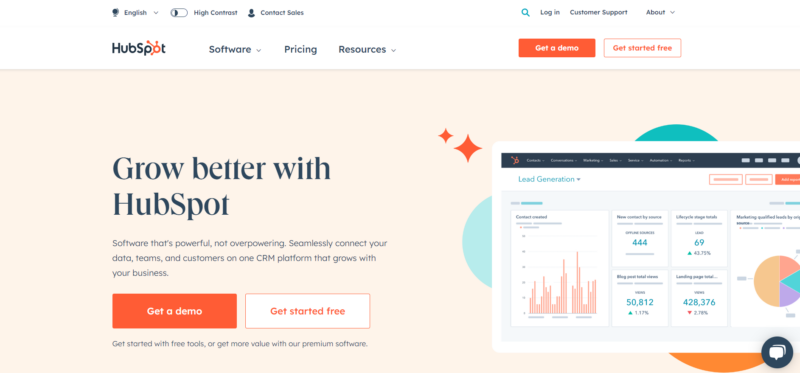 HubSpot is one of the most established and well-known email marketing solutions, as you would expect considering how long it's been in business. They're also one of the few email marketing platforms that list pricing information for their Enterprise plan on their website. Pricing starts about $3,600 per month, excluding a one-time Enterprise Onboarding fee of $6,000.
For that price, though, you're getting much more than simply a tool to use for email. Instead, it's a comprehensive marketing software solution that includes powerful omnichannel marketing automation and is more specifically popular for its CRM functionality.
In addition to email, you can use it for:
Multi-language content creation

Facebook Messenger

Landing pages

Conversational bots

WhatsApp integration

In-app chat support

Ad retargeting

Video hosting

Mobile optimization

Social media

Live chat
With regards to email marketing specifically, its Enterprise plan includes features like:
Email reply tracking

Campaign management and reporting

Team email

Email health reporting and insights

List segmentation

Custom reporting

Dynamic personalization

Smart automated workflows
It's a lot and we haven't even mentioned all the features.
If you're wondering about transactional emails, it's available as a paid add-on. For the ability to send emails such as automated receipts and account updates, you'll need to add another $600 to the monthly price.
---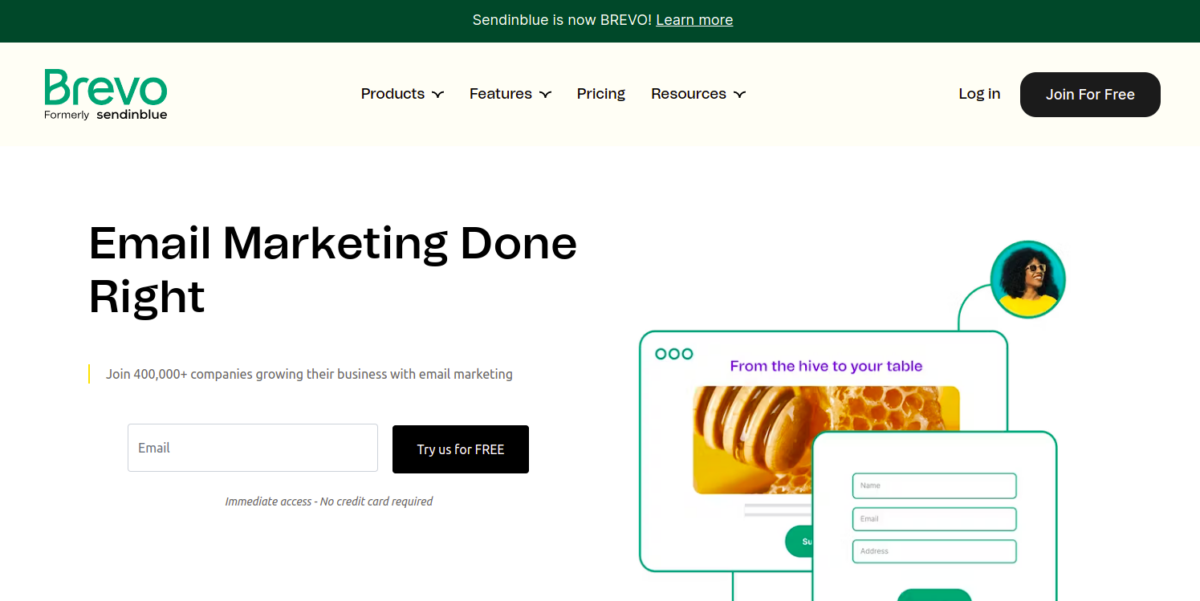 What makes Brevo a great choice for large organizations is that it offers an all-in-one digital marketing platform that includes SMS marketing and live chat functionality in addition to email marketing. While they mainly target small-to-medium sized businesses, it also includes an Enterprise solution for large organizations and is trusted by brands like Europcar, Great British Chefs, and H&M Foundation.
It offers all the features that you would expect like fully responsive email templates, personalization, A/B testing, and more. Included in its Enterprise plan are:
Enterprise-grade security

Advanced integrations

Tailored onboarding, personalized support, and a dedicated customer success manager

A dedicated IP to maintain your sender reputation
With the help of Brevo's dynamic contact segmentation, a brand like Great British Chefs managed to increase open rates of their email campaigns by 10%.
If you specifically need help with transactional emails, it offers a number of features. You can use their advanced email API to execute various functions and improve the user experience across all the stages of the customer journey.
Other key features include:
Real-time deliverability reporting and engagement statistics

A CRM to sort customer interactions

A drag-and-drop landing page builder to help grow your email list
Brevo is one of the best HubSpot alternatives, especially if you're not going to sign up for the Enterprise plan after all. While you'll have to talk to Brevo's sales team for more info about the Enterprise plan's custom pricing, what we do know is that its other plans are a whole lot cheaper than HubSpot.
---

ActiveCampaign is a great choice if you want to leverage automations. Included in its list of features are advanced automation and personalization functionality as well as hundreds of integrations, if you need even more functionality.
It's also easy to use. It offers a drag-and-drop email designer that makes it easy to create a range of campaigns. From transactional emails to broadcast emails to targeted emails, whatever makes the most sense to you, ActiveCampaign can help you to create.
Other key features include:
More than 250 email templates

Email autoresponders

A sales automation CRM to streamline your whole sales process

Lead scoring to help you prioritize leads

Basic split testing

Event tracking

Sophisticated list management
And, if you sign up for their enterprise plan, you can also benefit from:
Custom reporting

Single sign-on

Unlimited email testing
Considering that the advanced marketing automation functionality is what makes ActiveCampaign such a great tool, it's better suited for experienced email marketers. If you're not knowledgeable about creating complex sequences, you'll find the learning curve steep.
That being said, if cost is one of your main criteria, you'll find their custom pricing to be more affordable.
---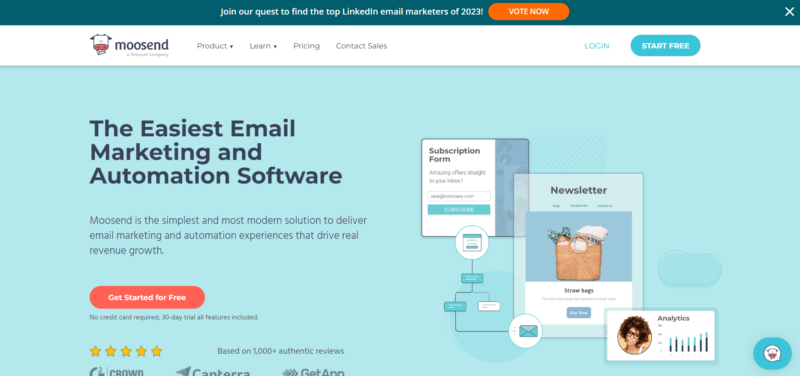 While Moosend is one of the best free email marketing services, it also offers a solid enterprise plan. It's a great tool if you want to prioritize email personalization in your email marketing strategy. It includes sophisticated personalization features, like personalized product recommendations, that can help reduce cart abandonment, boost the overall customer experience, and unlock profitable upselling and cross-selling opportunities.
And, even though you're already a large organization, it doesn't mean that you no longer need to pay attention to building your email subscriber list (more about that later). To help with this task, Moosend offers online forms and landing page builders.
Other key features include:
A/B testing

Data analytics

Spam filter reports

A free subject line tester

An intuitive drag-and-drop email editor

A visual workflow builder

Autoresponders

Email templates

Account management

Real-time reporting
The subject line tester is quite useful. You add your subject line, industry, and the number of recipients. It will then work out the potential open rate as well as list your industry's average open rates and share ideas for how you can improve your open rate.
As for their Enterprise plan, it includes all their features and then more. You'll get assigned an account manager, enjoy priority support, and get a dedicated IP.
All in all, it's a great all-in-one email marketing tool.
---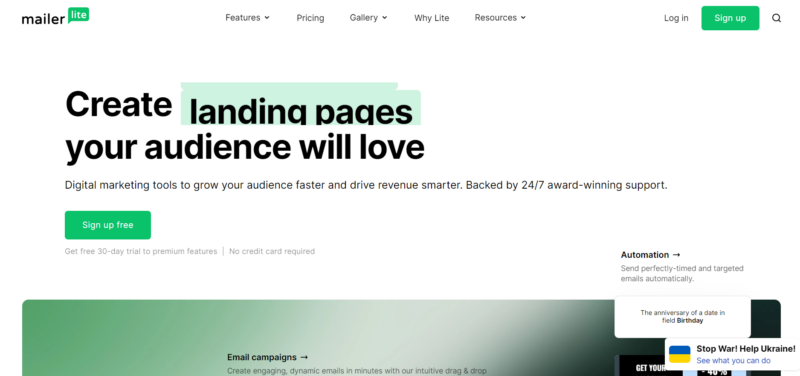 There's nothing light about MailerLite. It's a powerful platform that makes light work of creating campaigns. While it's one of the most popular email marketing services for small businesses, it's also happy to work with businesses with more than 100,000 subscribers.
It offers various key features to help you set up automated workflows to keep the content going. Also, as it integrates with several eCommerce platforms, it's a good choice for enterprises in this niche.
Much of its power lies in its simplicity and clean design. So, don't be too quick to write it off.
Other key features include:
A landing page creator

A website builder

A rich-text editor, HTML editor, and drag-and-drop editor

Transactional emails
If you qualify for their Enterprise plan, you can also benefit from:
Customizable services such as a professional newsletter

Dedicated IPs

An account manager
---
---
4 Email Marketing Tips for Enterprise Users
Even with a robust email marketing platform, you'll still need to pay attention to a number of key steps. An email marketing platform can do a lot, but it can't automate everything. It's only when you implement the following that you'll truly unleash your new tool's true functionality.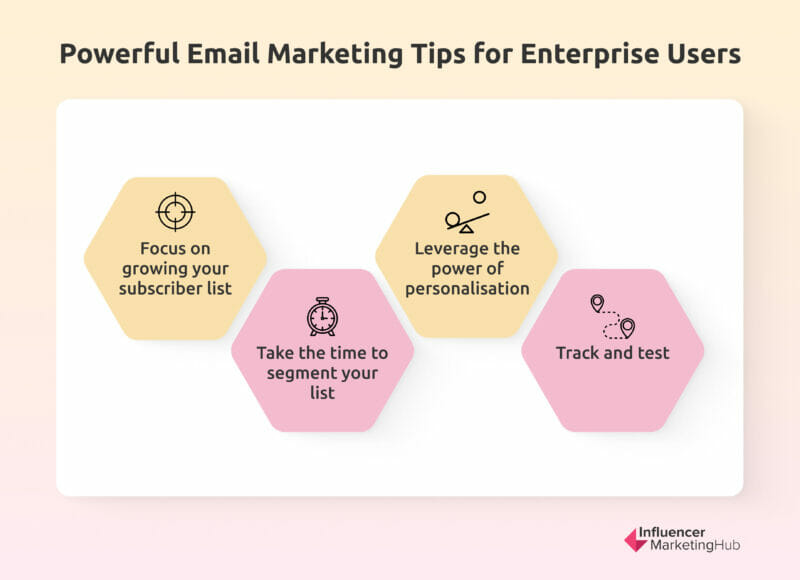 1. Focus on growing your subscriber list
We've briefly touched on this earlier. Just because you're a large business doesn't give you a mandate to stop building your mailing list. As a matter of fact, large businesses are perfectly positioned to continue with this activity as they attract significant website traffic. It would be a shame to let all of that go to waste.
Most tools offer features, like landing pages and online forms, that you can use to capture new email addresses. It doesn't have to be anything elaborate. A short newsletter sign-up form that has a heading and a short text that lists what's in it for those contemplating subscribing will work just fine.
The secret is to include a lead magnet. In other words, what will website visitors get in return for joining your mailing list? What's the value proposition?
Newsletters are one of the most common examples. You can also include incentives like a 15% discount off their next purchase or a free downloadable PDF guide.
---
2. Take the time to segment your list
Great, you've grown your list, now what? While email makes it easy to speak to the masses at the same time, your potential customers don't want to feel as if they're merely one of the 10,000 or 100,000. This means that you'll need to find a way to tailor your messages.
Now, you can't write a personal note for every single email subscriber. However, you can group your email subscribers into smaller groups based on certain criteria that they share and send them the same email. This is totally feasible.
Some of the criteria commonly used by marketing teams when segmenting lists are:
Age

Gender

Profession

Location
Once again, most email marketing tools will be able to help you with this key step.
---
3. Leverage the power of personalization
This brings us to our next point — personalization. Segmentation will be useless if you don't take the time to personalize your emails. After all, that's why you went through all the effort of segmenting your list in the first place, right?
And, no, adding their name to the subject line isn't enough.
You must also consider the content of the email message. What will that group find relevant?
If you've used location as one of your criteria, you can, for example, adjust your message to reflect the season. Sure, most celebrate the Christmas season at the same time, but for some it's not a white Christmas. If your customer is based in Australia or somewhere Africa, a new pair of ski gloves isn't the perfect stocking filler.
Your email service provider's personalization features will be able to help you set up conditional content.
---
4. Track and test
The only real way to know if your email marketing strategy works is to track your results. Just because you experienced an increase in sales, doesn't mean that your email marketing strategy can take all the credit.
You'll also want to test various versions of the emails that you send. It's all great that you know the average open rate and click-through rate that your newsletter generates. However, could it perhaps be higher if you changed certain elements like the layout, color of the call to action, or subject line? To find out, you'll need to complete A/B testing. This way, you'll stay up to speed with important metrics and be able to make data-driven changes to your email marketing campaigns.
---
Wrapping Things Up
While there are hundreds of email marketing tools, only a few are truly suited for enterprise clients. There's a reason why enterprise clients are grouped separately and offered custom pricing. And, yes, much of that is about their size. Not because it makes them more important, but because their size means that their data needs are more demanding.
Integrations will also play a bigger deciding factor as larger organizations use more marketing technology. Whichever tool they decide to use for their email marketing must be able to handle a huge amount of data and massive email lists.
Needless to say, they'll also need sophisticated automation features. If you're going to be handling that vast amount of data, you need to put as many tasks as you can on autopilot.
Frequently Asked Questions
What's a good email marketing tool for enterprise clients?
There are many great email marketing software solutions, but not all of them are suited for large companies. If you're specifically searching for an enterprise email marketing software, you can check out:
Sendinblue

HubSpot

MailerLite

Moosend

ActiveCampaign

Pardot

Marketo
Can large companies use any email marketing platform?
No. While there are a number of email marketing features that are important to businesses of all sizes, like deliverability, data protection, and ease of use, large businesses will need a tool that offers superior data and contact management. Bigger businesses have a lot more data that needs to be stored and handled efficiently. The email tool must also be able to handle a high volume of emails. Advanced segmentation and email automation functionality are also key.
What types of emails can enterprises send?
The most common types of emails that enterprise clients send include:
Welcome emails

Abandoned cart emails

Transactional emails like shipping updates, payment confirmation, password resets and account updates

Newsletters

Onboarding campaigns

Lead nurturing emails
What are some of the best email marketing agencies?
There are several great email marketing agencies that can help you to improve your campaigns. You can, for example, reach out to:
Disruptive Advertising

WebFX

Lounge Lizard

Moburst

Evestar

Lyfe Marketing

Thrive Internet Marketing Agency

SmartSites

Joseph Studios

NinjaPromo
Some of these agencies focus only on email marketing, while others offer a wider range of marketing-related services.
Which features should an enterprise email marketing platform include?
There are several key features to look out for when you're searching for an enterprise email marketing platform. These include:
A decent collection of customizable templates

Priority support and an account manager

Advanced automation and segmentation

Contact management

Reporting, analytics, and A/B testing