Advertising Disclosure
Advertising disclosure:
Our partners compensate us. This may influence which products or services we review (also where and how those products appear on the site), this in no way affects our recommendations or the advice we offer. Our reviews are based on years of experience and countless hours of research. Our partners cannot pay us to guarantee favorable reviews of their products or services.
The gambling industry (including its perception) has changed quite a bit over the years. Online gambling platforms have increased in number and popularity, making it more accessible to many. Similarly, marketing strategies have adapted too, with an increasing focus on digital platforms and video. In the realm of marketing, video is the most effective format due to its ability to engage audiences, convey information dynamically, and create a memorable brand experience. 
Considering the cost of advertising, you don't want to take a gamble and partner with the first marketing agency. Here are 13 of the top marketing agencies that serve the gambling industry and are regarded as a safe bet.
---
Best Gambling Marketing Agencies: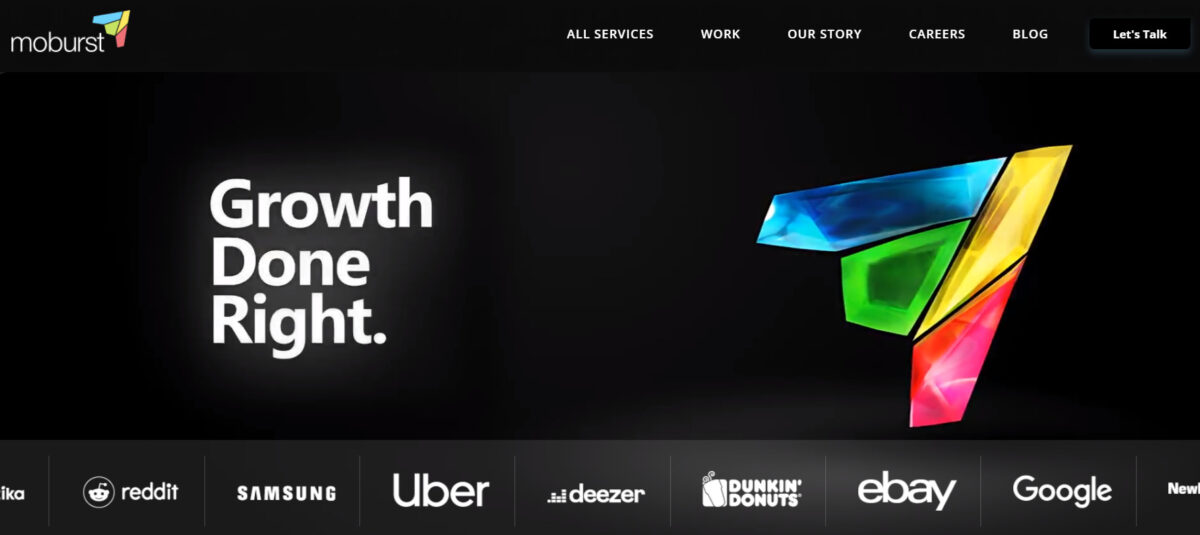 Moburst is a full-service digital marketing agency that's rated as one of the best sports marketing agencies and has a strong focus on mobile and digital strategies. Aside from marketing strategy, they can also concentrate on media buying, website development, and content creation.
Included in their list of clients is the sports betting app Titanbet. They've helped them to boost their app store performance using a two-phase approach. The first step was to complete thorough keyword research, while during the second phase the attention shifted to creative content. This approach worked like a charm and Moburst managed to boost Titanbet's keyword performance by 40 times.
Key services include:
Influencer marketing
Video production
Social media management
Mobile marketing
SEO
Email marketing
---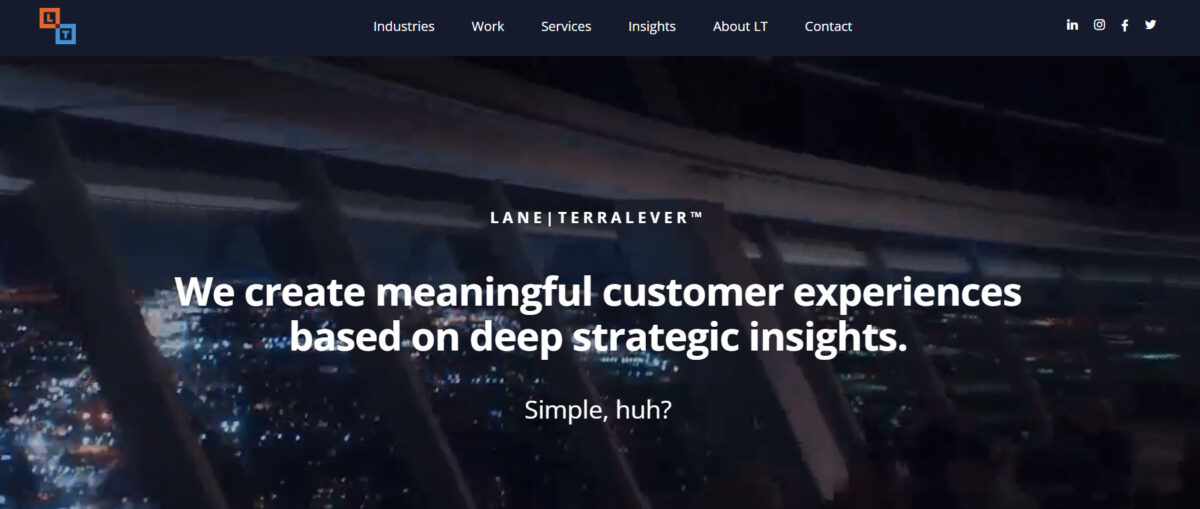 Founded in the early 1960s, LaneTerralever is the longest standing marketing agency in Arizona. Headquartered in Phoenix, they use deep strategic insights to create meaningful customer experiences.
Collaboration is at the core of their team culture. Employees are encouraged to brainstorm informally and believe that ideas aren't restricted to only one field.
When working with them, you can look forward to custom solutions designed with your specific requirements in mind. That said, their services aren't limited just to specific marketing projects and they're happy to take the lead and follow a more integrated approach.
As for how they help the gambling industry, they help operators to explore newer marketing strategies to improve the customer experience. They can also help you to gain insight into emerging markets, brand a new property, or get more loyalty program signups.
What's more, they aren't scared off by saturated markets. They've helped brands to compete within the saturated markets of legacy casinos.
For example, when Desert Diamond Casino West Valley needed help with name recognition, they helped them to launch a memorable brand ad campaign based on a data-driven, digital marketing strategy. The result — a 33% improvement in impressions per media dollar spent.
Key services include:
Brand strategy
Influencer marketing
Public relations (PR)
Video production
Email marketing
Search engine optimization (SEO)
User experience (UX) design
Website and app development
Creative campaign development
Mobile app design and development
---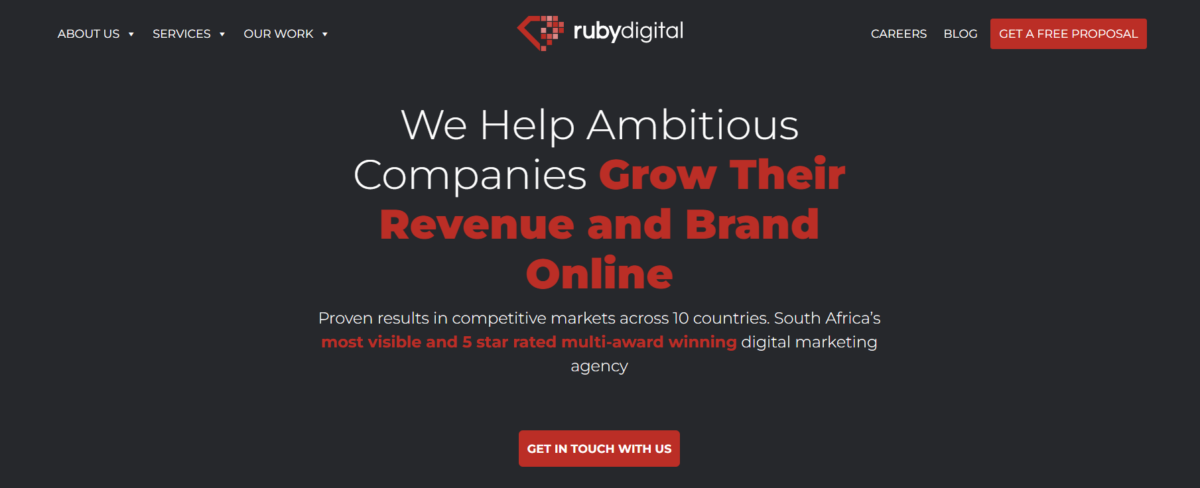 Based in Cape Town, South Africa, Ruby Digital is an award-winning, performance-based digital marketing agency. Rated as one of the top iGaming marketing agencies, they serve a number of industries and, aside from iGaming, they've also helped businesses operating in other competitive industries like tourism and eCommerce. For the past 10+ years, they've focused on growing leads and have generated great results for gambling names like Scorebet, Vegas Casino, and Betting America.
For example, when Betting America, one of the leading legal gambling resources in the United States for casino bonus offers, needed to grow their online presence using SEO, Ruby Digital zoomed in on keywords. They researched keywords so that they could optimize their content for these specific keywords. Thanks to this comprehensive approach, they managed to increase organic sessions by nearly 80% in less than a year. On top of that, they also managed to increase their domain authority (DA) by over 80% to reach a score of 35.
When working with Ruby Digital, their team will become an extension of your business. They view themselves as your virtual online marketing department, an approach which has helped them receive dozens of highly rated Google reviews.
Key services include:
Paid ads
Content marketing
Web design and development
Conversion rate optimization (CRO)
SEO
---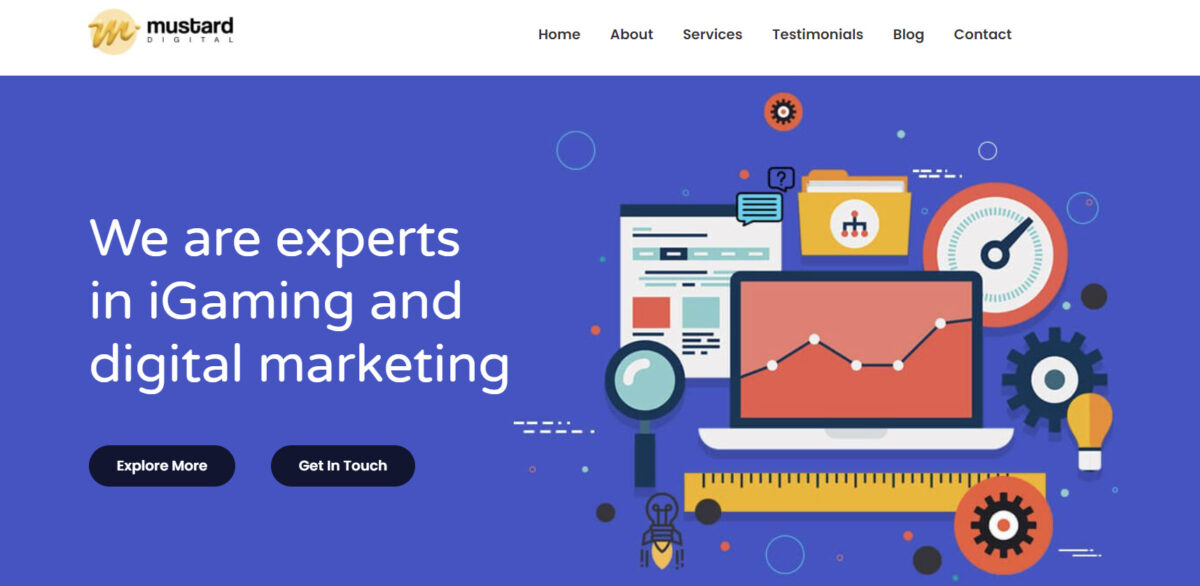 The team behind Mustard Digital boasts over two decades of experience in iGaming and knows how to cut the mustard. Founded by Allan Turner, former chief marketing officer of BGO, one of the leaders in online casino and bingo, clients have praised them for their website design and branding services in particular. The secret recipe to their sauce is that they combine their industry knowledge with creativity and data analysis. This way, they can deliver the best ROI, helping their clients to reap long-term gains.
Whether you want an outsourced marketing team or simply need a consultant to analyze current practices and advise, they can be the solution you need. In addition to website design, their capabilities extend to various channels too such as social media and email. They can also help you to implement marketing systems and ensure that everything complies with the relevant rules and codes.
Key services include:
Affiliate marketing
Search engine marketing (SEM)
CRO
Website design and development
Email marketing
---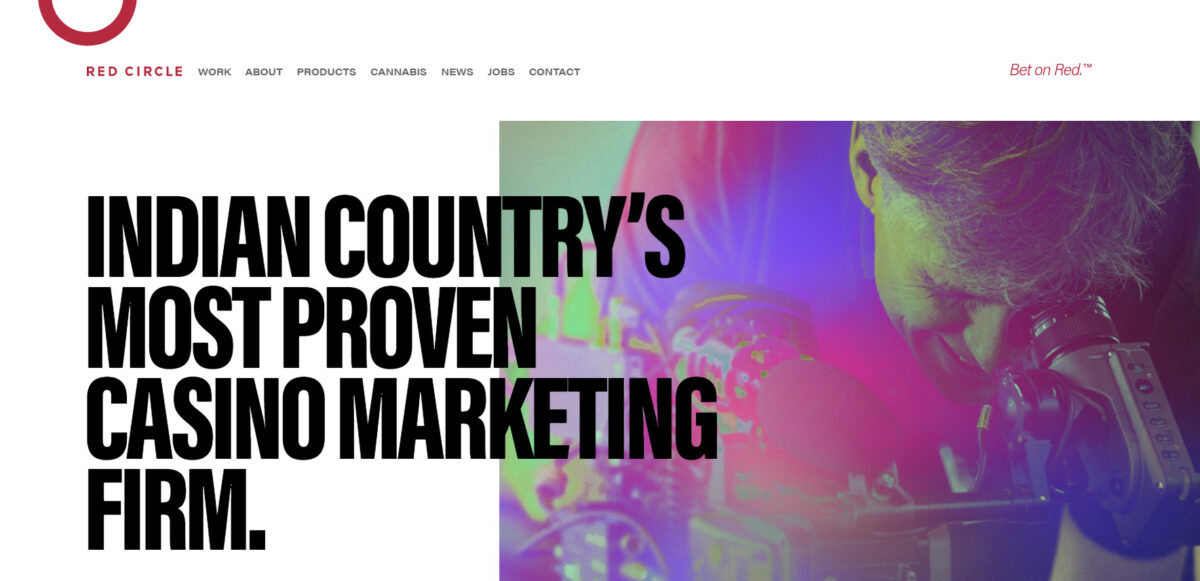 According to their website, Red Circle Agency is the biggest native-owned casino marketing firm in the United States. The agency was founded by a former casino advertising director, while its team is made up of creative ad pros, software developers, and former casino marketing directors.
Their capabilities include strategy, web design, and creative. They also offer a number of innovative products to help with marketing. For example, with RECON, you can make the most of data helping you to target guests more accurately.
For example, when Buffalo Run Casino had an emergency creative campaign, Red Circle jumped into action. In less than a week, they had to deliver new TV ads and plan and buy all the media placements. Basically, all they had to work with were clever copy and stock video content. What stood out was their ability to buy TV and radio spots for a fraction of the price. In fact, they managed to save Buffalo Run Casino up to 90%.
Key services include:
Database marketing
Strategy
Media buying
Digital marketing
---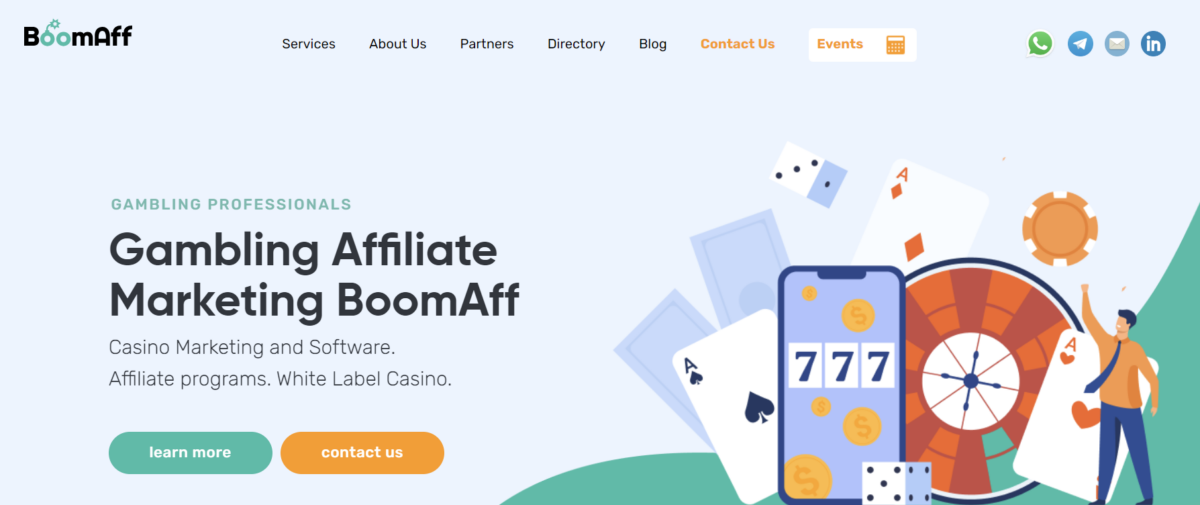 For help with gambling affiliate marketing, there's BoomAff. They've worked with a number of casinos and offer casino marketing and software affiliate programs. Included in their list of clients are online betting sites and online slots like CampeonBet, Stelario, and All Reels.
It doesn't matter whether you're new to affiliate programs or have an established program already, they can help generate traffic. Their team is experienced at recruiting new affiliates and managing existing ones, acting as one point of contact for all affiliate programs and members.
Aside from affiliate marketing, they also work closely with various other gambling experts that can help with email marketing, risk management, bonus policy, and customer relationship management (CRM). They also have more than 500 webmasters and media networks in their contacts boasting substantial experience in the gambling field.
Key services include:
Casino affiliate marketing
Online casino marketing
Turnkey casino solutions
Customer support
---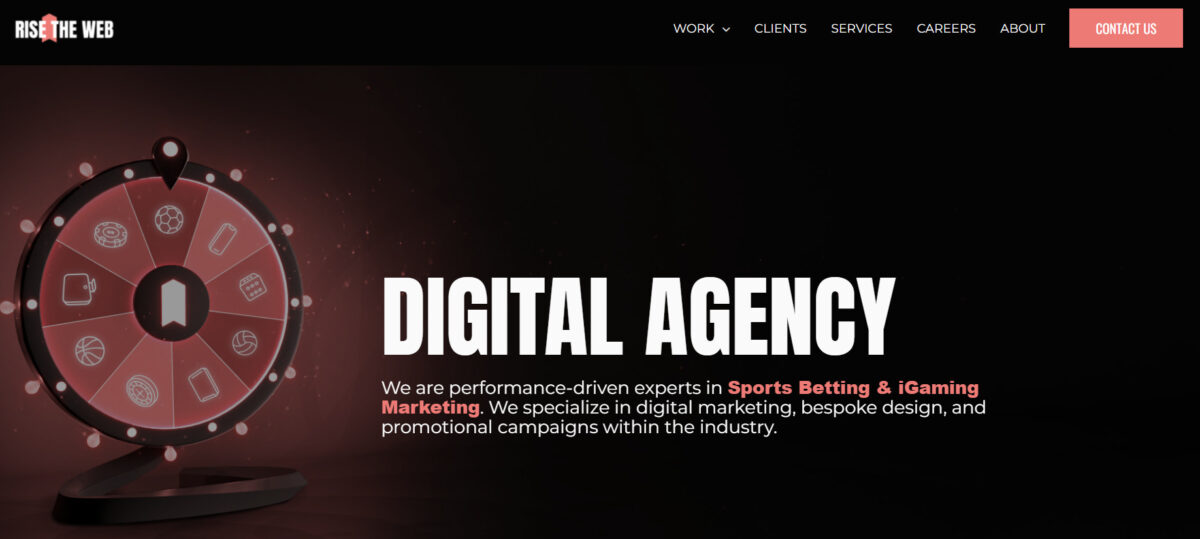 Rise The Web's team of performance-driven pros specializes in delivering digital marketing, promotional campaigns, and bespoke design to the sports betting and iGaming industries. Their performance marketing strategy concentrates on acquisition, reach, engagement, and conversions.
While they're based in the UK and Bulgaria, they remain a remote-first company. Aside from not being anchored down to a location, they also have the ability to jump between devices. They describe themselves as digital agnostic, meaning that they can craft creative experiences for mobile as well as desktop.
By mixing digital innovation with branding, they come up with aggressively bold work that generates real results. From research to remarketing and everything in between, they tackle each marketing project thoroughly.
For example, when Betmarket, one of the leading online sports betting sites, wanted to build an online sports betting and casino platform, Rise The Web made sure that they rise to the occasion. Over the span of seven months, they solved various challenges that included creating a unified entity for seemingly individual products and creating a brand identity that was unique, yet relevant. The result — millions of Google Ads and Meta impressions.
Key services include:
Strategy
Brand identity
Design
Social media marketing
Media planning and buying
SEO
Email marketing
Web development
---

InnoVision describes themselves as "the anti-agency" as they refuse to be labeled as another ad agency that sells promises that they can't materialize. What's more, they're also selective about the clients that they work with and prefer to partner with passionate brands with a vision of becoming a leader in their niche. Some of the clients in North America that have "passed" their selection process are Valley View Casino & Hotel and Northern Quest Resort & Casino.
If you do meet their criteria, what they can promise you is that they'll come up with the right strategy. This, however, will take time, but they have the courage not to lose motivation.
As for their approach, they break it down into five steps. Everything starts with understanding your company, product, team, and target audience. It's only after they really understand everything there is to know about your brand that they shift their attention to research.
Transparency also plays a key role in how they go about their business. You'll receive weekly reports which they've affectionately dubbed Tactical Assault Client Team (TACT) reports.
Key services include:
Web design and development
Media buying
Video production
Digital advertising
Branding
Graphic design
PR
Digital content creation
---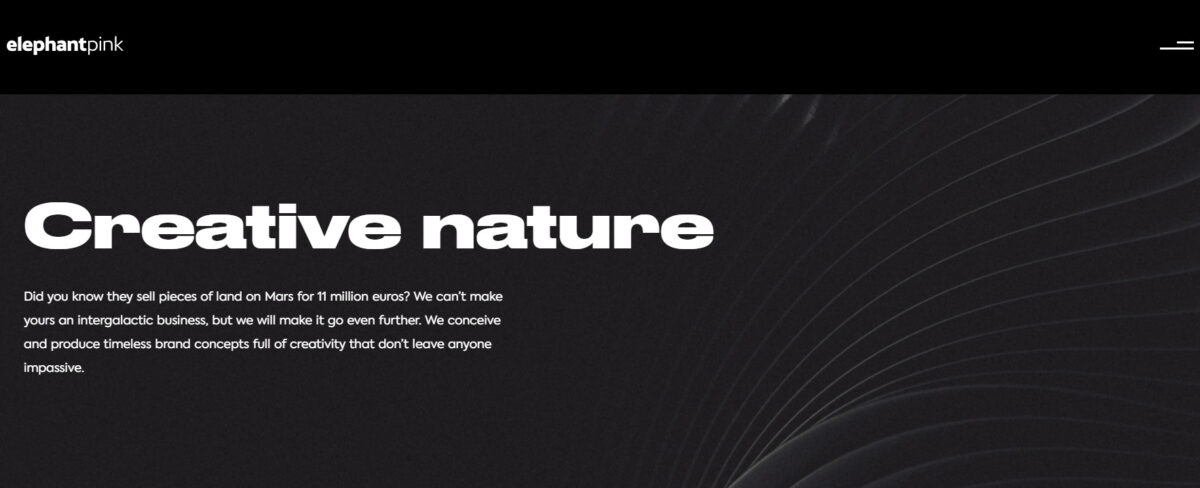 Founded in 2008 in Spain, ElephantPink offers a wide range of marketing services to various industries. Their multidisciplinary, young and creative team relies on innovative strategies that are customized to the unique requirements of each client.
Included in their services is iGaming marketing. It doesn't matter if you operate an online gambling company or one from a physical location, they've helped operators, suppliers, casinos, and sport betting companies to stand out.
Their programmers are skilled at creating experiences that adhere to the strict online gambling laws and security procedures. They can also create social media strategies tailored for gambling marketing to help communicate the excitement. Aside from using social media to spread the word, they can also assist with print ads, press releases, and other promotional tasks to strengthen brand recognition.
For proof of their capabilities, you can simply check out Google where they've received dozens of positive reviews. Traits that stand out in these online reviews are their professionalism, creativity, and customer-centric approach.
Key services include:
Graphic design
Programming
Audiovisuals
Branding
UI/UX design
Animation
---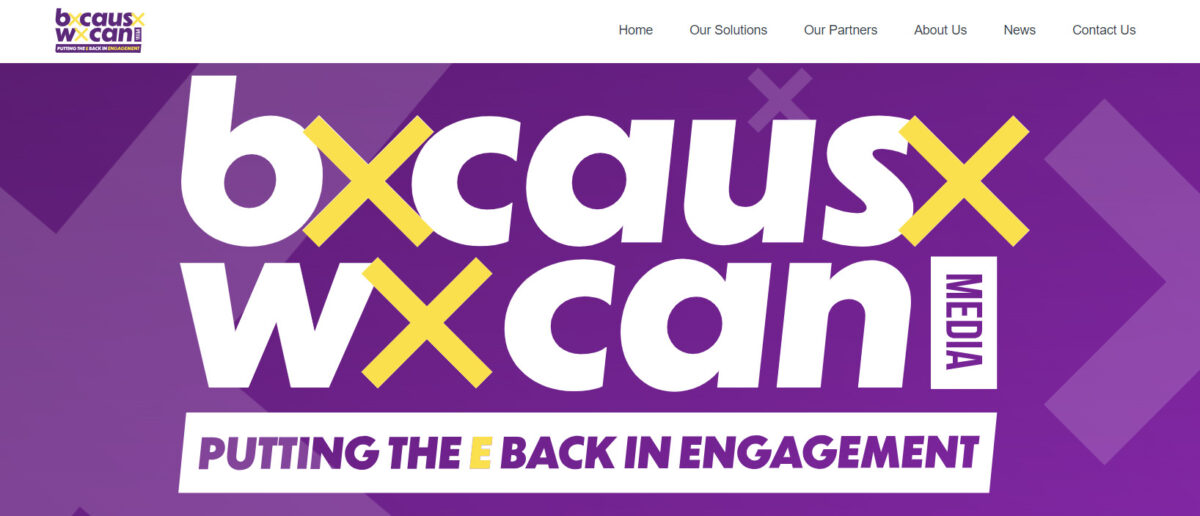 Headquartered in London, Because We Can Media describes themselves as marketing specialists for the gambling and eSports industries. During their six years in business, they've worked with major gambling and eSports names helping them to reach their target audiences throughout numerous global markets.
Three years after they were founded, they were listed as one of the top 10 fastest growing digital marketing agencies in 2020. Considering everything that happened in 2020, it makes this achievement even more impressive.
With the help of their in-house proprietary tech, programmatic solutions and ad formats, they can offer tailored campaigns to each client. Combine that with their impressive targeting options and direct relationships with publishers like ESPN and CBS Sports, and you can look forward to higher ROIs.
Everything kicks off with a comprehensive brand review and ends with reporting. After your campaign, you'll receive a detailed report outlining what they've achieved and highlighting the successes worth celebrating.
Key services include:
Social media marketing
App marketing
Proximity campaigns
Creative strategy
---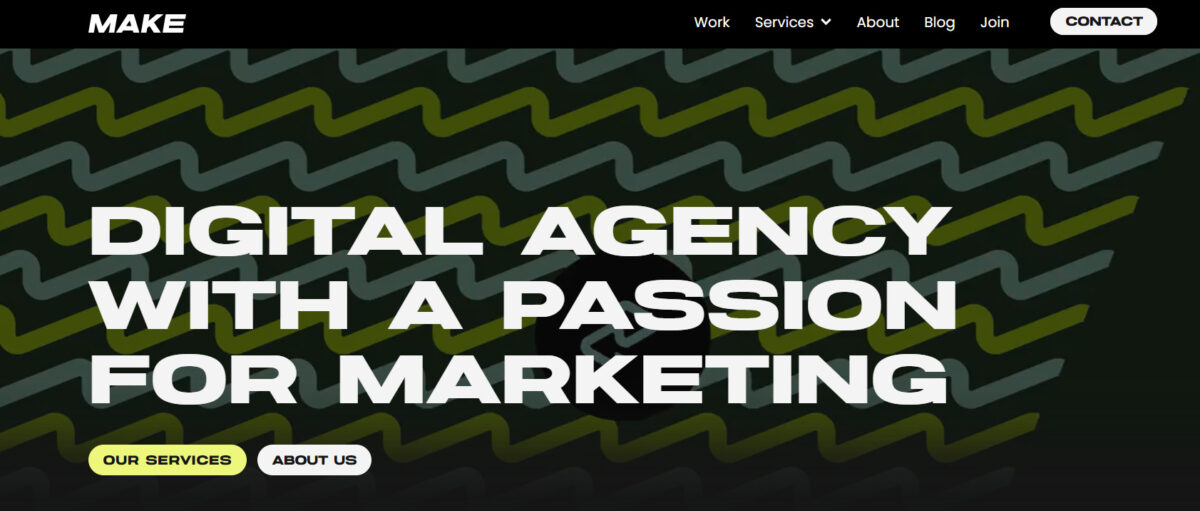 Make was founded in 2014 by two friends united in their determination to start an agency that offers first-class, digital-first creative services. Fast-forward nearly a decade and they've grown their agency to a diverse team of more than 40 digital specialists, making them one of Clutch's fastest growing agencies in 2022. Their hard work has also landed them recognition from Google and Awwwards and clients like Ladbrokes, BetBright, and Racing Post.
Based in London, they can provide a wide range of services and can help you to make the most of your organic as well as paid efforts. Some of their other marketing services include social media management, social and content strategy, and community management.
They can also help with the more technical aspects of operating online gambling sites and include full stack development and system integrations in their scope of services too. Their in-house tech experts will integrate into your team to create cutting-edge digital products.
Plus, at the other end of the spectrum, there's their creative team. They work hand in hand with their web team to ensure their creative designs align with their marketing strategies.
Key services include:
Marketing and campaign strategy
Paid social
Paid search
Organic search
Data analysis
Website design and development
CRM
UX/UI design
Creative content creation
---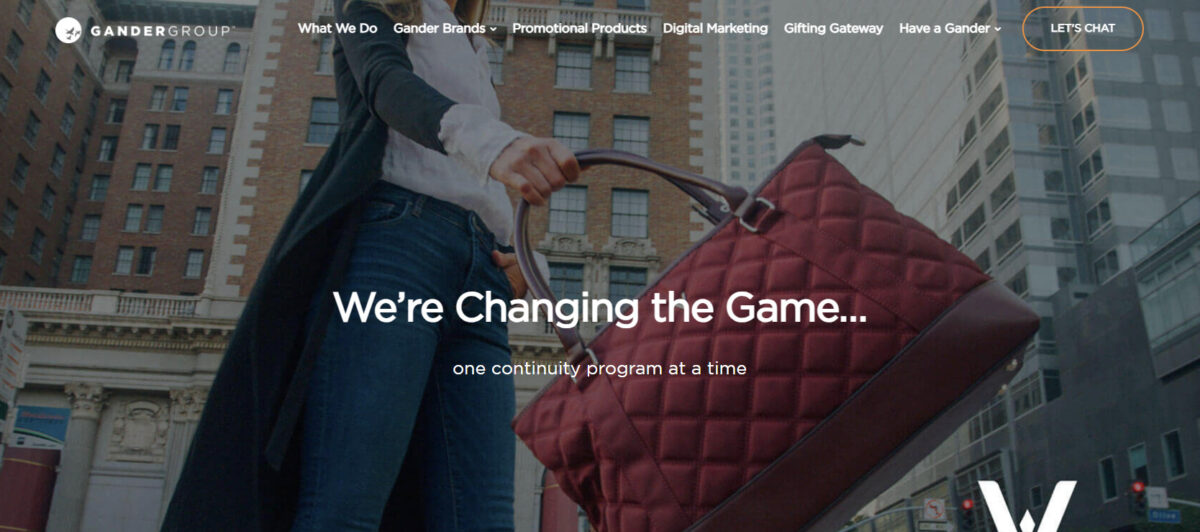 Land-based casinos can check out Gander Group. Headquartered in California, they're a full-stack casino digital marketing and customer engagement agency. They merge sophisticated tech with their creative passion to implement cost-effective digital marketing strategies.
From SEO to social media marketing, they offer a range of services with branded merch as one of their specific focus areas. They also know how to convert customers into brand advocates using strategies like promo items and customized gifting concepts.
Key services include:
Pay-per-click (PPC) management
Website design and development
Email marketing
SEO
Social media marketing
Geolocation marketing campaigns
Analytics and reporting
Artwork and creative
---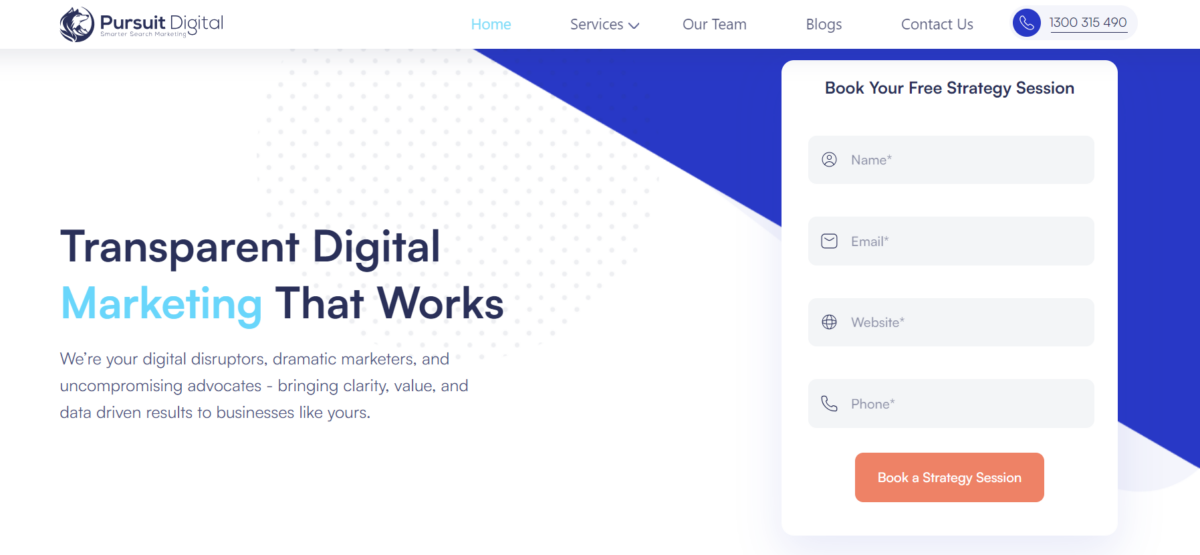 Based in Melbourne, Pursuit Digital is an Semrush Agency Partner and rated by them as one of the top professional gambling digital marketing companies. They describe themselves as a group of "digital disruptors, dramatic marketers, and uncompromising advocates".
What sets them apart from other digital marketing agencies is their system and level of customer support. They give their clients, which include names like Sportsbet — one of the top Australian online betting and entertainment websites, access to better data. Their team of writers, marketers, and designers also use these numbers to keep campaigns on track.
Key services include:
Website design
SEO
Google Ads
---
Wrapping Things Up
One of the challenges of creating marketing campaigns for the gambling industry is that there are more rules to consider. Aside from keeping in mind unwritten marketing rules, you'll also need to adhere to written rules.
The American Gaming Association (AGA) makes it very clear that messages may not use risk-free language. Then, there are several other technicalities like age restrictions, including helpline numbers, etc. to consider.
The goal is to encourage responsible gambling. And, the responsible choice will be to leave the marketing to an agency that specializes in this niche.
Frequently Asked Questions
What's iGaming?
In short, iGaming refers to any online gambling and betting where real money is used for betting. This includes card games (including poker), online casinos, and sports betting.
Which marketing agencies work with the iGaming niche?
There are several great marketing agencies that serve the iGaming niche. You can, for example, check out:
Digital Fuel Marketing
Mustard Digital
Natalis
Ruby Digital
Spill Media Group
ElephantPink
What should you look out for in an gambling marketing agency?
When choosing a gambling marketing agency, use the following guidelines:
They should be able to stay up to speed with geographical regulatory changes.
They need to use up-to-date competitive intelligence.
They must have a track record of creating engaging user experiences.
What are popular marketing strategies for online gambling?
There are various marketing strategies that can be used effectively for online gambling. These include:
Affiliate marketing
Email newsletters
Search engine optimization
Social media marketing