Being an authorized reseller on Amazon is a popular way to make money on the online retailing giant. Statista reported that third-party sellers were behind 58% of Amazon sales in the third quarter of 2022.
Most entities on Amazon offer goods via reselling—finding low-priced products and buying in bulk) from another merchant, a retail store, wholesalers, or another marketplace, then reselling them on Amazon at a higher price.
---
5 Steps to Start Reselling on Amazon:
---
A Step-by-Step Guide to Becoming an Amazon Reseller
You can have a thriving reselling business on Amazon with these steps: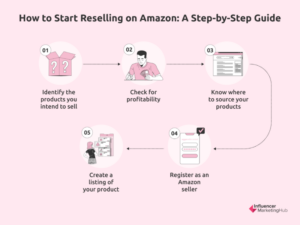 1. Identify the products you intend to sell
Avoid relying solely on deals you can get from wholesalers. Conduct thorough research—is the market demand for the product high enough to make sales? Is it too expensive that you might end up with unsold stocks?
Testing a product to assess quality is a vital initial step in deciding what to sell. Research its cost per unit, your competitors, and any related seasonality.
---
2. Check for profitability
You can do the following to determine profitability:
Consider the most popular Amazon categories
Amazon's bestsellers list, "frequently bought together," and "customers also bought" sections point to the most in-demand items.
FBA Master Class lists the following as Amazon's top-selling categories:
Home and kitchen

Beauty and personal care

Toys and games

Electronics and gadgets

Clothing, shoes, and jewelry

Pet supplies

Exercise and fitness

Handmade
High-demand products often have many customer reviews and high search volume. However, selling high-demand products means facing many competitors who also want to cash in on the popularity of these items.
Search for low-competition products
Offering low-demand goods without a record of success is recommended for new resellers. Find out what products have few sellers so you can set a price and develop a marketing strategy where you can stand out. When you eventually improve your seller performance, you can become a leader in your product category.
Look for a high-competition product that you can offer at a low price
This tactic might make it hard for you to earn a profit when you eventually decide to raise your prices. However, selling at prices lower than others in your category can improve your visibility. Study how you can maintain a high-profit margin despite offering low prices.
Search for high-quality products that can provide a good profit margin
Look for quality products with a proven success rate—meaning items that are likely to draw positive feedback and fewer returns. Doing so will help widen your customer base.
Also, find items with profit margins worth 30% to 50% of the product's original price. Remember to factor in other costs, such as shipping and Amazon seller fees.
Use the Amazon Seller app and other online tools to find profitable products
Amazon Seller and other scanner apps: The Amazon Seller app and similar mobile phone tools let you view the prices of a product on Amazon when you scan the barcode of an item sold at brick-and-mortar stores. The Amazon app will also tell you whether you can resell the item or if its manufacturer prohibits its resale on specific marketplaces (restricted products).
Other online tools: Helium 10, Jungle Scout, AMZScout, and Viral Launch are some platforms featuring tools that can help determine what products will give you the highest returns.
---
3. Know where to source your products
Resellers usually find good deals from:
Physical stores or retailers such as Target, Walmart, Home Depot, Lowe's, and Walgreens hold clearance sales or bargains where you can buy items at prices lower than what you find on Amazon. Reselling these at higher prices on Amazon is a strategy known as retail arbitrage.
Instead of going to brick-and-mortar stores, you can buy your products from online marketplaces such as eBay, Walmart's online store, Aliexpress or Alibaba. Reselling products from these sites is called online arbitrage.
Wholesalers can offer you the lowest price per item. However, you typically have to buy in bulk or high volume, so sourcing goods this way will require a higher budget.
Just like buying from wholesalers, you have to buy in bulk. The upside of sourcing from manufacturers is you can rebrand their product with your label.
---
4. Register as an Amazon seller
While reselling and selling on Amazon is technically different, you still need to sign up for a seller's account to become an authorized Amazon reseller. You will need an official government ID card, a valid credit card, and tax information. You have two options: you can register for an individual account or a professional account.
Registering as a professional seller will require a monthly fee worth $39.99 and gives you access to Amazon's premium tools and features. Unlike individual (non-professional) sellers, professional account holders don't have to pay a $0.99 fee each time they sell an item. The monthly subscription covers all sales, regardless of the number of items sold.
If you're still figuring out your sales strategy, you can start as an individual seller. You can upgrade to a professional account later and save money, particularly once you sell 40 items monthly. Individual accounts are free but allow only up to 50 sales transactions monthly.
---
5. Create a listing of your products
Log in to your Seller Central account, hover over "Inventory" in the menu bar, and click "Add a Product."
On the "List a new product" page, a search bar will appear with the instruction "Search Amazon's catalog first." You can either add a product to an existing Amazon listing or create a new listing. Check if Amazon's database already has your item by writing the item's name or entering its Amazon Standard Identification Number (ASIN) on the search bar. You can add one product at a time or create a listing in bulk.
Adding to an existing Amazon listing
Most products already have an existing listing. Unlike eBay, Amazon keeps only one listing for a product, and all the sellers of the same product appear here. If it's a listed Amazon product, copy the ASIN from the URL or product details in the search bar, then click the Search button.
When Amazon displays your search results, you will find a drop-down menu on the right side of the screen above the "Sell this product" button. Choose the condition of your product (new, renewed, or used) from this menu before clicking the "sell" button.
When the "Offer" page appears, assign an alphanumeric identifier for your product in the Seller SKU field. The acronym refers to a stock-keeping unit, which helps you and Amazon keep track of your inventory. The SKU is only found in your seller account and isn't visible to other sellers or customers.
In the "Standard Price" field, enter your selling price. Afterward, select "New" in "Offering Condition Type" if you're selling a brand-new item. On the "Fulfillment Channel" field, choose whether you'll ship the item to your buyer (merchant-fulfilled) or Amazon will handle shipping for you (Fulfilled by Amazon or FBA).
After answering this page, Seller Central will add your product to your "Manage Inventory" page. Your listing becomes active shortly after you click the "Save and finish" button at the bottom of the page if you ship goods on your own. If you've signed up for FBA, your product pages only turn active once Amazon receives your inventory.
---
Creating a new product listing
If none of Amazon's sellers offer the product you want to sell, click "I'm adding a product not sold on Amazon" after tapping "Add a Product" under Inventory on your Seller Central account's main page.
In the "Select a Product Category" page, choose the category for your product. You can look at the categories where other sellers listed products similar to yours and go with that category. Then fill in the information for each tab:
In the

Vital Info

tab, enter the following:
Product name or the name of your item that shoppers will see when they search on Amazon. Ensure that it includes as many relevant keywords as possible.

Manufacturer and brand name

Product ID (barcode number)

Other information (package quantity, type of material, color, shape, size, dimensions, and weight)
2. Provide additional information about your product inside the Variations tab if it is available in other sizes, colors, or dimensions.
3. In the Offer Tab, you will find the "Import Designation" field on top with a drop-down menu from which you can select the best description of the product: wholly made in the U.S., another country, or a mix of materials sourced from the U.S. and overseas. You can skip "Country of Publication" if your item is not a book or other published material.
You also have to enter your warranty description, start selling date, fulfillment latency— which indicates shipping time if you're not using FAB, and legal disclaimer (about complying with label warnings).
Some fields that you can leave blank include: the release date (when you first released the product), the country as labeled (the country of origin, if not from the U.S.), gift wrapping services, tax code (if you're using Amazon's tax collection service), restock date, and "signed by" (if your product bears someone's signature).
4. In the Images tab, upload photos of your product according to Amazon guidelines. Images should be 1,000 to 10,000 pixels on the longest side and at least 500 pixels on the shortest side. Amazon prefers JPEG format.
The product should occupy at least 85% of the image—don't submit illustrations as your main photo. Also, use a white background for your main image. Amazon will accept eight other images besides your main photo.
5. In the Description tab, describe your item's key product features in bullet points. Also, write a product description that is 2,000 characters long at most—up to 400 to 500 words with spaces included. Amazon offers tips for optimizing your product pages for SEO.
6. In the Keywords tab, enter unique keywords related to your product that you haven't used yet in your product name or bullet points. Other fields to complete are "Subject Matter" (What is the product about), "Other Attributes" (additional features of the product), "Intended Use" (the activities or conditions buyers should use your product), and "Target Audience."
7. In the More Details tab, key in the manufacturer's suggested retail price for your item and your sales price or the price the Amazon shopper must pay for your product.
After providing information to all necessary fields under the seven tabs, click "Save and Finish." You may have missing data when nothing happens after you click the save button. Check the tabs for any warning symbols (triangle with an exclamation point) indicating missing information.
---
Selling vs. Reselling on Amazon: What's the Difference?
Amazon sellers are brands that sell their products to the public through the site. Sometimes brands do this to complement their physical store. Meanwhile, resellers are also customers who buy pre- or ready-made goods from suppliers—frequently and typically in bulk—and resell them to Amazon shoppers.
Resellers differ from distributors, who communicate closely with suppliers and manufacturers about market trends. This relationship allows distributors to influence production, branding, and marketing.
---
Is It Legal to Resell on Amazon?
Reselling products on Amazon is legal as long as you acquire the items honestly and don't sell counterfeit products.
However, Amazon expects transparency about the condition of items you resell and where you get them. The company also prohibits sales of some product categories. Get to know what these categories and products are, particularly through the Amazon Seller app, when deciding what to resell.
For example, the online retail giant only allows you to list products as "new" (sealed and unused) if you source them from wholesalers or manufacturers. Otherwise, the status of your offer must be either "very good condition" or "used."
What Items Can You Not Resell on Amazon?
Amazon doesn't allow reselling products from specific brands which generally have authorized sellers for their products.
Although Amazon has no official list of "restricted items," seller advice sites say the company prohibits the reselling of products from entities such as the following:
Adidas

Black & Decker

Chanel

Disney (and its affiliates)

Fisher-Price

Gillette

Hasbro

Jockey

Keurig

L'Oréal

LEGO

Nabisco

Olympus

Panasonic

Ray-Ban

Samsung

Tommy Hilfiger

Under Armour

Victoria's Secret
Restrictions may be due to the frequent counterfeiting of products under that brand. Resellers may try to send an application requesting Amazon's approval to sell items belonging to restricted (gated) brands.
---
Seeking Approval for Restricted Products
Go to your Seller Central account and click "Add a Product" from the Inventory. You will know that it's a restricted product when a box appears, saying: "You need approval to list" either in this brand or a specific category. Click the "Request Approval" button on the right side of this notification.
Amazon will ask for documents during the approval process, which typically include purchase receipts. Collect and scan your invoices and keep your originals for safekeeping.
To check your approval status, go back to Seller Central's main page and again select "Add a Product." Once you're on the "Add a Product" page, click the line that says "Selling Application Status."
---
Resale Failure Factors: Why Do Resellers Leave Amazon?
Some new Amazon resellers fail because of the following: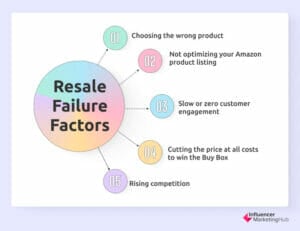 Choosing the wrong product
It's not enough that you love the product or find it very innovative. The item must be something that others want to buy. That's why we recommend using profitability tools to help you forecast the demand and returns you can get from a product.
Not optimizing your Amazon product listing
How you write your product's description and features can affect your sales. You should include relevant keywords and statements explaining how your product can make your customer's life easier or better. Ensure that your text is clear, error-free, and better than how your competitors market similar items. Conduct split-testing for your images to ensure appeal.
Slow or zero customer engagement
Take time to address your buyers' questions and complaints promptly. Tell them how you plan to resolve product defects or other customer service issues.
Cutting the price at all costs to win the Buy Box
The Amazon Buy Box attracts more than 80% of sales on the website. Newbie resellers might drop their prices so that this feature will appear on their product pages, but as our guide points out, Amazon "rewards" this box not just to sellers offering low prices. The company also checks overall performance, including the number of canceled orders and product returns on your record.
One product can have hundreds of resellers as Amazon doesn't limit the number of resellers for any item. Moreover, the original brand can suddenly start selling directly on Amazon even when it wasn't around yet when you started. Shoppers will tend to flock to these brands.
---
Boost Your Amazon Resale Biz with Marketing Tools
Discover more tools to make your Amazon reselling business succeed. Check our eCommerce tools and resources plus our recommended list of Amazon marketing software.