Advertising Disclosure
Advertising disclosure:
Our partners compensate us. This may influence which products or services we review (also where and how those products appear on the site), this in no way affects our recommendations or the advice we offer. Our reviews are based on years of experience and countless hours of research. Our partners cannot pay us to guarantee favorable reviews of their products or services.
HubSpot continues to be one of the most used platforms to set up anything from sales to customer support, but one of its most common benefits is its capability to help any company create its own branded website. HubSpot isn't the only company to offer this service (or any of its other services), but as a long-trusted name in the digital space, it'll likely be your first choice if you want to build a website.
While the platform itself makes the process of making a website relatively hassle-free, there's a lot of merit in hiring a professional HubSpot website design agency to do it for you. If this is an option that you're looking for—either because of a lack of time, resources, or other considerations—it's crucial to find an agency you can trust.
Here's a guide about the various HubSpot web design agencies you can tap to build your website, as well as other considerations to keep in mind when using this approach.
---
HubSpot Website Design Agencies To Partner With In 2023
Many website design agencies know about designing websites outside of the HubSpot platform, like WordPress or Shopify. However, finding ones that have specific experience with HubSpot's infrastructure can be extremely helpful if you want to take the reins over designing and developing your website down the line, as you'll have an easier time integrating all the changes you make in the HubSpot platform.
---
---
---
---
---
| | |
| --- | --- |
| | |
| | Brands seeking comprehensive website packages and recognized HubSpot expertise. |
| | Startups, companies undergoing rebranding, or those merging with other companies. |
| | Established brands looking for long-term collaborations and flexible HubSpot optimization. |
| | Big-name brands or those aiming for data-driven design and digital marketing support. |
| | Brands in need of holistic digital solutions, frequent updates, or repositioning. |
What Should A HubSpot Website Design Agency Do For You?
HubSpot's website builder falls under its Content Management System (CMS) Hub, which conveniently covers everything from tracking site visitors to web hosting. The platform's Drag-And-Drop Website Builder and assorted templates make it reasonable for anyone to make a website, even with little to no technical training.
So what exactly does a HubSpot website design agency do? We'll discuss the specific benefits of partnering with one further down this guide, but simply put, these agencies do one or more of the following:
Do a brand audit to determine the best possible website for your brand

Either build the website from scratch (or migrate it from another host) into the HubSpot platform

Design both the front and backend of your website

Create, organize, and store content for your website (both for copy and visuals)

Operate the website on your behalf, or automate processes related to running it

Complete regular audits and compile reports on your website's performance
Above all else, a HubSpot website design agency should be able to design a website that caters to the brand's needs and the audience's preferences. It'll be your choice whether this is all you want from the agency. Some agencies offer plans to help run the website that it designed for you, while others may just build it and leave operations in your hands.
These agencies may sometimes be part of HubSpot's Solutions Partner Program, which offers additional support to their ability to design and develop your website on the HubSpot platform. However, non-partner agencies can also help create your website. It'll depend on your preferences as to which one you'll choose.
---
Why Collaborate With A HubSpot Website Design Agency?
One question that many companies often ask is if hiring an agency for website design (especially on the Hubspot platform) is even necessary in the first place. After all, Hubspot makes the process easy, and you can start your website on the platform with relatively little time or training required.
While all this may be true, there are distinct advantages to hiring a Hubspot website design agency to do the work—if not all of it, at least most of the work.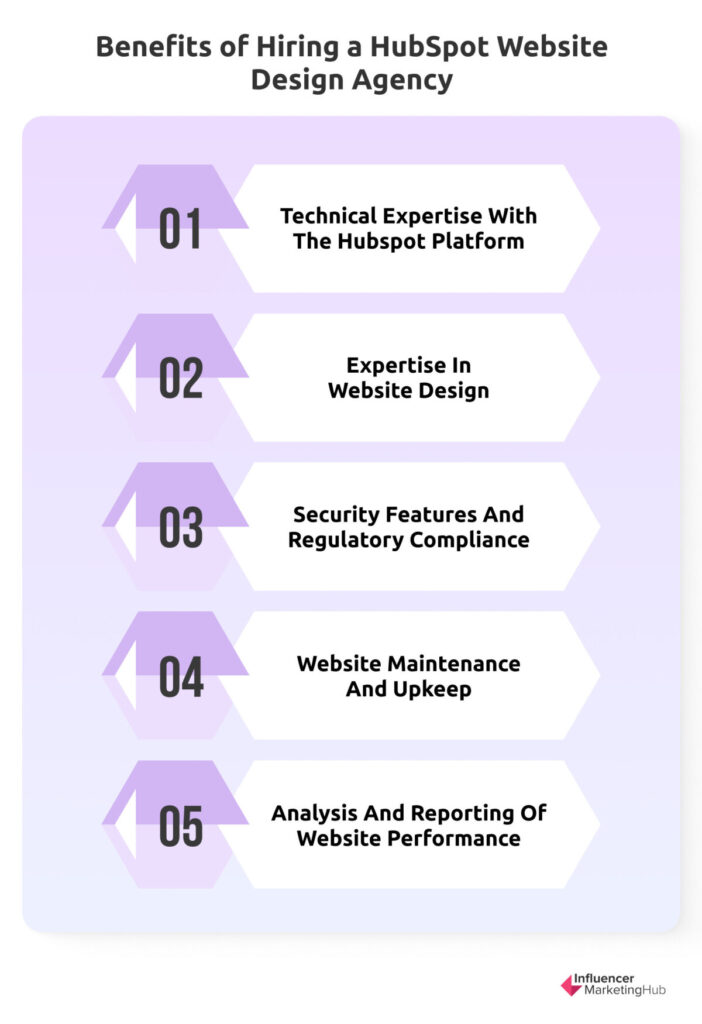 Technical Expertise With The Hubspot Platform
Not all business owners will have the technical skillset—or the time and resources—to learn how Hubspot operates. Hubspot may be intuitive, but its vast array of features needs some training and technical skill to use, let alone get the most value out of it.
So while it's possible to hop on the platform and learn how it operates yourself, in most situations, it'll be far more preferable to have a website design agency create your website on Hubspot. Not only will it have the technical skill needed to create it efficiently, but it may have access to better features if it happens to be a Hubspot Partner.
Expertise In Website Design
Web design is a complex area with many moving parts: and what's best practice for developing and creating websites may not always be obvious to the regular person. According to Forbes, an optimized experience is everything in designing websites: around 47% of users won't wait for a website that takes longer than 2 seconds to load. There's a lot of room for error in website design if you're untrained.
Hiring an agency will make this risk less likely both long and short-term, resulting in significant savings over time in overhauls and redesigns. Any of those costs can go towards marketing, advertising, and upkeep of the website, which can have a better return on investment.
Security Features And Regulatory Compliance
Data security and privacy is a serious issue that many new websites often fail to address, which can result in heavy penalties or blacklists depending on the regulation of the region. Legislation like the EU's General Data Protection Regulation has strict guidelines on website behavior, with many other countries starting to introduce similar regulations for their online spaces.
Website design agencies can help ensure that your brand's website complies with these regulations. They also update/change your website to account for any shifts in legislation or ruling. This ensures that you'll have a fully operational and compliant website on the day of your launch, improving customer experience and establishing brand trust.
Website Maintenance And Upkeep
Companies looking for a long-term approach to their website development and design can also hire these design agencies to take care of their websites post-launch and conduct maintenance and upkeep on their behalf. This can be anything from as simple as creating a chatbot to answering customer queries or directly supporting the customer service/live support team.
Additionally, these agencies are the best people to consult if something happens to the website—either because of hosting issues or cyberattacks—as they have familiarity with identifying, analyzing, and fixing the problem immediately. This saves precious downtime on the website and lowers the risk of similar events happening in the future.
Analysis And Reporting Of Website Performance
Because website design agencies have direct access to your website's code through the HubSpot platform, they're in the best position to conduct audits, reports, and analyses of your website's performance. Hubspot makes this easy with its in-built analytics and reporting software, but a website design agency can help you make more sense of how exactly your website is performing concerning your goals.
Over time, repeated analysis and performance can help you fine-tune your website and your marketing campaigns for better performance. Since your website will often be the first point of contact for many of your clients, it's an excellent source of information about your audience and your brand engagement.
---
Wrapping Up
Despite some upfront costs, Hubspot website design agencies can be an extremely worthwhile investment. Their technical expertise combined with the best practices in making a website can help them position your brand online, with the support needed to propel you to success long-term.
Frequently Asked Questions
How much do website design agencies cost?
Most website design agencies will work closely with their clients to determine the best possible pricing based on their needs. However, accounting for the relatively high cost of the Hubspot platform (even more if they're a Hubspot Partner agency) can result in costs ranging from $20,000 to $100,000.
Should you always hire a website design agency to make changes to your website?
While there's a lot of merit in hiring an agency to build your website from the ground up, there are instances where you can simply hop on the Hubspot platform yourself and make the necessary changes there. Ideally, you'll only do this further once you've understood how the platform works. Making any changes yourself during your website's early days can be catastrophic.
Can I have my website migrated from another hosting platform to Hubspot?
Absolutely. Website design agencies will often have expertise in other platforms aside from Hubspot and can easily export all your content, settings, and website into the Hubspot platform. It may take you some time to get used to the new website architecture and the Hubspot platform itself, but you can rest easy that all your previous content can be safely transferred.