Advertising Disclosure
Advertising disclosure:
Our partners compensate us. This may influence which products or services we review (also where and how those products appear on the site), this in no way affects our recommendations or the advice we offer. Our reviews are based on years of experience and countless hours of research. Our partners cannot pay us to guarantee favorable reviews of their products or services.
As a business, you must reach your customers where they are to succeed. And in today's digital age, that means anywhere from their favorite social media platform to a billboard in a busy town square. 
While you can run a multichannel campaign independently, working with an experienced marketing agency will ensure you get the best result for your campaign. These agencies have the expertise, experience, and tools to create and execute complex campaigns that deliver your desired results. 
Check out the ten leading multichannel marketing solution agencies that can help you increase your customer reach.
---
Top Multichannel Marketing Solution Agencies
Ninja Promo is a full-service multichannel marketing solution agency dedicated to elevating brands' digital presence through various online channels. They work with companies in the B2B, Fintech, Crypto, Software, SaaS, eCommerce, Gaming, and Esports industries. 
As a seasoned digital marketing agency, they are experts in social media, SEO, paid media, influencer marketing, video production, branding, community engagement, web development, mobile development, blockchain development, and lead generation. Leveraging their knowledge they can create an integrated approach for their clients to ensure a consistent brand message across all channels. 
Some of their recent projects include helping Bitcoin.com get a side project up and running, assisting Affyn to grow their online community by 250% in five weeks, helping CEEK VR grow their organic social media followers by 300,000, and helping a SaaS project achieve 263% increase in quarterly lead volume through a targeted PPC strategy.
Services:
Social Media Marketing 

Paid Social and Paid Media (Facebook Ads, Google Ads)

SEO Marketing

Video Production and Marketing

Blockchain Development

Lead Generation (LinkedIn Lead Generation)
---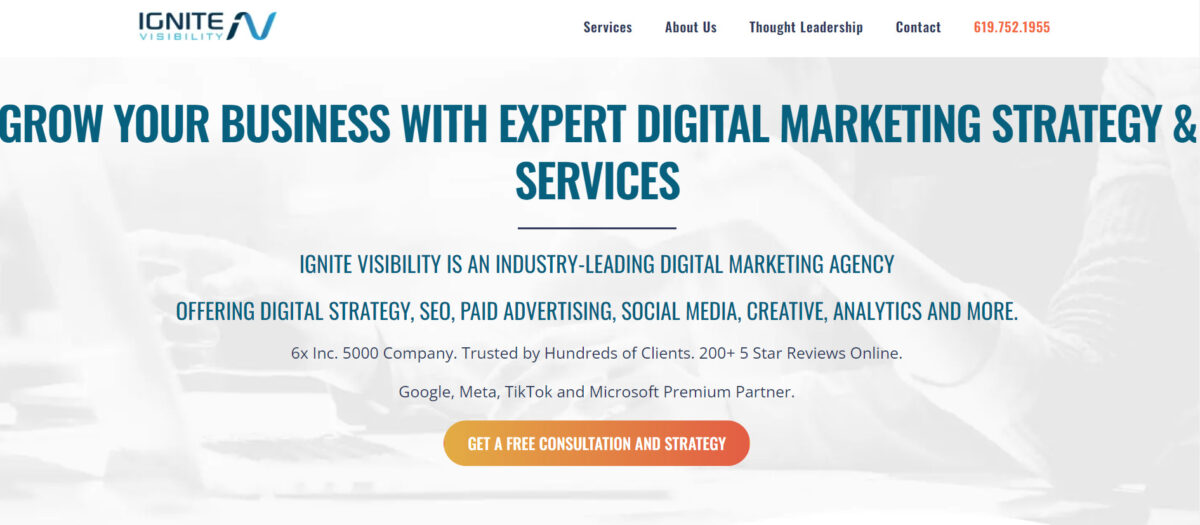 Ignite Visibility is a full-service digital marketing agency established in California in 2013. The agency founders are experts at digital marketing strategy and have helped multiple businesses grow their business online. 
Ignite Visibility delivers compelling digital marketing solutions using a variety of mediums including paid media, SEO, social media, email, Amazon, PR, and more. They've been awarded multiple times and recognized as the leader in their field by numerous publications. 
In the past five years, they've delivered 35,500% traffic growth and over 180,000 subscribers/followers for more than 170 clients. They work with startups to household brands like Tony Robbins, Jazzercise, Sharp, National Funding, and Experian. 
Services:
Search Engine Optimization

International and Local Search Marketing

Pay Per Click Advertising

Social Media Marketing

Conversion Rate Optimization (CRO)
---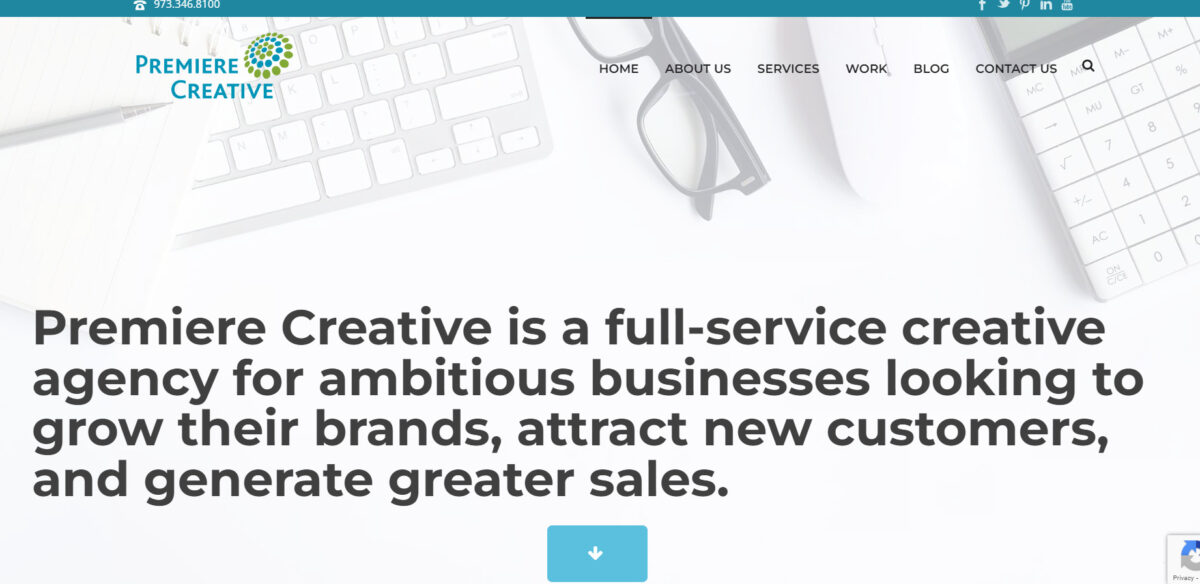 Established in 1994, Premiere Creative has witnessed the evolution of multiple marketing channels. Their team has developed the skills to create a multichannel marketing solution from TV and radio to new digital marketing channels. 
They specialize in integrating traditional advertising with digital solutions like web usability, social media, and video marketing. They've helped entrepreneurs and start-ups earning a few hundred thousand dollars grow into medium-sized businesses making several million dollars. 
Even with a tight marketing budget, Premiere Creative can help you compete against big-budget competitors using their unique creative approach. They pride themselves in being a less expensive multichannel marketing agency that can deliver the best return on investment for your marketing spend. 
Located in New Jersey, they serve small and big businesses in the surrounding areas like New York, Connecticut, and Long Island. But they also have clients all across the country until California. 
Services:
SEO Marketing

PPC Campaigns

Social Media

Audience Affinity Analysis

Web Design
---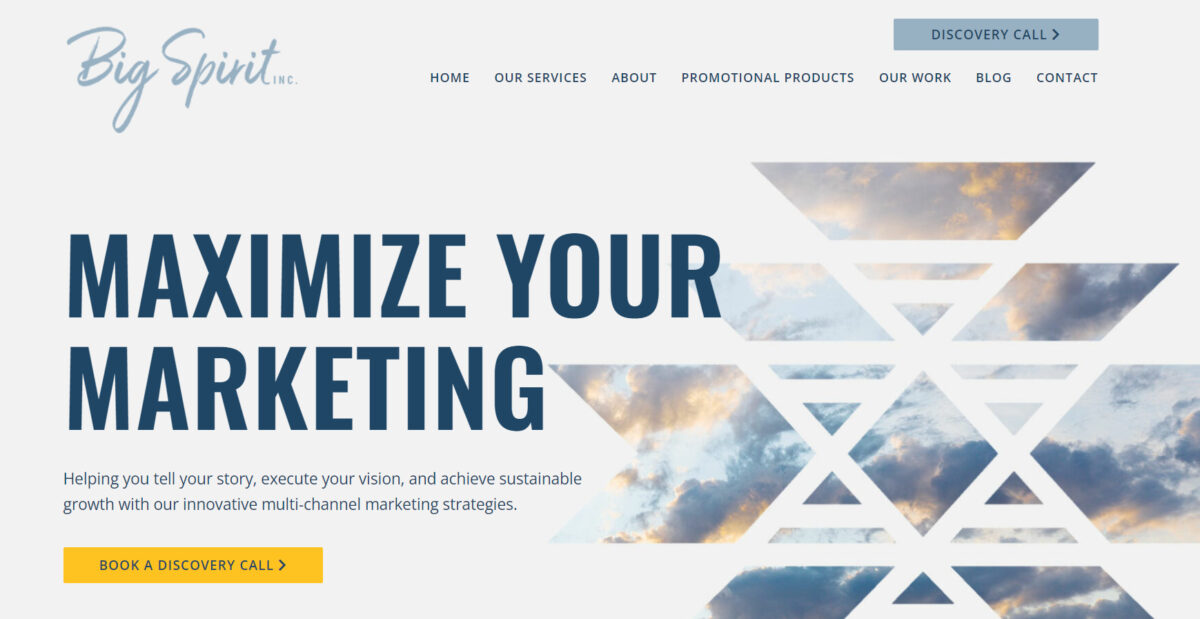 Big Spirit is a Native American-owned and operated marketing agency specializing in sustainable and innovative multi-channel marketing strategies. Founded in 2012, they've helped organizations, tribal entities, government agencies, and business owners launch and market their brands and campaigns across multiple channels. 
Their services include multi-channel marketing strategy, creative design, analytics, and reporting.  They are a full-service marketing agency that can help you with conceptualization, execution, monitoring, and improvement.
Big Spirit offers custom packages tailored to your unique needs and scalable solutions that can bring your vision to life. Their process starts with a discovery call to understand your expectations before presenting a strategic marketing plan that will be the foundation of your multi-channel marketing approach. 
Services:
Strategic Marketing Solutions and Advice

Market Research and Audience Analysis

Brand Standards Development

Graphic Design and Illustration

Promotional Products
---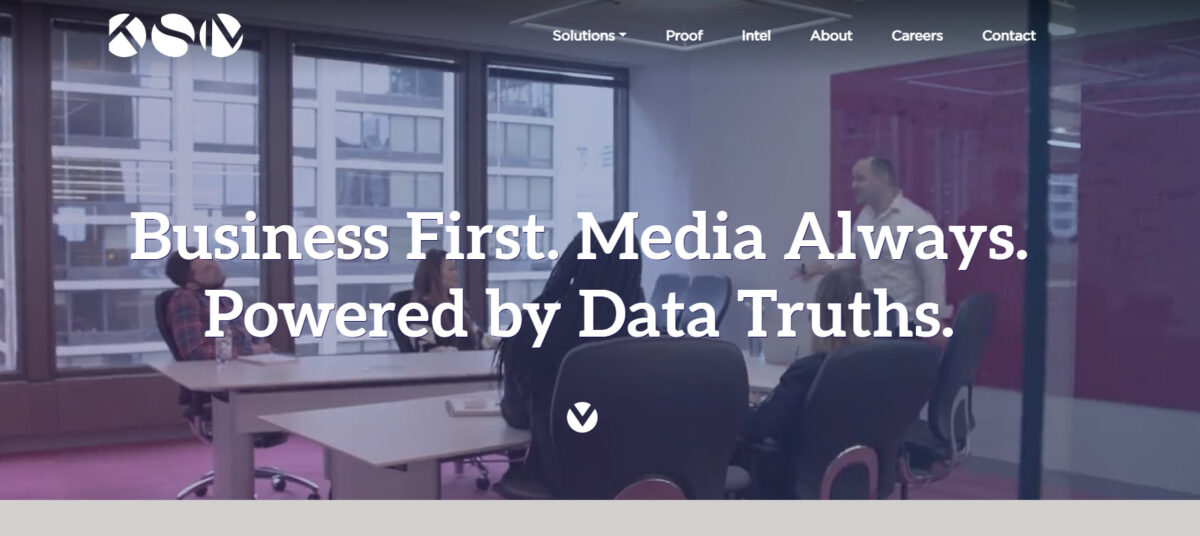 KSM Media Agency knows businesses need a multichannel marketing approach to thrive in today's fragmented media ecosystem. Their multichannel expertise includes all forms of media, such as broadcast TV, streaming audio, print, out-of-home channels, mobile, display, and social media. 
They deliver multichannel campaigns for thousands of clients across industries like Food and Beverage, Retail, Healthcare, and Fitness. Their team is obsessed with collecting and transforming data into actional insights that can shape their clients' strategies. 
Some of their proprietary tools include a Channel Compass that determines the optimal media mix to deliver the broadest reach, an Audience Engine that can identify the unique traits of your target demographics and an Axia dashboard that showcases the impact of your multichannel marketing campaigns. 
Services:
Media Solutions

Analytics & Outcomes

Programmatic Media Buying

Strategic Social Media

Video Marketing Solutions

Out-of-Home Advertising
---

Established in 2013, Reality Premedia Services created bespoke solutions for global clients needing cutting-edge marketing solutions. They offer clients exposure to Augmented Reality (AR) and Mixed Reality (MR) so they can further elevate their marketing presence.
Their clients come from various industries, such as publishing, education, industrial manufacturing, hospitality, entertainment, and more. Their notable clients include Warner Bros, BBC, Henkel, Pearson, and more. 
Their multichannel marketing services span multiple disciplines, like print design, website design, application design, and digital marketing. Some of their success stories include helping a US publisher launch a successful eBook line, assisting a major Asia Pacific retail chain to launch their digital storefront, using AR and MR to help an automobile company promote their new product, and assisting an eCommerce store attract new customers with virtual product try on. 
Services:
Publishing Solutions

Website Design

Print Design

Email Marketing 

Content Marketing

SEO/SEM
---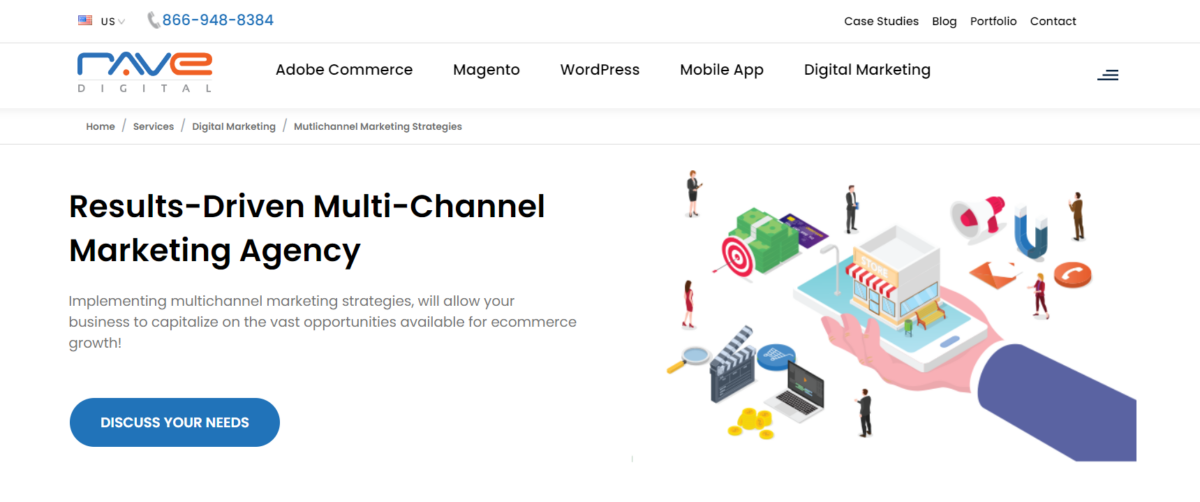 Rave Digital helps merchants get their products in front of the most significant number of customers using numerous channels, including multiple online marketplaces like Amazon, Walmart, and eBay. They are focused mainly on eCommerce and retail sellers ready to tackle the vast possibilities of being in various sales channels. 
The agency recognizes that a customer's path to purchase starts across different touchpoints such as social media, email, or search. Being present across these channels and having a multichannel marketing strategy will ensure that merchants can maximize their sales. 
Rave Digital has delivered 820 million visitors to optimized websites and showed a 76% average sales increase for multiple clients. Their notable clients include L'Oréal, Mothercare, Nestle, Yamaha, Topps, and Rite Aid. 
Services:
Digital Marketing Strategy

eCommerce Marketing

Social Media Marketing

SEO

PPC

Mobile App Development
---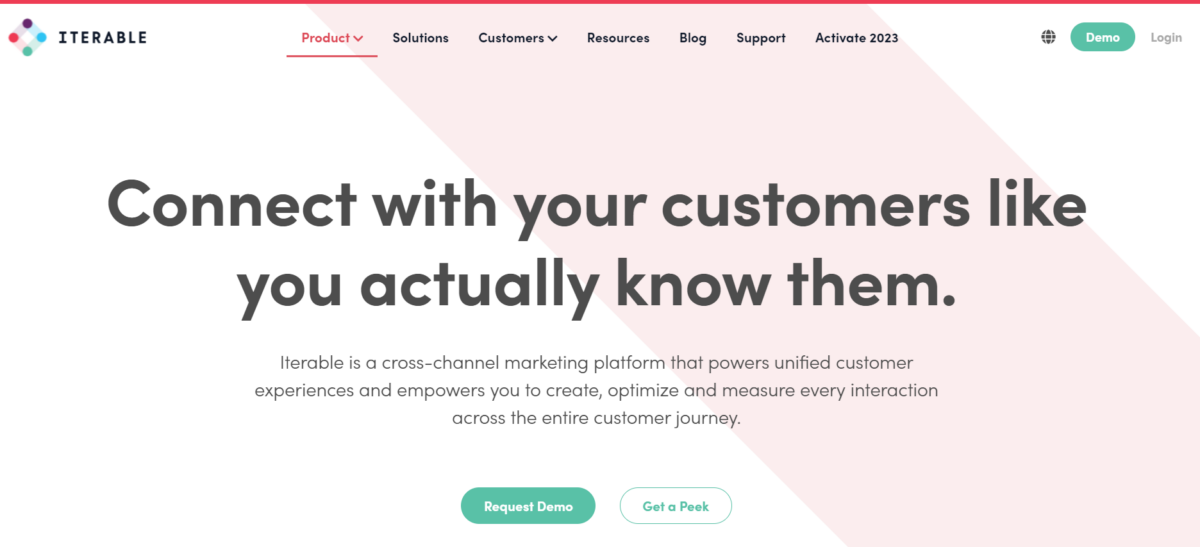 Iterable is a multi-awarded multichannel marketing agency established in 2013 and operating in five offices worldwide. They are in San Francisco, Denver, New York, Sydney, and London. The Iterable team believes that customers are everywhere, and brands must communicate with them on their preferred platforms.  For this purpose, Iterable has built tools that help multiple channels work seamlessly so brands can launch omnichannel campaigns without much effort. Their intelligent personalization solutions help create individualized, dynamic content that further refines campaigns to be more specific and targeted toward customers.
They've served over a thousand customers in Consumer Goods, Travel, Consumer Apps and Services, Retail, eCommerce, Technology, Media, and Real Estate. These notable clients include Doordash, Cinemark, Glassdoor, Scribd, Evernote, Calm, 99Designs, Fender, Boxed, and more. 
Services:
Growth Marketing

Direct Mail Marketing

Email Marketing

Mobile Marketing

SMS Marketing

Social Media Marketing
---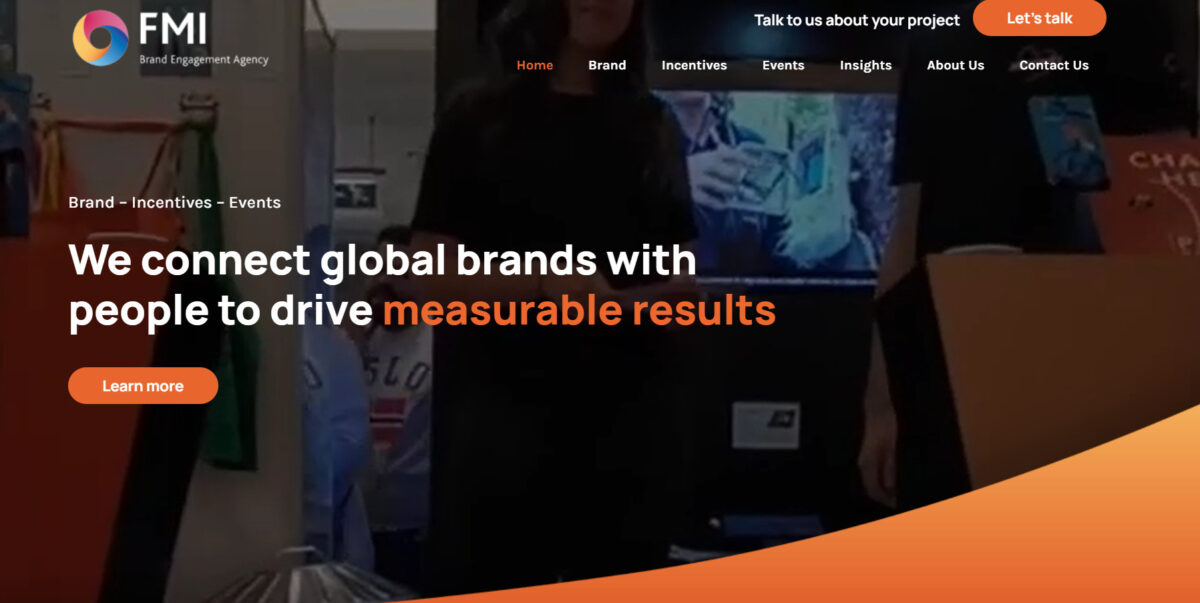 FMI offers multi-channel marketing solutions that create exciting marketing communication campaigns in diverse channels. The agency knows how to gauge which channels will work and which won't, so they can help clients focus on the ones that will deliver the highest ROI. 
Their approach goes beyond traditional digital channels like social media, email, and websites. They also cater to brands that need to reach audiences through roadshows, installer events, and other traditional marketing channels. 
FMI makes multichannel marketing simple and fun while generating the highest brand engagement. They utilize gamification, instant wins, and other incentive-type programs to drive continuous engagement to help you reach sales targets and build brand loyalty. 
Services:
Brand Engagement

Product Marketing

Marketing Communications

Engagement Programs

Corporate Events

Multichannel Marketing
---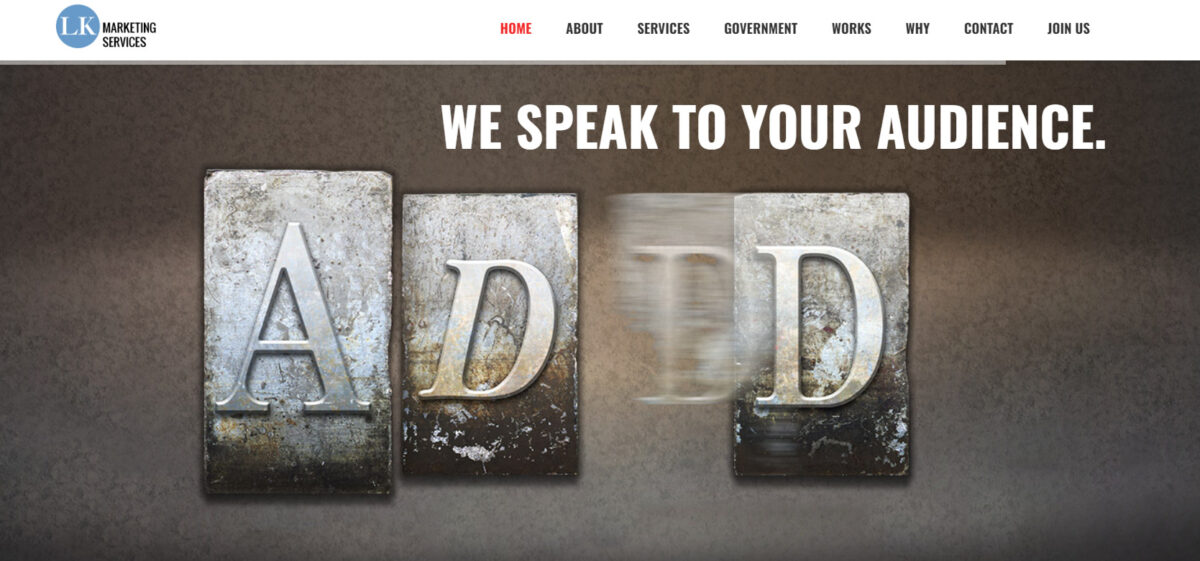 LKK Marketing Services is a full-service multi-channel marketing agency founded in 2008 and based in Indianapolis. They serve global clients who need B2B marketing or consumer direct marketing solutions. They are a certified minority-owned company with over a hundred years of combined experience working with private sector firms and government agencies. 
They provide a wide range of services, such as marketing consultation to help clients select the proper channels, creative services that include copywriting and web design, database services that capture the correct data, and systems development to create custom applications. 
They can work with every channel, from digital such as social media, email, and presentations, to traditional, like print, direct mail, and telemarketing. Some of their featured works include an interactive digital display for Accenture, a direct mail campaign for the Institute for Quality Education, and an infographic presentation for One America.
Services: 
Direct Mail

Email Marketing

Microsites and Landing Pages

Social Media Advertising

Call Center Services
---
---
What is multichannel marketing?
Multichannel marketing uses multiple marketing channels to communicate with new and existing customers. It's an integrated marketing strategy that harnesses the unique characteristics of each online and offline marketing channel to deliver a cohesive brand message. 
It involves understanding how a customer's interaction with your brand in one channel affects their action in another medium. For example, a customer who downloaded your mobile app is more likely to subscribe to your email newsletter and open it. If you're only doing marketing in silos, you'll lack the context to understand that your newsletter click-through rates increased because the clicks came from app subscribers. 
With a multi-channel marketing strategy, you get a clear picture of your customer's buying journey and can better understand their consumer behavior. This eliminates guesswork and provides valuable insights into your customer interactions. 
Multichannel marketing should provide customers with a seamless journey from when they first became aware of your brand to when they turn into brand ambassadors. Gone are the days when customers decide they want a product, then head to a store and ask the sales rep for recommendations. 
In today's digital world, a typical customer journey looks like this:
They read a blog suggesting solutions to their problem.

They ask for recommendations from friends on social media. 

They check reviews from review sites. 

They visit a physical store to try the product.

They purchased online because they received a discount code via email.
Multichannel marketing is a powerful way to increase brand awareness, generate leads and boost sales. Using multiple channels, you can reach a wider audience and target specific customer segments with personalized messages. 
It goes beyond just being present in multiple channels. It knows how to use these channels collectively to engage customers. 
---
Examples of multichannel marketing campaigns
To better illustrate multichannel marketing, here are examples of cross-channel marketing campaigns.  
Starbucks designed its customer experience to engage customers to encourage repeat visits constantly.  They've launched a rewards program conveniently available through their mobile app and accessible through their website or a physical card. Customers can check their points and reload the cards through the app, the website, phone, or in-store. All channels are automatically updated seamlessly, so there's minimal waiting time. 
Because of the convenience and exciting rewards, customers will keep visiting their stores or ordering beverages online.
After discovering that its sales came mainly from its online store, Apple turned their brick and mortar stores into marketing channels that educated customers. The stores served as places where consumers could test the products, attend demos, and receive technical support. 
Customers can do so in-store, online, or via third-party sites when they are ready to purchase. Apple also utilized other channels like TV, social media, and mobile app to deliver consistent messaging. 
Toggl Hire is a candidate screening tool that helps recruiters find the best talents. They understand that the customer journey of their target audience involves a series of considerations before arriving at a decision. With tough competition, they also know they have to be wise in their choice of marketing channels. 
One strategy the SaaS company followed was to use inbound marketing across multiple channels. They use a high-intent keyword to drive traffic to their blog. 
They know their customers are considering their options, so they provide an educational blog. Then within the blog, they include a call to action to subscribe to their LinkedIn Page. 
And once on LinkedIn, they continue to nurture the relationship with entertaining but informative content. 
---
Final Thoughts
As technology progresses, more marketing channels will be added each year. Even now, the metaverse is a new marketing channel waiting to be conquered. Understanding your customers and where they spend their time will help you learn the proper channels to capture their interest. 
With the help of seasoned multichannel marketing agencies, you can tap these channels and deliver an exciting and consistent customer experience.
Frequently Asked Questions
What is an example of a multi-channel marketing system? 
Multichannel marketing sends a unified message using different independent channels to spread brand awareness and gain new and repeat customers.  Marketing channels can be digital (social media, search, email) or traditional (OOH, TV, radio). 
For example, you're launching a new fashion line. You can run campaigns across social media, display ads, and email newsletters. You can also create billboards, TV ads, and marketing installations inside and outside your store. 
What are the benefits of multichannel marketing? 
There are several benefits to using a multichannel marketing strategy. These include:
Reaching different audiences that are present in these various channels

Cross-promoting content to acquire more leads

Improving trust and brand loyalty since customers see a consistent message across channels

Increasing customer base

Accessing more insights for analysis

Gaining more profound insights into customer behavior

Having a better competitive advantage
What are the three keys to success for multichannel marketing?
For your multichannel marketing campaign to be successful, you must:
Create a consistent customer experience across all channels

Establish centralized marketing data that gives a single view of your customer

Have a clear multichannel marketing strategy