Unless you've been hibernating or actively avoiding social media for the past several weeks, you've most likely come across something called ChatGPT. Developed by OpenAI in November 2022, ChatGPT is a chatbot that can produce human-sounding text when given prompts.
This natural language processing (NPL) tool is capable of generating long texts such as essays or stories, responding to questions, and holding conversations with humans. While the technology has great potential, it also raises some ethical concerns, especially in the academe, research, and in the fight against misinformation.
Nevertheless, ChatGPT is up and running and available for anyone to use for free. Recently, OpenAI launched a paid subscription plan called ChatGPT Plus at $20 per month. Maintaining and running ChatGPT allegedly costs OpenAI an estimated $3 million per month, so offering a paid version with more features is a sensible move. Currently, only users in the US can avail of ChatGPT Plus, but OpenAI is working on expanding it to other regions soon.
---
Why Marketers Should Join an OpenAI ChatGPT LinkedIn Group:
---
Uses of ChatGPT in Marketing
Artificial intelligence in marketing is not a new concept. For ChatGPT, the most obvious application would be chatbots that can respond to customers instantly, providing them with the information that they ask for. The standout characteristic of ChatGPT is its ability to sound human, so in terms of marketing, it's a perfect fit as a substitute for answering customers' inquiries and requests for more information about a business or its products and services.
Marketers should not limit ChatGPT to chatbots, however. ChatGPT can also be used for other, less obvious purposes. It's a powerful language tool with amazing potential for content marketing, copywriting, and even idea generation. For example, marketers can tap ChatGPT to provide a useful summary of customer requests, highlighting the most common ones so that they can adjust their marketing strategies to respond to these issues.
ChatGPT can also help in keyword research by generating similar words you are already targeting. It can help marketers discover related keywords that can improve their SEO.
As a writing tool, ChatGPT can also produce long-form content. This is one area under contention in the academic community, as educators are concerned that students can merely use ChatGPT in writing their homework assignments and even in their applications for college and graduate schools. However, in marketing, this ability can help businesses with their content marketing strategy.
ChatGPT can generate an initial draft of a piece of content using prompts from the marketing department. Afterwards, the team can refine and finalize the draft from ChatGPT, giving it the human touch that would speak to their target audiences. ChatGPT is still, after all, a machine. OpenAI has stated that the tool has limitations, among them the fact that it can write "plausible-sounding but incorrect or nonsensical answers" and is inclined to overuse particular words and phrases that can diminish its effectiveness.
---
Join an OpenAI ChatGPT Marketing LinkedIn Group
In light of ChatGPT's recent launch, they are still exploring its potential uses for marketing and advertising. . But marketing is a fast-paced industry, and the trends that we maximize at one point in time may no longer be effective after a short while. It's important for marketers to keep abreast of the latest trends and technologies that can impact their marketing efforts.
LinkedIn is a good source of marketing information. LinkedIn can be a gold mine for industry-related information, as it is a social media platform geared towards professionals and businesses. You reach out to customers via Facebook, Instagram, YouTube, and TikTok, but you connect with industry counterparts and colleagues on LinkedIn.
LinkedIn Groups offer an easy way to expand your professional network. There are thousands of Groups for marketing on LinkedIn now, ranging from general marketing to specific groups like AI in marketing.
These groups offer opportunities to connect with industry professionals, and also relevant news and knowledge that you can use in your job.
Here are some OpenAI ChatGPT LinkedIn Groups you can join. You might find that many of the groups for OpenAI, ChatGPT, and other AI-related topics won't have as many followers as you may be used to. This is not necessarily a red flag; because ChatGPT is new, communities and LinkedIn groups are still building their membership. Groups that focus on AI in general or AI in marketing should have more followers than those on ChatGPT in particular.
---
General ChatGPT LinkedIn Groups
These LinkedIn Groups are geared towards AI, NLP, or ChatGPT in general. In these groups, you'll find broader topics related to artificial intelligence and its applications in the real world. Marketers can join groups like this if they want to learn more about the ChatGPT model or the technology behind it.
OpenAI ChatGPT Community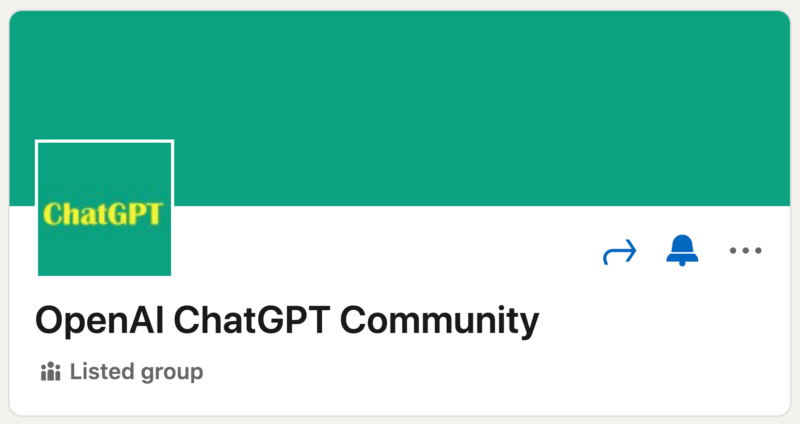 Created: November 2008
Membership: 11,000+
Created as a LinkedIn Group for Developers, the OpenAI ChatGPT Community consists of developers, programmers, data scientists, researchers, and other people who are interested to learn more about NLP and AI.
As a general OpenAI ChatGPT group, posts range from opinions on ChatGPT, applications and uses of ChatGPT in different industries, webinars on data science and other related AI fields, and even sample text written by ChatGPT.
The downside is that despite the number of members, engagement is very low, with many posts having zero comments and a handful of likes. In this group, you won't get a lot of discussion going, but you will find links and content that will help you understand ChatGPT's potential applications and access interesting webinars.
---
OpenAI chatGPT: advances and trends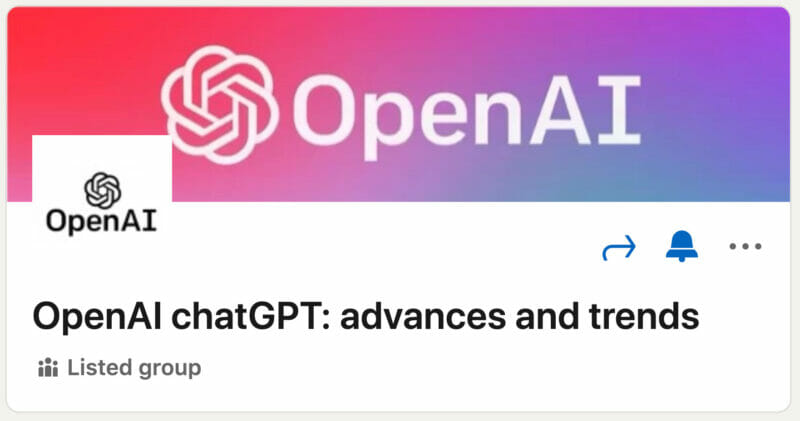 Created: December 2022
Membership: 1100+
Unlike the OpenAI ChatGPT Community LinkedIn group, this group was created solely for conversations around OpenAI and ChatGPT. Part of their rules states that only posts related to these two themes are allowed. They welcome people of any background and in any industry.
Because the community was created specifically for ChatGPT at around the same time it was launched, the posts and members are more inclined to share different posts and links on the uses of ChatGPT in various areas. The content in this network is better in terms of learning more about this AI tool. Members share links to OpenAI and ChatGPT in the healthcare sector, in sales and marketing, and even in reading.
Engagement is also a bit higher in this group, so you might have a better chance of getting a good conversation going with an industry expert.
---
ChatGPT Network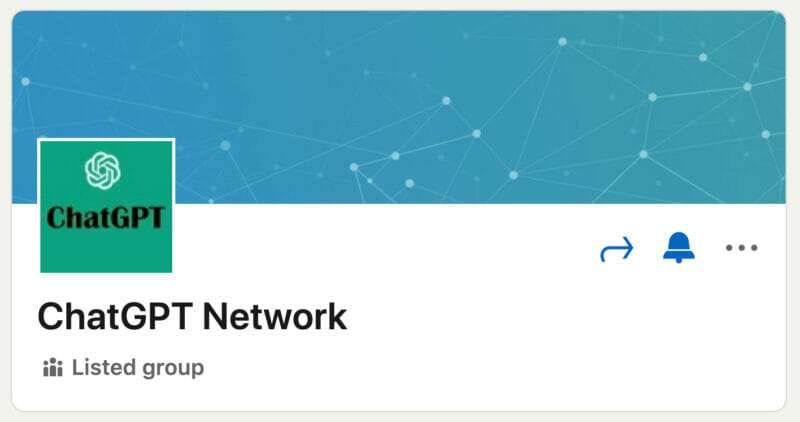 Created: December 2012
Membership: 4800+
The ChatGPT Network is a group that aims to explore advancements in and applications of NLP and AI in varying industries, focusing on OpenAI's ChatGPT model. Many members come from entrepreneurial backgrounds; they began as "The Startup Entrepreneurs Network" before shifting their attention to ChatGPT. As such, many posts are a convergence of advice and guidance for starting entrepreneurs and the applications of AI and NLP to businesses. This might be a good LinkedIn group to join if you are a startup entrepreneur interested in how artificial intelligence and tools like ChatGPT can help your business succeed. The engagement rate for this community is also very low, as it is for the OpenAI ChatGPT group.
---
ChatGPT for Marketing LinkedIn Groups
These groups are more focused on how ChatGPT can be used in the marketing industry. As we've outlined earlier, ChatGPT has many uses outside of being a chatbot for customer service. These communities have a more homogeneous makeup of members than the general ChatGPT groups, focusing on marketing-related activities.
OpenAI chatGPT in Marketing
Created: December 2022
Membership: 19,700+
Considering that the group was created at around the same time ChatGPT arrived, it is pretty impressive that this community has amassed almost 20,000 members—and counting. It speaks to the interest of marketers in the uses and applications of ChatGPT in the industry. Though they mainly discuss ChatGPT, the group welcomes conversations and content on AI-assisted marketing tools and strategies. This is a good group to join if you are curious about AI, particularly ChatGPT, and how they can reinvent the marketing industry.
The posts here are timely and relevant to both marketers and people interested in AI. The group offers many links to informative articles, opinion pieces, and updates on ChatGPT and OpenAI.
---
ChatGPT for Digital Marketing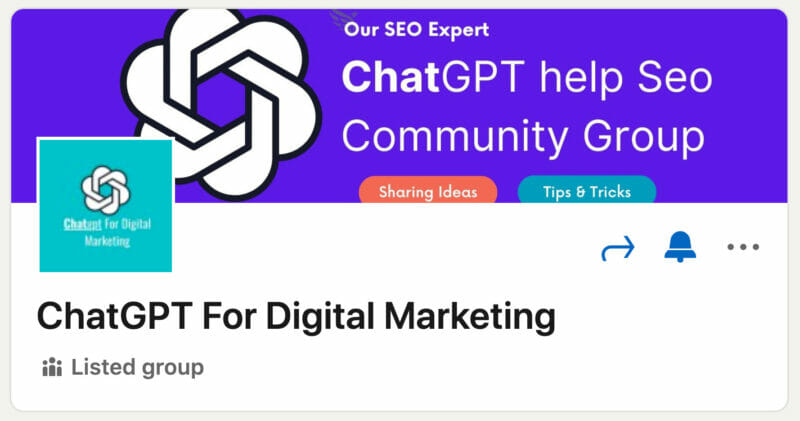 Created: January 2023
Membership: 115
One of the newer groups on LinkedIn, ChatGPT for Digital Marketing, was created only on January 2023, so membership is still low at just over a hundred members. Still, the group posts relevant content daily, including a discussion on ChatGPT's rival, Google's NPL-based chatbot LaMDA. Other posts include useful prompts for ChatGPT and suggestions on using ChatGPT to improve SEO and content planning.
There are also updates on OpenAI and ChatGPT, such as the tool developed recently by OpenAI that can determine whether a piece of text was generated using AI or written by an actual person.
---
Marketing Innovation with ChatGPT: Unlocking the Power of AI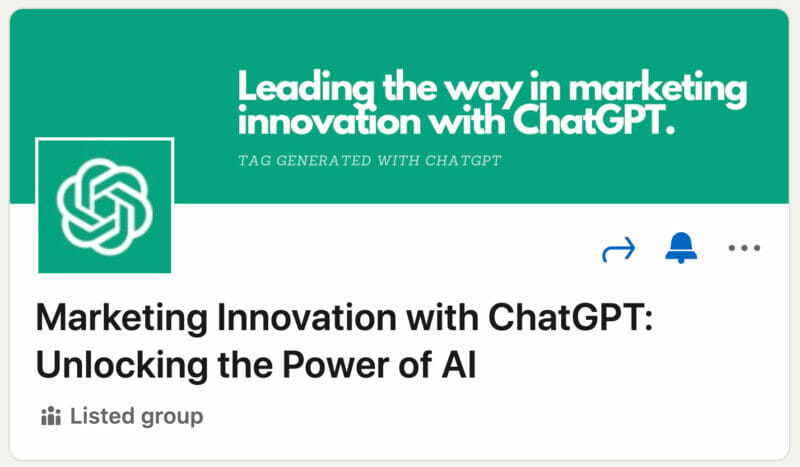 Created: January 2023
Membership: 56
A fun fact about this group is that its "About this group" description was written by ChatGPT and "edited by a human." Although the group is small, the creator posts regularly about ChatGPT and AI in order to provide marketers with relevant content. Aside from his posts about using AI in marketing and links to useful articles and news, there's still not much content from other members. This can still change as more people join and become interested in optimizing AI technologies like ChatGPT for marketing efforts. But for now, you can join this group to watch out for innovative ideas and other perspectives on artificial intelligence for marketing.
---
OpenAI chatGPT in Market Research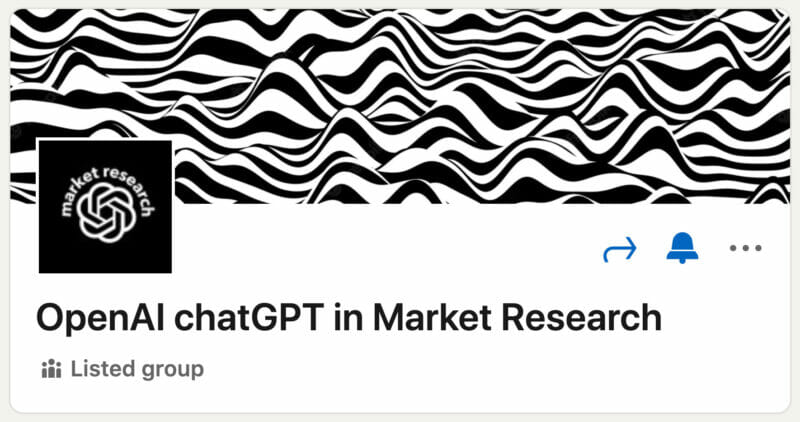 Created: January 2023
Membership: 721
Still, a more specific group is the OpenAI chatGPT in the Market Research community. Market research is an important step in the marketing process. The OpenAI chatGPT in the Market Research group is very interesting as it delves into the ethics of using AI in research and research writing, one of the more contentious elements of chatGPT.
Here you'll see posts on the pros and cons of using chatGPT in research, making for quite an intriguing feed. There are also posts on applications of chatGPT in quantitative and qualitative research in marketing.
To date, the vibe of the group seems to be leaning more toward discussing the good and bad implications of using AI in research, followed by chatGPT uses in analyzing market trends and consumer insights.
---
Benefits of Joining ChatGPT LinkedIn Groups
These ChatGPT Groups can give you information that is easily accessible. They can also prompt you to ask questions you would otherwise not be able to think of because of the novelty of the technology. For instance, a post by a group member on ChatGPT-generated content can lead you to probe further into how they use it, how they edit it, or some other application.
Another benefit to joining LinkedIn groups is getting to interact with real people in the same industry as you are. Learning from those with more experience is helpful for someone who is still starting out. In a similar vein, a marketing expert may still find himself learning from a younger colleague about the intricacies of technology and its impact on the marketing industry.
With LinkedIn Groups that talk about ChatGPT, you will be able to meet professionals working with AI to whom you can direct your question. You will be able to see their posts and content and check out how other people in other fields will be able to use them.
No matter where you are in your career journey, joining a LinkedIn group for marketing will help you learn more things that you can apply in your job. In the case of ChatGPT, you can discover new ways to utilize AI technology to make your work easier, more effective, and more efficient.