Advertising Disclosure
Advertising disclosure:
Our partners compensate us. This may influence which products or services we review (also where and how those products appear on the site), this in no way affects our recommendations or the advice we offer. Our reviews are based on years of experience and countless hours of research. Our partners cannot pay us to guarantee favorable reviews of their products or services.
The Internet has become an essential part of our daily lives. We use it to accomplish many routine tasks online, such as banking, shopping, deliveries, and other services, making our lives easier. Websites are an integral part of a business's marketing strategy. But these days, simply having a website is no longer enough. With over a billion websites worldwide, you are competing with millions of others for any relevant online search. A well-designed and user-friendly website will only be useful if people actually visit it. 
To improve your online visibility, it's important to use SEO best practices to rank higher on Google. One important practice is tracking your ranking, also known as position tracking or SERP tracking. This allows you to see if your current SEO strategy is working, and if it's not, you can identify areas for improvement. By keeping track of your ranking, you can optimize your SEO strategy for better performance and increased visibility.
---
Best Rank Tracking Tools for SEO
These rank tracking tools provide practical keyword ranking features along with other SEO functions. The tool you choose should depend mainly on your needs, budget, and SEO goals. We've listed the top-rank tracking tools that can help you improve your ranking and keep you at the top of SERPs.
---
---
---
---
---
---
Features to Consider in Choosing a Rank Tracking Tool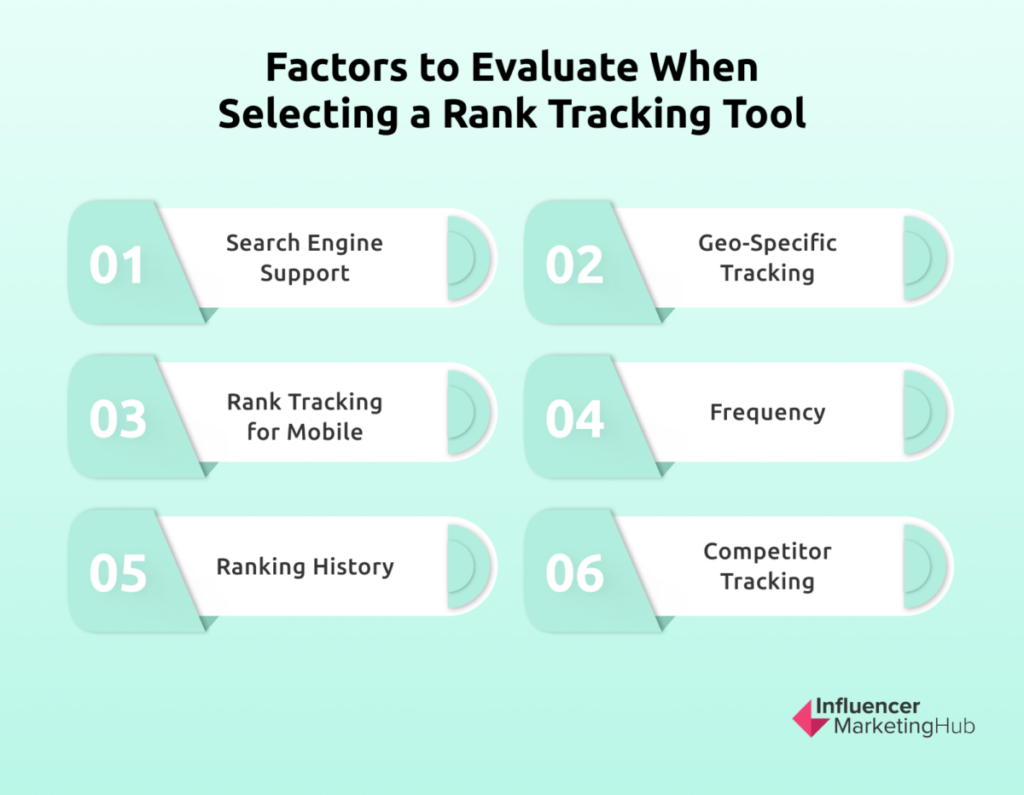 Search Engine Support
Google commands approximately 83% of the global desktop search market, making it the leader in search engine websites. However, it's important to note that many people also use Yahoo and Bing. If you have operations or branches in other countries, be aware of the Google alternatives that people in those areas use more frequently. For this reason, your rank tracking tools should support search engines other than Google.
Geo-Specific Tracking
Location is a crucial factor in the search engine results. When someone searches for "best hotels with swimming pool" in California, they will get very different results from someone who searches for the same keywords in Tokyo. Even at the local level, search results will vary based on the user's exact location. An effective rank tracker enables users to maximize local visibility.
Rank Tracking for Mobile
Mobile usage has been steadily increasing in the past several years, and recent data shows that approximately half of organic search engine visits in the US came from mobile devices. This is hardly surprising as many people own and carry smartphones everywhere, making them more accessible as search devices than laptops and desktop computers.
It's ideal to have mobile support in your rank tracking tool since mobile and desktop SERPs can be very different. Some websites are not optimized for mobile and, therefore, rank lower on mobile SERPs. 
Frequency
An ideal rank tracking tool should offer options for monitoring frequency. Tracking all keywords every day can be unnecessary and costly. It's important to check whether the rank tracker you're considering offers options for generating reports or tracking ranking data for your specific keywords at a frequency that suits your needs.
Ranking History
Historical data is an excellent measure of your progress and market trends. Good rank trackers should be able to retrieve data from previous checks and present it to the user in an understandable format, such as graphs. This allows you to identify significant seasonal trends or specific keywords that can help you refine your SEO strategy.
Competitor Tracking
Competitor tracking is vital to a successful ranking strategy. You need to know the keywords your top competitors are using, which gives them the most traffic, and how they perform in general. Knowing how you measure up against your competitors gives you a better picture of your performance. For example, if you see that your website received 1000 visits in a month, this alone does not paint the whole picture. If your competitors are getting 2000 visits during the same period, you need to consider improving your strategy.
---
Wrapping Up
Selecting a rank tracking tool that suits your business needs can make a significant impact on your online presence. By monitoring your website's search engine ranking, you can evaluate your website's performance and optimize your SEO strategy to achieve better results. Investing in a reliable and effective rank tracking tool can help you stay ahead of the competition and keep your website at the top of SERPs, improving your online visibility and achieving business success.
Frequently Asked Questions
How do rank tracking tools work?
In simple terms, rank trackers simulate user queries to search engines using specific keywords. Based on the results, it determines where your website appears and generates an understandable report for you. Using rank trackers can help you identify trends in your performance, such as sudden drops in your ranking. By doing so, you can plan steps to identify and address potential causes and bring your ranking back to your target.
How often should I monitor my keyword rankings?
For highly competitive keywords, daily tracking is recommended. A new website may enter the picture any day, so it's best to monitor frequently to ensure your ranking on SERPs remains where you want it to be. You can be more lenient with less popular keywords and track once every few days or weekly. 
Is it okay to just use free rank tracking tools instead of paid versions? 
Many free rank tracking tools are available, and most of the tools on our list offer free trials or free versions. But keep in mind that free tools may have limited functions, which can impact their usability. 
If you're new to using SEO data, it's a good idea to start with free tools to get familiar with how things work. As you gain experience and insight, you can decide which paid plan is right for your website. Keep in mind that there's no one-size-fits-all solution for rank tracking tools, so it's important to understand your specific needs to find the best tool for your business.
How accurate are rank tracking tools?
Like many other SEO tools available, rank tracking tools provide estimates based on the data they gather from search engines like Google. It can be challenging to obtain precise data on your ranking, as factors such as personalization, location, and search algorithm changes, can affect your ranking. However, these estimates are based on quantitative data so they are reliable for SEO optimization purposes.