Although WeChat may not be a commonplace name to many westerners, it is extremely popular in China. WeChat has over 1.26 billion monthly active users, and 78% of people in China aged 16-64 are using WeChat. In comparison, WeChat has 1.48 million monthly active users in the US. Although WeChat (Weixin in China) started as a messaging and networking service in 2011, it has widened the services it provides. The average WeChat user now spends 82 minutes on the platform every day. Thanks to the arrival of WeChat Mini Programs and the ease of setting up WeChat Stores, the app is now at the forefront of social commerce. As a result, brands are rapidly discovering the benefits of selling in China via WeChat.
So why should you sell on WeChat? The numbers alone give a good reason to place your brand on the platform, particularly if you sell something that can enter the Chinese market without too many problems. Social shopping is rapidly gaining in popularity. In 2020, global social shopping totaled $476 billion. According to Statista, it is likely to reach $3,370 billion by 2028, much of which is due to selling in China via WeChat.
---
How to Sell in China Via WeChat:
---
Selling in China via WeChat
Perhaps the most notable example of selling in China via WeChat occurred in 2018 when Mini Cooper worked with influencer Becky Li. She already had experience with influencer promotions on WeChat, as had her audience. However, because of the high value of the products, Li sent preview messages to her followers twice before the campaign officially began to build excitement.
At the beginning of the campaign proper, Li sent messages to her followers where she related stories sent to her in response to the preview messages. Mini Cooper also contributed to its campaign's success by developing a specific limited-edition product exclusive to this campaign.
As a result of Becky Li and Mini Cooper's efforts, 100 limited edition Mini Coopers, valued at 30 million RMB, sold out in just four minutes on the WeChat platform. Selling high-value products doesn't seem to be a problem in China if you are prepared to promote your products well and make your sales via WeChat.
---
Introduction to WeChat
The Chinese company, Tencent, developed Weixin in 2011 as a mobile messaging app. They rebranded it as WeChat in international markets in 2012, keeping its Weixin branding in their home market. As of January 2022, Weixin/WeChat was the fifth most popular social network worldwide, after Facebook, YouTube, WhatsApp, and Instagram (although TikTok is also ahead if you include its Chinese version, Douyin). From this point forward in this article, we will use the term "WeChat" to encompass both app versions.
WeChat is now the most significant social app in China. This is partly because many popular Western social apps are banned, including Facebook, Instagram, Twitter, YouTube, and Twitch. Although WeChat initially was most comparable to Facebook Messenger, it has added to its offering and now includes capabilities like Facebook and PayPal.
To make everything function seamlessly, WeChat now includes three sections:
A chat screen – very similar to the appearance of Facebook Messenger and WhatsApp

Moments – a timeline-type screen where users can post news for their friends to see

WeChat Pay – an online wallet offering various payment services
Each day, more than 120 million active users post in Moments, 360 million users read Official Accounts articles, and 450 million users access Mini Programs. In 2020, more than 100 million people purchased in shopping malls and department stores on WeChat Mini Programs. Surprisingly, more than 300 million users bought fresh fruits and vegetables via the app.
---
WeChat Official Accounts (Brand Page)
One way that WeChat differs from Facebook is that brand posts don't appear in the news timeline. Instead, they appear in the chat section. Brands set up WeChat official accounts if they want a presence on the social app. WeChat Official Accounts are the equivalent of Facebook business pages.
Brands can use their WeChat Official Accounts to gather followers, send them push notifications, and redirect them to a website or eCommerce page.
Although brands typically communicate with their followers via the chat screen, they usually make "first contact" in the Moments section. You can upload an article here, and any user who clicks on it links to your account page, where they can opt to become a follower of your brand.
When a brand sends a notification to its followers, it will appear as a message at the top of the chat screen of a user's WeChat account. Users can then click on the push notification message or access it from the bottom menu. WeChat will then take the users to a linked article in both cases.
QR codes are prevalent in China. Users often see QR codes in articles that interest them. WeChat users scan the QR code to access content quickly. QR codes are also handy for offline use. You can add them in your store, on your products, or at events, and when somebody scans them, you can direct them to a specific article.
---
Setting up a WeChat Official Account
WeChat has created several types of WeChat Official Accounts. These include:
WeChat Subscription accounts - can send just one push message per day to your followers. They are grouped in a dedicated folder alongside your friends in the chat section of WeChat. You can create this with either a Chinese ID (limited features) or a local Chinese business license.
WeChat Service accounts - appear as friends in the chat section of WeChat. They have additional features compared to subscription accounts, but you can only post four messages per month.
Enterprise accounts – are meant for the internal management of companies and require both the account holder and the follower to approve each other.
Despite the limits on notifications, brands can send unlimited messages for 48 hours to any user who messages the account directly. WeChat looks at this as customer service.
To open a WeChat Official Account, you should take the following steps: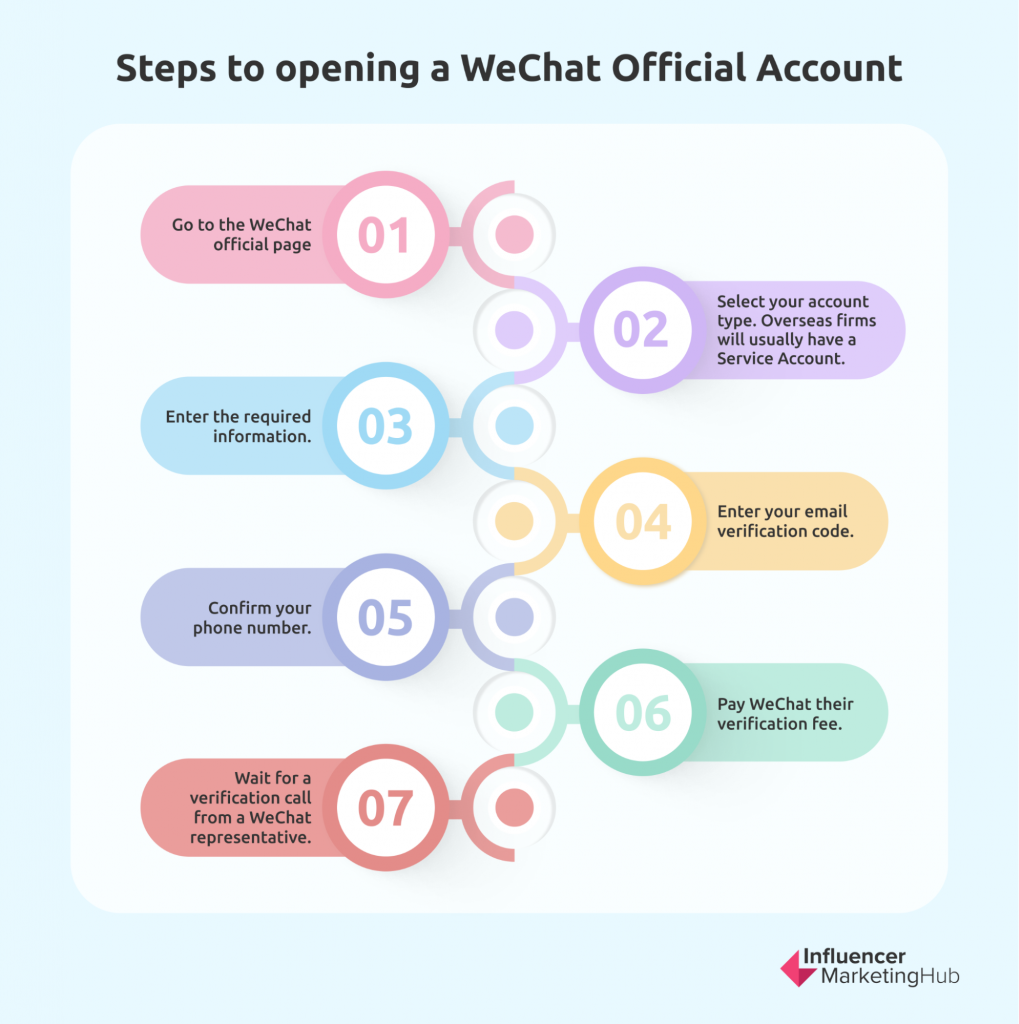 ---
Creating a WeChat Store
WeChat is further advanced with social commerce than most Western social media apps. You can set up a WeChat Store so that people can purchase your goods without leaving WeChat. With WeChat Pay integrated into the app, people have an electronic wallet to pay for their purchases.
Some notable features of WeChat Stores include: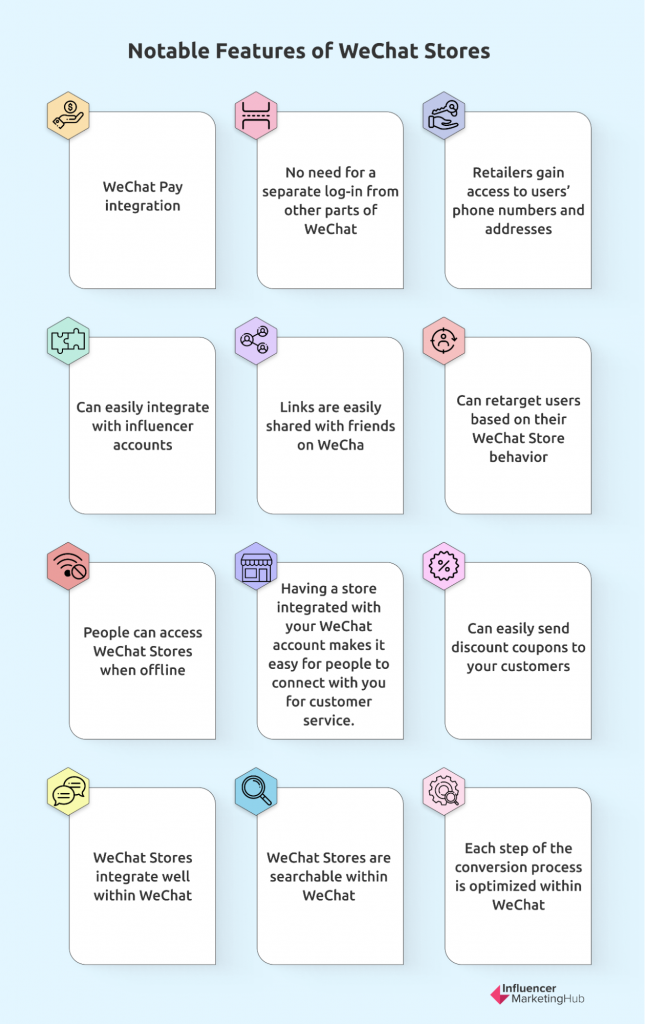 The

WeChat Pay integration

, meaning customers can make WeChat payments once they reach the checkout

No need for a separate log-in from other parts of WeChat

Retailers gain access to users' phone numbers and addresses, with user approval

Can easily integrate with influencer accounts when carrying out influencer marketing campaigns. This means that potential customers can be only one click away from purchasing when they read influencer content about your brand.

Links are easily shared with friends on WeChat

Can retarget users based on their WeChat Store behavior

People can access WeChat Stores when offline by using QR codes

Having a store integrated with your WeChat account makes it easy for people to connect with you for customer service. You can even prepopulate their shipping address fields based on data stored within WeChat

Can easily send discount coupons to your customers via their WeChat apps

WeChat Stores integrate well within WeChat, and people can easily access them from various places within the app

WeChat Stores are searchable within WeChat

Each step of the conversion process is optimized within WeChat
Although you could build a WeChat Store yourself, most businesses prefer to work with a 3rd-party WeChat Store provider to create their store. This is comparable to using an eCommerce platform like BigCommerce, Square, or Shopify to build an online store, rather than coding in HTML/CSS and JavaScript yourself.
---
WeChat Stores vs. WeChat Mini Programs
Another aspect of WeChat with potential for social commerce is WeChat Mini Programs. These are separate apps that you can access from within WeChat, i.e., apps within an app. You will find many different types of WeChat Mini Programs; however, some provide eCommerce services, much like WeChat Stores.
The easiest way of thinking about WeChat Mini Programs is to think of them as sub-applications within the WeChat environment.
Some companies have built marketplaces using WeChat Mini Programs. One of the most successful is Pinduoduo, which sells to users and gives them steep discounts if they team up with other users to make bulk purchases. Pinduoduo users can participate in all phases of the buying process without leaving WeChat.
WeChat Stores cover a broader range of eCommerce activity than WeChat Mini Programs. Moreover, they don't have to be an app. They can simply be HTML websites optimized to be accessed within WeChat. Alternatively, you could build your WeChat Store as a WeChat Mini Program.
There is one significant distinction between WeChat Stores and other social eCommerce platforms. If you build a Facebook Shop, for example, you do this in conjunction with Facebook/Meta. However, if you create a WeChat Store, WeChat doesn't restrict how you can do this, apart from the requirement for having a WeChat Official Account. Instead, you use WeChat's toolkit (SDK and API) to create your WeChat store using a special programming language. You can opt to do this in-house, although you will need a Chinese-speaking development team or work with a third-party WeChat store SaaS provider.
One advantage of having a web-based WeChat Store is that you aren't restricting your reach to WeChat users. Many WeChat Stores are also functional outside the WeChat app.
---
Accessing WeChat Mini Programs
WeChat makes it easy for its users to find Mini Programs that may interest them. This is undoubtedly one of the main reasons for the recent WeChat Mini Program usage explosion. The number of active Mini Programs increased by 41% year-on-year in 2021, and the average daily use times increased by 32% year on year. In addition, the transaction volume of apps in the catering, tourism, and retail niches increased by 100% year on year.
You can swipe down on WeChat to access a list of saved or recently used Mini Programs. Other ways to find WeChat Mini Programs include:
The WeChat Official Account menu

Embedded into a WeChat article

The Discover tab of WeChat

Sharing a card on WeChat groups

Scanning a Mini Program QR code

Searching
In 2021, the most popular type of WeChat Mini Programs related to daily services. However, the second-most popular type (16%) involved eCommerce, with 6% year-on-year growth.
---
WeChat Ads
WeChat has a surprisingly sophisticated advertising network. You can create three main types of ads on the platform: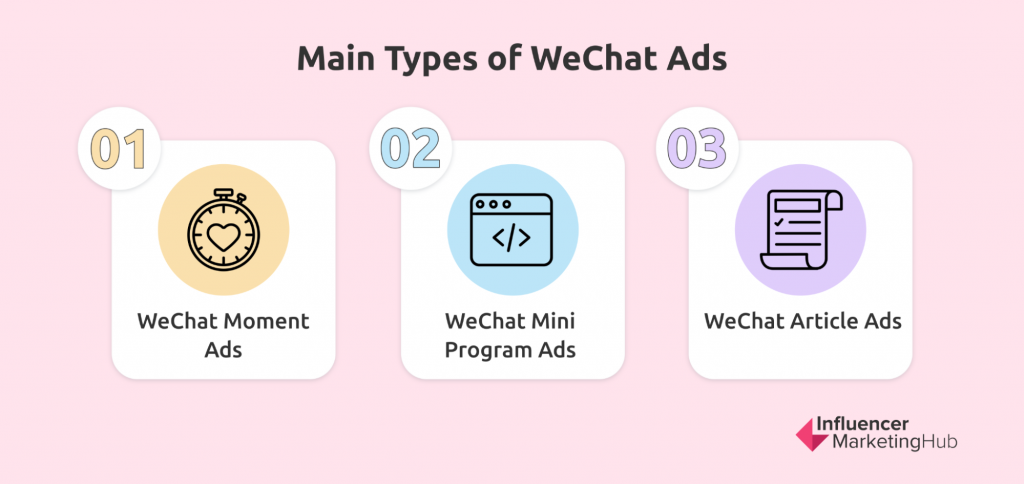 1. WeChat Moment Ads
As their name suggests, WeChat Moment ads appear in users' WeChat Moments timelines. They are like the ads you see on Facebook timelines.
When a user taps/clicks on a WeChat Moments ad, a landing page opens, which leads them to a website/WeChat Store, WeChat Mini Program, or a download page in an App Store if you're promoting an app.
These ads are highly visible, being in users' primary news feeds. However, they are correspondingly the most expensive type of WeChat ad.
2. WeChat Mini Program Ads
Another WeChat advertising option for brands is to include display ads in WeChat Mini Programs. WeChat optimizes the type of ads that appear to maximize user engagement, and Mini Program developers receive a share of ad revenue. You can even include Mini Program ads as interstitial ads in WeChat games.
Links in Mini Program ads can take viewers to a website, another Mini Program, a WeChat Official Account, a WeChat coupon, or a game on the App Store.
WeChat Mini Program ads are much cheaper than WeChat Moment ads.
3. WeChat Article Ads
The third advertising option is a WeChat Article ad. This will display on an article from another WeChat Official Account at the bottom. They behave like advertising banners on websites. Clicking on a link in one of these ads can take you to websites, Mini Programs, WeChat Official Accounts, App stores, or WeChat coupons.