With the rise of eCommerce comes a spike in the volume of online customers. Successful eCommerce retailers understand that there is always scope for change and growth in their business. Affiliate marketing is one viable route for entrepreneurs looking to take their business to the next level. And with Shopify leading the eCommerce charge, shop owners naturally look for new ways to expand and extend their revenue sources. That's where Shopify affiliate marketing comes into the picture.

As of 2022, more than 80% of advertisers are taking advantage of affiliate marketing as a tactic, and global affiliate marketing spending is expected to reach $13 billion by the end of 2022.
With numbers like these, it's no wonder that affiliate marketing is one of the more popular tactics for promoting products. And the same goes for ecommerce brands that are running on Shopify. However, affiliate marketing on Shopify can look slightly different because of the way you need to integrate it with your business. But you can still do so and see great success.
---
A Decisive Guide to Shopify Affiliate Marketing for 2023:
---
The Basics of Affiliate Marketing
In its basic form, affiliate marketing is the promotion of another company's product, brand, or service. Generally, an influencer or a reputable website promotes a product through a unique affiliate link. The affiliate receives a commission when a customer clicks on the link and purchases the product.
Affiliate marketing is a marketing tactic where brands have affiliates or ambassadors promote their products for them and take a cut of the profits. This is a popular strategy for all sorts of industries, from software to ecommerce and more. Affiliates act as advocates for the business, brand, or product they promote. They can be an influencer, a new or returning consumer, or a small marketing firm. They can market a product using a website, blog, social media, or email. Affiliating networks pay associates either a flat fee or a portion of each sale they generate. The result is usually a sale, while in other cases, programs may pay affiliates for leads or app downloads.
Affiliate marketing is beneficial to both retailers and affiliates. Affiliates receive a fair part of the money earned by the purchases, clicks, or leads they promote for low-risk sales and marketing activities that can scale quickly.
Companies typically partner with affiliate marketing software to host the program. This makes it easier to create affiliate links or codes to track purchases. These links are connected to the affiliate's account, ensuring they get paid for all purchases made through that link.
For example, web host company Bluehost has an extremely popular affiliate program where they pay out $65 flat for each referral their affiliates send their way.
Ecommerce subscription box company BarkBox also has a few different affiliate programs, some with a flat commission rate and others with a percentage.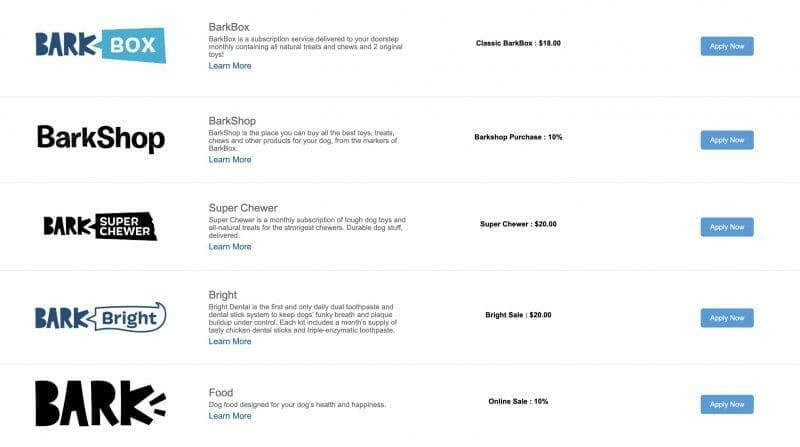 ---
Why Should You Set Up an Affiliate Marketing Program for Your Shopify Store?
Affiliate marketing is a great strategy to use because it's a form of social proof. Social proof is the phenomenon where consumers are more likely to buy something if they see others using/enjoying the product or service.
With affiliate marketing, it appears to be a much more organic type of promotion. Most affiliates share their links within blog posts or on social media—however, it's important to note that affiliates must leave a disclaimer that they may earn a commission from their links.
Regardless, affiliates tend only to promote products and services that they do actually love and use, and writing product reviews or incorporating affiliate links into social media captions and blog content is a great way for them to increase their affiliate income.
But one of the best parts is that affiliate marketing is an extremely low-cost, low-risk strategy to dive into. Other than the cost of your affiliate marketing platform and any ads you run to promote your affiliate program, there's little to no additional overhead.
Plus, with Shopify, you can easily connect your online store to one of their affiliate marketing apps/integrations to create a seamless affiliate program for your most loyal customers.
---
The Upsides of Shopify Affiliate Marketing
Shopify is one of the most widely used eCommerce platforms today. It's versatile enough for small to medium-sized businesses and enterprises to set up and run online storefronts selling products, services, and everything in between. Let's look at some facts:

Clearly, it's a lucrative pie worth taking a slice of regardless of the type of shop you run.
Here are some of the benefits of affiliate marketing on Shopify:
Low-cost, low-risk
Joining an affiliate program doesn't necessitate an advertising team for visual ads or ad spaces. Your affiliate network will provide all promotional materials. Additionally, the financial risk is minimal whether you run your affiliate program or sell affiliate products.
Multi-channel marketing
Affiliates can use any channel that works for both of you. These include social media networks, email marketing, online reviews, and blogging. As a result, you're not dragged into overpriced and highly-produced digital campaigns.
New audiences
Your Shopify business will be promoted online by a network of affiliates. Instead of spending time and money to create a few hundred online followers, affiliate marketing allows you to reach the entire audience of each affiliate you partner with. As such, thousands of new customers are introduced to your Shopify store.
Targeted traffic
Because you chose your affiliates, you can be confident that the traffic to your page is from people who value your product or service. Associates who genuinely like your brand will highly recommend your business to others in their network.
Flexibility
Affiliate marketing provides flexible work hours. You can work it as a full-time career or as a freelancer. You can also cherry-pick who to work with and which products or niches to promote so you can pitch the products to your specific audience.
Easy to measure
Using Shopify affiliate marketing tools makes tracking and measuring your program a breeze. You can easily track sales and pay commissions using specific tracking numbers for each affiliate.
Passive income
When executed correctly, affiliate marketing can be a reliable source of passive revenue and financial accessibility.
---
The Basics of the Shopify Affiliate Program
The Shopify Affiliate Program comprises businesses, entrepreneurs, influencers, and content creators who inspire and teach their audiences about commerce using Shopify. The program is free to join and allows you to earn commissions on new Shopify business referrals.
Requirements to join include: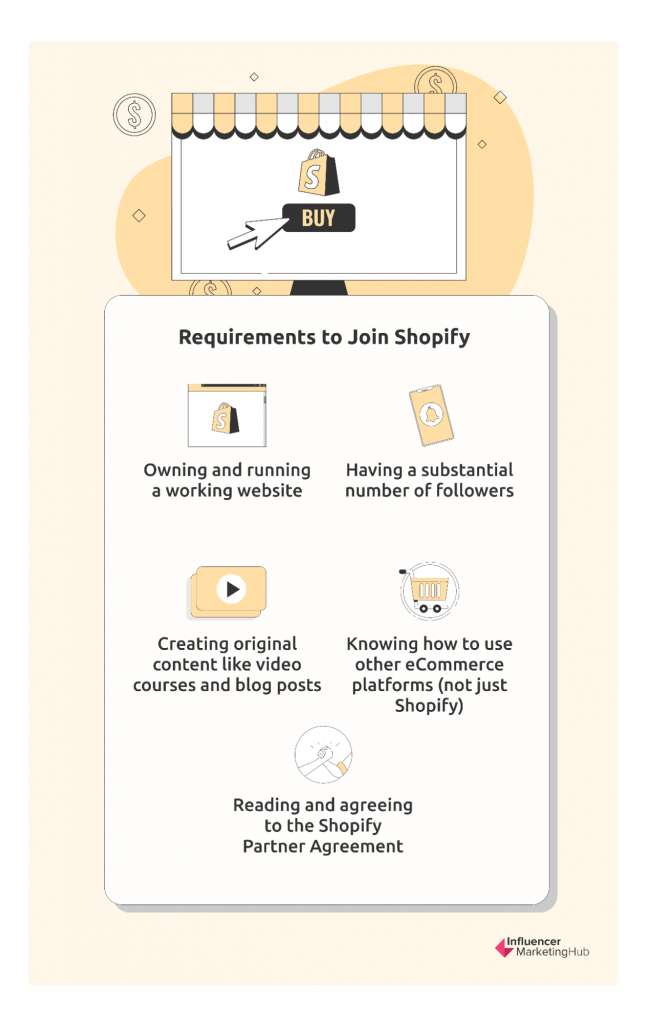 The Shopify team will review your application, which usually takes 15 business days. When your application is approved, you will receive an email with an affiliate link to promote Shopify and some resources to get started. In addition to the Shopify affiliate marketing tools, you will get your unique reference handle to help you keep track of all of your referrals.
Shopify's tracking cookies are valid for 30 days. If someone clicks on your link and joins Shopify, you will be compensated with the referral as long as the visitor joins up for a 14-day free trial within 30 days. When the user's 14-day free trial expires, and they become a paying client, you will get a one-time commission.
The Shopify Affiliate Program solely accepts PayPal for affiliate payouts.
---
Shopify Affiliate Marketing Avenues
Shopify affiliate marketing is one of the simplest affiliate marketing mediums available today. There are two primary avenues available for Shopify store owners:
Create a Shopify affiliate marketing program

Sell affiliate items on your Shopify shop
Let's take a closer look at these possibilities.
---
Option 1: Create an Affiliate Marketing Program for Your Shopify Store
Before creating a program or enlisting affiliates, you must first determine the purpose of your affiliate endeavors.
Here are some questions to get you going. Addressing them will help you determine the best affiliate marketing plan for your store.
Demographics: Who are your program's target audiences and ideal customers?
Affiliates: What type of affiliate partners are you searching for?
Structure: Do you want to pay affiliates for every sale they make or share revenue with them?
Goals: What do you intend to gain with your affiliate marketing campaign? Do you want to boost brand recognition? Increase conversions? Improve traffic to your Shopify store?
Channels: Where can you find affiliates that fit your niche?
Objectives: What are your short- and long-term targets? What are the requirements for a successful Shopify affiliate network?
Your affiliate marketing program will begin to shape organically as you answer these questions.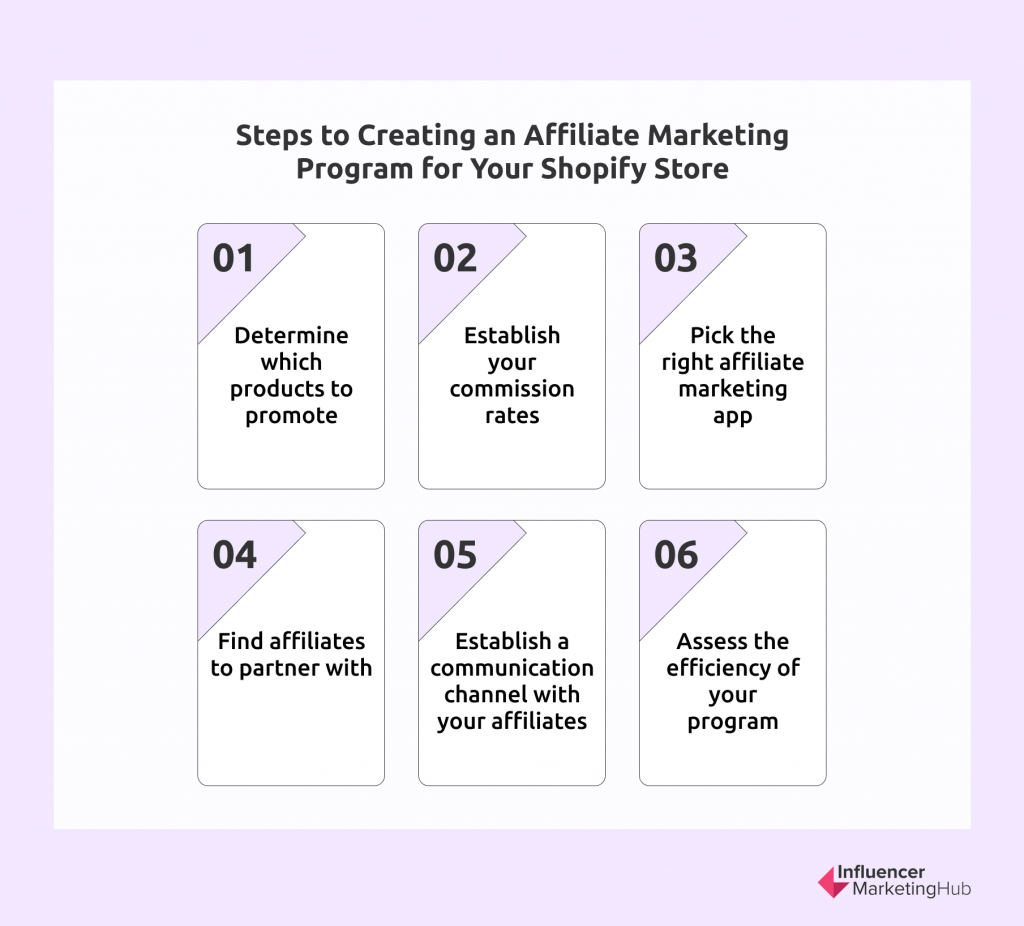 Step 1: Determine which products to promote
The first step is to decide which items will be included in your program. While you can add all of your products, you should prioritize those with a high Average Order Value (AOV) to improve sales and affiliate revenue. AOV is a method of calculating how much money someone spends on a website or app. If you think about it, a 10% commission on a $65 product is more profitable than a 10% commission on a $6.50 item. You may also adjust the products in your program depending on how well it sells and how well it performs.
---
Step 2: Establish your commission rates
Generally, businesses reward customers for referring and selling their products with monetary compensation, arguably the best incentive. Some online businesses offer vouchers or freebies.
For a cash-based commission, you can choose from one of the following options:
Fixed-rate: You specify a set dollar amount for each successful sale (ex. $2 per sale)
Percentage: You offer a portion of the product's price (ex. 8% per sale)
As per this report, percentage commissions are preferred by both sellers and affiliates, with usual commissions ranging from 5% to 30%. Shopify categorizes affiliate commissions as follows:
You can also add exclusive sales or complimentary items to your compensation package as a reward. Affiliate programs with generous rewards are more likely to attract top affiliates who can consistently sell products. It also builds trust with potential affiliates by proving your Shopify business's credibility.
---
Step 3: Pick the right affiliate marketing app
Several affiliate marketing tools are available to help you efficiently set up your affiliate program. Shopify affiliate marketing apps, in particular, can help you save resources since they are specifically designed for Shopify businesses. With so many options accessible, your primary task will be to assess their benefits and drawbacks against the demands of your shop.

Here are four of the best Shopify affiliate marketing apps you can look into:
Refersion: Refersion is a prominent player in affiliate marketing that can manage and track affiliate programs and partners. Their Shopify APIs allow you to quickly generate unique discount codes and track sales from any source. Plans start at $99 per month.
LeadDyno Affiliate Marketing: One of the most popular Shopify affiliate marketing apps, LeadDyno is favored by small businesses. Using LeadDyno gives you free access to their vast affiliate network as well as a terrific marketing tool. LeadDyno plan starts at $49 per month.
UpPromote: UpPromote is an automated, all-in-one influencer, affiliate, and referral marketing tool that allows you to effortlessly create a professional campaign. No technical expertise is necessary to use this app and a free plan is available.
ReferralCandy: As a pioneer in the field, ReferralCandy is the Rolls Royce of affiliate marketing apps. Automated payouts, detailed statistics, and customizable incentives are available through the app. The ReferralCandy plan starts at $49 per month.
---
Step 4: Find affiliates to partner with
This is one of the more time-consuming tasks, but it is vital. You'd want to find affiliate partners who can credibly represent your brand or product. If you already have a list of brand advocates or influencers in mind, contact them directly about joining your affiliate program. Otherwise, market your program to your target audience. Regular Shopify visitors can become brand advocates too.
Choosing the right affiliate partners is crucial to your marketing success. It would help if you aimed for a few exceptional affiliates well-aligned with your niche rather than many affiliates who may convert fewer sales per person. The Shopify affiliate app you pick can influence the expected size of your affiliate program too. Some apps have a cap on the number of affiliate partners.
Use these channels to bring in new affiliates:
Social media sites: Notify your network about your affiliate program. You can also launch tailored ads about it.
Shopify store: Create an affiliate program landing page that converts target buyers with their own social media presences and sites into affiliate partners.
Website: Your site visitors are already familiar with your brand, making them good potential affiliate prospects. This is the space where you can provide in-depth information about your program.
Affiliate networks: Look for new affiliate partners on sites that post partnership openings.
Email marketing. Use your email list to deliver targeted associate invites to existing customers.
---
Step 5: Establish a communication channel with your affiliates
After recruiting your associates, you'll want to monitor both their productivity and the overall performance of your program. Choose a line of contact with your affiliates, such as sending regular emails. Some emails can be sent automatically through your Shopify affiliate marketing app, but others will need to be more personalized (ex. customer support, payment queries)
Ensure that your affiliates understand the program's guidelines and are familiar with your brand. Create a catalog of material that your affiliates may use, such as tutorials, webinars, infographics, pre-scheduled social posts, and a list of relevant hashtags to help keep everyone on track.
---
Step 6: Assess the efficiency of your program
Long-term success requires understanding your affiliate program's performance. For instance, identifying your top affiliates can help you double down on what works.
Keeping track of your affiliates is easy with affiliate applications. Custom registration pages, onboarding, affiliate monitoring, and analytics are ways to identify and manage your affiliates swiftly. Using the app's stats and insights, you can further optimize your affiliate program. Some of the metrics to pay attention to are:
Total affiliate sales

Sales per affiliate

Total payout

Payout-to-sales ratio

Average order size

Gross margin

Total number of associates (new and those who left the program)
---
Option 2: Promote Affiliate Products on Your Shopify Store
If your store has a huge client base and could benefit from more product variety, reselling goods for a commission-based profit is viable. Here's how to go about it: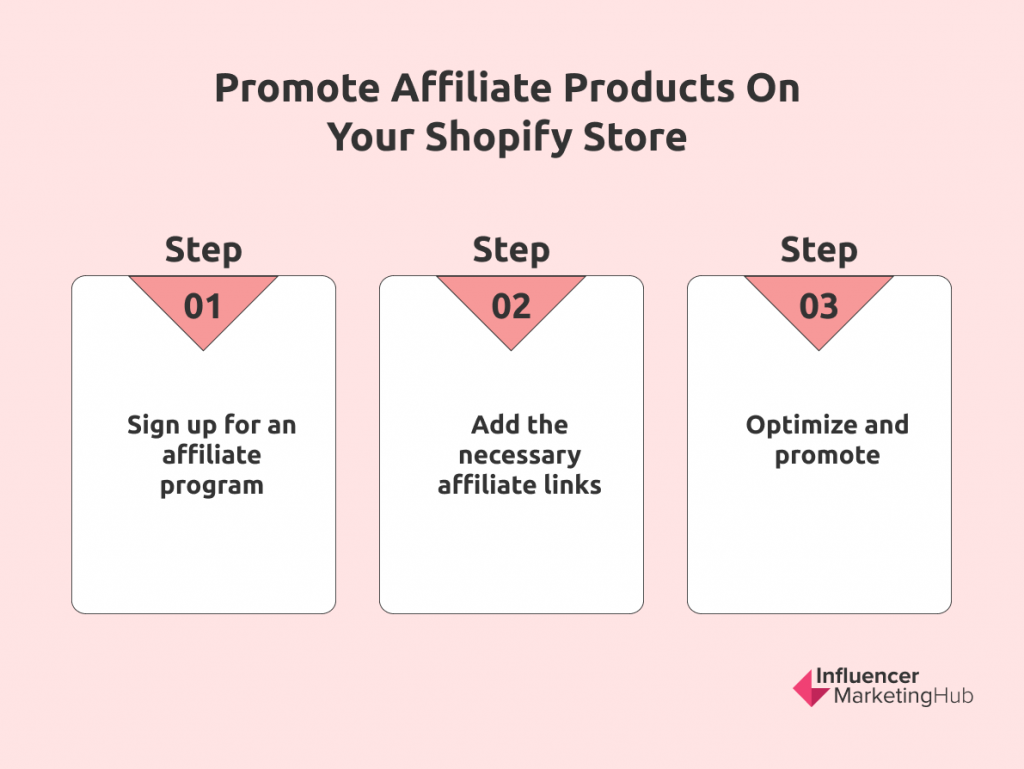 Step 1: Sign up for an affiliate program
You already have a devoted customer base and a specialized product selection as a Shopify business owner. Make sure your Shopify affiliate product offerings complement your existing Shopify items. It is critical to join a program compatible with your business strategy, so your products and affiliate items merge organically. Amazon Associates is the top affiliate network for Shopify business owners. You may earn up to 10% on purchases made via your website, and the product variety is enormous.
Step 2: Add the necessary affiliate links
Once you've been approved for an affiliate program, start directing clients there. The only difference between promoting your own items and displaying affiliate products is that you must handle the affiliate links. You will receive customized URLs to track your website's sales and you must put affiliate links on relevant products.
Step 3: Optimize and promote
When your diverse shop selection is ready, let the rest of the world know about it. Augment your store to load quicker, convert higher rates, and reach a broader market. Make great product descriptions. Visitors must see that you aren't just looking to make a profit but genuinely believe in the value of the affiliate products you're recommending.
In addition, improve the loading times of the shop. When you have an extensive collection of items, loading can be a problem due to a large number of product images. Make sure that visuals are optimized to avoid deadweight. Lastly, employ proper SEO practices so search engines can easily find your Shopify store.
---
How to Promote your Affiliate Marketing Program
The last step in affiliate marketing success is promoting your program so that you recruit affiliates and start making sales. There are four main tactics that you should employ once you've launched your new affiliate marketing program.
Put a link in your website footer
This first option is as simple as could be. Add a link to your affiliate marketing program to your website's footer. This way it's linked internally on your website and is extremely easy for interested parties to find. The footer is a traditional space for affiliate programs to be linked, so someone who might be looking specifically to see if this is something you offer will look there first.
Kitchenware company ZOKU is a Shopify merchant that has their affiliate program listed clearly alongside the other links in their footer:
Another popular idea is how furniture store Horne linked their affiliate program, in one of the columns in their footer, rather than side-by-side:
Don't use a font that's too small and don't make your affiliate program too hard to find. After all, you want to increase your affiliates and brand ambassadors! Their job is to make money for you!
---
Create an email marketing funnel
Reach out to your existing customer base to see if anyone wants to become an affiliate. These people have already made a purchase—and hopefully love it. So it's a great place to start your affiliate search.
Start by sending out an email announcing your new affiliate program. Those that are interested will immediately apply; however, this is a start to nurturing additional affiliates. You can even include a button in your initial email asking if anyone wants to learn more. If they click the button, they're added to a new email list that shares information about the affiliate program.
However, you can also pinpoint returning customers, those who have left positive reviews, or anyone else in your CRM that might be a good fit and email them directly. A potential template to use is:
SUBJECT: Join [Company Name]'s Affiliate Program to Earn 10% Commission
Dear [Name],
As you may have heard, we've just opened up our brand new affiliate program! As you've been a loyal customer, we thought you might be interested in joining. As a reward, we're offering [free incentive] to all new affiliates!
Once you're a part of the affiliate program, you can earn 10% commission on each product bought with your specific affiliate code. We'll provide you with an affiliate kit with everything you need to start sharing your favorite products with your friends and family.
Head over to our affiliate application today to start the process! We can't wait to work with you.
If you have any questions, please don't hesitate to ask.
[Your Name]
---
Share on social media
Another option for promoting your new affiliate program is to share it on social media. Announce the launch of the affiliate program, just like Airtable did with their brand new program:
Introducing our new affiliate program! 🤝 Learn how affiliates can earn 20% commission on Plus/Pro plans. Details at: https://t.co/KwduT5N69b s/o @partnerstack pic.twitter.com/Q8PIaYyLV0

— Airtable (@airtable) October 11, 2022
However, you'll also want to include social media posts promoting your affiliate program in rotation every few months or so in order to hit as many eyes as possible.
---
Join affiliate networks
Last, but not least, join affiliate networks that can promote your affiliate program for you. Popular networks include ShareASale and Rakuten Advertising. You can create a profile with information about your affiliate program for interested affiliates to search for and discover.
---
Shopify Affiliate Program: Themes
Shopify themes enhance storefronts, helping Shopify partners increase their store traffic and potential sales. Many theme providers have their own affiliate programs that offer commission rates as high as 30% of the sale amount. Some popular theme affiliate programs include:
Out of the Sandbox: Along with its sister company Pixel Union, Out of the Sandbox is one of the biggest premium Shopify theme providers on the market. Their most well-known themes are Turbo, Flex, and Superstore. Prices for these three bestselling themes range from $280 to $485. Affiliates earn a 15% sales commission on new customer purchase.
Themeforest: Themeforest is a subsidiary of the global creative community Envato Market. They offer over 1,500 Shopify themes and templates, including Porto, Ella, and Fastor. Prices range between $19 and $99, and affiliates earn a 30% commission for first-time purchases on Envato.
Booster Theme: With a 96% desktop speed, a 91% mobile speed, and a 1.14-second load time, Booster claims to be the fastest Shopify theme on the market. The theme costs $399, and default commission starts at 20%. Depending on volume affiliates, this can go up to 30%.
Debutify: The Debutify theme is designed to trigger mental shortcuts that boost your customer's desire to make a purchase. Its fast page loading speed and top-tier customer support also give you an edge over your competitors. Affiliates earn 25% of the order sale amount for first sale commissions.
---
Shopify Affiliate Program: Apps
Shopify has over 4,000 apps in its App Store. Merchants use these Shopify apps to run their storefronts more efficiently and upgrade or customize them however they want. Some Shopify apps offer affiliate programs, which you can take advantage of. Here are some of them:
Refersion: With Refersion, you can find new affiliates and influencers, automate their registration, track their performance, and create coupon codes for them. Affiliates receive a 15% recurring commission for each month that their referral stays on their subscription.
ReferralCandy: ReferralCandy turns your customers into influencers by rewarding them with each referral. The first $1,000 referral sales of the month can earn as much as 5% commission. ReferralCandy also tracks your top sales and social shares and integrates with marketing apps, including Mailchimp and ReCharge.
Tapfiliate: Create, grow, and track your affiliate program with Tapfiliate. You can easily onboard your affiliates and create shareable social media posts and personal coupons for them. Commission rates can be flexible.
Social Snowball: With Social Snowball, customers automatically become part of your affiliate program as soon as they purchase from your store. They also get their own affiliate dashboard, promotion materials, and coupon code.
---
Shopify Affiliate Program: Services
Several agencies and entrepreneurs provide business, marketing, design, and technical services to help you meet your Shopify goals. These include:
HeyCarson: HeyCarson streamlines your in-house support workload to free up your team so that they can focus on evolving your brand. They also offer support for managing several client projects and building and running Shopify apps, themes, and plugins.
DCKAP: DCKAP is a Shopify services provider. It specializes in helping Shopify owners create, manage, and enhance their storefronts. With DCKAP, seamless third-party integrations are possible, giving you customized checkouts and payment gateways for more convenience. They also provide web design, QA, support, and maintenance services. DCKAP offers a 10% commission for every lead that successfully converts.
---
The Takeaway
A diverse marketing strategy is always a wise idea. Incorporating Shopify affiliate marketing in your campaign is one relatively straightforward way to strengthen it. Because the eCommerce platform already offers a plethora of affiliate marketing tools on its App Store, developing your program is significantly easier. Prepare the groundwork and create a vision for your affiliate marketing campaign before you begin, and explore the various tools and apps. Most software provides a free trial period, which allows you to try them out before making any financial commitments.
Affiliate marketing takes time, effort, and dedication to achieve exceptional results. It's also a competitive industry, so distinguishing your affiliate program from competitors can be challenging. However, it offers numerous benefits and rewards to sweeten the deal.
Frequently Asked Questions
What is affiliate marketing?
Affiliate marketing is how an affiliate promotes another company's brand, product, or service by using a unique affiliate link. Affiliates are compensated with a commission for each successful transaction or completed sale.
Can Shopify be used for affiliate marketing?
Yes, and it's a simple process. Store owners on Shopify can easily set up an affiliate program for their business using integrated apps. They may also offer affiliate products on their Shopify store.
Is it simple to set up a Shopify affiliate program?
Yes, Shopify affiliate programs are simple due to the platform's catalog of Shopify affiliate marketing apps. That said, to ensure long-term success, you must invest time and effort in tailoring your affiliate program to the needs of your business.