Advertising Disclosure
Advertising disclosure:
Our partners compensate us. This may influence which products or services we review (also where and how those products appear on the site), this in no way affects our recommendations or the advice we offer. Our reviews are based on years of experience and countless hours of research. Our partners cannot pay us to guarantee favorable reviews of their products or services.
YouTube brought video to the masses. Anybody could make a video and share their creation with the world. However, initially, all YouTube videos were recorded and uploaded for later playback. As bandwidth improved and viewer expectations heightened other video platforms were invented, for example, TikTok and Vimeo, and existing social networks, such as Facebook, Twitter, and Instagram added video to their capabilities. Before long there was a demand for live streaming, and new specialist platforms, such as Twitch popped up, and again existing social apps, like YouTube and Facebook, added live streaming.
While you can livestream to these platforms without special software, the results are very basic and underwhelming. We've described how to do so in How to Stream on YouTube, and the processes are very similar on most of the other platforms. However, you will achieve substantially better results if you download dedicated video streaming software, generally some form of encoder. Streaming via an encoder lets you do more with your live stream, including sharing your screen, broadcasting your gameplay, using external audio and video hardware, and managing advanced production techniques.
The two most used examples of streaming software, particularly for gaming streamers, are Streamlabs Desktop and OBS Studio. However, you will find many other OBS and Streamlabs alternatives available, at a range of price points, including free. OBS Studio can be complex, so many streamers prefer Streamlabs OBS as it arguably has a more user-friendly interface and less of a learning curve.
---
Best Streamlabs Alternatives in 2023:
---
What do You Use OBS Studio and Streamlabs For?
Whether you use OBS Studio, Streamlabs OBS, or some alternative software solution, you're doing it to live stream your videos. It takes the live footage you're filming, mixes in other relevant sources, such as your in-game action or on-screen graphics and optimizes the resulting output for internet transmission.
Both OBS Studio and Streamlabs OBS have one advantage over many of the alternatives. They're free. However, other OBS and Streamlabs alternatives add additional features, making them particularly suitable for experienced streamers and businesses wanting to use live streaming.
Both OBS Studio and Streamlabs are open source and originated from the same product. However, over time there was a fork in the development process, resulting in different user interfaces. With open-source software, developers can create customizable plugins and effects. Any programmers can access the code and fix any bugs or glitches they encounter. However, like most open-source products, OBS Studio lacks much of the polish and user assistance that private development companies offer.
Streamlabs was developed to be an improved version of OBS Studio. The company initially called their product Twitch Alerts, then Streamlabs OBS, highlighting its origins. Logitech now owns Streamlabs. They have recently rebranded the software Streamlabs Desktop.
Because OBS Studio has had so much development over time, it is relatively multi-purpose. You could just as easily use OBS Studio to stream the launch of your company's next product, or to broadcast your latest Battle Royale match in Fortnite. Streamlabs Desktop predominantly targets gamers and focuses on perfecting features wanted by gaming streamers.
---
Considerations for Live Streaming
Regardless of the live streaming software you select, you will first need to ensure that you have access to a strong stable internet connection. There's little point trying to stream if your internet keeps dropping out and you vanish from your viewers' screens.
You also need to consider your purpose for live streaming, as this is likely to affect both the hardware you need and the software you should use.
Live streaming can be daunting if you don't plan things in advance. As you will often be the only person present during your stream, you need to be able to carry out a conversation with yourself. You may have live text feedback from your audience, however, as your stream progresses.
You should also consider the platform that will be best for your audience. The most common ones are Twitch, YouTube Live, Facebook, Instagram, Twitter, and TikTok. Businesses are most likely to stream on the social platform where their potential customers spend their time. Gaming streamers predominantly use Twitch, with smaller numbers on YouTube and Facebook.
You will also want to think about the look of your stream. This is where the various streaming software platforms and apps can offer points of difference compared to their competitors.
---
Enhancing Your Livestreams
One of the advantages of using specialist live streaming software is that it gives you an opportunity to jazz up your livestreams. While corporate and academic streamers are likely to keep their streams relatively vanilla, gaming streamers like to create a personal look. And even many traditional businesses modify the look of their streams to match their branding.
You will find many places where you can find graphics and even sounds to enhance your live stream presentation. One of the best is Own3D. They specialize in creating overlays, alerts, panels, and more for streamers. Some of their stream overlays are even animated.
An option for serious streamers is to subscribe to Own3DPro. This offers everything you need for your stream, including more than six hundred premium overlays and alerts, stream event lists, stream labels, and even copyright free music you can use in your streams.
The OWN3D templates and OWN3DPro are designed as an extension for OBS Studio, and you can use many of them on virtually any streaming platform available to you that you can stream to with OBS Studio, such as Twitch, YouTube, or Facebook. However, many of them are tailored specifically for Twitch features. Some of the software below integrates with OBS Studio, so you may also be able to make it work with the OWN3D templates.
---
The Streaming Software Market Leaders

OBS Studio is the most common open-source streaming software, beloved by gaming and other streamers. It is easily customized, using templates and overlays like those referred to above by OWN3D.
OBS provides a simple workflow with a relatively intuitive and easy-to-learn interface. You can use it to stream on all the major streaming platforms. It includes video source filters and an audio mixer. You can create scenes made up of multiple sources including window captures, images, text, browser windows, webcams, capture cards and more.
---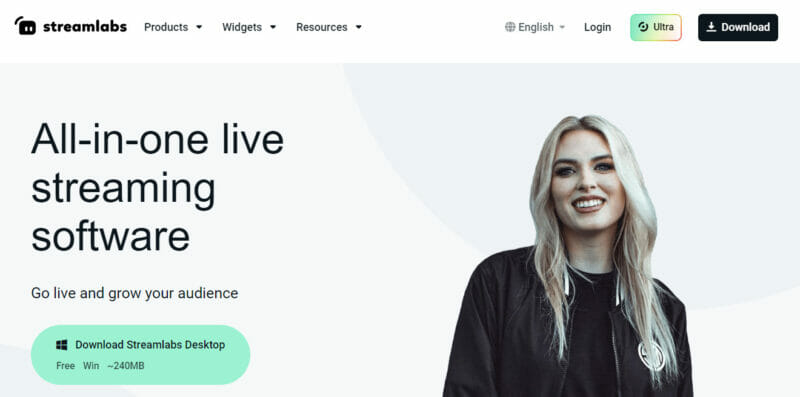 Streamlabs is an alternative OBS live streaming software, streamers can use to grow their audience. You can use it to design your stream, and it includes stream overlays, alert box themes, a logo maker, a custom tip page, an intro maker, and more.
Streamlabs even offers the Streamlabs University, to walk you through everything you need to know to become a successful streamer and turn your passion into a profession.
Streamlabs offers a range of tools and software that allow live streamers and content creators to engage with viewers, monetize their broadcasts, and grow their channels.
---
Best OBS and Streamlabs Alternatives in 2023
Although the above software is most commonly used by streamers, there are other options, particularly suited to businesses and experienced streamers wanting to offer more to their broadcasts.
---
---
---
---
---
---
---
---
---
---
---
---
---
---