Advertising Disclosure
Advertising disclosure:
Our partners compensate us. This may influence which products or services we review (also where and how those products appear on the site), this in no way affects our recommendations or the advice we offer. Our reviews are based on years of experience and countless hours of research. Our partners cannot pay us to guarantee favorable reviews of their products or services.
YouTube brought video to the masses. Anybody could make a video and share their creation with the world. However, initially, all YouTube videos were recorded and uploaded for later playback. As bandwidth improved and viewer expectations heightened other video platforms were invented, for example, TikTok and Vimeo, and existing social networks, such as Facebook, Twitter, and Instagram added video to their capabilities. Before long there was a demand for live streaming, and new specialist platforms, such as Twitch popped up, and again existing social apps, like YouTube and Facebook, added live streaming.
While you can livestream to these platforms without special software, the results are very basic and underwhelming. We've described how to do so in How to Stream on YouTube, and the processes are very similar on most of the other platforms. However, you will achieve substantially better results if you download dedicated video streaming software, generally some form of encoder. Streaming via an encoder lets you do more with your live stream, including sharing your screen, broadcasting your gameplay, using external audio and video hardware, and managing advanced production techniques.
The two most used examples of streaming software, particularly for gaming streamers, are Streamlabs Desktop and OBS Studio. However, you will find many other OBS and Streamlabs alternatives available, at a range of price points, including free. OBS Studio can be complex, so many streamers prefer Streamlabs OBS as it arguably has a more user-friendly interface and less of a learning curve.
---
Best Streamlabs Alternatives in 2024:
---
What do You Use OBS Studio and Streamlabs For?
Whether you use OBS Studio, Streamlabs OBS, or some alternative software solution, you're doing it to live stream your videos. It takes the live footage you're filming, mixes in other relevant sources, such as your in-game action or on-screen graphics and optimizes the resulting output for internet transmission.
Both OBS Studio and Streamlabs OBS have one advantage over many of the alternatives. They're free. However, other OBS and Streamlabs alternatives add additional features, making them particularly suitable for experienced streamers and businesses wanting to use live streaming.
Both OBS Studio and Streamlabs are open source and originated from the same product. However, over time there was a fork in the development process, resulting in different user interfaces. With open-source software, developers can create customizable plugins and effects. Any programmers can access the code and fix any bugs or glitches they encounter. However, like most open-source products, OBS Studio lacks much of the polish and user assistance that private development companies offer.
Streamlabs was developed to be an improved version of OBS Studio. The company initially called their product Twitch Alerts, then Streamlabs OBS, highlighting its origins. Logitech now owns Streamlabs. They have recently rebranded the software Streamlabs Desktop.
Because OBS Studio has had so much development over time, it is relatively multi-purpose. You could just as easily use OBS Studio to stream the launch of your company's next product, or to broadcast your latest Battle Royale match in Fortnite. Streamlabs Desktop predominantly targets gamers and focuses on perfecting features wanted by gaming streamers.
---
Considerations for Live Streaming
Regardless of the live streaming software you select, you will first need to ensure that you have access to a strong stable internet connection. There's little point trying to stream if your internet keeps dropping out and you vanish from your viewers' screens.
You also need to consider your purpose for live streaming, as this is likely to affect both the hardware you need and the software you should use.
Live streaming can be daunting if you don't plan things in advance. As you will often be the only person present during your stream, you need to be able to carry out a conversation with yourself. You may have live text feedback from your audience, however, as your stream progresses.
You should also consider the platform that will be best for your audience. The most common ones are Twitch, YouTube Live, Facebook, Instagram, Twitter, and TikTok. Businesses are most likely to stream on the social platform where their potential customers spend their time. Gaming streamers predominantly use Twitch, with smaller numbers on YouTube and Facebook.
You will also want to think about the look of your stream. This is where the various streaming software platforms and apps can offer points of difference compared to their competitors.
---
Enhancing Your Livestreams
One of the advantages of using specialist live streaming software is that it gives you an opportunity to jazz up your livestreams. While corporate and academic streamers are likely to keep their streams relatively vanilla, gaming streamers like to create a personal look. And even many traditional businesses modify the look of their streams to match their branding.
You will find many places where you can find graphics and even sounds to enhance your live stream presentation. One of the best is Own3D. They specialize in creating overlays, alerts, panels, and more for streamers. Some of their stream overlays are even animated.
An option for serious streamers is to subscribe to Own3DPro. This offers everything you need for your stream, including more than six hundred premium overlays and alerts, stream event lists, stream labels, and even copyright free music you can use in your streams.
The OWN3D templates and OWN3DPro are designed as an extension for OBS Studio, and you can use many of them on virtually any streaming platform available to you that you can stream to with OBS Studio, such as Twitch, YouTube, or Facebook. However, many of them are tailored specifically for Twitch features. Some of the software below integrates with OBS Studio, so you may also be able to make it work with the OWN3D templates.
---
The Streaming Software Market Leaders

OBS Studio is the most common open-source streaming software, beloved by gaming and other streamers. It is easily customized, using templates and overlays like those referred to above by OWN3D.
OBS provides a simple workflow with a relatively intuitive and easy-to-learn interface. You can use it to stream on all the major streaming platforms. It includes video source filters and an audio mixer. You can create scenes made up of multiple sources including window captures, images, text, browser windows, webcams, capture cards and more.
---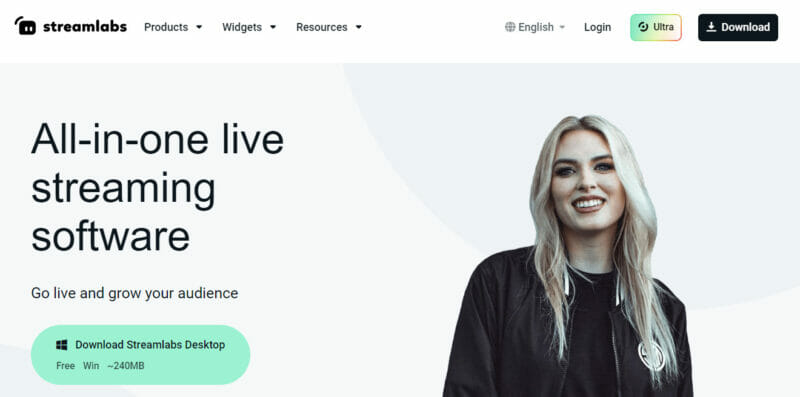 Streamlabs is an alternative OBS live streaming software, streamers can use to grow their audience. You can use it to design your stream, and it includes stream overlays, alert box themes, a logo maker, a custom tip page, an intro maker, and more.
Streamlabs even offers the Streamlabs University, to walk you through everything you need to know to become a successful streamer and turn your passion into a profession.
Streamlabs offers a range of tools and software that allow live streamers and content creators to engage with viewers, monetize their broadcasts, and grow their channels.
---
Best OBS and Streamlabs Alternatives in 2024
Although the above software is most commonly used by streamers, there are other options, particularly suited to businesses and experienced streamers wanting to offer more to their broadcasts.
Top
streamlabs alternatives
2024

Crowdcast specializes in assisting the hosts of live video events. The company proudly proclaims that millions of people gather in crowdcasts every month. It helps you run live events with ease. It enables you to keep your landing page, ticketing, event, and recording unified under one single URL with no software downloads.
You can even use it to bring your guests on screen and engage in live chat.
Crowdcast helps you broadcast to a range of platforms, including Facebook Live, YouTube Live, and Periscope.
If you're trying to monetize your stream, you can host free or paid events, and Crowdcast integrates with Patreon, PayPal and Stripe.
---
Be.Live makes it easy to run professional live streams. It is a cloud-based streaming studio, with no need to download software. You can run engaging and professional live streams directly in your browser. You can even use the Be.Live iOS app to stream on the go.
If you want to reach a large audience, you can multi-stream to Facebook, YouTube, LinkedIn, and 20+ more platforms via RTMP.
Be.Live helps you make your stream look professional by adding custom logos, intro's, outros, adding agenda and other branding.
---

Vimeo includes an easy-to-use live streaming platform. You can use it for performances and events, webinars and classes, community engagement, company announcements, product launches, and more.
You can easily stream from within Vimeo without additional software. Begin by setting up your event, using event registration forms, customizing your visuals, audio, and graphics in Vimeo's backend. Test your setup in the preview screen right before you go live. Finally, when you're ready to stream, press "Go live" to broadcast your stream audience, wherever they are. You can monitor chat and Q&A in the Vimeo platform, too.
---

Elgato takes a different approach from the other streaming platforms here, in that it focuses on hardware for streamers. The company makes a variety of audio, camera, capture, and other such products. But perhaps the most interesting for streamers is Stream Deck. With Stream Deck, you can unleash your creative genius and make waves across Twitch and YouTube.
The Stream Deck includes 15 LCD keys you can use to switch scenes, launch media, adjust audio and more. It's like a cut-down version of a vision control board at a mainstream entertainment broadcaster. You can use it to integrate your other tools including Elgato Game Capture, OBS, Twitch, Twitter, XSplit, YouTube, and more.
---

XSplit includes a suite of video tools that work with most common streaming platforms. The main tools are:
Broadcaster – a specialist all-in-one streaming and recording application for content creation. You can drag, drop, and resize multiple media sources like images, videos, GIFs, and web pages. You can even add Skype, Zoom, Teams, or Discord calls. You can manage everything from a single monitor with the In-Game HUD or use multiple displays with the projector mode.
Vcam – lets you remove, replace, and blur your background without a Green Screen.
Connect: Webcam – lets you use your mobile phone as a wireless webcam on your PC or Mac
Presenter – adds personality, flair and interactivity to your existing presentations and works with all your favorite video call platforms.
Capture – records or screenshots your desktop and share it instantly.
---

Restream lets you stream to multiple social platforms simultaneously – indeed you can stream live to 30+ social platforms at once. You can stream live to Facebook, YouTube, Twitter, LinkedIn, and virtually every other live streaming platform. You can even broadcast to multiple channels on a single platform.
Restream works alongside many of the other streaming applications, and natively integrates into OBS Studio, Streamlabs Desktop, Elgato, XSplit, and others.
You don't have to stream alone. You can invite guests to your live streams and create an exciting experience for your audience.
You can add all the graphics you need to your streams, even a call-to-action or other important messages to make your viewers act.
---

You can use StreamYard as a live streaming studio in your browser to stream directly to Facebook, YouTube, LinkedIn, and other platforms. You can even use it to multi stream across your various platforms simultaneously. The software allows you to broadcast with up to 10 people on screen and more backstage.
You can make your show unique with your own logo, colors, and overlays, uploading images, GIFs, and videos.
StreamYard makes it simple to download HD video and audio, including a separate audio track for each guest. You can even record without going live.
---

BoxCast provides solutions for organizations wanting to stream their events live. They target businesses, local government, house of worship, and even athletics. You can stream free in HD with your iPhone.
BoxCast offers a mix of hardware and software. They provide Boardcaster as their live streaming app, BoxCaster as an easy-to-use video encoder, and BoxCaster Pro as an advanced 4K60 HEVC encoder.
With BoxCast, you can broadcast events to your website, Facebook Live, YouTube, Twitter, BoxCast.tv, and the BoxCast app for Apple TV and Roku.
---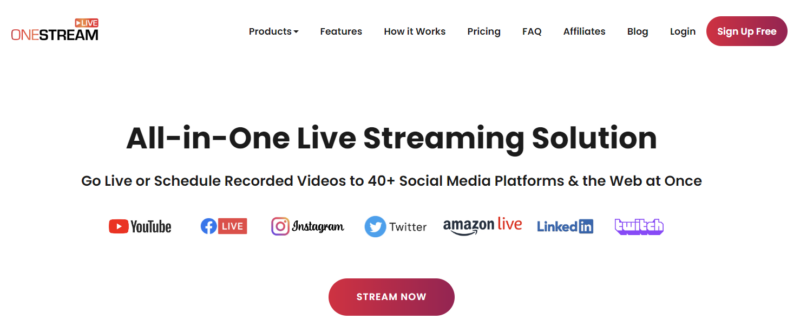 With OneStream, you can go live, or schedule recorded video streams to 40+ social media platforms at once. With real-time live streaming you send a live stream to OneStream using any third-party tool like OBS, Zoom, XSplit etc. and restream it to multiple connected social accounts at the same time. Alternatively, you can schedule your pre-recorded videos for live streaming to social media up to 60 days in advance.
You can queue recorded videos in any order of your choice and schedule them to go live on your selected social media streaming platforms.
---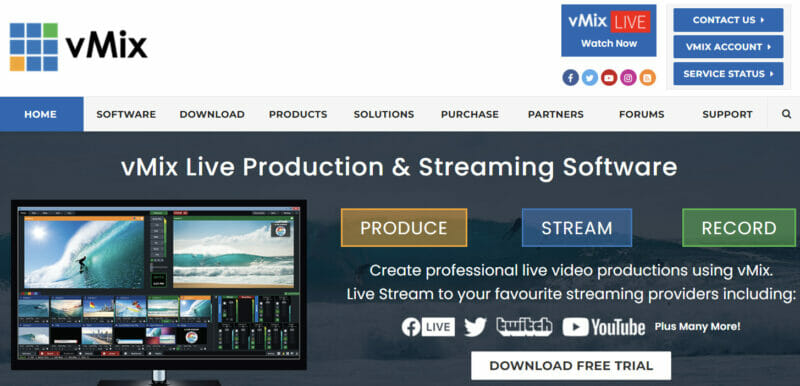 vMix is a combination of live production and streaming software. You can use it to create professional live video productions, and live stream to Facebook, Twitter, Twitch, YouTube, and many more streaming platforms.
vMix gives you the power to add multiple cameras, videos, NDI sources, remote guests using vMix Call, images, audio, web streams, PowerPoint, titles, virtual sets, chroma key, and much more to your production. You can record and live stream your production all at the same time.
---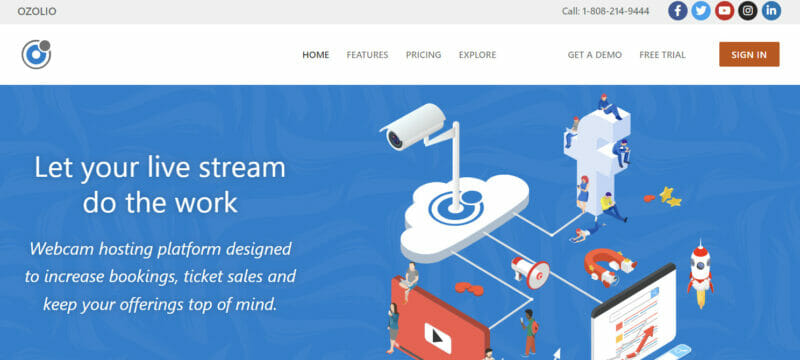 Ozolio offers a live HD webcam streaming solution, predominantly for larger businesses. You can use it to increase brand awareness, community engagement, website traffic and guest visits to your location. They particularly focus on Fortune 500 companies, travel destinations and unique attractions.
---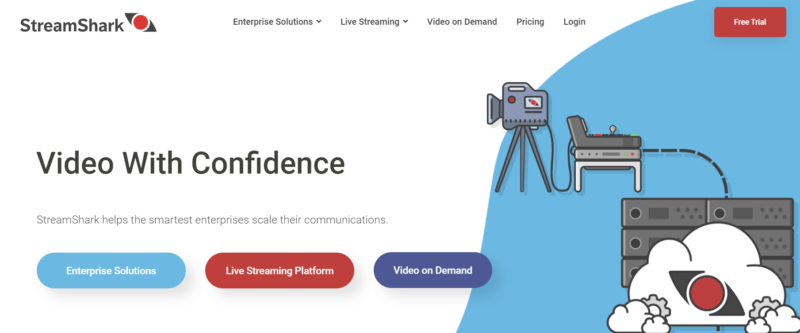 StreamShark provides a live streaming platform to take live stream production to the next level. You can generate a top and tailed video archive of your live stream within seconds of completion. Viewers joining late can rewind to catch up on any content they may have missed.
They provide a chat which can be embedded directly within the video player, or separately. All the live chat feeds from all your stream destinations can combine into a single chat box.
StreamShark includes native integrations for Facebook, YouTube, Periscope & Twitch. Go live or end streams all at the exact time across all platforms.
---
WonderShare DemoCreator is a lightweight screen recorder software for Windows that can capture anything on your PC screen as high-quality video. Teachers, office staff, vloggers and gamers can create video projects with ease.
You can choose your preferred resolutions and frame rate for the video projects. It includes smart webcam recording, coming embedded with AI face recognition technology that automatically recognizes your face and melts it into the screen to make your recording lively.
The software includes screen drawing tools, so you can write and draw on the recording screen in real-time.
---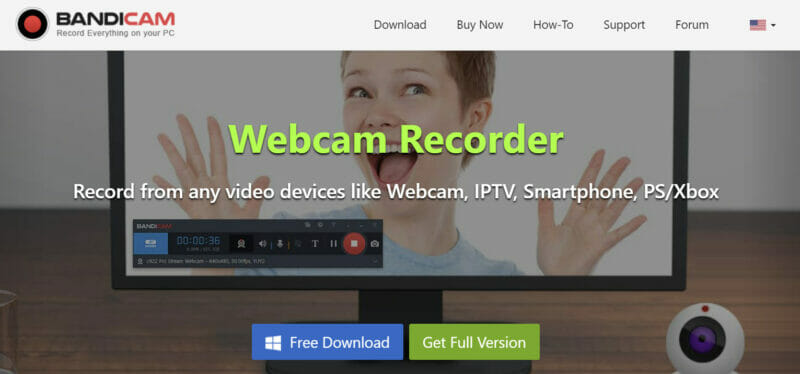 Bandicam is another OBS and Streamlabs alternative you can use to record from any video devices like webcam, IPTV, smartphone, PS/Xbox. The app makes it possible to record a certain area on a PC screen or capture a game that uses the DirectX/OpenGL/Vulkan graphics technologies.
It is a high-performance game recorder that records the latest high-resolution gameplays requiring up to 4K UHD, 480 FPS (3840×2160) resolution through hardware acceleration. You can record your live play and voice and share and enjoy it with your friends on YouTube and other streaming platforms, even with the free version of Bandicam. It uses hardware acceleration to enable simultaneous recording of video, voice, and camera feed without compromising performance.
Bandicam can record gameplays with the player's live face and voice using a webcam and a mic. You can make the background transparent with the chroma-key feature and save the video for editing.
Bandicam supports different audio devices to record all sounds at the same time, including game sound, music, the voice of the player or friends through Discord and other programs, and any sound from your computer.
---