Managing an Instagram account for your business is an important and challenging undertaking. You're going up against hundreds of thousands of businesses that are all trying to capture the attention of your target audience.
And the stats don't lie. Businesses are getting their fair share of audience love. Instagram has 1 billion monthly active users and eight out of 10 follow business accounts.
What's more, 200 million users actively visit business profiles daily.
It's clear that Instagram is where smart brands need to be.
But with all the opportunity, there's still pressure to make your messaging count. You need to be able to produce attractive, engaging, and ultimately successful Instagram campaigns.
How do you juggle the demands of social media account management with the need to produce amazing content?
You streamline your creative process by using Instagram templates.
Using Instagram templates are one of the simplest, most manageable and effective ways to make an impact and generate results.
In this article, we'll show you all you need to know about Instagram templates. You'll learn what they are and why you should be using them regularly to drive engagement for your brand.
We'll also give you examples to get your creative juices flowing, and share a list of free and paid tools that you can use to create your own professional and beautifully designed templates.
Your Epic Guide to Instagram Templates (with Free Downloadable Templates)
---
Instagram Templates: What They are and how They Work
Instagram templates and pre-built post layouts. They include text and graphics placeholders. As you'd imagine, using them means you skip the need to design your posts from scratch.
All you need do is edit a few elements and you have a professionally designed Instagram post!
Instagram templates aren't limited to just image posts, with the right resources and a little creativity, you can apply the same concept to GIF and videos.
---
10 Examples of Brands Using Instagram Templates
Wondering what they look like in action? Here's a collection of posts from leading brands:
1. Adidas Uses Instagram Template GIFs
Adidas uses Instagram templates to produce a series of GIFs. In their campaign with 21 Savage, Adidas created 3 GIFs that showcase the musical artist wearing a pair of Adidas sneakers.
2. KFC Canada Uses Aerial View Layouts
Templates work for KFC too! KFC Canada uses aerial view templates to promote their meals and brand. Notice that the layout of the elements in the image is relatively easy to accomplish.
3. Starbuck Trinidad and Tobago use Templates to Showcase Drinks and Cake
@Starbuckstt used Instagram templates to promote their new Iced Cordusio, favourite 3 coffees, and iced lemon pound cake.
4. Best Buy Uses a Yellow Background in Video to Advertise Electronics
Best Buy has come up with really creative ways to advertise electronic goods. They create videos which get thousands of likes and shares.
5. Burger King's Picture Template
Burger King shows how simple and easy using templates can be. They created a series of posts that overlay a circle cut-out. This is a super-effective use of shapes and each post draws the user in to get a better look at what's being showcased.
6. Uber's Driver Appreciation Posts
Uber uses templates for all sorts of campaigns. In this one, they took to Instagram to share the love passengers have for their drivers.
Note the simplistic approach and use of colour.
7. Abercrombie's Fierce Campaign
Creating campaigns that resonate with your audience is every social marketer's goal. Abercrombie used GIFs to engage their audience.
8. Amazon's Daily Insights
When Amazon wanted to share inspirational posts, they turned to simple and easy to use text-based templates.
9. Wayfair's Quirky Posts
Household furniture retailer @Wayfair uses templates to engage their audience. They're known for injecting a bit a fun and quirkiness into their posts.
10. Lego Gets Nostalgic
Everyone has played with and likely has a soft spot for Lego. This gave the brand an awesome opportunity to lean into a sense of nostalgia by creating a series of posts about their icon blocks.
---
Why You Should be Using Instagram Templates
We have shown you some really inspiring examples of templates being used successfully by large and international brands. But beyond the cool designs and ease-of-use, why should you bother using templates?
Here are 4 reasons to use Instagram templates:
They streamline your content creation process

. According to marketing expert Neil Patel, his most important marketing rule is the rule of 7. This rule demands that you show your audience your message at least 7 times because it takes that much effort to get their attention. Templates will help you achieve just that. And when it comes to creating your campaigns, create a series of posts using Neil's advice. This ensures that you're able to drive the message home with your audience by creating content and offers that they can identify because they've seen your messaging more than once.

Less time spent in the ideation phase

. Designers the world over spend countless hours perfecting pixels. Using Instagram templates saves them the hassle and allows marketers to produce more content faster.

Stay on-brand

. Brand identity is big business. When Pepsi redesigned its logo in 2008, they spent a cool $1 million. Petroleum giant BP spent $211 million.

Brands and branding matter because of the direct perception and response they elicit from the public and customers. Using Instagram templates is the ideal way to create a set of templates that stay true to your brand guidelines.
You can use Templates in Instagram Stories. Instagram stories are huge and more people are turning to them to catch up with their favourite profiles and brands. Because of the opportunity they present, creating template-based content is a smart way to keep your brand relevant.
---
7 Free and Paid Apps With Free Instagram Templates
So, you're sold on the idea of just how valuable templates are and why your brand should be using them. But where do you find them and how do you build your own?
We've created a list of 7 free and paid apps that pack loads of free templates. You can use these apps to create your very own templates and most apps are available for download on iPhone and Android, or come with desktop editing capabilities.
Here's our list:
Cost: Free with upgrade options.
Availability: Desktop, iPhone and Android.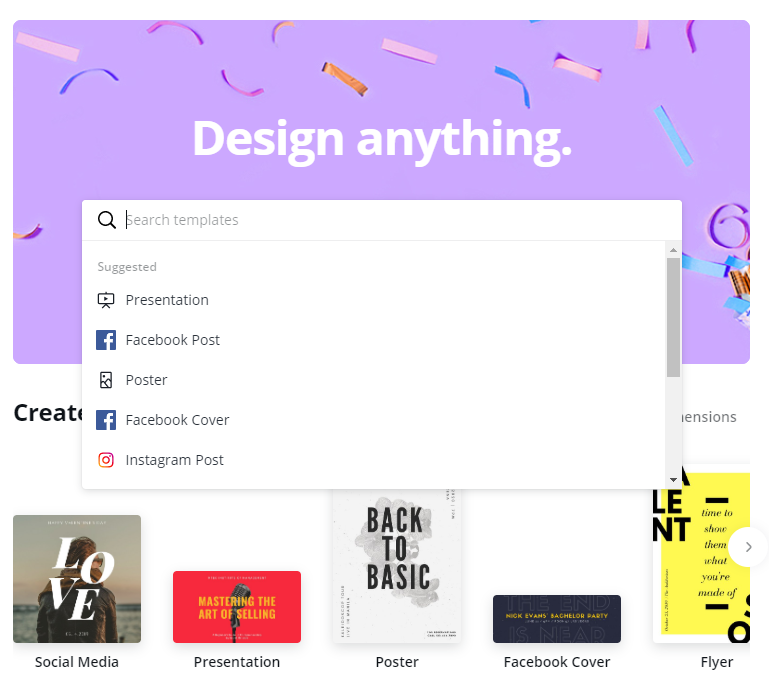 We're huge fans of Canva because they've built and continue to create amazing software. Their user interface is simplistic and easy-to-navigate, allowing even the novice designer to quickly get comfortable with the features and settings.
We also like Canva because of their wide range of free templates and images you can use for your designs. You can easily locate them in the search bar, build your templates and export them without having to worry about post dimensions. Canva takes care of it all.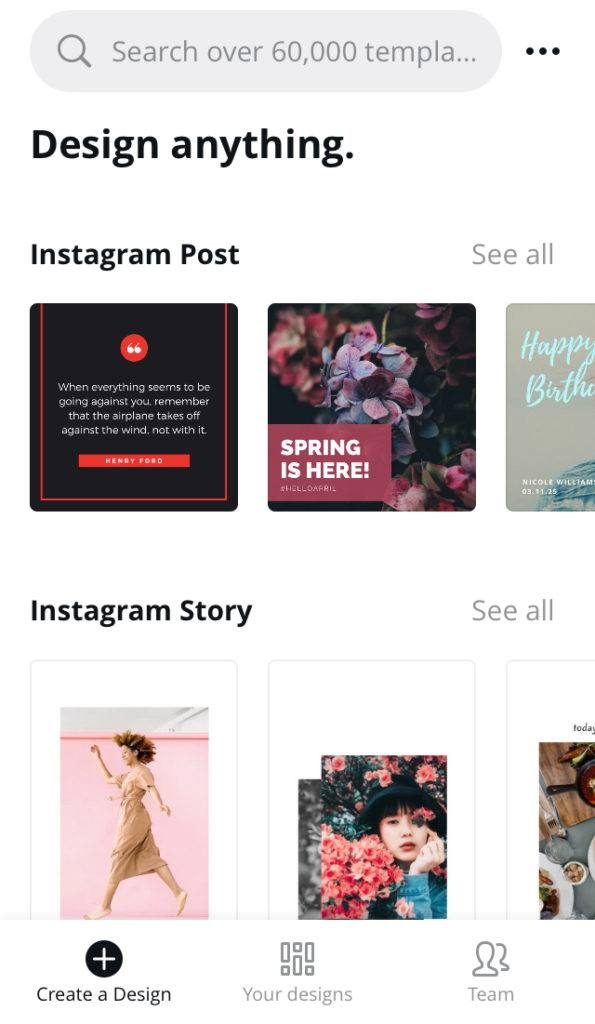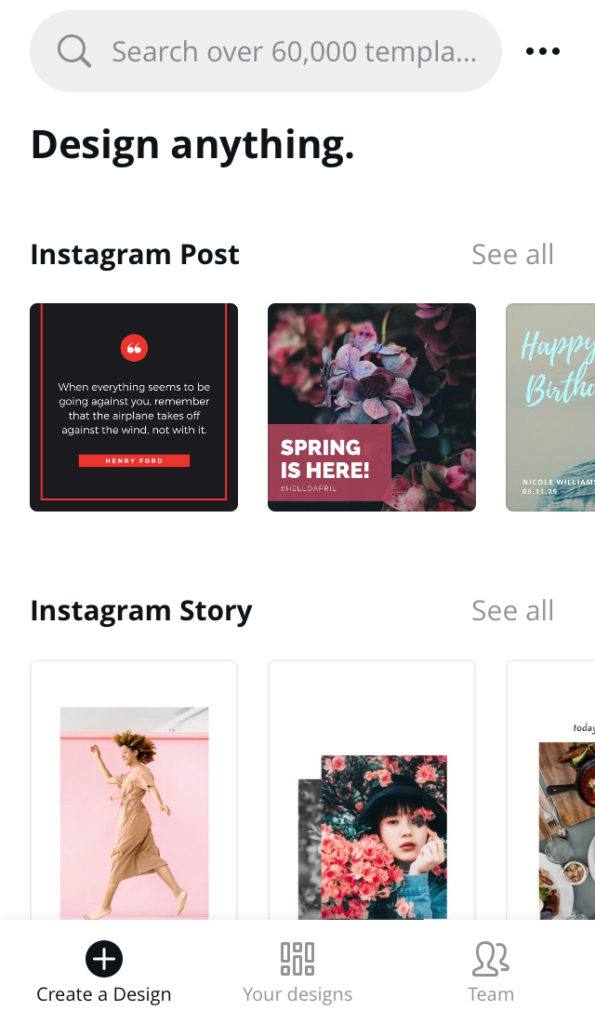 Cost: Free plan with upgrade options.
Availability: Desktop, iPhone and Android.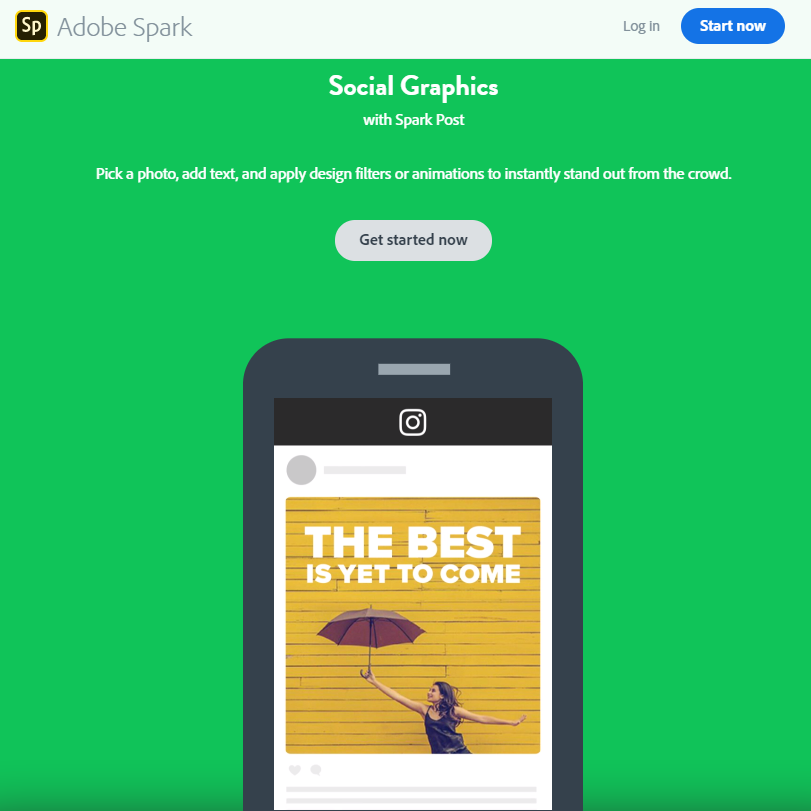 Adobe Spark comes with thousands of free images, filters, animations and icons for you to build templates. These features make it easy for you to build engaging posts that will wow your audience while staying on-brand.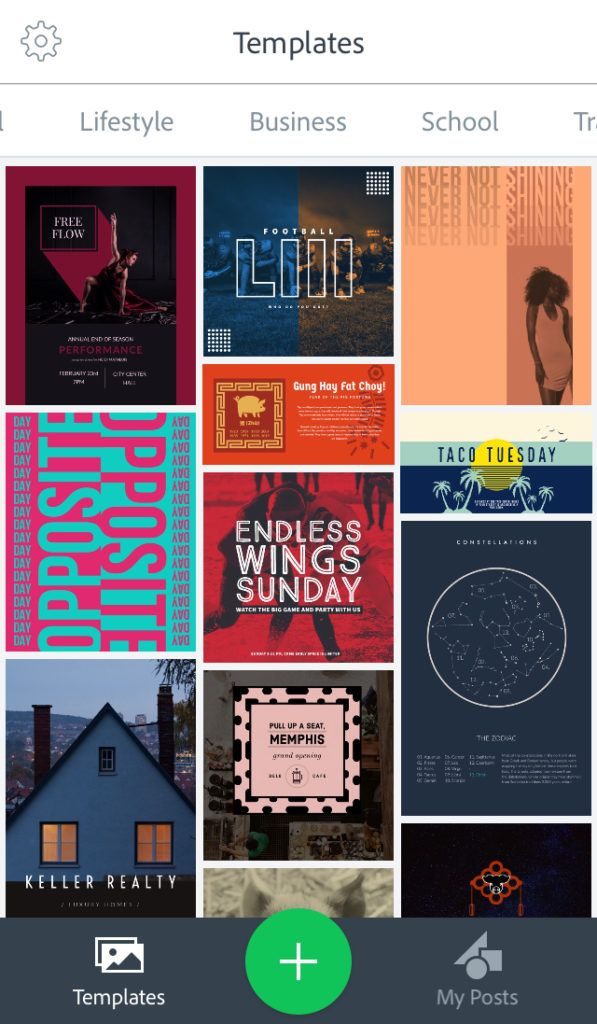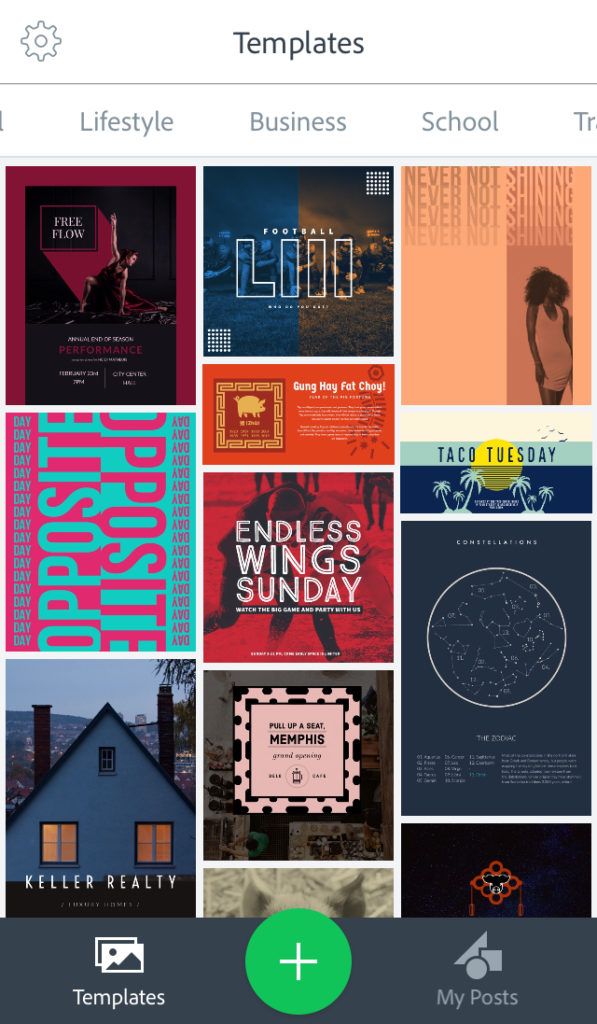 Cost: Free with upgrade options.
Availability: Desktop only.
Known for their mesmerising infographics, most people aren't aware that Piktochart can also be used to produce equally attractive and engaging Instagram templates too. These can be used in those moments when you want to share attractive and informative stats with your audience.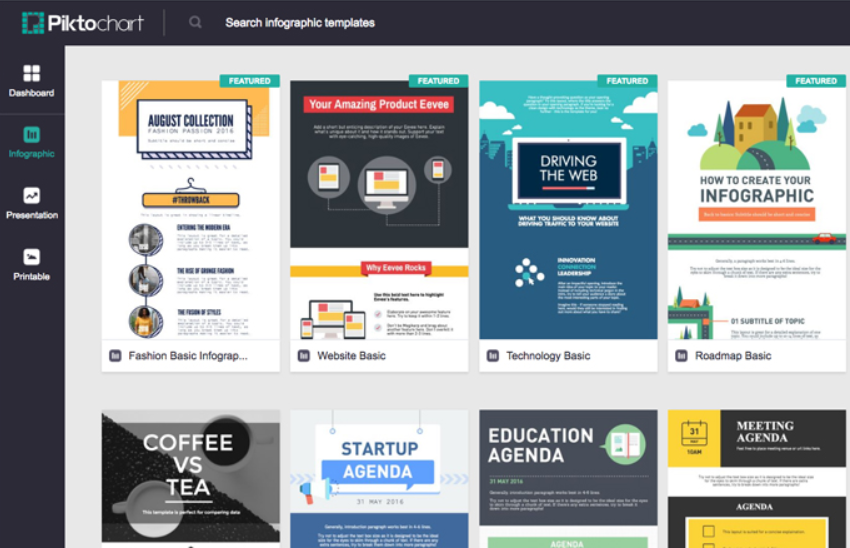 Piktochart comes with over 800 professionally designed templates that you can tweak to use on Instagram.
4. Framatic
Cost: Free
Availability: iPhone only.
Something Instagram has missed since its inception is the ability to create photo collages. This is where Framatic comes to the rescue.
Framatic gives you 36 adjustable layouts, borders, over 40 patterns to work with and 1 million+ colours for backgrounds.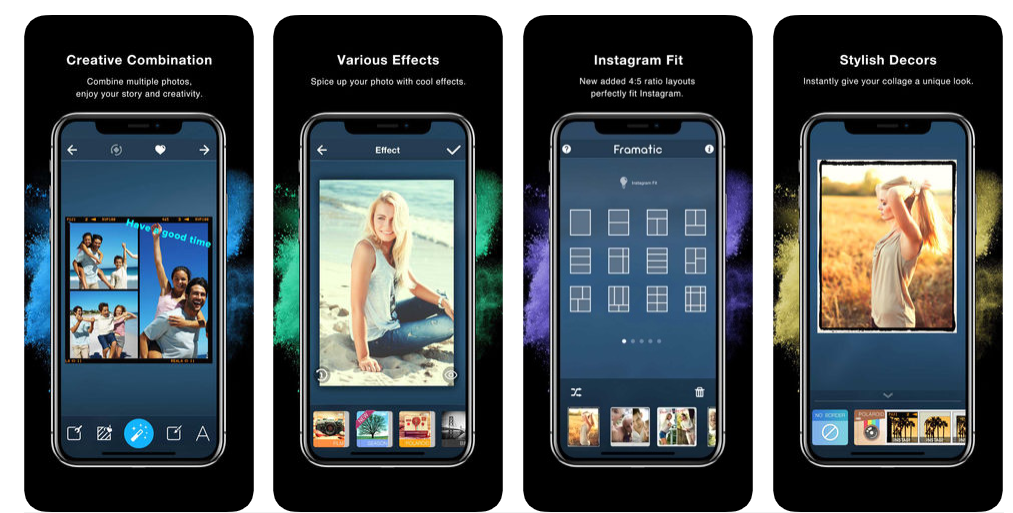 Cost: Free.
Availability: iPhone and Android only.
Like Framatic, Over is a handy and easy-to-use app for creating beautiful templates. It comes with over 84,000 graphics, 350 fonts, 500+ customizable templates and tons of stock photos.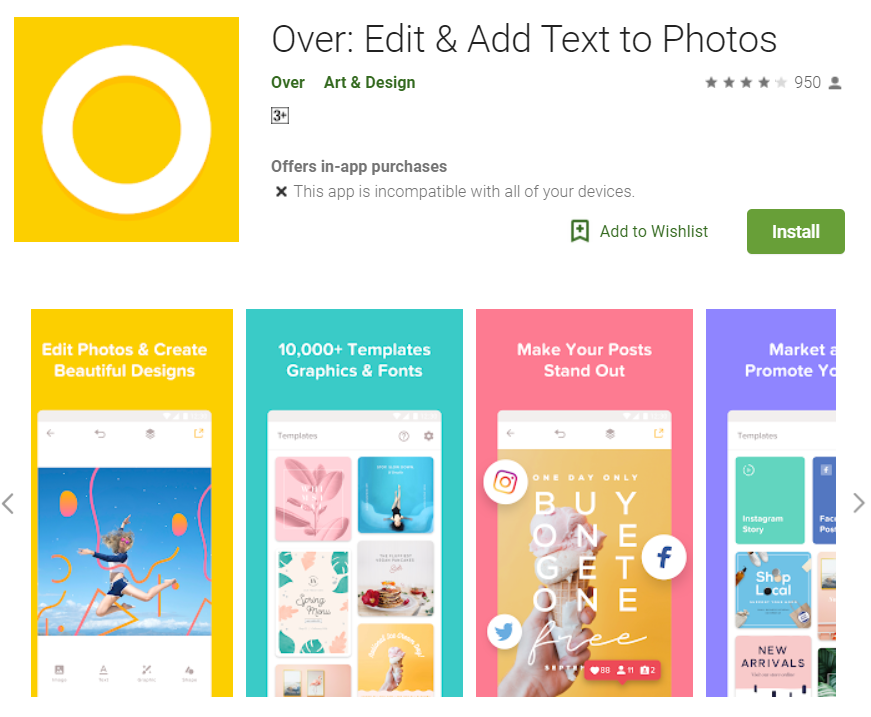 6. Unfold
Cost: Free.
Availability: iPhone and Android only.
If you're looking to create Instagram stories that have more of a refined aesthetic appeal, Untold is your tool. Untold comes with 25 free templates and 5 fonts with advanced text editing tools to help you create elegant stories.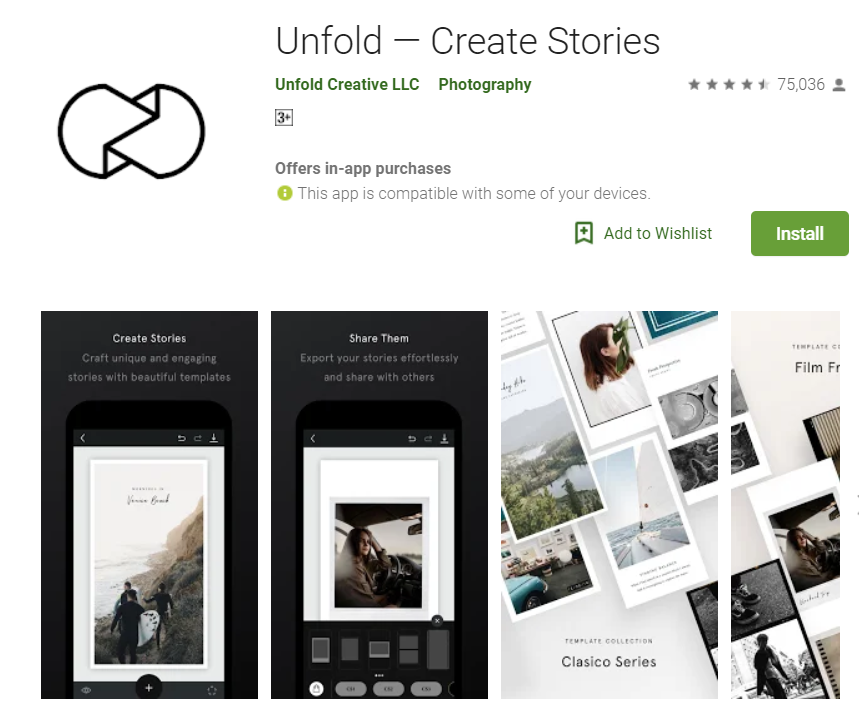 7. Storyluxe
Cost: $2.99/mo.
Availability: iPhone only.
Storyluxe is ideal for creating Instagram stories. It allows you to create templates from their packs using your photos and videos. You're also able to tweak your story with filters, background textures and colours.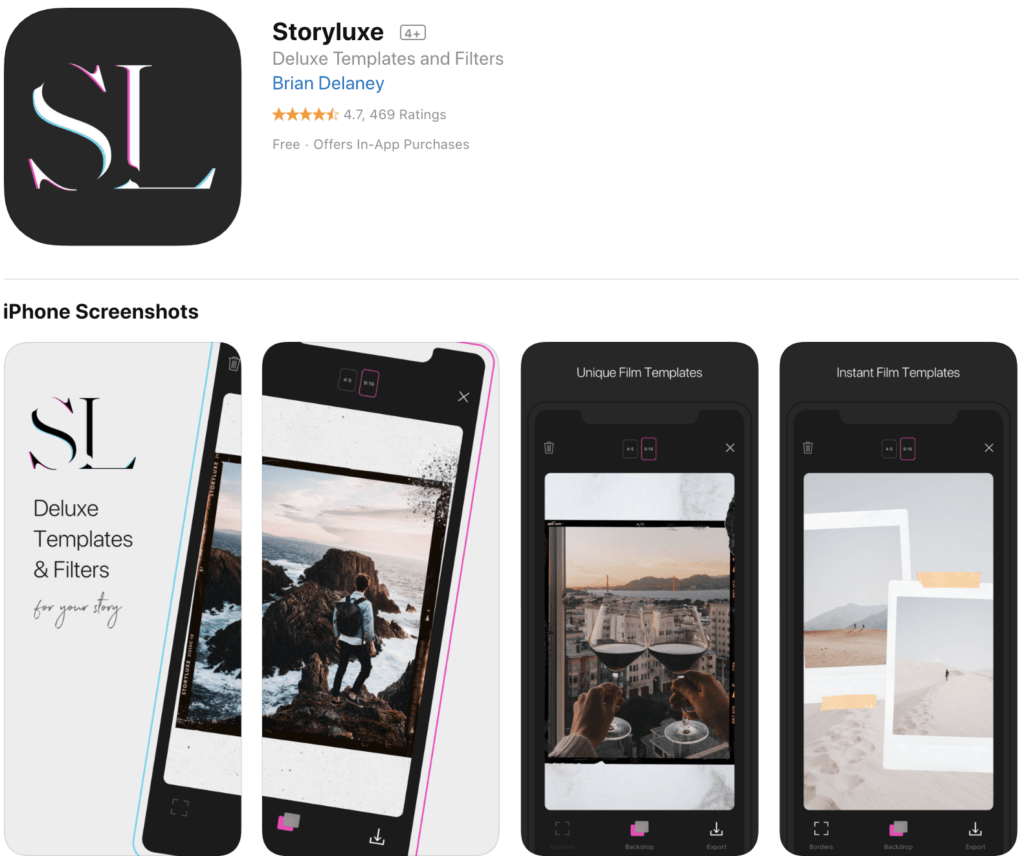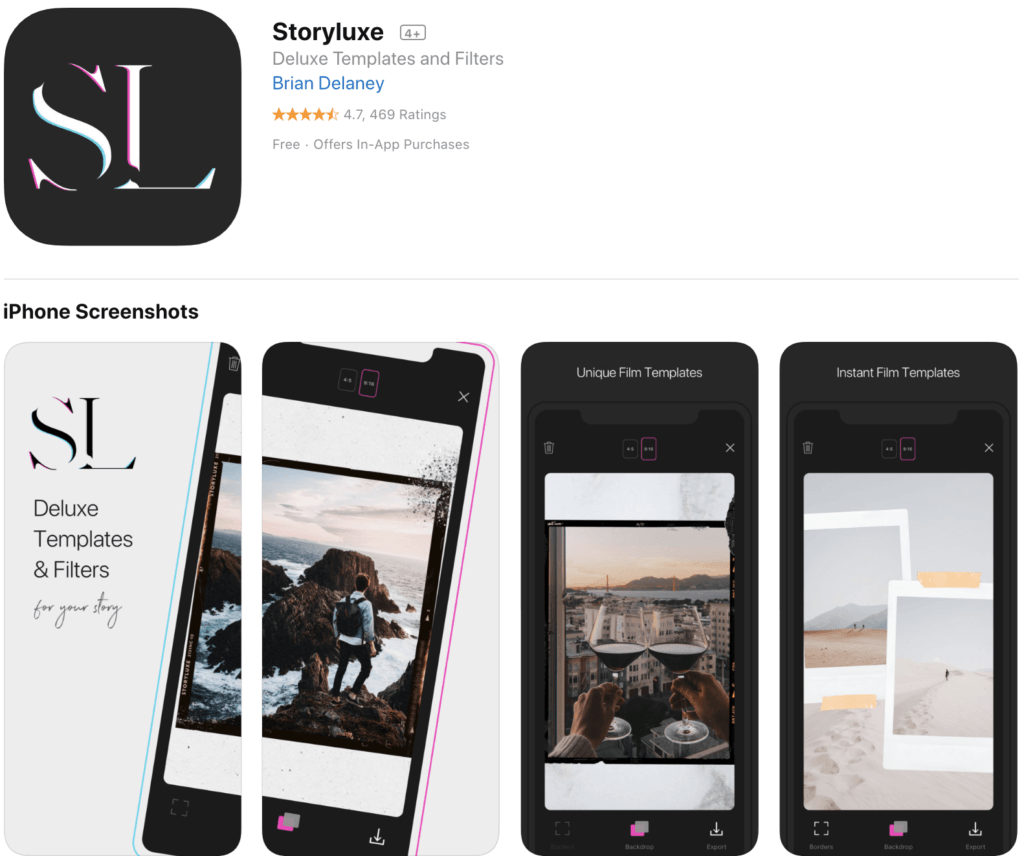 ---
Where to Find Instagram Templates if You Don't Want to Download Another App
While apps are pretty useful and easy to get hold of, you may be less inclined to add another app to your already large collection. So, we've created a list of 10 free Instagram templates that you can download.
Most template packs are available for download as Photoshop PSD and Sketch files.
The Free Instagram Story Mockup templates pack includes a collection of 4 Photoshop files you can edit for story posts.
The file collection uses smart objects that make it easy to add your photos and create branded content. This template pack also includes an iPhone mockup to use for showcasing your app designs.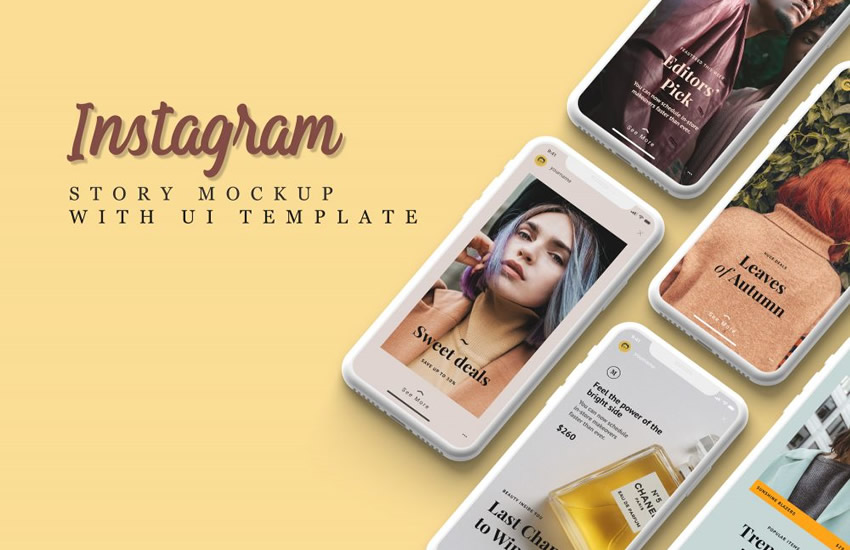 The Lush Free Social Media template pack boasts an elegant collection of 24 Instagram stories templates. They are versatile and can be used to promote your content, brand and products.
They can also be used to share quick updates, announce product launches and sales. These templates include smart shapes for easy editing.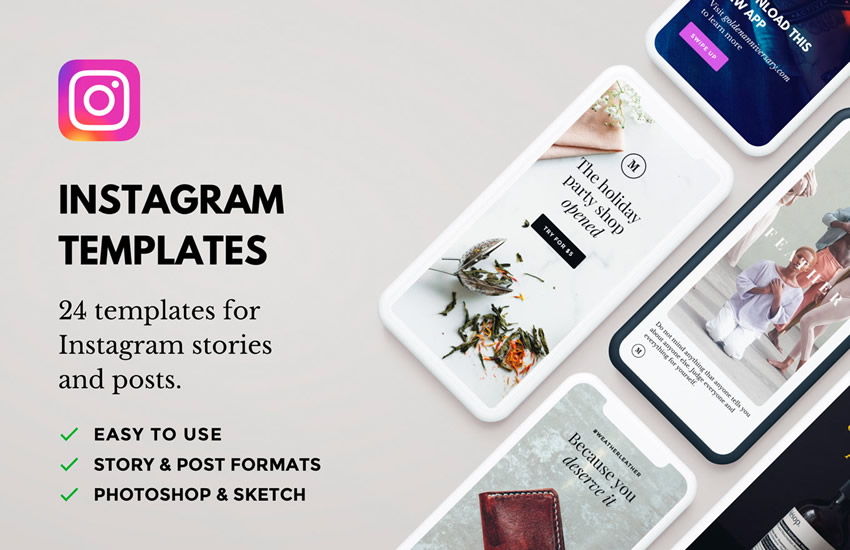 Free. Become an Envanto Elements member to unlock.
Try the Instagram Stories Vol 2 is a collection of modern and colorful designs that will definitely make an impression in your Instagram feed and stories. Included are 10 story templates that are available in Sketch App format.
Looking for a more elegant template collection? Hepburn will do the trick.
This collection includes 9 templates, elegant typography choices and a soft colour palette to impart style on your audience. This collection will work well for quotes, general posts, sales announcements and promotions, and more.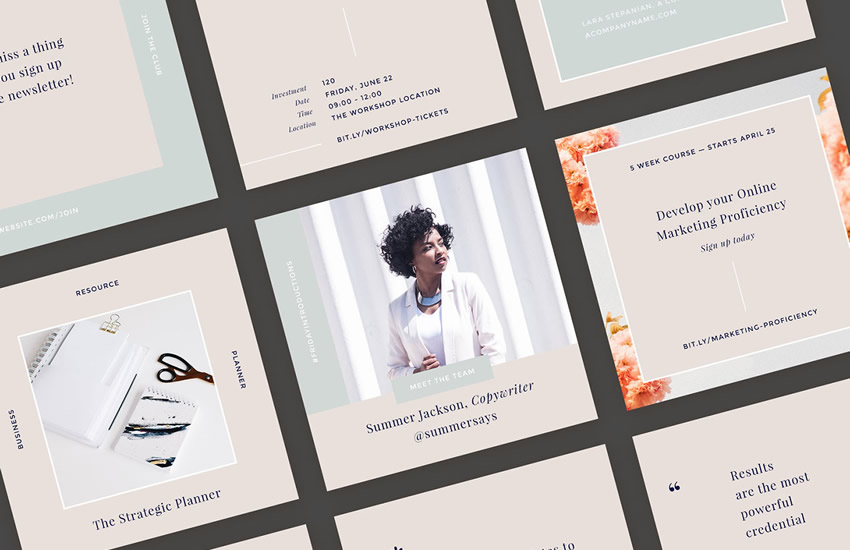 Free. Become an Envanto Elements member to unlock
Instagram Stories Vol 3 is a collection of bright and fresh Instagram stories templates. You have the option of various designs to promote your sales, special offers, or announce new products and sales, or share a quote or a behind the scenes photos.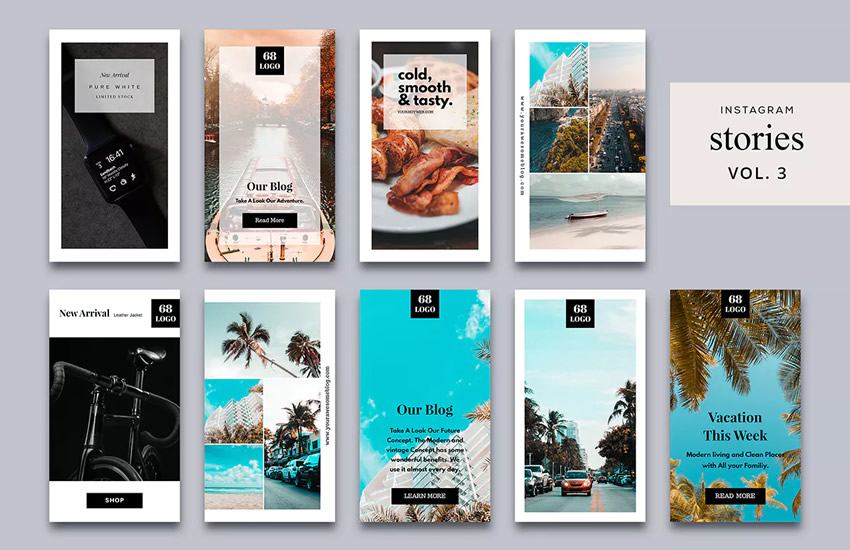 Free. Become an Envanto Elements member to unlock.
Instagram Stories Vol 4 is ideal for brands that need to communicate and style and elegance. These story templates use elegant typography and the pack includes 9 Photoshop files designed to inspire a sense of sophistication.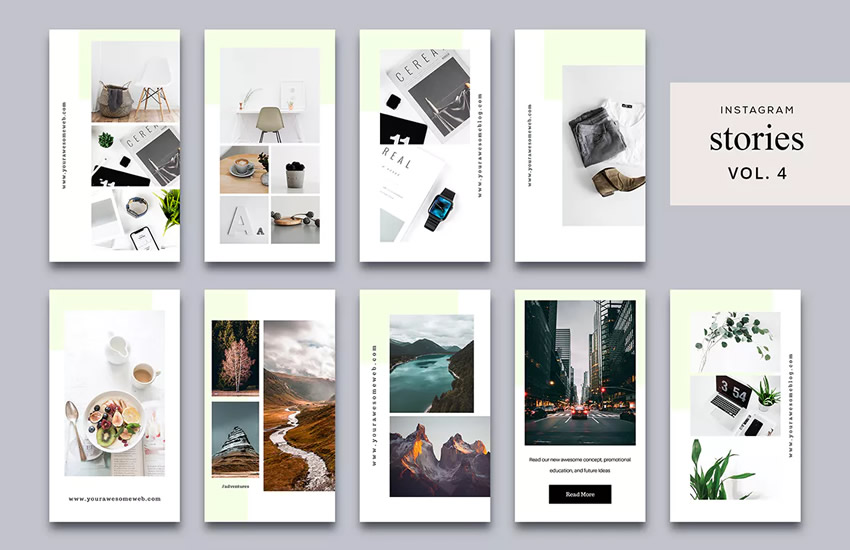 This collection of story templates incorporates minimal typography. This approach draws the viewer's attention to the photography. The collection is a smart choice for a fashion, food or travel brands that need to explore creative ways of sharing their behind the scenes photos.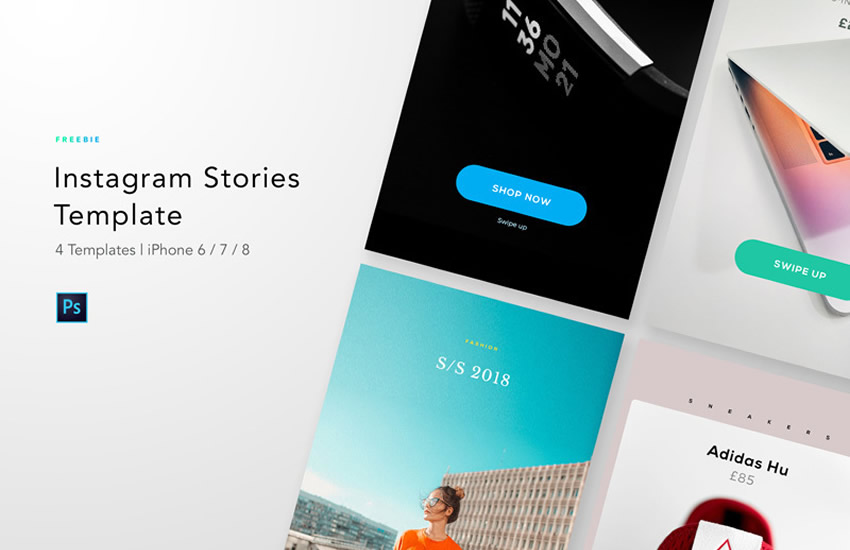 Need to showcase your products using Scandinavian design? Use Tanska. This collection is perfect for highlighting shapes. The collection includes 10 unique templates with soft colour palettes and stylish geometric shapes.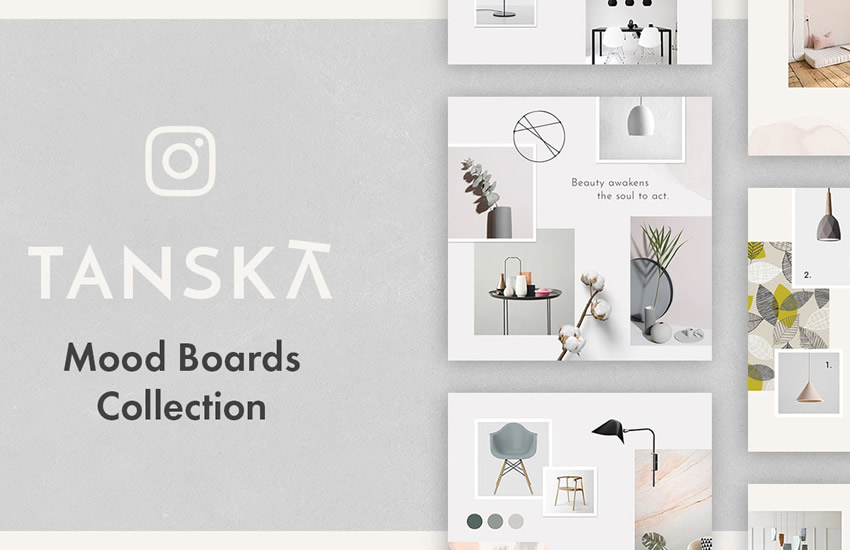 A minimalistic template collection, this pack includes a set of easy-to-edit Photoshop files. The simplistic design makes it easy to incorporate your brand's colours and customise typography to your brand fonts.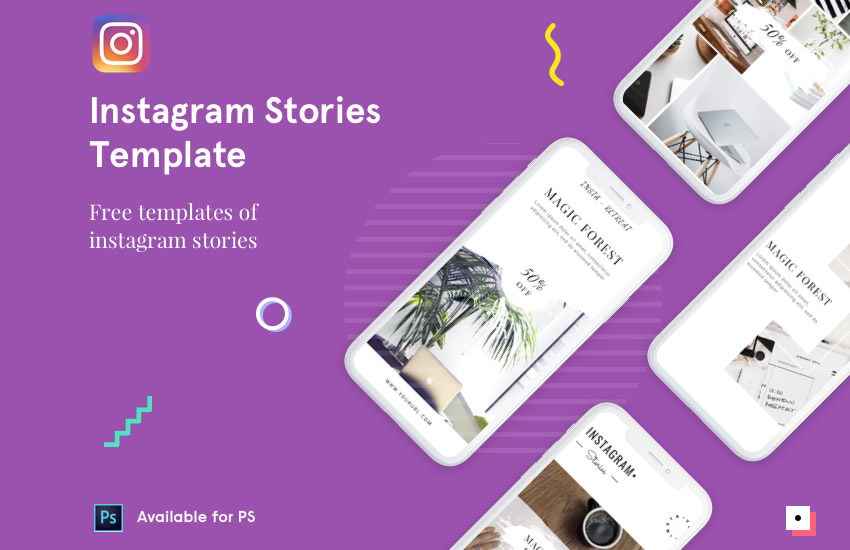 Vana is a stylish template pack designed for Instagram stories. The pack contains 8 templates that are editable in Photoshop as well as Sketch. Using minimal design, these templates can be repurposed for any type of post.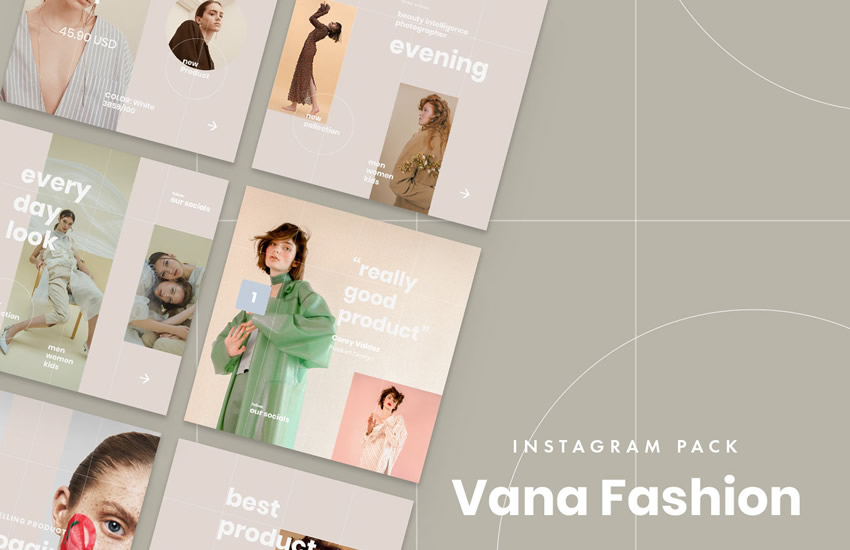 ---
Summary
Instagram templates are editable, pre-made files that you can use to create posts. They're a smart way to turn an otherwise time-consuming creative process into a simple and manageable series of steps.
Templates are easy to get hold of and build using apps and online tools, most of which come with text editors, filters, emojis and large photo galleries.
If you're not a fan of using apps and want to get your hands on templates, there are many options available. Using downloadable templates, you're able to incorporate your brand's images, change fonts and produce beautiful and professional general, story and promotional posts.
Try Instagram templates today and start building amazing content in less time!