Advertising Disclosure
Advertising disclosure:
Our partners compensate us. This may influence which products or services we review (also where and how those products appear on the site), this in no way affects our recommendations or the advice we offer. Our reviews are based on years of experience and countless hours of research. Our partners cannot pay us to guarantee favorable reviews of their products or services.
Navigating the diverse world of automation agencies is no small feat. With 70% of business leaders believing automation benefits business operations, it's no secret that these agencies are making strides. This article evaluates the top 10 automation agency picks, providing insights on service quality, innovation, and cost-effectiveness to streamline your selection process and pinpoint the agency that aligns with your specific needs and objectives.
---
Top Automation Agency Picks
Top
automation agencies
2024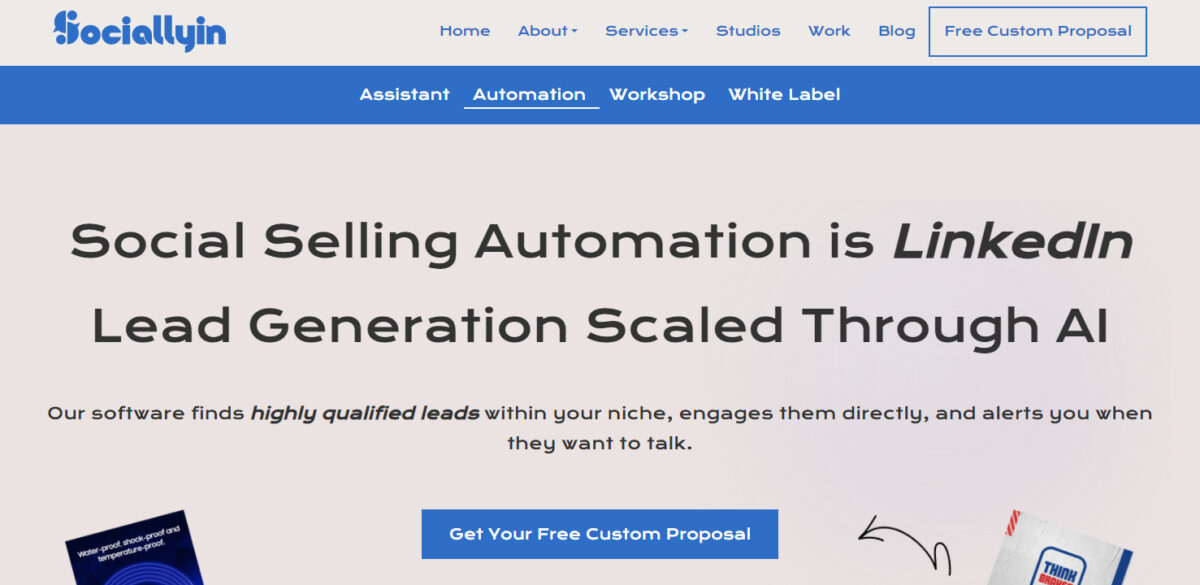 Sociallyin has carved out a niche in the crowded landscape of automation agencies with its innovative and tailored solutions, particularly in social media automation and LinkedIn lead generation. The agency employs cutting-edge AI technology to identify and engage highly qualified leads within specific niches. Their proprietary software not only finds these potential clients but initiates direct engagement, signaling businesses when leads are ready for interaction. This strategic approach ensures businesses connect with their target audience effectively, enhancing lead generation and conversion rates.
One of the distinguishing features of Sociallyin is the dedicated LinkedIn Certified Support Team that it provides to assist clients with all lead generation processes. With SociallyIn, businesses are not just acquiring a service but are partnering with a team that understands the intricate nuances of social selling. Clients are equipped with tools and training, including monthly Sales Navigator sessions, ensuring they are not just beneficiaries of the service but active participants in leveraging it for optimal results.
Sociallyin's Automation Platform stands as a testament to their innovative approach. By automating outreach and engagement, the platform ensures businesses spend more time selling and less time connecting. It is engineered to drive decision-makers directly into the sales funnel, thanks to the high-performing data leveraged from thousands of successful campaigns. The agency offers a tiered package structure, catering to diverse business needs and budgets, each promising an organized, data-driven, and strategic approach to outreach. With AI at its core, Sociallyin is more than an automation agency; it is a partner in strategic social selling and engagement.
---

Moburst has a particular flair for transforming email marketing into a powerhouse of engagement, conversions, and customer retention. The agency elevates the traditional scope of email communication by infusing it with advanced automation techniques tailored to drive specific user actions at every phase of the conversion funnel. Whether a business operates in the B2B or B2C sector, Moburst delivers an all-encompassing email marketing solution, spanning conception, design, content creation, automation, and optimization.
What distinguishes Moburst in the competitive landscape is its adeptness at crafting personalized stories that resonate with distinct audience segments. Every email is not just a communication but an engaging narrative, meticulously designed and timed to reach the audience at the optimal moment, leading to enhanced engagement and conversion rates. The agency's prowess extends to seamlessly integrating these advanced marketing solutions into existing processes or building new, tailored systems that align with a business's unique operational and marketing dynamics.
Beyond email marketing, Moburst exhibits a comprehensive suite of services that encapsulate mobile, digital, and social strategies, ensuring businesses are not just reaching audiences but are doing so with precision, innovation, and adaptability. Their SEO, App Store, and Conversion Rate Optimization offerings signify the agency's commitment to enhancing visibility and conversions. The seamless amalgamation of creative content, influential marketing, and advanced media buying strategies underlines Moburst's capacity to be a holistic partner for businesses aiming for transformative growth and enhanced digital footprint. Each service is a testament to Moburst's commitment to driving not just engagement but meaningful, profitable interactions.
---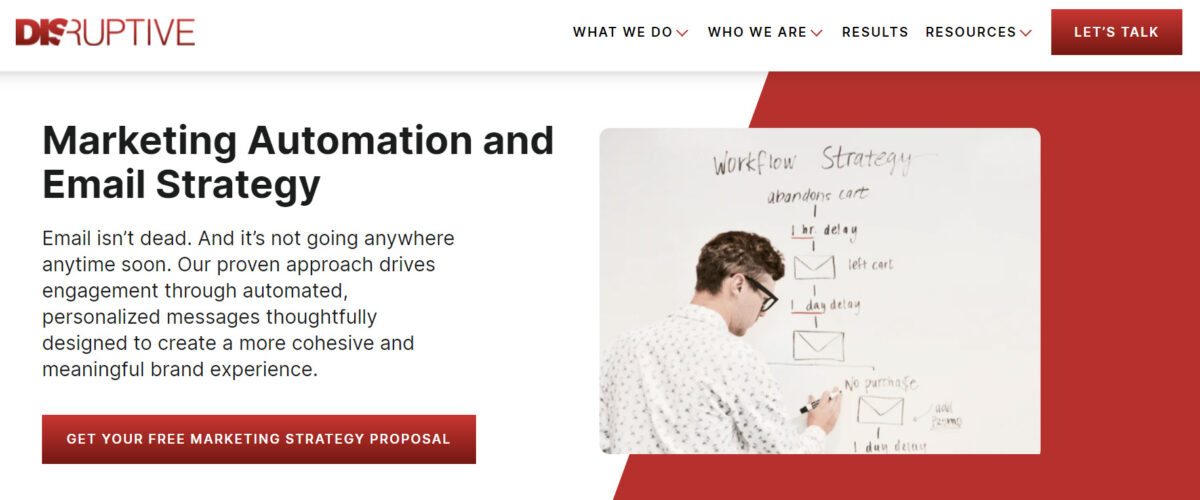 Disruptive Advertising reaffirms the potency of email marketing in an age where digital communication channels are abundant. The agency accentuates personalized and automated email strategies, effectively engaging audiences and fostering a harmonious brand experience. Recognizing that the consumer inbox is a highly competitive landscape, Disruptive Advertising elevates the email marketing paradigm, ensuring messages are received and resonate, driving engagement and conversions. Their adeptness in tailoring communications to fit every stage of the marketing funnel underscores a holistic approach, integrating seamlessly with broader marketing and sales strategies.
The agency's methodology is meticulously crafted, with a spotlight on mobile-first email designs, a pivotal element considering that a significant majority of users access emails on mobile devices. Each email is a blend of aesthetic appeal and functional excellence, ensuring messages are visually appealing and content-rich. Subject lines are crafted to capture attention, and email deliverability is optimized to ensure messages reach the intended recipients. The comprehensive strategy extends from email conception and planning to analytics and analysis post-delivery, each stage infused with expertise and precision to maximize ROI.
Disruptive Advertising underscores its efficacy with compelling statistics, painting a picture of an email marketing strategy that not only engages but converts. The agency's process is delineated into distinct stages, including setup, foundation, optimization, and growth, each tailored to meet businesses at their respective levels of email marketing maturity. Whether a company is initiating its journey or looking to optimize and expand, Disruptive Advertising offers tailored solutions underscored by strategic integrations, industry research, and a focus on actionable insights. The result is a dynamic email marketing ecosystem where strategy, implementation, and analysis converge to drive tangible business outcomes.
---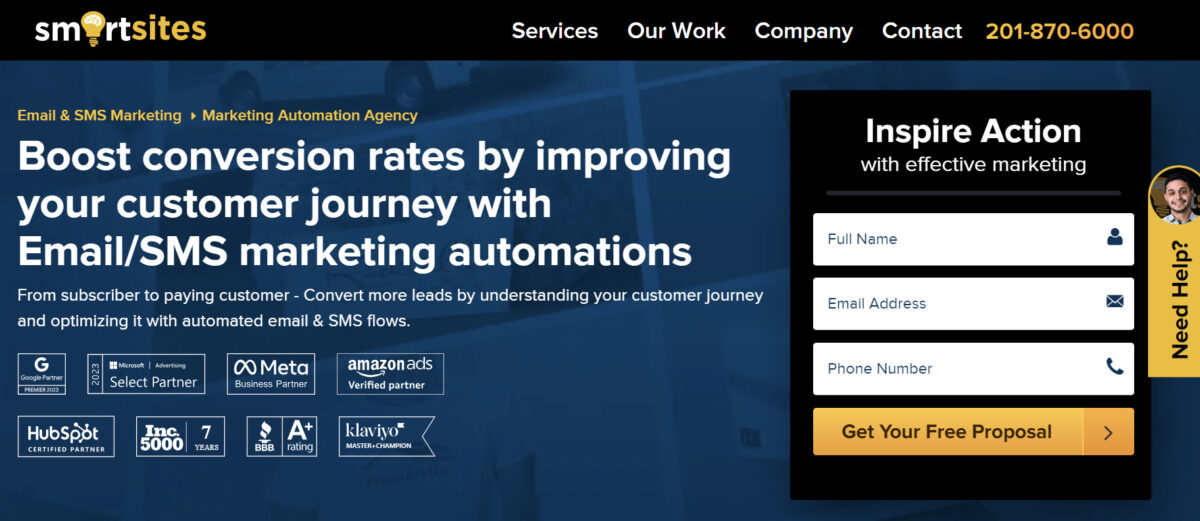 SmartSites has a specialized focus on optimizing the customer journey via email and SMS marketing automation. Recognized as a leader with accolades like Google Premier Partner and Klaviyo Master Plus Champion, the agency crafts personalized marketing journeys that seamlessly transition subscribers to paying customers. Their nuanced understanding of the customer journey is complemented by innovative and tailored automated email and SMS flows, ensuring that each communication is strategically aligned with various stages of the buyer's progression.
Central to SmartSites' approach is a data-driven methodology, enriched by email A/B testing and meticulous data analysis, designed to automate revenue generation. Their commitment to evolving customer relationships shines through their personalized messaging, each crafted and timed to perfection to engage customers along their buying journey. This isn't a "set it and forget it" agency; SmartSites' dedicated team continually revisits and refines marketing automation to ensure optimal performance and return on investment, proving their commitment to not just initiate but to consistently elevate the engagement strategy.
The reputation of SmartSites is not just built on their technical expertise and innovative strategies but is profoundly supported by glowing client testimonials and a plethora of awards. With a 320% increase in revenue driven by automated emails compared to non-automated ones, clients find tangible value and enhanced business outcomes as a direct result of their partnership with the agency.
---

Thrive is best for small and medium-sized businesses seeking to maintain a robust online presence. Thrive embraces the power of marketing automation, transforming it into a tailored experience that transcends generic outreach, ensuring each client's unique narrative and value proposition is articulated with precision and impact. Marketing automation at Thrive isn't about generic triggers and responses. Instead, it's a nuanced dance of strategically timed and personalized engagements that echo the individual needs, behaviors, and interests of each prospective buyer.
At the heart of Thrive's approach is an unwavering focus on goal-based campaigns that are intricately designed to streamline advertising and marketing efforts, amplifying lead generation and conversion rates. Their expertise shines brightly in crafting marketing strategies aligned with business objectives, a personalized touch that ensures each campaign is a reflection of the client's brand and business ethos. They harness the power of marketing automation to enhance efficiencies, turning the spotlight on profitable channels, eliminating wastage, and ensuring each marketing dollar is optimally utilized.
But Thrive isn't just a marketing automation agency; it's a partner in the truest sense, navigating the intricate terrains of digital engagement with expertise and innovation. Their services are comprehensive, encompassing the creation of effective landing pages, the development of lead nurturing strategies, and the meticulous tracking of leads across marketing channels. Every strategy is underpinned by a deep understanding of buyer behavior, ensuring each engagement is not just seen but resonates, driving tangible outcomes.
---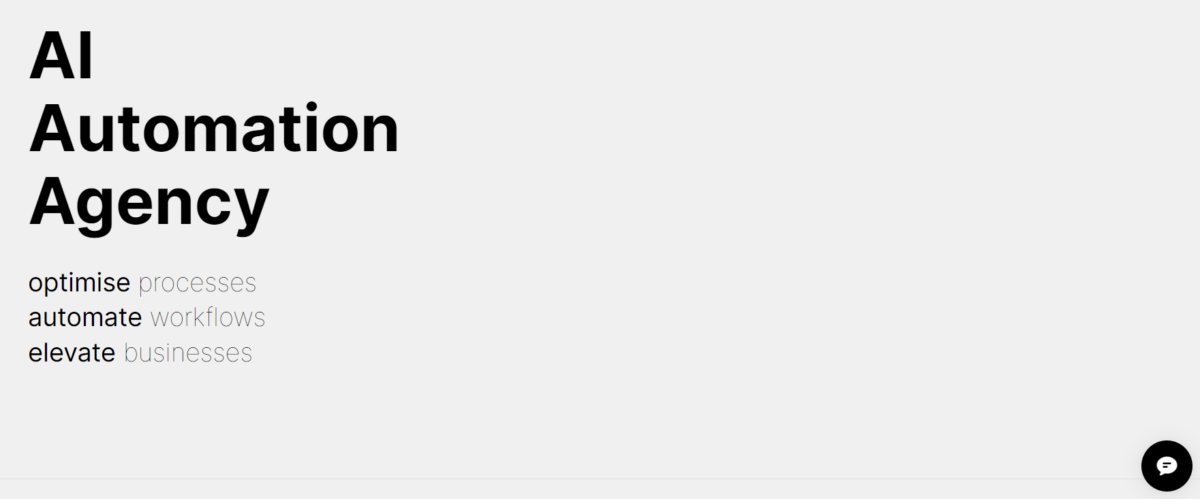 The Automation Agency stands at the forefront of the SME (Small and Medium-sized Enterprise) revolution, wielding the transformative power of Artificial Intelligence (AI) and Machine Learning (ML). In an era where businesses, especially SMEs, are navigating the complexities of a digital world, this UK-based agency offers a bespoke approach to harnessing AI's potential. They go beyond merely providing AI tools; they conduct AI readiness assessments, optimize existing infrastructures and offer tailored IT solutions.
What sets The Automation Agency apart is their dedication to creating user-friendly AI solutions for business growth. They believe that AI should not be in the realm of tech wizards but accessible to all. So, their solutions are designed to streamline operations, automate repetitive tasks, and provide valuable insights for decision-making. With a focus on boosting productivity and reducing costs, they offer not only technology but also dedicated support to ensure businesses fully benefit from their solutions.
Confidentiality and security are paramount to The Automation Agency. They understand the sensitivity of business data and commit to safeguarding it throughout their software development processes. Their expertise allows SMEs to embrace AI with confidence, knowing their data will remain private and secure. As a strategic partner guiding SMEs into the AI-powered future, The Automation Agency empowers businesses to work smarter, not harder, in a rapidly evolving digital landscape.
---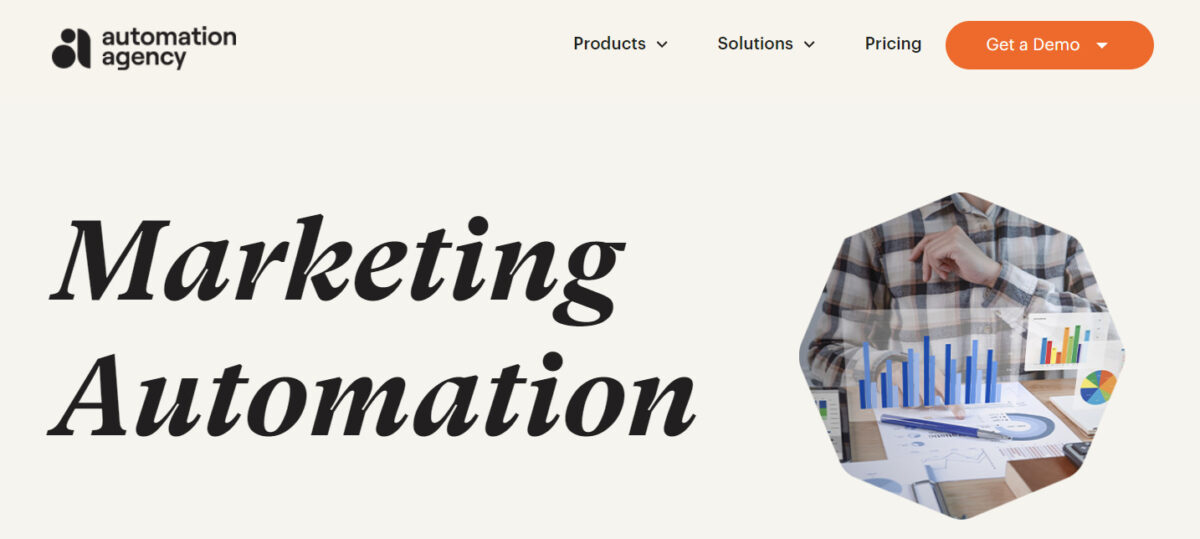 Recognizing the multifaceted nature of modern digital marketing, Automation Agency has assembled a dedicated team of marketing heroes who specialize in a wide range of software solutions, including Adobe, Zapier, Kajabi, ActiveCampaign, and more. This team of experts is poised to take on the myriad tasks that make up digital marketing, allowing businesses to focus on growth and strategy rather than getting bogged down in technical details.
What sets Automation Agency apart is its commitment to simplifying and streamlining the marketing process. They excel in automating repetitive tasks, be it managing blog posts, optimizing sales funnels, or maintaining websites. By taking care of these tasks efficiently, they free up business owners to be more productive without the burden of additional busy work.
Automation Agency is adaptable and caters to various client profiles, whether entrepreneurs,  marketing agencies looking to scale services, or considering adding done-for-you services for clients. Their ability to tackle an extensive array of marketing tasks while ensuring client satisfaction positions them as a go-to resource for businesses seeking expert support in the digital marketing landscape.
---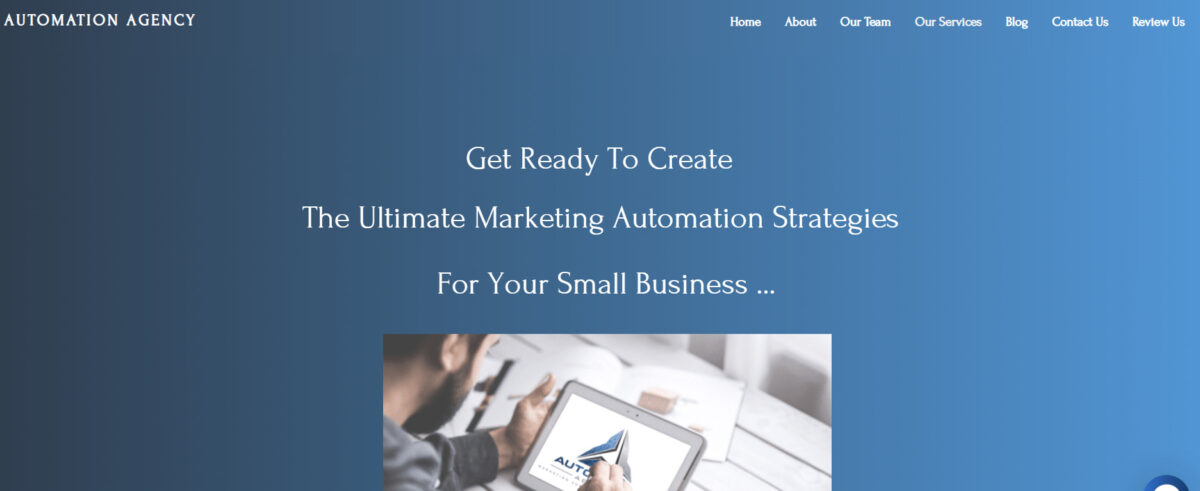 Automation is an exceptional marketing agency dedicated to helping small businesses thrive by automating their sales and marketing processes. Their comprehensive range of services is designed to enhance productivity, expand clientele, increase sales, and ultimately provide business owners with more freedom to focus on growth and strategy. But what sets them apart is their expertise in various marketing domains, making them a one-stop shop for businesses looking to harness the power of automation.
One of Automation's standout offerings is their expertise in Cold List Marketing. They specialize in converting cold leads into warm prospects and paying clients, a skill crucial for businesses starting or looking to expand their email lists. Additionally, their Social Media Marketing services are top-notch, delivering proven results in generating leads, building brand awareness, and driving growth. Furthermore, their Reputation Marketing strategy, which focuses on generating 5-star reviews on autopilot, demonstrates their commitment to enhancing a business's online presence.
The agency's mission is to empower 10,000 entrepreneurs and small businesses with the best processes, systems, technology, and marketing automation strategies by 2030. Their commitment to clients is evident through an array of testimonials that praise their exceptional services. From helping clients navigate software transitions to creating efficient processes, their dedication to client success shines through. Automation also forms partnerships with industry leaders like Facebook to offer clients powerful marketing resources, showcasing their commitment to staying at the forefront of digital marketing.
---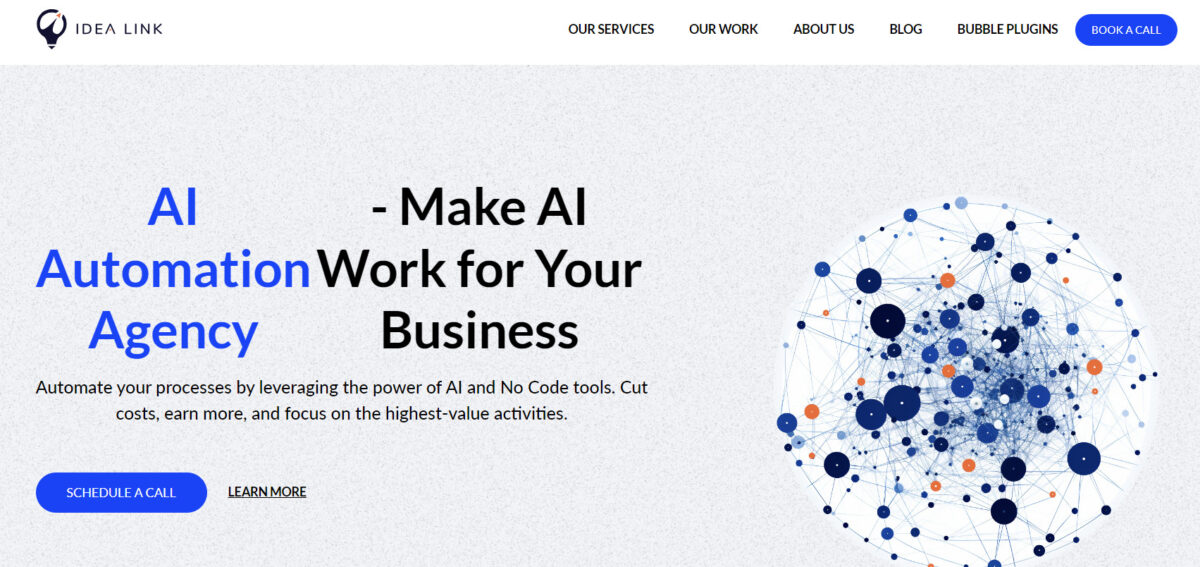 Idea Link is a pioneering AI Automation Agency that excels in optimizing businesses through the strategic application of Artificial Intelligence (AI) and No-Code tools. The core services offered by Idea Link are centered around harnessing the power of AI to automate a multitude of tasks and processes across different business departments. One standout service is AI Process Automation, where they employ chatbots for tasks like customer support. These agents are trained specifically on a company's information, ensuring they derive maximum value from their use.
But what truly sets Idea Link apart is its comprehensive approach, guided by a proven process. Starting with a Discovery phase, they delve deep into a client's business goals, followed by an Analysis & Product Design phase where they meticulously design workflows and processes for maximum automation. The AI Solution Development phase is characterized by remarkable speed and efficiency, ensuring clients see tangible progress. Finally, the agency extends its support and maintenance services to be a long-term partner in continuously iterating, providing technical support, and scaling AI-driven products.
Idea Link's emphasis on the benefits of AI automation is evident. They drive businesses to increase efficiency by freeing teams from repetitive tasks, reducing operational costs significantly, and accelerating without proportionally increasing expenses. The security of business data is paramount, and the agency adheres to strict data privacy and security regulations, ensuring your information remains safe.
---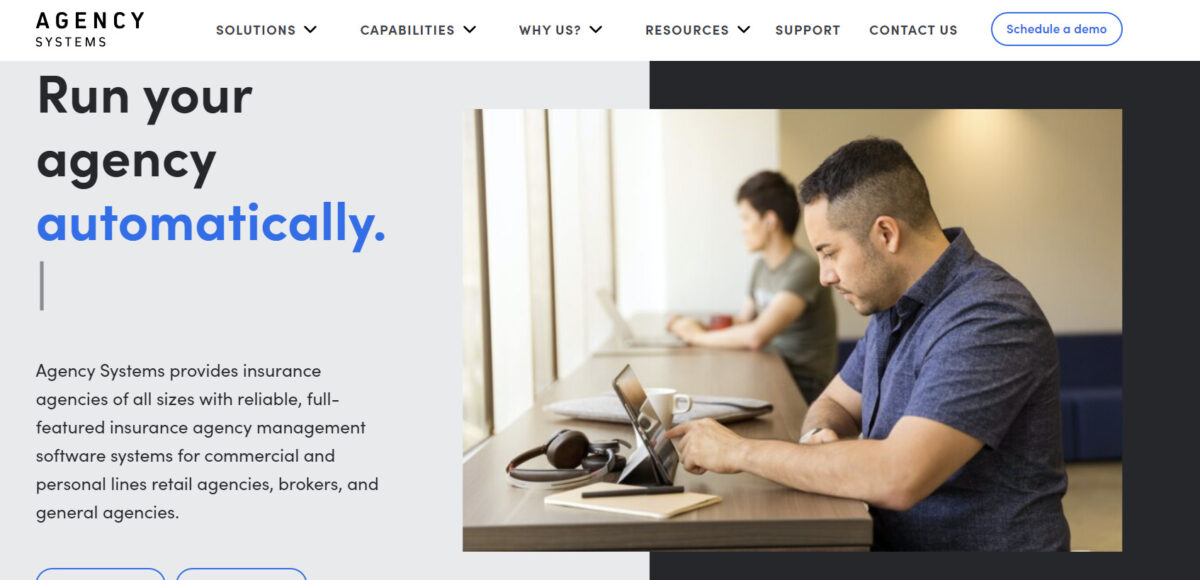 At the heart of Agency Systems' services is their dedication to helping agencies acquire more customers, retain them for extended periods, and simplify their daily operations. They recognize that achieving growth is paramount for any agency, and to facilitate this, they offer a comprehensive suite of capabilities designed to empower agencies to concentrate on reaching new customers. Investing in Agency Systems translates directly to enhancing an agency's bottom line. Moreover, they place a strong emphasis on fostering customer relationships, offering a toolbox that includes email marketing, client portals, and a mobile app to ensure agencies never miss an opportunity to connect with their clients.
Agency Systems offers a versatile range of solutions to cater to agencies of varying sizes and requirements. Their web-based agency management software, Access My Insurance, serves as a powerful driver of agency growth. Additionally, their Amazon Cloud Desktop solution empowers agencies to manage their operations from any location, delivering unparalleled flexibility and accessibility.
But the true hallmark of Agency Systems is their extensive array of capabilities and features designed to supercharge agency growth. From cloud workspaces and document management to integrated accounting and secure architecture, they furnish agencies with a complete toolkit for efficient management. Furthermore, their unwavering commitment to building a customer base is evident through features such as analyzing and tracking sales, custom agency websites, and marketing automation.
---
What's the Role Of AI in Modern Automation?
AI empowers us with tools and algorithms that facilitate intelligent decision-making. For instance, machine learning, a subset of AI, allows automated systems to learn and adapt to new information without being explicitly programmed. It means that these systems can analyze data, identify patterns, and make decisions with minimal human intervention, leading to enhanced accuracy and efficiency. While there are varying degrees of AI accuracy, IMB's AI, for example, comes with a 95% accuracy.
AI's integration in automation also aids in complex tasks such as data analysis and predictions. Agencies leverage AI to sift through massive data sets, deriving insights that inform strategic decisions. It's a bespoke approach where automation isn't generic but is tailored, considering the intricate nuances of diverse data and operational dynamics. Companies use AI tools to predict trends, understand customer behavior, and optimize their operations with a precision that is humanly unattainable.
Moreover, AI brings in a layer of cognitive intelligence. Automation isn't just about repeating tasks but about understanding, learning, and evolving. AI-powered bots, for example, are capable of handling customer service operations, not just answering queries but understanding sentiments and delivering personalized experiences. According to Market Splash, nearly 60% of businesses have already integrated AI into their customer service departments.
Simply put, AI is the backbone that transforms automation from a tool of efficiency to an instrument of strategic innovation. AI-powered Automation agencies are not just service providers but partners in carving pathways for exponential growth, adaptability, and resilience in a rapidly evolving business landscape.
---
Conclusion
It's safe to say that selecting the ideal partner is paramount to harness the potential of automation. This article meticulously evaluates the top 10 Automation Agency picks, guiding you to simplify the selection process and aligning you with an agency that caters to your specific needs and strategic objectives.
These featured agencies stand out in various domains, from social media automation and email marketing expertise to tailored customer engagement strategies. Their commitment to enhancing operational efficiency and driving results makes them valuable assets for businesses seeking to stay ahead in today's competitive landscape.
Frequently Asked Questions
What is the average cost of hiring an automation agency?
The cost varies widely, depending on the scope, complexity, and specific services required. It can range from a few thousand to several million dollars, influenced by technology, manpower, and customization needs.
How do I measure the effectiveness of an automation agency?
Effectiveness can be gauged through KPIs like process efficiency, cost savings, and innovation implementation. Client feedback, case studies, and the agency's adaptability to emerging tech trends also offer insights.
Can automation agencies cater to small businesses or startups?
Absolutely, many automation agencies offer scalable solutions tailored to fit the budget and needs of small businesses and startups, ensuring they too can leverage automation for enhanced operational efficiency.
What are the industry-specific solutions offered by automation agencies?
Automation agencies offer specialized solutions catered to various sectors like healthcare, finance, and retail, ensuring compliance, efficiency, and innovation are tailored to the unique needs and regulations of each industry.
How do automation agencies ensure data security and privacy?
Agencies implement strict security protocols, including encryption, access controls, and regular audits, to ensure data integrity and confidentiality. Compliance with global data protection regulations is a top priority.