Advertising Disclosure
Advertising disclosure:
Our partners compensate us. This may influence which products or services we review (also where and how those products appear on the site), this in no way affects our recommendations or the advice we offer. Our reviews are based on years of experience and countless hours of research. Our partners cannot pay us to guarantee favorable reviews of their products or services.
In 2023, the creator economy will remain a force to be reckoned with. According to a SignalFire's Creator Economy Market Map, in 2020, there were already 50 million creators. In 2021, the creator economy got a further financial injection and benefited from $1.3 billion funding for that year alone. In the light of this impressive growth, big tech platforms are rolling out the red carpet in a bid to keep creators on their platform by introducing more features and programs, while software tools are expanding their offerings to help them find more ways to monetize their content.
ConvertKit is one such tool that's making it their mission to make it easier for creators to build their brand. For example, they've recently launched the ConvertKit Sponsor Network. The pilot program is currently running with a number of great creators helping them to find and manage relationships with advertisers. Even if you don't qualify for this program, it offers many useful features aimed specifically at creators.
All in all, it's one of the leading platforms, but if you're not convinced to give it a go, there are equally impressive tools. If you're specifically searching for an alternative to help you with email marketing, here are seven super solutions worthy of your time (and money).
---
Why Should You Check Out ConvertKit Alternatives?
ConvertKit's mission is simple — to help professional creators earn a living online and grow their businesses with email. Founded in 2013, it's much younger than established email marketing giants like Mailchimp, but just like them they also focus on other marketing-related tools in addition to email.
As email is one of the top tools for building an audience and generating an income online, their main focus is on email. It features an email designer to help with the writing and editing part, inline styling options to make it easier to include buttons, videos, and images, and automated email funnels to mention only a few features.
As mentioned, its goal is to help creators grow their brands (aka make more money). One of the easiest ways to do that is to use it for creating a paid newsletter. Plus, thanks to their "subscriber-first" approach, you have much better control over your lists. If you want to create separate lists, ConvertKit won't charge you double for the same subscriber.
If you're not a creator, it makes sense why you would not be sold on ConvertKit. Perhaps because they're aimed at creators they neglected the email template department, an area where other tools really shine. So, if you're after loads of prebuilt customizable emails, better check out these email marketing software solutions to avoid disappointment.
Here are some of the main pros and cons of ConvertKit:
| | |
| --- | --- |
| | |
| It offers comprehensive forms with advanced features | The analytics are rather basic |
| List management is much easier thanks to its "subscriber-first" approach and tag system | The free plan is very limited |
| It features a paid newsletter feature for creators to monetize their content | You'll have to create your own templates |
---
What Are the Top Alternatives to Mailchimp?
To help you decide which ConvertKit alternative will kit you out the best, here are brief, side-by-side comparisons of some of the best options.
Top
convertkit alternatives
2024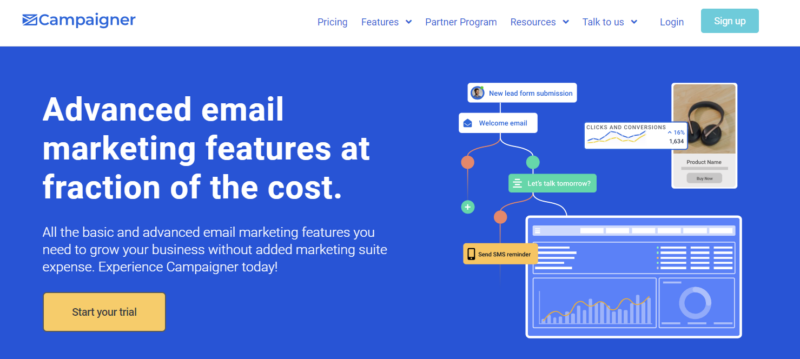 Founded in the late 1990s, Campaigner is one of the oldest email marketing tools. During their decades in business, their mission has remained simple — to help marketers achieve more with email. They do this by offering solid features to help businesses create strong lines of email communication and measure their email marketing campaigns' performance. Campaigner is especially powerful in terms of email automation, making it easy to create email workflows. In addition to automation, it's also useful for personalizing your email marketing and offers advanced segmentation, among other things.
Here are some of Campaigner's key features:
It offers 900+ responsive templates to get you started
A drag-and-drop editor to customize your chosen templates easily
Segmentation based on activity, demographics, and past purchase behavior
ConvertKit vs Campaigner
Online reviews reveal that Campaigner is more popular among enterprise clients, while ConvertKit is more commonly used by small businesses. Campaigner also includes SMS marketing which could sway it in their favor. Though, by opting for the email functionality alone, you can save about $20 per month, making it a more cost-effective solution than ConvertKit. However, unlike ConvertKit, Campaigner doesn't offer a free plan. Also, in terms of usability and support, Campaigner has room for improvement according to online reviews.
Pricing: Campaigner offers a generous free 30-day trial and three pricing options. The Starter plan starts from $59 per month for a maximum of 5,000 contacts. The Essential plan starts from $179 per month for a maximum of 25,000 contacts. The Advanced plan starts from $649 per month for a maximum of 100,000 contacts.
---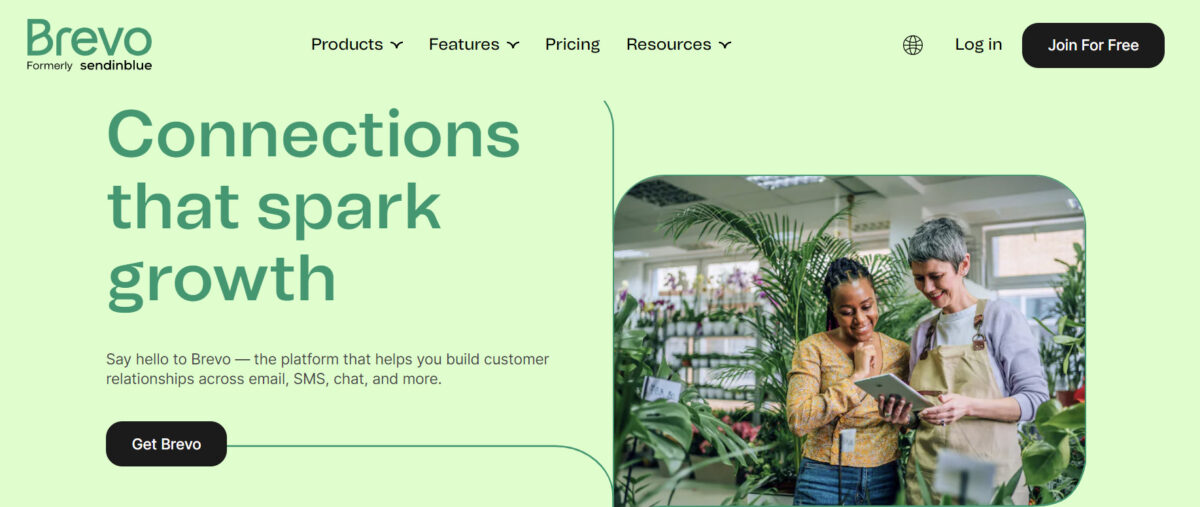 Founded in 2012, Brevo is an all-in-one digital marketing platform that's aimed at growing small to mid-sized businesses. Included in its list of features are many useful email marketing features like fully responsive email templates, an intuitive drag-and-drop tool, a WYSIWYG HTML editor, and A/B testing. What's more, it also offers a number of other useful marketing tools like SMS marketing and chat.
Here are some of Brevo's key features:
Advanced email personalization options
A send time optimization feature to help you send your emails at the perfect time
Sign-up forms to help you get more subscribers
ConvertKit vs Brevo
One major difference between ConvertKit and Brevo is how they approach pricing. Brevo limits the number of emails you can send, while ConvertKit uses the number of subscribers to base their pricing on. If you send a weekly newsletter to a rather huge network of subscribers this can account against you as ConvertKit can quickly become more expensive than Brevo if you manage to grow your email list quickly.
Also, unlike Brevo, ConvertKit doesn't let you send cart abandonment emails. To do this, you'll need to use Zapier and your eCommerce provider must have this type of transactional email available.
Both, though, have powerful email automation functionality. Thanks to the intuitive workflow editors, setting up email sequences is pretty straightforward.
Pricing: Brevo has a free plan, two subscription plans, and custom pricing for enterprise clients. The Starter plan is $25 per month and includes a monthly email volume of 20,000 emails. The Business plan starts at $65 per month and includes the same monthly email volume — 20,000 emails.
---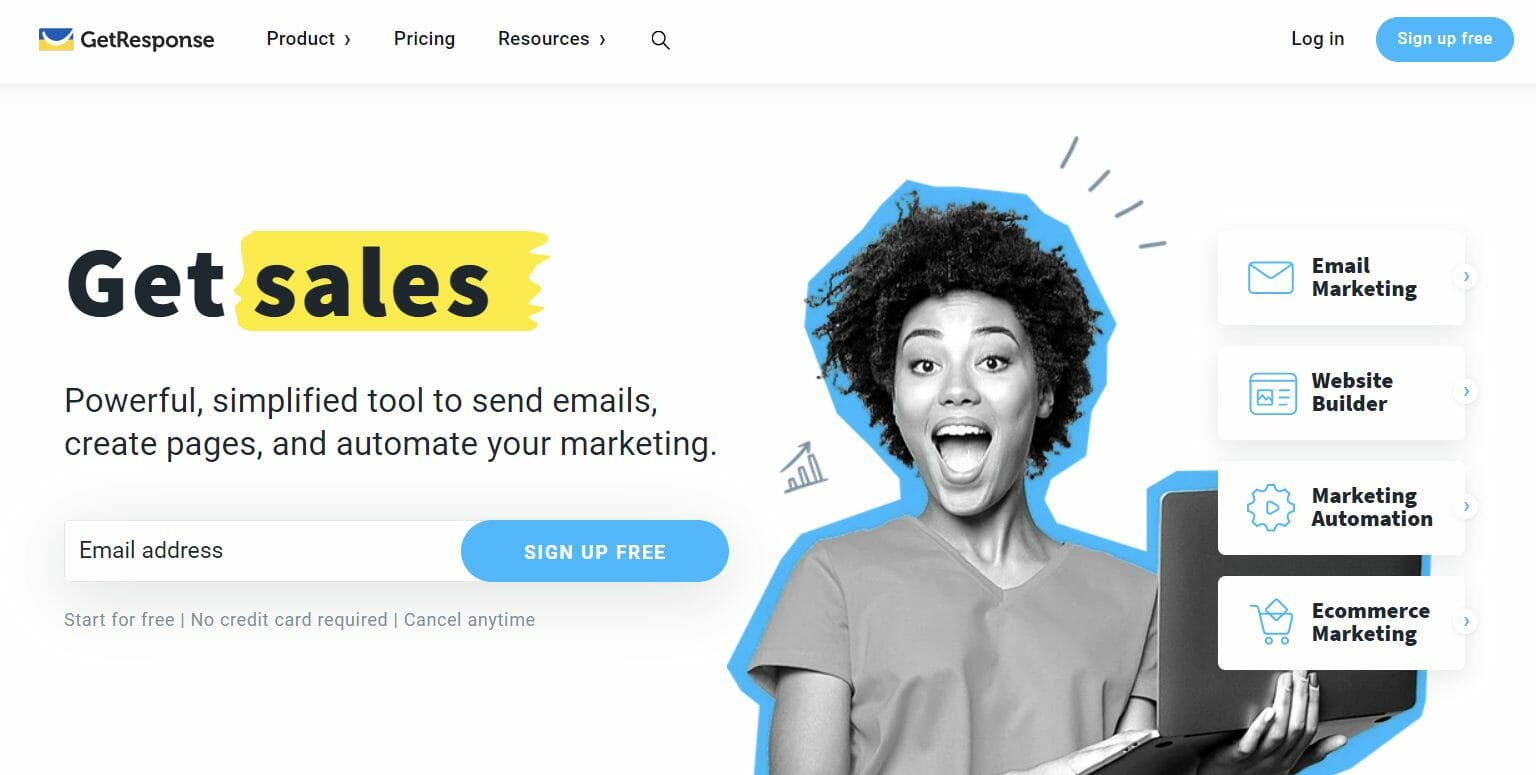 Unlike ConvertKit and EngageBay that only really target individuals and small brands, GetResponse is also aimed at large businesses. In addition to email marketing, it also offers a website builder as well as marketing automation and eCommerce features. With regards to email marketing specifically, it offers templates, easy-to-use design tools, advanced segmentation tools, action-based automated emails, and A/B testing to mention only a few features.
Here are some of GetResponse's key features:
Perfect Timing and Time Travel delivery tools for better timed emails
Free images and GIFs to improve your email designs and create beautiful emails
Transactional emails like automated purchase confirmations and abandoned cart emails
Smart reporting that shares actionable data on key metrics like revenue and average order value
ConvertKit vs GetResponse
ConvertKit and GetResponse can both help you to sell more products. ConvertKit, though, is better tailored towards creators, whereas GetResponse is more geared towards eCommerce companies and B2B brands. That being said, both are powerful marketing tools, specifically for email, and can help you to leverage automated email campaigns. While GetResponse is more aimed at eCommerce businesses, it does include a useful webinar feature that creators might also be interested in exploring. When you use GetResponse to launch a webinar, you'll be able to use features like an interactive whiteboard and chat room, recording, and a Facebook/YouTube streaming option.
Pricing: GetResponse offers a free plan and three subscription plans. The Email Marketing plan costs about $20 per month for 1,000 contacts. The Marketing Automation plan costs about $60 per month for 1,000 contacts. The eCommerce Marketing plan costs about $120 per month for 1,000 contacts and includes useful eCommerce features.
---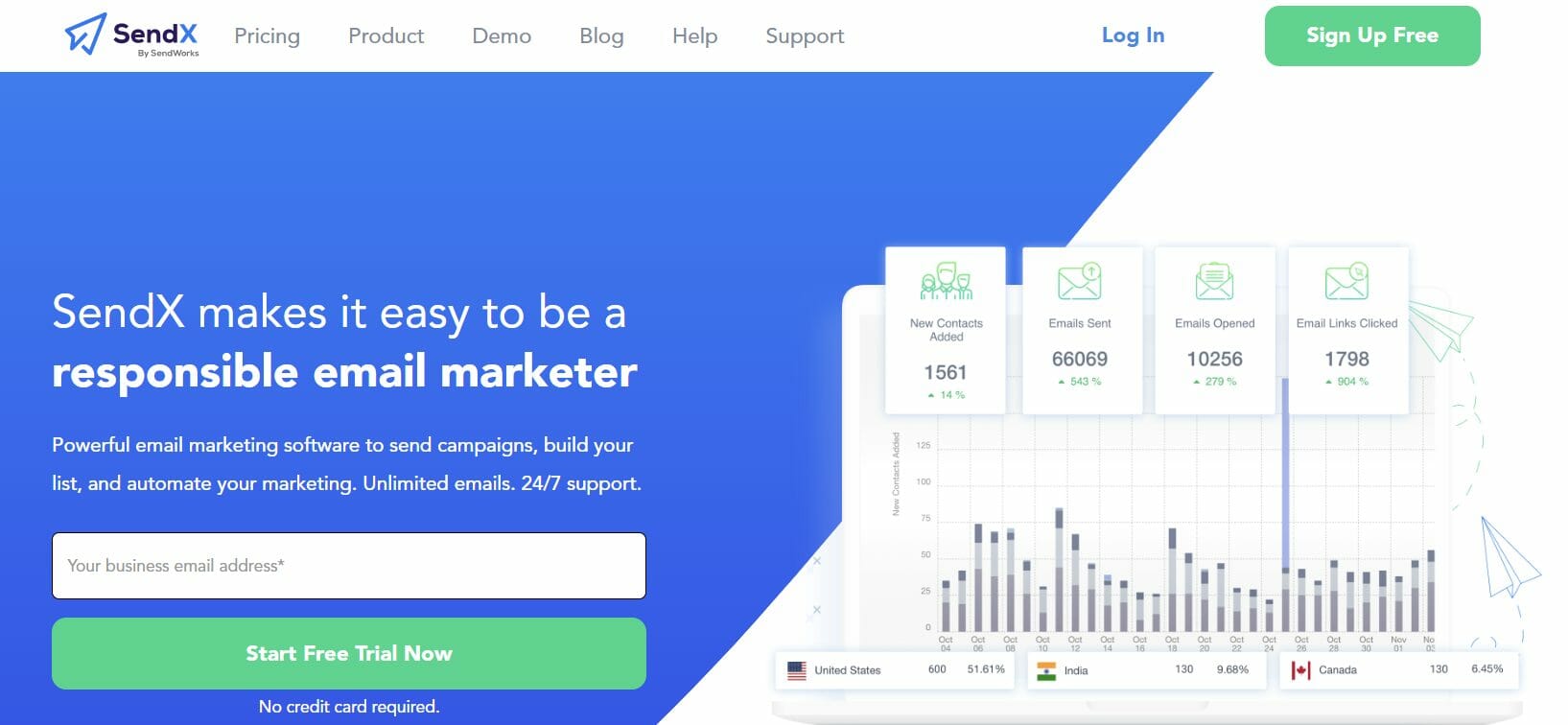 Founded in 2016, SendX is a 360-degree email marketing automation platform that's used by various industries and offers virtually everything you need for email marketing. You can use it to create email drip campaigns and put your email marketing on autopilot. Then, to improve the efficiency of your campaigns, it also includes A/B testing.
Here are some of SendX's key features:
Embedded sign-up forms and pop-up forms to grow your email list
A WYSIWYG, drag-and-drop editor to design eye-catching email newsletters
A dedicated IP for improved email deliverability
ConvertKit vs SendX
While SendX's LinkedIn overview states that their platform is also for bloggers, their website suggests that ConvertKit is better suited for online creators than their own software. What makes SendX an attractive alternative, though, is that for a similar set of features, SendX's monthly plan will work out cheaper.
Pricing: Instead of offering different pricing plans, SendX uses tiers. For up to 1,000 subscribers, the cost is $10 per month. For 1,001 to 2,500 subscribers, it's $20 per month and so forth. The most expensive tier costs $80 per month and is for users with 10,001 – 15,000 subscribers.
---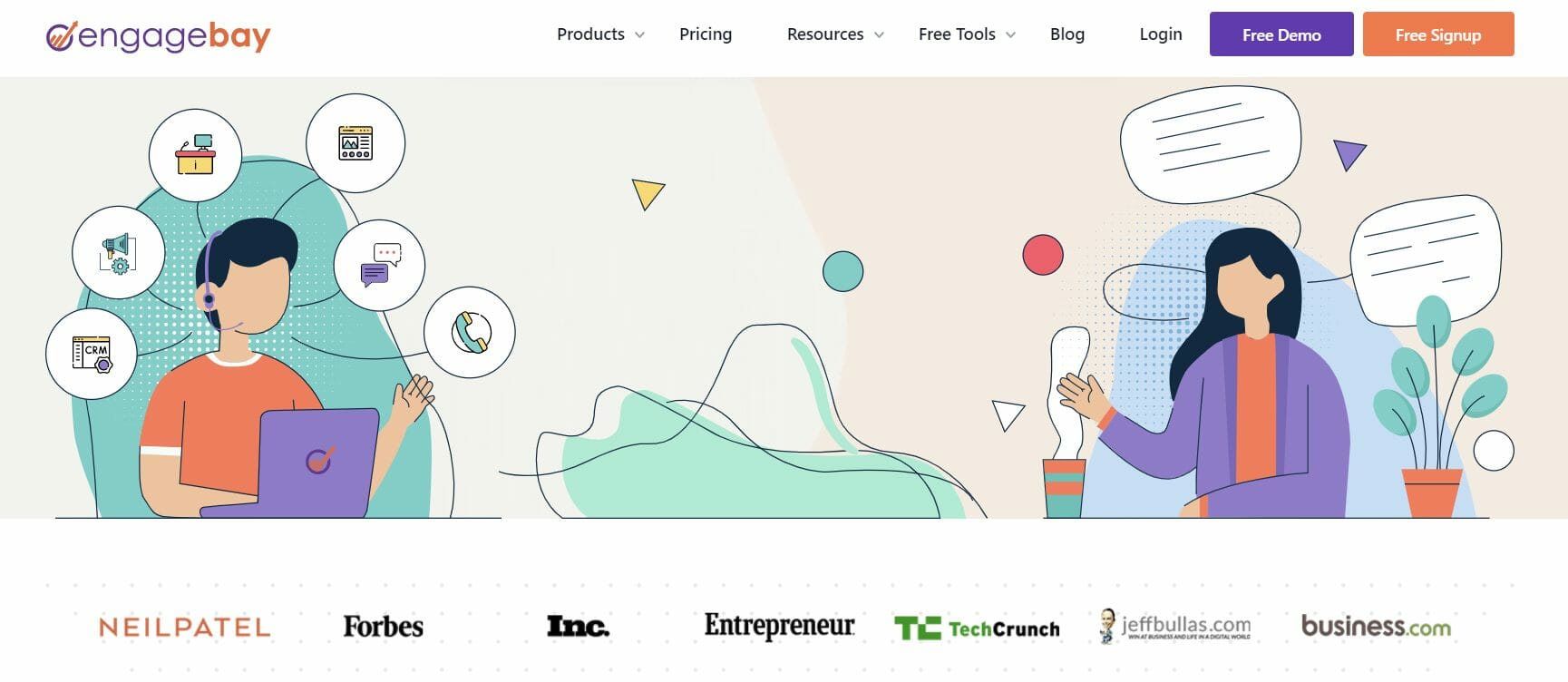 EngageBay offers all-in-one marketing software solutions and a free CRM aimed at startups and growing businesses. While it's been designed to be an affordable alternative to platforms such as Hubspot, it's also a good alternative to an email marketing platform like ConvertKit.
With regards to its email marketing solutions specifically, it offers a wide range of features that include predesigned templates, rich text formatting, and a landing page builder. Its easy-to-use, drag-and-drop interface and text editor make customizing and integrating images and social share buttons simple.
Here are some of EngageBay's key features:
Various filters for precision segmentation and targeting
Automated A/B testing to reduce bounce rates and increase conversions
Drip campaigns to help send emails at the right time
ConvertKit vs EngageBay
Both ConvertKit and EngageBay are sort of aimed at similar audiences as neither tries to market their software to big brands and businesses. Where ConvertKit is more aimed at the individual creator, EngageBay caters toward small businesses and startups. From a functionality point of view, EngageBay offers a whole lot more, such as live chat, for basically half the price. As it includes a free CRM, it's much easier to get all the info you need about individual subscribers, making contact management much easier.
That being said, ConvertKit offers a number of ways that you can monetize your content (even your actual emails) easily. While EngageBay has a "deals" feature that you can use to record all the important details regarding the deal, like the deadline and the people and monetary amount involved, it doesn't actually let you create customized product pages. So, if that's the key attraction of ConvertKit and not the email marketing per se, it won't tick all your boxes.
Pricing: EngageBay has a free plan and three subscription plans. The Basic plan costs $15 per user per month for up to 1,000 contacts. The Growth plan costs $50 per user per month for up to 10,000 contacts. The Pro plan costs $100 per user per month for unlimited contacts.
---

You're probably already familiar with Mailchimp. It's arguably the most popular marketing platform, especially for email. It offers a wide range of services and loads of automations to help you with all the main email marketing tasks. Included in its email features are drag-and-drop email features, a Customer Journey Builder, and transactional emails.
Here are some of Mailchimp's key features:
A Subject Line Helper and Content Optimizer to help make your email copy more engaging
Reports (that include Click Maps) to identity what works and track your sales
A Creative Assistant to help you create more effective emails
ConvertKit vs Mailchimp
While both ConvertKit and Mailchimp are aimed at small business owners, ConvertKit also specifically focuses on individual creators. On the other hand, Mailchimp chooses to focus on medium-sized businesses in addition to small businesses.
Mailchimp's workflow can be more confusing than ConvertKit, while ConvertKit's template designing process that features only text and image capabilities might leave you frustrated. So, in terms of ease of use, both have its cons.
One attractive feature of ConvertKit is that unlike Mailchimp, it uses a "subscriber-first" approach. This means that with ConvertKit you won't have to pay twice if you have a subscriber on two different lists. While Mailchimp might make contact list management more challenging, its detailed reporting features will help you to get to the bottom of what works for your subscribers.
All in all, ConvertKit is a more sensible choice for email marketers only starting out, while Mailchimp is better suited for small businesses that are already running bigger campaigns that will find the better design flexibility and advanced reporting important.
Pricing: Mailchimp offers a free plan and three subscription plans. The Essentials plan starts at about $12 per month for up to 500 contacts. The Standard Plan starts at about $20 for up to 500 contacts. Then, there's quite a significant jump and the Premium plan starts at about $320 per month for up to 10,000 contacts.
---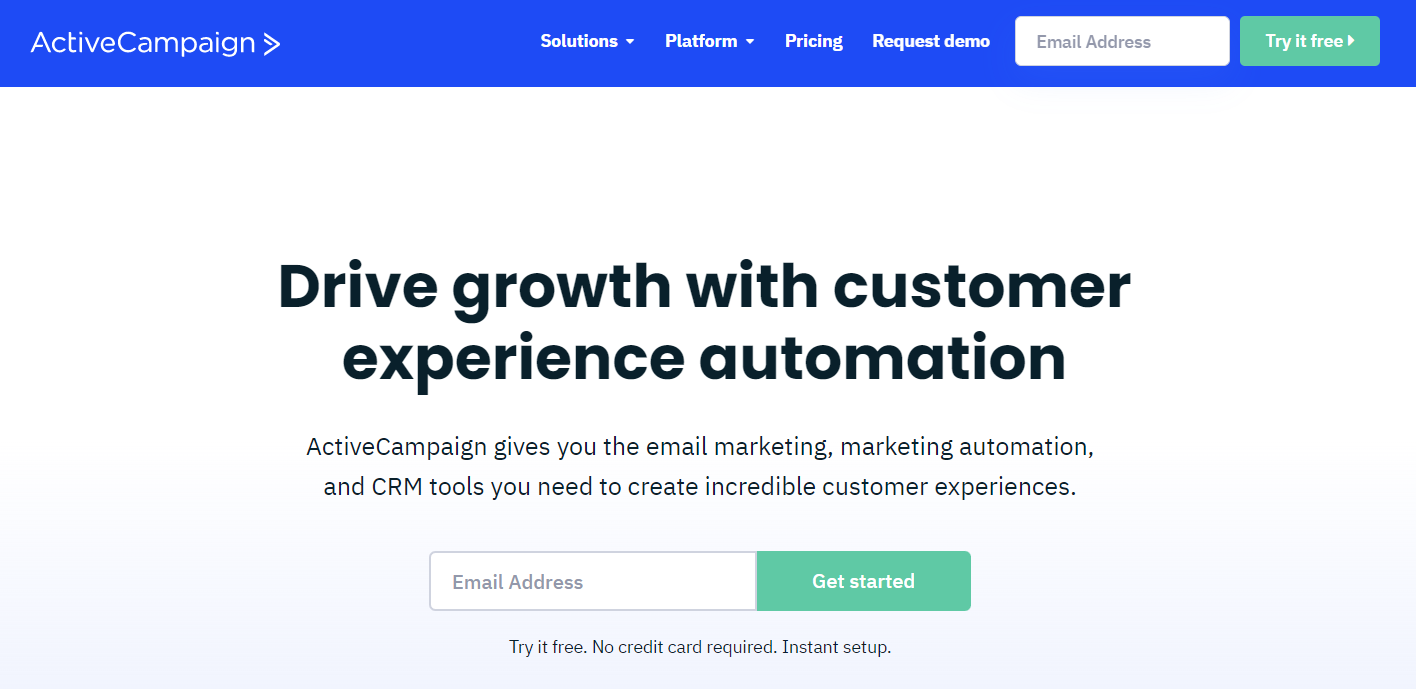 ActiveCampaign is used by small, medium and enterprise clients across the B2C, B2B, and eCommerce industries. It offers powerful, flexible, intuitive tools that make automation easy, while still offering a personal touch. Whether you want to send one-time email campaigns to all your subscribers or segment your list using various factors for more targeted emails, ActiveCampaign can help.
Here are some of ActiveCampaign's key features:
Triggered emails to ensure your emails reach your subscribers when they're most interested in the content
Email autoresponders like welcome emails or lead magnets
Contact and lead scoring to help identify top engagers and subscriber interests
Simple split testing to improve your open and click-through rates
ConvertKit vs ActiveCampaign
For simple marketing automation that's limited to basic actions, ConvertKit is a solid tool. However, ActiveCampaign offers more sophisticated automation and personalization. That said, you might find that ConvertKit's user experience is better and the interface more intuitive.
ActiveCampaign also offers other channels like SMS marketing and live chat, for those looking to explore these strategies. So, if you're searching for a more comprehensive tool that offers a whole suite of marketing tools, this can be an excellent alternative.
Pricing: ActiveCampaign offers three subscription plans and a customized plan for enterprise clients. The Lite plan costs $39 per month for up to 1,000 contacts. The Plus plan costs $70 per month for the same number of contacts, while the Professional plan will set you back $187 per month.
---
Wrapping Things Up
There are a range of tools available on the market that can help with email marketing. Though, what makes it challenging to find an excellent alternative to ConvertKit is that it has quite a niche market. It doesn't try to target its range of tools to businesses. Instead, it focuses on creators.
While a number of these tools also claim to help, for example, bloggers, ConvertKit remains one of the best solutions if you're a creator. It might not be the most versatile tool as it's not labeled an all-in-one platform, but it's still a powerful tool for content creators specifically looking to grow their brand via email marketing campaigns.
Frequently Asked Questions
What is better than ConvertKit?
The best alternatives to ConvertKit for your marketing strategy in 2023 include:
1. Campaigner
2. Brevo
3. GetResponse
4. SendX
5. EngageBay
6. Mailchimp
7. ActiveCampaign
Is ConvertKit and Mailchimp the same?
ConvertKit and Mailchimp both have free plans. With MailChimp, you can send emails to 2,000 contacts. However, ConvertKit doesn't allow you to send any emails with the free plan. Mailchimp's paid plans start at $10, but ConvertKit's paid plans start at $29.
Why should I use ConvertKit?
ConvertKit lets you build relationships with followers through your email list – and audience you own. It's an effective tool for increasing conversions in your niche.
What is Mailchimp and ConvertKit?
MailChimp lets you send up to 2,500 emails to up to 500 subscribers monthly, but MailChimp does not have email scheduling. ConvertKit, on the other hand, lets you have up to 1,000 subscribers. However, no reports or automations are included. You can send unlimited emails with ConvertKit.