Advertising Disclosure
Advertising disclosure:
Our partners compensate us. This may influence which products or services we review (also where and how those products appear on the site), this in no way affects our recommendations or the advice we offer. Our reviews are based on years of experience and countless hours of research. Our partners cannot pay us to guarantee favorable reviews of their products or services.
In this climate of rapid expansion and evolution, your e-commerce business cannot afford to be a passive spectator. The explosion in online shopping has precipitated a parallel increase in competition. Companies are racing to capture market share and contending with evolving consumer expectations and technological innovations.
The pivotal element that will define winners in this intense competition is the choice of marketing partners. With the landscape becoming increasingly saturated, selecting the optimal e-commerce marketing services is not just essential - it's existential. This strategic alliance can elevate a brand from obscurity to prominence, turning potential into performance.
The ensuing article unveils the top 9 E-commerce Marketing Services of 2024. Each has been meticulously assessed to ensure they possess the art of innovation, strategic prowess, and a track record of delivering tangible results.
---
9 Best E-commerce Marketing Services:
Top
ecommerce marketing services
2024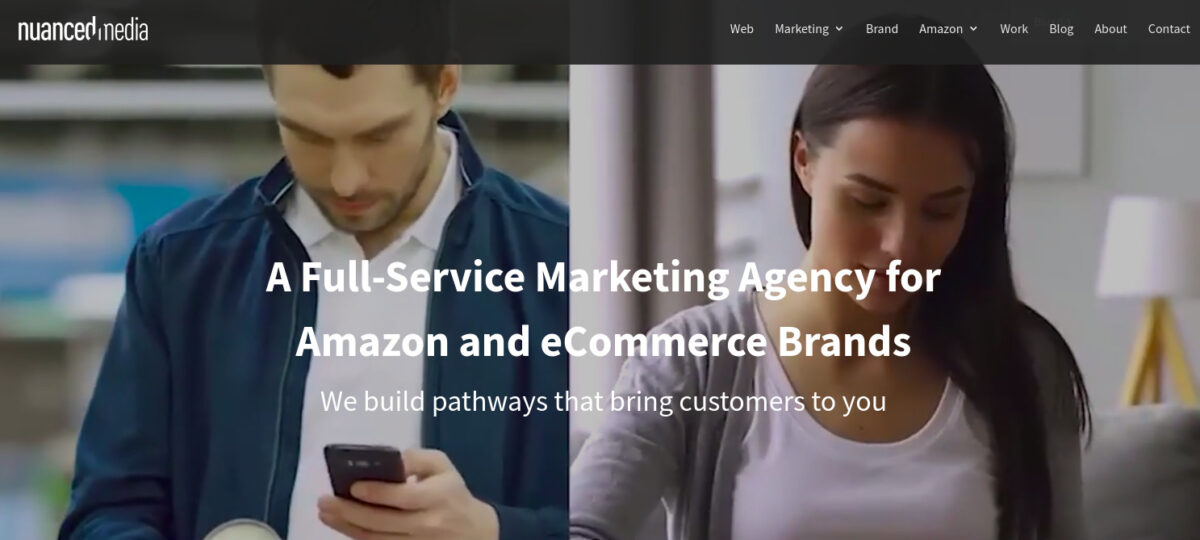 Nuanced Media, a bespoke e-commerce marketing agency, offers multi-channel digital strategies designed to elevate online brands. With a focus on ROI, the agency's comprehensive approach ensures e-commerce businesses aren't just visible but are influential and profitable in the digital space. Utilizing a combination of innovation, experience, and strategic insights, Nuanced Media is a service provider and a strategic partner in e-commerce success.
Holistic and evolving e-commerce marketing campaigns are the agency's forte. With over 30 years of collective experience, their retail marketing team demonstrates unmatched expertise in boosting e-commerce sales across various platforms, having sold over $250 million online. Their approach isn't about isolated solutions but creating a symphony of strategies as dynamic as the marketplace in which they operate.
Solutions tailored to individual brands set Nuanced Media apart. Their customized multi-channel strategies focus on establishing e-commerce best practices, actively refining campaigns over time, and converting customers into brand evangelists. The Market Velocity Action Plan (MVAP) exemplifies the agency's commitment to detailed analysis and strategic planning, ensuring businesses not only reach but exceed their sales targets.
Key E-commerce Services Offered:
Wholesale Retail Consulting

Keyword Research & Listing

Vendor to Seller Management

Graphic/Image Development

Storefront Design & Development
---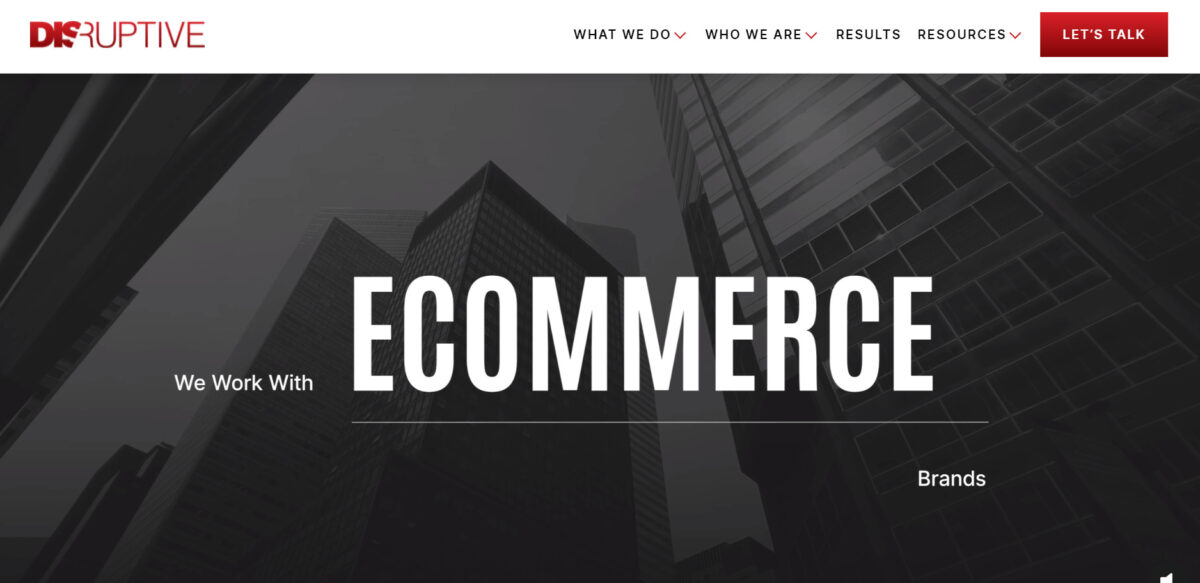 Disruptive Advertising epitomizes efficacy and innovation in e-commerce marketing, offering tailored solutions meticulously designed to scale businesses, drive innovation, and bolster bottom lines. With a pivotal focus on tangible results, this agency transcends conventional methodologies, ensuring each strategy is aligned with and anticipates the dynamic e-commerce landscape. Services such as paid search, search engine optimization, paid social, and Amazon management underscore the agency's comprehensive approach to driving visibility, engagement, and conversions.
What elevates Disruptive Advertising in the competitive landscape is its unwavering commitment to growing e-commerce businesses. Every strategy is anchored in data, ensuring adaptability and precision. The testimonies from various B2C businesses illuminate the agency's capacity to transform marketing from a functional necessity to a strategic asset. With accolades from brands spanning various sectors, Disruptive Advertising's proficiency in enhancing ROAS and overall performance is evident.
The blend of strategic depth, operational breadth, and a relentless focus on results underscores Disruptive Advertising's positioning in the e-commerce marketing domain. The agency is not just about delivering services but about architecting solutions, each meticulously tailored to turn business aspirations into tangible outcomes, proving itself as an indispensable ally for e-commerce entities aiming to not just navigate but conquer the digital commerce space.
Key E-commerce Services Offered:
Conversion Rate Optimization

Amazon Optimization

Automated Nurture

Strategy Development

Paid Social Retargeting
---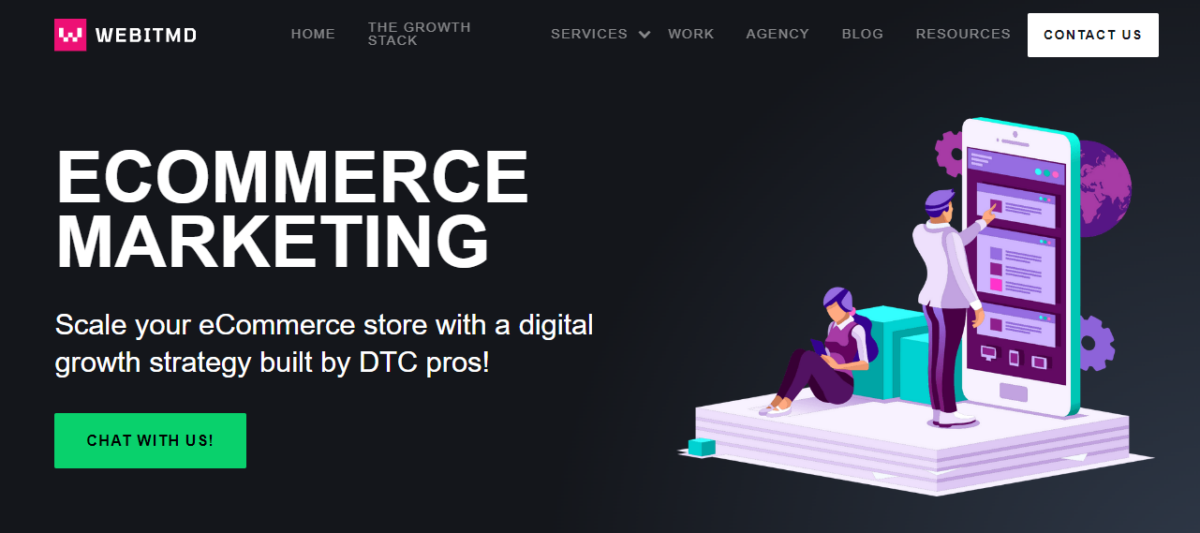 WEBITMD is a leading player among e-commerce marketing agencies, dedicated entirely to tailoring intricate, results-driven digital growth strategies for Direct-To-Consumer (DTC) brands. With an unwavering focus on e-commerce, WEBITMD orchestrates bespoke strategies that align with both fledgling and established businesses. Their acclaim is underscored by a portfolio enriched with over 250+ e-commerce brands, each echoing a narrative of transformative growth, quantifiable ROAS, and enhanced customer acquisition cost efficiency.
The prowess of WEBITMD is marked by its operational trinity of onboarding, build-out, and optimization. Each stage is meticulously engineered, beginning with a comprehensive immersion into the client's brand, extending into high-performance campaign creation, and culminating in continuous optimization. Their services are not just offered but are crafted, ensuring that each client's unique brand voice and business objectives resonate in every campaign.
Refuting the traditional vendor-client paradigm, the agency invests in relationships characterized by collaboration, transparency, and mutual growth. Clients are not just recipients of services but partners in a journey marked by direct engagement with strategists. 
Key E-commerce Services Offered:
Messaging & Positioning

Sales Automation

Sales Traning

Digital Sales Tool

CRM Optimization
---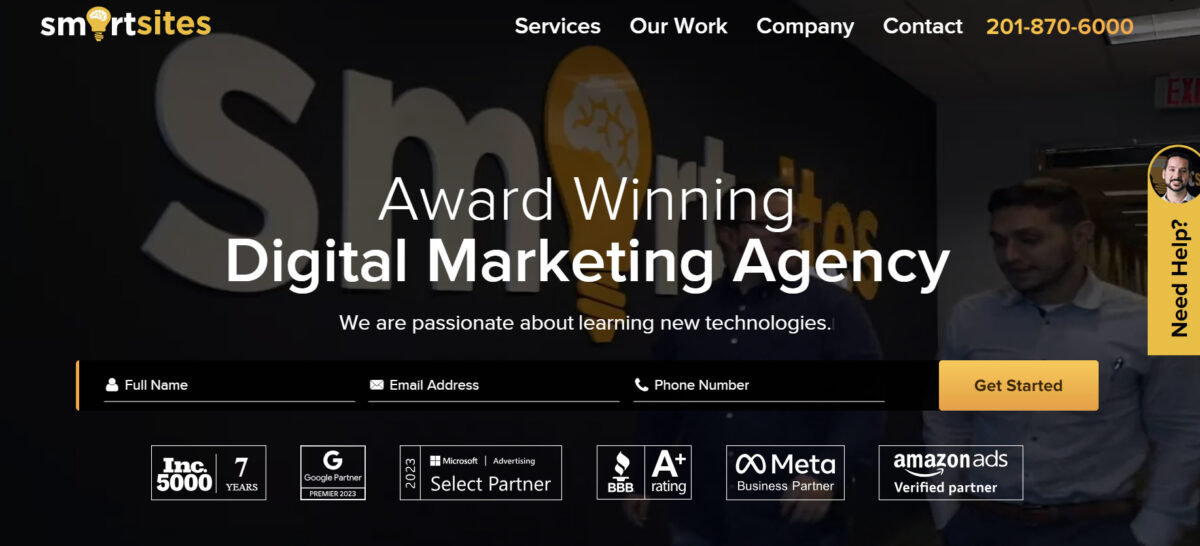 SmartSites has carved a distinct niche in the sphere of e-commerce marketing, embodying a blend of innovative design, technical acumen, and strategic marketing to foster enhanced online retail experiences. Holding the esteemed title of America's #1 rated e-commerce development company, SmartSites promises not just visibility but a tangible transformation in customer engagement and sales metrics. Every e-commerce site developed is a harmonious amalgamation of aesthetics and functionality designed to captivate and convert.
SmartSites wields notable expertise across a plethora of platforms, including Magento 2, Shopify, and WooCommerce. Their versatility extends to working adeptly with Bigcommerce, OpenCart, PrestaShop, Zen Cart, osCommerce, and Volusion. Every platform is harnessed to its optimal potential, ensuring clients' e-commerce sites are not just operational but are optimized, dynamic, and responsive. The user experience is crafted meticulously so every interaction is intuitive, engaging, and conducive to conversion.
The agency dives deep into integrated digital marketing solutions. Their approach is underlined by data and insights, leveraging comprehensive e-commerce tracking to gain a granular understanding of customer behaviors, preferences, and engagement patterns. SEO is not a standalone service but an ongoing strategy, ensuring e-commerce sites are visible and dominant in the digital landscape. 
Key E-commerce Services Offered:
E-commerce Optimization

Storefront Design

Campaign Strategy

E-commerce PPC
---

Thrive Internet Marketing Agency is particularly distinguished for converting passive browsers into committed buyers, subsequently catalyzing long-term and profitable business growth. The agency illuminates the pathway for businesses transitioning from traditional retail models to immersive online ecosystems, ensuring accessibility and engagement around the clock.
Thrive's adeptness in navigating the complex terrains of e-commerce is underscored by strategies rooted in customization and innovation. Their holistic approach encompasses SEO, content marketing, PPC management, and e-commerce web design, each tailored to elevate the user experience while bolstering brand visibility and engagement. They're celebrated for their proficiency in myriad e-commerce platforms.
Thrive is prominent for its precise focus on personalized customer experiences. Utilizing granular data and insights, Thrive meticulously crafts marketing strategies that transcend generic audience segments, opting instead for precision and relevance. Every campaign is a harmonious blend of art and science, marrying aesthetic appeal with data-driven insights to optimize product pages and enhance the overall user journey.
Key E-commerce Services Offered:
E-commerce Storefront & Branding

E-commerce CRO

Amazon and Shopify PPC and SEO

Consultation and Management
---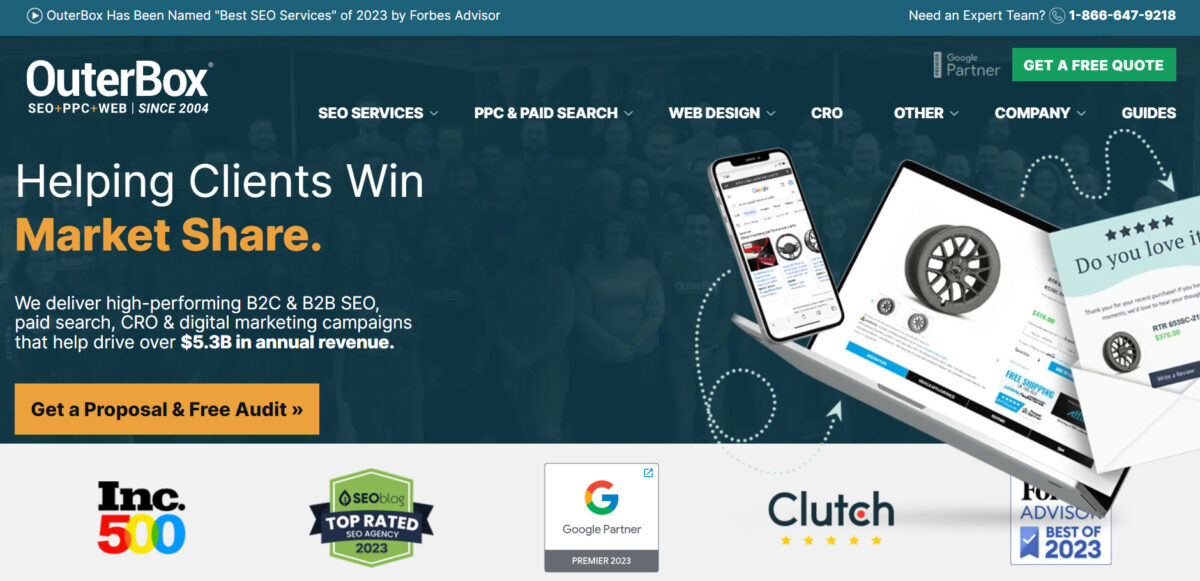 In a space inundated with generic marketing approaches, OuterBox distinctly arises as a harbinger of nuanced, strategically crafted e-commerce marketing solutions. With a pedigree underscored by a prestigious accolade from Forbes Advisor for "Best SEO Services" of 2023, the agency underscores an indomitable commitment to propelling online stores into unprecedented traffic and conversion zeniths. 
E-commerce is not a one-size-fits-all, and OuterBox accentuates this ethos by offering a rich tapestry of solutions, including Conversion Rate Optimization (CRO) and content marketing. Every strategy is ingrained with analytics, behavioral insights, and iterative testing to attract traffic and morph visitors into engaged, returning customers. Their bespoke content marketing services are tailored, drawing from extensive market and keyword research to drive qualified traffic seamlessly.
SEO remains a cornerstone of OuterBox's suite of services, a domain in which the agency's expertise is both eminent and certified. With over 2 million Page #1 Google rankings delivered, their SEO prowess is not just theoretical but empirically validated. The agency meticulously intertwines this with Pay-Per-Click and Paid Search strategies, curated and executed by a team that's not just versed but certified and partnered with Google. This blend of organic and paid strategies, tailored with precision, engenders a funnel that is as diverse as it is targeted.
Key E-commerce Services Offered:
E-commerce SEO

Paid Search for E-commerce

Storefront Design and Development

Strategy Development
---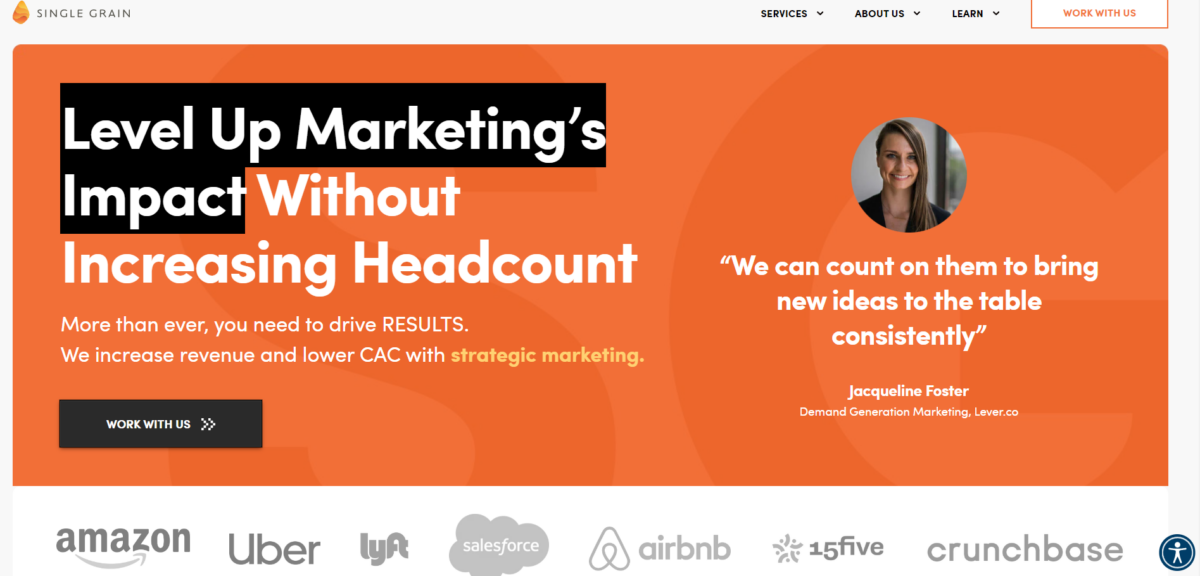 Single Grain emerges as a beacon of innovation in the e-commerce marketing landscape, with a methodology deeply rooted in customization and precision targeting. The agency, boasting partnerships with industry giants like Amazon and Nordstrom, employs data-driven strategies to sculpt marketing campaigns meticulously aligned with the unique contours of each client's business landscape. The emphasis on tailored solutions underscores the agency's commitment to transcending generic marketing paradigms, ensuring each campaign resonates profoundly with the targeted audience.
Key to Single Grain's reputation as a distinguished player in the sector is its multifaceted service offering. Harnessing the synergy of paid advertising, SEO, and content marketing, the agency crafts a holistic digital presence for e-commerce brands. Paid advertising and social media marketing are executed with pinpoint accuracy, ensuring optimal ROI and enhanced brand visibility in the crowded digital space.
Demonstrative of their prowess, case studies highlight tangible impacts like significant reductions in Cost Per Click and exponential growth in post-engagement rates, underscoring the agency's capability to drive quantifiable results. Every touchpoint is optimized, ensuring increased traffic enhances conversions and revenue.
Key E-commerce Services Offered:
Paid Advertising

Conversion Rate Optimization

Strategy Development

E-commerce PPC
---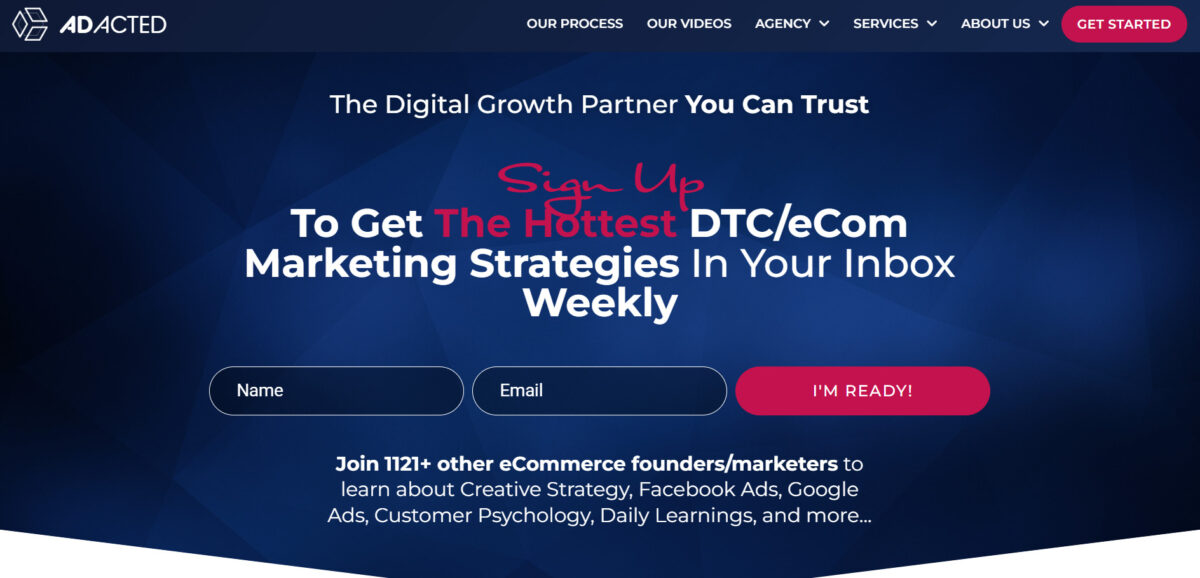 Adacted distinguishes itself in the crowded space of e-commerce marketing with its profound expertise and specialization in tailored, result-driven paid advertising strategies. This agency's hallmark is its ability to meticulously craft and execute comprehensive digital marketing plans that are not just tailored but are also adaptive, dynamic, and responsive to the evolving e-commerce landscape. Each service offered is a confluence of innovation, precision, and efficacy designed to catapult e-commerce entities into realms of heightened visibility, engagement, and conversion.
Adacted has mastered the art and science of Email Marketing, utilizing bespoke strategies to reach, engage, and convert potential customers effectively. Their Content Marketing strategies are characterized by the creation and dissemination of highly relevant, valuable, and shareable content engineered to elevate brand awareness and drive pertinent traffic. Every strategy is sculpted from an in-depth analysis of the client's historical data, competitive landscape, and specific e-commerce challenges. 
The assurance of transparency and a track record of success amplifies Adacted's appeal. Clients are not just partners but are integral components of a collaborative journey marked by open communication, shared insights, and mutual growth. 
Key E-commerce Services Offered: 
E-commerce Marketing Solutions

Storefront Design and Development

E-commerce PPC
---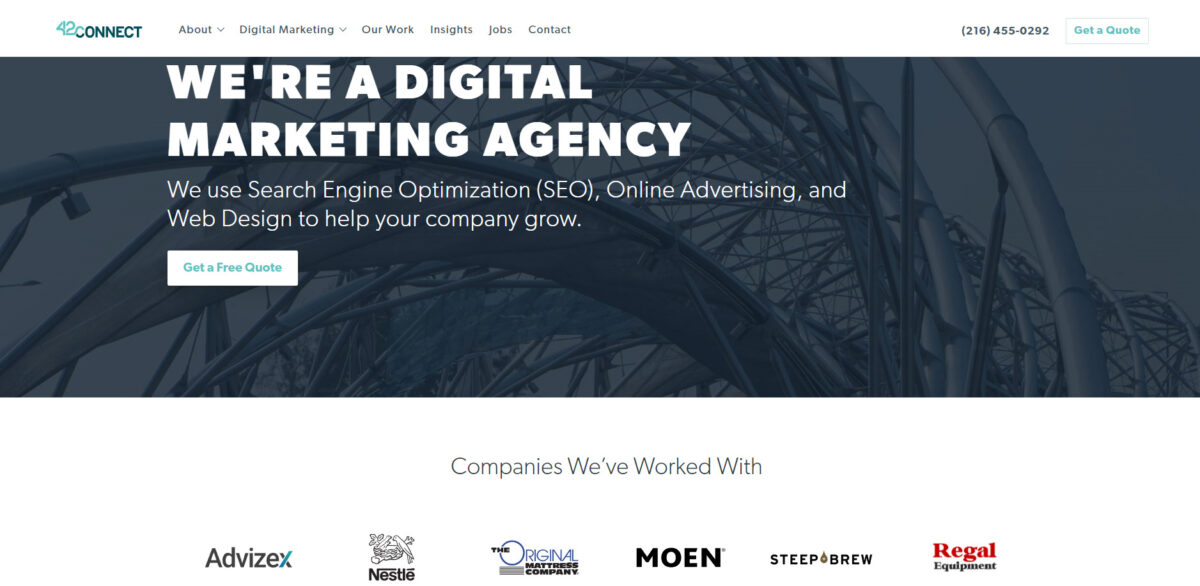 42connect brings to the fore a blend of personalized strategies, technical prowess, and innovation. The agency's core strength lies in its ability to understand and cater to each e-commerce store's unique narrative and objectives. Their approach isn't unilateral but is a tailored concoction of multi-channel marketing, anchored in deep research into buyer personas and precisely targeted messaging that transforms casual browsers into loyal customers.
What sets 42connect apart is its holistic approach to e-commerce optimization and marketing. Their services encompass e-commerce website development, where skilled developers bring to life user-centric designs that aren't just visually appealing but are structured to optimize the customer journey. Furthermore, the agency's mastery in e-commerce conversion Rate Optimization and e-commerce SEO underscores its commitment to not only driving traffic but also ensuring that visitors are seamlessly transitioned into paying customers.
The eclectic mix of services offered by 42connect is completed by their adeptness in Email Marketing, embodying a comprehensive approach to digital outreach. Their advertising strategies are data-driven, ensuring that every ad placement is optimized for audience targeting and engagement. 
Key E-commerce Services Offered:
Storefront Design and Development

E-commerce Advertising

SMM for E-commerce Websites

Woocommerce, Shopify, and Amazon Services
---
---
Criteria for Choosing E-commerce Marketing Services
As a business owner venturing into the competitive world of e-commerce, selecting the right marketing agency can make a significant difference in your brand's visibility, customer engagement, and overall revenue. In an environment proliferated with options, making an informed choice becomes quintessential. Here, we delineate key criteria that should underpin your decision-making process.
Experience and Expertise
The agency's experience in handling e-commerce marketing is paramount. Delve into their portfolio to discern their proficiency in managing campaigns analogous to your business niche and scale. Evaluate their case studies, client testimonials, and success stories to gauge their adeptness in navigating the complexities of e-commerce marketing.
Customized Strategies
Every e-commerce business is distinct, and a 'one-size-fits-all' approach is often ineffectual. The agency should exhibit the capability to devise customized marketing strategies tailored to align with your business goals, target audience, and market dynamics. Assess their adaptability and creativity in crafting bespoke solutions.
Technology and Tools
In an era where data and technology are integral to marketing success, scrutinize the agency's technological acumen. Their ability to leverage cutting-edge analytics, automation, and AI tools can significantly augment marketing campaigns' efficacy.
Transparency and Communication
A transparent communication framework is vital. The agency should be forthcoming in sharing insights, updates, and results. Assess their communication protocols, responsiveness, and the clarity they bring to the table.
Return on Investment
Evaluate their track record in delivering tangible results. The focus should be on key metrics like conversion rates, customer acquisition costs, and overall ROI. An agency that quantifiably contributes to your bottom line validates their efficacy.
---
Trends and Innovations in Ecommerce Marketing
AI and Machine Learning
Artificial intelligence and machine learning are at the forefront of personalized marketing. Agencies leveraging these technologies can deliver tailored content, recommendations, and user experiences, enhancing customer engagement and conversion rates.
Automation
Marketing automation tools are revolutionizing efficiency and effectiveness. From email marketing to customer segmentation, automation ensures precision and personalization, driving enhanced customer experiences and operational efficiency.
Data Analytics
Data-driven decision-making underpins successful e-commerce marketing strategies. Agencies adept in harnessing actionable insights from data can craft informed and impactful marketing campaigns, ensuring adaptability and relevance.
Sustainability and Ethics
Another growing trend is the consumer's inclination towards brands exemplifying sustainability and ethical business practices. Integrating these elements into marketing narratives can significantly augment brand affinity and loyalty.
---
Conclusion
Staying ahead of the curve requires a robust, innovative marketing strategy tailored to the unique needs and objectives of each business. The variety and sophistication of marketing services available in 2024 exemplify a harmonious blend of technology, analytics, and creative prowess. As e-commerce continues to burgeon, strategic partnerships and the adept implementation of customized, data-driven marketing solutions profoundly influence the distinction between ordinary and extraordinary results. 
The outlined e-commerce marketing services offer businesses a roadmap to navigate, adapt, and thrive amidst the complexities and opportunities presented by the ever-changing e-commerce terrain.
Frequently Asked Questions
What Services Do E-commerce Marketing Agencies Offer?
Agencies typically offer a variety of services, including SEO, content marketing, social media management, PPC advertising, and email marketing, all customized to align with your business goals, target audience, and industry trends.
How Do Agencies Measure Campaign Success?
Agencies measure success using various key performance indicators (KPIs) like traffic, conversion rates, customer acquisition costs, and ROI. Regular reports and analytics are provided to offer insights on campaign performance and areas for improvement.
What is the Cost of Hiring an E-commerce Marketing Agency?
The cost varies depending on the scope of services, campaign complexity, and agency expertise. Agencies often offer flexible pricing models, including hourly rates, monthly retainer fees, or project-based pricing to accommodate different budget constraints.
How Do Agencies Ensure Data Security and Privacy?
Agencies are equipped with advanced security protocols to protect data. Compliance with legal regulations like GDPR and employing encryption, secure access controls, and regular audits are common practices to ensure data privacy and security.
How Long Before I Can See Results from the Campaigns?
Results can vary based on the specific strategies employed and the market dynamics. Agencies typically provide regular updates and reports on campaign performance and measurable improvements can often be observed within a few months.