Etsy is a treasure cove of items for just about any season and occasion. It empowers creatives to tap into their entrepreneurial spirit and pursue their artistry with the support of fellow creators and trusting customers.
---
The Ultimate Guide to Etsy Marketing:
---
What is Etsy?
Etsy is an eCommerce platform that features handmade and personalized products. It is an online marketplace where you can browse a variety of unique items, from jewelry and ceramic ware, to vintage items.
Etsy went online in 2005 as a community connecting independent artists and small businesses with interested buyers. Today, Etsy is competing head-to-head with other eCommerce platforms such as Shopify and Amazon.
---
Key Etsy Statistics and Facts
The rise of eCommerce presents multiple opportunities for customers to place a purchase or avail of a service. Etsy sets itself apart from major competitors as a niche online selling platform for products that are made, marketed, and organized by creators and entrepreneurs.
Etsy generated revenue worth US$1.7 billion in 2020.
Etsy witnessed over a 100 percent increase in revenue in 2020. The creator economy prospered despite how the coronavirus pandemic put most economic activity on pause. Emerging creators and entrepreneurs flock to Etsy to sell their craft to their intended audience.
Etsy generates revenue across three revenue streams: the marketplace, inclusive of transaction and listing fees; in-house seller services; and third-party payment processing methods.
There are nearly 100 million active buyers on Etsy.
A self-report from Etsy claims that the platform caters to around a hundred million buyers. A buyer is considered to be active when they have made at least one purchase in the last 12 months of the fiscal year.
In 2019, there were 46.35 million active buyers on Etsy. At the height of the COVID-19 pandemic, more individuals pursued to earn income through creative works and selling them on Etsy. By the end of 2020, the number of Etsy buyers nearly doubled to 81 million. The steady increase in customers is significant to Etsy's progress as the leading marketplace for artisanal crafts.
Etsy is home to around 7.5 million active sellers.
Etsy reports at least 7.5 million sellers place their products up for sale on the platform. This overshadows Amazon's 1.9 million active sellers. As Etsy is curated to market products toward a specific audience, sellers may find it easier to attract customers on the platform compared to a large marketplace that's selling a little bit of everything for all audiences.
Etsy merchants hail across 234 countries, with the United Kingdom leading international Etsy sellers.
Etsy is open to buyers and sellers across 234 countries. However, certain restrictions may be in place regarding payment processes and shipping. 30% of international Etsy sellers come from the United Kingdom.
---
Is Selling on Etsy Worth It?
Etsy serves as a "middle man" platform that connects artists and creators with potential buyers. The eCommerce site has established a strong reputation for attracting sellers offering customized items that are perfect for gift-giving or for personalizing spaces. But is it worth selling products on Etsy in 2022? Let's find out by discussing the pros and cons of being on Etsy.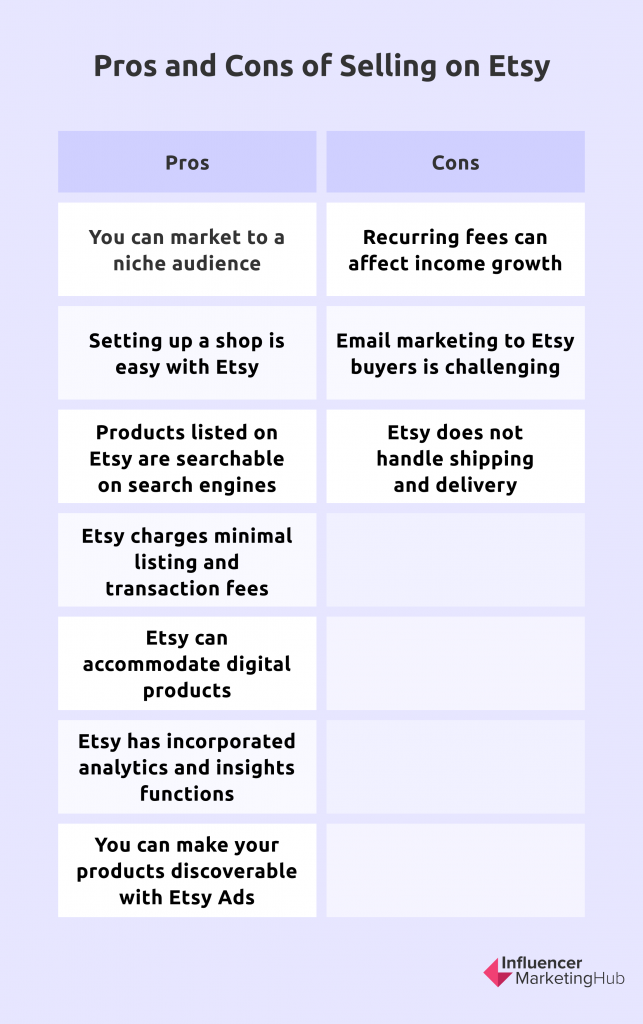 You can market to a niche audience.
Unlike other eCommerce platforms that cater to a general audience, Etsy's specific customer base makes it easier for entrepreneurs to attract buyers and generate sales. The platform has been known to support independent creatives in connecting with customers who are interested in unique crafts and gift items.
Setting up a shop is easy with Etsy.
Rather than setting up a shopping website, merchants can immediately list products for sale with Etsy. Etsy makes the whole business setup ordeal quick and easy, as the platform is always ready to welcome new sellers. Etsy also helps take some burden off from taking care of taxes by automated tax deductions, where applicable.
Products listed on Etsy are searchable on search engines.
Product visibility and brand awareness rely on how well your products rank on search results. With proper Etsy SEO, search engines like Google, Yahoo, and Bing can pull up Etsy product listings and display them on the first page of search results.
Etsy charges minimal listing and transaction fees.
Etsy is strongly favored by emerging entrepreneurs because of the low listing and transaction costs. A new listing costs 20 cents. Product listings are valid for four months; you can opt for an auto-renewal method (charged at 20 cents) or set up another product listing. Payment processing fees, on the other hand, differ for every country.
Etsy can accommodate digital products.
As more people choose to work in a paperless environment, digital products such as journal stickers, customizable planners, and calendars are gaining more demand. Etsy is among the best platforms for merchants to sell their digital products.
Etsy has incorporated analytics and insights functions.
Monitoring your product listings, monthly sales, and managing inventory is manageable with Etsy's in-house analytics tools and optimization functions. Manage your shop and keep track of traffic with Etsy Stats.
You can make your products discoverable with Etsy Ads.
Competition is everywhere regardless of the online selling platform, and Etsy is no different. Etsy offers merchants the opportunity to promote their products to their intended audience with paid advertising campaigns. Paid listings can secure a spot on the top search results, increasing impressions and traffic to your Etsy shop.
---
Cons of Selling Products on Etsy
Recurring fees can affect income growth.
Etsy may charge fees in small amounts, but these can accumulate and hold back merchants from making a sizable profit in the long run.
Email marketing to Etsy buyers is challenging.
Etsy does not collect buyers' email addresses. Unless you promote your weekly newsletter and special offers in the About section and across other social media platforms, customer retention via email is a challenge with Etsy.
Etsy does not handle shipping and delivery.
Unlike other eCommerce platforms, shipping and sending of tracking details are all managed by merchants themselves. Etsy may offer free shipping options, but the platform itself does not ship out orders.
---
How Much Do Etsy Sellers Make?
Selling products on Etsy has become a popular side hustle. There is no definite amount as to how much the average Etsy seller makes. Some merchants work on their Etsy shops full-time, and you can expect these sellers to earn more than $5,000 a month.
Aside from the time you invest in creating products, the demand, availability of materials, and cost of operations determine your pricing and the profit you earn. Certain full-time Etsy shop owners have earned their first million, while some newer entrepreneurs make less than a hundred dollars a month.
Making a career out of Etsy requires some time and effort. However, making your first sale on the platform is not impossible. Implementing the right marketing strategy to put your brand and products out there can deal you with great returns in the long run. In the next section of the article, we'll discuss some Etsy marketing strategies that are worth investing in.
---
Top Etsy Marketing Strategies and Tips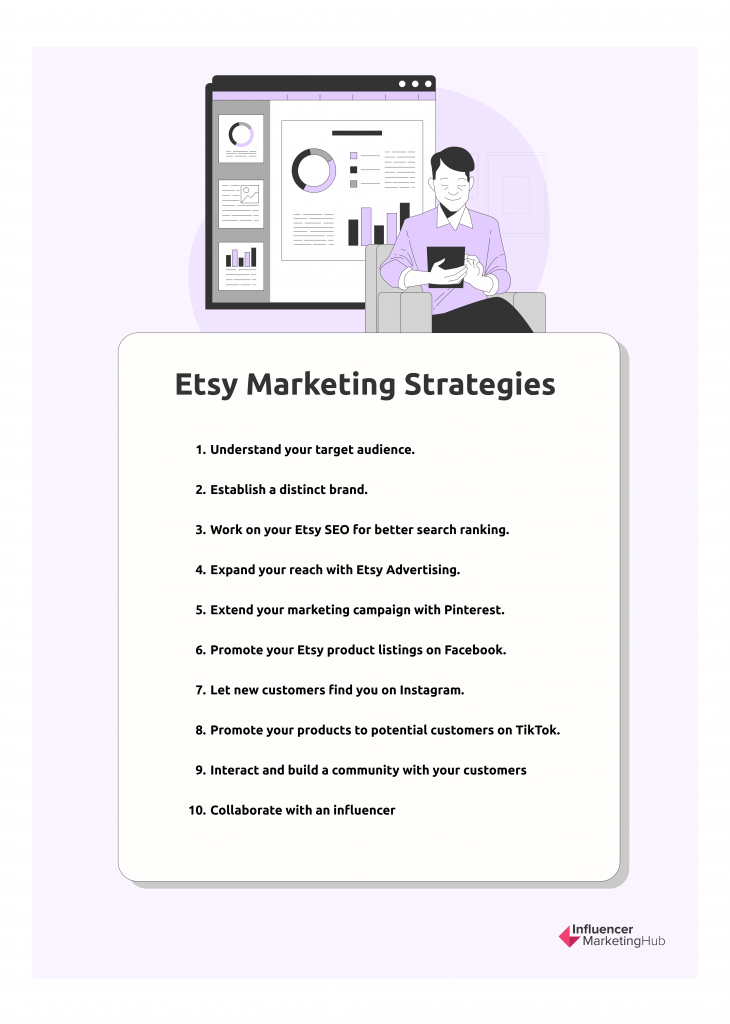 Understand your target audience.
When setting up a shop, it's important to see things from the buyer's perspective. How does your product intend to help your target audience? What problems or issues does it address? Optimizing your products according to your customers' needs can help drive more traffic to your Etsy shop.
Establish a distinct brand.
Etsy is saturated with merchants marketing to the same customer base. Product listings can look similar but come from varying sellers. To stand out from the rest, it is important for you to establish your presence online. A clear brand identity allows customers to recognize your shop and products from the 60+ million products on Etsy.
Consistency is key to good branding. Set up a matching icon and header that align with your brand's personality. Compose an engaging description of what the shop has to offer so customers can have a brief glimpse of your products and operations. Humanizing the brand also lets potential buyers know who is working behind it.
Work on your Etsy SEO for better search ranking.
Many forgo Etsy because the platform relies on good SEO. Setting up SEO for your Etsy shop can be exhausting, but it is a necessary strategy for your listings to rank high on search results.
Using the proper keywords is essential, but search volume and difficulty for common keywords can also set you back. To increase visibility on search results, combine top keywords with more specific long-tail keywords. Long-tail keywords do not increase your ranking on common keyword search results, but customers looking for a specific item can discover your listing and visit your shop.
Study your competition's product listings and product descriptions. Keywords aren't only important in the product name; you also have to include keywords in product descriptions. Write a concise description of the product's features to entice customers to purchase.
Etsy offers merchants to categorize product listings and include product highlights or attributes. Most customers will opt to search for products by category, so make sure to update your listings accordingly. List your products under the 'Jewelry & Accessories', 'Home & Living', 'Art & Collectibles', and other preset categories and subcategories accordingly.
Etsy's search algorithm heavily relies on proper tags, attributes, and listing quality. Listing quality is determined by how customers interact with product listings. When a buyer clicks on an item, adds it to their cart or favorites, or places an order for the item, the action contributes to the product's listing quality and search ranking.
Expand your reach with Etsy Advertising.
Etsy invites merchants to attract customers and generate sales with paid advertising campaigns. The minimum budget to set up Etsy Ads across the platform is US$1. Ads are displayed on Etsy Search, Category Pages, and on the Etsy app.
Etsy employs a pay-per-click (PPC) model for running ads. Merchants will only have to Etsy for every click the ad receives. Advertising on Etsy raises brand awareness and increases traction.
Extend your marketing campaign with Pinterest.
Pinterest is a search engine where users look for inspiration to create, decorate, and personalize their space. Pinterest's user base aligns with that of Etsy's, making it a profitable channel where Etsy shop owners can market their products and grow their audience.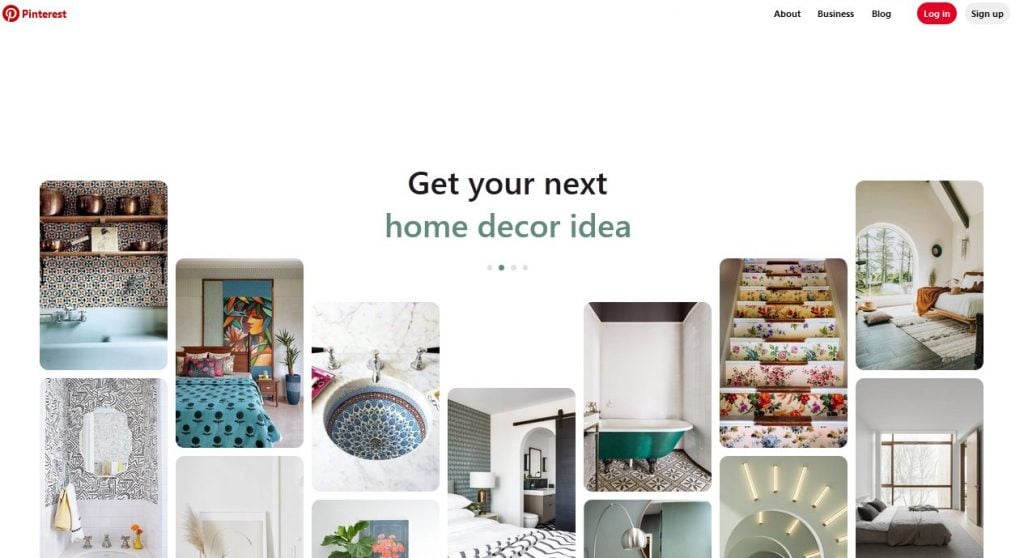 Setting up a Pinterest Business account is the first step in establishing your presence on Pinterest as a business owner. With Pinterest, your audience can try out your ideas, share it with the community, and inspire others to see more of your content.
The key to Pinterest success is beautiful visuals. You will want to create pins that will catch people's attention and redirect them to your product listings. There's no limit to how many pins you can create per product. The more pins you publish, the more likely for buyers to find your listings and purchase your products.
The Pinterest community is also interested in transacting with brands that have organized and visually pleasing Pinterest boards. These boards help potential customers to determine how products can improve their daily routine or liven up a workspace.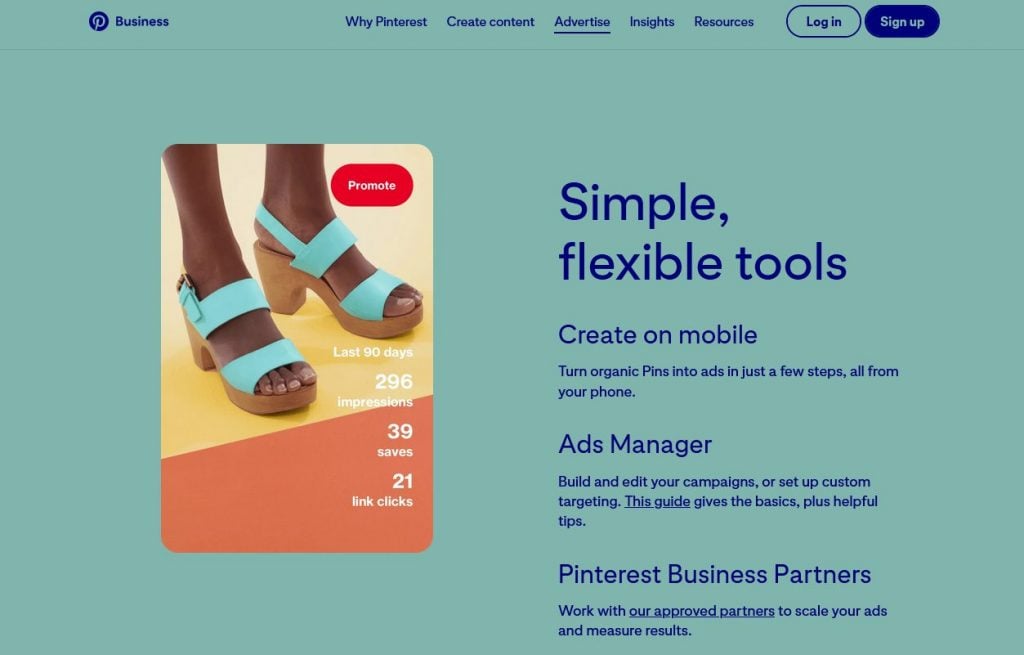 Pinterest Ads also help Etsy sellers leverage their product visibility and drive traffic on- and offsite. With Pinterest's automated audience targeting, your advertising campaign can reach people who search for similar keywords or follow topics related to your product offerings.
Promote your Etsy product listings on Facebook.
Marketing on one of the world's biggest social media platforms can deliver high returns for your Etsy shop. Facebook presents a lot of opportunities for business owners to advertise their products and services to the intended audience.
Facebook Ads is an affordable advertising solution for boosting your Facebook posts and redirecting potential customers to your Etsy product listings. Facebook groups are also great spaces to promote your Etsy shop.
Aside from directing traffic to your product listings, you also get to interact with people from the same niche. Interacting with like-minded individuals helps you gather the information that can shape your next decision for your online business.
https://www.facebook.com/groups/therpf/permalink/3592268014196091/
Let new customers find you on Instagram.
Instagram regularly optimizes its platform to cater to businesses and creators. With most of Instagram's user base overlapping with that of Etsy's, you're likely to draw the attention of potential customers.
An Instagram Business profile gives Etsy merchants access to advanced analytics. Understanding how much traffic a social media channel is driving toward your product listings is essential in implementing the best marketing strategy.
With an Instagram Business profile, you get to maximize Instagram's Advertising features. You can share links as a Swipe Up feature on your Instagram Stories. Adding the Contact Button on your profile also welcomes collaboration offers and partnership deals with influencers.
Learn more on the benefits of an Instagram Business profile here.
Promote your products to potential customers on TikTok.
The TikTok community is brimming with dance challenges, trending audio, and product hauls. TikTok users watch product reviews and demos to be convinced of placing an order. If you want to generate more sales, marketing on TikTok is your next best bet.
Attracting customers on TikTok requires wit and creativity. Use trending audio and challenges to be easily discovered amid the platform's complex algorithm. Because TikTok's content is purely video, you can share various motion content related to your Etsy shop. You can share behind-the-scenes clips of your daily routine as an Etsy shop owner or demonstrate the process of making your products.
Learn more about using TikTok for business in our in-depth guide here.
Interact and build a community with your customers
Etsy guarantees that its user base, from buyers to sellers, are invested in artisanal crafts and unique items. Engaging with your customers helps strengthen trust and customer retention. Hear out your customers' feedback and consider them in your next product launch. You can also build a loyal following by giving away freebies and special discount coupons.
Collaborate with an influencer
Influencer marketing is among the hottest marketing strategies in eCommerce. With more and more buyers trusting influencers' recommendations and reviews, merchants can expect a boost in traffic, discoverability, and sales from a partnership deal.
While partnership deals are more on the costly side of digital marketing, seasoned Etsy shop owners can explore this technique and compare the shop's analytics from before and after implementing influencer marketing.
---
Set Up Your Etsy Shop Today
Etsy is the perfect marketplace for independent creatives to profit from their passion and exercise their entrepreneurial flair. As a seller, you can worry less about finding your target audience and focus instead on building the best marketing strategy.
With Etsy nearing 8 million sellers, making your products stand out from competing items can be a challenge. Explore your options and market your products across other social media platforms. Multi-channel marketing campaigns help Etsy shop owners generate more sales than waiting for onsite customers to notice the products you offer.
Frequently Asked Questions
What can I sell on Etsy?
Etsy supports a variety of goods and products. You can sell ceramic goods, printables, greeting cards, custom-made jewelry, collectibles, clothes, and digital products.
How do I earn money on Etsy?
To earn money on Etsy, you must first close a sale. Closing a sale can take a while, especially on a highly competitive marketplace. Invest in advertising campaigns to draw attention and convert curious clicks to successful sales.
How can I motivate customers to visit my Etsy shop?
Practicing various marketing strategies can motivate customers to visit your Etsy shop and place an order. Promote your product listings on social media platforms like Facebook, Pinterest, Instagram and TikTok for added visibility. You can also invest part of your budget in advertising campaigns to reach your target audience.
Through which social media platform should I market my Etsy shop?
The ideal social media platform depends on where your target audience is most active. Try marketing across multiple social media channels and determine which platform drives the most traffic to your Etsy shop. You can choose to focus on the leading traffic source or strengthen your online presence on other channels.
How can I gain positive customer reviews?
To gain positive customer reviews, you must offer smooth and transparent transactions from beginning to end. While customers are not required to leave reviews, you can encourage them to share feedback with product giveaways, discount coupons, and the likes.