Most of out hashtag posts have tended to focus on Instagram. Yet Hashtags began widespread usage on Twitter, and they still play a crucial role on that platform. But Twitter limits your characters to 280, so you generally won't use more than one or two hashtags per tweet. Therefore it is particularly important to find the best Twitter hashtags.
The primary use of hashtags is to group posts. They collate posts by a wide range of people who you would not usually see in a single feed. Hashtags group posts on a common topic together. Marketers also use customized hashtags to group posts related to s specific marketing campaign. This can be particularly effective if you can convince a wide range of people to create tweets relating to that campaign, as it collates them all together.
People and brands also often use trending hashtags in their tweets as a way to boost their reach and, hopefully, engagement. Of course, there is little point using a trending hashtag for the sake of it. You have to make it relevant in some way to your audience or niche.
---
How to Find the Best Twitter Hashtags:
---
Why Use Hashtags on Twitter?
The essential advantage of using hashtags on Twitter is that it allows Twitter to index that post, making it searchable by all Twitter users. This increases your potential audience to include anybody who has an interest in the topic of the hashtag.
You should use hashtags every time you refer to a specific topic. These could be events, places, themes, or things – just don't go overboard on using them – no more than one or two per tweet.
Ideally, you would like the hashtags you use to be considered "trending." Trending hashtags aren't fixed for everybody, however. They depend on users' locations, social connections, and interests. However, you shouldn't use a hashtag just because it is trending. You will only gain benefit for it if it relates to a topic that interests your target audience in some way. There is little point in making your tweets more visible to people who would have little or no interest in your company and its products.
Branded hashtags are also a useful way for people to find your tweets – they can collate all uses of that hashtag in a single page.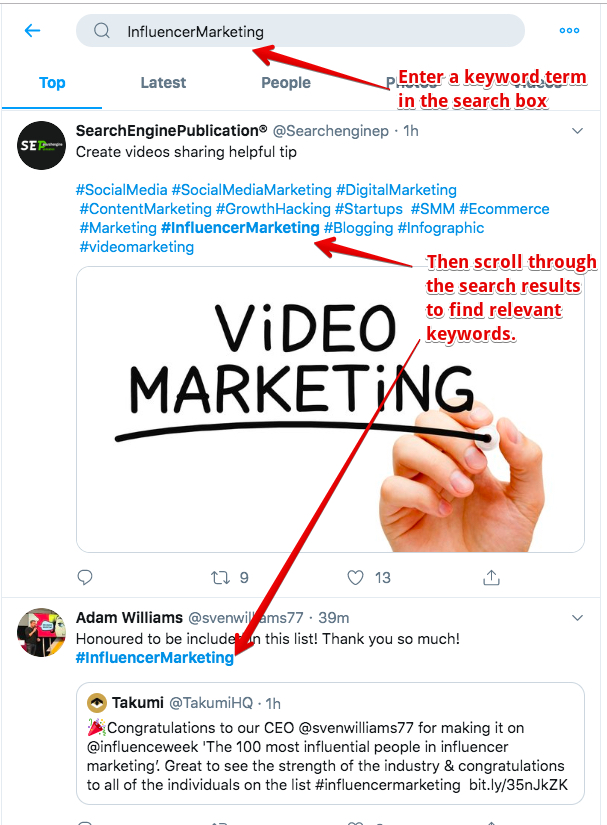 Hashtags also help make events more social. They can bring together everybody attending an event. The event attendees can easily communicate with each other on Twitter, by merely including the event's hashtag in their tweets.
---
Hashtag Basics
It is not hard to use a hashtag on Twitter. All you need to do is to put the # symbol in front of the relevant word.
Some people make the mistake of leaving a space between the # symbol and the word, however. This disassociates the two parts and destroys the hashtag. Likewise, you can't include any symbol or form of puncturation in the hashtag (apart from the # symbol at the beginning, of course). If you attempt to place punctuation in your hashtag, it will break at that point. For example, it will treat #test.tag as being a single hashtag #test followed by a period and a random word called "tag" - this does at least mean that you can follow a hashtag by a punctuation mark, without any worry about mixing the two.
Hashtags are caps-agnostic. This means that it doesn't matter whether you type capital letters in a hashtag; Twitter will always understand what you mean. However, that doesn't mean that people understand your hashtags, so it is better to use caps to break up the words in a long hashtag.
Some people make the mistake of using hashtags made up of a series of words, all in lowercase. This has the potential to confuse people. For example, it can be challenging to read the hashtag #thisisalonghashtag. However, it becomes much clearer if you use capital letters in the relevant places: #ThisIsALongHashtag. You don't need to use caps in all cases, just use your common sense.
It is also important to remember that Twitter is not the same as Instagram. You can't use 30 hashtags in a tweet like you can in an Instagram post. The whole point of tweets is that they are short and snappy. People tire of reading hashtags. So you should restrict your use to one or two per tweet. Some people try and add the hashtag before each major word, and it makes their tweets almost unreadable. Don't be tempted to tweet something like "best #cafe in #NewYork. #Coffee, #cake, #pizza, and #GoodCompany". Instead, pick one or two of these hashtags and focus your comment on these, e.g., "Try our new #pizza today. We think we make the best in #NewYork".
---
Hashtag Fails
Some firms and famous people have got their hashtag basics very wrong. This has resulted in unintended hilarity at their expense. You need to learn from their mistakes, check the hashtags you use carefully, and try and avoid any errors yourself.
Probably the most famous hashtag fail belongs to the promoters of singer Susan Boyle's music. They tweeted using the hashtag, #susanalbumparty. Undoubtedly they intended the hashtag to mean "# Susan Album Party". However, without capital letters, many people read the hashtag as the very different "#Su's Anal Bum Party."
Similarly, when Blackberry (previously called Research in Motion) advertised they were hiring and used "RIMjobs, they didn't have their minds in quite the same place as many others who read that hashtag.
Other spectacular hashtag fails include the Swiss promotion for The Hobbit - #hobbitch and the Chester literature festival's #CLitFest.
---
Creating Branded Hashtags
The first thing to be clear about when considering creating a branded hashtag is that it is not considered good practice to hashtag a brand name directly. Instead, most people will search for your brand by its account name. For example, because of the length of the Influencer Marketing Hub's name, we use influencerMH as our Twitter handle. We shouldn't create a branded hashtag for this, though – using #influencerMH is wrong. Instead, people search for @influencerMH, our actual Twitter handle.
You also have to consider whether people could misuse your hashtag. For example, McDonald's challenged the public to tell #McDStories, but not all the stories were complimentary. Some people told tales of toenails in burgers and food poisoning. In a similar vein, when the New York Police Department asked residents to tweet pictures of themselves with police officers using #myNYPD, they received numerous police brutality images.
Ideally, you will want your branded hashtag to be easy to remember, readable, and unique. You need it to be a good fit for your brand and not one with unforeseen connotations that make it likely to become this year's failed hashtag.
There are two types of branded hashtags:
Long-term hashtags that brands continually use – these may relate to your brands' slogan or some phrase consistently associated with your business, e.g., Red Bull's #givesyouwings

Campaign-specific hashtags – hashtags created for one specific marketing campaign. These will have a shorter lifespan.
Good hashtags are often emotive. They help trigger emotion for a campaign. For example, Ben and Jerry's icecream very successfully used the #CaptureEuphoria hashtag in a campaign to encourage people to eat their icecream.
Don't forget the essentials of good marketing, however. If you are trying to direct people in a tweet or Twitter ad to take a call to action, you don't want them to be distracted by clicking on a hashtag. Avoid using hashtags (or @-mentions) in tweets when you are trying to drive customers to make a purchase. You only want to give them one clickable choice.
---
Suggestions for the Best Twitter Hashtags
Just because you create a hashtag for a Twitter marketing campaign does not mean that you should limit its use to Twitter. You should use your best hashtags across all of your social media, indeed, all types of media, campaigns.
You might consider beginning a hashtag campaign with some form of competition. This should build up the numbers of people using your hashtag and can have a snowball effect that will keep its use going once the contest is over.
If you see a likely-looking hashtag online, check out how others have used it before you decide to use it in your marketing campaign. Some people get very upset when a brand "hijacks" a hashtag and uses it in a way that they consider insensitive and inappropriate. Make sure you know the meaning of any hashtag you use. Otherwise, you run the risk of being like that old person who tries to keep up-to-date by using youngsters' language, but who fails miserably by getting the context wrong.
As we mentioned above, be extremely careful when using hashtags made up of multiple words. You don't want to be too long. You also have to be careful when one word finishes with the same letter as the next word starts. This creates the effect of a double letter and can look confusing if you don't capitalize in the right place. You don't want entire sentences as hashtags, either. Obviously, consider how others could read your hashtags. Even everyday words like "therapists" can be mentally split up the wrong way, particularly when joined with other words.
---
How to Find Suitable Twitter Hashtags
Many of the best hashtags relate to popular days or events, e.g., #ValentinesDay#WorldCup and #StPatricksDay. If you can find a way to use these, yet keep your posts relevant to your brand, they could widen your potential audience. Some special days have a very narrow focus, e.g., #NationalSpinachDay and #DentistsDay, but they may still be of use to a suitable business.
You can get many of your hashtag ideas from Twitter itself. You will see a list of trending hashtags beside your Twitter profile. Be aware that they are not all hashtags, however. If they don't have a # in front, they are just a topic, rather than a hashtag. If you don't like the trends that Twitter shows you, you can click on Change to see the trends for another location.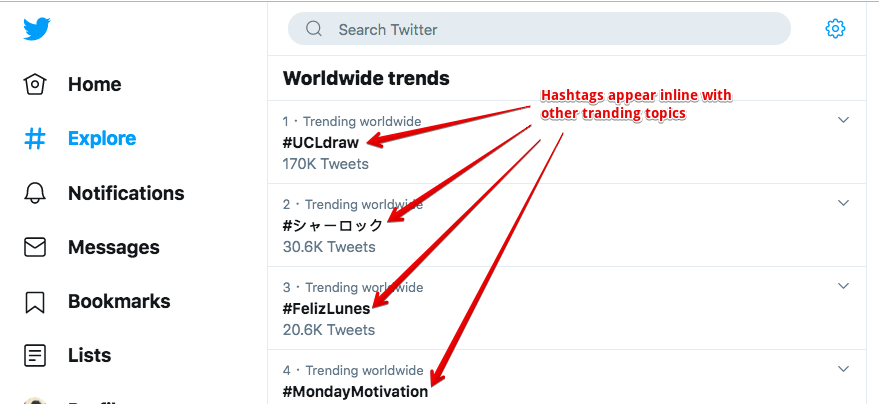 If you're uncertain about which hashtags you should use in a Tweet, you could try a hashtag discovery tool. Some of the best ones include:
Ritetag

– you can use this to discover popular (and rarely used) hashtags on a topic

Hashtagify

– this lets you search for both trending and popular hashtags

#tagdef

– you can use this to discover what hashtags mean, and add your own definitions
---
The Top Twitter Hashtags
It is hard to define a top list of Twitter hashtags – they vary significantly from location to location and over time. At various times, a particularly obscure hashtag becomes popular, and this may confuse people later, or from a different location.
Web Bureau put together a list of the most popular hashtags, at the 10th birthday of the Twitter hashtag in 2017. At that time, the top hashtags were:
#BlackLivesMatter

#CupforBen

#brexit

#EdBallsDay

#FollowFriday (#FF)

#HeforShe

#jesuischarlie

#TheDress
Some, like Brexit, are still regularly used. Others, like #TheDress were very event-specific, and are now "retired" from popular usage.
More recently, HubSpot assembled a post of the 67 Best, Most Popular, and Most Liked Hashtags on Twitter.
It found that the following ten hashtags generate the most likes:
ico

ethereum

crypto

crowdfunding

medicaid

blackhistorymonth

womenshistorymonth

photography

iwd2019

cryptocurrency
It is surprising how many of these relate to cryptocurrency. Will this continue?
Their Top 10 list of hashtags that generated retweets were:
medicaid

ico

ethereum

aca

crypto

crowdfunding

giveaway

contest

blackhistorymonth

womenshistorymonth
Finally, the ten hashtags that are most likely to get you a reply are:
medicaid

ico

ethereum

aca

crypto

crowdfunding

giveaway

contest

blackhistorymonth

womenshistorymonth