Advertising Disclosure
Advertising disclosure:
Our partners compensate us. This may influence which products or services we review (also where and how those products appear on the site), this in no way affects our recommendations or the advice we offer. Our reviews are based on years of experience and countless hours of research. Our partners cannot pay us to guarantee favorable reviews of their products or services.
There's a misconception that you have to choose between email and SMS marketing. Depending on your target audience, it might make the most sense to explore both of these strategies. For example, you can use SMS marketing to support your email campaigns by sending out a quick text message to remind recipients to check out an email that you've sent earlier.
With the right marketing automation tool, it's easy. While Klaviyo is one of the most well-known names for email and SMS marketing, there are a number of other solutions that are just as great. Some of these tools you might already have tried for email marketing, but you didn't know that it also offers SMS marketing. That's very possible as some of them mostly focus on advertising themselves as a tool for email marketing.
---
Top Klaviyo Alternatives for 2022:
---
Why Should You Check Out Klaviyo Alternatives?
Klaviyo is much more than just an email marketing platform. It's rather a full-featured marketing platform that can help businesses with customer retention. That being said, while it should be regarded as the complete tool that it deservedly is, email marketing is still its biggest drawcard.
Included in its long list of features are automated flows that can be set off by various triggers, including actions and events. You can either build it from scratch to match your requirements or use one of the prebuilt flows. It offers several options for including dynamic and personalized content. So, automation will never be at the expense of personalization.
Another key feature of Klaviyo is integrations. It integrates with the most popular eCommerce platforms like Shopify, BigCommerce, and Magento, to give you access to all the historical and real-time data coming from your online store. In addition to these, it also has more than 200 prebuilt integrations. The more integrations you have, the more opportunities you can create for your business to add more data to its platform that you can ultimately use to personalize your emails and text messages further.
Getting setup can be a time-consuming process and the manual configurations can be more involved than anticipated. So much so that you might want to decide halfway through the process that this isn't for you. In that case, here are six other superb solutions that you can try instead.
Here are some of the main pros and cons of Klaviyo:
Pros of Klaviyo
It offers many options for segmentation

Thanks to dynamic content and rules-based automation you can create a very personal experience
Cons of Klaviyo
The design tools for emails can be hard to understand and use

It doesn't include any features for landing pages
---
What Are the Top Alternatives to Klaviyo?
Brevo

Omnisend

GetResponse

Drip

Campaign Monitor

Mailchimp
To help you figure out which Klaviyo alternative will work for your business goals, needs, and budget, here are short, side-by-side comparisons of some of the best options.
Top
klaviyo alternatives
2024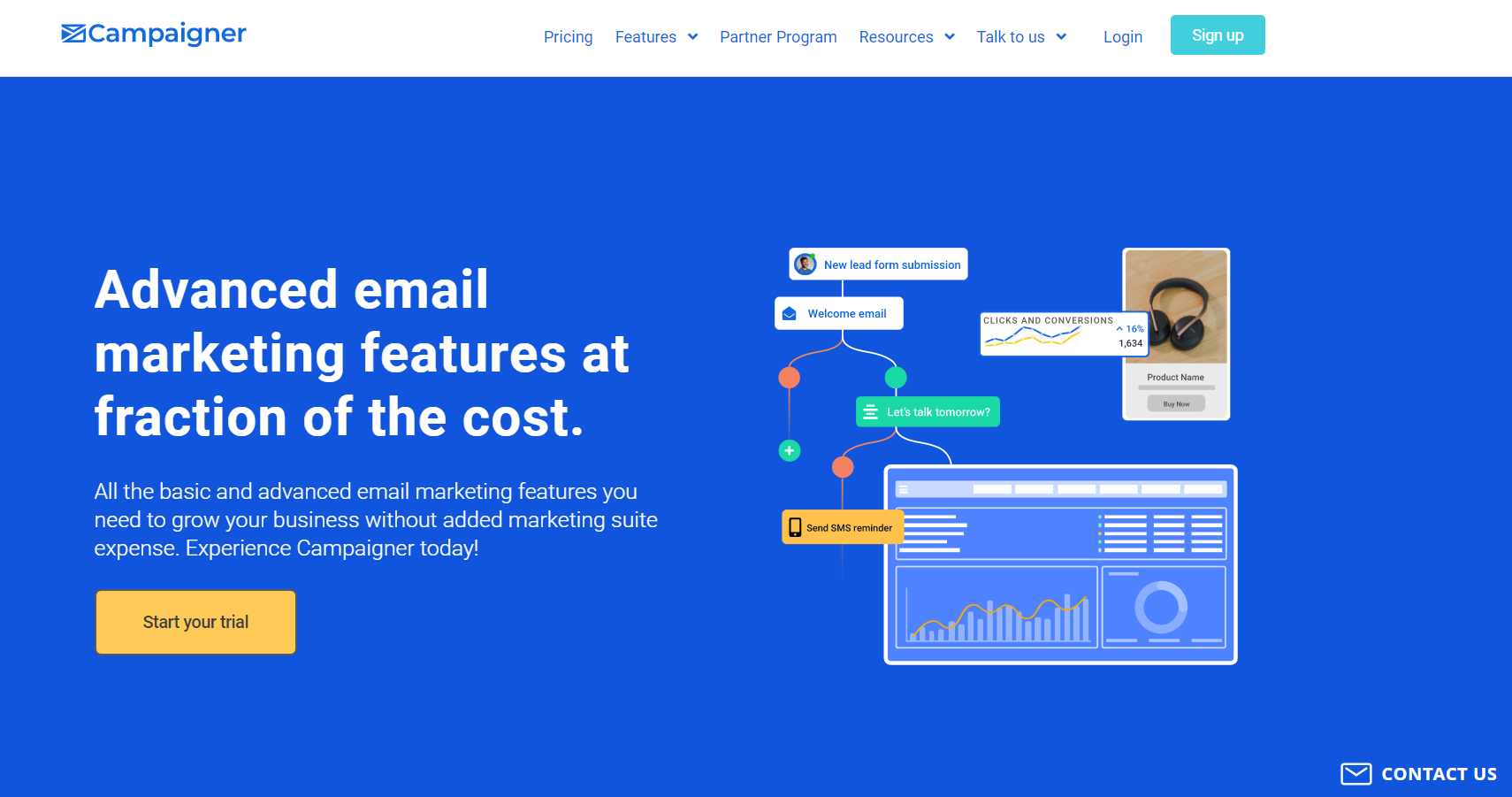 Campaigner is a robust email and SMS marketing platform for eCommerce businesses on a budget. It was founded in 1999 and has been offering affordable price tiers for savvy email marketers. It comes with the basic features you'd expect from every email marketing platform, like hundreds of responsive templates, a drag-and-drop builder, contact management, A/B split testing, and static or dynamic segmentations.
What sets it apart from the competition is the intelligent automation workflows that allow users to create simple and complex chains based on the subscribers' interactions. The automation feature works for email and SMS services and is linked to a robust tracking tool to help measure conversions and engagements. Campaigner also offers advanced template management to help your team collaborate efficiently on your campaigns.
Here are some of Campaigner's key features:
Advanced email marketing automation with simple and complex workflows
Personalized emails to enhance customer experience and engagement
Multivariate testing to take your A/B testing to the next level
Klaviyo vs Campaigner
Campaigner promises to provide advanced email and SMS marketing tools at an affordable price, and it delivers this promise well. For $59 monthly (or $104 monthly for email and SMS), you can store up to 5,000 contacts and enjoy their basic features like experiments, responsive templates, and recurring campaigns. If you increase your budget to $179 monthly (or $224 with SMS), you can store 25,000 contacts and access most of their advanced features.
In contrast, Klaviyo charges $115 monthly for 5,000 contacts (email and SMS) and $415 monthly for 25,000 contacts (email and SMS). That's twice the price of what Campaigner charges.
If you're getting started with email marketing, you may want a free plan as you test the waters. Klaviyo offers one for 250 contacts with 500 monthly email sends. This is an excellent way to start if you're a small business that's just building your list. Campaigner doesn't have a free plan. It offers a free 30-day full-access trial, so you can check if its tools work for you.
Both platforms offer intelligent automation workflows, intuitive drag-and-drop builders, landing pages, advanced segmentation, and responsive templates. If you're exploring email marketing and can't foresee how your list will grow, Klaviyo is a good option. If you already have a massive list and an email marketing strategy, Campaigner is the best choice.
Pricing: Campaigner has an Email plan and a combined Email and SMS plan. It also has different pricing for eCommerce plans with features specific to eCommerce brands. There are three subscription tiers depending on the number of contacts (regular plans) or monthly emails sent (eCommerce plans).
The Starter plan, which is good for 5,000 contacts, is $104 per month (email and SMS) and $59 per month (email only). For eCommerce brands, the Starter plan is $79.95 per month for 30,000 emails. The Essential plan, which is good for 25,000 contacts, is $224 per month (email and SMS) and $179 per month (email only). The Essential eCommerce plan is good for 45,000 emails and is priced at $99.95 per month. The Advanced plan is $694 per month (email and SMS) and $649 per month (email only). It is good for 100,000 contacts. The Advanced eCommerce plan is $149.95 for 75,000 emails. There is also an Enterprise solution for those needing more than the plans offer.
---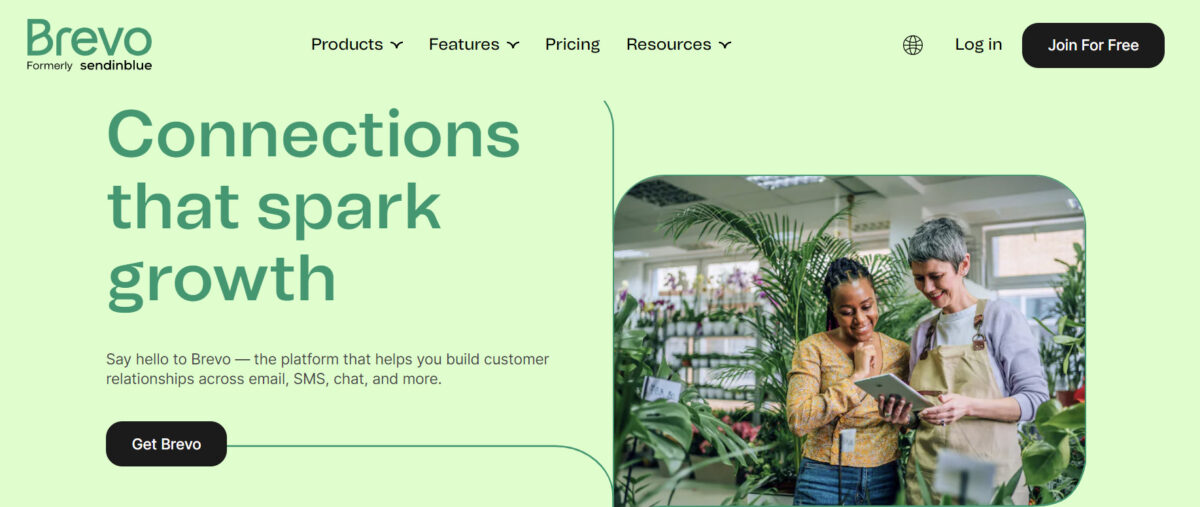 Brevo is an all-in-one digital marketing platform that was founded a decade ago in 2012. Its target audience is mostly growing small to mid-sized businesses and it offers tools to help with communication, personalization, and conversion. It can be used for email marketing, SMS marketing, and live chat. Included in its list of features are fully responsive email templates, an easy-to-use, drag-and-drop tool, a WYSIWYG HTML editor, A/B testing, and segmentation to mention only a few.
Here are some of Brevo's key features:
Real-time deliverability reporting and engagement statistics
A CRM to organize customer interactions
A drag-and-drop landing page builder to create custom landing pages
Klaviyo vs Brevo
Pricing is one major difference between Brevo and Klaviyo. Brevo limits the number of emails per month that you can send, while Klaviyo's pricing is based on the number of email contacts that you want to store. This latter approach can count against small businesses looking to scale quickly. Klaviyo also only has one pricing plan, technically. There's one for email and one if you want to use both email and SMS. The only way that you can pay less per plan is if you limit your contacts.
In terms of features, they're pretty much the same. Two major differences, though, is that Brevo also offers live chat and a landing page builder.
Pricing: Brevo has a free plan, two subscription plans, and custom pricing for enterprise clients. The Starter plan starts from $25 per month for a monthly email volume of 20,000 emails. The Business plan starts at $65 per month for the same monthly email volume — 20,000 emails.
---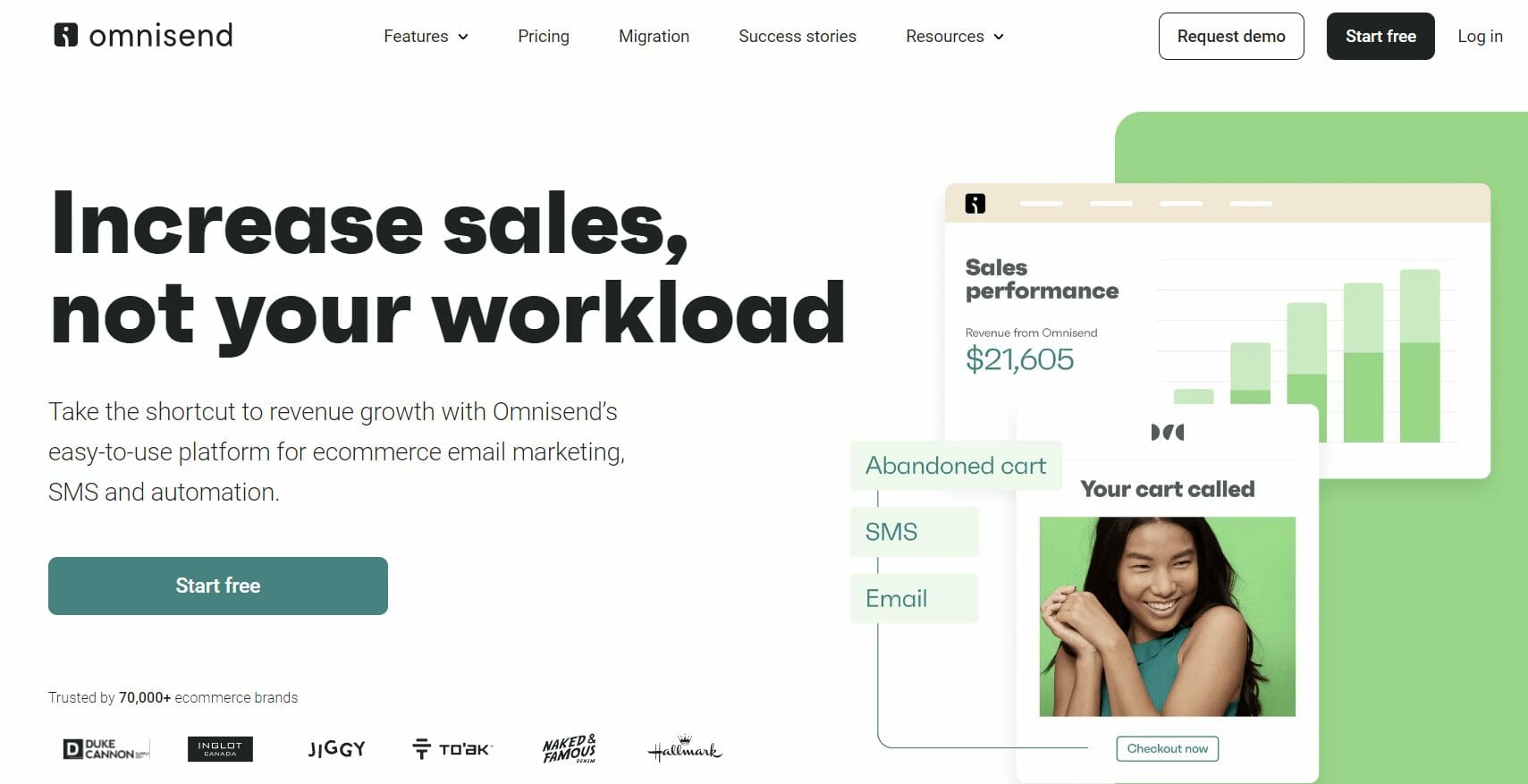 Omnisend is one of the best email marketing services for small businesses and is trusted by more than 70,000 eCommerce brands. In addition to email marketing, it also offers various other eCommerce marketing features that include prebuilt eCommerce workflows to help you with each step of your customer journey, segmentation, landing pages, various forms, and SMS marketing.
Here are some of Omnisend's key features:
Web push notifications to start retargeting your customers right away
A/B split testing to help make your workflows more relevant
Advanced reporting that includes details about sales, campaigns, and audience growth
Klaviyo vs Omnisend
Both Klaviyo and Omnisend target eCommerce brands and integrate with the main eCommerce platforms like Shopify, WooCommerce, and BigCommerce. When it comes to other integrations, both Klaviyo and Omnisend offer a decent selection of third-party integrations too.
Some of the main differences come in with email marketing. For example, Omnisend's email builder offers more customization options. Plus, to help you grow your list of email subscribers, Omnisend also offers landing pages, whereas Klaviyo includes only pop-up forms and form teasers. While Klaviyo doesn't let you create landing pages per, it does give you the option to embed a form on a specific page, though.
All in all, there's not much difference in terms of functionality. If you're only interested in exploring email marketing, Omnisend is the more affordable. However, if you would like to take advantage of both email and SMS, Klaviyo works out cheaper.
Pricing: Omnisend has a free plan (for email) and two subscription plans. The Standard plan focuses only on email marketing and starts at $16 per month for up to 500 contacts. The Pro plan includes email and SMS marketing and starts at $59 per month for up to 500 contacts.
---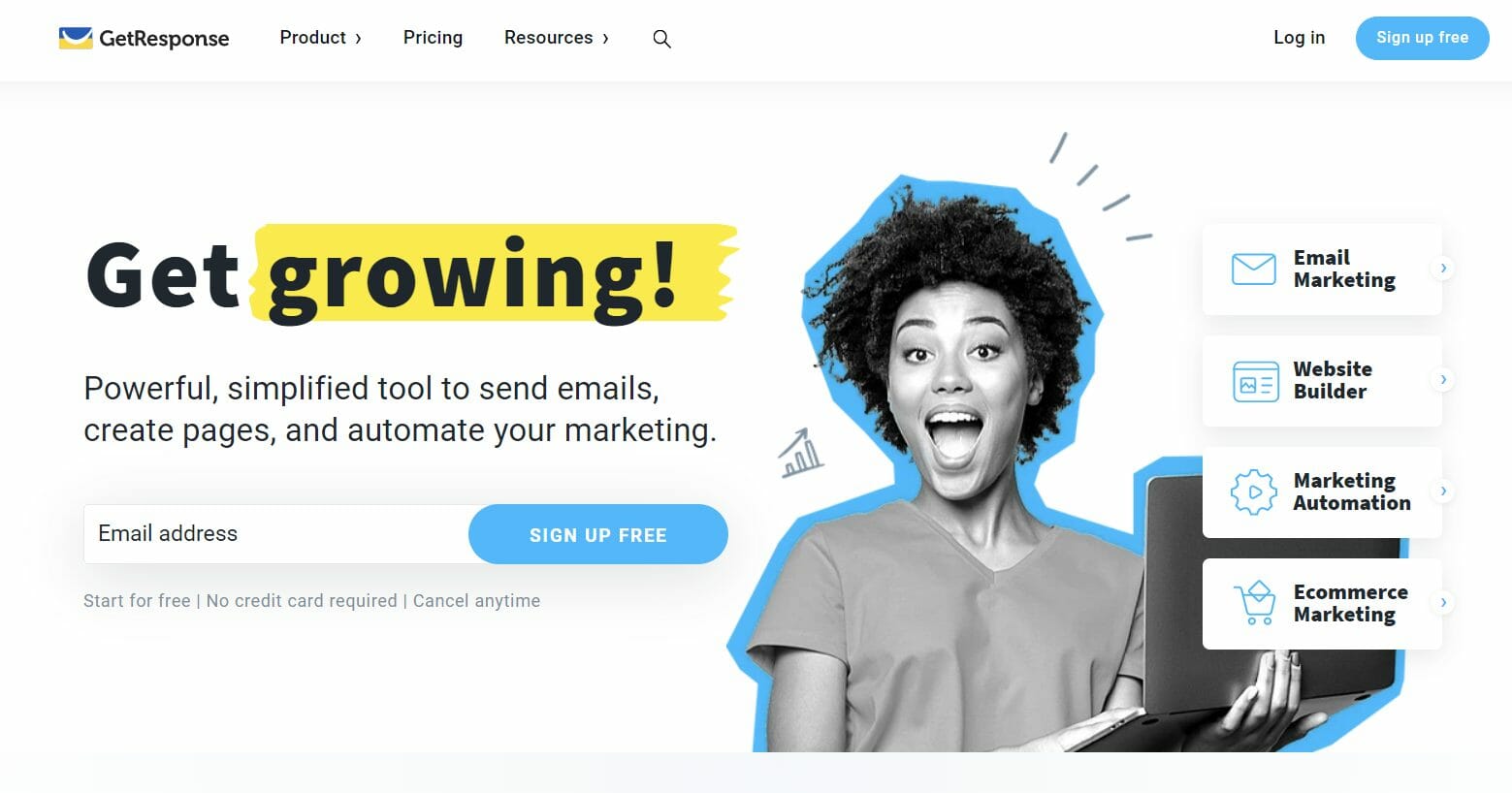 GetResponse is a powerful marketing tool that's trusted by businesses of all sizes and their client list includes names like Stripe, IKEA, and Zendesk. It offers various tools you'll need to build your list and channels that you can use to communicate with your subscribers and promote your products. Included in its impressive set of marketing solutions are a website builder, pop-ups and forms, web push notifications, landing pages, email marketing, and SMS marketing. Similarly to Klaviyo and Omnisend, it also includes integration with popular eCommerce platforms like Shopify and WooCommerce to help you with eCommerce marketing.
Here are some of GetResponse's key features:
Professional email templates that you can customize to match your branding
A huge library with free images and GIFs to enhance your email designs further
Perfect Timing tools to optimize SMS and email campaigns
Klaviyo vs GetResponse
At its core, both Klaviyo and GetResponse offer powerful email marketing and marketing automation capabilities. Though, just like Omnisend, GetResponse also offers landing pages and, on top of that, a webinar feature too that can make it an attractive option to pick over Klaviyo.
In terms of integrations, Klaviyo offers slightly more. That said, it lacks in the social media department, and unlike GetResponse that offers integration with YouTube, Twitter, and Facebook, Klaviyo integrates with Facebook only.
Price-wise, there's a catch, though. While GetResponse looks like the cheaper option at first glance, if you want to use its SMS marketing features, you'll have to sign up for its MAX plan that offers custom pricing on request (and we all know what that means — it doesn't come cheap). However, if you're interested in only using it for email marketing and limited eCommerce marketing, it's about half the price of Klaviyo.
Pricing: GetResponse offers a free plan and three subscription plans. The Email Marketing plan costs about $20 per month for 1,000 contacts. The Marketing Automation plan costs about $60 per month for 1,000 contacts. The eCommerce Marketing plan costs about $120 per month for 1,000 contacts and includes useful eCommerce features.
---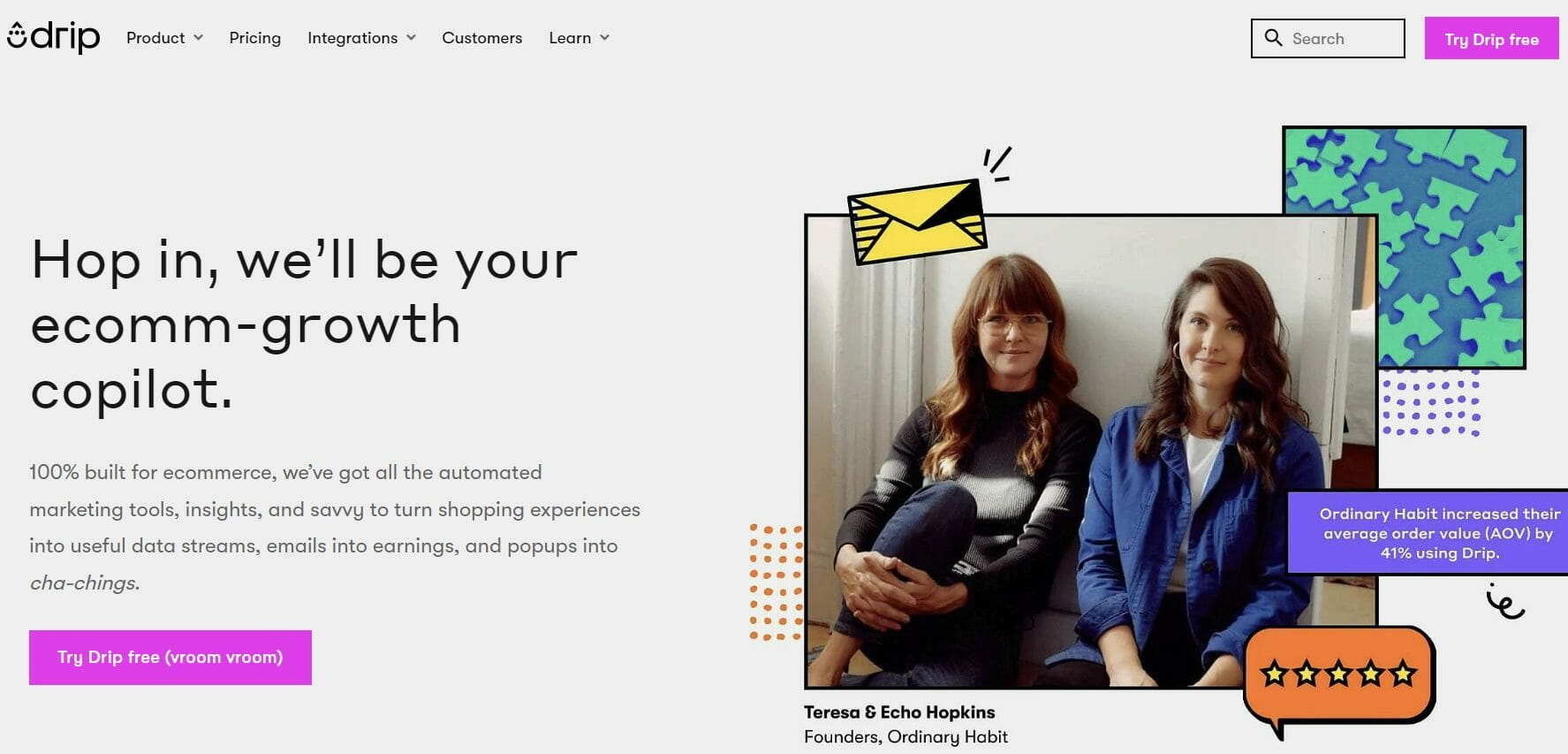 Drip was created for eCommerce, specifically for independent brands. With the help of their automated marketing tools and insights, users can boost their income and get more access to valuable data. In short, it collects and organizes customer data so that online businesses can create personalized omnichannel customer journeys. They're driven by their belief that any online brand should have the tools to help it connect with their target audience and compete in the online space, even against eCommerce giants.
Here are some of Drip's key features:
A library of prebuilt email templates that you can make your own with a point-and-click visual editor
Prebuilt playbooks that automate eCommerce best practices
SMS workflows
Klaviyo vs Drip
One of the features that make Drip such a popular alternative is its strong focus on eCommerce. Just like Klaviyo, it offers integration with many of the most popular eCommerce platforms like Shopify, WooCommerce, and BigCommerce.
While Drip also offers impressive segmentation and personalization, you'll probably find that Klaviyo is easier to use. Another area where Klaviyo outshines Drip is in the testing department. That said, Drip is slightly cheaper and doesn't limit how many emails you may send per month.
Pricing: Drip bases its pricing on the number of email contacts that you have. For up to 2,500 contacts, pricing is $39 per month after a free 14-day trial.
---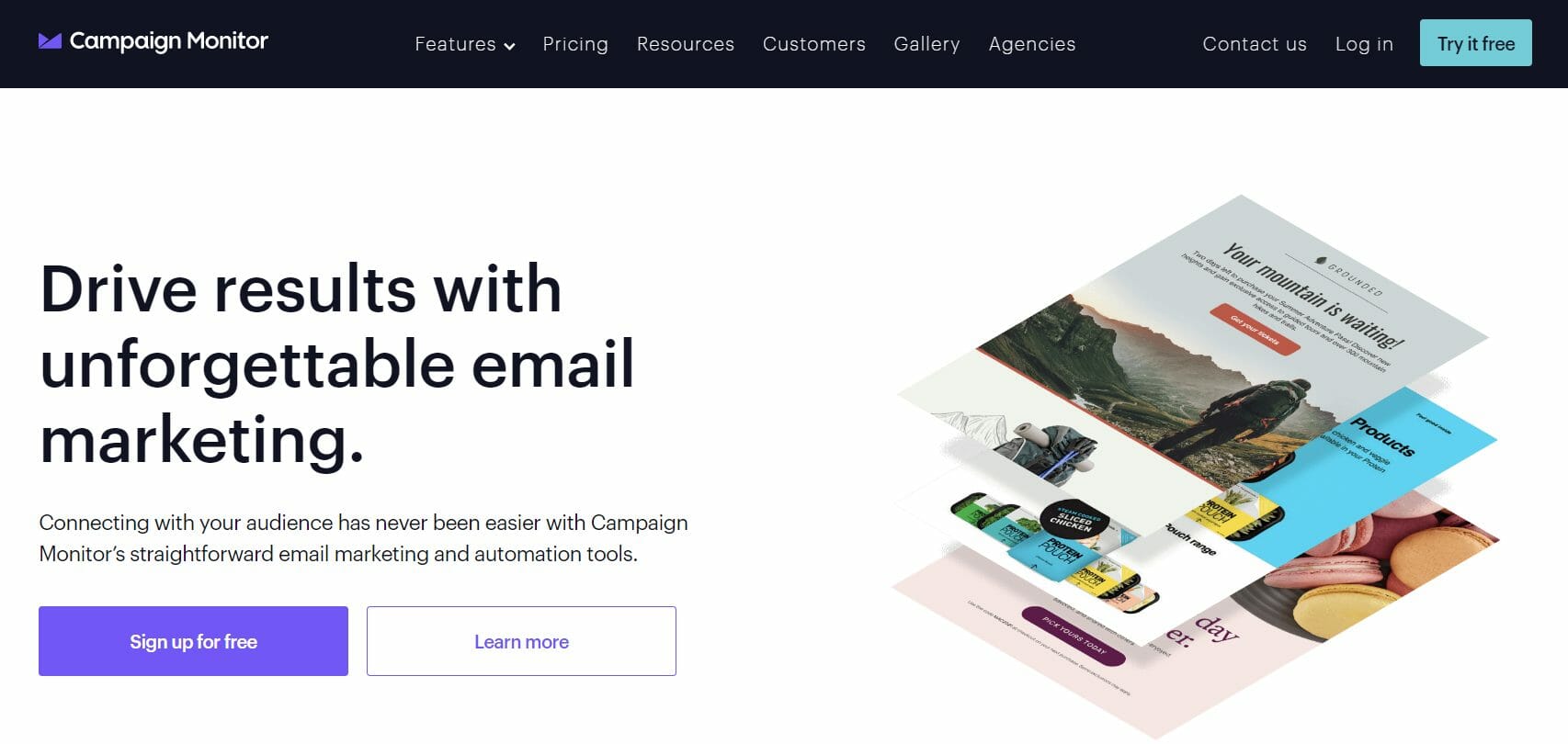 Campaign Monitor offers intuitive email marketing and automation tools. While it mainly focuses on email marketing, it also includes SMS marketing, helping its users to create stronger connections with their target audience and maximize their ROI. Included in its list of features are email templates, transactional emails, segmentation and personalization, and an easy-to-use visual journey designer.
Here are some of Campaign Monitor's key features:
Hyper-targeted segments to boost email engagement
A Link Review tool that automatically checks emails and highlights hyperlinks that need your attention
A full analytics suite
Klaviyo vs Campaign Monitor
Online sources suggest that while Klaviyo is overall a better tool (but only by a small margin), Campaign Monitor offers better user satisfaction. One key difference, however, is the pricing. While Campaign Monitor doesn't offer a free plan like Klaviyo, it's a whole lot cheaper. From as little as $9 per month, you can get started with a substantial subscriber volume. However, its SMS feature is not included in their pricing plans at this stage and as no pricing info is available online, it could — in terms of pricing — make Klaviyo the more favorable option again.
Pricing: Campaign Monitor offers a free plan and three subscription plans. The Basic plan costs $29 per month for up to 1,000 contacts. The Unlimited plan costs $59 per month for the same number of contacts, while the Premier plan that includes advanced segmentation costs $149 per month for 1,000 contacts. For SMS functionality, you'll need to contact their sales team directly for more info about the pricing.
---

Mailchimp is one of the most popular tools for email marketing specifically. Since it launched, it has expanded its focus to much more than just email. Aimed at small business owners and medium-sized businesses, it offers a long list of features that include email and landing page templates, a customer journey builder, A/B testing, and text messaging options.
Here are some of Mailchimp's key features:
Tons of automations to help with all the most important email tasks
Drag-and-drop email features
Detailed reporting features
Klaviyo vs Mailchimp
While Klaviyo offers you more functionality, specifically in terms of information and automation, than Mailchimp, Mailchimp is still a decent contender in this department, especially if you want to concentrate on other marketing channels too. For example, Mailchimp offers you access to more marketing channels and also has more integrations. It also lets you use landing pages to grow your contact list. And, if you need more than just a landing page, but an entire website, Mailchimp can help with that too. You can even buy a custom domain directly via Mailchimp and then use its drag-and-drop website builder to create a business website.
Klaviyo's pricing is more transparent, though. And, if you plan on adding more than 5,000 contacts, Klaviyo might work out cheaper.
Pricing: Mailchimp offers a free plan and three subscription plans. The Essentials plan starts at about $12 per month for up to 500 contacts. The Standard Plan will set you back about $20 for up to 500 contacts. For more serious needs and bigger budgets, there's the Premium plan that starts at about $320 per month for up to 10,000 contacts.
---
Wrapping Things Up
There are many great email marketing tools to help you launch and improve your marketing campaigns. While choice is good, it does make it tricky to find the best tool for your needs and budget. Sure, you can migrate to another platform should you find out that it wasn't a good fit for you (and many companies will help you with migration free of charge), but it's still a time-consuming process.
For more than just email marketing, any of the software solutions mentioned above are great choices and excellent alternatives to Klaviyo. While you should never ignore price, remember to keep other factors like integrations, ease of use, and list management in mind as well.
Lastly, reporting and data can also have a huge impact on the results. While you might not recognize immediately that access to this data will make your marketing tasks easier, without it you definitely won't be able to improve it.