When you want to sell products and services online, you turn to an eCommerce platform. But what is an eCommerce platform, what types of eCommerce platforms are there, and how do you find the right one for your business? In this article, we'll answer all of those questions and more.
---
What is an eCommerce Platform and How to Choose the Right One:
---
What Is an eCommerce Platform?
An eCommerce platform is software that helps online retailers manage their business. This might include things like accounting and inventory management, eCommerce site builders, customer service functionality, and anything else business owners need to sell online.
---
Different Types of eCommerce Platforms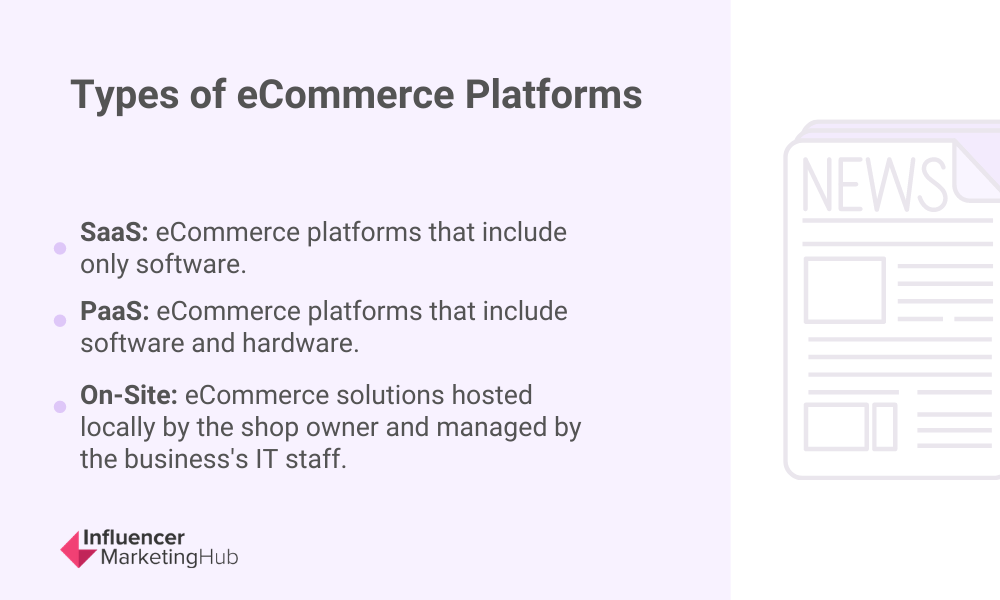 eCommerce platforms are simple enough to understand—a buyer builds a store on the platform and shoppers buy items from the store. But there are actually three types of eCommerce platforms. To find the best platform for your business, it's important to know the difference between them.
SaaS:

eCommerce platforms that include only software.

PaaS:

eCommerce platforms that include software and hardware.

On-Site:

eCommerce solutions hosted locally by the shop owner and managed by the business's IT staff.
---
How to Choose the Right eCommerce Platform for Your Business
Choosing the right eCommerce platform is important. While your business probably isn't going to go under if you choose the wrong platform, the right platform can help you better manage your business and ultimately give you better results. And, sometimes changing eCommerce platforms gets a bit dicey. So, your best bet is to get the right fit right off the bat.
One of the first things to consider when choosing an eCommerce platform is your gross merchandise volume (GMV). If you're a business with a higher GMV, you'll probably need a platform that offers greater customization options. For those with a lower GMV, a platform with just the basics (and a lower cost) might be the right choice.
Other than that, you'll want to think about the features you need. Do you want your customers to be able to search the site, pay with credit cards or their bank accounts, or pay on a subscription basis? Really think about the features and functionality you need and then check that list against the features of the eCommerce platforms you're considering. Then, pick the one that gets you the closest. And remember that it's unlikely a single platform will meet all of your needs, and that's okay. Many platforms offer apps, plugins, or extensions that can help you fill those gaps in functionality.
---
Features to Look for in an eCommerce Platform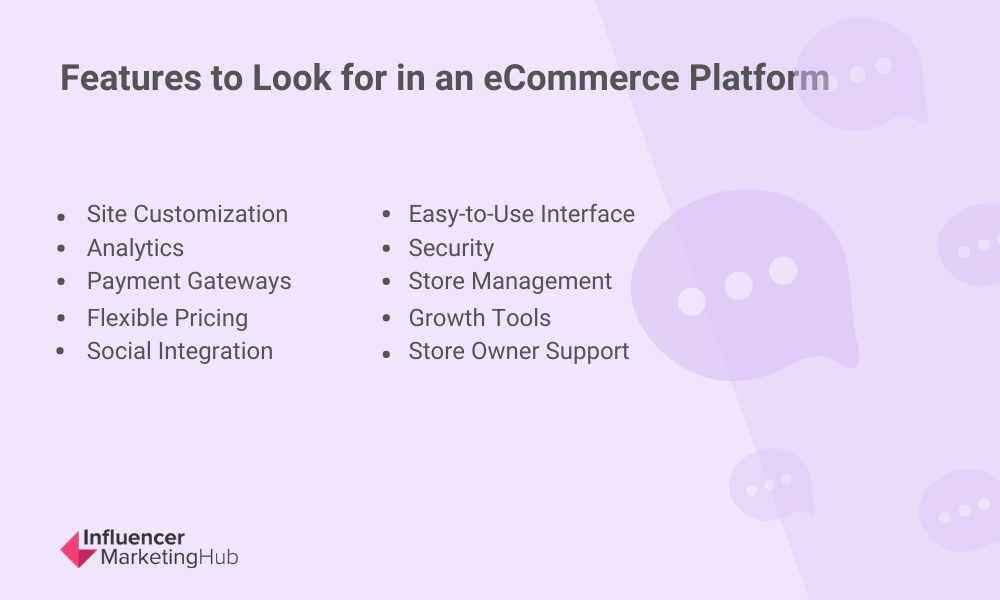 So, you're supposed to choose the eCommerce platform that has the features you need. Great. But what features do you really need? In this section, we're going to cover a few features that most eCommerce businesses will need or want:
Site Customization
Site customization means a couple of different things. First, customization options will help you build an identifiable brand and increase brand recall. The other important aspect of customization is personalization for your shoppers and customers. Make sure that the eCommerce platform you choose gives you the customization and design tools you need to provide a personalized experience that delights your store visitors and makes your brand shine.
Fortunately, most eCommerce platforms include access to professionally designed templates and themes so you can create a beautiful storefront quickly and easily. If you're looking to keep costs low, make sure that the eCommerce platform you choose has a variety of free options.
Analytics
Your eCommerce platform should include analytics and reporting tools so you can make data-driven decisions about your marketing and sales strategy. Most eCommerce platforms include their own analytics tools but if they don't, you'll definitely want to make sure that the platform integrates with third-party analytics tools.
Payment Gateways
A payment gateway is software that moves money from your customer to you. Accepting multiple forms of payment is going to naturally lead to increased conversions. We recommend finding an eCommerce platform that allows you to accept credit card, debit card, and PayPal payments, at a minimum. If your store attracts an international audience, you'll want to make sure that the platform integrates with local payment gateways, too.
Flexible Pricing
A big part of running an eCommerce business is offering sales, discounts, and promotions. The eCommerce platform you choose should make it really easy for you to price your products and services accordingly, even scheduling and automating the promotions process for even better functionality.
Social Integration
Social commerce is kind of a big deal. You'll want to choose an eCommerce platform that lets you integrate with social media platforms like Instagram, Facebook, Facebook Messenger, and others so you can take advantage of this trend.
Easy-to-Use Interface
If your eCommerce platform isn't easy to use, you're going to be miserable with it. Choose a platform that has a user-friendly interface that makes it easy to do the basic things like building your site, accepting payments, and tracking metrics. If you have a large eCommerce business, you might have to trade some ease-of-use for functionality. In that case, check out the platform's support options and self-help documentation to make sure you're not going to be left to figure it all out on your own.
Security
When you're dealing with people's money, security is paramount. Customer data must be protected. Data breaches can have devastating, long-lasting effects on your business and your customers' lives. To keep everything safe and secure:
Look for an eCommerce platform that meets the PCI security standards. This is a set of requirements for sites that handle payment information.

Use SSL certificates. These are a file that lets browsers securely process transactions that contain sensitive data.

Consider adding fraud protection.
Store Management
The eCommerce platform you choose should have store management features that make it easy for you to operate your online store. This includes things like:
Product Management:

Store owners can upload products (in bulk, preferably), categorize products, set up dynamic catalog filtering features like color, size, sorting, price range, and more.

Order Management:

Efficiently process customer orders, send email notifications, and track orders.

Return Management:

Includes return rules, lets you approve return requests, update order and return status, and print invoices.

Inventory Management:

If you have a large product selection and maintain an inventory, you'll want an eCommerce solution that includes inventory management.
Growth Tools
Even if you're on an online marketplace, you'll need a way to promote and grow your business. One of the best ways to attract and build an audience is through SEO. Fortunately, many eCommerce platforms these days are SEO-friendly and include the SEO tools you need to get your store in front of the right people.
To get the most benefit from SEO, you'll probably want to start and maintain a blog on your eCommerce site. This gives you more opportunities to rank for important keywords for your business and brings in shoppers who are looking for your specific products or services. To make this easier, look for an eCommerce platform that offers a content management system (CMS).
Store Owner Support
No matter how well you set up your online storefront, or how well-versed you are in site development, you're going to run into problems at some point. That's where support comes in. We recommend choosing an eCommerce platform that includes a large library of tutorials and guides so you can work through common issues on your own. In addition, look for an active community with a forum or Facebook group where you can crowdsource answers to your questions. Finally, make sure that your eCommerce platform offers solid support via email, live chat, phone, etc. You'll need them someday, and you need to be able to contact them easily.
---
5 Best eCommerce Platforms
As you've probably guessed by now, eCommerce platforms vary dramatically from one to the next. However, there are a few platforms that consistently stand out above the rest. Here are 5 of the best eCommerce platforms we've found that offer up the features you need at a budget that will work for most eCommerce business owners.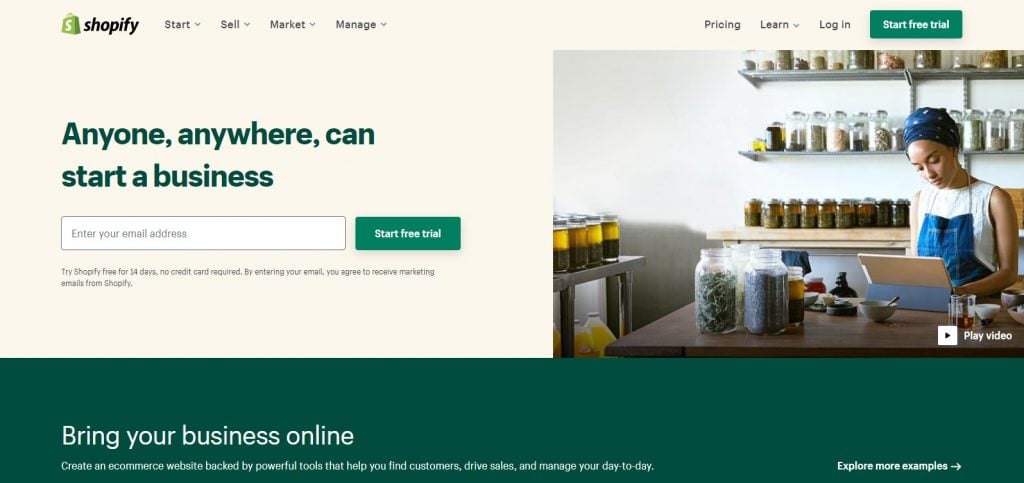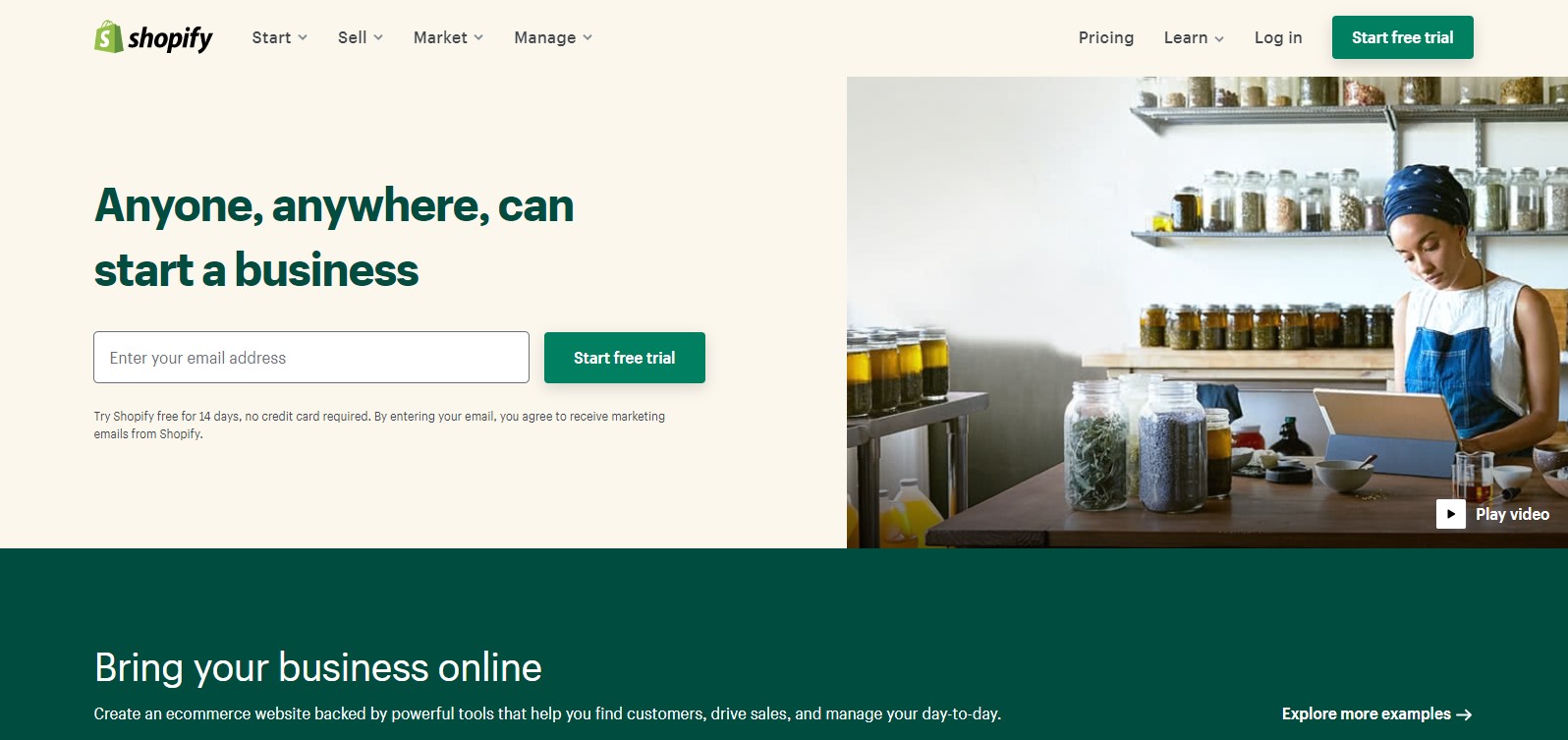 Shopify is probably the platform you think of when someone says "eCommerce." There are more than 1 million sellers on the Shopify platform and it has a 31% share of the United States market for eCommerce websites. The platform is so popular, in large part, due to its extensibility—there are more than 2,400 apps available in the Shopify App Store. The platform includes a CMS, professionally designed themes, and tons of other tools that will make managing your eCommerce business a breeze.
Key Features:
Unlimited products

24/7 support

Multiple sales channels

Abandoned cart recovery

Global selling (133 countries)
Pricing: Shopify starts at $29/month. There's a limited Lite plan for $9/month.
---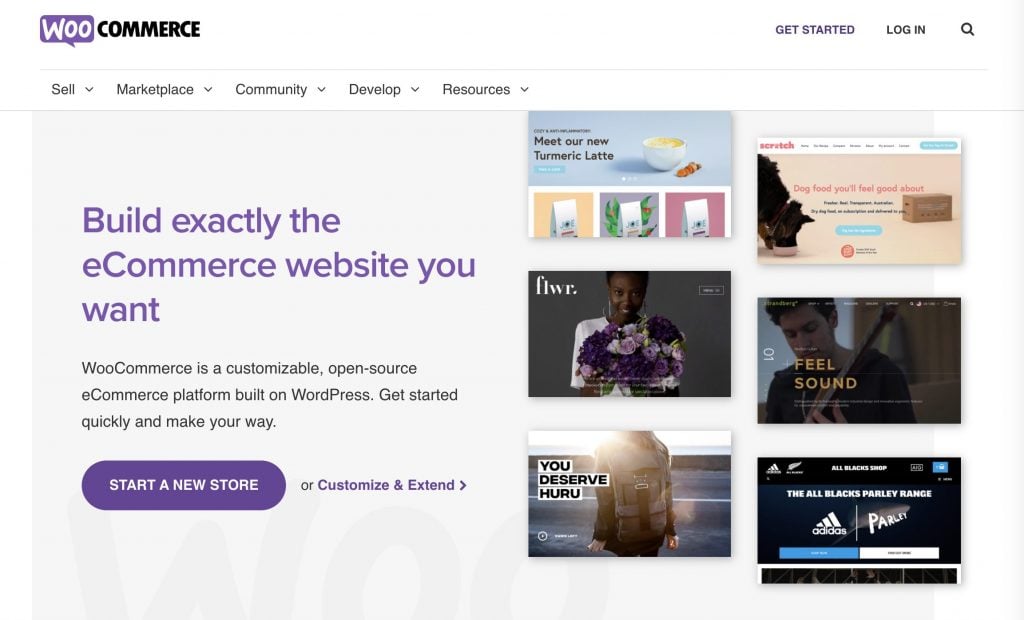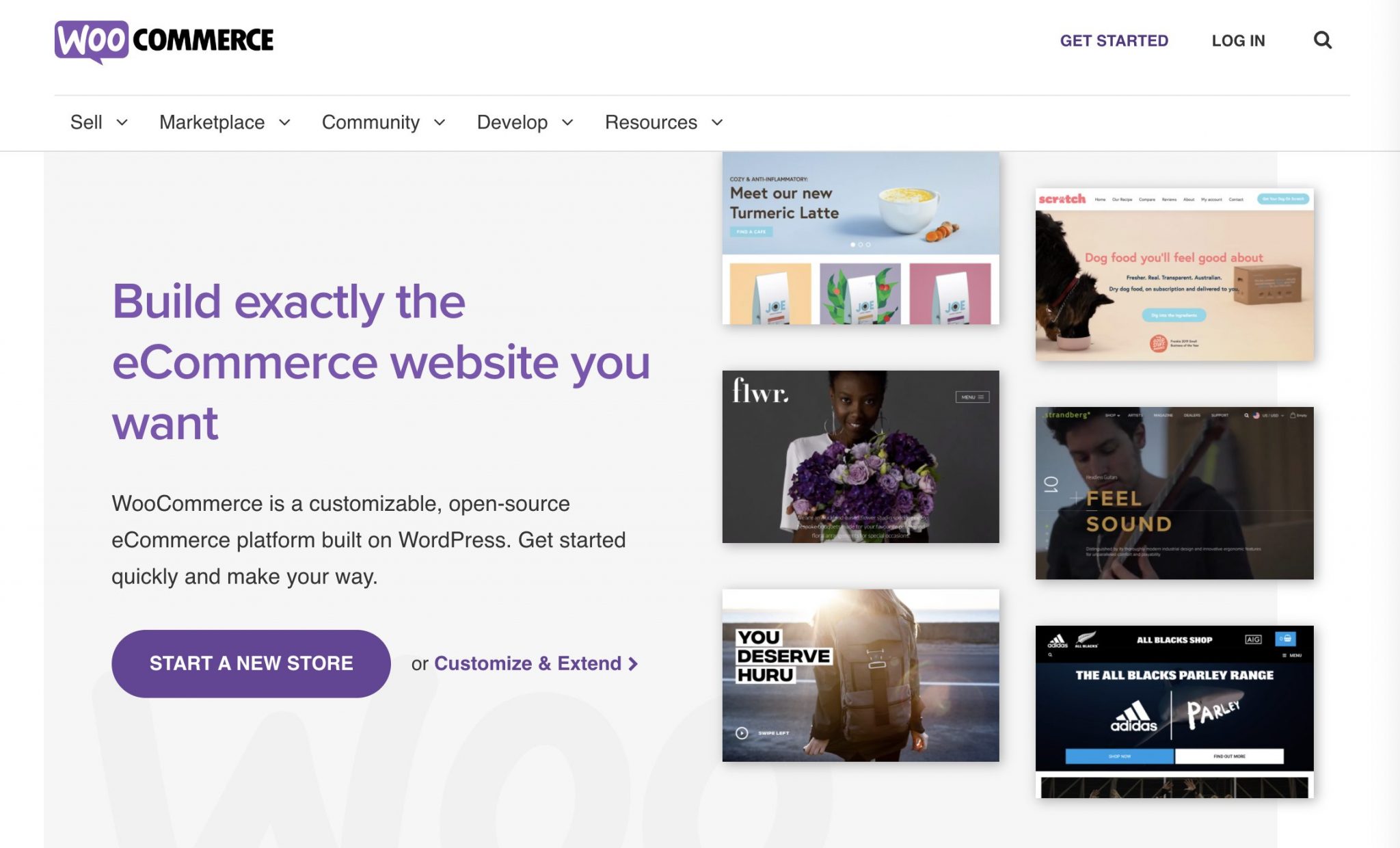 WooCommerce is a free, open-source, customizable eCommerce platform that runs on WordPress. The platform allows you to have an unlimited number of products and product variants, including both physical and digital products. Just add the WooCommerce plugin to your WordPress site and you'll have your store up and running in no time. WooCommerce includes secure payments, configurable shipping, and a lot more for free.
Key Features:
Accept major credit cards, bank transfers (BACS), checks, and cash on delivery

Integrates with 140+ region-specific payment gateways

Automated tax calculations

Live shipping rates

Hundreds of free and paid extensions
Pricing: Free
---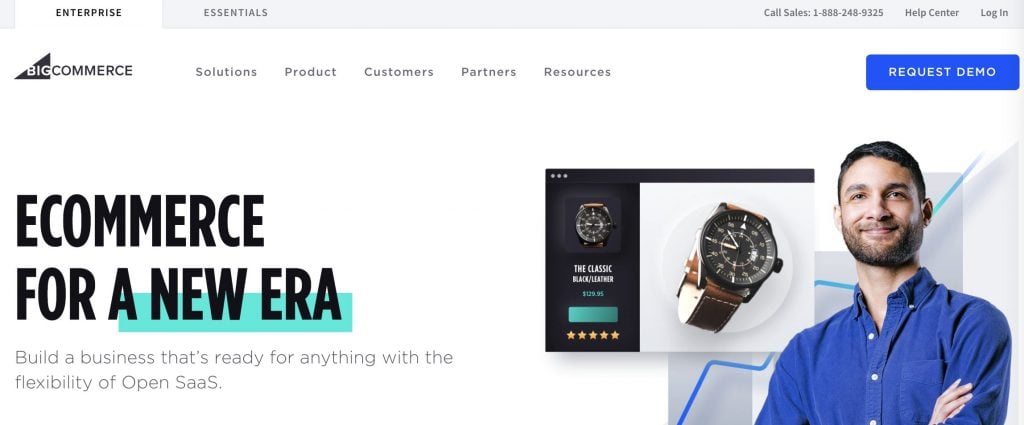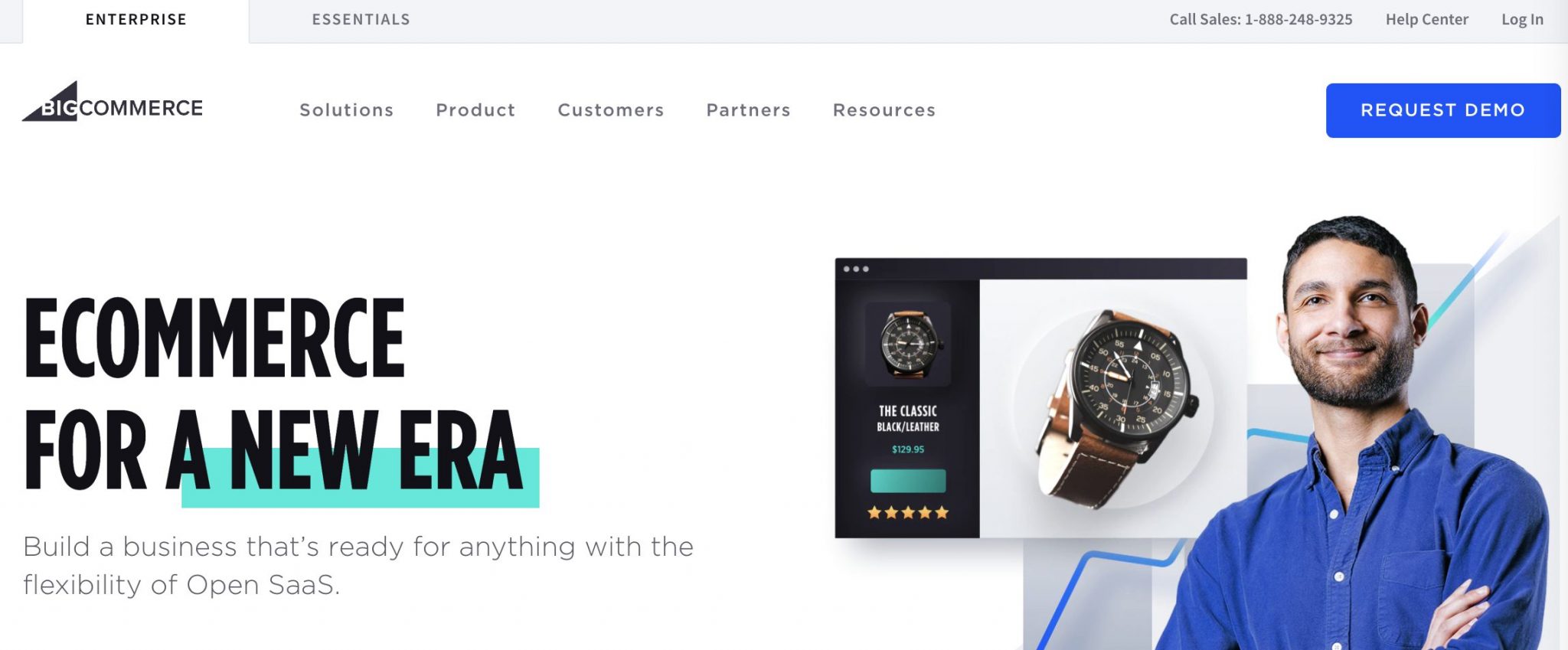 BigCommerce is a great option for larger eCommerce businesses. It has an easy setup process—start adding products and the platform walks you through building your eCommerce store. It has a visual page builder so you can see how your site will look while you're putting it together. BigCommerce also includes themes that you can use and customize to personalize the look and feel of your online storefront. Plus, it integrates with more than 800 apps to ensure all your needs are met.
Key Features:
Mobile optimization

Checkout customization

Accept digital wallet payments

SEO-friendly

Social commerce ready
Pricing: Contact BigCommerce for pricing information.
---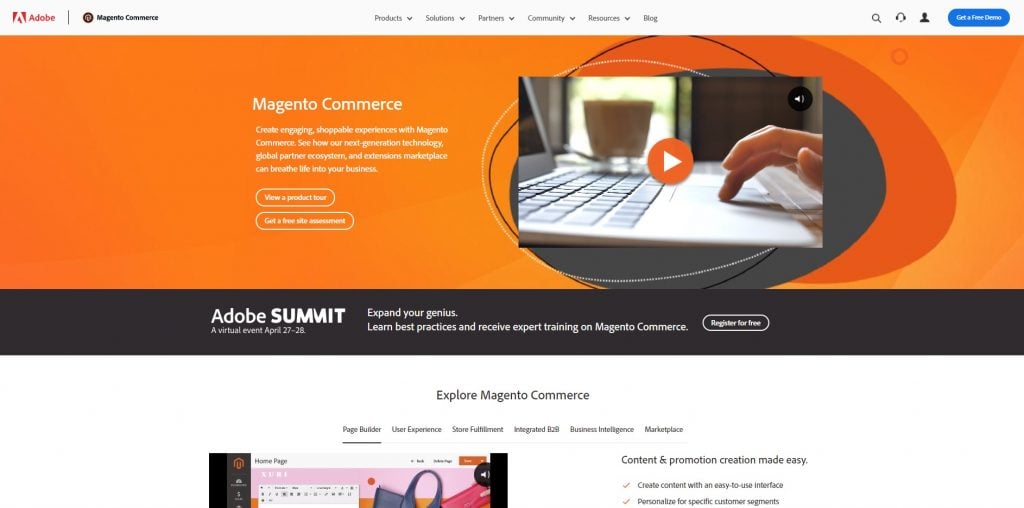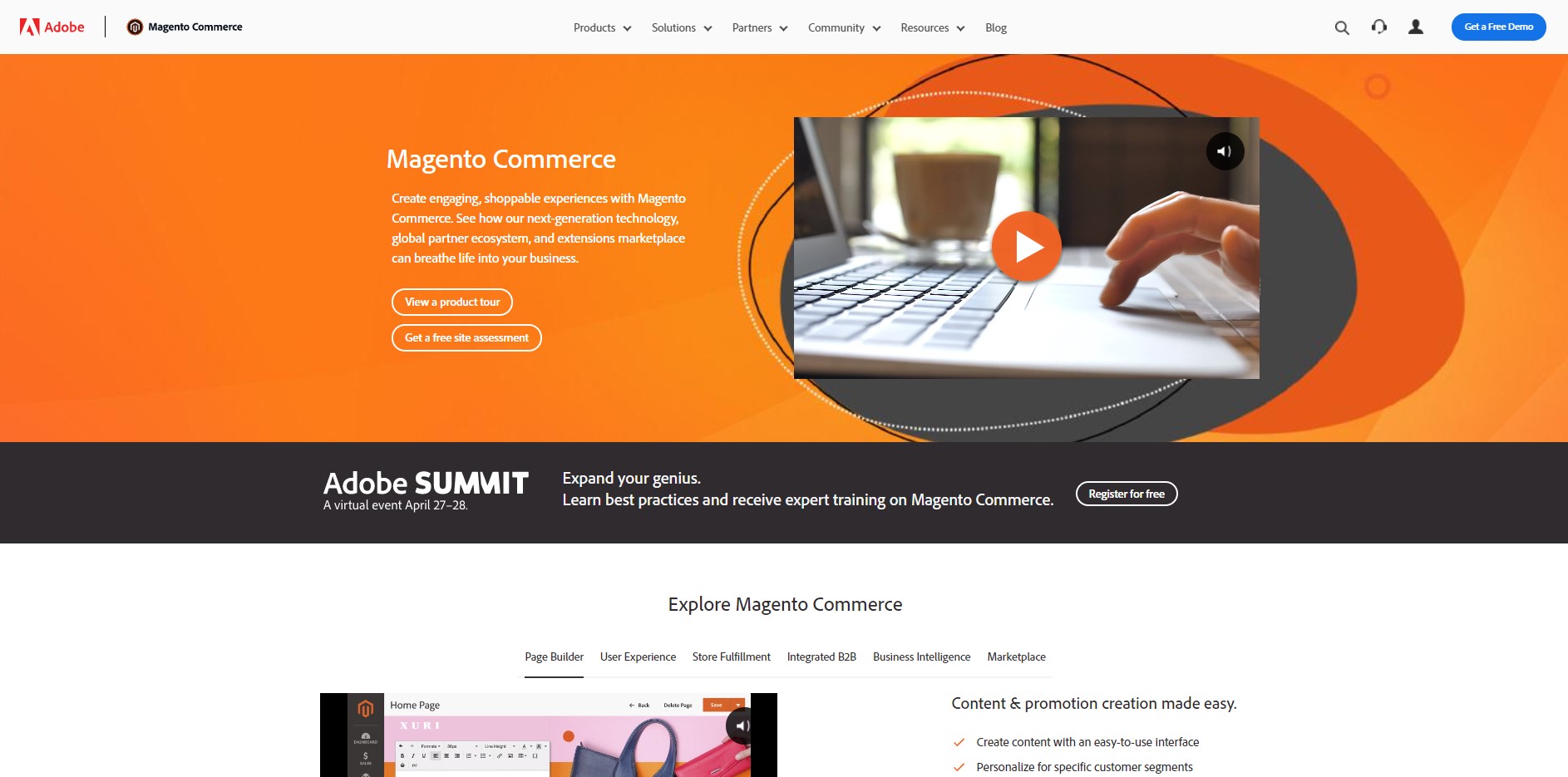 Magento has two options. One is Magento Commerce for those who need a bit of help on setting up their eCommerce site. The other option is Magento Open Source. The open-source eCommerce platform is more suited for those with web development experience. Basically, it's not user-friendly for someone without experience. Having said that, it's an incredibly powerful platform that works well for mid to large-sized eCommerce businesses. As you would expect from a developer-friendly platform, Magento has an enormous list of features and tons of customization tools.
Key Features:
Integrated checking, payment, and shipping

Mobile-optimized shopping

Global selling

Catalog management

Instant purchase

Site search

Tons of integrations and apps
Magento Commerce offers additional features like business intelligence dashboards, advanced marketing tools, performance monitoring tools, and more.
Pricing: Magento open source is free. You can get Magento Commerce for a fee. Contact Magento for pricing.
---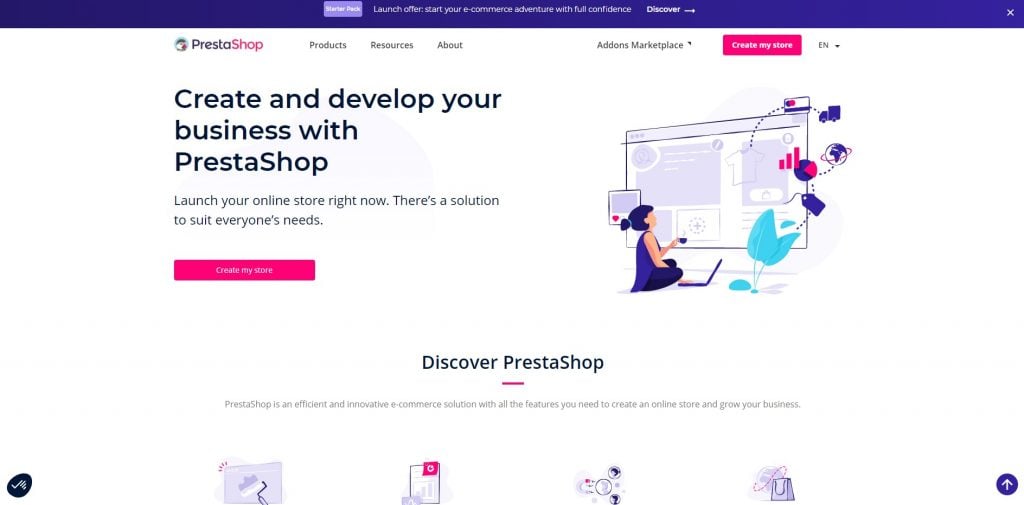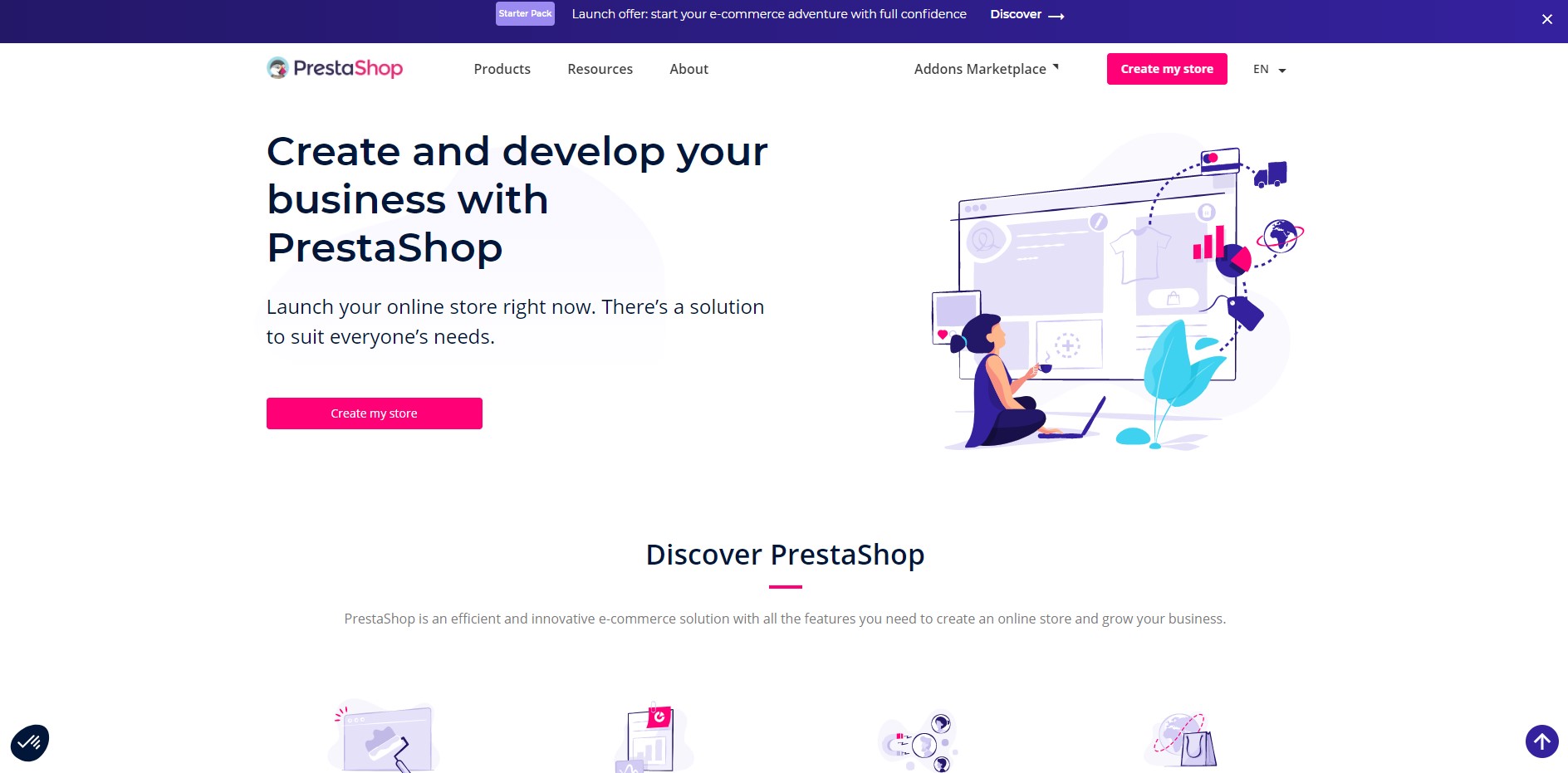 PrestaShop is another open-source eCommerce platform. It's based on the Symfony framework and offers up more than 600 features with more than 5,000 themes and modules available. It's a secure, flexible, sustainable, and scalable eCommerce solution.
Key Features:
Sell digital and physical products

Track the inventory of each product

One-page checkout

Connect to social networks

Custom workflows
Pricing: Free
---
Choose the Right eCommerce Platform to Boost Sales
So, what is an eCommerce platform? The short answer is that it's a software tool that makes it easier to run and manage your online store. Because let's face it, starting an eCommerce business is pretty easy. Running your online store is a bit harder.
The right eCommerce platform for your business will have all the tools you need to run and build your online store (either out of the box or via apps and integrations), making your life easier instead of more difficult. And, with so many wonderful eCommerce platforms out there, there's no reason you should be struggling through creating a stunning eCommerce site that attracts traffic and converts visitors.