Advertising Disclosure
Advertising disclosure:
Our partners compensate us. This may influence which products or services we review (also where and how those products appear on the site), this in no way affects our recommendations or the advice we offer. Our reviews are based on years of experience and countless hours of research. Our partners cannot pay us to guarantee favorable reviews of their products or services.
In the expansive world of advertising, where global giants often overshadow smaller firms, the impact of local advertising agencies is profound. These agencies are unsung heroes, working diligently behind the scenes to carve niches, elevate brand awareness, and fortify customer loyalty in their locales. They cultivate a deep understanding of regional market dynamics, consumer behaviors, and cultural nuances, enabling them to create highly targeted and effective advertising strategies. Every billboard, radio spot, and social media campaign is meticulously crafted to resonate with the specific audience it intends to reach.
We embark on a journey to explore the intricate tapestry of skills, creativity, and strategic thinking that these local stalwarts weave, delivering a profound impact not just on businesses but the communities they serve. Prepare to step into a world where creativity, strategy, and local insight converge, offering a unique, immersive, and enlightening exploration into the art of localized advertising.
---
Top Local Advertising Agencies
Top
local advertising agencies
2024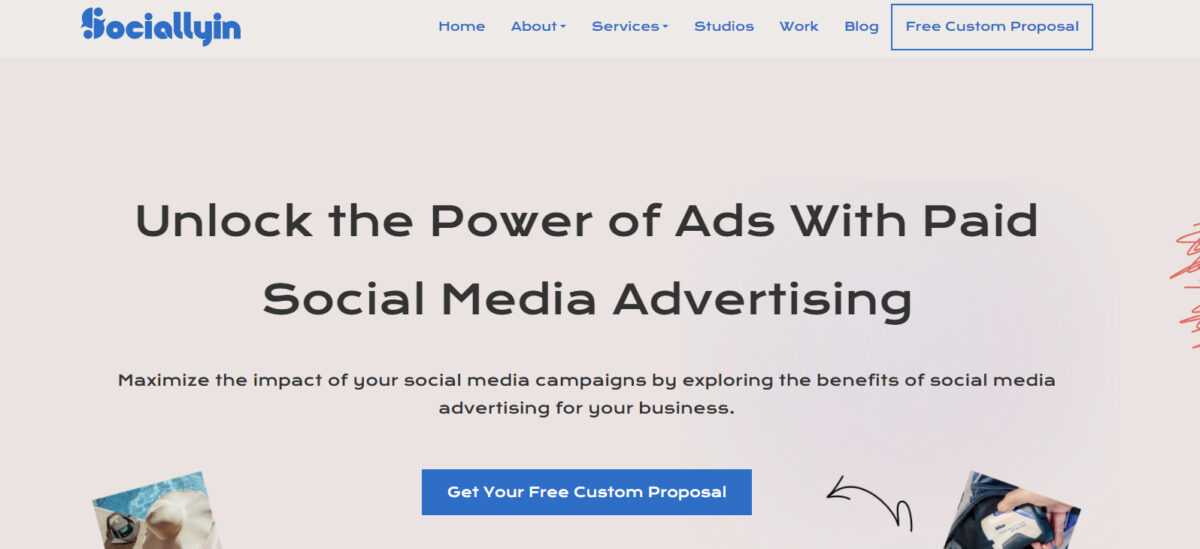 Locations: Atlanta, Georgia
Sociallyin perfectly blends innovation and effectiveness in the realm of local advertising, particularly distinguished for its adeptness in social media community management. This agency is rooted in the principle that the nuances of social media interactions significantly impact brand perception and loyalty. Therefore, the agency prioritizes establishing authentic connections through strategic engagement, both inbound and outbound, ensuring every interaction is tailored to enhance the customer's experience with the brand.
Equipped with a team of experts from their offices in Atlanta, Sociallyin elevates community management to an art form, intertwining creativity and strategy to foster conversations that are not just engaging but also enriched with value. Their creative responses are crafted meticulously to transcend the conventional, offering a memorable experience that echoes the brand's ethos while resonating with the audience. The agency's dedication to 'Surprise & Delight' moments underscores its commitment to transcending the ordinary, weaving unexpected yet delightful interactions that elevate the customer's journey.
Sociallyin is a powerhouse of insights and analytics, distinguishing itself through comprehensive reporting that is both insightful and actionable. The agency's commitment to listening and moderation ensures the brand's social media narrative is positive and aligns seamlessly with its core values. Moreover, the agency's prowess in customer sentiment measurement and analysis offers brands a lens into the hearts and minds of their audience. Sociallyin doesn't just gauge the pulse of the audience but dives deep into the undercurrents of sentiment, ensuring every campaign is not just seen but also deeply felt.
---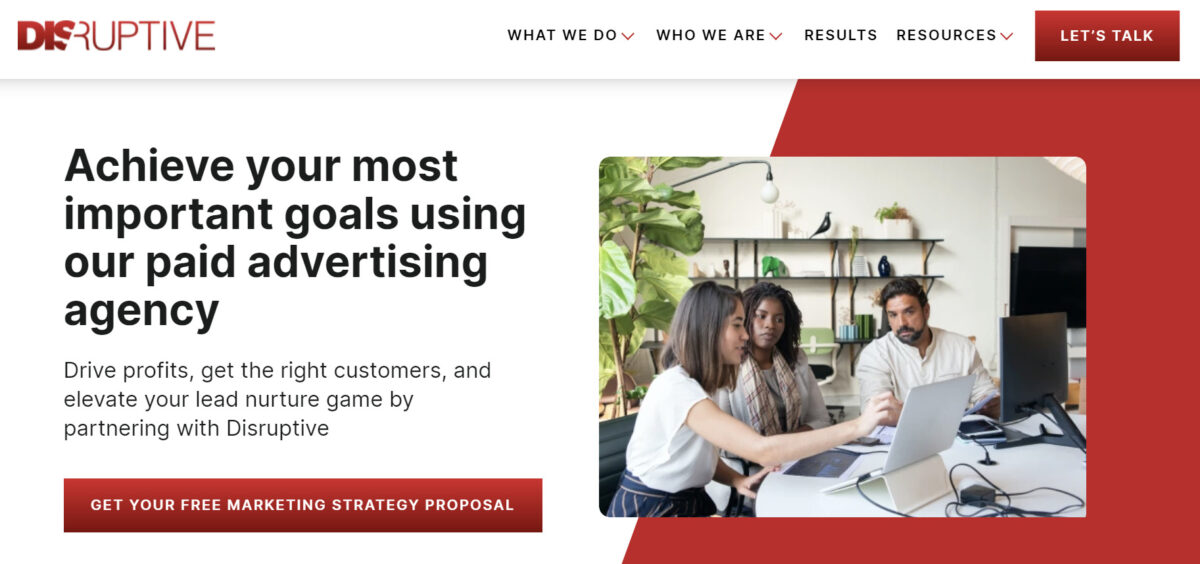 Locations: Pleasant Grove, Utah
In the competitive landscape of local advertising, Disruptive distinguishes itself as an agency that seamlessly marries innovation with efficacy, offering tailored marketing strategies designed for brands ready to ascend to greater heights in local markets. Their approach isn't confined to ad account management; it expands to encapsulate a full-funnel marketing strategy meticulously crafted to overcome challenges and meet definitive local business goals. Every service, from SEO to site optimization and diversified ad platform expertise, including Google, Facebook, and TikTok Ads, is delivered with a precision that aligns with the brand's ethos and market positioning.
Their core strength lies in crafting marketing campaigns that resonate profoundly with the targeted market, attributing to their profound understanding of connecting a company's "why" to its ideal customer profile. With over $450M in annual ad spend managed for clients, Disruptive underscores its prowess in transforming good businesses into great ones through strategic, results-driven marketing initiatives. Their proven process begins with a discovery call, transitions into a solutions call, and evolves into marketing level-set and strategy optimization, culminating in a robust growth strategy crafted to scale businesses effectively.
Lead generation and eCommerce marketing are pivotal components of Disruptive's service repertoire. Their modern, cutting-edge lead gen strategies are meticulously crafted and reflective of the evolution in customer interests and behaviors. In the realm of eCommerce, Disruptive emerges as a strategic ally, equipped with the expertise to navigate the competitive space and position brands for optimal visibility, engagement, and conversion.
---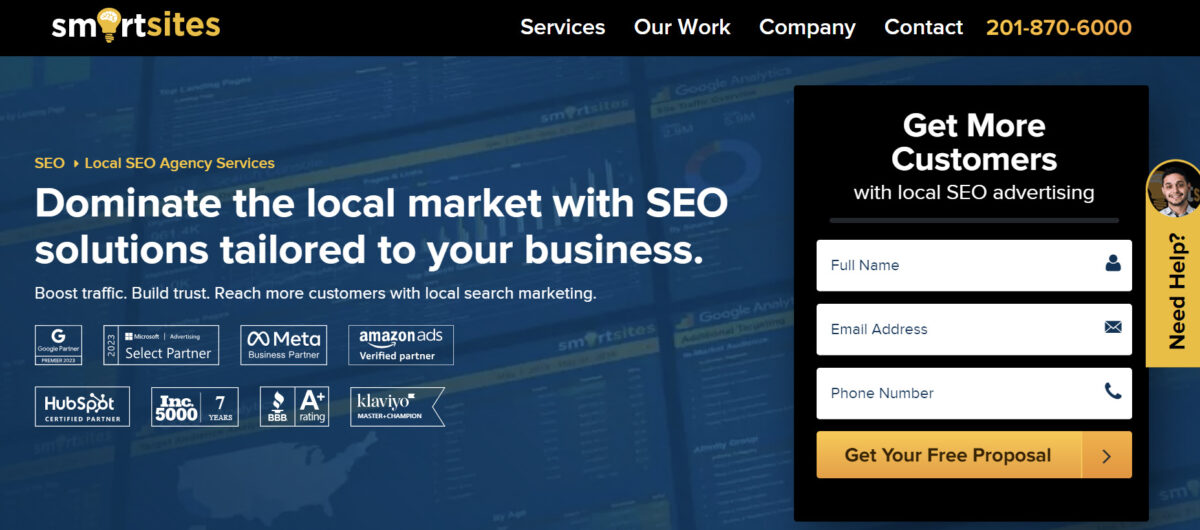 Locations: Paramus, New Jersey
SmartSites is renowned for its bespoke SEO services tailored to propel businesses to the pinnacle of local market dominance. Recognized as a Google Premier Partner and acclaimed with a plethora of accolades, including a laudable #1 ranking by Goodfirms for local SEO and an A+ rating by BBB, SmartSites epitomizes the amalgamation of proficiency and ingenuity. Each strategy is meticulously woven to amplify online visibility, exemplified by the agency's adeptness in incorporating location-centric keywords, optimizing map listings, and developing custom strategies aligned with distinct business objectives and budgets.
Local SEO is not just a service but an art perfected by SmartSites. The meticulously crafted SEO strategies not only elevate online visibility but are instrumental in magnetizing traffic for the most relevant searches, an asset for businesses aiming to carve a niche in the local landscape. The efficacy of SmartSites is underscored by their unrivaled ability to intertwine sophisticated strategies with profound insights into consumer behavior, paving the way for enhanced traffic, trust, and customer acquisition.
Their impeccable reputation is further amplified by heartfelt testimonials from a diverse clientele, each echoing the agency's mastery in driving tangible results, enhanced online visibility, and unrivaled ROI. The harmonious blend of SEO, PPC, content marketing, and a plethora of other tailored services underlines SmartSites' holistic approach to digital marketing. With SmartSites, businesses are entrusting an agency and partnering with a catalyst engineered to propel them to unprecedented heights of local market dominance, brand visibility, and customer engagement.
---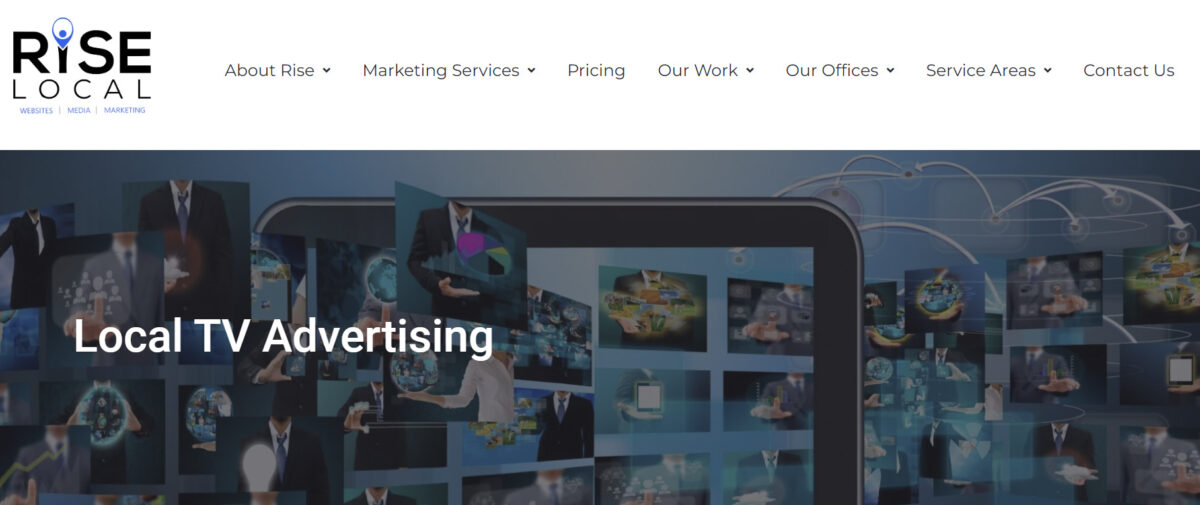 Locations: Dallas, Southlake, Houston, Palestine (Texas), Fort Worth
Rise Local, distinguished through a multifaceted approach to advertising, effectively combines traditional and digital media. The agency is adept at local TV advertising, offering tailored campaigns that ensure messages reach a highly targeted audience. Rise Local's systematic approach involves discovering client goals, planning customized strategies, designing impactful campaigns, and implementing these with precision. They specialize in optimizing campaigns over time, adapting to evolving business objectives and market dynamics. The agency is also proficient in Streaming TV advertising, ensuring brands resonate with audiences across diverse viewing platforms.
Rise Local's expertise in Local Search Optimization empowers businesses to enhance visibility in location-specific search results. They meticulously optimize Google Business Profiles and ensure consistency in NAP (Name, Address, Phone Number), improving search engine trust and user experience. Their strategies extend beyond basic optimization; through comprehensive strategies like local keyword targeting and citation building, Rise Local ensures businesses dominate local search results, connecting them with a highly targeted audience. 
Through a harmonious integration of TV and digital advertising expertise, Rise Local crafts bespoke advertising solutions that ensure brand messages not only reach but resonate with the intended audience, driving enhanced brand awareness and conversion.
---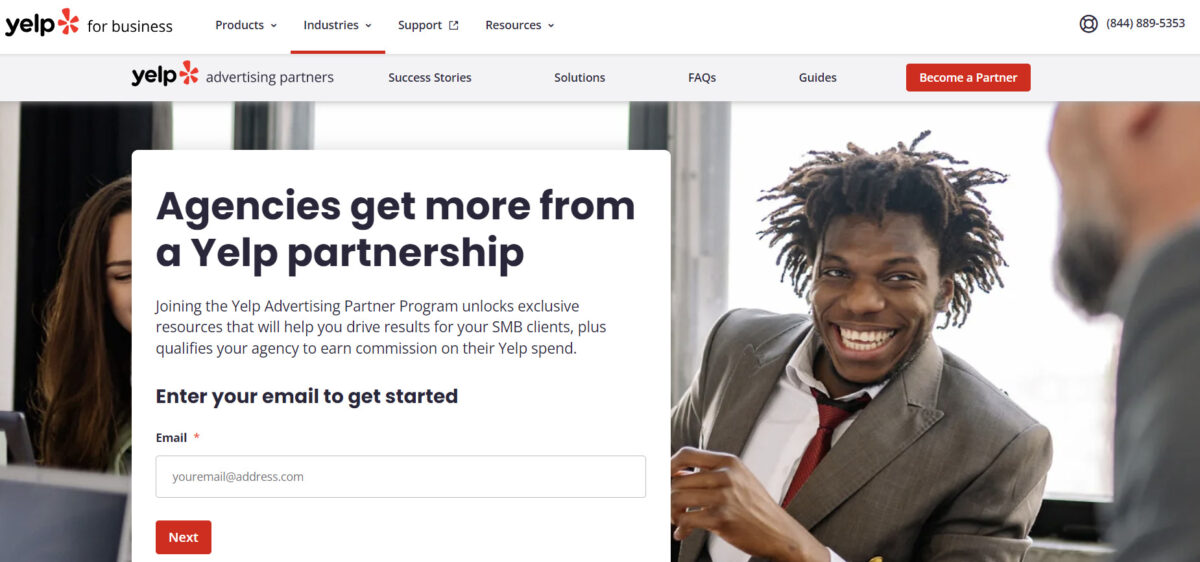 Locations: Worldwide
Yelp for Business, part of Yelp.com, provides a wide range of services meticulously crafted to boost visibility and engagement for home and local services businesses. One of the core offerings includes Page Upgrades, a service designed to amplify brand presence through enhanced visual elements and compelling call-to-action buttons, ensuring businesses are not only seen but also interacted with.
The Verified License feature instills confidence among potential customers, showcasing the business's authenticity and credibility by prominently displaying trade licenses in search results and on the business page. The efficacy of Yelp for Business is further accentuated by its Yelp Ads service, a dynamic advertising solution that positions businesses directly in the line of sight of prospective customers actively seeking home and local services. Over two-thirds of Yelp's affluent and mature user base are ready to engage, and with more than 60,000 daily requests for quotes and consultations, the platform acts as a nexus connecting businesses with a market that is ripe and ready to convert.
Through real-time notifications and a responsive mobile app, businesses can swiftly respond to inquiries, underscoring their responsiveness and customer-centric approach. In essence, Yelp for Business has curated an ecosystem where visibility, engagement, and conversion converge, offering businesses a robust platform for exponential growth.
---

Locations: Dover, New Hampshire
Loud Canvas distinctly stands out as a front-runner in the realm of local advertising, with a robust set of tools and strategies that are finely tuned to elevate local businesses. Anchored by a dynamic team of local business marketing experts, they specialize in tailoring marketing campaigns that are as unique as the businesses they represent.
Loud Canvas's bespoke approach is bolstered by comprehensive local market discovery and research, ensuring each campaign is sharply targeted and immensely effective. Their expertise in elevating the visibility of local businesses is demonstrated through adept management of platforms like Google My Business and Yelp, enhancing local SEO, and driving engagement through local social media and pay-per-click advertising.
Hyperlocal marketing is another core competency, where Loud Canvas showcases its adeptness in highly focused geographical targeting. This approach capitalizes on the surge in "near me" searches, connecting businesses with customers right in their vicinity. The agency has curated a proven strategy, blending local SEO, citation, and review development with local email marketing, ensuring that businesses not only reach their local audience but also forge meaningful connections. Loud Canvas's portfolio, covering diverse sectors from retail to healthcare and entertainment, attests to their versatility and ability to turn local marketing aspirations into tangible business successes.
---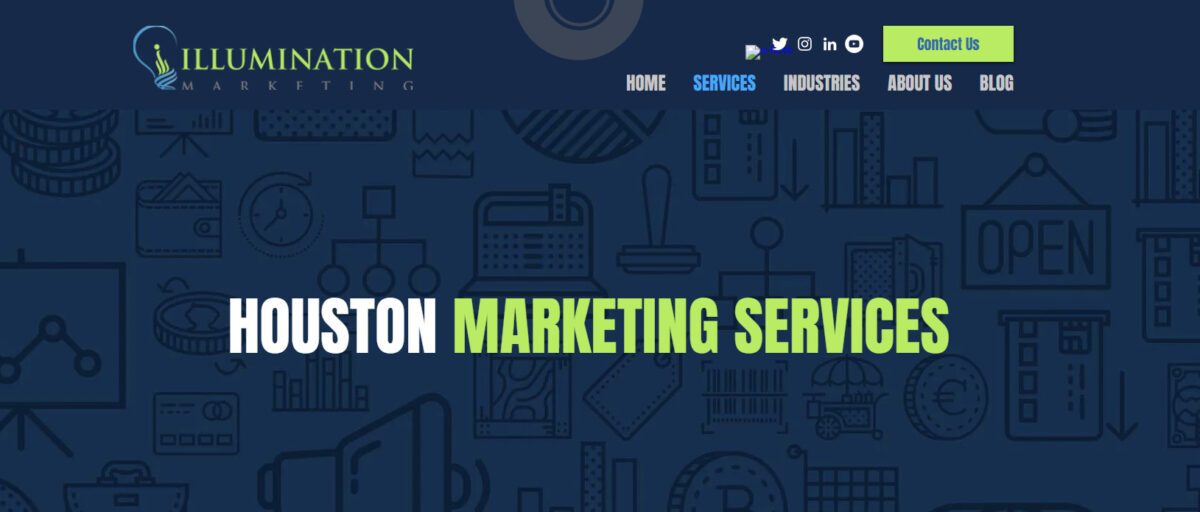 Locations: Houston
Marketing Illumination is one of the leading players among Houston advertising agencies offering local marketing services. It is distinguished by its custom-tailored marketing solutions that cater to a diverse range of clients, from small enterprises to large brands. Their core offerings are meticulously designed to be not just comprehensive but also innovative, ensuring not only high-quality service delivery but also a significant return on investment.
Their expertise in search engine optimization is evident, utilizing advanced techniques such as link building and meta-tag optimization to enhance online visibility. Each SEO package is sweeping and aimed at ensuring clients' businesses are not only found on Google but also achieve a competitive edge. Social media marketing, another forte of Marketing Illumination, exemplifies the modern approach to branding and advertising. They leverage popular platforms to drive revenue through strategic posting and advertising, ensuring client brands resonate with and influence the targeted audience.
Other notable services include website development, where necessity meets luxury, and corporate videography, a crucial tool for attention-grabbing and employee training. Pay-per-click marketing for instant traffic, strategic email marketing for efficient customer communication, FAA-licensed drone video/photo services, and professional logo design complete their holistic approach. With a responsive and hands-on engagement model and backed by over 30 years of combined experience, Marketing Illumination epitomizes a one-stop solution for all marketing needs, driving results and building revenue for their clients.
---
Locations: Granville, Ohio
RevLocal operates at the forefront of local advertising, offering an optimized approach to reaching customers while instilling a sense of trust. The agency employs Local Services Ads, an innovative method tailored specifically for home services businesses, including locksmiths, contractors, and HVAC providers.
A standout feature is the incorporation of the Google Guaranteed program, a prestigious accreditation that assures potential clients of the business's trustworthiness and quality. Every advertisement created under this initiative not only amplifies visibility but also serves as a badge of credibility, inherently driving consumer preference toward the featured service providers.
RevLocal's personalized approach to digital marketing strategy development underscores its commitment to bespoke solutions, catering to the unique needs and objectives of each business. Clients benefit from a model where payment is made solely for leads, ensuring cost-effectiveness and a tangible return on investment. The agency's mastery in optimizing budget allocation ensures a consistent influx of quality leads tailored to specific services, enhancing the precision of target market reach. Their affiliations with esteemed certifications, including the Google Partner Premier and Local Search Association, accentuate RevLocal's unwavering dedication to quality, innovation, and client satisfaction, thereby distinguishing it in the realm of local advertising.
---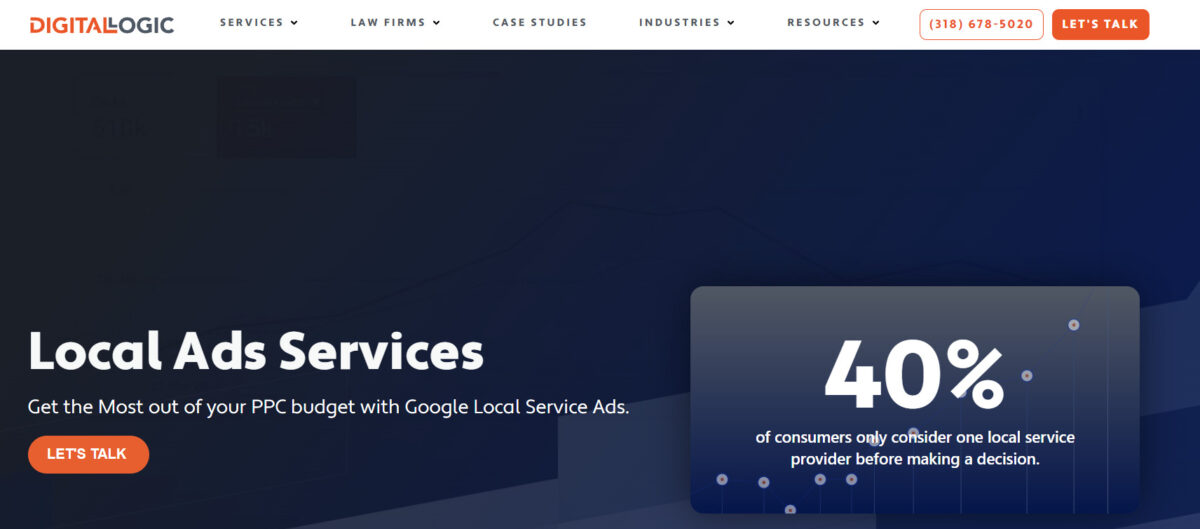 Locations: Shreveport, California
Digital Logic stands as a paradigm of precision and innovation in the realm of local online marketing, leveraging tailored strategies to amplify the visibility and success of small and startup businesses. Specialized in a range of core services, including Local PPC, SEO, and website design, the agency's personalized approach stems from an intrinsic understanding of each business's unique challenges and objectives.
Local PPC campaigns are notably enhanced through strategic placements, targeting specific audience segments to maximize conversions. Google's endorsement, evident in the Google Partner badge, further underscores Digital Logic's proficiency and reliability. The agency's comprehensive SEO services, underscored by in-depth keyword research and optimization techniques, ensure clients' businesses are easily discoverable in local search results.
The agency's adeptness in website design ensures not just aesthetic appeal but also functional excellence, aligning with the brand ethos and catering to the contemporary, mobile-first consumer. A testament to their prowess, Digital Logic's holistic approach ensures that businesses not only reach but effectively engage their local audience, fostering brand loyalty and driving sustainable growth.
---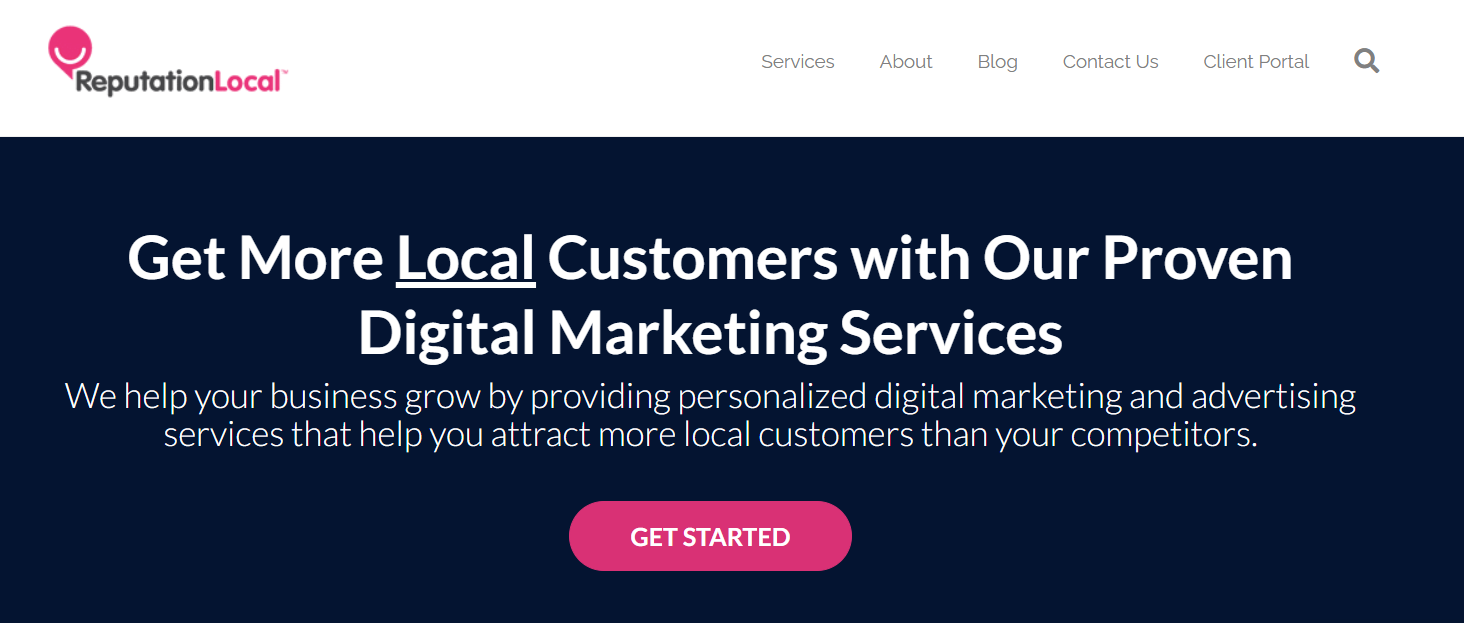 Locations: Denver, Colorado
Replocal operates in the local advertising arena and is known for its adeptness in curating personalized digital marketing solutions aimed at propelling businesses to the pinnacle of local prominence. At the core of its offerings lies a robust suite of services meticulously designed to augment online visibility and foster engagement with a localized clientele.
The agency is instrumental in optimizing clients' presence on platforms like Google, amplifying discoverability, and ensuring businesses resonate with relevance and authority in the local digital landscape. The agency's prowess extends to social media marketing, where tailored strategies augment engagement and brand resonance on popular platforms. Digital advertising campaigns, characterized by precision targeting and creative excellence, amplify reach and conversion rates. In the realm of lead generation, Replocal stands distinguished for its capability to attract and engage highly targeted local leads, marking a convergence of reach and relevance.
Online reputation management is executed with finesse, where online reviews are adeptly managed to foster positive brand perception. Moreover, the agency's acumen in website design ensures cross-device compatibility and aesthetic excellence, mirroring the brand's ethos while enhancing user experience, thereby translating digital interactions into tangible business growth.
---
Key Statistics Highlighting the Impact of Local Advertising
Local advertising can be a powerful tool for small businesses to seize the local market and drive tangible growth. To further explain the benefits of pairing with local advertising agencies, consider the following industry statistics:
Local advertising presents an untapped avenue for many small to medium-sized businesses, and it can be seized with the help of local advertising agencies. As more businesses recognize their unmatched ability to forge strong, enduring connections with local audiences, their role is set to expand, reinforcing their importance in the overarching narrative of the advertising landscape.
---
Conclusion
The pivotal role of local advertising agencies in shaping consumer perception and driving business growth is undeniable. These agencies, with their specialized insights and customized strategies, stand as unsung heroes, turning the wheels of brand visibility, customer engagement, and sales augmentation.
Tangible industry statistics further corroborate the effectiveness of these agencies. Their adeptness in weaving the intricate tapestry of localized insights, strategic acumen, and creative brilliance ensures each campaign resonates profoundly with the intended audience. As businesses stride towards an era marked by heightened competition and evolving consumer preferences, the nuanced, tailored, and impactful approach stands as a beacon, illuminating the path to sustained brand prominence, customer loyalty, and business growth.
Frequently Asked Questions
How do local advertising agencies adapt to the changing consumer trends?
Local agencies stay abreast of changing consumer trends through continuous market research, consumer feedback, and leveraging data analytics. They adapt their strategies to align with evolving consumer preferences, ensuring campaigns remain relevant and effective.
What is the role of technology in the strategies implemented by local advertising agencies?
Technology plays a crucial role; agencies use advanced tools for data analytics, targeting, and campaign optimization. It aids in creating personalized, efficient, and impactful advertising campaigns that resonate with the local audience.
How do local advertising agencies ensure the cultural relevance of their campaigns?
Agencies focus on deep understanding of local cultures, traditions, and preferences. They engage in thorough research and often involve community insights to craft campaigns that are culturally sensitive and resonant.
Can local advertising agencies cater to a diverse range of industries?
Yes, these agencies often have a diverse portfolio, showcasing their adaptability to different industries. Their expertise in local market dynamics allows them to tailor campaigns that meet the specific needs of various sectors.
How do local advertising agencies measure the success of their advertising campaigns?
They utilize a mix of qualitative and quantitative metrics including, but not limited to, customer engagement, conversion rates, brand recall, and ROI. These metrics are analyzed to measure the effectiveness and impact of their campaigns.