Marketing automation has become more than just a buzzword. It's now a crucial component of every business to fuel growth. Marketing automation and email marketing platforms offer a lot of benefits, for small businesses and global enterprises alike.
Let's look at two of the leading marketing automation and email marketing platforms, Mailchimp and Klaviyo, to see which one will fit your business's needs.
Mailchimp vs. Klaviyo:
---
What Is Mailchimp?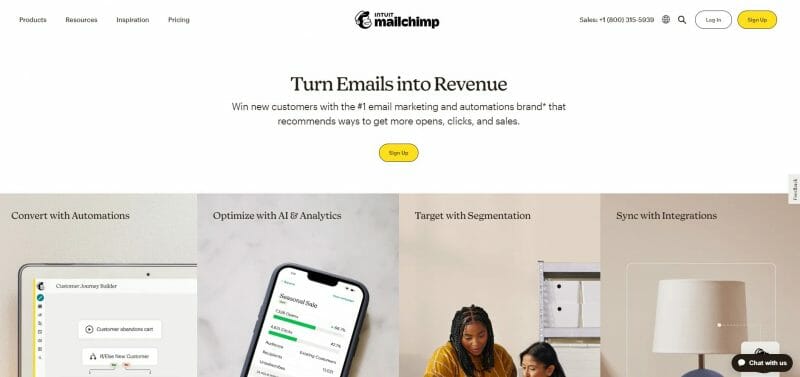 Mailchimp has been around since 2001. It started as a bootstrapped startup that specialized in helping small businesses access technology for email marketing services. Now, Mailchimp has evolved to be a powerful all-in-one marketing platform.
Aside from email marketing, the platform now includes solutions for recording and tracking customer leads, marketing CRM, advanced automations, social posting digital ads, and more. Mailchimp was recognized as one of the best marketing products for 2021 by G2.
This wider scope of features catapulted Mailchimp to become one of the world's leading marketing automation platforms. Mailchimp serves 2.4 million monthly active users and garners a market share of 60.51% in the email marketing industry.
It is clear that Mailchimp is a key player in the growth of many businesses since over 1.25 million eCommerce orders are generated daily via Mailchimp campaigns. Plus, clients have sold over $250 million worth of goods through A/B campaigns launched through Mailchimp. Aside from being 100% founder-owned, Mailchimp gives back to small and medium-sized businesses, investing over $12 million to jumpstart their growth.
---
What Is Klaviyo?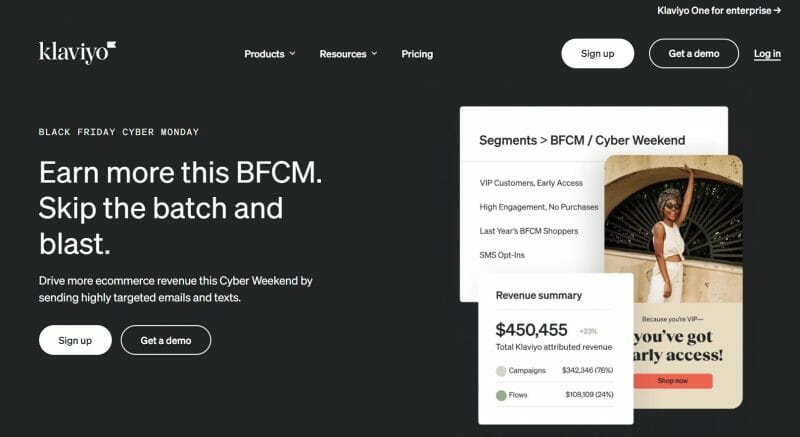 Klaviyo is another award-winning marketing automation software founded in 2012. It has received several awards, including the Organization of the Year, the "Best Overall Email Marketing Company", and the Best SaaS Product for eCommerce in 2021 alone.
This full-featured marketing platform makes it easier for businesses of all sizes to store customer data, build email-based customer experiences, engage customers based on brand interactions, and more. Klaviyo also offers growth workshops for marketers, equipping them with the knowledge and skills they need for growth.
While it boasts powerful features, Klaviyo is also an easy-to-use tool. Designed to eliminate steep learning curves, the platform offers seamless "this-minute" integrations with major eCommerce platforms like Shopify and BigCommerce, ready-today templates, self-sending messages (automation), and predictive analytics. Klaviyo has seen steady growth over the past few years and now serves more than 100,000 paying customers.
---
Mailchimp vs. Klaviyo: Which One Is Best for Your Business?
While Mailchimp remains one of the most popular marketing automation platforms, it still has its fair share of competition, which includes Klaviyo. Furthermore, Mailchimp has a slightly wider reach given that it's designed for different businesses, not just eCommerce. To learn more about Mailchimp and Klaviyo and to see which solution is right for you, we've compared the two platforms.
Automation
Both platforms offer powerful automation tools, such as pre-built automations like event and behavior-based automations and product recommendations. Mailchimp has a Customer Journey Builder feature that lets users access a visual interface with drag-and-drop functionality for monitoring customer interactions throughout their buyer's journey. This lets you create a personalized experience for your clients. Additionally, Mailchimp has a Single-Step Automation Series and Multistep Automations for the Mailchimp Standard plan (100,000 maximum number of contacts).
While Klaviyo offers something similar with its smart automation tools, it comes at a slightly higher cost depending on how many contacts you have. The more contacts you have, the higher the price of the plan. However, Klaviyo does have a "Flows" tab, which lets you access a lot of pre-built automation templates for welcome series emails along with options that offer workflow ideas for cart abandonment, customer win-back, and customer thank-you emails.
Campaigns
Mailchimp and Klaviyo have visual drag-and-drop campaign builders. Klaviyo lets you create product blocks using either the product feed or selected products from your store or catalog. If you're creating a product feed for specific categories or collections, Klaviyo can dynamically populate your product block.
On the other hand, Mailchimp has limited options for creating product blocks and doesn't show specific categories or collections. If you have two separate collections, you might find it difficult to make separate blocks to be shared with the appropriate audience segments.
Marketing Channels
When it comes to marketing channels, Mailchimp has the edge. Mailchimp offers email marketing, custom domains, landing pages, access to Creative Assistant (an AI-powered design tool), free website builder, product retargeting, transactional email plans (at an extra cost), and access to a content studio.
Klaviyo comes with capable marketing channels and features. However, these are limited to the following: dynamic content, Facebook ads, product recommendations, customer profiles, and signup and pop-up forms.
Integrations
Klaviyo has more than 220 built-in integrations. Some of the available integrations for Klaviyo are Okendo, Google Ads, Gorgias, Recharge, Wix, WooCommerce, Shopify, Magento Commerce, and BigCommerce. Note that the platform only currently supports one integration per type for a single account.
Mailchimp has over 300 integrations, including more than 250 pre-built integrations. Mailchimp's integrations include LinkedIn, Eventbrite, Google Analytics, Zapier, Automate.io, and OpenTable.
Reporting and Analytics
Mailchimp and Klaviyo offer a lot of depth when it comes to reporting and analytics. However, Mailchimp can simplify analytics by giving you the basics of your campaign page and A/B testing. If you want to access features like multivariate testing or more in-depth comparisons, you need to get a premium account.
A fantastic feature of Klaviyo is its in-depth integration with major eCommerce platforms. You can view metrics like bounced emails, unsubscribe rates, dropped emails, and opened emails. Klaviyo users can enjoy an easily customizable analytics dashboard, as well as real-time insights into customer activity. Furthermore, you can customize the way your reports look since Klaviyo offers options like bar graphs, charts, and plain numbers.
Given the sheer number of options for reporting and analytics from Klaviyo, you may find it hard to get used to dealing with a lot of data. If you're looking for a simpler option, you might want to consider Mailchimp's reporting and analytics instead.
Segmentation
Both platforms offer powerful segmentation. However, they do differ in some specific features.
If you're looking for in-depth segmentation for emails, Klaviyo has robust options. You may choose behavioral or transactional data to segment your emails. Plus, you get to gather data from your integrations, such as Shopify. You can create comprehensive segments and use the platform's data science tools to build more detailed segments. However, Klaviyo only operates across five channels: email, SMS, push notifications, Facebook, and Instagram.
Mailchimp offers a list-based segmentation, which gives you a general look at your customer base. With Mailchimp, you can segment your audience on seven marketing channels based on behavior, buyer-stage characteristics, location, interests, etc. Additionally, Mailchimp can predict your contacts' demographics to help you create more strategic campaigns.
Usability
For users who want something simple, Mailchimp may be the best option. After all, it does a great job of simplifying complex processes like designing branded emails and creating workflows. Mailchimp also has an AI-powered Creative Assistant that lets you create stunning designs for different channels in one click. Want to stay consistent with your branding? The Creative Assistant lets you import your brand's assets and create your own brand kit.
Klaviyo is also designed to be user-friendly with its drag-and-drop interface and automatic website integrations, allowing you to easily use your brand's assets. If you want to have more control over your emails, Klaviyo offers convenient content blocks that you can customize without having coding skills.
Customer Support
Mailchimp has an award-winning customer support team that won 14 Stevie Awards. However, if you have a free account, you're limited to the following options:
Guides and tutorials

Marketing tips

Marketing glossary

Email support for 30 days

Hire an expert (for designing, copywriting, and other optimization services)
If you want more access to customer support, you'll have to sign up for any of the paid plans. The Premium plan currently offers the best support options, which include phone support and priority response along with the features you can get with the free, Essentials, and Standard plans. Meanwhile, the Essentials and Standard plans offer everything under the free plan, plus 24/7 email support and live chat support.
Klaviyo offers useful resources like its database and Community access for free plans. However, live chat support is limited only to paid plans. Note: Klaviyo's email support is only available from 6:00 a.m. to 10:00 p.m. (ET) on weekdays. On weekends, it is available from 10:00 a.m. to 4:00 p.m. (ET). If you have a free plan, Klaviyo has a free 24/7 virtual chatbot called Kira.
Pricing
When choosing a marketing automation platform, you need to carefully consider your budget. It's likely that you've already set a budget for such solutions, so let's take a quick look at each platform's pricing plans, starting with Mailchimp.
Mailchimp offers four pricing plans for its Marketing Platform service. Businesses that have 500 contacts can access the free plan that offers 2,500 monthly email sends and access to features like pre-built email templates, 300+ integrations, forms and landing pages, and basic reporting and analytics. If you want to enjoy more features, Mailchimp also has the following plans:
Essentials, which starts at $11 per month

Standard, starting at $17 per month

Premium, which starts at $299 per month
Pricing varies according to the number of contacts you have. The platform also has different pricing plans for its other services, namely Websites & Commerce and Transactional Email.

Klaviyo offers flexible pricing tiers that vary based on how many contacts you have. For 0 to 250 contacts, Klaviyo offers a free plan that gives you up to 500 monthly email sends and 150 free monthly SMS or MMS credits. For businesses with more contacts, such as 251-500, the pricing plans are as follows:
Email, which starts at $20 per month

Email and SMS, starting at $35 per month
With every tier, you get access to features like one-click integrations, reporting, and personalized benchmarks. If you choose to go with higher tiers, you can get your own account manager.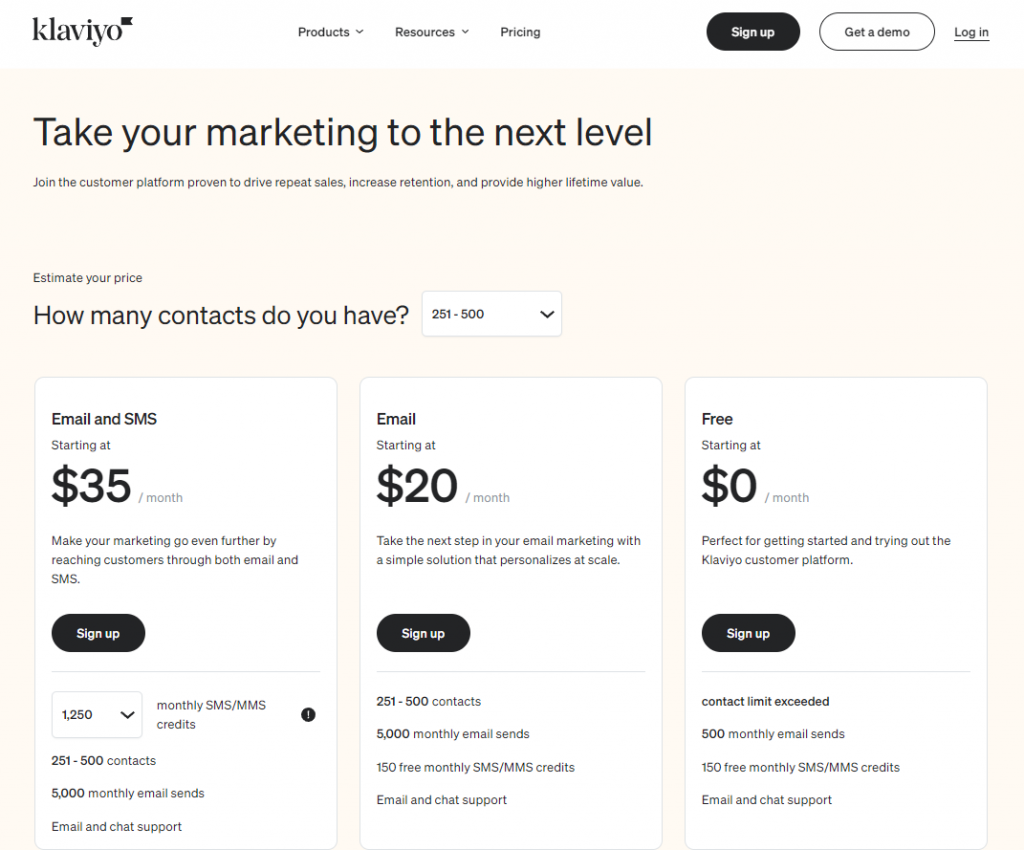 Do you want more help comparing other marketing software? Use our handy Software Comparison tool.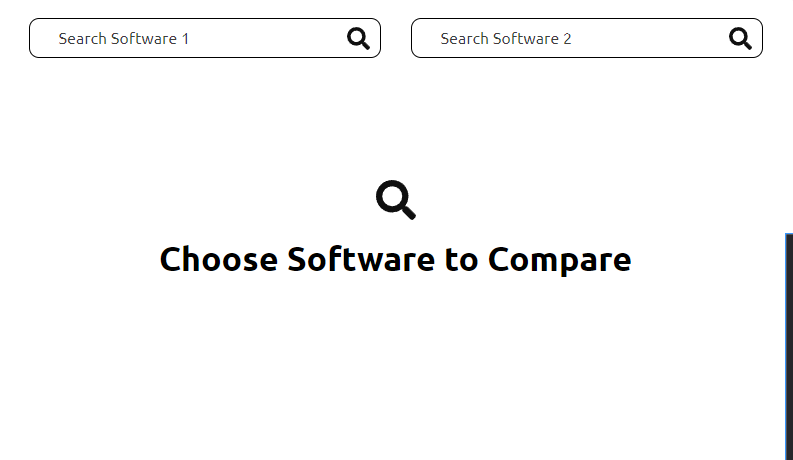 ---
Which Is Best: The Verdict
Ultimately, the best platform for you will depend on what you're looking for and what you want to achieve.
If you want something that's easy to use, budget-friendly, and can be utilized for businesses other than eCommerce, Mailchimp is a good option. It offers more than basic email marketing solutions. It has a range of solutions for marketing, including a website builder, numerous integrations, an online store launcher, and more.
For those who have already established an online store and want to grow their businesses through optimizing email or SMS channels (or both), cutting-edge segmentation, powerful targeting capabilities, robust automations, and quick integrations, consider opting for Klaviyo. However, Klaviyo is more expensive with a bigger learning curve.
If you think that Mailchimp and Klaviyo don't fit the bill, there are several alternatives that can help boost your email marketing. Some of the best alternatives to Mailchimp are Campaigner, Sendinblue, and GetResponse. Leaning toward Klaviyo but want something different? Some of the Klaviyo alternatives worth checking out include Omnisend, Drip, and Campaign Monitor.
---
Why Use Marketing Automation Platforms?
Marketing automation platforms eliminate the need to manually perform repetitive tasks. They provide you with accurate reports, generate and nurture leads, efficiently manage data, and make systems and processes more scalable. By helping you save time and resources, marketing automation allows you to concentrate on generating revenue, building relationships with your customers, streamlining your operations, and delivering better customer experiences. Furthermore, marketing automation can reduce marketing overhead by 12.2%, and increase conversions by up to 77%.
Small businesses can offer a more organized and personalized way to connect with their clients by using marketing automation tools. Marketing automation and email marketing platforms combine various solutions, such as segmentation tools and comprehensive reports, to make marketing more efficient.
---
Choosing the Best Marketing Automation and Email Marketing Platform
Picking the right platform can be tricky, which is why we're sharing a few tips to help you find the right one.
Consider key factors, such as your budget, company size, and the scalability of the platform. How about onboarding? Does a particular platform offer training or resources to help you get started?

Assess your immediate and future needs. What features do you need right now? Do you want something that can help you create a website, or do you want a solution that gives you comprehensive reporting and analytics? Are you looking for a platform that's easy to use? What about integrations? Also, consider the platform's capacity to scale as your business grows.

Carefully go over each platform's features, such as usability, support, and segmentation capabilities, to see which ones best meet your needs. The great thing about both Mailchimp and Klaviyo is that they offer free plans, so you can get a feel of their features and functionality. From there, you can decide which platform you want and if you should upgrade your plan.

Go over the marketing channels that the platform is compatible with.

Check customer reviews to see what others are saying about a particular solution. This can also help you learn how others are using platforms like Mailchimp and Klaviyo.
Frequently Asked Questions
What is marketing automation?
Marketing automation is the practice of using software to automate repetitive marketing-related tasks to boost productivity and efficiency as well as streamline business operations. It can help you offer better customer experiences through optimized omnichannel experiences, personalized campaigns and messages, and enhanced customer support by leveraging data to quickly address their pain points.
How can Mailchimp and Klaviyo help my business grow?
Both platforms allow you to utilize data, take advantage of automation, employ several marketing channels, and access crucial features for growth. For example, Mailchimp has features that can help businesses create websites and launch their eCommerce business online. Meanwhile, Klaviyo offers a central hub that lets you utilize data, so you can have a more in-depth understanding of your audience and give them enhanced customer experiences.
Are there any alternatives for Mailchimp and Klaviyo?
Yes, there are plenty of options, including Omnisend, ActiveCampaign, Sendinblue, Campaigner, Campaign Monitor, and GetResponse.