If there's one thing the pandemic changed about consumer habits, it's how they shop. Not only are they ordering more products online, they're using various channels to do it.
Social selling is growing in popularity, but not just in the B2C sector. B2B companies are using social media to promote their expertise and products.
And why shouldn't they when you have 75% of B2B buyers using social channels to guide their purchasing decisions? This method for lead generation is beneficial for sales teams looking to nurture prospective customers and stand out from the crowd.
But, before we jump into how you can have a successful social selling strategy, let's break down what social selling is.
---
6 Tips to start social selling to a B2B audience:
---
What is social selling, exactly?
Social selling involves using social media channels to build relationships and engage with your prospective customers to drive sales. For example, on LinkedIn, you'll find marketing experts sharing tips with an audience of businesses in a particular industry (e.g., eCommerce, SaaS, finance).
Over time, they'll build authority and trust, and potentially earn clients for showing up regularly on the platform. It's a subtle way of advertising your services without using your posts as advertisements.
Is Social Selling the Same as Social Media Marketing?
Social selling and social media marketing aim to sell a product or service. But the latter targets a broader audience and centers on the brand. On the other hand, social selling focuses on building individual relationships with prospective customers through your personal brand.
Social selling takes a sales-centered approach, while social media marketing builds brand awareness. It's positioning yourself as a credible thought leader or industry expert with the intent to drive sales.
Now, social selling isn't about constantly mentioning a product or service—it's showing prospects you know the industry well, so they consider you an expert.
---
6 Essential Tips to Start Social Selling
Now that you've gotten an overview of what social selling is and how it works, here are six tips to get started.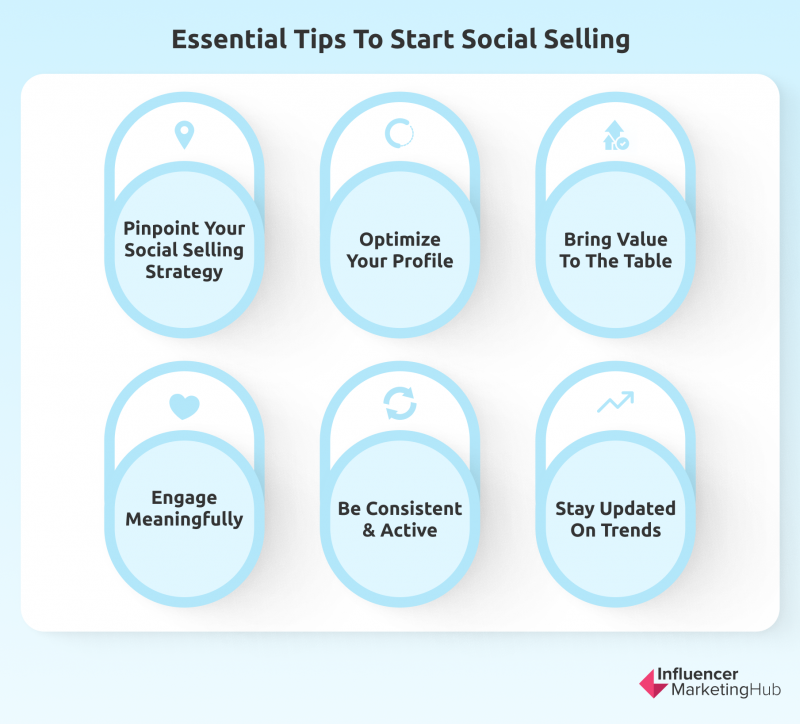 1. Pinpoint Your Social Selling Strategy
The first step: create a solid strategy. Identify the ultimate goal, so you have a clear path to getting the results you want. For example, getting more leads from sales professionals needing coaching services.
Here are several questions to answer before you begin:
Who is my ideal customer?

Where can I find these prospective customers or leads?

What value can I bring to the table?

What channels are my competitors using?

What channels should I focus on?
With the answers to these questions, you'll know who you're targeting and how to reach them.
The Best Platforms for Social Selling
The best social media platforms will vary based on your target customers. For instance, if you're selling software to businesses that sell professional services, then LinkedIn or Twitter are ideal channels. However, say you sell a digital tool or service targeting small eCommerce businesses, then Instagram may be an excellent place to engage with prospective customers.
Social listening can also help you find prospective customers to engage with. For example, using Twitter's Advanced Search Feature to find and follow specific hashtags. On LinkedIn, you can also follow hashtags and join groups related to topics or industries.
Then there are social listening tools that make the process easier with less manual work on your end, like Sprout Social and Mention.
---
2. Optimize Your Profile
To build credibility, you need a professional profile that clearly states your offer. If a prospect heads over to your page, they should know immediately what you do and how you can help them.
When designing your profile, keep the following in mind:
Use a high-quality or professional image for your profile

Add a professional banner to your profile (for LinkedIn and Twitter)

Have a concise headline or description that sums up who you are and what you do

Link to your website or company's page
This Chief Growth Officer showcases his organization very clearly on his profile, along with the areas he specializes in.
Whether you'll social sell on LinkedIn, Twitter, Instagram, or Pinterest, keep the look consistent across platforms. For example, use the same profile photos and bios, so it's easy to identify your profiles across platforms.
---
3. Bring Value to the Table
While marketing and advertising are direct, social selling takes a more subtle approach. Your content shouldn't constantly promote your brand, product, or service. Think about it—would you follow someone on social media who just posts ads? If you want to build trust with your audience and truly get them to be interested in what you have to say, bring value to their feeds.
People enjoy learning ways to make their lives easier, both professionally or personally. Tailor your content with that in mind. But don't be afraid to show your personality through memes, funny anecdotes, and hot takes that those in your industry will appreciate.
This founder shares relevant tips that resonate with his target customers.
Not sure where to begin with content creation? Put yourself in your customer's shoes. What frustrates them? What is their daily work routine? What's tedious and time-consuming that your product or service can help solve?
A few ideas for posting valuable content: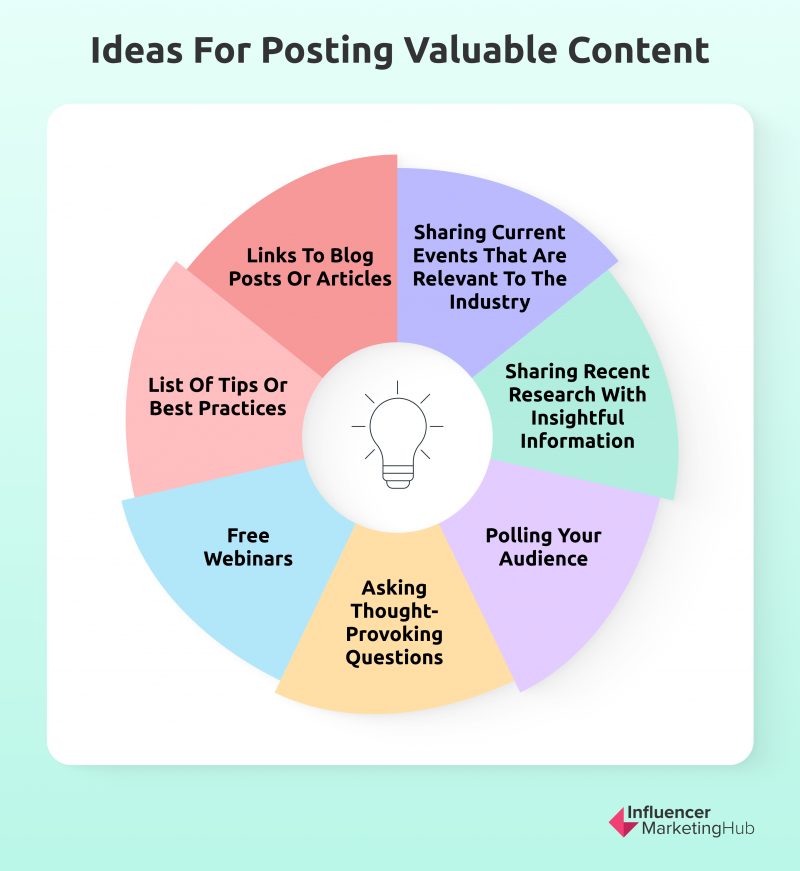 Use a mix of short, easily digestible posts with long-form content. The topic and channel will determine which to use. Experiment with both across various channels to see what performs best.
---
4. Engage Meaningfully
Posting thought leadership content from your blogs, studies, videos, and research is valuable. But what really gets engagement are posts that start a conversation. So pose a question to your audience or comment on recent developments in the industry to get feedback. Use current events that are buzzing on social to offer your unique take.
This executive resume writer not only answers a question from a user, but she turns it into an opportunity for her audience to learn something new.
In the example above, the LinkedIn user isn't selling anything. But the number of reactions, comments, and shares shows this type of content resonates with people, including job seekers (who would be this user's target customers). While it's a different approach to social selling than previous examples, the result is similar—this individual builds credibility, trust, and awareness among her audience.
But social selling isn't posting content and logging off, only to return when you have something else to share. If people comment on your posts, give meaningful responses to them. Comment on others' posts, and if that person is looking for recommendations or advice on something you're knowledgeable about, share your expertise.
And this leads us into our next point.
---
5. Be Consistent & Active
Set aside time in your schedule to be consistently active on social media. If you publish a post and engage with your prospects one day and disappear for two weeks, you won't make a lasting impression.
Social selling works because it's a gradual nurturing process. Relationships aren't built overnight—it may be months until you see results. But putting the time in is worth it if it means growing your business.
Finding the line between posting too little or too often can be tricky. But if you're just starting, once a week is a good place to begin. Divide your time between engaging on others' posts and posting your own content. Remember, engagement is a two-way street—you post on other's content and they'll likely return the favor (and even bring along some of their audience with them).
Tip: See how often your competitors (or thought leaders/salespeople for that organization) post and engage on social media platforms. See what's working and where their approach is lacking.
---
6. Stay Updated on Trends
Social media is fast-paced, making it tough to keep up with trend and the momentum they bring. As you're searching for topics to touch on, avoid being the individual that jumps on a topic just because it's hot. Choose topics wisely and that resonate with you, your brand, and your target audience.
For example, if you have a web development agency and Google makes an update to its algorithm that rewards sites for user-friendliness, you can share your insights. Let your audience know what they can do to improve their UX so its accessible.
Google's update is likely a hot discussion already—but you can spin it from an angle that appeals to prospective customers. And indirectly show them how your agency can ensure their website will always be up to speed with changing guidelines.
Aside from the content piece of the equation, something you'll also have to consider is the format. Video content, for example, has the highest engagement per impression rate on LinkedIn. Other social platforms also tend to see higher engagement with video content rather than static images or plain text - but that doesn't mean that you can't get results from adding these types of formats to the mix. What matters, at the end of the day, is what formats get your customers' attention.
---
Wrapping Up
Social selling is an excellent way to build your online presence and client list. Done right, you can gain a loyal following who advocates for your business and its products or services.
Just keep your focus on the end goal, so you don't fall into trends for the sake of being popular. At the end of the day, your on social media to build relationships, not win a popularity contest.
Use these tips to get started and continue to experiment and innovate to improve your results.
Frequently Asked Questions
What are social selling techniques?
Social selling is all about using a brand's social media channels to connect with prospective buyers and engage with potential leads. These engagement tactics can help businesses reach sales goals. Social selling is like modern relationship-building online.
What are the 4 pillars of social selling?
To be successful in the fast-paced world of social selling, you need to understand the 4 pillars of social selling:
Creating a professional brand

Finding potential leads

Engaging with leads

Building long-lasting business relationships
How do I master social selling?
To master social selling, follow these 4 key steps:
Focus on building your brand and build your thought leadership profile

Find potential leads

Engage with your leads and make them feel comfortable

Only pitch when the time is right

Follow your competitors
What are examples of social selling?
Here are 5 examples of social selling to help improve sales:
Optimize your LinkedIn profile

Target your LinkedIn connection

Share quality content and position yourself as a thought leader

Interact with leads and build trust