Talent management includes literally everything that happens in your business related to recruiting, training, rewarding and retaining employees and is part of the talent management process. While many businesses just lump it all together under the broad umbrella of "human resources," talent management processes are vital to your company's survival and deserve special attention. In this talent management guide, you'll learn everything you could ever want to know about talent management processes, strategies, and how to implement it in your business to attract and retain top talent. Let's dive in!
---
Talent Management Guide:
---
What Is Talent Management?
Talent management is a process in which a company puts together the best possible staff to handle the needs of its business. It includes all processes needed to attract, onboard, train, develop, reward, and retain top talent. This includes identifying vacant positions and talent gaps within the organization as a first step toward building a powerful workforce with the right people in the right roles.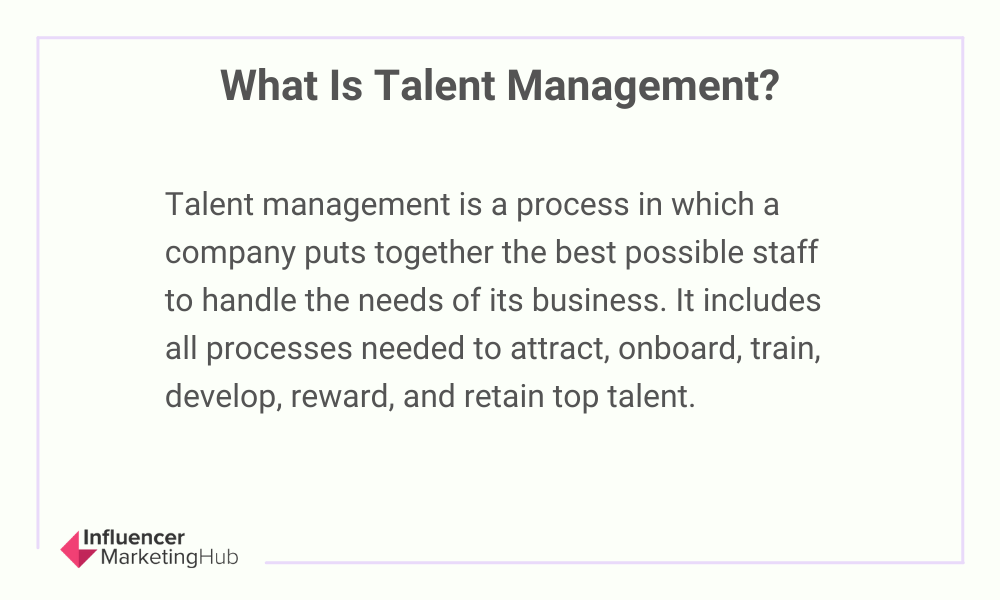 Here's an overview of each step in the process (we'll go into these steps more in-depth later in the article):
Attract:

Identify, hire, and onboard people who have the skills needed to be successful in the role for which they're hired and who are a good fit with the company culture.

Develop:

Provide training and education to ensure that employees are continually improving their skills.

Retain:

Keep high performers on staff through a combination of compensation, incentives, and rewards that are in line with their motivations.
Common Talent Management Practices
There are several talent management practices companies use to ensure that they are focusing on building a workforce that fills the company's needs:
Workforce Planning:

A comprehensive review of goals and staffing needs.

Critical Roles:

Identifying roles essential to the company's goals, strategy, and performance.

Career Paths:

A progressive plan for moving talent into specific roles with increasing responsibility.

Talent Acquisition:

Attracting and hiring new talent.

Onboarding:

A process for bringing in new hires and getting them up-to-speed with company operations and their own role.

Development:

Specific, individualized employee development and training.

Performance Management:

A process to evaluate each employee's performance, establish compensation, and guide development.

Talent Review:

A process to move talent into specific roles and the development needed to make those transitions happen.

Bench Strength:

A comprehensive review of employees and their readiness for stepping into leadership roles.
---
Talent Acquisition vs. Talent Management
So, what's the difference between talent management and talent acquisition? For starters, talent acquisition is just one piece of the talent management process. It's the process of attracting, identifying, and hiring the right employees to meet the needs of a business. This happens through a strong brand, establishing applicant pipelines, maintaining relationships with candidates, and culling potential hires from a range of backgrounds. In addition to talent acquisition, talent management includes coaching and training, succession plans, mentoring, and rewarding those who've been hired.
---
HR vs. Talent Management
Talent management exists within HR. Both teams work together to hire, train, develop, and reward employees, but the HR department is where the policies guiding talent management originate. In addition to talent management, HR also includes:
Workforce management:

Oversight of time off, scheduling, and time worked.

Human resources management:

Collects and stores personnel information as well as handling payroll and employee benefits.
---
Benefits of Talent Management
Talent management is vital for successful business operations because it helps you understand, align, and develop your employees, maximizing their value to drive company growth.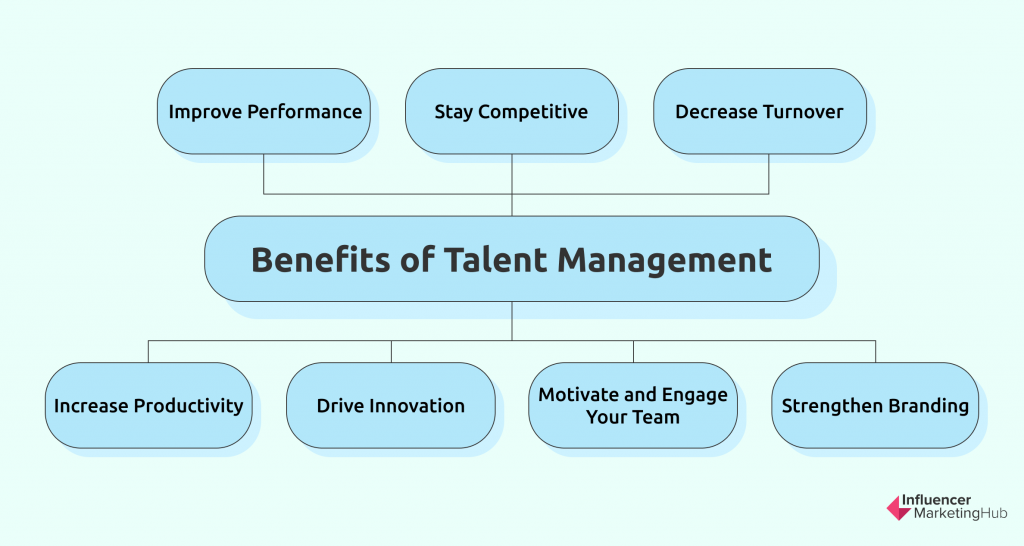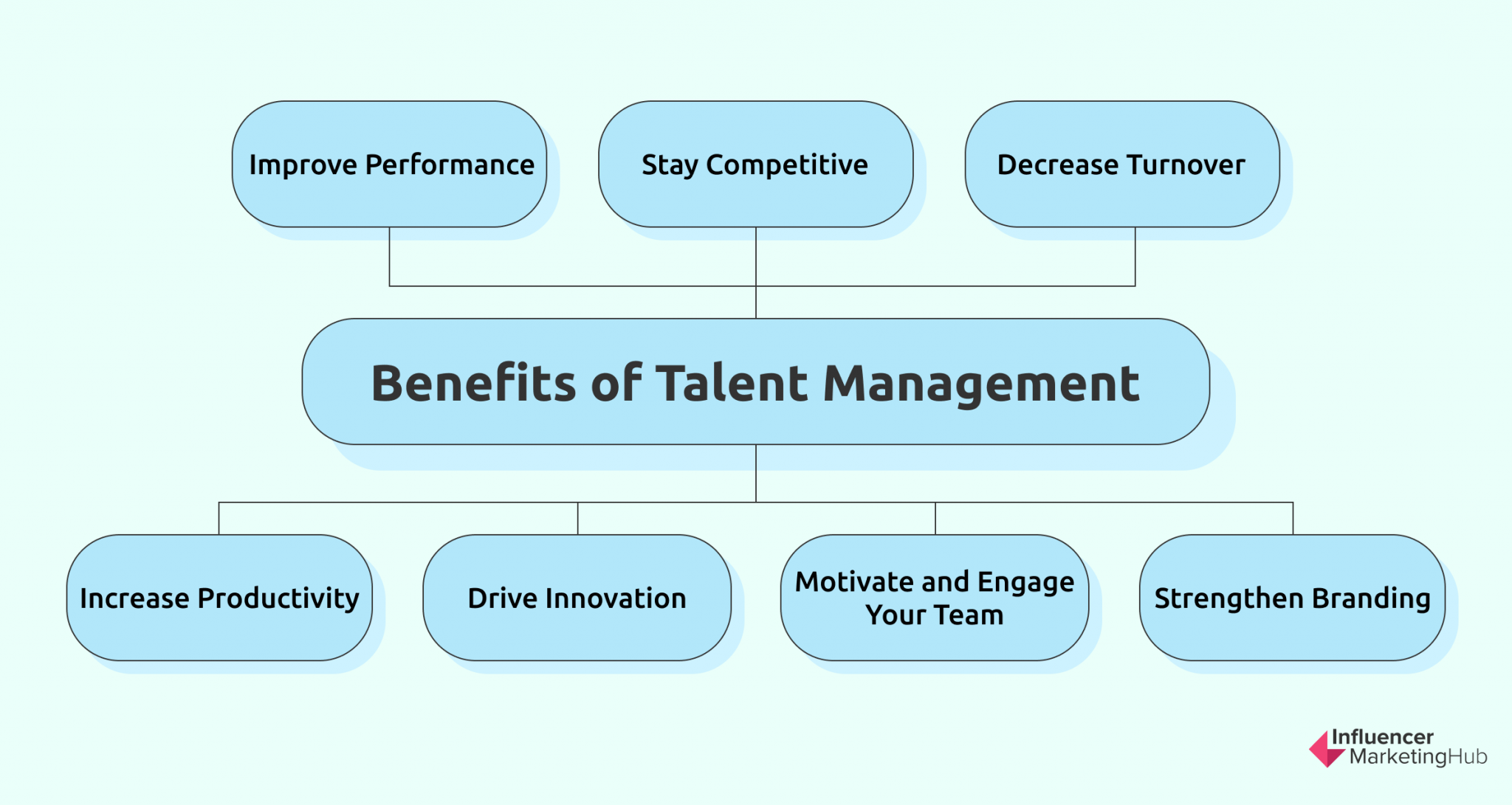 Here are seven ways a powerful talent management process can benefit your business:
1 . Improve Performance
Talent management helps you bring in the best, most qualified employees. With the right people in the right positions, your company will be poised to achieve your goals.
2. Stay Competitive
When you have the right talent in place and can retain that talent over time, your organization is better able to respond to changes, challenges, and risks.
3. Decrease Turnover
Effective talent management processes ensure that your employees feel valued and have opportunities to grow within your company. And, thanks to that potential, it's less likely your employees are going to look for work somewhere else.
4. Increase Productivity
When you have the right employees in the right roles, your team will naturally be more productive. Adding to this, employees tend to work harder when they know that their contributions are valued.
5. Drive Innovation
Talent management can also drive innovation. This happens because your employees have the tools they need to succeed, the freedom to do their jobs, and the support to continually develop their skills.
6. Motivate and Engage Your Team
Through talent management, your employees will feel empowered and supported to provide their best work. Talent management involves regular check-ins and feedback that helps employees understand where they're succeeding in their tasks and where they have opportunities to improve. This feedback acts to motivate and inspire your employees.
7. Strengthen Branding
A comprehensive talent management process leads to company growth that will help you bring in the best and brightest candidates going forward. This growth supports a stronger brand and better brand reputation.
---
The Talent Management Model
There's no standard model for talent management. Despite requiring a bit more work for your company to create your own, this is actually quite beneficial because you can develop a model that works the way your unique business needs require. When creating your talent management model, be sure to include these elements: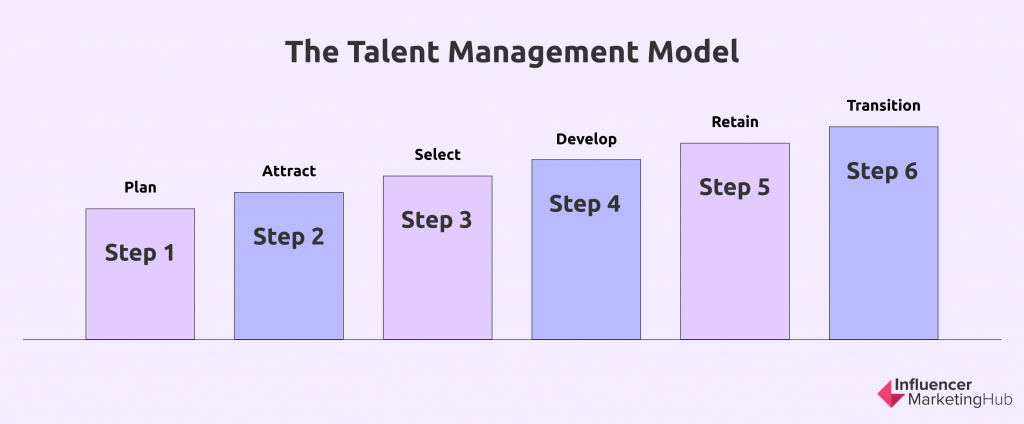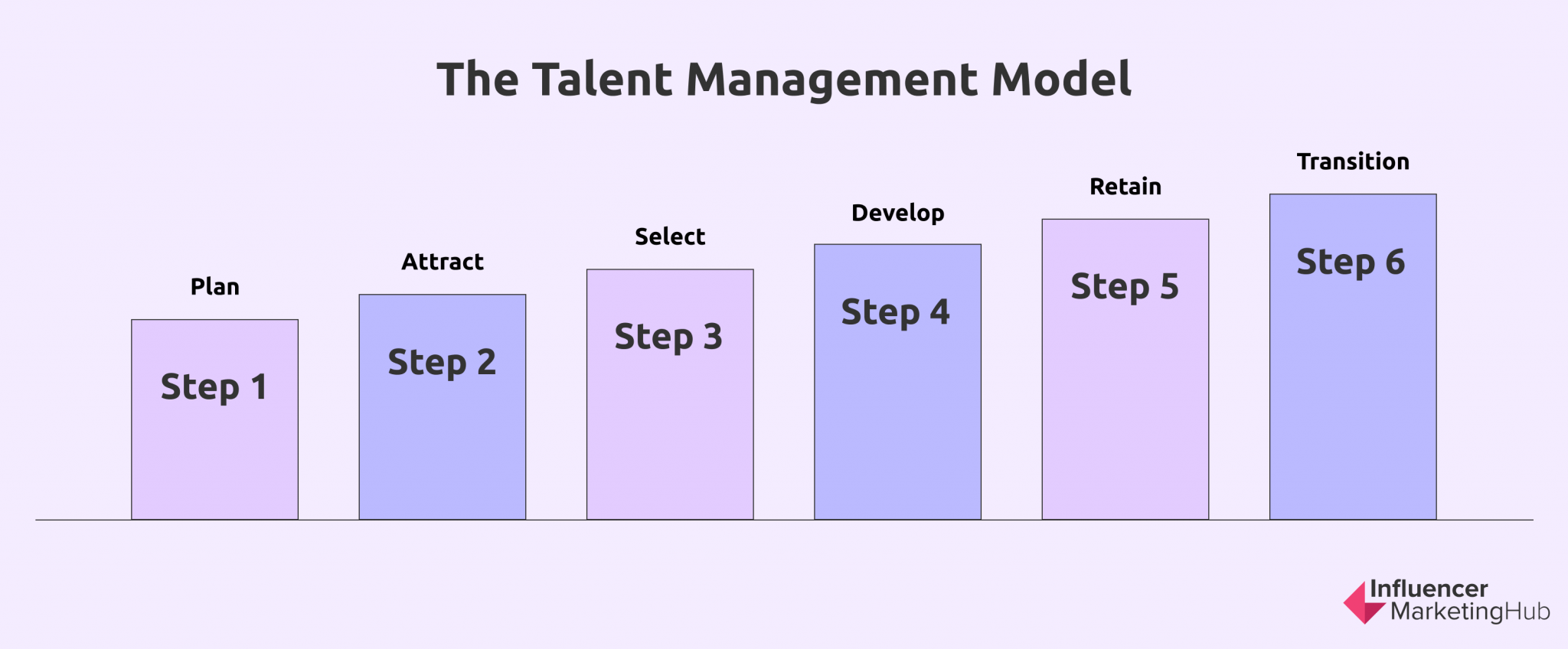 Step 1. Plan
You need a plan for just about anything if you want to succeed. For talent management, this means understanding your human resource needs, detailing the skill gaps you need new employees to fill, creating job descriptions that are actually descriptive and powerful, and laying out a complete plan for employee onboarding, training, development, compensation, and retention.
---
Step 2. Attract
Attracting the right talent for a position doesn't necessarily mean hiring an external candidate. Take inventory of the talent you already have within your company to ensure that employees are distributed effectively, based on the skills, experience, and career motivations your employees have. Once you've identified the needs your existing employees are able to fill, you'll have a much better plan for attracting employees for the right positions (be they internal or external candidates).
It's our recommendation to always fill positions with internal candidates first. If you're finding that you don't have employees with the skills needed to fill your open higher-level positions, that's a good indication that your company has some work to do on the employee training and development front. Filling open positions internally helps you retain talented, skilled employees and can even boost employee morale across your company.
---
Step 3. Select
The selection process will likely have multiple steps depending on the job and how many candidates you have interested in it. Many companies use some sort of resume review to whittle down the list of candidates. From there, you might do a phone screen before setting up face-to-face interviews. For creative roles, you may even have candidates do a test project. It helps to have a detailed list of the skills you want to see from your candidates along with a rubric that makes scoring those candidates easy to do.
Once you've narrowed it down to a single candidate, you'll head into negotiations to discuss salary and benefits and make your offer.
---
Step 4. Develop
Once you've chosen a candidate and they've accepted your offer, you'll want to onboard them. You might want to have two onboarding processes — one for internal hires and one for external hires. Onboarding helps employees get up to speed on the company, your products and services, the company culture, standard operating procedures, and more. In addition to these basics, onboarding should include and feed into your employee development process. Right away, you want to ensure that employees are getting the training they need to develop the skills they need to do their job effectively as well as an understanding of what they need to do to advance within the company.
---
Step 5. Retain
Employee retention is a vital part of talent management. You don't want to continually hire, onboard, and train employees just to have them leave. You've probably heard that acquiring new customers is a lot more costly than retaining the customers you already have, and the same is true for employees.
To keep your talent engaged and happy with your company, take the time to develop employee retention strategies that include compensation, promotions, incentives and bonuses, opportunities for growth within the company, and other retention strategies that motivate your employees. You might even consider creating a specific retention plan for each employee based on their unique motivators.
---
Step 6. Transition
Transition or succession planning is another important step in the talent management process. This includes transitions for both employees who are exiting the company entirely or who are moving into a new position within the company. For employees who are leaving the company, you'll want to conduct exit interviews to better understand why the employee is leaving so you can potentially keep it from happening in the future. For internal changes, transition planning should be built into employee development and training.
---
Talent Management Strategies
Talent management strategies can help you attract the best and brightest, empower employees to grow and succeed within your company, and retain your employees. Here are five talent management strategies that will make talent management a lot easier for your company and more enjoyable for your employees.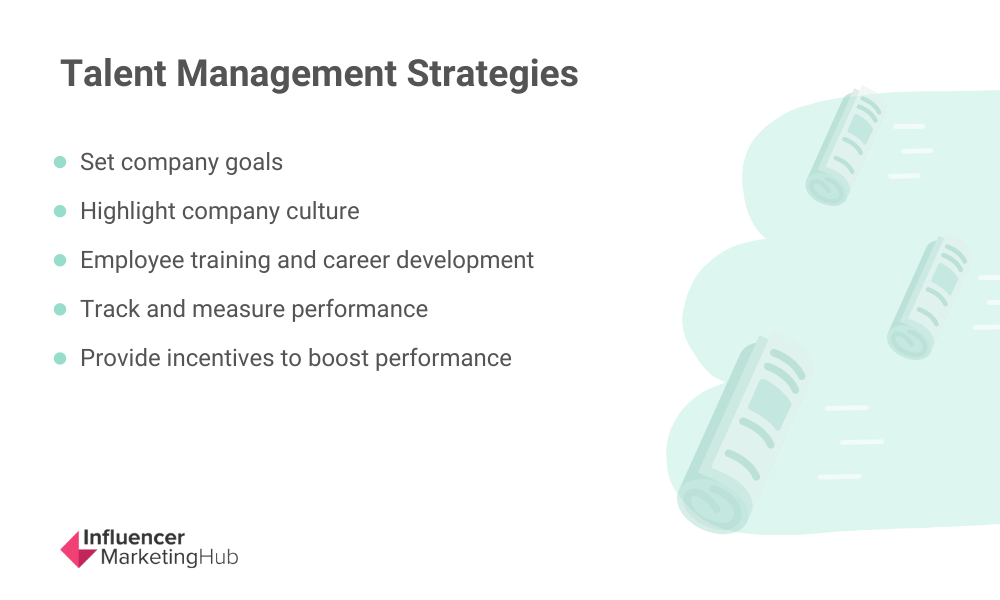 1. Set Company Goals
Setting company goals goes a long way toward ensuring a robust and effective talent management system. Come together as a team to establish goals, objectives, and KPIs (Key Performance Indicators) and share those goals with everyone in your company. Employees are going to feel more committed to performing well, hitting milestones, and be more engaged if they understand where they fit in and how they contribute to the company's goals.
These goals are also incredibly beneficial when it comes to attracting and hiring new talent. You'll be able to create better job descriptions and job postings which will increase the quality of candidates you get. Plus, you'll be able to match what candidates have to offer with your company goals to ensure that your new hires are going to help you reach those goals.
---
2. Highlight Company Culture
A company's culture consists of several elements like leadership style, the company's mission. ethics, values, expectations, work environment, and goals. The culture of a company is apparent in the attitudes and behavior of company leadership and employees including how they work together, how they communicate, their values, symbols, rituals, and the decisions made.
While "culture fit" is a bit of an HR buzzword, it's actually really important. Poor company culture is going to result in high turnover, low morale, and subpar candidates. There's not a single company culture that works for every company, so you'll want to take the time to decide what's important to you as a company. Then, highlight that everywhere. When you're clear about your expectations, candidates and employees will be, too.
---
3. Employee Training and Career Development
One of the most important things you can do for your business and your employees is to offer them training and development opportunities. We recommend putting together a robust and interactive training program that goes beyond a webinar here or there. With the abundance of learning management systems (LMS) on the market, there's no reason you can't build an educational, engaging, and entertaining development process for new and existing employees.
In addition to training, you'll want to map out career paths for your employees, too. These provide an easy-to-understand and easy-to-follow map for employees who are interested in growing within your company. And every role should have a detailed career trajectory that includes the skills needed to reach that position. These should be as clear and detailed as possible to eliminate any ambiguity.
Providing specific career paths, coupled with career development training will help your employees improve their skills and lead to better performance, increased productivity, and greater job satisfaction. All of this helps you retain the employees you're investing in.
---
4. Track and Measure Performance
Tracking and measuring performance involves several different elements. First, you'll want to set goals, objectives, and KPIs (Key Performance Indicators) for your team. These are metrics that will give you an at-a-glance overview of how each employee on your team is performing so you can stay on track to meet your organizational goals, address gaps in knowledge or performance, and highlight opportunities for improvement.
Once you have KPIs and goals established, you'll need to set up a feedback and review process. Performance reviews are important to keep everyone on track and moving towards their goals. You can set up your review process to happen as often as you'd like; many companies opt for annual reviews, but bi-annual and quarterly reviews are also common. We recommend implementing 1-on-1 meetings or weekly team meetings to cover progress towards goals and KPIs so you can stay on top of things and identify issues as they arise instead of waiting until your scheduled review period.
The review process should be open and transparent. Employees should be ready to discuss challenges, brainstorm solutions, and accept constructive criticism on their performance. Supervisors should also be open to feedback and encourage employees to push them to provide the support employees need to achieve their best.
---
5. Provide Incentives to Boost Performance
Recognizing and rewarding your employees can go a long way towards increasing motivation, boosting morale, and improving employee retention. While compensation is a piece of this, it's not the only consideration. In addition to compensation, you'll want to provide a solid benefits package, a fair paid time off policy, opportunities for advancement, bonuses, prizes, and more.
And some employees just want to be told they're doing a good job.
---
Talent Management Tips and Best Practices
Talent management best practices regularly change and evolve. It's important to stay on top of current trends in talent management so you can adopt the trends that make sense for your business. In addition to the constantly evolving trends, there are several talent management best practices that have remained consistent over time.
Spend Time on Branding
Believe it or not, branding plays a big part in attracting talent to your company. An outdated look and feel can be a huge turnoff to potential employees. Make sure that your logo, brand colors, and website design are all fresh and timeless. Then, make sure that your entire online presence follows that branding.
---
Go After the Right Candidates
When it comes to attracting the right talent, branding is important but it will only get you so far. In fact, if your company branding is on point, you're likely to draw in quite a few unqualified candidates with the qualified ones. And that's why it's so important to go after the best candidates for your company.
The first step toward bringing in highly qualified candidates for your vacant positions is to create detailed, compelling job descriptions. Then, seek out candidates the way you would seek out customers — go after them where they spend their time online. This could mean sharing your vacancies as LinkedIn posts, sharing them in Facebook groups and forums, and even running social ads if that's the best way to reach your ideal candidates.
Once you have an influx of qualified candidates, you'll need to narrow them down. It helps to have a rubric against which to measure the strength of their resumes. From there, you'll head into testing, assessments, and interviews.
---
Set Up Employee Mentoring and Advocacy Programs
Another talent management best practice is employee mentoring. Mentoring and advocacy programs can keep your employees engaged, help them stay informed about what's going on in your business, and give them the additional support they need to continue growing with your business.
---
Streamline Your Onboarding
We've talked a bit about onboarding already in this talent management guide, and for good reason. Having a solid onboarding process sets incoming employees up for success within your company. Right away, they get a deep understanding of your company culture, processes and procedures you have in place, who's who in your business, how to do their job, how to use the tools they'll need to use, and who to reach out to if they need help.
---
Create an Employee Exit Plan
Sometimes, despite your best efforts, employees will leave. The exit could be voluntary or involuntary, but no matter what, collecting information through a solid exit plan can help you fix any issues so you can attract and retain better employees in the future. Exit interviews or surveys are a great way to collect information about why an employee is leaving. We recommend creating two exit plans, one for employees who've been terminated and another for those who choose to voluntarily separate.
---
Communicate Efficiently and Effectively
Transparent, regular communication is vital in fostering the kind of environment that brings in high-quality talent. Employees want to know what's going on in their organization and feel more engaged and motivated when they understand where the company stands and their place in making it happen. To that end, be sure to keep employees informed and regularly bring them into company decisions to provide feedback. Remember, your employees are the people who have to implement and execute the strategies that will move your company toward the goals leadership sets.
---
Focus on Objective Data
The decisions you make for your company's future should be data-driven. This means putting in the effort to prepare rubrics that can be used objectively to analyze performance, not just employee performance but the company's overall ability to effectively use the tools and resources at its disposal. Of course, you also need to be able to decipher the data you get. That leads us to...
---
Use the Right Tools
You will need certain technology to effectively implement and execute your talent management processes. This might mean tools for employee performance management, onboarding, training, talent acquisition, and communication. Look for a software solution that will allow you to house your talent management processes in a single location so you're not wasting time moving back and forth between tools or (gasp!) entering the same data into multiple places.
---
Wrapping Up
Business can change at any time. This means that your talent management processes need to be agile so you can respond quickly to changing markets and landscapes. Nothing has highlighted this need more than the COVID-19 pandemic that began in early 2020 and sent many businesses scrambling to move to remote work.
With a talent management process that you're constantly evaluating and improving, you'll be in a much better place to bring in the best candidates, onboarding them properly, provide them opportunities to grow, and keep them around.
Frequently Asked Questions
What is talent management?
Talent management is a process in which a company puts together the best possible staff to handle the needs of its business. It includes all processes needed to attract, onboard, train, develop, reward, and retain top talent.
What's the first step of talent management?
The first step in the talent management process is planning. Make sure you understand your human resource needs, detailing the skill gaps you need new employees to fill, creating job descriptions that are actually descriptive and powerful, and laying out a complete plan for employee onboarding, training, development, compensation, and retention.
Why is talent management important?
Talent management has several benefits. It helps your company:
Improve employee performance
Stay competitive
Decrease turnover
Increase employee productivity
Drive innovation
Motivate and engage your team
Strengthen branding
What are the key components of talent management?
Talent management includes:
Understanding your needs
Attracting the right candidate for the role
Hiring and onboarding the right employee
Training and developing employees
Retaining employees
Transitioning internal employees to higher-level positions