One of the challenges that most small businesses face is resources. To grow their resources, and ultimately the business, they need customers. What if there were a way that they could create stronger customer relationships and use their resources more wisely at the same time?
This is where a CRM software enters the picture. A customer relationship management (CRM) software is a comprehensive tool that helps your business grow by organizing key information into a single convenient resource. This way, you can track and analyze all your interactions with your customers in one place.
The ROI benefits enjoyed by businesses that use CRM software are massive. According to Forrester Research, these businesses managed to improve their productivity by 50% and reduce labor cost by as much as 40%. What's more, SuperOffice found that more than 60% of businesses believe that mobile CRM is now a mainstream method for tapping into their customer base. So, if your business is still completing many sales-related tasks manually, it's high time that you invest in a CRM.
---
10 of the Best CRM Software for Small Businesses:
---
What to Look for in CRM software?
While we have only featured 10 CRM software solutions in our list, there are many more. So, how do you select the best one for your business? The following are a couple of factors to consider.
Intuitiveness
As you will be using your CRM on a daily basis, it is key that it is easy to understand and use. Also, be sure to check which level of support is offered before you sign up for a plan. Some plans offer little to no support. As small businesses are rarely blessed with their own IT departments, reliable customer support is critical.
Funnel Management
For small businesses with a sales team, funnel management is key. You are searching for a tool that will help you to stay up to speed with your customers from their first interaction till they become loyal brand ambassadors.
Customization
It is best to search for a software solution that offers customization features. This way, you will be able to adapt the software so that it fits in with the specific requirements of your business.
Automation
One of the main reasons why you are investing in a CRM is to save time. It is, therefore, key that it offers automation features to deal with repetitive tasks such as data entry and follow-up emails.
Affordability
Needless to say, pricing is a key factor for small businesses. Some of the CRMs in our list offer a free plan which might be worthwhile checking out first.
Social media tools
While not a deal-breaker, some CRMs offer social media features that will help you to keep track of what your customers are posting about your business on social media. With social media becoming an important marketing pillar, this feature can be useful in the long run.
---
10 Top CRMs for Small Businesses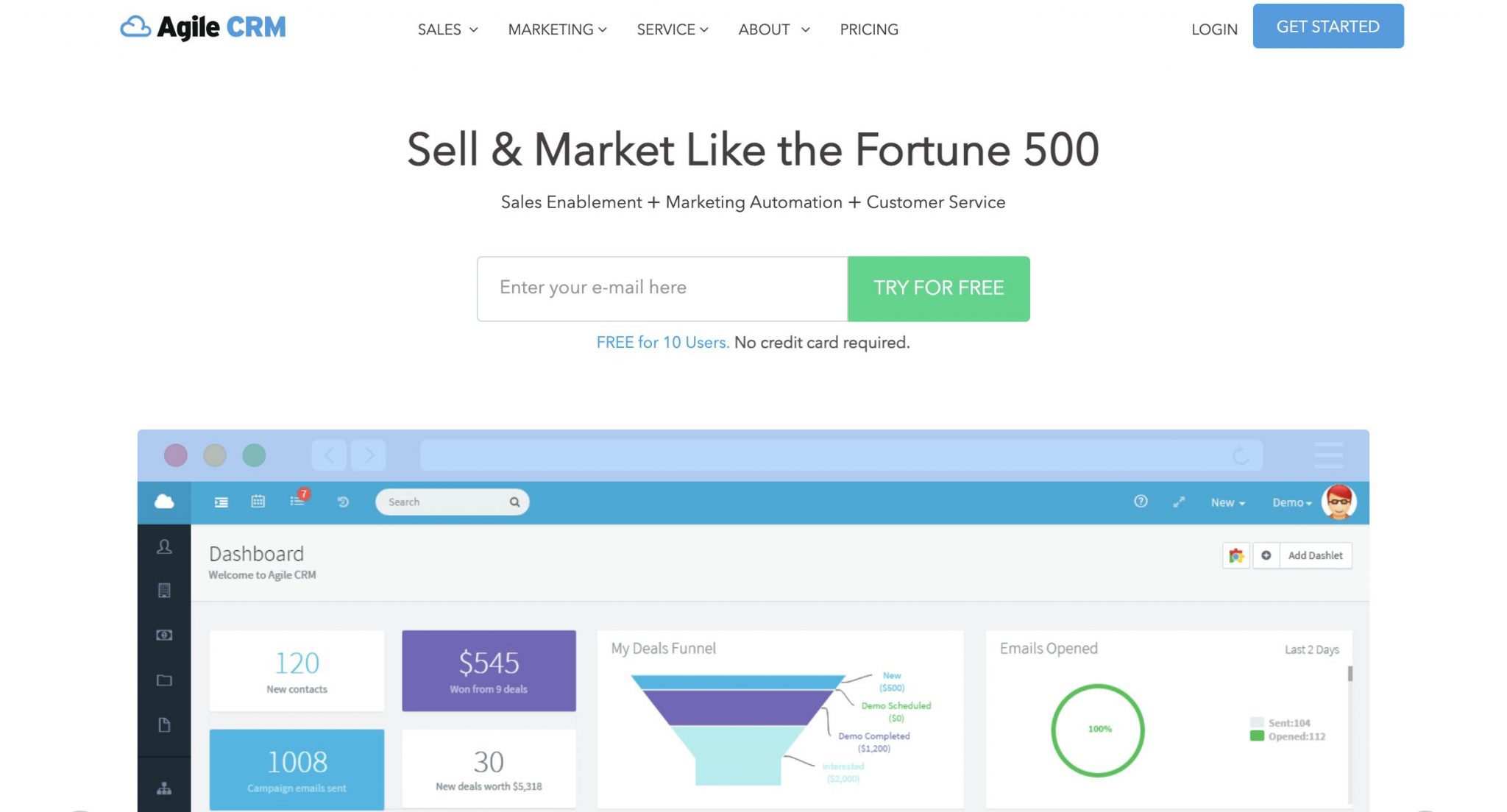 Trusted by more than 15,000 customers, Agile CRM is one of the best social media marketing software and all-in-one CRM solutions for small businesses. While it does offer a free plan for up to 10 users, it is rather restrictive regarding the number of features it includes. For example, for contact level analytics, an email templates builder, branded emails, and a form builder, you will need to sign up for one of its paid plans.
That being said, even if you end up settling on one of its paid plans, it is still more affordable than many other CRM solutions. Its Starter plan will set you back only $14.99 (per user per month), while its most popular plan, the Regular, costs $49.99 (per user per month). If integrations are a deal-breaker to you, it also offers an Enterprise plan ($79.99 per user per month) that gives you access to over 50 plug-ins and integrations.
Key features:
Email reports

Canned responses

Mobile marketing

Automated voicemails

Email tracking

Appointment scheduling
---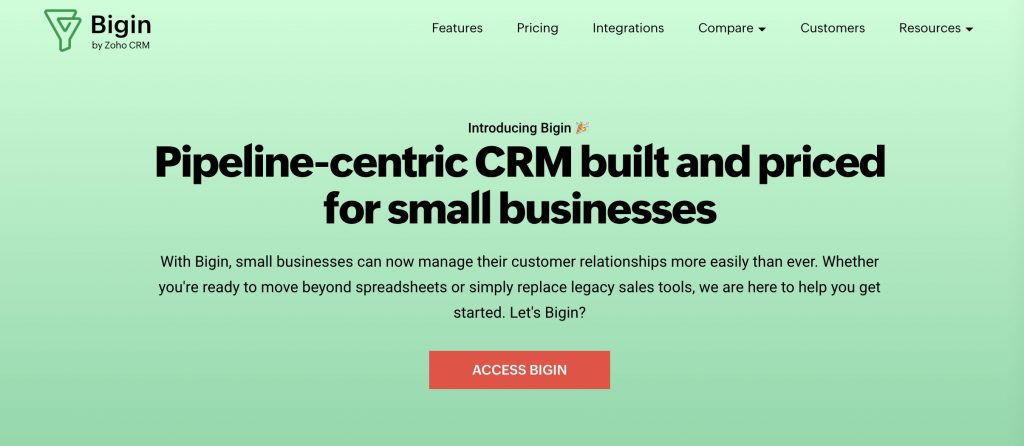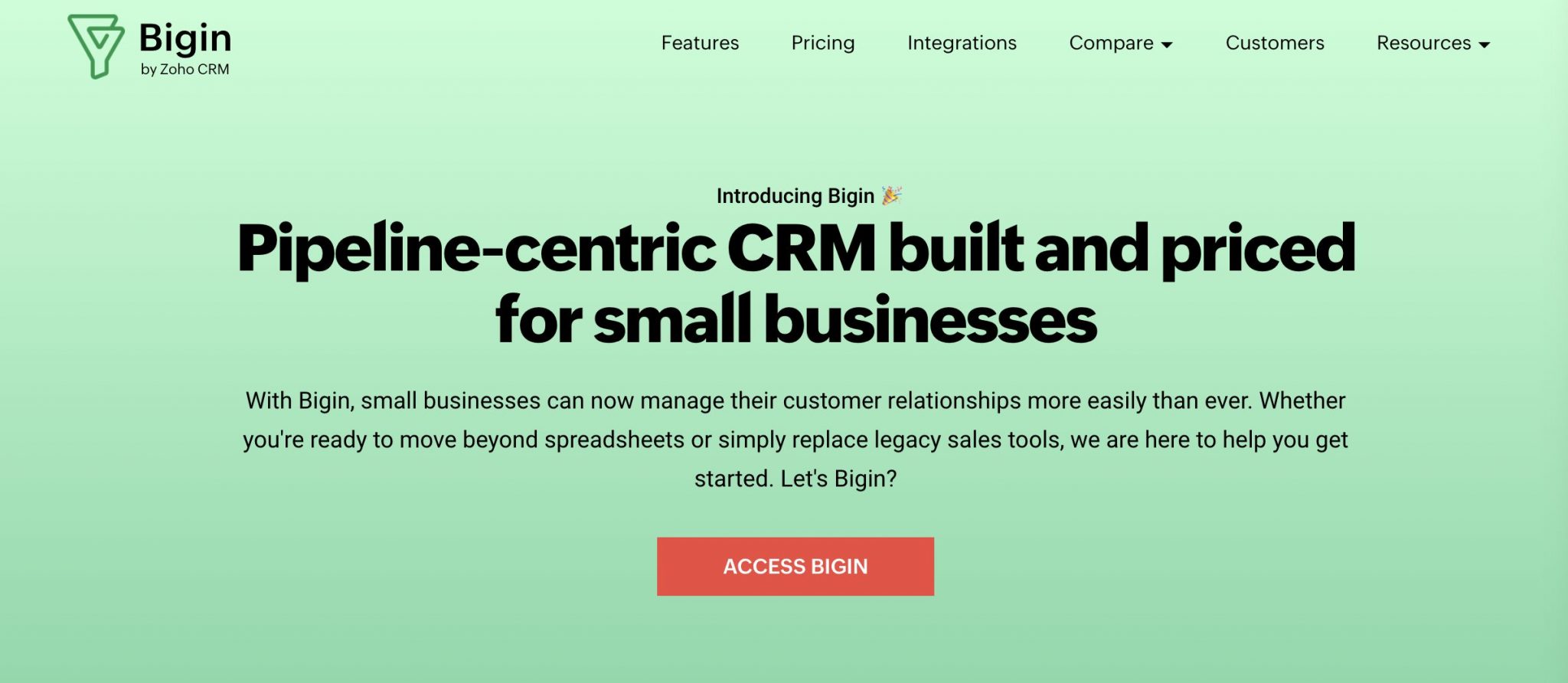 Boasting a 5-star rating on Product Hunt, Bigin was specifically created with small businesses in mind. The beauty lies in its user-friendliness thanks to its minimalistic approach. With it, you can get a comprehensive overview of your contacts with all the key information organized in one place. To connect with your prospects, you can contact them within Bigin thanks to the built-in telephony. If telephone calls are too old school for you, you can also add your own business email account in Bigin to link incoming emails automatically to your contacts.
Key features:
Built-in telephony

A pipeline view

Custom roles and profiles
---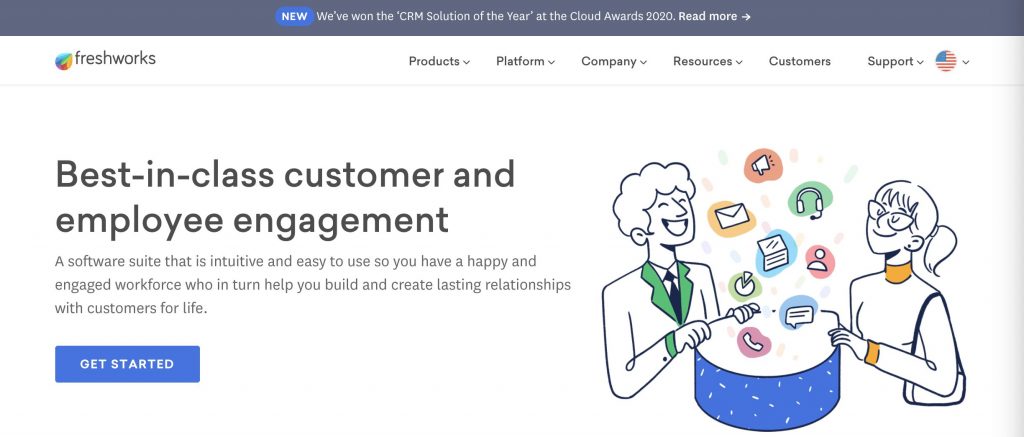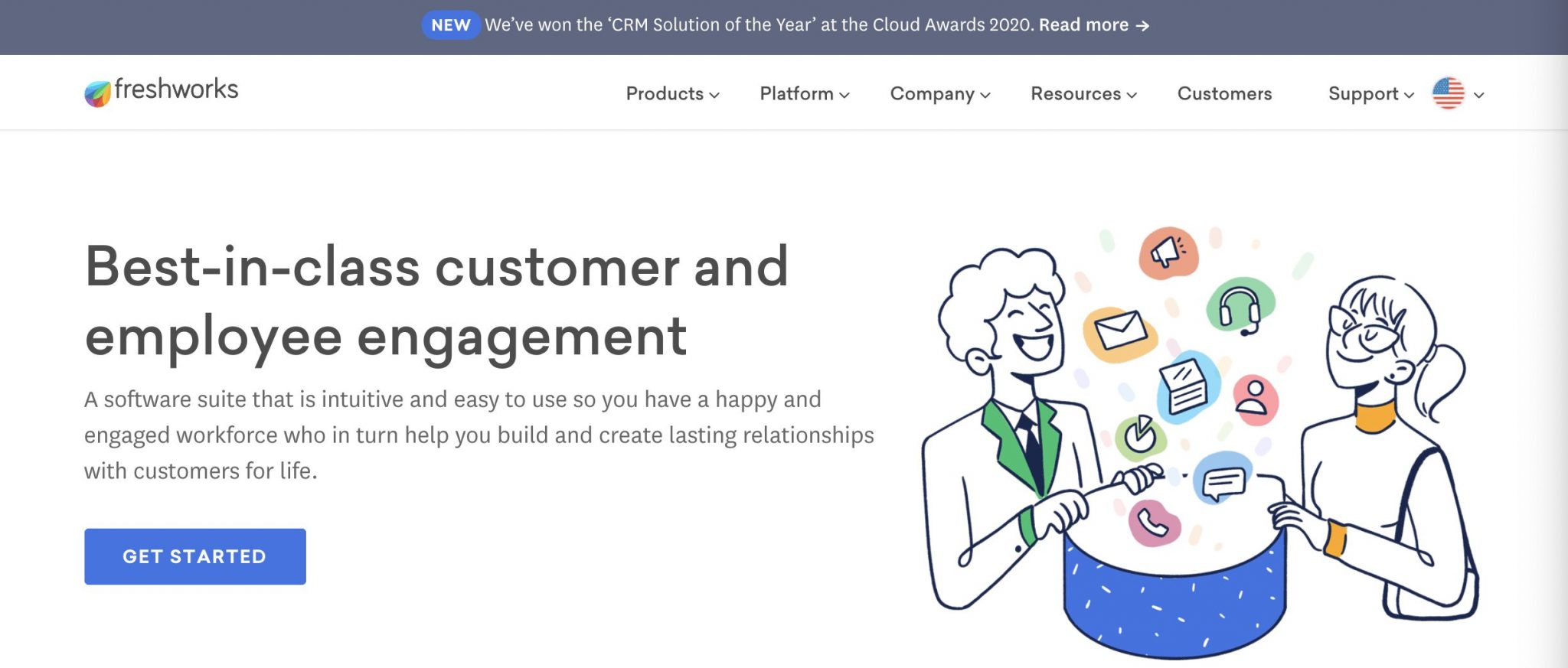 Similar to Keap, Freshworks can easily be used just as an email marketing automation tool. It offers all the features you need to engage and convert your target audience from subscribers into paying customers by means of email campaigns.
Even better, with its CRM functionality, you can collect detailed customer insights to take your marketing campaigns to the next level. One of its most attractive features is that it uses artificial intelligence (affectionately dubbed Freddy AI) to identify your best leads. The same AI will also analyze your deals to help you identify the next course of action.
Trusted by brands like Honda and Cisco, it will help you to attract, engage, and nurture leads. Its cheapest plan starts at $35 per month per user. If you opt to be billed annually, you can get almost 20% off the pricing.
Key features:
AI-powered chatbots

Custom web forms

Predictive contact scoring

Drag-and-drop builder

Landing pages

A visual sales pipeline

Custom reports
---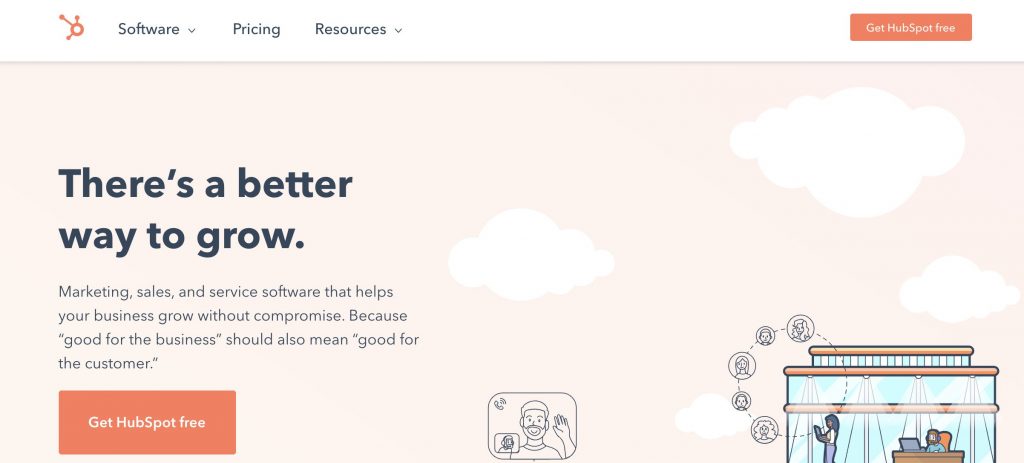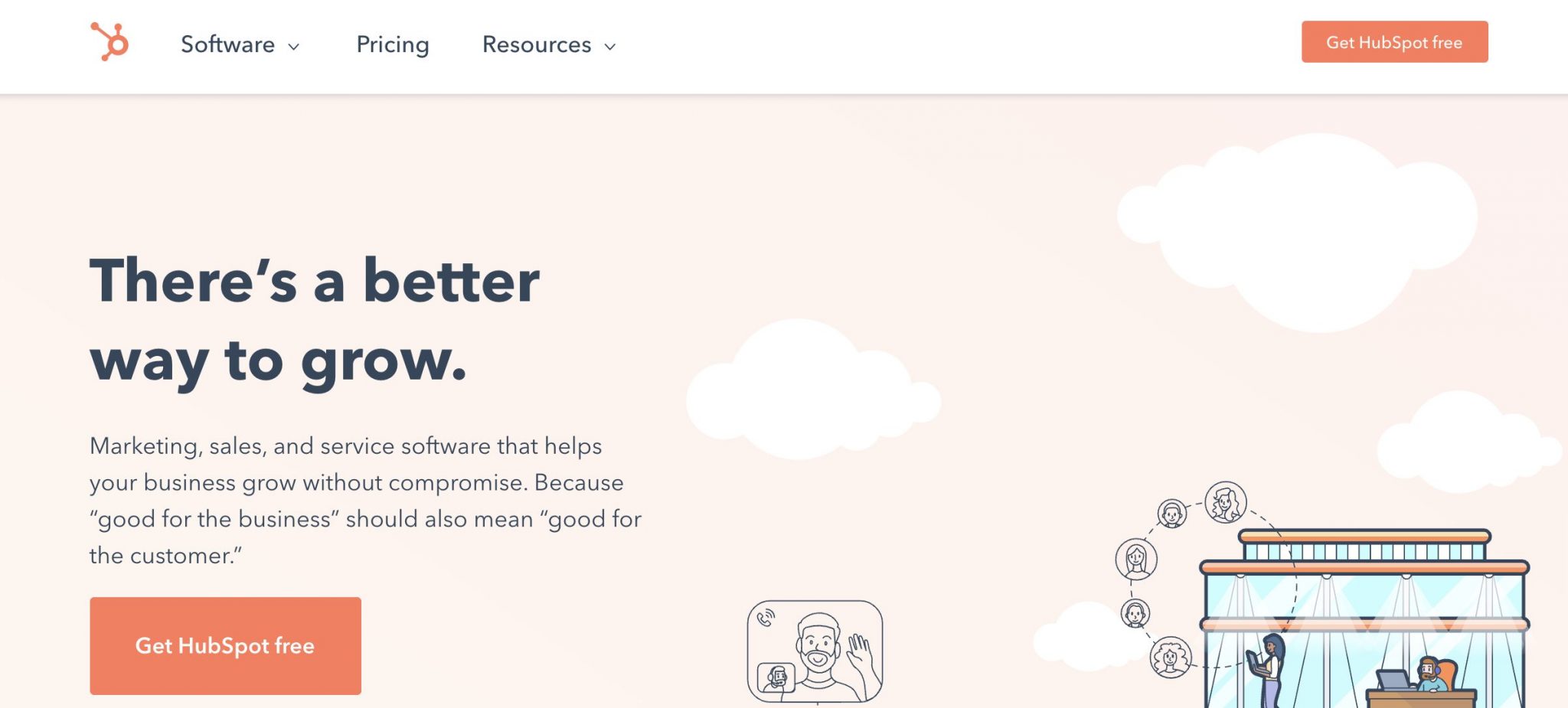 HubSpot offers all the integrations and features you need for sales, customer service, marketing and even content management. With the help of its visual dashboard, you can get an up-to-date overview of your sales pipeline. It is also useful for following up with leads. Your sales reps will be informed immediately when a prospect opens an email which enables them to spend their valuable time following up with the right leads.
Unlike many of the other CRM solutions mentioned in our list, HubSpot actually offers a free version of its CRM. What's more, you will be able to add unlimited users with your free HubSpot account and you may add as many as 1 million contacts.
Key free tools:
Contact management

Ticketing

Live chat

Email scheduling

Email marketing

Email tracking and notifications

Email templates

Reporting dashboard

HubSpot mobile app

List segmentation
---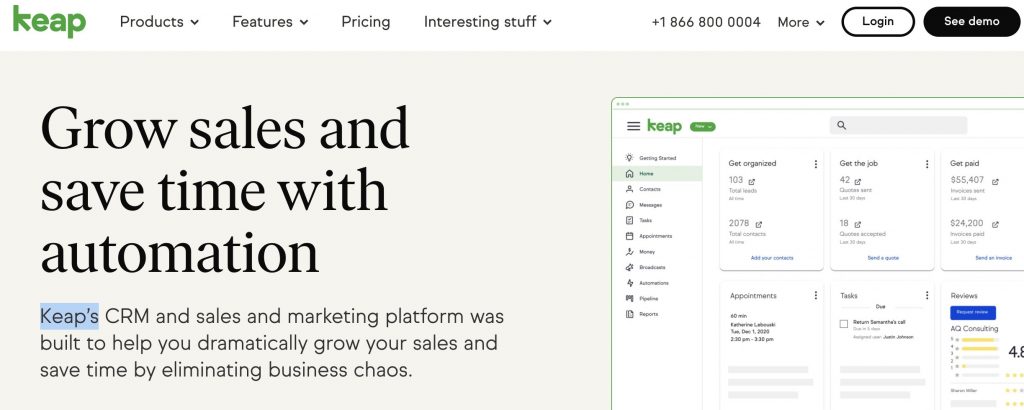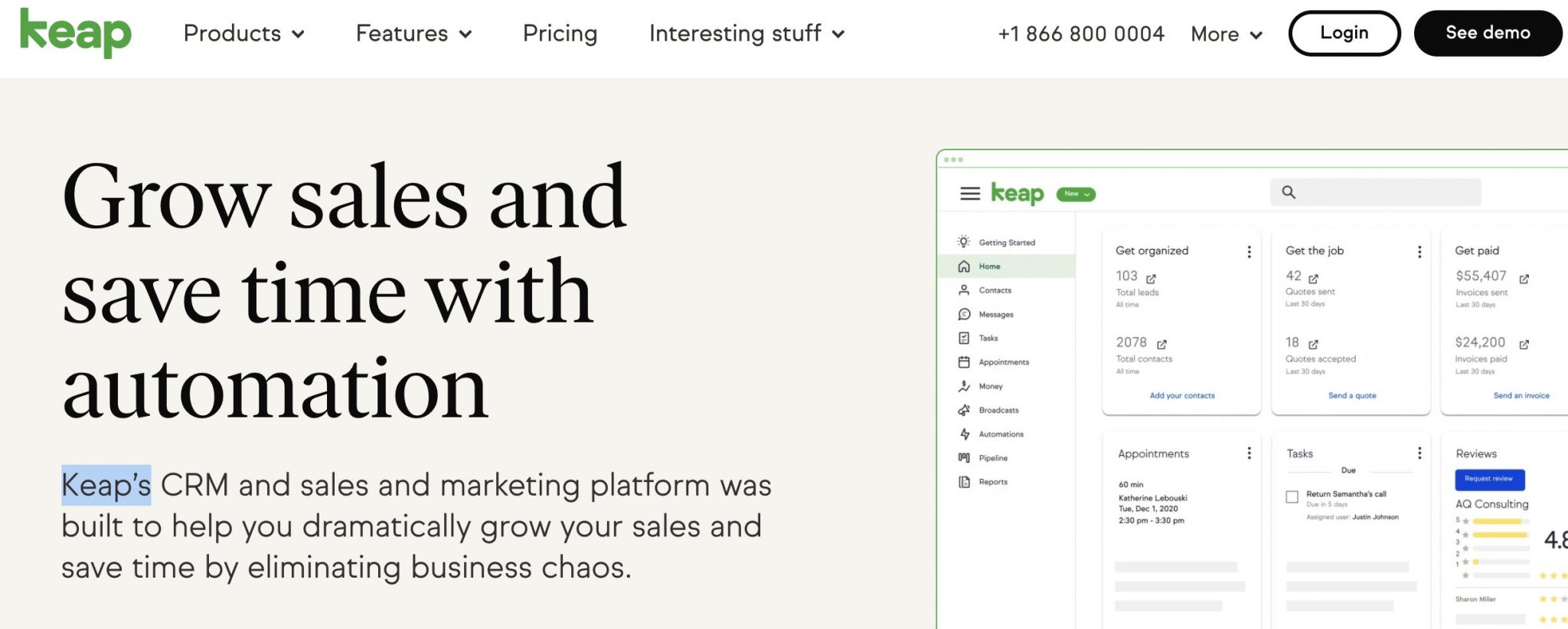 In 2019, Infusionsoft, one of the top email automation tools, rebranded to Keap. So, if you predominantly rely on email marketing, Keap can be a good choice as it places a lot of emphasis on email marketing.
For example, it offers a huge collection of email templates that you can customize for various needs. If you rely on SMS messaging as well, you will be happy to know that they are planning automated SMS messaging for later in 2021. For smaller businesses, its Lite plan ($79 per month) is the best option.
Key features:
Contact management

Contact segmentation

Built-in A/B testing

Lead capture

Default user roles
---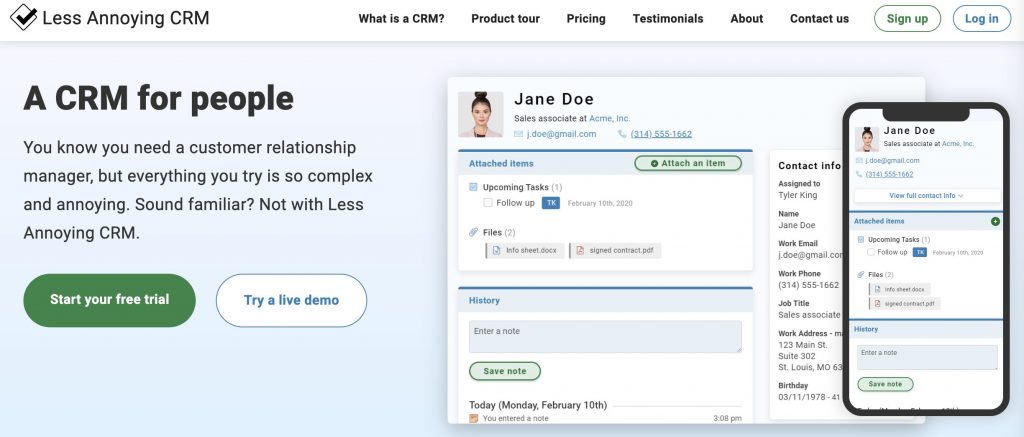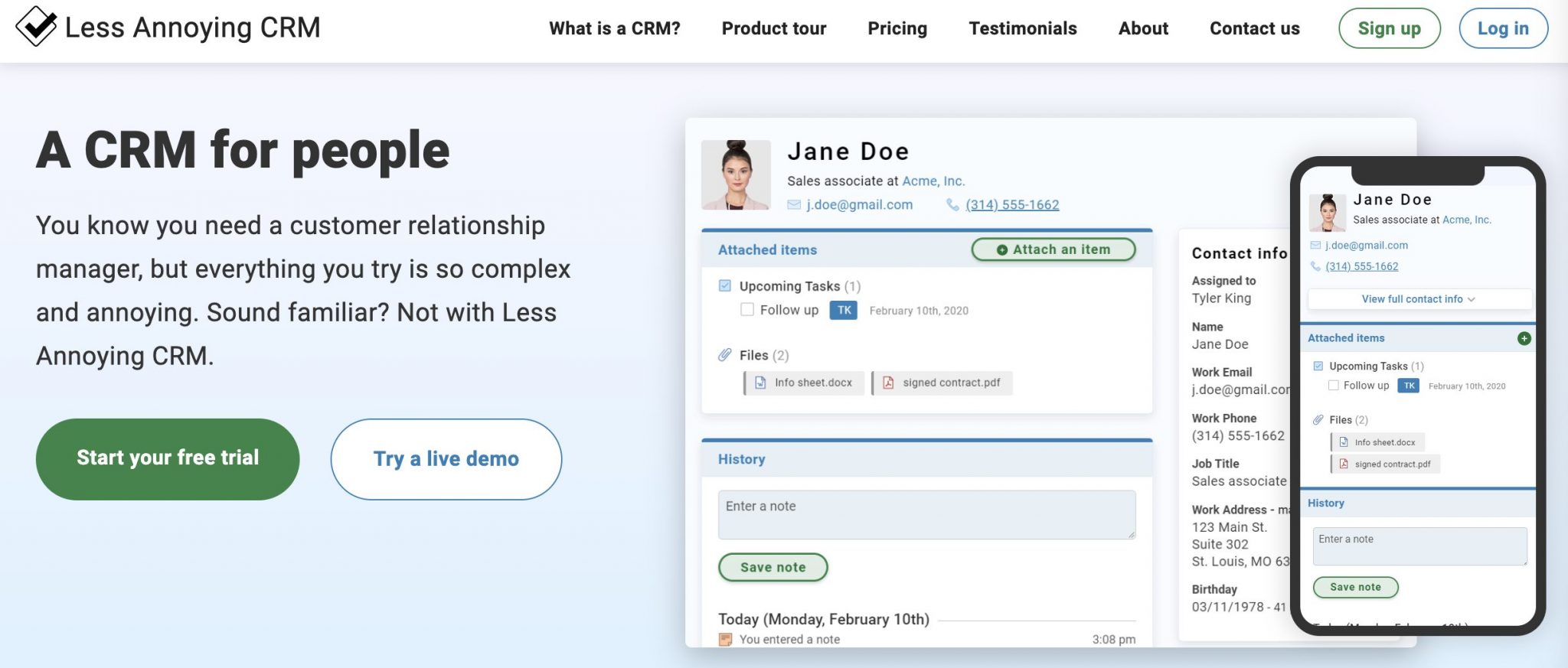 Less Annoying CRM concentrates on small businesses by keeping it simple. In 2020, they redesigned the software completely and increased the monthly price for the first time since they started the business 11 years ago.
Trusted by more than 23,000 users, it offers powerful customization at affordable pricing. As mentioned, they are all about simplifying things. Thus, they have no complicated pricing plans. Instead, they have only one "plan" - $15 per user per month.
Key features:
Contact management

Leads and pipelines

Mobile access

Daily agenda emails
---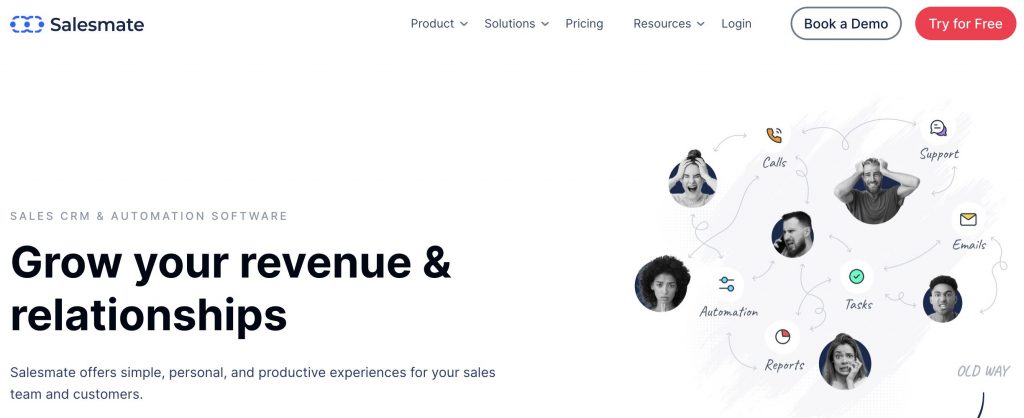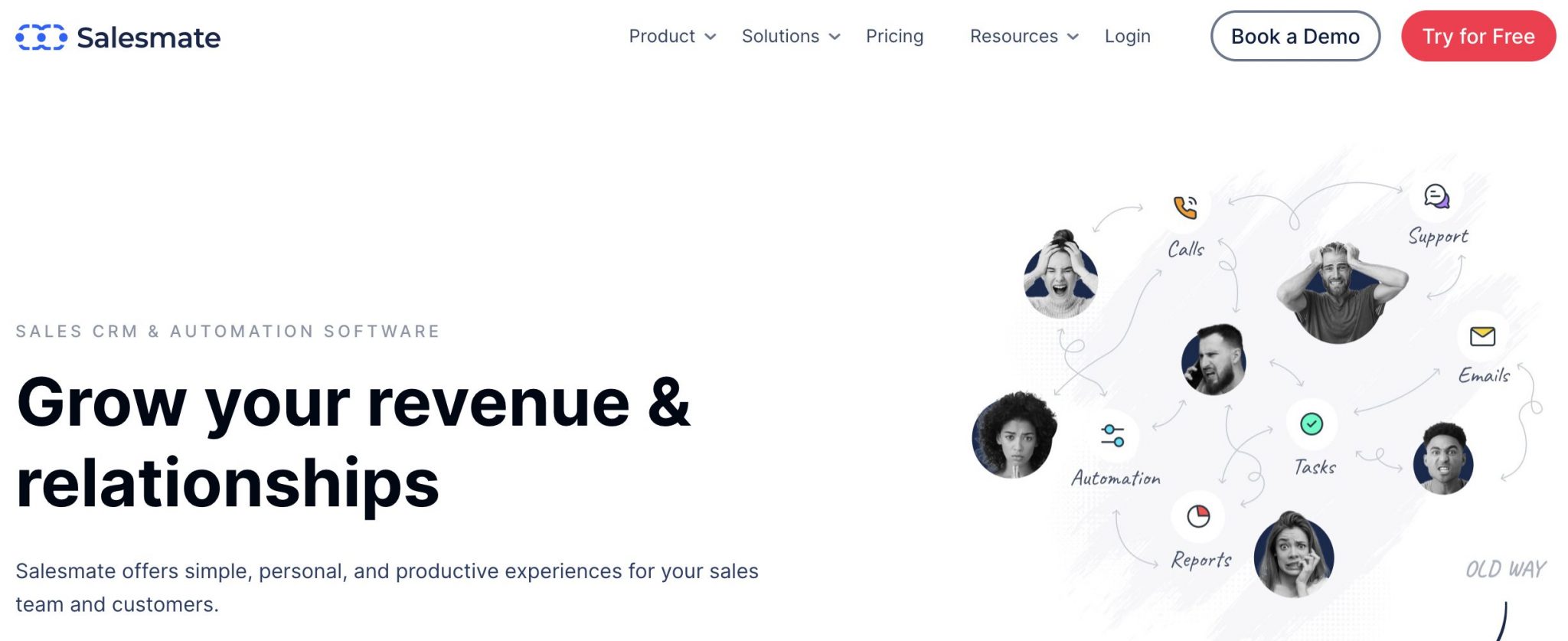 Salesmate is an award-winning CRM that is used by a wide range of industries including startups and small businesses. It's trusted by more than 4,000 sales teams and boasts the likes of Sony Music and Gadget Flow as clients.
It offers a suite of engagement, sales, and management features that helps small businesses to automate marketing, sales and service-related tasks at every stage of the customer journey. One of its biggest selling points is the long list of integrations. It boasts more than 700 integrations eliminating the need to switch between apps. One drawback, though, is that there is room for improvement when it comes to customization.
With regards to its pricing, it offers three paid plans and a free 15-day trial. Its Starter plan ($15 per month) is ideal for smaller teams. To unlock all the email automation features like email metrics and email scheduling, you will have to sign up for its Growth plan ($30 per month) or the Boost plan ($50 per month).
Key features:
Contact management

Notes and follow-up activities

Calendar sync

Email tracking

Call forwarding

Call transfer

Bulk texting

Text templates
---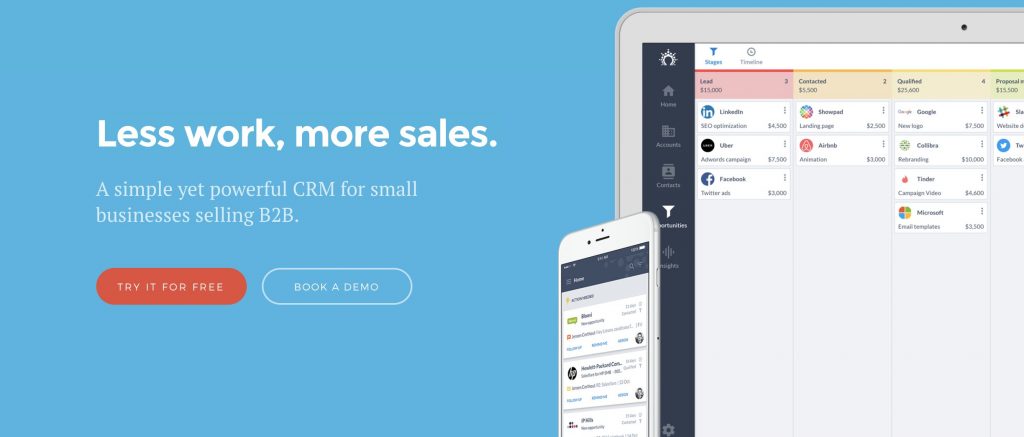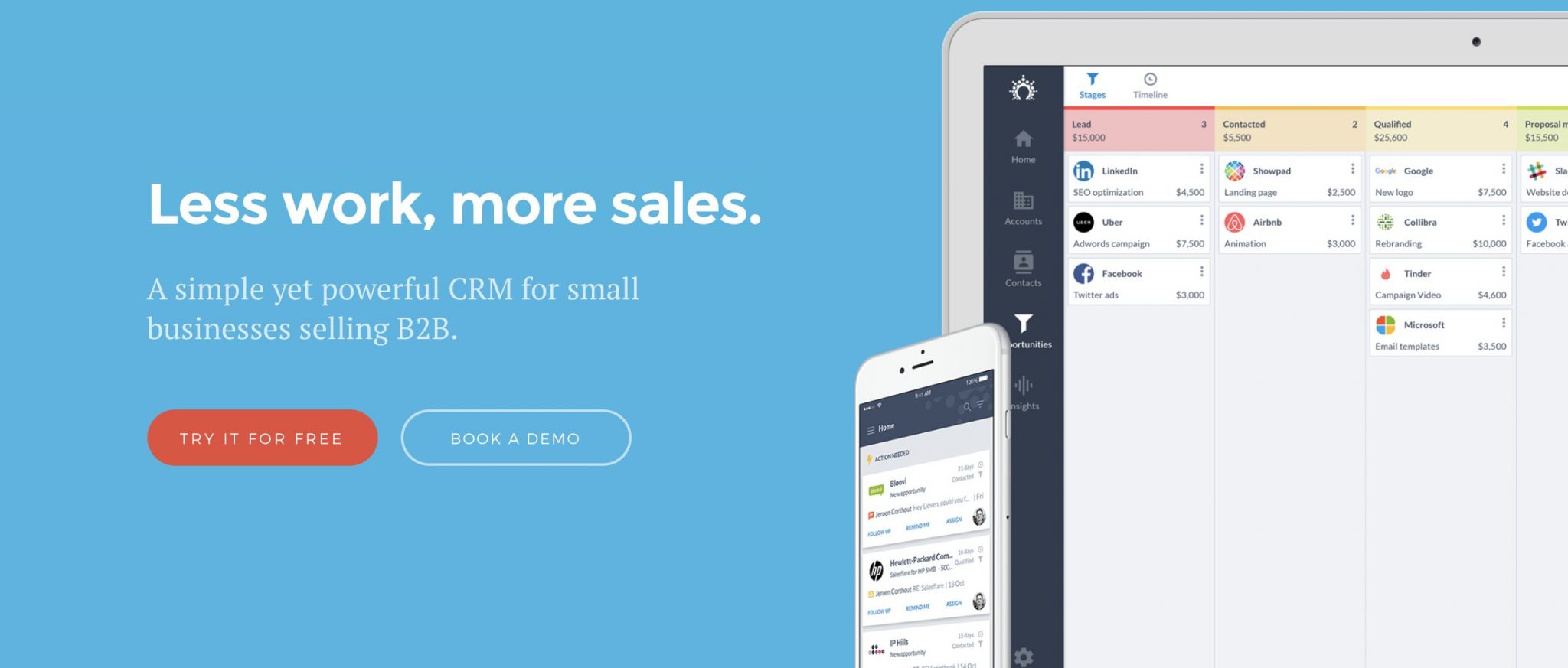 If you predominantly work in the B2B industry, be sure to check out Salesflare. It will collect all the information of clients automatically via emails, email signatures, and social profiles and store it in your address book.
Similar to Salesmate, Salesforce also offers many useful integrations. You can integrate it with G Suite, Outlook, Office 365, Slack, and Zapier to mention a few. Though, it is slightly more expensive than Salesmate, with its cheapest plan starting at $35 per user per month.
Key features:
Mobile app

Email tracking

Website tracking
---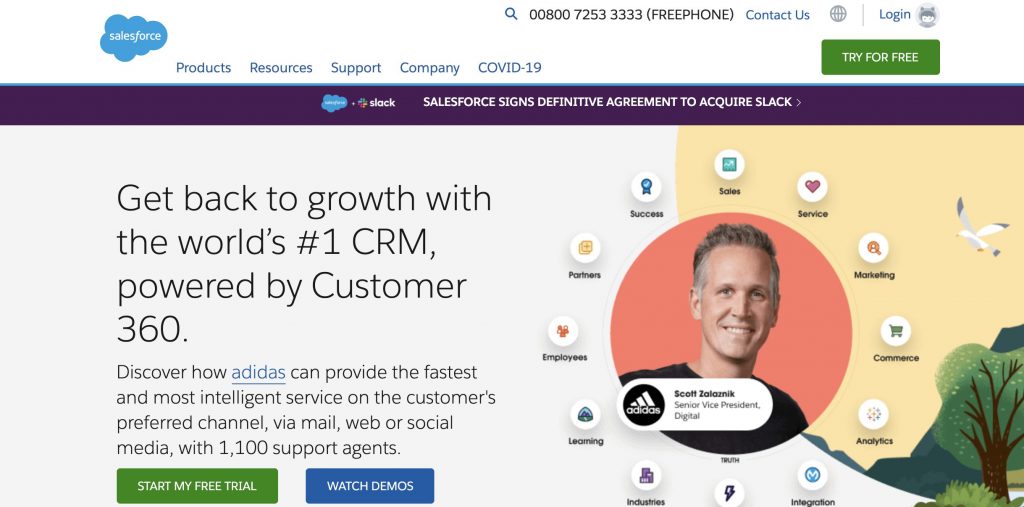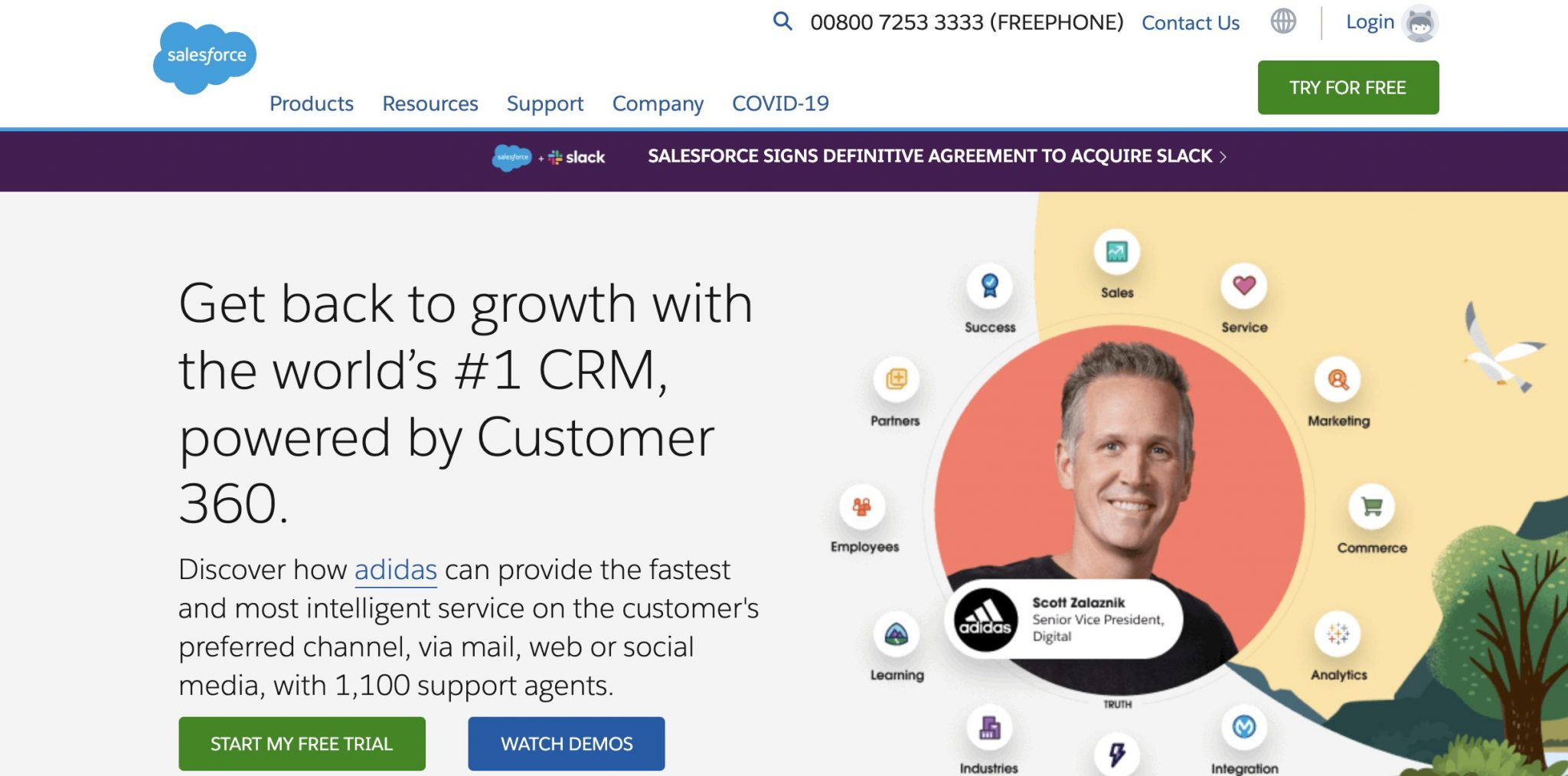 Founded in 1999, Salesforce is one of the oldest CRMs and has helped more than 150,000 companies to date. With it, you can centralize and improve your sales, increase satisfaction retention, and gain insights into your marketing. They have been voted by the International Data Corporation (IDC), as the number one CRM for seven years in a row, while the company has also been recognized by Forbes as one of the most admired and innovative companies in the world.
Its award-winning technology is built for small businesses, but it is also used by big brands such as Aston Martin and Unilever. When it comes to pricing, it offers four plans. The Essentials plan is best for small businesses and starts at about $30 per user per month (when billed annually).
Key features:
Email integration with Gmail or Outlook

A mobile app

Contact management
---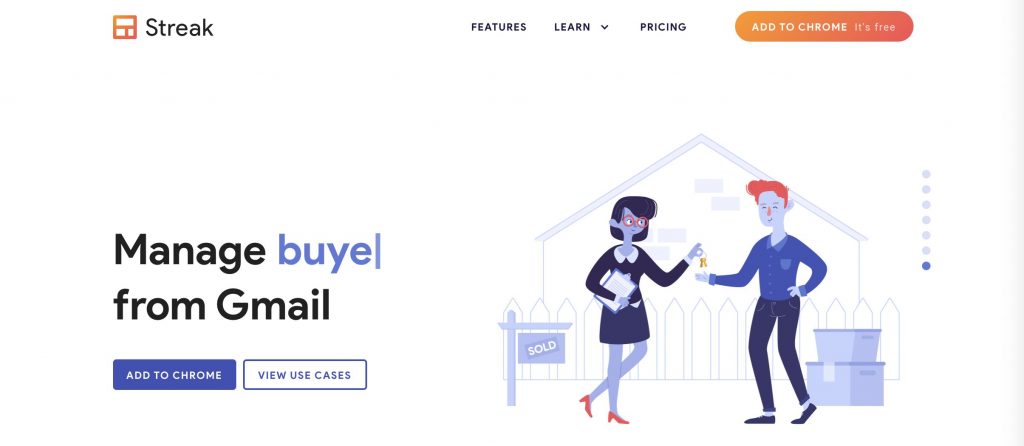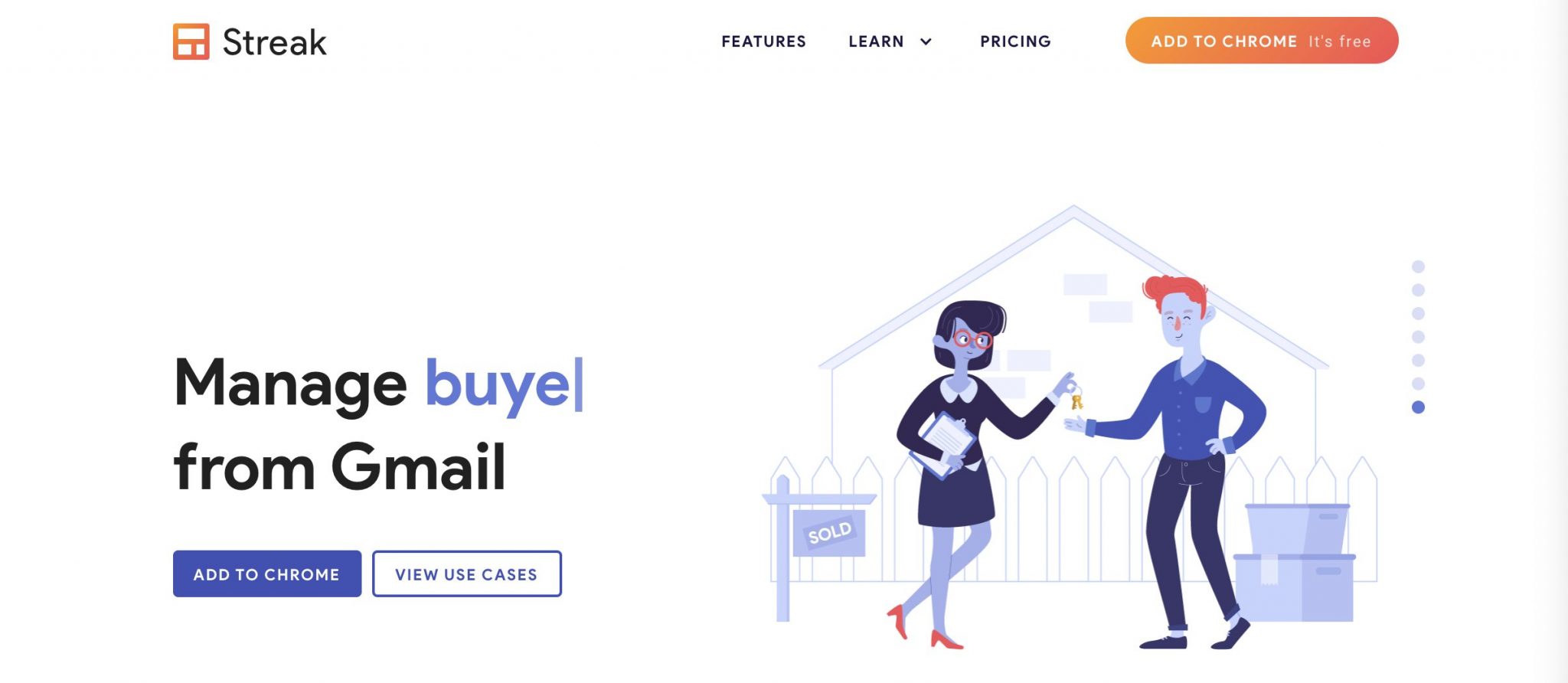 If you are a small business owner and use Gmail, Streak is a great alternative. Unlike the other tools mentioned, it is a browser plugin. The advantage that Streak offers Gmail users is that it allows your team to work directly via their Gmail inboxes. With it, you can schedule emails, track views, and manage contacts.
It also offers a basic Free plan that includes the core CRM features. This plan is best for individuals. For smaller businesses, their Pro plan (which is also the most popular) is better suited. The Pro plan costs $59 per month per user and includes its advanced CRM features such as reporting.
Key features:
Ticketing

Custom views of your pipeline

Reporting

Email scheduling

More than 1,000 integrations via Zapier