The image that jumps to mind first when you hear the word "syndicate" is most likely not positive. If your nose is firmly fixed in newspapers, you'll be mistaken for thinking that this article is about uncovering some online, organized crime ring that robs aspiring content writers of their livelihood.
It's the opposite. In fact, it's one of the ways that content creators can make money (and, no they're not the ones belonging to a crime syndicate).
It's a common strategy used for brand building. Here's how you need to go about it to avoid that search engines and readers will label your content as duplicate content and why you should include it in your content marketing strategy.
---
The Art of Content Syndication: Strategies That You Can Copy:
---
Understanding Content Syndication
With content syndication, content that has already been published online will get published again on another website. It's most typically blog posts, but it can also be other content types like infographics.
Your content can either be published as a whole or as a condensed version, either by summarizing it or only sharing excerpts. Whichever approach is used, a link to the original work, along with a credit to the creator, must be included.
---
Main Benefits of Content Syndication
The goal of this marketing strategy is to help grow your audience. Here's how it can do that: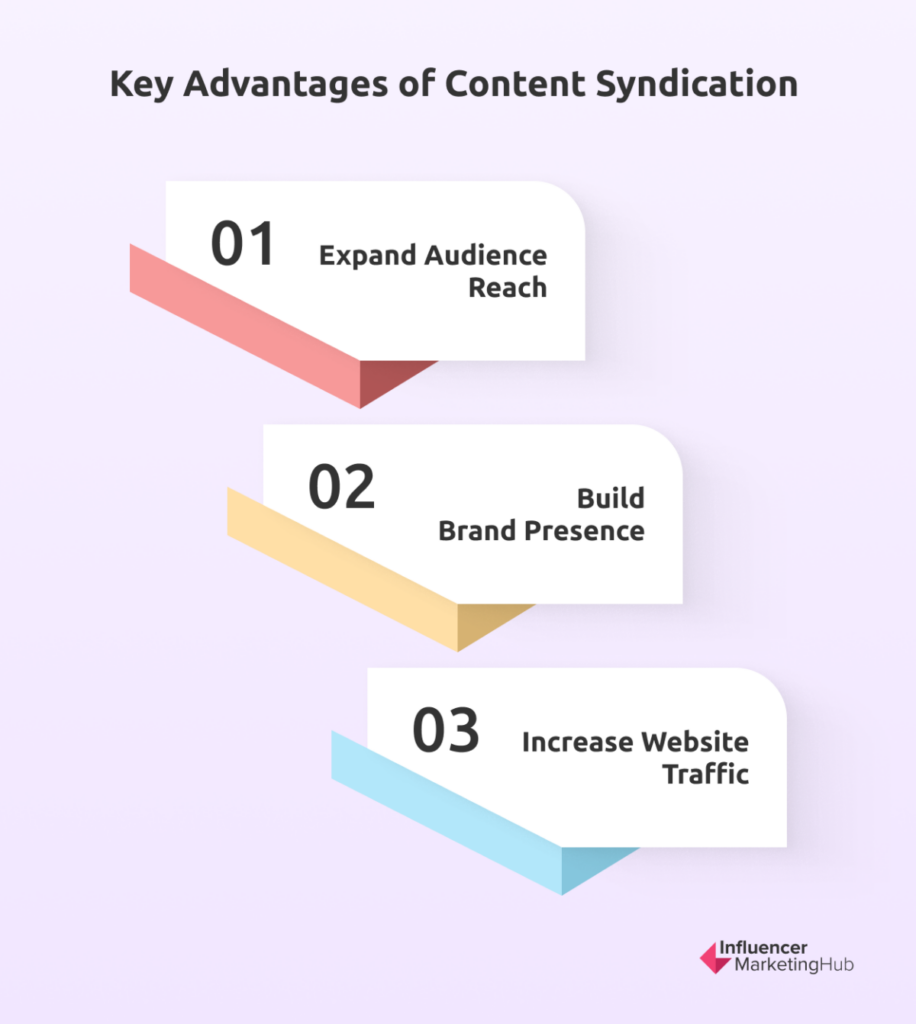 1. You can reach a wider audience
Content creation takes time. As such, you'll want to explore all possible avenues to get your new piece in front of as many eyes as possible. With content syndication, your content will be displayed on another website with its own group of website visitors, helping you to reach new readers and grow your audience.
2. It helps you to build your brand
As you'll be credited for the work, your brand name will also reach new audiences. That said, it's more than just increasing brand awareness. The readers will also come to see you as a thought leader in the industry, helping to build trust.
3. It drives more website traffic
Not only will your name appear at the top of the content, but it will also include a link back to your website (aka a backlink). This is invaluable. Content marketing stats reveal that businesses that use link-building effectively have a 45% higher success rate.
Not only do these clicks translate to more website traffic, but it will improve your search engine optimization (SEO) efforts too. This means that you can look forward to even more traffic. It's a win-win.
---
How to Implement Content Syndication
High-quality content is the cornerstone of content syndication. If you want third-party websites to republish your original content, it needs to be relevant, useful, and captivating.
Once you have mastered the art of creating high-quality content, you can take the following approaches: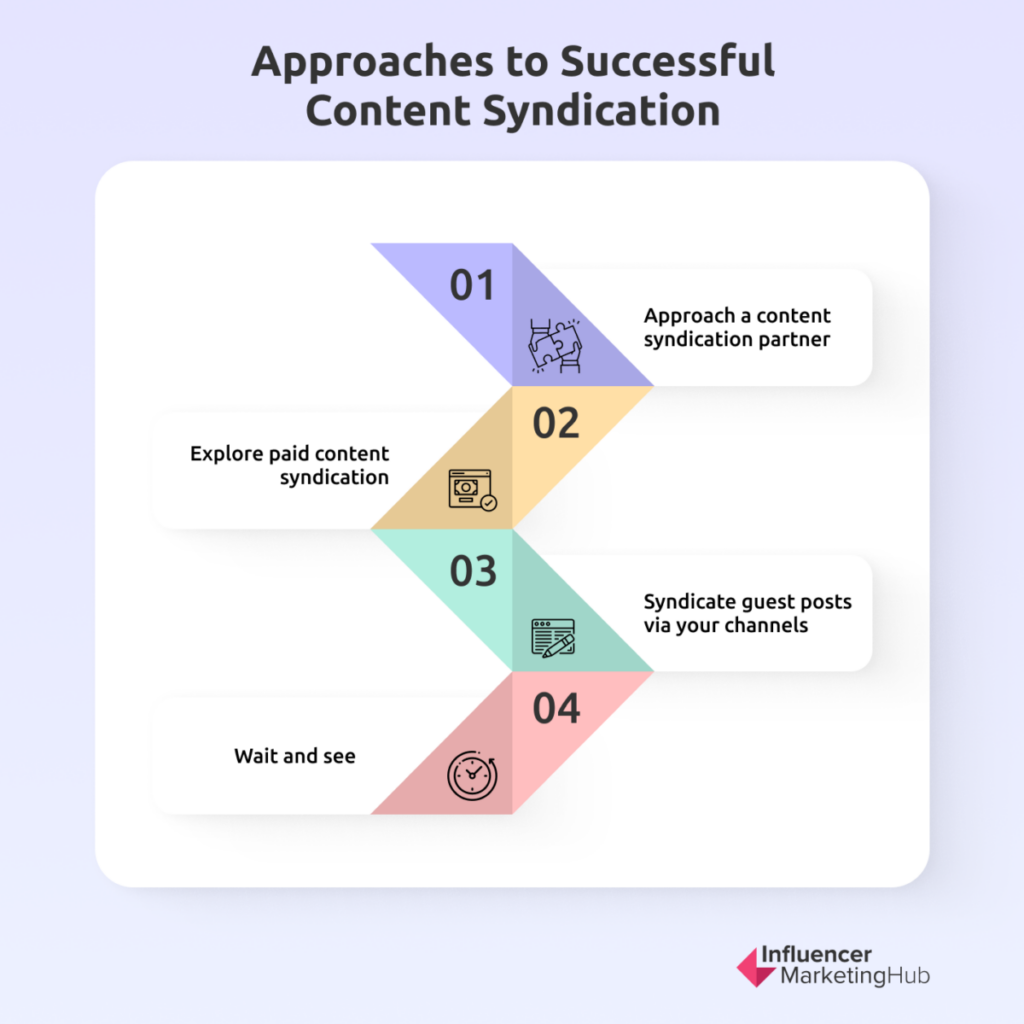 1. Approach a content syndication partner
There are a number of syndication networks that will be happy to share your content. What's in it for them? They can entertain their own target audiences with little effort.
When going the route of free content syndication, you can approach a bigger website or partner with a website that attracts a similar audience.
The benefit of reaching out to a bigger website with a better authority is that your content will be seen by many more. This makes it a great choice if you're more concerned about generating brand awareness.
Few readers will click on the link to take them back to your website where the piece of content was originally published. So, don't expect that your website traffic will increase dramatically, if at all.
If you're more concerned about your own website traffic, rather approach smaller websites that share the same target market. After all, size doesn't always matter.
These websites might also let you add contextual links in addition to the one backlink, making it a great option if you have already published a few blog posts on your site. The fact that your republished article might have more links increases the chances of readers actually clicking back to your website.
Once you've narrowed it down to a few possible websites, you'll need to create a pitch. Focus on the valuable contribution that your blog post, infographic, etc. will make to their website and its following.
---
2. Explore paid content syndication
You can also approach publishers that are willing to help you for a price. In this case, your blog post will appear along with the word "Sponsored".
This method is now also becoming more suited for small brands, thanks to platforms like Taboola. They have partnerships with leading publishers like Business Insider, Bloomberg, and USA Today, helping you to put your brand in front of global audiences.
This global level of exposure is also the main benefit of paid content syndication. Without the help of paid content syndication platforms like Taboola, it will be nearly impossible to get your content featured on sites like these.
It works similarly to paid ads. You can select your target audience and budget. Your chosen article will then be displayed to visitors as an "ad" that includes an image, short title and link to your site. For every reader that clicks on this ad, you'll have to pay.
---
3. Syndicate guest posts via your channels
You can also take a different approach and essentially work your way back. Instead of writing an original article with the purpose of sharing it on your own website and reaching out to publishers, you can first write a guest post and then republish it on your owned media channels like a blog or LinkedIn page.
To do this, though, ensure that you get the go-ahead from the publisher beforehand. You'll need to be open about what you plan to do.
Just like your syndicated content will have had a link going to your site, so too should you include a link to the original guest post. If you mention this, publishers will usually have no issue as it means more traffic for them. Publications might also add a condition that you're free to republish the content, but only after a while.
---
4. Wait and see
Alternatively, you can play the waiting game and hope that another website will approach you. To increase the likelihood of this happening, you can create a web page explaining that you're open to the idea of content syndication and how interested partners can go about it. Usually, the only condition is that they include you as the original source, along with a link back to your website.
Content creators, for example, can also use such a page to include that they're open to the idea of collaborating on specific pieces of content. This strategy is similar to how, for example, a hotel chain can commission an artist for paintings for their hotel rooms.
---
Finding Content Syndication Opportunities
Just like with most things in life, you can ask Google. You can do this by searching for phrases like "originally appeared on" or "republished with permission of". You can then use the search engine results to create a list of websites that regularly feature works of others.
For example, when you search for "originally appeared on Influencer Marketing Hub", you'll see that Business 2 Community (B2C) is open to content syndication and that yours truly's work has been featured on their site.

One tip with this strategy is to avoid blog sites with low authority. The ones that you partner with should ideally have a better authority than your own site. If not, you can settle for the same authority.
You'll also need to consider the audience. Their typical reader should be similar to your ideal market.
---
Addressing Potential Challenges
As mentioned earlier, quality is key. You need to give third-party platforms a reason why they would want to republish your content.
It's similar to social media posts. There's a reason why some memes go viral and others never reach that status.
When you're writing for the web, infographics, statistics, and slide decks work well. Basically, think about adding a visual element. Sure, your article might not get published in its entirety, but having your infographic featured in another's article is a pretty decent second prize.
This has helped Influencer Marketing Hub to land valuable backlinks on leading publications like Forbes:

Another factor that you'll need to keep in mind is Google. The search engine dislikes duplicate content, but gives websites the freedom to syndicate content.
That said, you'll still need to make it clear to Google that it's syndicated instead of copied. To do this, you'll need to remember that link to the original piece and a canonical URL.
A canonical URL is used for the primary version of a duplicated page. It basically helps search engines to distinguish between what is the original content and what is the syndicated version.
The use of canonical tags is non-negotiable. If a publisher ignores this, it's another reason to avoid the opportunity.
On the topic of links, it's important also to consider that paid syndication doesn't have the same SEO advantages as free syndication. You might be able to reach a global readership, but the search engines will treat these links as sponsored content.
Plus, it can potentially undermine credibility and brand trust. Your readers will know that you've paid for the placement. This can make them question if the piece was created only to promote your brand, which could make the content shared be interpreted as biased.
As such, it's even more important that you double-check tone and fact-check content. You don't want to give readers any reason to question your motives for using paid syndication. Essentially, it should be more valuable to them than to your brand.
---
Key Takeaways
Content marketers not only have to be creative with their words, but also with the channels at their disposal. Nowadays, there are multiple ways that you can reach a niche audience. In addition to using your own website and social media channels, publishing content on other popular sites is a distribution strategy worth exploring.
You get to reach new niche markets and prospective buyers, while the website gets "new" content. It's one of the few instances where there's no catch involved.
It's time that you start treating your content as a commodity. In addition to being a resource for readers, it's also a resource for your brand.
Why not let it reach its full advantage?
With a well-executed content syndication strategy, you can stretch the value of this resource and grow your audience at the same time.
Frequently Asked Questions
How can content creators make more money?
Aside from content syndication, there are several other ways that content creators can try to grow their following and monetize their content. Here are examples that they can try:
Offering individual consulting services to fellow creators at an hourly rate

Creating exclusive content that they sell to subscribers on platforms like Patreon

Affiliate marketing

Including clickable ads on your blog

Speaking as an expert at in-person events relevant to your niche

Selling merch, like a branded hoodie, via platforms like Instagram
What is content marketing?
Content marketing is a marketing strategy upon which many other inbound marketing strategies are built. It basically refers to the process whereby businesses share valuable content with their target market. From long-form blog posts to regular newsletters to formal reports to visuals like infographics, they can create various types of content pieces to be shared online that can help guide customers through the buyer's journey. The primary goal is to generate interest in the brand and engage its audience, helping to grow trust and customer relationships.
Which are some of the best content marketing agencies?
There are several great content marketing agencies that can help you with key services like SEO, link building, media planning and buying, outreach, content strategy and amplification, and public relations. You can, for example, reach out to:
Animalz

The Content Bureau

Brafton

Optimist

Grow and Convert

S&G
How can you improve your web content writing?
When writing web content, always first clarify your goal. As for your tone and structure, use a conversational, positive tone, try to avoid using passive voice, and keep the sentences and paragraphs short to ensure the copy is clear. You can also include examples to help you structure your content. Where possible, try to add three examples. As you'll be writing for the web, you'll also need to keep search engines in mind. To do this, center your content around search intent and relevant keywords.
Are there any good AI tools to help you with content creation?
There are a number of decent AI tools that you entrust with some of your content creation. You can for example try out:
Jasper, in particular, is very good for writing first drafts of blog posts, while Frase is very helpful for keyword research and optimizing your content for search engines.