Advertising Disclosure
Advertising disclosure:
Our partners compensate us. This may influence which products or services we review (also where and how those products appear on the site), this in no way affects our recommendations or the advice we offer. Our reviews are based on years of experience and countless hours of research. Our partners cannot pay us to guarantee favorable reviews of their products or services.
Content marketing remains a popular and tried-and-tested strategy that's guaranteed to bring in sales and revenue if you put in the effort to build it. It's not an overnight success and won't produce immediate results like digital advertising.
However, if you stay consistent, you'll reap the fruits of your labor and enjoy long-term and sustainable results. Content marketing increases brand awareness, builds brand loyalty, and strengthens brand reputation.
To help you nail that winning piece of content every time, we've rounded up the best agencies that provide content writing services. They can handle the entire content creation process for your website, social media accounts, and other digital marketing channels.
---
Top Content Writing Services to Boost Your Brand
Top
content writing services
2024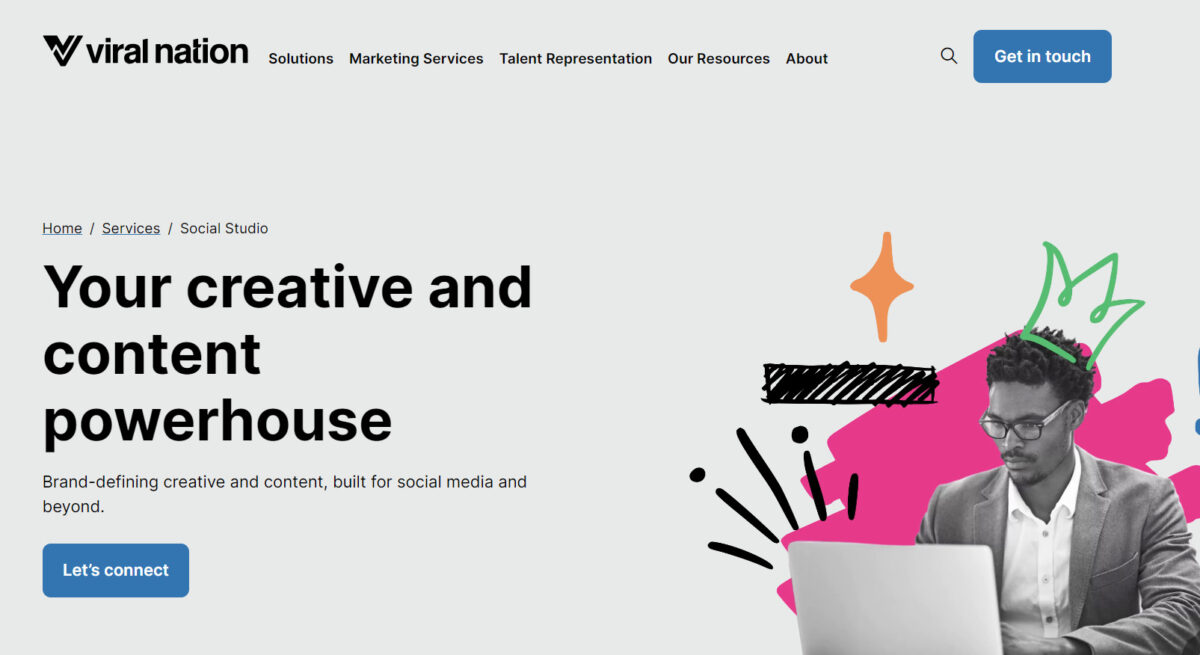 Viral Nation is an award-winning digital marketing agency known for creating viral content on social media. They are a global leader in influencer marketing, continuously empowering the creator economy with industry-leading technologies. They provide brands, agencies, and creators with AI-powered solutions to help them create engaging content.
As one of the world's first influencer marketing agencies, they continue to push boundaries and shape the landscape of the creator economy. They have received several awards, including the 2022 Platinum Winner for Best Social Campaign by the AVA Digital Awards for their work with Meta Quest 2, and the 2019 Platinum Winner for Best Large Agency Globally by the Influencer Marketing Awards.
Key services:
Content Strategy & Ideation
Audio, video, and TV content
Display, mobile, and social content
Motion graphics & CGI
Content distribution & monetization
Reporting & analytics
Community management
Best for: Brands who want to create viral social content
Why choose them: Viral Nation is known for creating highly engaging social content that gets shared by millions. They understand what content resonates with audiences and can assist you throughout the entire creation process, from ideation to execution.
Top clients: Campbell's, Canon, The Coca-Cola Company, Disney, Logitech, Microsoft, Meta Quest, Tim Hortons, Fanduel, Intuit, TJX
---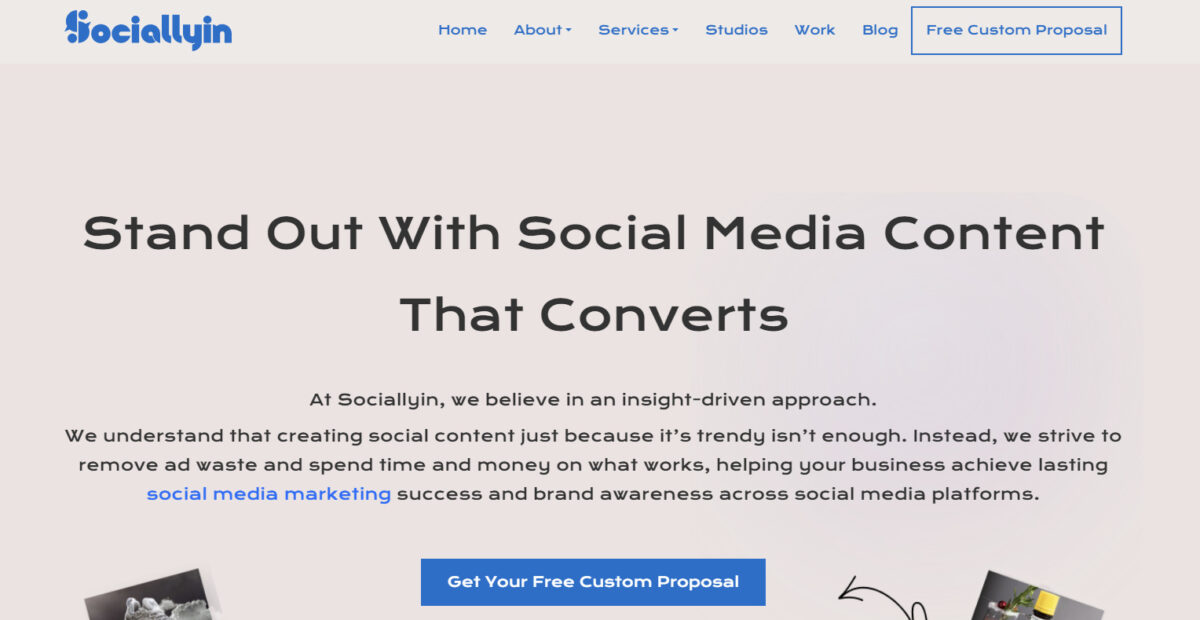 Sociallyin is a social media agency that specializes in helping clients leverage the power of social media platforms. Their services revolve around everything social, including brainstorming innovative social media strategies, creating engaging social media content, and analyzing real-time social media data.
They are the social natives behind the amazing content of brands like TGIFridays, Samsung, Runway Rogue, Takara, Golf Galaxy, Nikon, Angi, Asus, and Paccar. They are based in Atlanta but can serve clients from all over the world.
Key services:
Copywriting
Photography & photo manipulation
Motion graphics & stop motion
Video production
Filters
360° photo/video
User-generated content
Graphics, illustrations & filters
Best for: Brands looking for a social-focused marketing strategy
Why choose them: Sociallyin provides innovative content using its unique storytelling approach meant to create lasting connections with your audience.
Top clients: Asus, Lumenis, Performance Health, Snap Fitness, Warface, Harriot Vacation Club
---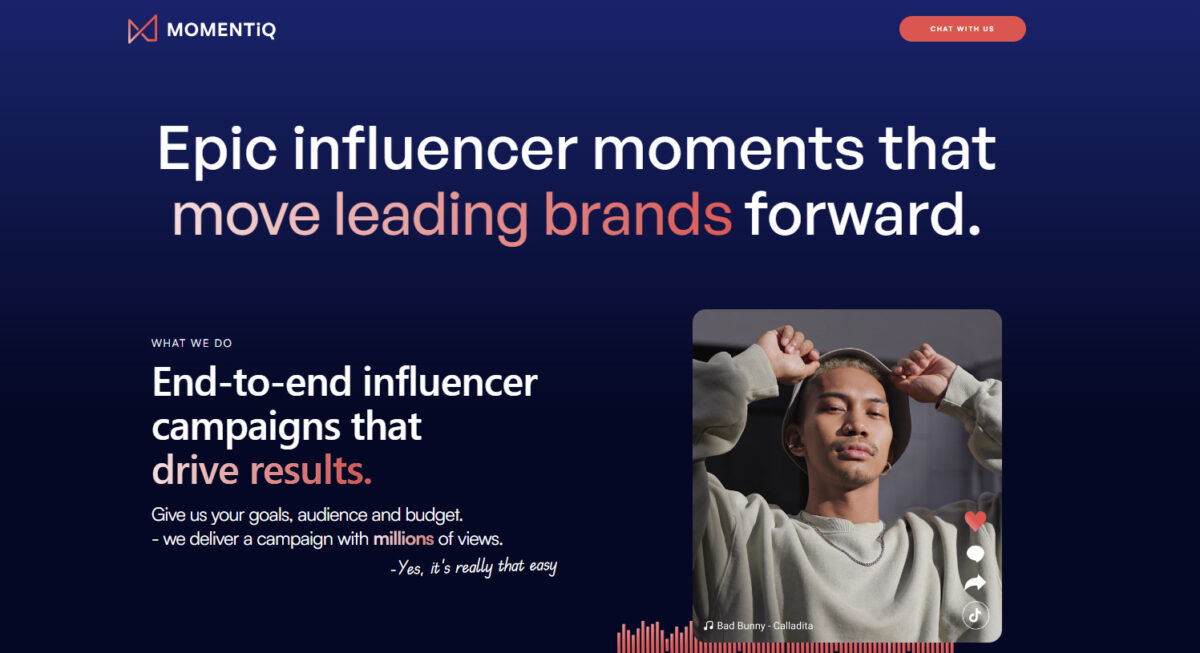 MOMENTiQ is an influencer marketing agency founded by veterans in the industry who have collectively built companies valued at over $300M. They are redefining the way influencer marketing is done with their commitment to creating campaigns that drive results.
They specialize in YouTube and TikTok, guaranteeing to give your videos millions of views.
Key services:
End-to-end influencer campaigns
User-generated content
Tiktok video content
YouTube video content
Reporting & analytics
Best for: Brands who want to engage their audiences with compelling and memorable videos
Why choose them: MOMENTiQ may be a new player in the industry, but the people behind the company have years of experience in influencer marketing. They know what content will become the next big hit and bring this expertise to each client engagement. 
Top clients: Fashion Nova, Ulta Beauty, American Eagle Outfitters
---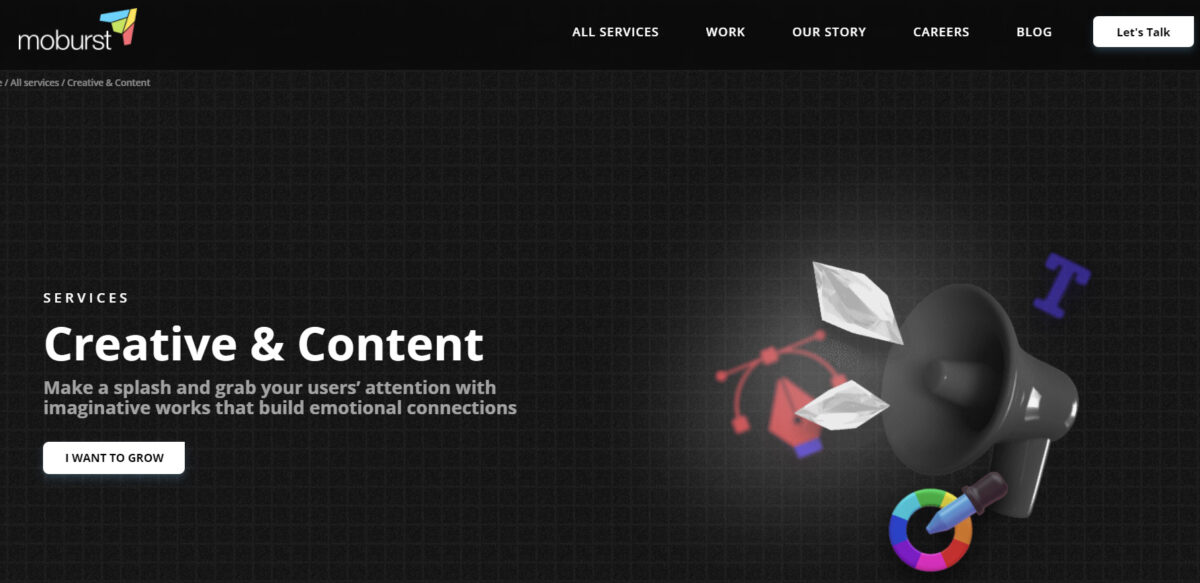 Moburst is a mobile-first digital marketing agency specializing in engaging mobile content. This includes content for app marketing and digital marketing. The agency believes that a mobile-first strategy is the key to hypergrowth in today's digital landscape.
Their expertise is evident in their track record of helping prominent brands like Samsung and Reddit. For Samsung, they launched a social campaign that delivered 1,400% social growth. For Reddit, they executed an extensive keyword search and content strategy to achieve 90% organic growth within a year.
Key services:
Video production
Campaign concept & design
Social media management
App store assets
User-generated content
Best for: Established brands who need a boost in their mobile and app marketing strategies
Why choose them: Moburst knows what it takes to succeed in mobile and has a proven track record of helping established and emerging brands launch successful apps.
Top clients: Reddit, Uber, Dunkin Donuts, eBay, Google, Nielsen, Deezer, Pfizer
---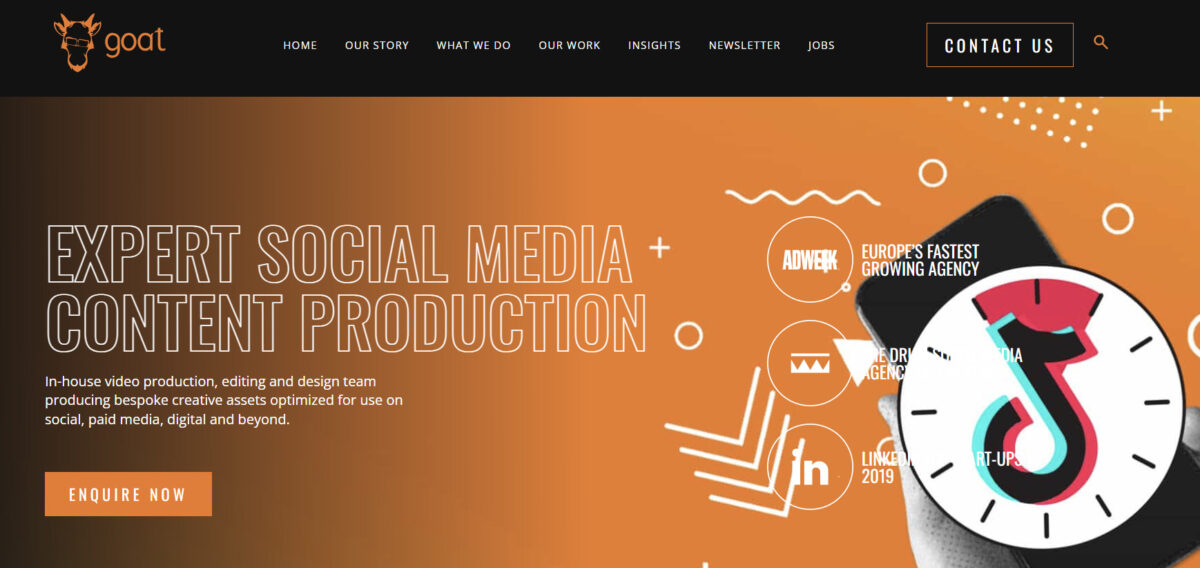 Goat is an award-winning social media marketing agency recognized internationally for delivering exciting data-driven influencer campaigns. Their notable works include helping TurboTax gain over 2.2 million views with live content featuring how easy it is to file taxes and helping Nivea kickstart their YouTube channel with engaging podcast content.
Key services:
Content production

Branded video content
Motion graphics
AR filters 
Original sounds
Optimized and repurposed influencer content

Social media management
Social media strategy
Influencer marketing
Best for: Brands who need unconventional content to tap new markets
Why choose them: Goat is composed of social natives who understand social networks deeply and know how to create the best-in-class content regardless of the niche. They are present in key cities worldwide giving them a unique understanding of various cultural nuances to help international brands tap local markets.
Top clients: Dell, Nivea, Audi, Pernod Ricard, Deep Silver, The Body Shop, Mars, TurboTax, Wayfair
---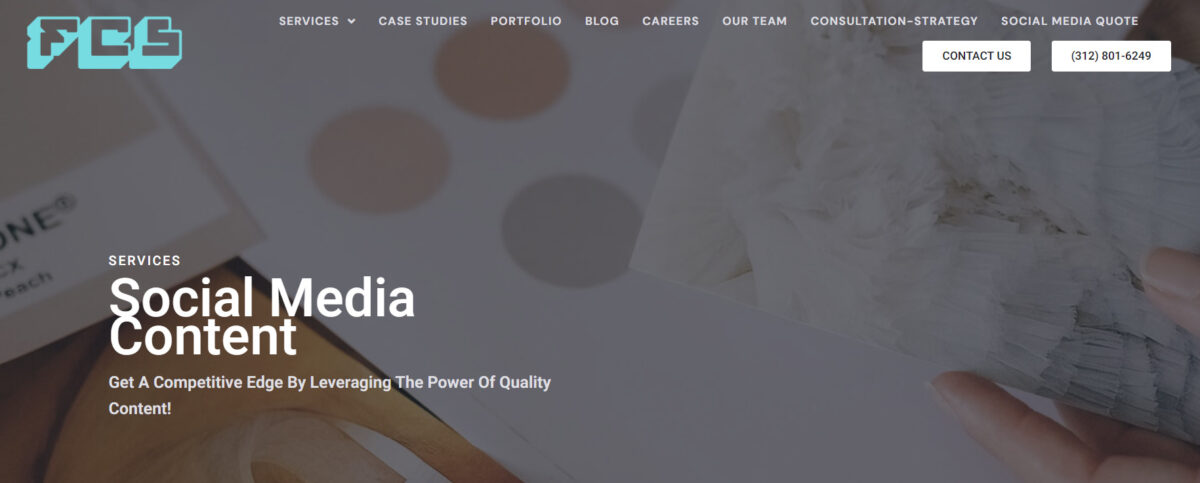 Fresh Content Society (FCS) is a family-owned social media agency that offers full-stack services including ideation, execution, and management. They treat each client as a preferred partner and are committed to helping businesses thrive in social media using cost-effective and unique strategies.
Some of the results they've achieved include helping KFC reach 1 million YouTube views in 7 days, helping Bath Planet achieve 20x ROAS on Facebook within 90 days, and helping Manny's Deli increase sales by 1500% using Twitter (X).
Key services:
Content strategy
Content design & production
Analytics & reporting
Community management
Paid media strategy & management
Campaign strategy & management
Best for: Brands who need unique and engaging organic content
Why choose them: FCS excels in creating organic social media content that audiences love to share. They do not rely on a template strategy and instead create customized campaigns that align with your brand's personality and requirements.
Top clients: National Geographic, True Value, Coleman, Echo, Sabre, Manny's, Green Thumb
---

Thrive Internet Marketing Agency is a full-stack award-winning digital marketing company offering a wide range of services. Established in 2005, they've helped businesses across multiple industries build and sustain their brands online.
They have a global footprint, with a presence in 25 cities worldwide. Some of the results they've achieved include +664% organic traffic and +360% online leads for a real estate and personal injury law firm, and +800% online leads and +640% conversion rate for a national construction company.
Key services:
Blog posts
Website content
Email marketing content
Location-specific pages
Social media content
Landing pages
Case studies
Ad copy
Best for: Brands who want consistent, high-quality SEO content
Why choose them: Thrive has been around for almost two decades, utilizing its expertise in SEO content writing. They can work with any kind of business from investment firms to plumbing companies and car repair shops.
Top clients: Stovall Construction, The Farah Law Firm, Ready Seal, Max Mechanical
---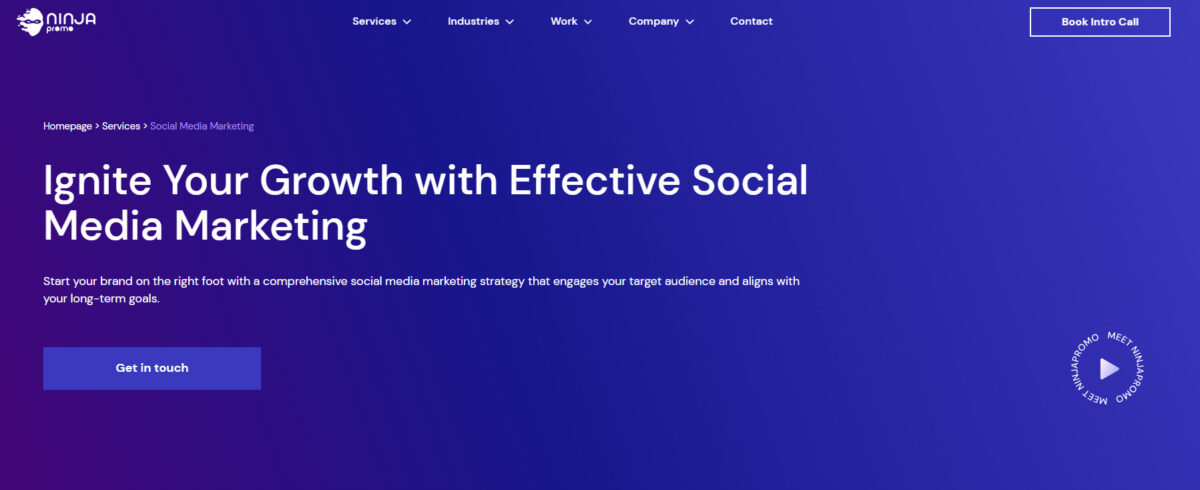 NinjaPromo is a full-service digital marketing company specializing in emerging industries like fintech, crypto, software, SaaS, eCommerce, eSports, and gaming. They work with startups, small businesses, B2Bs, and enterprises that need multi-channel marketing solutions.
To offer clients holistic services, their content writing services are embedded in their various digital marketing services. For instance, their SEO services include creating high-quality content optimized for your industry's keywords to ensure your brand ranks in search engines.
Key services:
Organic SEO
Social media
Paid social and paid media
Video production
Influencer marketing
PR and outreach
Best for: Brands in emerging industries who need an integrated digital marketing strategy
Why choose them: NinjaPromo has specific expertise in the industries they serve which ensures you can talk to a team that understands your language.
Top clients: Polkadot, IronFX, Iqoniq, Fantom, Ultron, Innowise, Bitcoin.com, Dash, Bull Perks, Payolitan
---

Online Optimism promises high-quality content that will help your brand stand out as an industry expert. Their creative team will research topics that will resonate the most in your industry and then create content that establishes trust with your audience.
They also handle social media, SEO, digital ads, and web design, giving you a comprehensive marketing strategy to boost your business.
Content writing services:
Blogging
Creative copywriting
White papers
Video 
Infographics
Physical collaterals
Best for: Brands who want a one-stop agency to handle their marketing strategies
Why choose them: Online Optimism is a group of digital creatives who bring passion and positivity to each client engagement. This has resulted in long-term clients who depend on them for consistent and reliable content.
Top clients: Stratus, SpecBooks, The Data Center, Truck Driver Institute, Decide DeKalb, ncta
---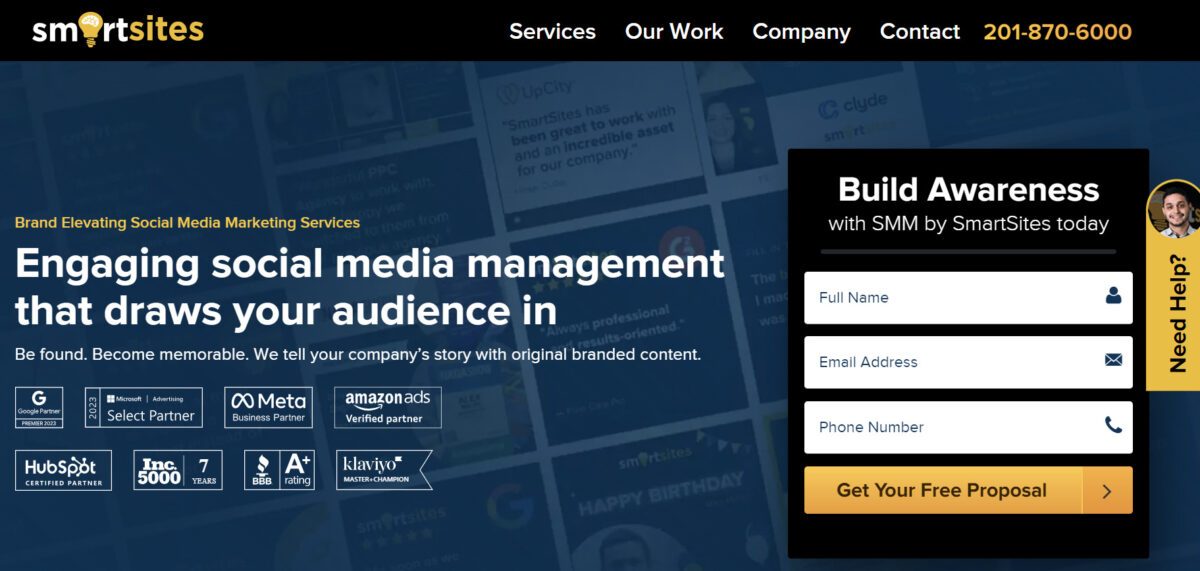 SmartSites is an award-winning and results-driven digital marketing agency that can help you create an intuitive website, populate it with high-quality content, and optimize it to achieve consistent rankings in search engines.
Their passion for all things digital has made them one of the fastest-growing companies in the US and led to consistent 5-star reviews from their clients. They serve almost any industry across various business sizes. Some of these industries include home services, medical, legal, B2B, retail, automotive, and industrial.
Key services:
Search engine optimization
Web design and development
PPC advertising
Email and SMS marketing
Social media marketing
Best for: Brands in professional services that need an agency to walk them through a cohesive digital marketing strategy
Why choose them: SmartSites has been in operation for nearly a decade and has served over a hundred satisfied clients. They work closely with clients to ensure the success of any digital marketing initiative.
Top clients: AGA Truck Parts, Audi, CMS Funding, Cut Sheet Labels, Airduct Brothers, Rakuten, ProxyKey, Newman Plastic Surgery
---
What services are included in content writing?
As businesses in the digital age vie for a strong online presence, content writing services have emerged as a linchpin for achieving enhanced visibility and engagement.
Small to Medium Enterprises (SMEs) must understand the multifaceted nature of content services required to build a robust digital footprint.
1. Web Content Writing
Web content forms the core of your online identity. Effective web content writing encompasses the creation of SEO-optimized, compelling text for various pages on your website, such as the home page, about us page, services page, and landing pages.
The objective is to provide a clear, engaging narrative about your brand, what you offer, and what sets you apart from competitors. SEO optimization ensures that your website ranks higher on search engine results pages, making it easier for potential customers to find you. Furthermore, well-crafted web content helps in improving the user experience by providing value and relevant information, which in turn enhances the chances of conversion.
2. Blog Writing
Blogs are an indispensable tool for demonstrating your expertise, providing value to your audience, and improving your website's SEO. Regular blogging with insightful, well-researched articles on topics relevant to your industry or audience not only establishes your brand as an authority but also creates a resource hub that drives organic traffic.
By integrating keywords and addressing trending topics or common questions, blogs serve as a long-term asset that continues to drive traffic and engagement over time. Additionally, blogs offer an avenue for showcasing your brand's personality and fostering a deeper connection with your audience.
3. Social Media Content
Social media platforms are pivotal in building and nurturing a community around your brand. Effective social media content writing involves crafting engaging, platform-specific posts that resonate with your audience and encourage interaction.
By sharing updates, insights, and engaging in conversations on platforms where your audience spends their time, you create a two-way communication channel. This not only drives traffic to your website but also enhances brand loyalty. Additionally, well-strategized social media content can significantly extend your reach, introduce your brand to new audiences, and provide real-time feedback from your customers. Through consistent, creative, and authentic social media content, you can maintain a dynamic and engaging online presence that supports your overall business objectives.
4. Video Script Writing
In a digital landscape where visual content reigns supreme, video script writing is a cornerstone for effective communication and engagement. A meticulously crafted script serves as the blueprint for producing engaging, informative, and compelling videos.
Whether it's explainer videos, product demonstrations, tutorials, or brand stories, a well-structured script ensures your message is conveyed clearly and effectively. It requires a balance of creativity, clarity, and brevity to keep the audience engaged while adhering to the video's objectives. Furthermore, integrating SEO keywords in the script and metadata can significantly enhance the video's visibility on platforms like YouTube and Google, driving more traffic and engagement towards your brand.
5. Email Marketing Content
Email remains a powerful channel for direct communication with your audience. Through personalized, compelling email content, businesses can nurture leads, keep their audience informed about latest offerings, and encourage repeat business. Email campaigns often involve a series of well-crafted messages aimed at driving specific actions, such as product purchases, event registrations, or feedback submissions.
The content should be tailored to the recipient's stage in the customer journey, ensuring relevancy and fostering a deeper connection. Furthermore, a well-strategized email marketing content plan, complete with engaging subject lines, clear calls to action, and valuable information, can significantly enhance open rates, click-through rates, and conversions, contributing to overall business growth.
6. Podcast Script Writing
Podcasts have emerged as a popular medium for sharing insights, stories, and expertise. Podcast script writing entails crafting engaging, coherent scripts or outlines to ensure a smooth-flowing, informative, and enjoyable listening experience. Whether you are conducting interviews, sharing industry insights, or telling stories, a well-structured script is crucial for keeping the audience engaged and conveying your message effectively.
Podcast scripts also help in organizing the content, maintaining a consistent tone, and ensuring key points are covered. Furthermore, they can be repurposed into blog posts, articles, or social media content, providing additional value and extending your brand's reach across different platforms.
7. Infographic and Visual Content Creation
Visual content is a potent tool for simplifying complex data, conveying key messages, and engaging audiences swiftly. Infographics are particularly effective in representing data in a visually appealing and digestible manner. The process involves meticulous research, data collection, and the amalgamation of text and graphics to create compelling visual narratives. The succinct text used in infographics must be well-thought-out to accurately communicate the intended message alongside the graphical elements.
Moreover, visual content like custom illustrations, animations, and graphical videos can significantly enhance the engagement levels on your digital platforms, making your content more shareable and memorable.
8. Technical Writing
Technical writing is essential for businesses that offer complex products or services requiring detailed explanations. This service encompasses the creation of manuals, guides, FAQs, product specifications, and system documentation.
A proficient technical writer can translate complex technical jargon into clear, understandable, and actionable information for diverse audiences, be it end-users, stakeholders, or technicians. It's imperative that the technical content is accurate, clear, and concise to facilitate understanding and correct usage of the products or services, thereby enhancing user satisfaction and minimizing the scope of errors.
9. Case Studies and Whitepapers
Case studies and whitepapers are vital for showcasing your expertise, solutions, and the tangible benefits clients can expect. Case studies provide a detailed account of challenges faced, solutions provided, and the results achieved for specific clients or projects. They serve as testimonials of your competence and the practical value you bring to the table.
On the other hand, whitepapers are authoritative reports or guides addressing complex issues, presenting solutions, and providing a deep dive into a particular subject matter. They position your brand as a thought leader and a reliable source of information in your industry. Both these formats require a meticulous approach to research, analysis, and clear, persuasive writing to effectively communicate the value proposition and insights.
10. Editorial and Proofreading Services
In the digital realm, the quality of your content significantly impacts the perception of your brand. Editorial and proofreading services are pivotal in ensuring that your content is polished, professional, and free of errors. These services encompass a thorough review of text for grammatical accuracy, spelling, punctuation, consistency, and adherence to a particular style guide, if any.
Beyond mere correction of errors, editorial services also involve enhancing the clarity, coherence, and overall quality of the content, ensuring that it effectively communicates the intended message and resonates with the target audience.
Is there a tool to check if a writing is written by an AI?
The adeptness of AI in crafting human-like text has escalated to a point where demarcating human and AI-generated content can pose a significant challenge. The emergence of tools and methodologies designed to tackle this challenge reflects a growing imperative in the digital community.
Among the notable developments is the inception of AI-driven systems engineered to discern the nuances distinguishing human and AI-authored text. These sophisticated systems are meticulously trained on extensive datasets, enabling them to identify the subtle patterns and inconsistencies that are characteristic of AI-generated content.
Within the scholarly realm, the field of stylometry, which delves into the analysis of linguistic style, has been harnessed to devise tools capable of scrutinizing the peculiarities of text to ascertain its genesis. By evaluating a myriad of linguistic features encompassing syntax, semantics, and lexical usage, these tools aim to unveil the mechanical undertones inherent in AI-generated text.
Moreover, the discourse around AI transparency has led to the implementation of watermark or disclosure mechanisms on certain platforms, serving as indicators of AI-generated content. This layer of transparency is pivotal in fostering trust and authenticity in the digital ecosystem.
Specific tools such as GPTZero and GLTR have emerged as promising solutions in the realm of AI text detection. GLTR, for instance, utilizes statistical patterns to highlight text portions that are likely machine-generated.
As the AI landscape continues to burgeon, the evolution of detection tools is anticipated to keep pace, becoming more refined and reliable. The existing suite of tools, while offering a degree of scrutiny, underscores the exigency for ongoing research and innovation in the burgeoning field of AI text detection. The dynamic interplay between crafting realistic AI-generated text and the development of robust detection mechanisms forms a captivating aspect of the broader narrative on AI ethics and transparency.
How Much Does Content Writing Services Cost?
The cost of content writing services can vary widely based on a multitude of factors including the expertise required, the type of content, the length of the content, and the turnaround time. Here's a breakdown of some price points and pricing models observed in the industry for 2024:
Entry-Level Pricing
Some agencies provide an entry point for businesses looking to explore content services without a hefty investment. For instance, ContentWriters offers services starting at $99.00, making it a viable option for small businesses or startups aiming to kickstart their content journey.
Per Word Pricing
A prevalent pricing model in the industry is the per-word pricing structure. For instance, Writing Studio has a tiered pricing model based on word count; they charge $0.20 per word for orders under 5,000 words, and the rate decreases to $0.125 per word for orders exceeding 10,000 words. This model offers a clear, scalable pricing structure that aligns with the volume of content required.
Variable Pricing
The content writing market is vast, with agencies offering a wide range of pricing. This variance is often a reflection of the quality, expertise, and additional services provided. For example, an agency specializing in technical writing or SEO-optimized content might charge a premium due to the specialized skills and results they bring to the table.
Updated Pricing Guides
Some platforms provide updated pricing guides to reflect the current market rates for content creation and marketing, which is a rapidly growing industry projected to be worth $417 billion.
Cost Dependent on Factors
The costs for content writing services are contingent on a wide range of factors, which can sometimes make it challenging to forecast. By understanding the factors that dictate costs, businesses can better navigate the pricing landscape​.
These price points and models underscore the diverse pricing landscape within the content writing services sector. It's prudent for businesses, especially SMEs, to thoroughly research and perhaps consult with several content writing service providers to ascertain a pricing structure that aligns with their budgetary constraints and content needs.
What is an example of content writing?
A tangible example of this could be a small local bakery aiming to expand its clientele and enhance its online presence.
Upon engaging a content writing service, a comprehensive content strategy was devised. The first endeavor was revamping the bakery's website. Fresh, SEO-optimized content was crafted for each page, narrating the bakery's story, detailing the menu, and elucidating their unique selling propositions like organic ingredients and bespoke cake designs.
Simultaneously, a blog section was introduced on the website. Weekly blog posts were crafted, ranging from baking tips, spotlighting popular items like their award-winning sourdough bread, to sharing behind-the-scenes glimpses of a day in the bakery. These posts were not just informative, but they were imbued with a warm, inviting tone, mirroring the ambiance of the bakery itself.
Additionally, an email newsletter campaign was initiated. Monthly newsletters filled with updates, special offers, and highlighted customer reviews were sent out to their growing subscriber base, forging a deeper connection with the community.
On social media, regular posts showcasing their baked goods, happy customers, and the occasional baking mishap, infused humor and authenticity into their online persona. The narrative was always engaging, aiming to evoke the cozy, aromatic allure of the bakery in every piece of content shared.
Over time, the orchestrated content efforts started bearing fruit. The bakery witnessed a significant uptick in website traffic, a growing following on social media, and an influx of new customers, many of whom were drawn in by the engaging stories and insights shared online.
This exemplifies how content writing, when strategically employed, transcends beyond mere text on a page. It becomes a powerful tool for storytelling, community building, and ultimately, business growth. Through meticulously crafted content, the quaint local bakery managed to extend its warm, inviting aura beyond its physical locale, into the digital realm, attracting a wider clientele and fostering a thriving community around its brand.
Tips to Find the Right Agency for Your Needs
With so many award-winning and highly reviewed digital marketing agencies out there, you may be wondering how to choose the right one. Working with an agency is an investment that you shouldn't take lightly because it's a partnership that can make or break your marketing efforts.
Here's the structured approach and methodology we adhere to and advocate as a robust purchasing guide. Employ this framework as you assess potential service providers.
1. Research the agency's reputation and industry expertise.
Look for reviews, testimonials, and case studies that showcase their past successes. A proven track record is a strong indicator of reliability and quality. It's also better to work with an agency with knowledge of your niche since they can produce more relevant and effective content.
Take time to review the agency's portfolio and ask for sample work. Look for diversity in their writing style and content types to ensure they can meet your specific needs.
---
2. Determine if the agency offers content strategy services.
A strategic approach to content creation can yield better results in terms of engagement and conversions. While you can always engage an agency to simply write and produce your content, it's best if they are also involved in the strategy and ideation process.
Also, assess the agency's SEO capabilities. They should understand keyword research, on-page optimization, and the latest SEO trends. A HubSpot Blog report shows that 88% of marketers will continue to invest in SEO which ranks as the #4 strategy with high ROI and effectiveness.
---
3. Evaluate the agency's workflow and tools.
Communication is key to a successful collaboration. Ensure the agency has clear channels of communication and is responsive to your inquiries and feedback. Discuss turnaround times for content delivery. Depending on your needs, you may require quick content production, so make sure they can meet your deadlines.
Inquire about the agency's quality control process. Ensure they have editors and proofreaders in place to maintain high-quality content. Ask about the tools and technology the agency uses for content management and collaboration, especially if you have specific platforms or systems in mind.
---
4. Make allowances for the future.
Consider whether the agency can scale its services as your content needs grow. Scalability is crucial for long-term partnerships. You should also consider how flexible the agency is in accommodating your unique requirements and preferences.
An agency should be able to provide different quotes or service packages depending on your needs. You can start with a smaller package and then scale it as the business grows. Get a detailed breakdown of pricing and payment terms. Understand any additional charges for revisions or rush orders.
---
5. Look for fresh ideas.
Look for an agency that can bring fresh ideas and creative approaches to your content. Innovative content can set you apart from competitors. Fresh ideas can intrigue your audience, encouraging them to spend more time consuming your content. 
The agency should also remain on top of marketing trends and be able to adapt to these changes quickly. For 2024, funny, trendy, and relatable content is crucial and brands who take advantage will win over loyal followers.
---
Final Thoughts
Creating content on the internet may seem like an uphill battle if you don't have the right partners. There are just too many brands (and individuals) creating content these days and competing for the audience's short attention spans.
But with the right digital marketing agency, creating content becomes intuitive and easy. You can trust that the agency will understand the appropriate content to create and publish, and will generate it promptly.
Working with an agency also frees up your time to focus on more important aspects of your business such as delivering exceptional products and services to your customers. If you're feeling lost in your content marketing efforts, check out one of the agencies listed above and start creating amazing content that your audience loves.
Frequently Asked Questions
What is content marketing and why is it important?
Content marketing refers to the process of creating and distributing content to attract and engage a target audience. It helps increase brand awareness, build brand loyalty, and strengthen brand reputation.
What is the difference between content marketing and digital marketing?
Content marketing and digital marketing are related but distinct strategies. Content marketing focuses on creating content to engage a target audience, build brand awareness, and establish brand authority. Digital marketing, on the other hand, encompasses a broader range of marketing activities that utilize digital channels such as websites, social media, email marketing, SEO, and online advertising to promote a brand, product, or service.