Advertising Disclosure
Advertising disclosure:
Our partners compensate us. This may influence which products or services we review (also where and how those products appear on the site), this in no way affects our recommendations or the advice we offer. Our reviews are based on years of experience and countless hours of research. Our partners cannot pay us to guarantee favorable reviews of their products or services.
Conversion optimization, commonly referred to as CRO (Conversion Rate Optimization), is the strategic process of increasing the percentage of website visitors who take desired actions, be it signing up for a newsletter, making a purchase, or any other measurable goal.
At its core, CRO is about understanding user behavior, making informed decisions based on data, and continually testing and refining the user experience to enhance conversions. As the digital marketplace becomes more saturated, the necessity for businesses to maximize every potential customer interaction is more crucial than ever.
To navigate the intricacies of CRO effectively, many enterprises now turn to Conversion Optimization Services. These services offer specialized expertise and tools that can streamline the optimization process, ensuring that businesses get the most out of their online presence. As we delve deeper, we will uncover the top 10 Conversion Optimization Services, ranked by their numeric impact and overall influence on the industry.
---
Top Conversion Optimization Services
Top
conversion optimization services
2024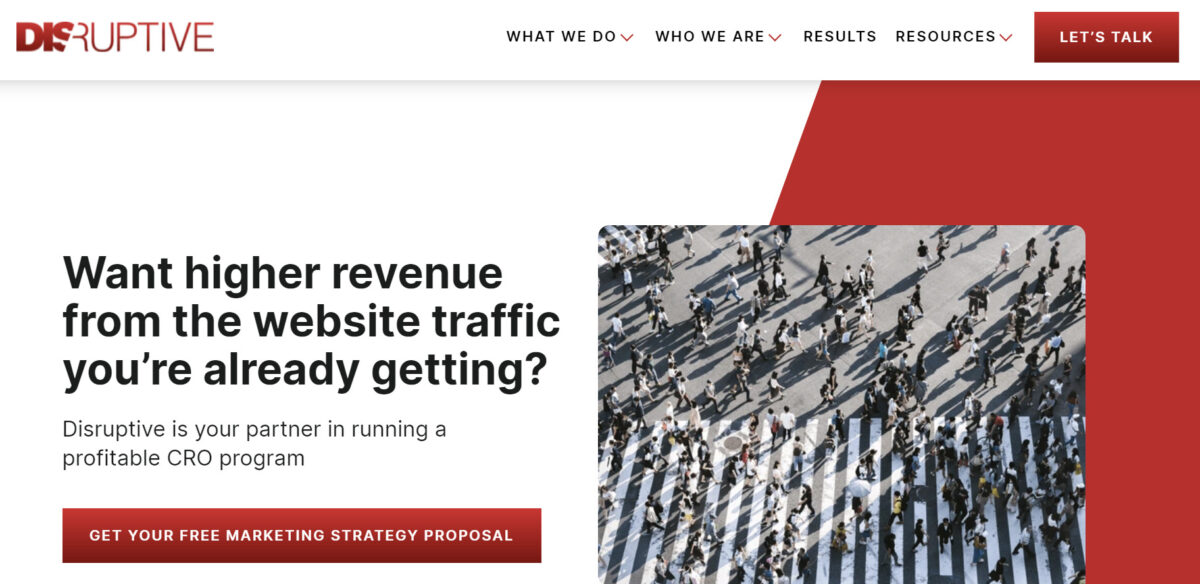 Disruptive stands out as a conversion optimization agency deeply committed to driving tangible results. Recognizing the unique nature of every business, their approach is firmly rooted in developing customized CRO strategies, steering clear of one-size-fits-all solutions. This dedication to specificity begins with a comprehensive understanding of a business's operations, spanning from marketing funnels to distinct conversion nuances between products or services. A meticulous analysis using tools like Google Analytics, heuristic evaluations of vital pages, and on-site heatmaps formulates hypotheses for effective split testing, ensuring every strategy is data-backed and precise.
One of the standout offerings from Disruptive is their landing page optimization. Designed for businesses that employ paid advertising search engines, this service hones in on optimizing the on-page experience. By ensuring landing pages reflect the promises of their ads, businesses can dramatically amplify their conversion rates, specifically for local and lead-generating companies.
Success stories from Disruptive showcase their expertise, with notable achievements like a 60% revenue increase for LA FLEUR and a surge of 499 conversions in just six months for MASTER MUFFLER. These outcomes aren't merely fortuitous; they're a result of the agency's rigorous methodology. Each CRO project initiates with a detailed scoping phase, aligning all parties on the rationale, logistics, anticipated timelines, and key metrics. This alignment guarantees that by the time a concept advances to production, there's consensus on the strategy and its expected impact.
---

SmartSites presents itself as a paragon in the digital marketing arena, offering a comprehensive suite of services tailored for businesses aiming to amplify their online presence. With the accolade of being "America's #1 Rated Digital Marketing Agency," SmartSites demonstrates its prowess not just in mere words but with verifiable awards. Furthermore, SmartSites has been featured in renowned publications such as Forbes, Bloomberg, and Inc.
Diving deep into their core offerings, SmartSites excels in several areas: Web Design, PPC Advertising, SEO, Email & SMS Marketing, and Social Media Marketing. Their approach is holistic, ensuring businesses get an all-encompassing solution. With expertise in platforms like Klaviyo and MailChimp, businesses can expect tailored campaigns that not only grow their audience but nurture them effectively. Conversion is the watchword, and with their approach, brands can transform mere site visitors into loyal customers.
A notable highlight from their portfolio is their "Results-Driven Website Design," boasting over 900 successful website launches since 2011. Additionally, their PPC strategies have been recognized as being in the top 1% of digital marketing agencies. Such high performance is cemented with case studies, like the 200% increase in traffic for most SEO campaigns within a mere six-month period.
---

Thrive Internet Marketing Agency, with over 15 years of experience in digital marketing, has established itself as a front-runner in the realm of conversion rate optimization (CRO). Recognized for its tailor-made strategies, Thrive's approach to conversion optimization is comprehensive and outcome-driven. Their reputation as a formidable Google Ads agency is evident through their custom services offered to a myriad of clients across the United States, helping them transform mere page visitors into dedicated customers.
Delving into their service suite, Thrive offers a myriad of CRO tools and strategies, including comprehensive audits, A/B split testing, and Google Analytics for actionable insights. Their use of heat maps to visually represent user engagement ensures pinpoint modifications to enhance conversions. Additionally, the integration of SEO with CRO, ADA website compliance, and specialized content writing affirms their holistic approach. Special attention to website design is evident, with statistics showing that simplified form fields can drive up to a 120% increase in conversions.
A testimony to Thrive's efficacy is the case of a Dallas/Fort Worth-based full-service RV repair shop that sought better brand recognition and improved website conversions. A meticulous CRO audit identified shortcomings in their call-to-action buttons, form fields, and landing page design. After a strategic overhaul, the results within seven months were commendable: a 30% year-over-year increase in conversion rate, a 42.6% rise in total sessions, and a 32.44% boost in organic SEO traffic.
---
LYFE Marketing, crowned as an award-winning social media marketing agency in 2024, stands tall with its multidimensional approach to digital marketing. Focused on delivering results, LYFE's expertise lies in providing social media services, advertising campaigns, email marketing, and a plethora of other digital marketing avenues. Their primary mandate is to nurture businesses, leveraging platforms such as Facebook, Instagram, Twitter, LinkedIn, and Pinterest. They aim to grow businesses by driving targeted social media users, engaging them with high-quality content, and converting them into loyal customers while narrating the brand's story seamlessly.
LYFE's suite of services is comprehensive. Their services are proven to expedite growth and offer clients enhanced outcomes at reduced costs. Meanwhile, their email marketing strategy boasts an enticing ROI of $36 for every $1 invested. LYFE's proficiency in pay-per-click (PPC) management ensures businesses capitalize on search engines like Google, Bing, and Amazon, positioning them prominently in relevant search results. This aligns with their ethos of conversion optimization, where meticulous planning and strategy converge to produce sales from digital campaigns.
Their exemplary prowess in the realm of digital marketing is showcased in the case study of Brick Staffing, a nationwide staffing agency. Partnering with LYFE Marketing to expand their reach among businesses seeking recruitment solutions, Brick Staffing experienced a transformative outcome. Through precise Google Ads tailored for Brick Staffing's target audience, the campaign yielded a staggering 876 conversions at an impressive 18.99% conversion rate, with an investment of $13,342.81.
---
InvestisDigital is accentuating the essence of Conversion Rate Optimization (CRO) as a catalyst for improving user experience and capitalizing on existing web traffic. Their core philosophy revolves around a methodical approach where CRO isn't merely about clicks but is a well-defined science. By analyzing various user touchpoints encompassing site speed, accessibility, mobile responsiveness, site security, and more, InvestisDigital systematically identifies friction points within the user's digital journey. Through their systematic approach, they rely on insights derived from these analyses to pioneer iterative tests tailored to discern the most effective strategies for specific audiences.
The tangible outcomes of their CRO approach are unequivocally clear: achieving more efficiently and swiftly. With the website being a pivotal point of business and audience interaction across sectors ranging from construction to eCommerce, InvestisDigital's CRO methodologies ensure businesses remain at the cutting edge of an increasingly digital-centric market landscape. Their holistic service spectrum encompasses analysis and strategy, on-site CRO, and landing page CRO.
Beginning with an exhaustive review of actionable metrics derived from technical website environments, analytics, user behaviors, and overall user experiences, they embark on a rigorous testing cycle. This cycle involves the formulation, execution, and close monitoring of hypotheses until statistically significant outcomes are realized.
---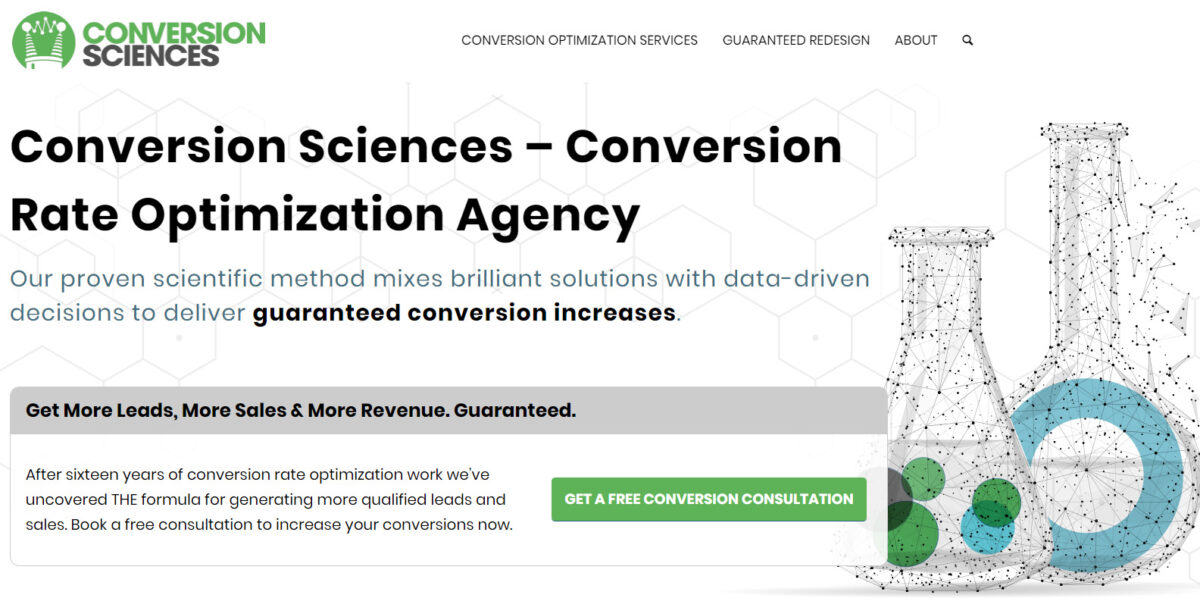 ConversionSciences is a paramount player in the conversion optimization landscape, bringing a methodical, data-driven approach to amplifying website conversions. With over 16 years of expertise, the agency eschews one-size-fits-all templates, choosing instead a meticulous, tailor-made approach. Understanding the distinctiveness of each business and its website, the "Conversion Scientists" base their methodologies on empirical testing, dismissing assumptions in favor of hard data.
A distinct feature of ConversionSciences is their results-backed guarantee, a testament to their confidence in their craft. Committing to target conversion achievements within the first 180 days, they promise to extend their services at no additional cost until those benchmarks are met. This client-centric approach is further embodied in their turnkey solutions, offering clients a full team of adept conversion specialists geared toward identifying conversion impediments and conceptualizing astute, data-validated solutions.
Backed by 10,000 tests since 2007, collaborations with over 150 clients resulting in a 15% or higher conversion lift, and a vast bank of 20,000+ test ideas, their expertise is undeniable. As their portfolio and guarantees suggest, partnering with ConversionSciences isn't just about optimizing conversions—it's about realizing unlimited growth potential.
---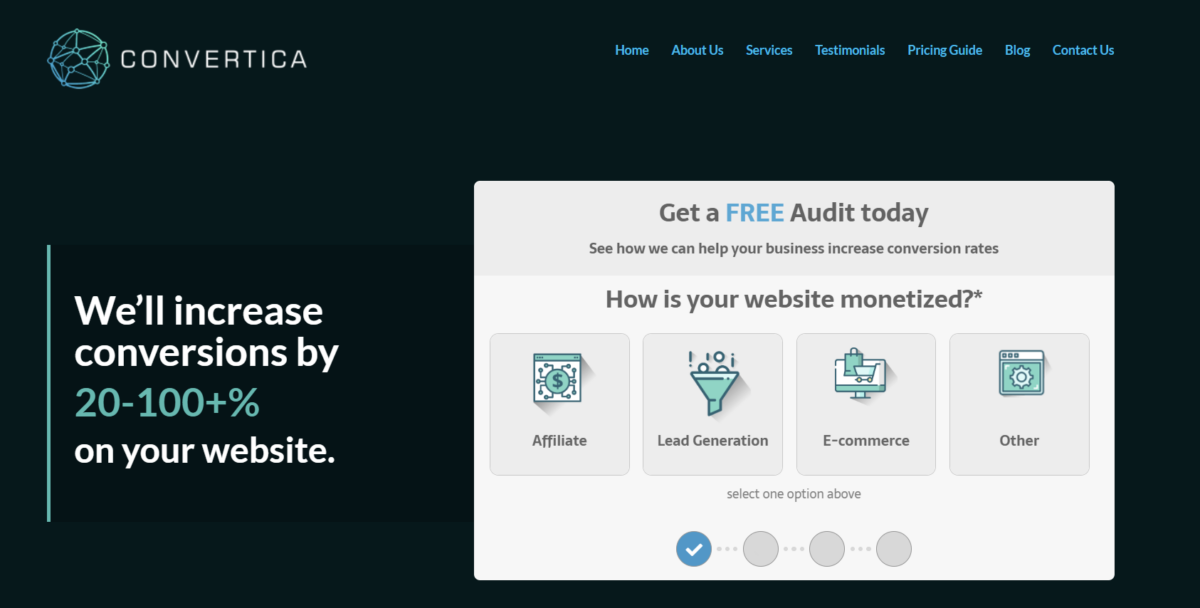 With a striking track record of optimizing over 1,026 websites in just six years, Convertica stands as a preeminent figure in the conversion optimization sphere. Their core value proposition is centered around delivering impressive results, pledging a minimum of a 20% increase in conversions for their A/B testing campaigns. By pairing expertise with tangible outcomes, Convertica bridges the gap between website potential and actual performance. They engage in a comprehensive suite of strategies, covering the spectrum from in-depth analytics and user behavior analysis to devising hypotheses and conducting iterative testing cycles that culminate in evidence-based, impactful changes.
Testimonials from trusted industry names further accentuate Convertica's prowess. Notable client feedback highlights include a commendable 18% lift in free trials for Freshbooks and a substantial 30% revenue boost for Authority Hacker. Their "full done-for-you" approach, inclusive of UX & UI redesign mockups, backend coding, data reporting, and final implementation, is a testament to their holistic approach. 
Convertica's case studies offer invaluable insights into their methodology's efficacy. The case of 10Beasts demonstrates their hands-on approach to refining affiliate sites, while the Empire Flippers case chronicles an impressive 51.6% conversion hike in just 47 days. Further, the tale of JustThrive showcases a remarkable 100% increase in conversions within three months.
---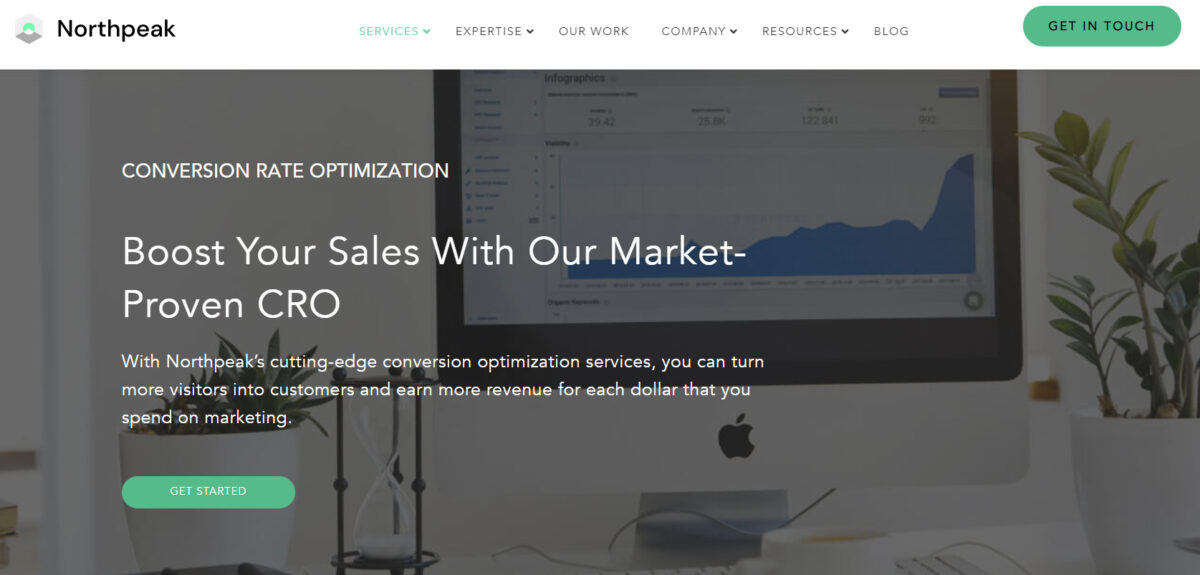 Northpeak is synonymous with transformative conversion optimization. The firm prides itself on its state-of-the-art services that effectively convert visitors into customers, ensuring maximum ROI for each marketing dollar spent. The foundation of Northpeak's approach is data-driven insights, which directly address the pressing concern of businesses: maximized visitor conversions. Their holistic methodology ensures that no visitor exits the website without engaging with the product or service, transforming potential traffic into tangible sales.
Northpeak's conversion rate optimization strategies are multifaceted and comprehensive. They incorporate technology and expertise to scrutinize user behavior throughout the sales funnel. This nuanced understanding aids in refining marketing assets to seamlessly align with the customer's journey. By answering pivotal business questions such as areas of customer drop-off, high-converting channels, effective ad campaigns, and customer segmentation, Northpeak places its clients in a robust position for sustained growth. Their capabilities extend beyond conventional methods, incorporating user testing, heatmaps, scroll maps, user experience audits, and A/B testing, ensuring a full-circle optimization strategy.
Client testimonials further substantiate Northpeak's competence. A notable mention from Chris Norton, a SaaS founder, credits Northpeak for a significant 43% uptick in paid upgrades within months, culminating in a 30% profit rise in four months.
---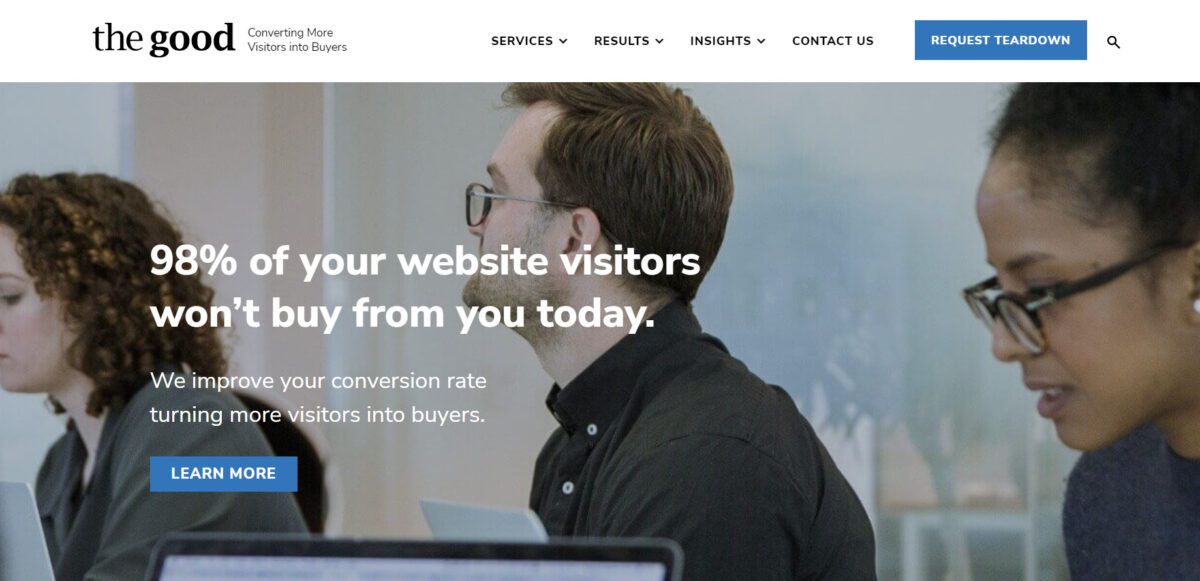 The Good has carved out a unique space in the domain of conversion optimization, merging over a decade of pioneering expertise with a passion for delivering standout results. With an impressive track record of offering an average 9:1 ROI, The Good ensures businesses realize the full potential of their online presence. Their unique approach converges at the intersection of data-driven insights and impeccable design, creating seamless customer experiences that not only resonate but also convert.
At the core of The Good's strategy lies a meticulous two-pronged approach: understanding and fixing. Beginning with comprehensive user behavior analysis, they employ user research, customer surveys, and competitor analysis tools. Once the diagnostics are in place, they embark on a tailored journey of optimization, ranging from A/B testing, multivariate testing, and user experience enhancement to wireframes and development.
Case studies testify to The Good's expertise. Notably, their engagement with Xerox yielded impressive results: a 30% reduction in cancellations, an 86.7% surge in return visitor conversions, and an enviable 17:1 ROI. Additionally, their customized services cater to diverse business needs, from their flagship 'Conversion Growth Program™' catering to businesses with significant web traffic to the 'Comprehensive Conversion Audit™', providing actionable recommendations backed by exhaustive research.
---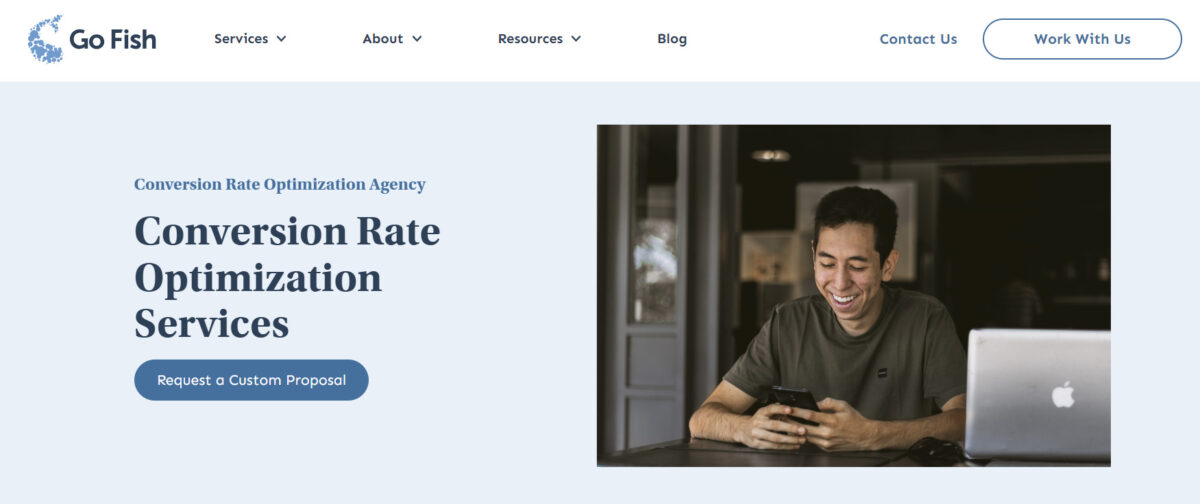 Go Fish Digital has effectively manifested itself as a leader in the CRO domain. Their approach transcends mere traffic acquisition, focusing on the crux of the matter: seamlessly transitioning visitors into loyal customers. With commendable success metrics in tow, Go Fish Digital celebrates a month-over-month (MoM) increment of 23% in conversion rate, alongside a 105% surge in transactions and a staggering 107% boost in revenue.
Central to the agency's strategy is a comprehensive understanding of client goals and the subsequent crafting of a tailored conversion rate optimization (CRO) framework. Emphasizing a holistic overview, they scrutinize both macro site-wide dynamics and micro individual page interactions. In doing so, they ensure every touchpoint aligns with the user's journey, bolstering the potential for conversion. Moreover, Go Fish Digital underscores the importance of first impressions, emphasizing that websites should not merely attract but actively persuade visitors from the outset.
Pivotal to their approach is the utilization of A/B testing frameworks. Eschewing guesswork, Go Fish Digital champions data-driven decision-making. By crafting variant pages and assessing their performance, they meticulously identify which website elements amplify conversions the most. Their commitment to a data-centric methodology ensures intuition is substantiated with tangible evidence, optimizing outcomes.
---
How Do CRO Agencies Help Businesses?
One of the foundational services of CRO agencies is a thorough analysis of a business's current digital footprint. They use advanced analytics tools to understand visitor behavior, page performance, and user engagement, ensuring that they identify areas of improvement.
Rather than basing decisions on intuition, CRO agencies prioritize data. This ensures that every recommendation or action taken is backed by hard evidence, which invariably leads to better outcomes.
A/B testing, split URL testing, and multivariate testing are standard tools in a CRO agency's toolkit. By running these tests, agencies can pinpoint which variations of a webpage or marketing strategy yield better conversion rates.
At its core, CRO is about enhancing user experience. When users can navigate a site with ease, access information quickly, and complete desired actions without hiccups, conversion rates naturally rise.
---
What Factors Affect Conversion Rates?
Conversion rates can be influenced by a myriad of factors, both on-site and external. Understanding these can be the difference between a thriving online presence and missed opportunities. Here are some pivotal factors affecting conversion rates:
The aesthetics, layout, and functionality of a site can either enhance or deter conversions. A user-friendly interface combined with compelling visuals and intuitive navigation can significantly boost conversion rates.
Slow-loading pages deter visitors, leading to higher bounce rates. According to Forbes, 40% of users will wait at most three seconds for your website to load before leaving. That means every second matters and page load times are crucial to maximizing CRO.
With an increasing number of users accessing sites via mobile devices, ensuring mobile responsiveness isn't a luxury—it's a necessity. As found by Exploding Topics, nearly 55% of the worldwide website traffic comes from mobile devices. This statistic points to a necessity to optimize websites for mobile screens in hops to increase conversion rates.
A CTA's prominence, clarity, and appeal can make or break a conversion. Moreover, CTAs must be personalized, as HubSpot's survey found they perform 202% better than non-personalized ones.

Seasonal trends, economic conditions, and broader market sentiments can also influence conversion rates. For example, holiday seasons might see higher conversion rates for e-commerce stores.
The quality and relevance of traffic play a significant role. Organic visitors who arrive at a site after a specific search query might have higher conversion intent than those arriving from a general social media post.
Recognizing and addressing these factors can dramatically improve conversion rates. Businesses should continuously assess and iterate their online presence to optimize for conversions, ensuring they capitalize on every opportunity.
---
Conclusion
This comprehensive guide has delved deep into the realm of CRO, spotlighting the leading agencies of 2024, their data-driven methodologies, and their tangible impacts on businesses across diverse sectors. The consistent surge in interest in CRO underscores its undeniable importance in the contemporary business landscape.
As digital interfaces continue to be the primary touchpoints for customers, ensuring optimal conversion rates is no longer a mere advantage but a necessity. For businesses seeking to amplify their online conversions and achieve measurable growth, finding a reliable partner is one way to dominate competitors.
Frequently Asked Questions
What Types of Businesses Can Benefit from CRO Services?
Every business with an online presence can benefit from CRO services. This includes e-commerce sites, B2B enterprises, service providers, blogs, and more. Whether you're aiming to boost sales, capture leads, or enhance user engagement, CRO can provide tailored strategies to meet specific goals.
What Should I Look for in a Good CRO Agency?
Seek an agency with proven expertise, transparent methodologies, and a track record of successful client results. Consider their analytical approach, testing tools, client testimonials, and their willingness to understand your unique business needs. Good communication and adaptability are also key traits.
How Can I Measure the Success of CRO Campaigns?
Success is typically measured through key performance indicators (KPIs) like conversion rate, average order value, and overall revenue. Track these metrics pre and post-optimization. Additionally, monitor user engagement metrics such as bounce rate, page views, and time spent on site to gauge improvements.
Is A/B Testing Necessary for CRO?
Yes, A/B testing is a fundamental component of CRO. It allows businesses to compare different versions of a webpage to determine which performs better in terms of conversions. By directly testing changes, businesses can make data-informed decisions, ensuring optimal site performance.