Advertising Disclosure
Advertising disclosure:
Our partners compensate us. This may influence which products or services we review (also where and how those products appear on the site), this in no way affects our recommendations or the advice we offer. Our reviews are based on years of experience and countless hours of research. Our partners cannot pay us to guarantee favorable reviews of their products or services.
As the digital landscape becomes increasingly competitive, businesses are racing to grab even the slightest edge to outperform their rivals. Conversion Rate Optimization (CRO) has emerged as a pivotal strategy for this task, offering tangible improvements in engagement rates and sales. The spotlight shines brightly on the top players in the CRO domain as they introduce innovative methods to transform casual browsers into committed customers. But how do you pick the right service?
Fear not, as this article delves into the top 9 Conversion Rate Optimization Services that have made a significant impact this year, providing insights on how they can revolutionize digital presence and profitability. Dive in to unlock the secrets behind their success.
---
Top Conversion Rate Optimization Services
Top
conversion rate optimization services
2024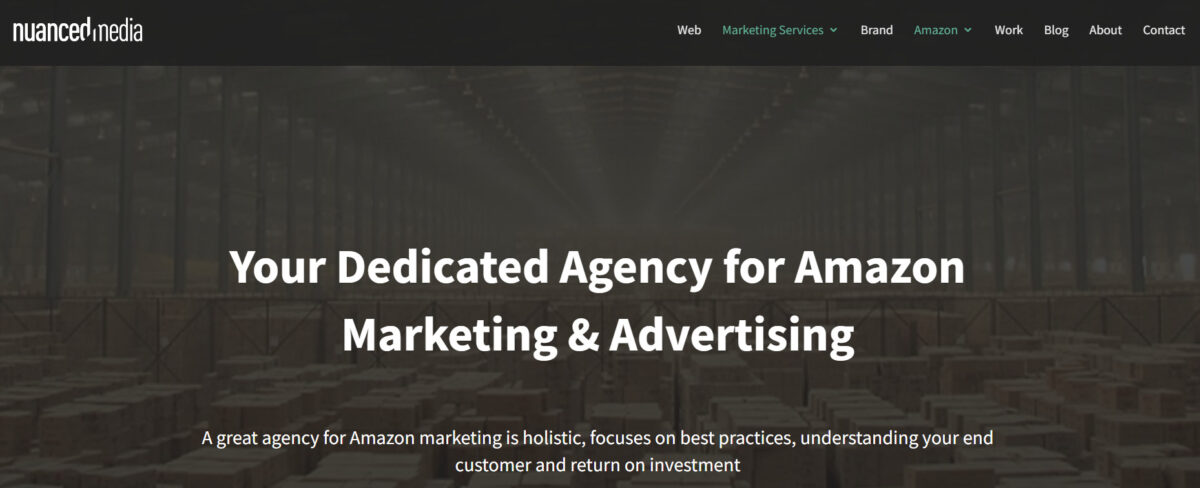 Nuanced Media emerges as a standout conversion optimization agency, specializing in providing a comprehensive suite of services tailored to the needs of Amazon and eCommerce brands. Recognized as the #1 Marketing Agency for Amazon by reputable entities, Nuanced Media has earned its reputation for delivering tangible results. The agency's core services encompass a wide range of crucial areas, all geared to increase and optimize conversions for brands and agencies alike. 
What sets Nuanced Media apart is their deep understanding of the Amazon Vendor and Seller marketplaces, which translate into effective strategies to accelerate sales growth. They take a transparent and candid approach to CRO, ensuring clients receive actionable insights to optimize their websites and stores. Nuanced Media's commitment to understanding what drives users to perform a desired action makes them the go-to solution for their clients. 
Additionally, Nuanced Media goes beyond Amazon by offering multi-channel eCommerce marketing solutions specifically designed to increase conversions. They optimize product listings, call-to-action buttons, and every website element to transform traffic into leads. Their track record of driving 100s of millions in online sales speaks to their ability to deliver results-oriented CRO marketing strategies.
---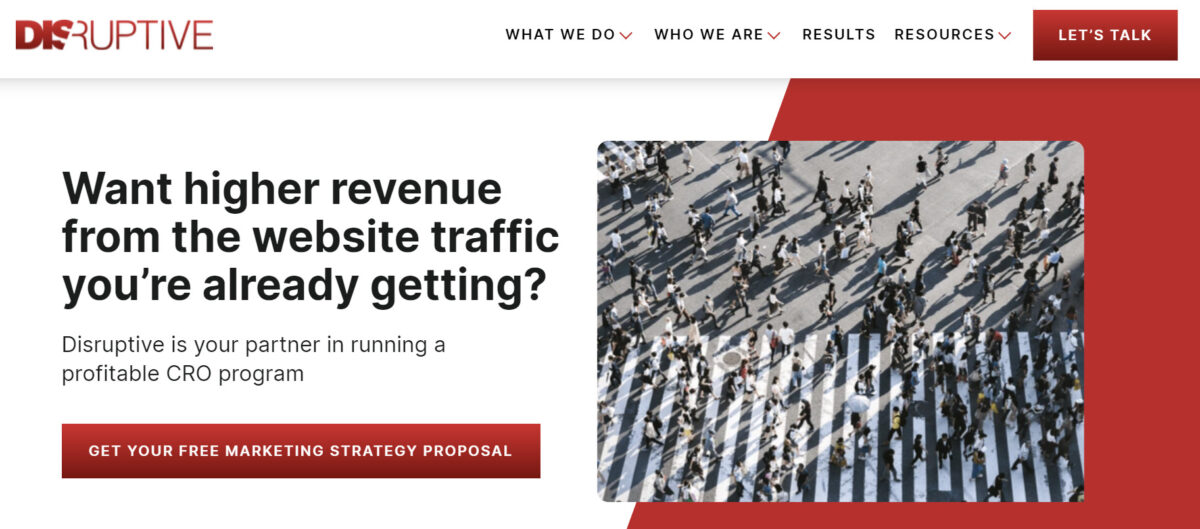 Disruptive, a leading conversion agency, offers a strategic approach that sets it apart in the competitive landscape of CRO services. Unlike many agencies that rely on flashy case studies, Disruptive understands that conversion rate optimization is not a one-size-fits-all solution. Their core philosophy is grounded in tailoring strategies to the unique needs of each client, ensuring results that genuinely matter.
By delving deep into a client's business, examining marketing funnels, product/service-specific conversion differences, and employing tools like Google Analytics and on-site heatmaps, Disruptive constructs data-driven hypotheses for split testing. This thorough approach allows them to determine the most effective tactics and optimize the order and rollout for long-term success.
But what truly sets Disruptive apart is their commitment to a "Thorough is the only way" methodology. They prioritize in-depth research and data analysis to develop robust hypotheses, ensuring their CRO strategies deliver genuine and lasting improvements. Disruptive's services encompass a range of critical elements, including project scoping to align all parties on rationale and approach, integrated design services, variation experience development, and results analysis. Their dedication to a disciplined, time-tested process makes them a top choice for businesses seeking to harness the power of conversion optimization.
---
SmartSites, a prominent conversion optimization agency, distinguishes itself with a comprehensive suite of services designed to elevate businesses to new heights. As a Google Premier Partner 2023, Microsoft Advertising Select Partner 2023, Meta Business Partner, and Amazon Ads Partner, SmartSites boasts a remarkable track record in the digital marketing sphere. What sets SmartSites apart is their unwavering commitment to achieving measurable results. From understanding the user through deep analytics to using CRO best practices, SmartSites offers a one-stop solution for businesses looking to enhance the probability of visitors making the preferred action.
They debunk the claim that CRO is all about A/B testing. As such, they utilize a comprehensive approach that implements CRO across the marketing funnel, from display to email, SMS marketing, and even web design. A highlight includes educating clients on what it means to convert, from understanding its definition and calculating it to realizing its importance in modern marketing. With SmartSites, it's more than just numbers; a robust CRO strategy amplifies the value derived from site visitors, optimizes acquisition costs, and paves the way for business growth. 
Furthermore, SmartSites excels in transforming site visitors into loyal customers through personalized strategies and data-driven tactics. This agency's holistic approach to digital marketing ensures businesses build brand awareness, convert prospects into customers, and generate repeat business. With SmartSites, clients can expect to double their website traffic within six months, setting the stage for long-term conversion success.
---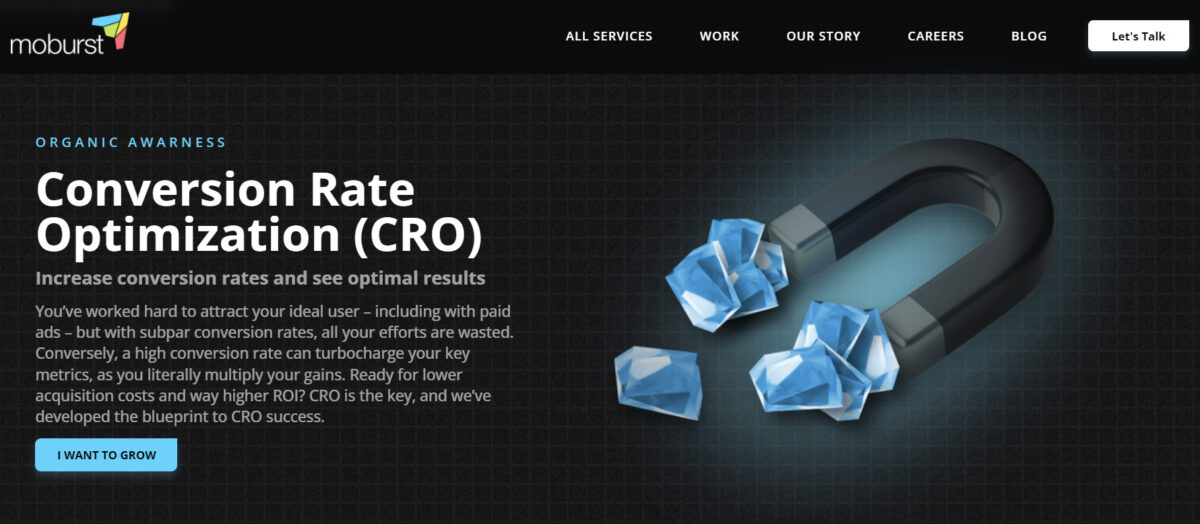 Moburst, a leading digital agency, offers a comprehensive suite of services designed to turbocharge digital success. At the heart of their expertise lies Conversion Rate Optimization (CRO), a key focus area that sets them apart. With Moburst's CRO solutions, brands can witness significant improvements in their conversion rates, ultimately leading to lower acquisition costs and a substantial boost in ROI.
Moburst understands that every user's journey towards conversion should be swift and effective. They employ a strategic and data-driven approach to shorten user journeys, ensuring marketing efforts do not go to waste. Whether it's optimizing web or mobile experiences, Moburst combines scientific testing with creative finesse to achieve remarkable results. They excel in Mobile CRO, where they rigorously test various creative assets to determine the most conversion-driving combinations. Additionally, with their expertise in CRO for iOS 15 and Google Play Experiments, they help brands harness the full potential of these platforms, including Custom Product Pages, Product Page Optimization, and In-App Events.
Moburst's web-based CRO services are equally impressive, with a focus on maximizing conversion rates through meticulous testing and optimization of every element on clients' web pages. By partnering with Moburst, brands can anticipate lower customer acquisition costs, increased revenue per user, and a more efficient use of their budget.
---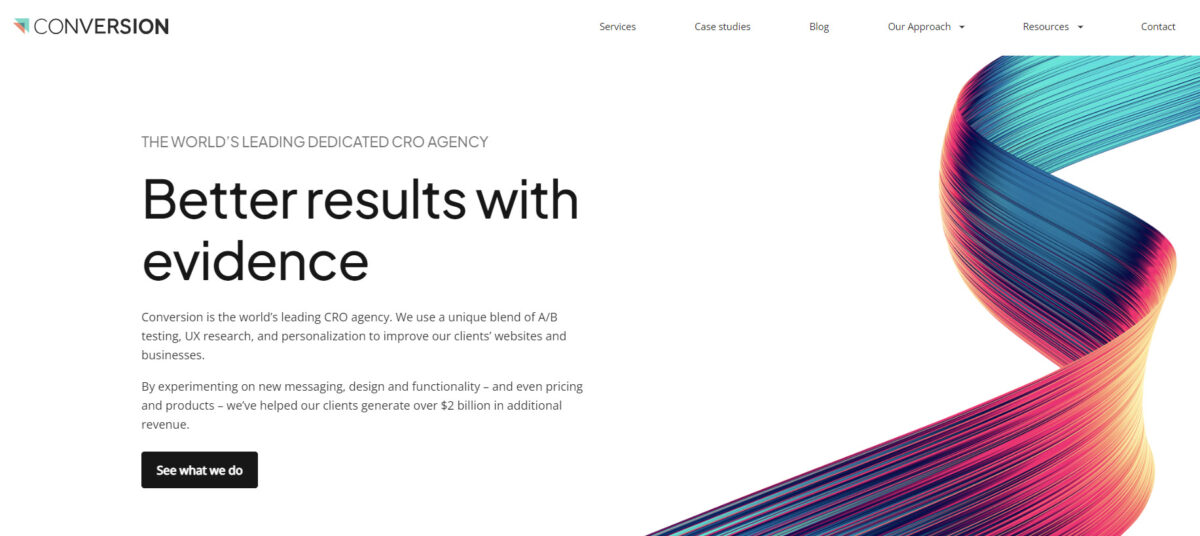 Conversion, a premier UX/UI agency, offers a dynamic suite of services designed to turn website traffic into substantial revenue. With a remarkable track record of generating over $2 billion in additional revenue for clients, Conversion is poised to help you exceed your ambitious growth targets.
Conversion Rate Optimization (CRO), their specialty, focuses on maximizing the potential of users already on websites. Through a data-driven and iterative approach, they conduct A/B tests to understand how changes impact conversion rates. These insights are leveraged to inform ongoing testing, allowing them to progressively optimize client websites for the highest number of conversions possible. The benefits of their CRO service are substantial, including increased profit and revenue, deep customer insights, risk-free innovation, and the ability to experiment on various aspects of a client's business, from messaging to pricing.
What sets Conversion apart is their commitment to turning insights into action, driving bottom-line growth for clients. They go beyond superficial metrics and immerse themselves in businesses to understand the metrics that truly impact organizational success. Conversion also brings a team of CRO experts to the table, capable of conducting strategies, analysis, design, and development.
---

Thrive, a leading conversion optimization agency, offers a comprehensive suite of Conversion Rate Optimization services to elevate business success. Their mission is to transform website visitors into paying customers and supercharge sales. Thrive's CRO strategy is uniquely tailored to meet brand-specific business requirements, ensuring conversion marketing needs are expertly addressed. As a trusted CRO company serving clients across the United States, Thrive partners with businesses of all sizes to enhance website usability and convert more page visitors into loyal customers.
Thrive's array of services encompasses a range of critical components for effective CRO, including comprehensive audits, A/B split testing, Google Analytics integration, heat maps testing, website design and development, SEO integration, user behavior analytics, ADA website compliance, and content writing. Their expertise is further underscored by their commitment to delivering real results, not just diagnostics.
One of Thrive's remarkable success stories involves a full-service RV repair shop in Dallas/Fort Worth seeking better brand recognition and increased monthly website conversions. Thrive's CRO consultant conducted a thorough audit, identifying issues with the client's call-to-action button, form fields, and overall landing page design. By addressing these concerns and implementing strategic changes, Thrive achieved remarkable results within seven months: a 30% increase in conversion rate (year-over-year), a 42.6% rise in total sessions, and a 32.44% boost in organic SEO traffic. These outcomes exemplify Thrive's proficiency in delivering measurable improvements through their conversion optimization services.
---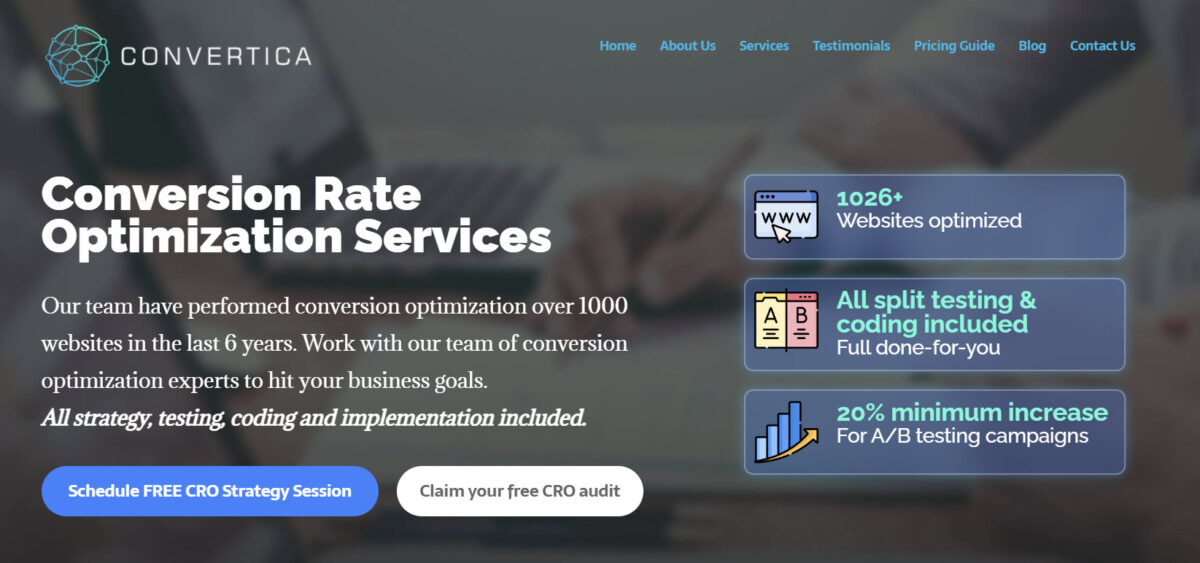 Convertica, a conversion optimization agency, stands out as a powerhouse in the realm of boosting conversions by 20-100%. With a strong track record of optimizing over 1,000 websites in just the last six years, Convertica's team of experts can help brands achieve their business goals. What sets them apart, however, is their full-stack approach, encompassing strategy, testing, coding, and implementation—all under one roof.
Their proven results are a key highlight of Convertica's services. Their efforts have led to impressive increases in revenue for clients, with testimonials highlighting substantial lifts in free trials, revenue growth exceeding 30%, and significant improvements in click-through rates. Convertica's comprehensive offerings include redesign mockups, backend coding, A/B split testing, detailed reporting, and seamless integration of winning layouts. This full-service approach ensures clients receive end-to-end conversion optimization services, sparing them the complexities of hiring and training staff for the task.
Convertica's emphasis on data-driven decision-making through usability assessment and Google Analytics makes them a potent partner for achieving the highest ROI from websites.
---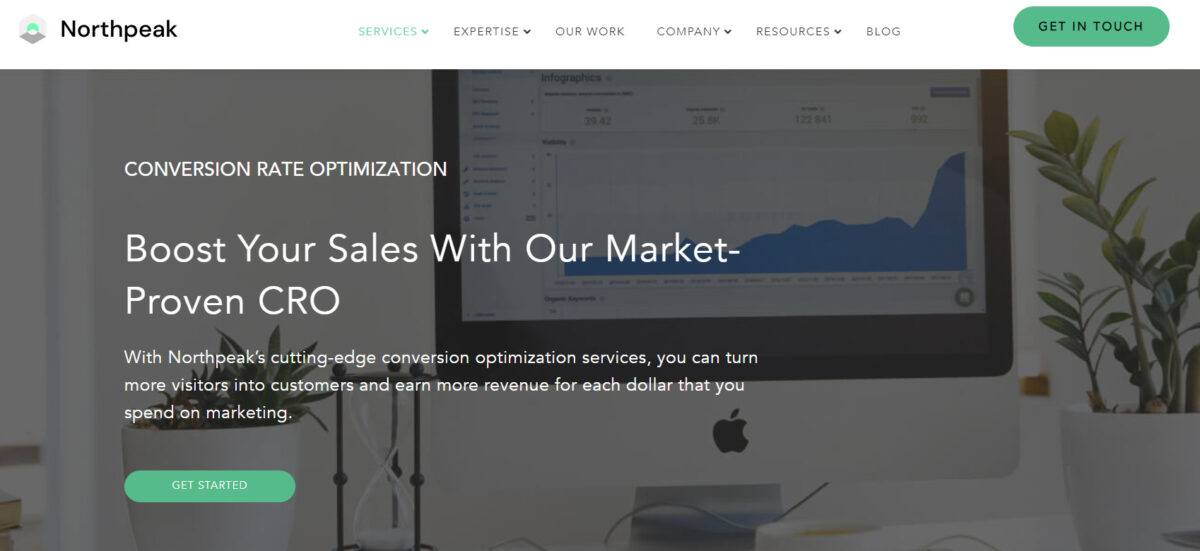 Northpeak, a conversion optimization agency, is the go-to partner for businesses looking to maximize their revenue and turn more visitors into customers. What sets Northpeak apart is its data-driven approach to conversion rate optimization (CRO), which helps clients increase their ROI without increasing marketing spend. They understand that all the traffic in the world is meaningless if it doesn't result in conversions, and they're here to address that challenge.
Northpeak's CRO process involves making informed, research-backed adjustments to the sales funnel and marketing assets. They use technology and expertise to track user behavior and align marketing materials with the customer journey, ensuring brands aren't losing customers and money. By answering critical business questions and optimizing conversion rate, Northpeak's services have the potential to make or break ambitions. They offer a comprehensive suite of capabilities, including user testing, customer interviews, surveys, heat maps, scroll maps, website traffic analysis, user experience audits, A/B testing, website personalization, and testing implementation. This comprehensive approach ensures that no stone is left unturned in the pursuit of higher conversion rates.
Northpeak's track record is backed by client testimonials, with clients reporting significant increases in paid upgrades and profits, emphasizing their effectiveness in growing businesses. They follow a structured five-phase approach, so the conversion optimization strategy is data-driven and effective.
---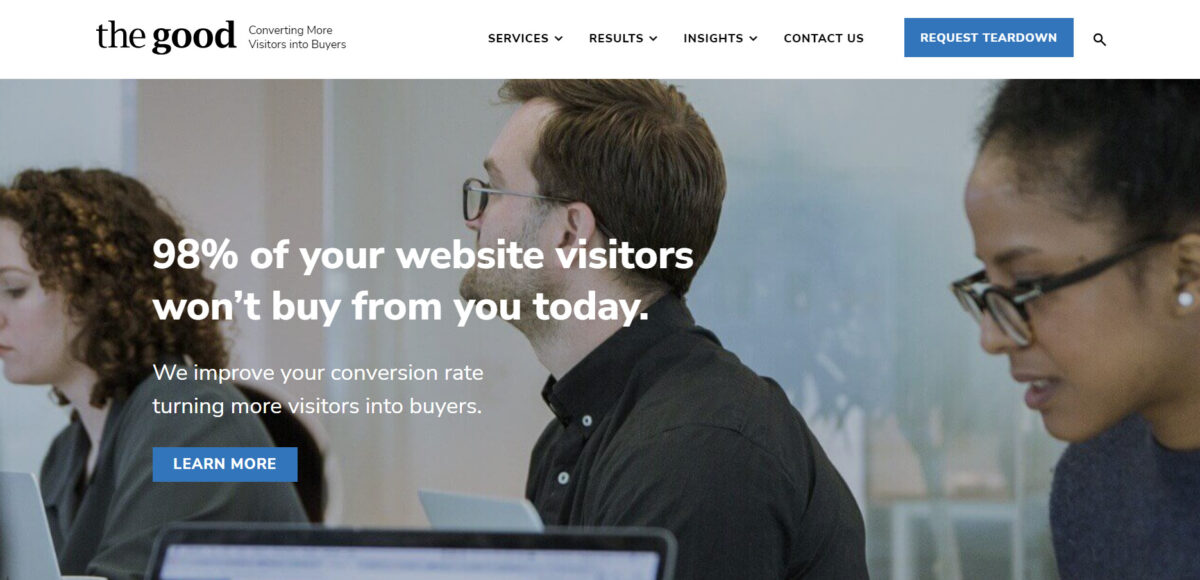 The Good, a prominent player in the field of conversion optimization, stands out for its impressive track record and unique approach to enhancing customer experiences. With over a decade of industry-leading experience in conversion rate optimization (CRO), research, and strategy, The Good consistently delivers an outstanding average ROI of 9:1. Their services are not only data-driven but also infused with beautiful design skills, creating a perfect blend that transforms user experiences into conversions.
The Good's approach begins with a deep understanding of why users aren't converting, followed by hands-on experiences with real clients through measurement, analytics, competitive research, customer surveys, and journey mapping. Once the issues are identified, they construct a strategic roadmap for success, leveraging A/B testing, multivariate testing, user experience optimization, wireframing, and design and development expertise.
Their services cater to a wide spectrum of needs, from the Comprehensive Conversion Audit™ for actionable recommendations to the Conversion Growth Program™ for fully managed optimization and experimentation. The Good's client testimonials and remarkable results for well-known brands like Xerox, Easton, and more underscore their expertise and effectiveness in driving conversions. With a team of optimization experts, The Good is a reliable partner for unlocking significant results and improving online presences.
---
Key Statistics Highlighting the Impact of CRO in 2024
As the digital marketplace expands, the reliance on data-driven decision-making has become paramount. Conversion Rate Optimization (CRO) is no exception, and the stats stand as a testament to its growing significance.
---
Conclusion
This article unveils the top 9 CRO agencies of the year, each offering specialized expertise to amplify user engagement and drive conversions. Whether it's strategic planning, Amazon optimization, data-driven methodologies, or holistic digital marketing, these agencies cater to a wide spectrum of needs. CRO's impact is evident in statistics, and these agencies embody the fusion of art and science, enabling businesses to thrive in the digital realm.
Frequently Asked Questions
How can CRO services adapt to the ever-evolving algorithms of search engines and platforms?
Understanding the dynamic nature of online algorithms is essential, especially when it comes to keeping your website and digital platforms optimized for the highest conversion rates. Business owners should be assured that their chosen CRO agency is always ahead of the curve, anticipating changes, and proactively adjusting strategies.
What are the typical timeframes to witness tangible results after implementing CRO strategies?
Every business owner is eager to see results. Knowing the average time it takes to start observing significant changes in conversions can help set realistic expectations and ensure consistent investment in the optimization process.
How do CRO agencies integrate new optimization strategies with existing digital marketing campaigns?
For businesses already running digital campaigns, it's vital to understand how CRO will dovetail with existing efforts. A smooth integration can lead to compounded benefits, making this a common query for those looking to invest in optimization services.
Can CRO services be tailored for niche industries or specialized products/services?
Businesses operating in niche sectors or offering specialized products may have concerns about the applicability of standard CRO practices. Knowing how agencies customize their approach for such unique scenarios can be a significant deciding factor.
Beyond conversion rates, how do CRO services impact other critical metrics like average session duration, page views, or cart abandonment rates?
While the primary focus is on conversion rates, understanding the broader impact of CRO on various website and user engagement metrics provides a holistic view of its benefits. Business owners are often interested in the ripple effects of optimization beyond just conversions.