Are you getting the most from your Facebook advertising campaigns? Facebook is a powerful advertising platform that offers a lot of bang for your marketing buck if you know how to use it.
If you're looking for ways to improve your Facebook ads ROI, these Facebook advertising tips are for you!
12 Facebook Advertising Tips:
---
Custom audiences, dynamic ads, placements?
Facebook's advertising platform is robust, but with all of the features and seemingly endless advertising possibilities, it can be easy to overlook features that will really drive results.
To help you boost the impact of your Facebook ads, here are 12 Facebook advertising tips that will take your campaigns from "ho-hum" to "hooray!"
1. Track Qualitative Data
This is one of the most important Facebook advertising tips you'll find and puts you in a position to truly get the most out of your Facebook marketing strategy.
Before you start advertising on Facebook, be sure to look at your business growth and performance metrics. Pay particular attention to your average order value (AOV) and website conversion rate.
Here's why:
If you know that your site's conversion rate is 2.5% and the AOV is $100, you know that for every 1,000 visitors to your site, you're likely going to bring in $2,500.
This is important for tracking the impact of your Facebook advertising.
For instance, let's assume that you start running a Facebook ad and your visitors increase by 500. If your conversion rate and AOV stay the same, the Facebook ad is netting you an additional $1,250.
Great, right?
But what if you're spending $1,500 on that Facebook ad?
Suddenly, your Facebook is costing you $250 plus the cost of creating the ad.
So, before you start advertising, make sure you fully understand your existing traffic, conversion rate, and AOV. Then, start running your ads and monitor the progress.
---
2. Experiment With Audience Targeting
Facebook's advertising platform offers several ways to target just the right audience. The best way to build the audience that works for your Facebook ad is to experiment.
First, we recommend using Facebook's Custom Audiences to create highly effective remarketing ads.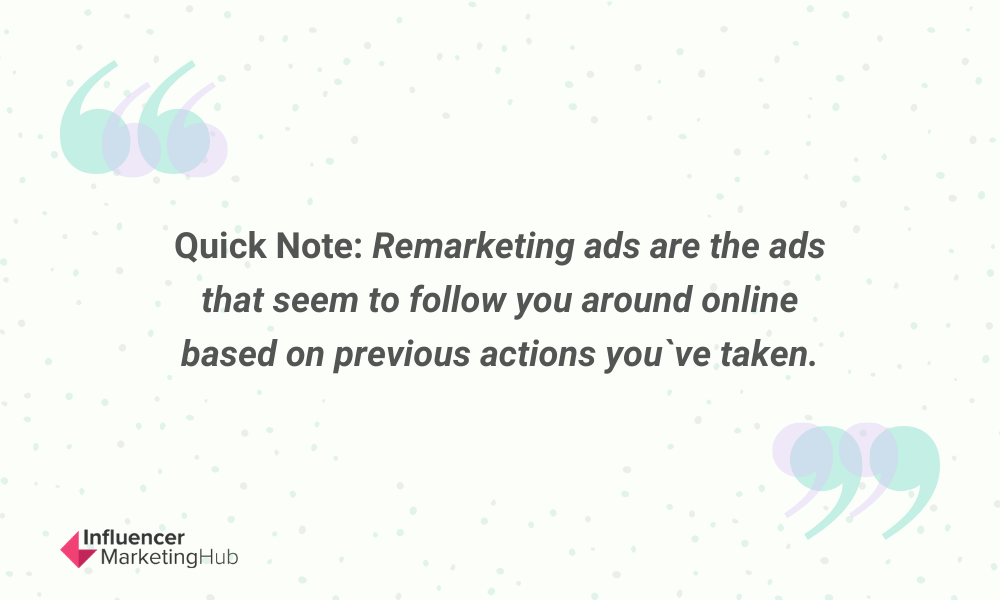 Custom Audiences let you target users based on five segments:
Customer File:

Target users through matching email addresses, phone numbers, and Facebook user IDs to existing Facebook accounts.

Website Traffic:

Target users who have visited your website or specific pages on your site.

App Activity:

Target users of your app or game.

Offline Activity:

Target users who have interacted with your business offline (in-store, by phone, or other offline channels).

Engagement:

Target users who engage with your content on Facebook or Instagram.
Don't just stop at those segments, though. If you take one thing away from this Facebook advertising tip, let it be this: you can create robust targeting by using Custom Audiences combined with demographic, behavioral, and interest targeting to further refine your audience.
---
3. Use the Facebook Pixel
The Facebook pixel is a snippet of code that gives you information about your website visitors you can use to create better, more targeted Facebook ads. It lets you track site traffic, product purchases, content downloads, and other conversions that you can use to remarket.
You can use the Facebook Pixel to:
Encourage customers to make another purchase

Find out which of your products attract the most activity

Discover how customers buy from you (mobile vs. desktop, for example)
It's easy to add Facebook Pixel to your website, and it starts collecting data right away.
---
4. Check Out Your Competition
There are a couple of ways you can find out what your competition is up to on Facebook's advertising platform.
First, you can use Audience Insights to target your competitors' fans. Here's how:
Open the Audience Insights dashboard and choose Everyone on Facebook.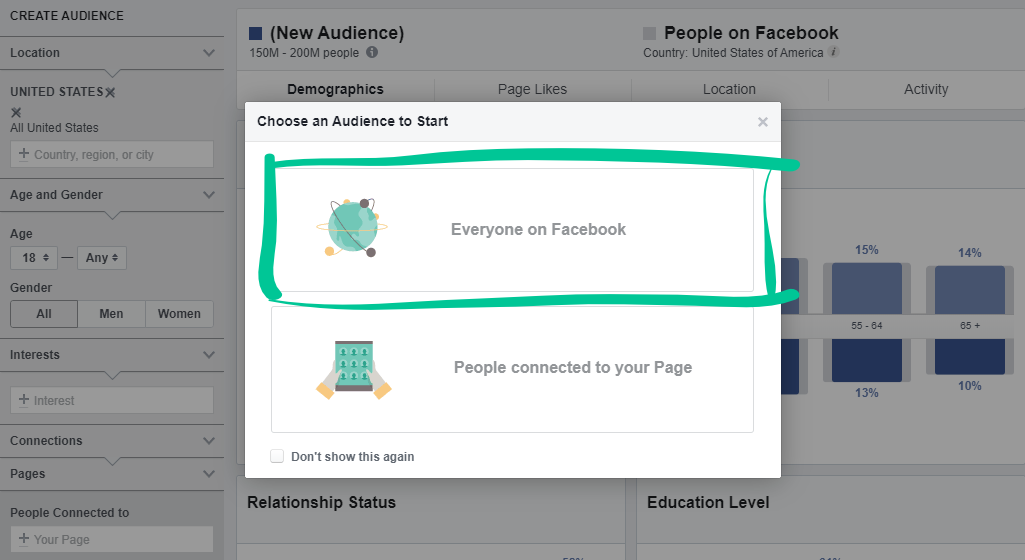 Use Create Audience on the left side of the page to refine the audience so it matches your target audience.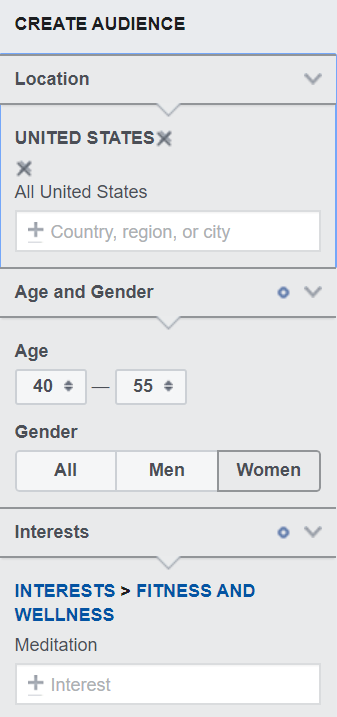 Go to the Page Likes tab to see the pages your target audience already likes. We recommend saving this information in a spreadsheet.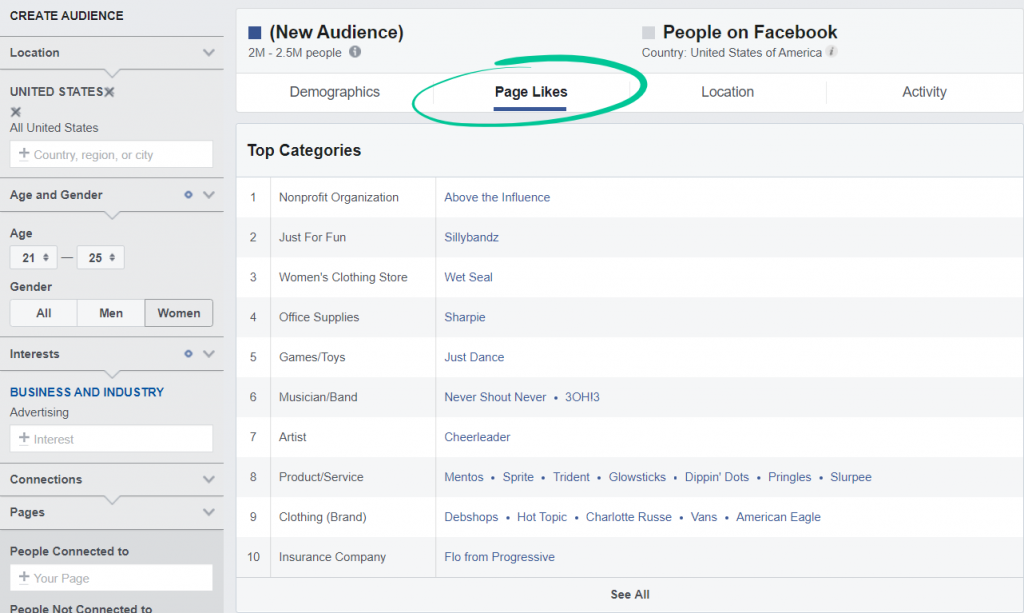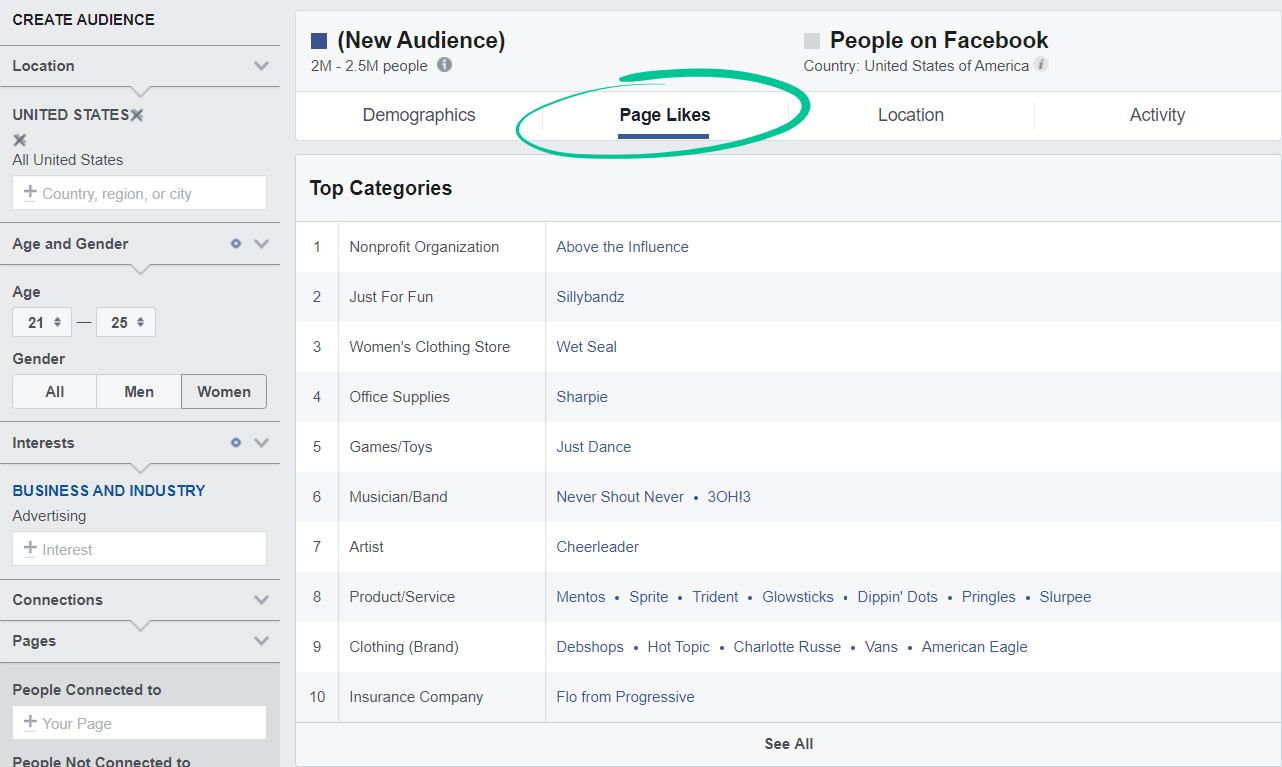 Under the Create Audience tab, enter the name of one of your competitor Facebook Pages in the Interests field.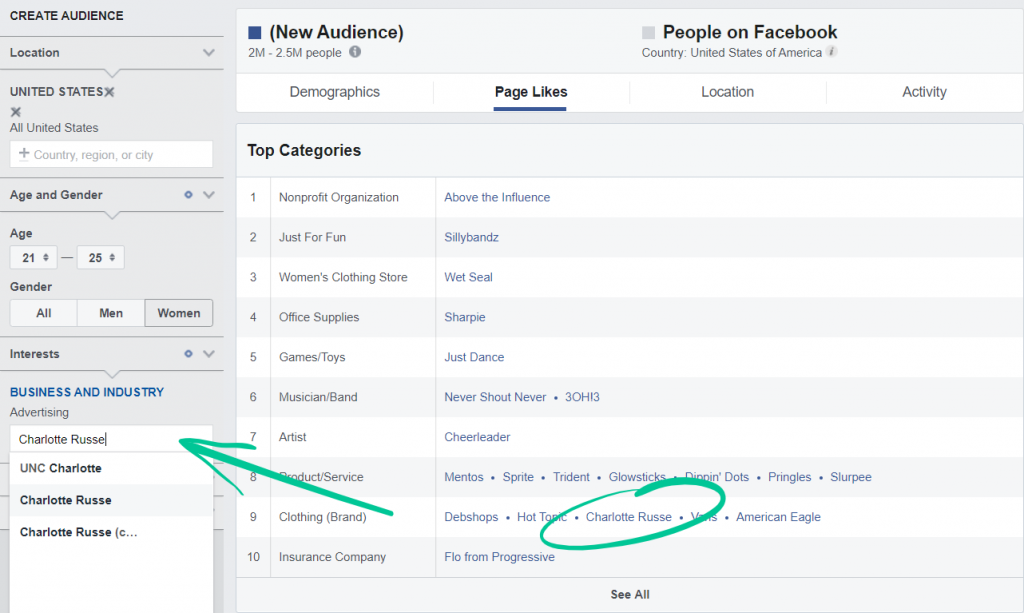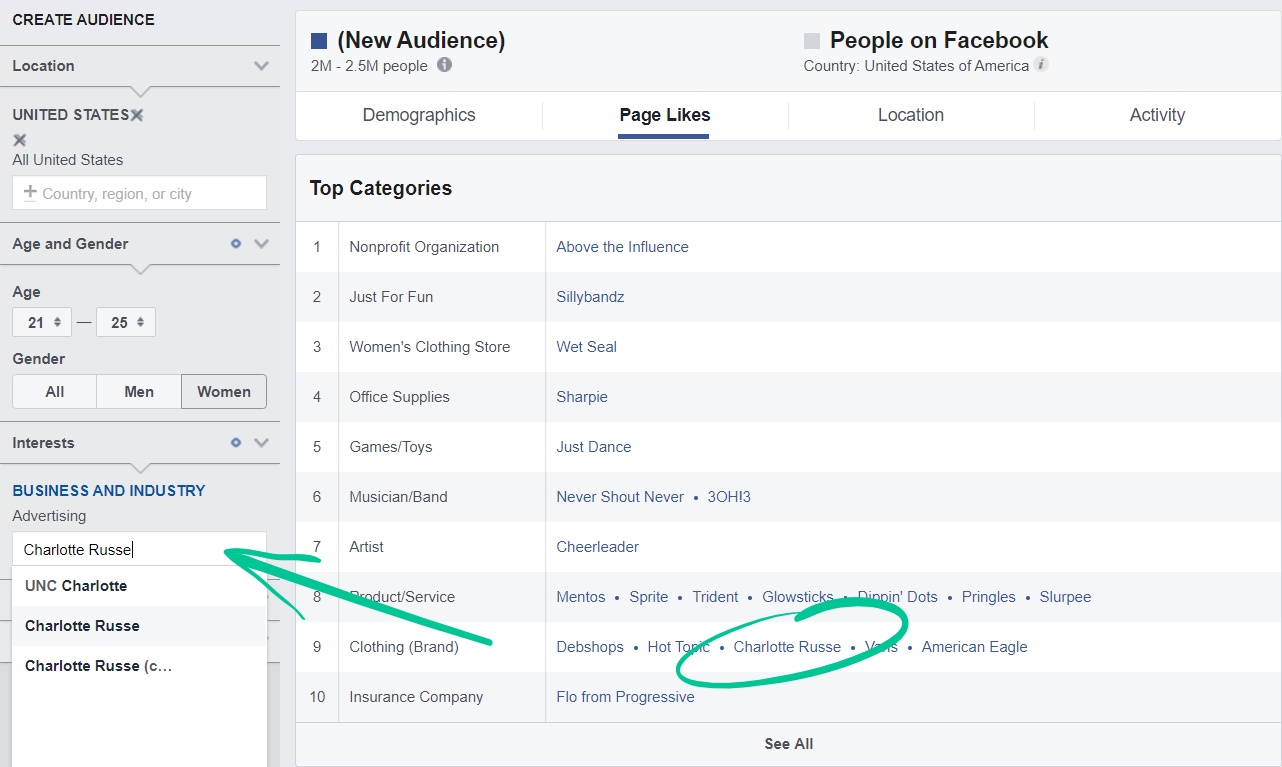 Some of your competitors' pages won't come up, but if it does, look at the demographics on the right side of the screen for more audience insights to help you better target your ads.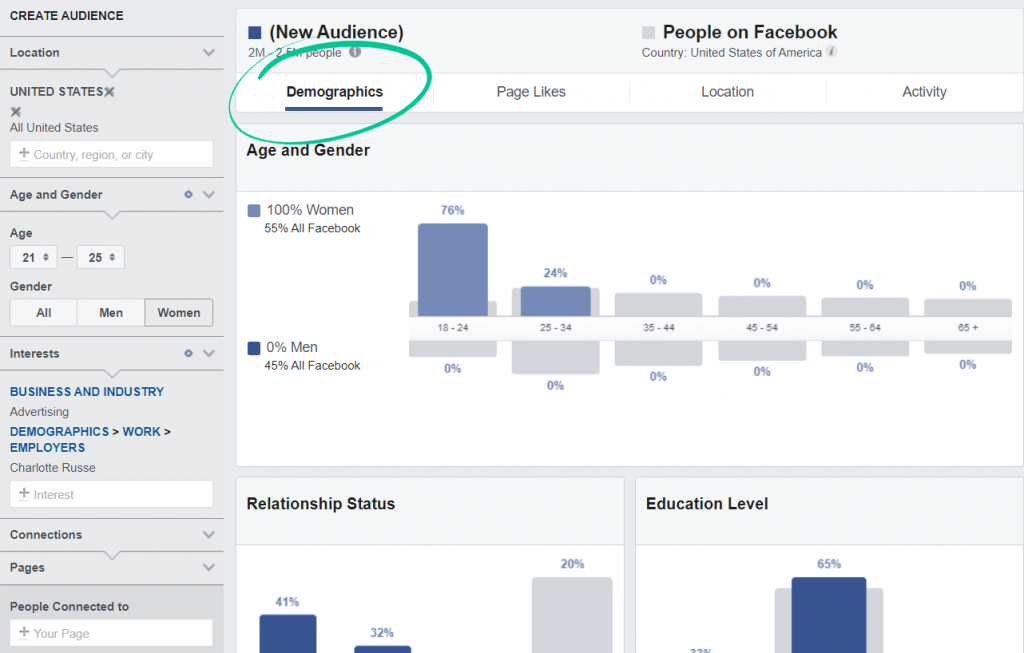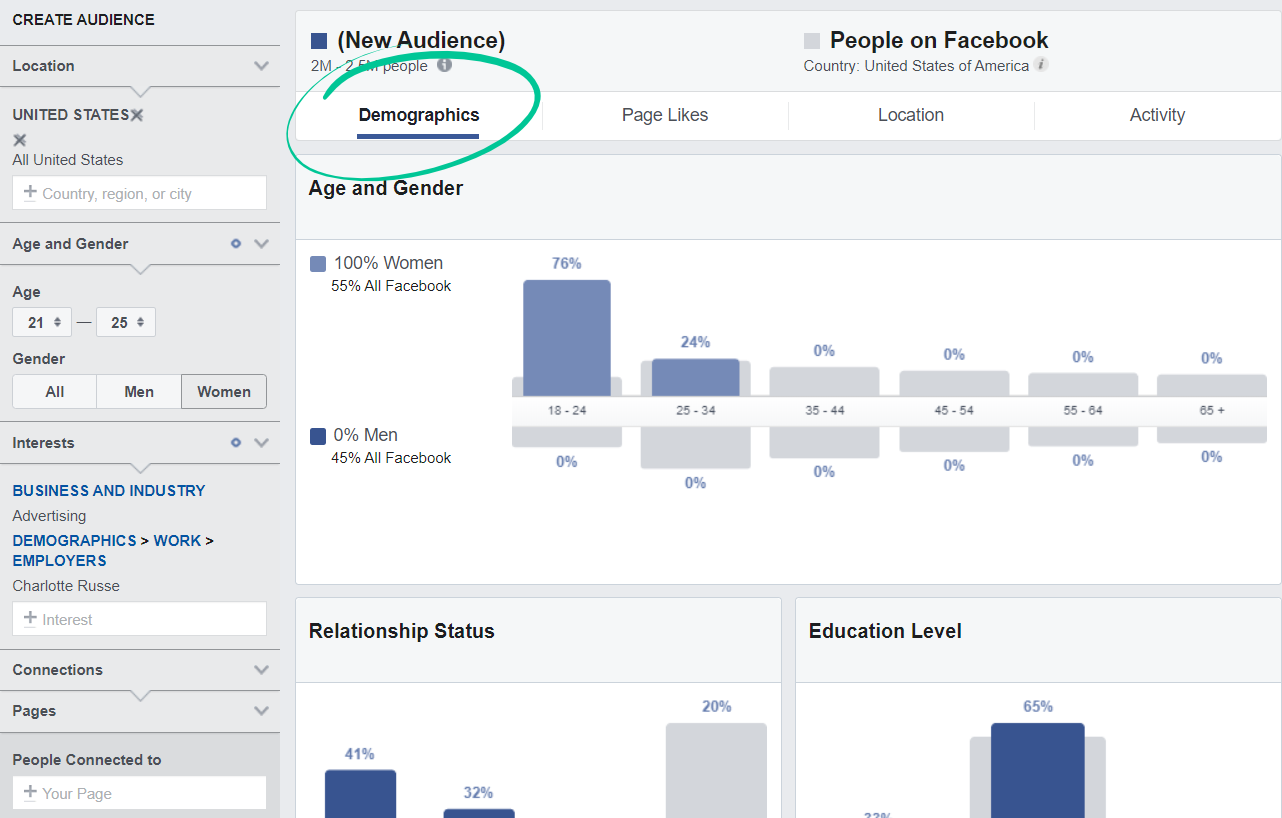 Now you can create a new audience based on those demographics! Or, just click Save at the top of the page to save the audience as it is.
Another way to spy on your competitors is with the Facebook Ad Library. Check it out!
---
5. Optimize for Mobile
When you consider that nearly 80% of smartphone users have used their mobile device to make an online purchase, it's clear that optimizing your Facebook ads for mobile is vital.
We recommend tailoring your Facebook ads to mobile by using vertical images and videos. And, limit your use of text.
Worried that your mobile-optimized Facebook ads won't look good for desktop users?
Never fear! You can always target your ads by device.
---
6. Use Video
Here's a Facebook advertising tip that could nearly double your chance of getting a purchase from your ad.
People love video content. A great way to get more eyes on your Facebook ads is by using GIFs or videos.
Not all video ads are created equal. Facebook shared a graphic that sums up how people consume video advertising.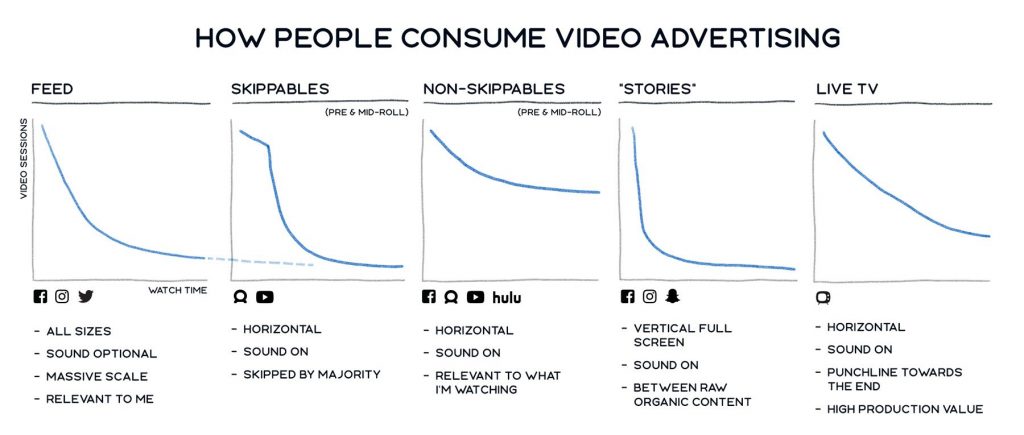 Video ads in your Facebook feed give you the chance to make an emotional connection with your target audience. And, since Facebook ads give you about 30 seconds, you really have quite a bit of time to tell a compelling story (the video ad sweet spot is 5–15 seconds).
Remember that people are likely going to see your Facebook ad as they're scrolling on their phones. Possibly without headphones.
Because of that, think about creating video ads that can be consumed without sound.
---
7. Use Multiple Ad Formats
There are many different ad formats available on Facebook:
Dynamic ads

Sponsored mentions

Video ads

Instant Experiences

Messenger ads

Carousel ads

Collections

Lead ads
While all of these ad formats are effective, it's important to understand that not every ad type will work for every brand.
Even so, you can create a coordinated ad experience for shoppers by using different ad formats and different placements.
Facebook will recommend ad formats based on your objectives, but you should experiment to find the formats that resonate with your target audience.
---
8. Create a Lookalike Audience
We've talked a bit about targeting. What can we say? Advertising success is pretty dependent upon reaching the right people with your message.
Plus, just about everyone is on Facebook. That makes targeting even more important.
A great way to target exactly the right people with your Facebook ads is by creating a Lookalike Audience based on your customer list.
Yes, your customer list.
These are people who have already purchased from you, right? Who better to show your products to?
To create a Lookalike Audience on Facebook, go to Audiences in Facebook Ads Manager and click Create a Lookalike Audience.
Then, you can choose an existing audience or data source, or click on the Create New Source dropdown to create a Custom Audience. That's what we're going to do now.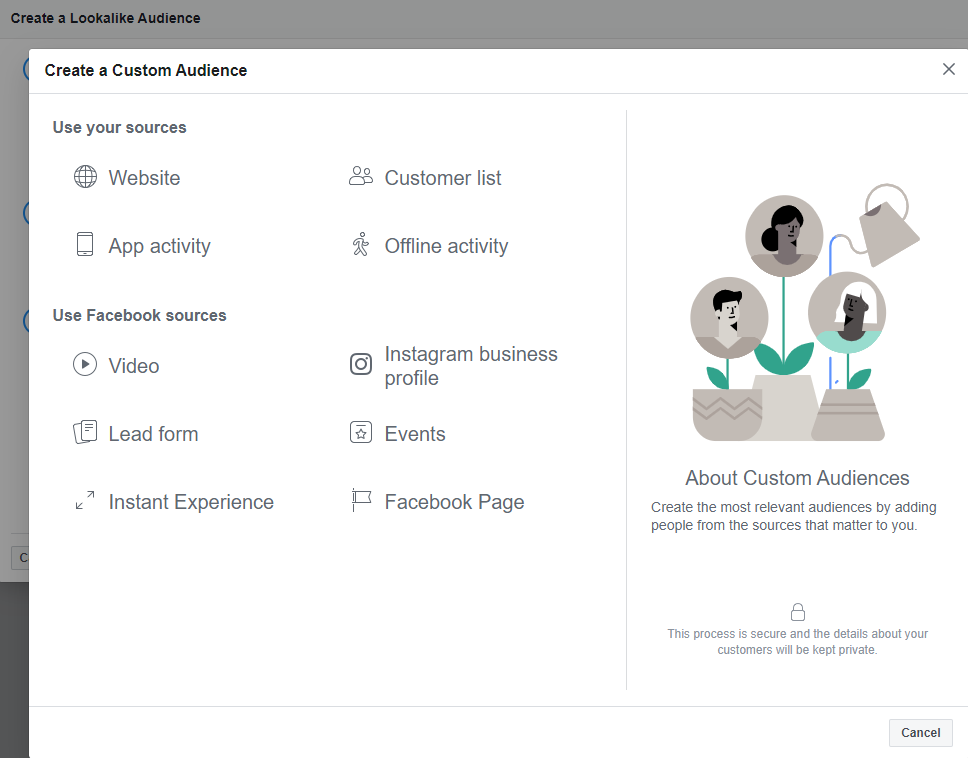 You have several options for creating a custom audience, but since we want to target our ad to people just like the ones who have already purchased from us, we're going to choose Customer List.
Facebook provides a list template so you can make sure that your customer list is formatted correctly.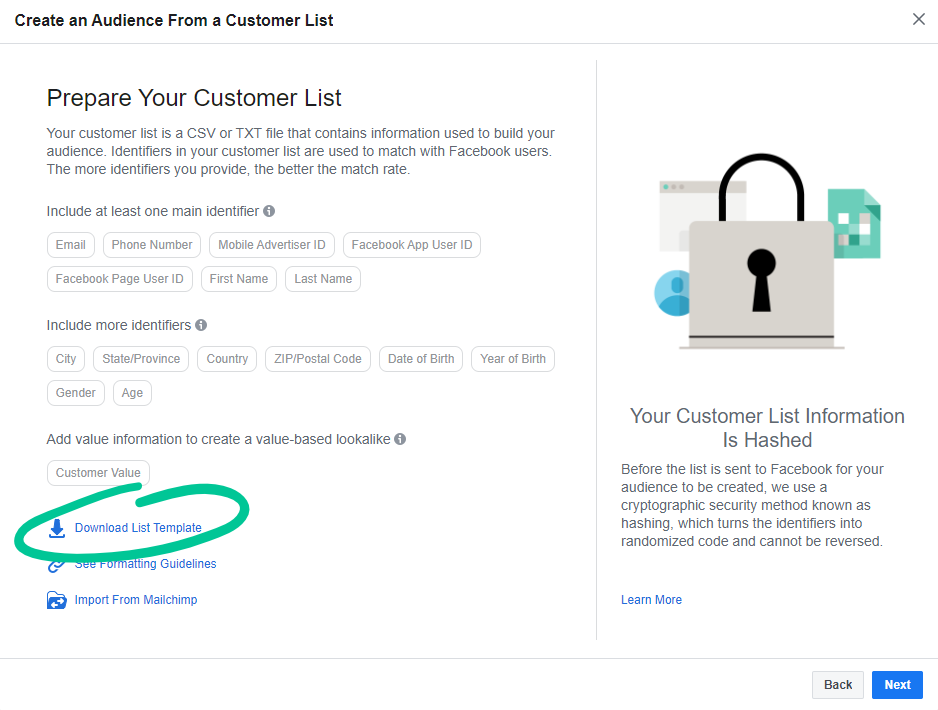 To add your customer list, just follow the steps and answer the questions. Then, upload your customer list and give it a name.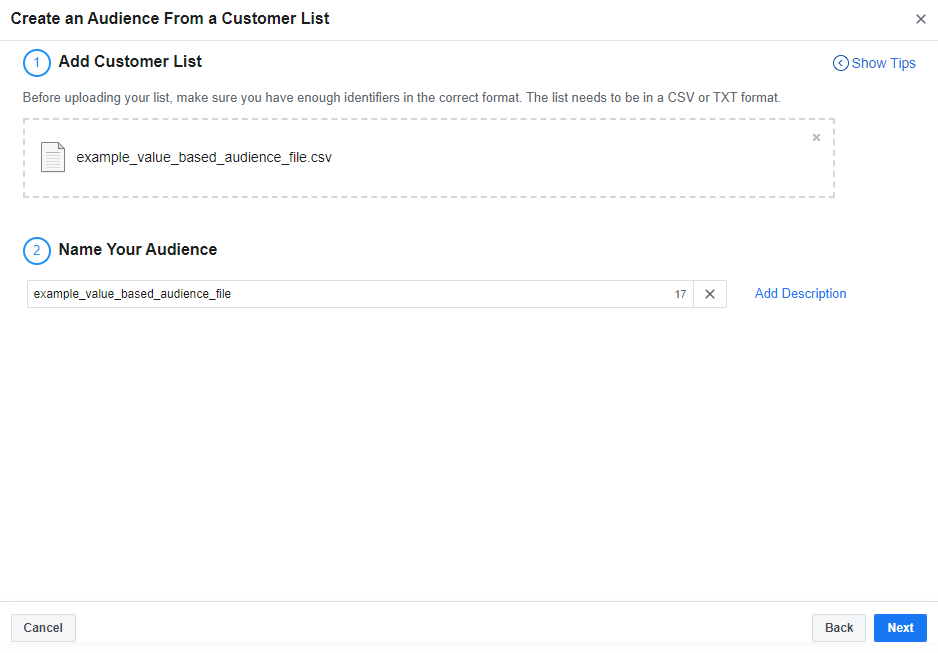 You'll need to review your mapped data to make sure that everything looks correct.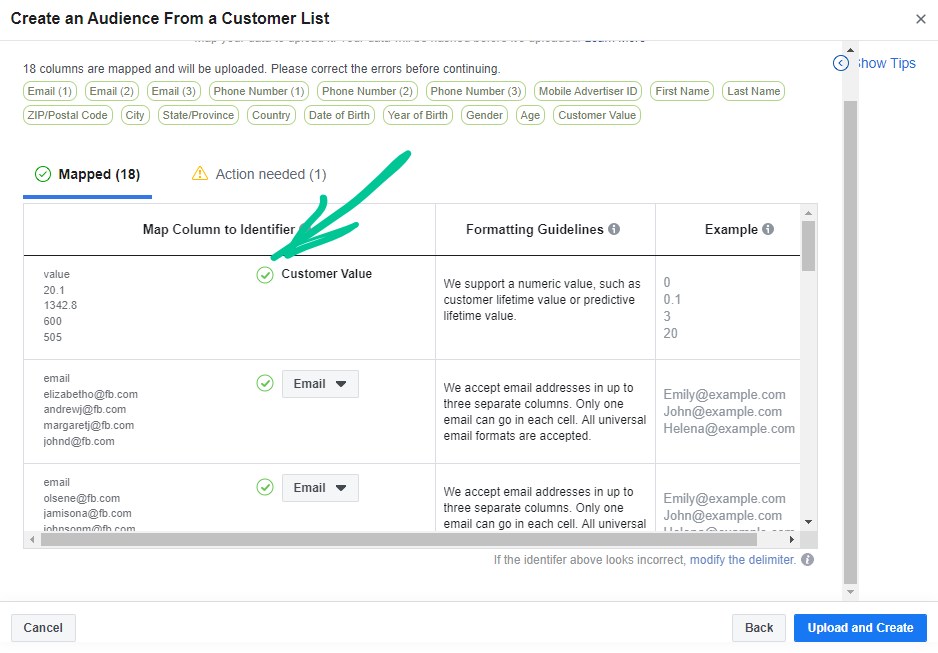 Then, click Upload and Create.
Facebook will match your customer list to existing Facebook users and will notify you when the audience is ready to be used.
When your audience is ready, you will refine by location and similarity, then click Create Audience.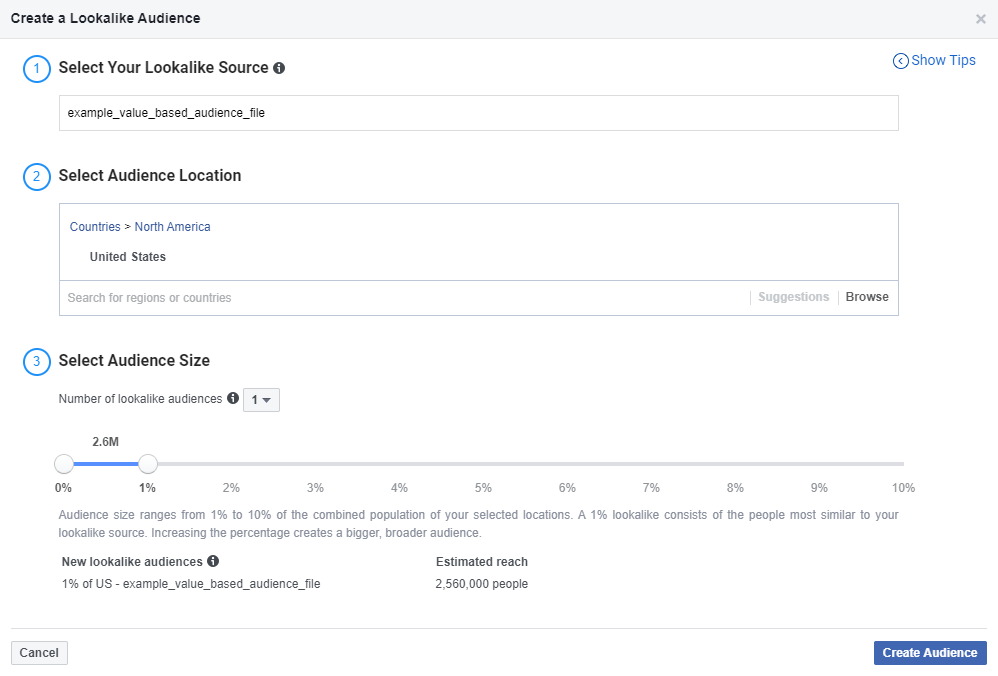 ---
9. Separate Retargeting and Prospecting
To get the most out of your Facebook ads, it's important to understand the difference between prospecting ads and retargeting ads.
Retargeting ads are targeted to people who have already engaged with your brand, either by following you on social media, visiting your website, or engaging on a post. These are people who are already at least a little familiar with your brand.
Prospecting ads are intended to find new customers, boost brand awareness, and ultimately extend your reach. These people might not know you from a toaster.
Think of it as friends (retargeting) and strangers (prospecting).
You wouldn't approach a stranger with a familiar wink or a hug, would you?
Your advertising will look different for these audiences, too.
By keeping your retargeting and prospecting audiences separated, you'll be in a better position to control your budget and find out what works for each.
---
10. Test All the Things
Testing is the most helpful thing you can do to make sure that your ads are performing as well as they can. The type of testing you do will largely be determined by your budget.
For smaller budgets, it's more beneficial to test bigger things:
Placements

Targeting

Creatives & media type
Facebook makes it easy to do A/B tests and gives you a handy report once the test is done to let you know which ad won:
You don't have to use split testing, though.
You can also test your Facebook ads in a regular campaign or by setting up a dynamic ad.
Have a larger advertising budget? You can get really granular with your testing and find out which color background works best for your ad image (among other things).
If you want to see what your Facebook ad will look like before you publish, check out these Facebook ad preview tools.
---
11. Run Instagram Story Placements
Did you know that Instagram has the highest engagement of any social media platform? Instagram Story ads are a great way to diversify the reach of your Facebook ads.
Since Facebook owns Instagram, you can run an Instagram Story ad right from the Facebook Ads Manager (in the Placements section).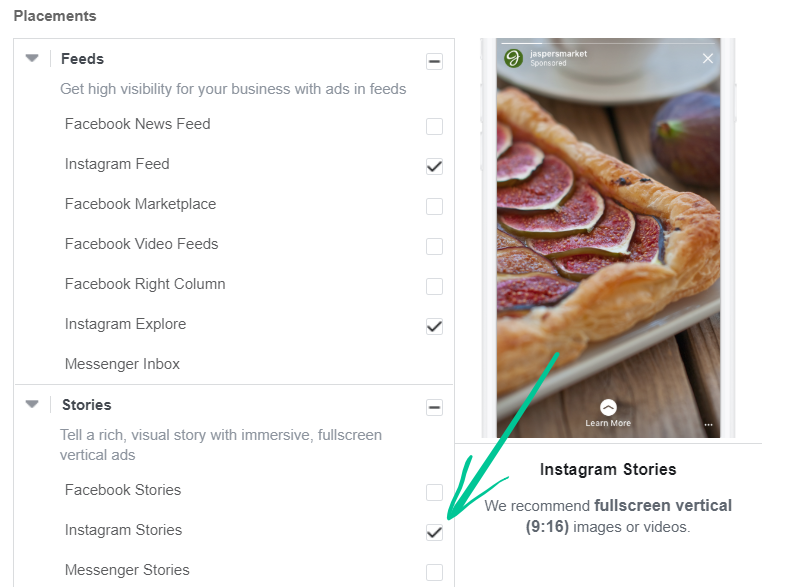 Instagram Story ads have the lowest cost per impression of any Facebook ad and are seen by millions of Instagram users every day.
---
12. Leverage Facebook's Power 5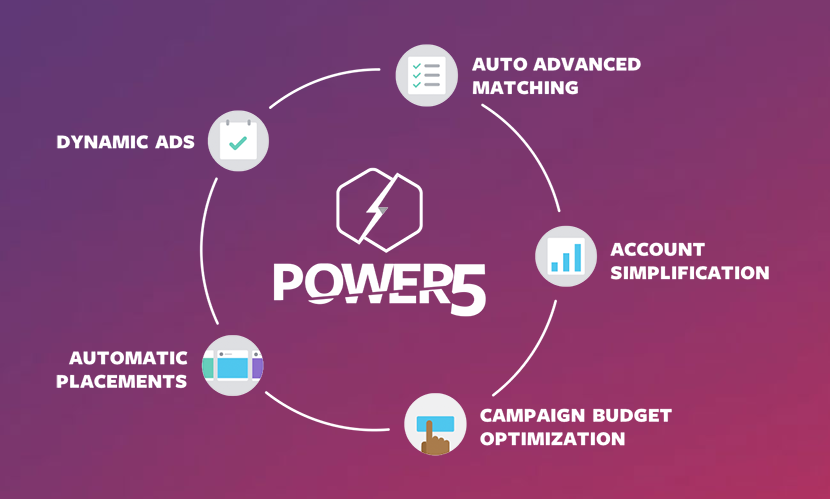 Facebook's Power 5 tools use machine learning so your ads get better results. Power 5 includes:
Automatic advanced matching

Simplified account setup

Campaign budget optimization

Automatic placements

Dynamic ads
Using algorithms, Facebook tests what works best for your ads and target audience. With campaign budget optimization, this means that your budget will go towards the ads getting you the best results.
---
Get the Most From Your Facebook Ads
There's no perfect, one-size-fits-all strategy for Facebook ads. Finding the right mix of placements, creatives, and copy is mostly about experimenting, after all. But, these Facebook advertising tips definitely give you a great place to start.
Not ready to dive into Facebook ads on your own? No worries! Here's a list of the best Facebook ad agencies to help you out.